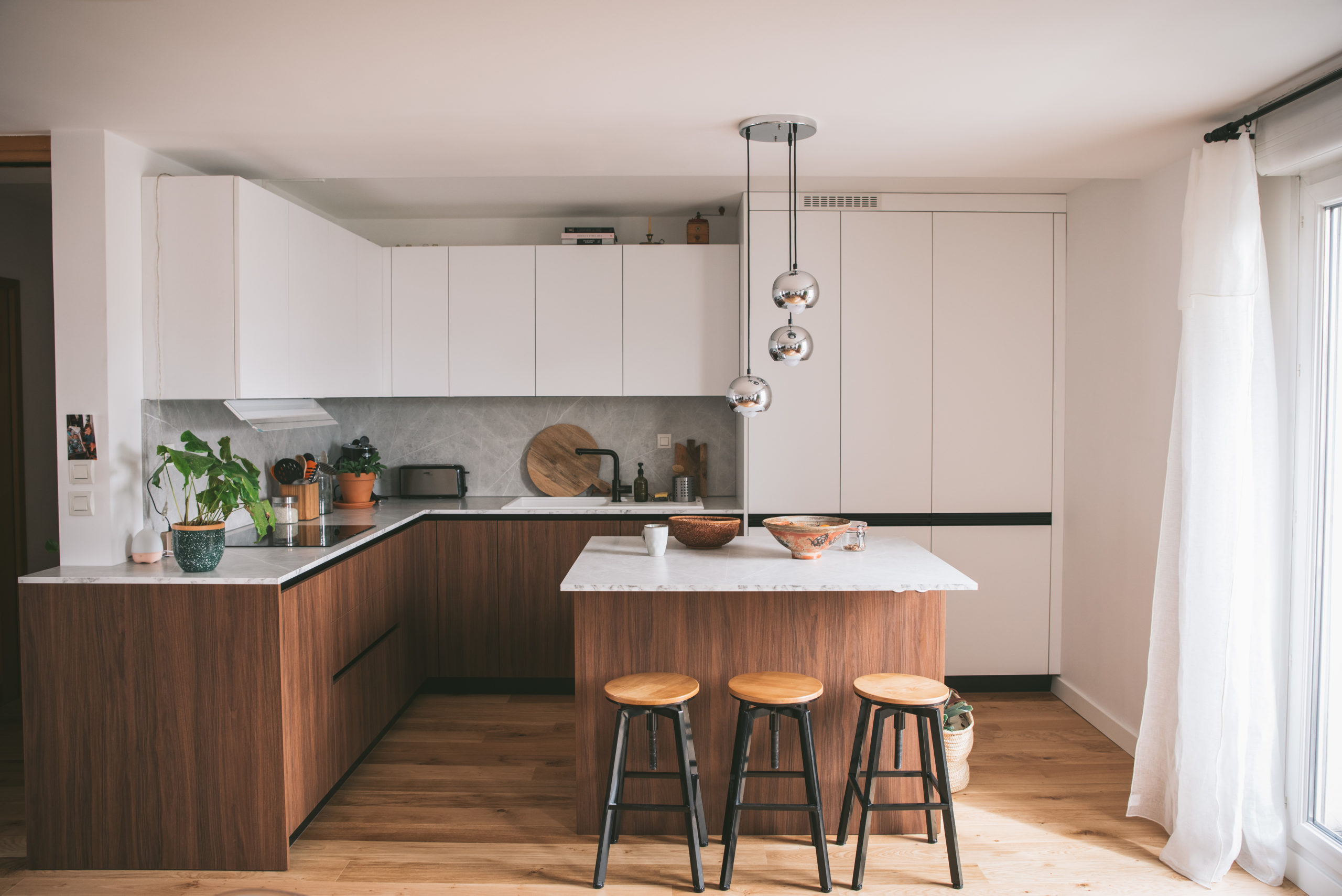 Welcomme in my new white and wood kitchen !
It's been 7 months since we moved into our apartment and we've made a lot of progress! Of course, we still have a lot of things to do, especially painting and decorating, but most things are done and it's nice to build as we go along….
Today I'm taking you on a kitchen tour of my new white and wood happy place and I'm posting some before and after pictures to give you a better idea of the evolution.
Kitchen Tour : my new white and wood kitchen – Before/After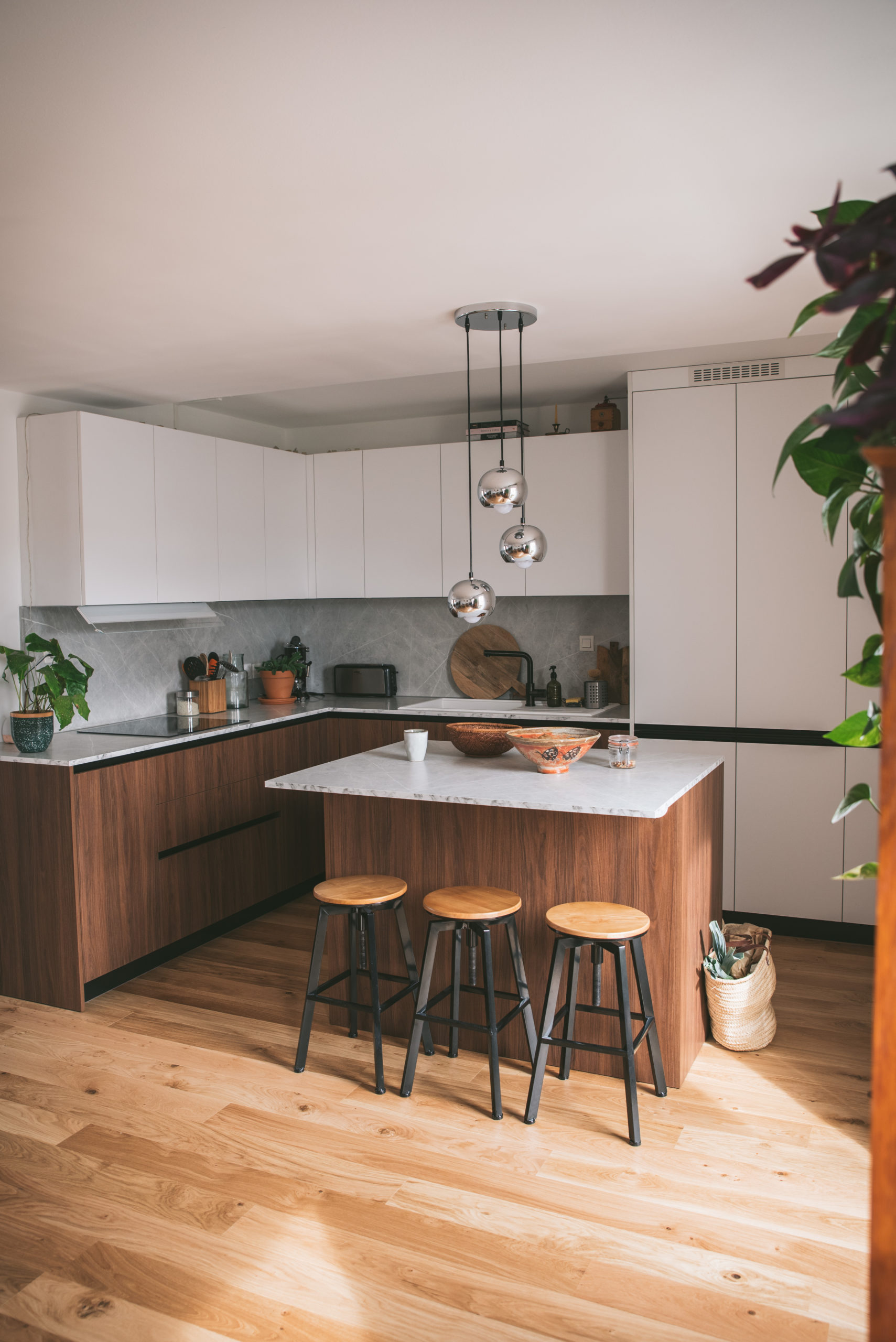 In my article where I talked to you about my move, I showed you some pictures of the apartment and I talked to you quickly about our desires on the work side, here is the evolution on the kitchen side.
In our previous apartment we had already installed parquet flooring. It's something that we also wanted to do because we like the visual aspect and the warmth it brings but also the much less cold feeling that you can feel on tiles. So we had it installed, especially in the living room with the open kitchen.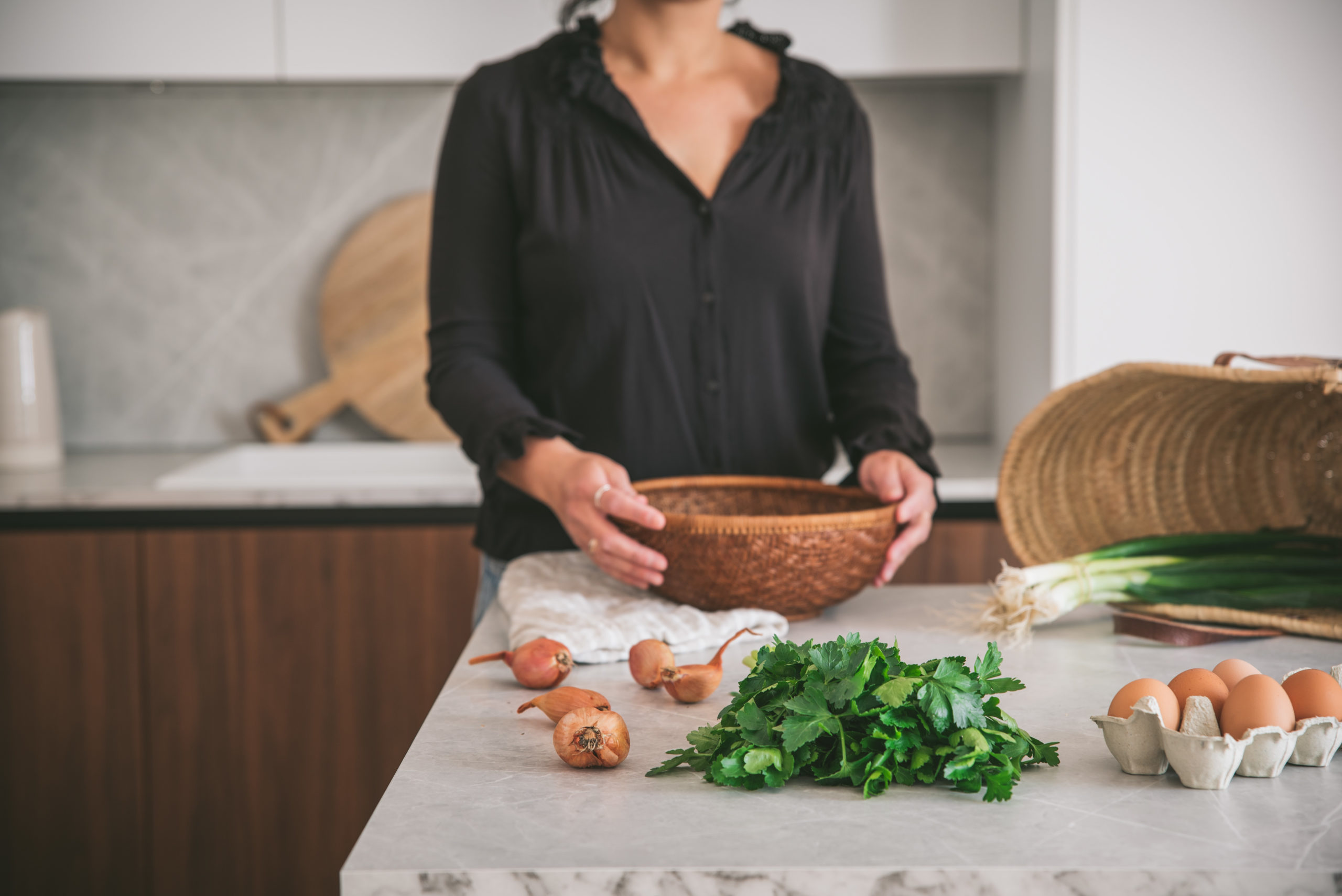 On the kitchen side, we had previously chosen a gray kitchen but this time we wanted something different, something warmer.
And as it is a little set back from the windows, we wanted to bring light, hence the use of white furniture in height and for the columns, previously wenge effect.
So we opted for a blond French oak floor and a darker wood kitchen, walnut effect, matte white and small touches of black on the handles, the baseboards, the mixer and a gray-beige worktop + stone effect credenza.
The result is great, we love it! It was not done on purpose but the dark veins of the floor blend very well with the darker wood of the kitchen furniture.
For inspiration, I put up my Pinterest board where I put all my finds from the web that guided us.
For a long time, we wavered between tall storage and simple shelving. Since we needed storage, we opted for tall cabinets.
In our previous apartment, we didn't have an island but it's something we really wanted to have in this kitchen. We already had one that we reduced in depth a little bit so that it didn't spill over into the living room.
We love to gather there, cook and spend time with family and friends having a drink while we finish preparing our food before sharing a nice meal.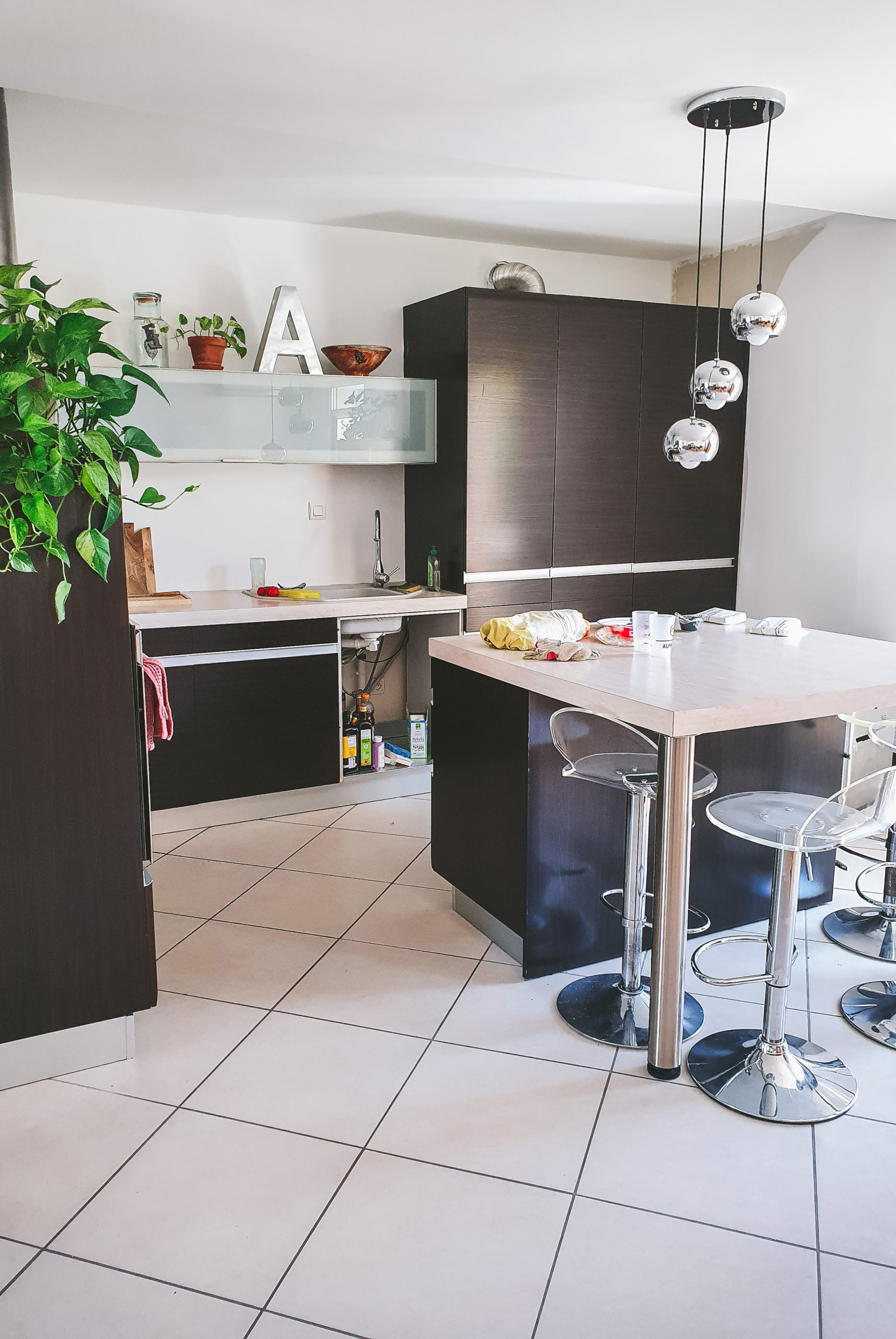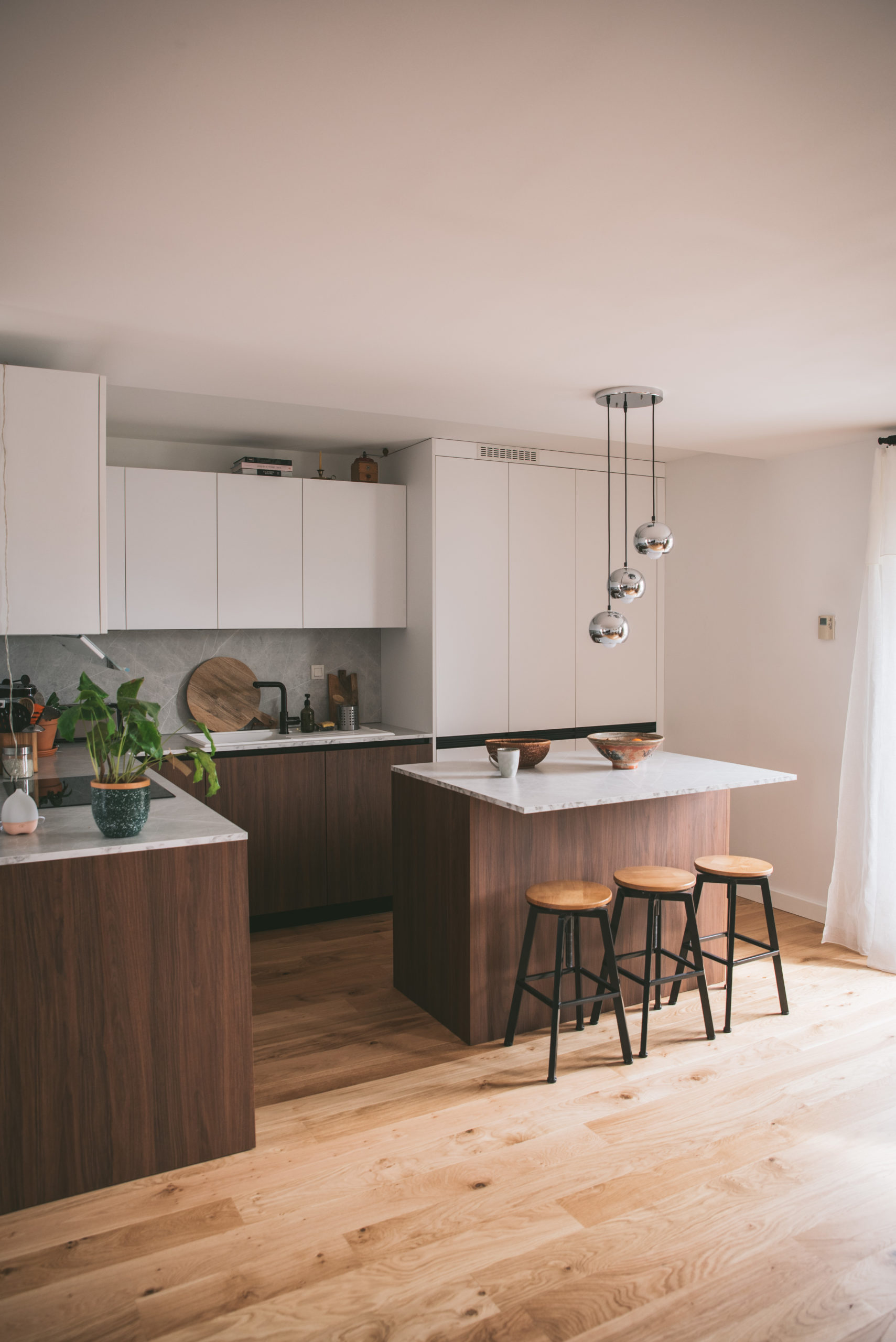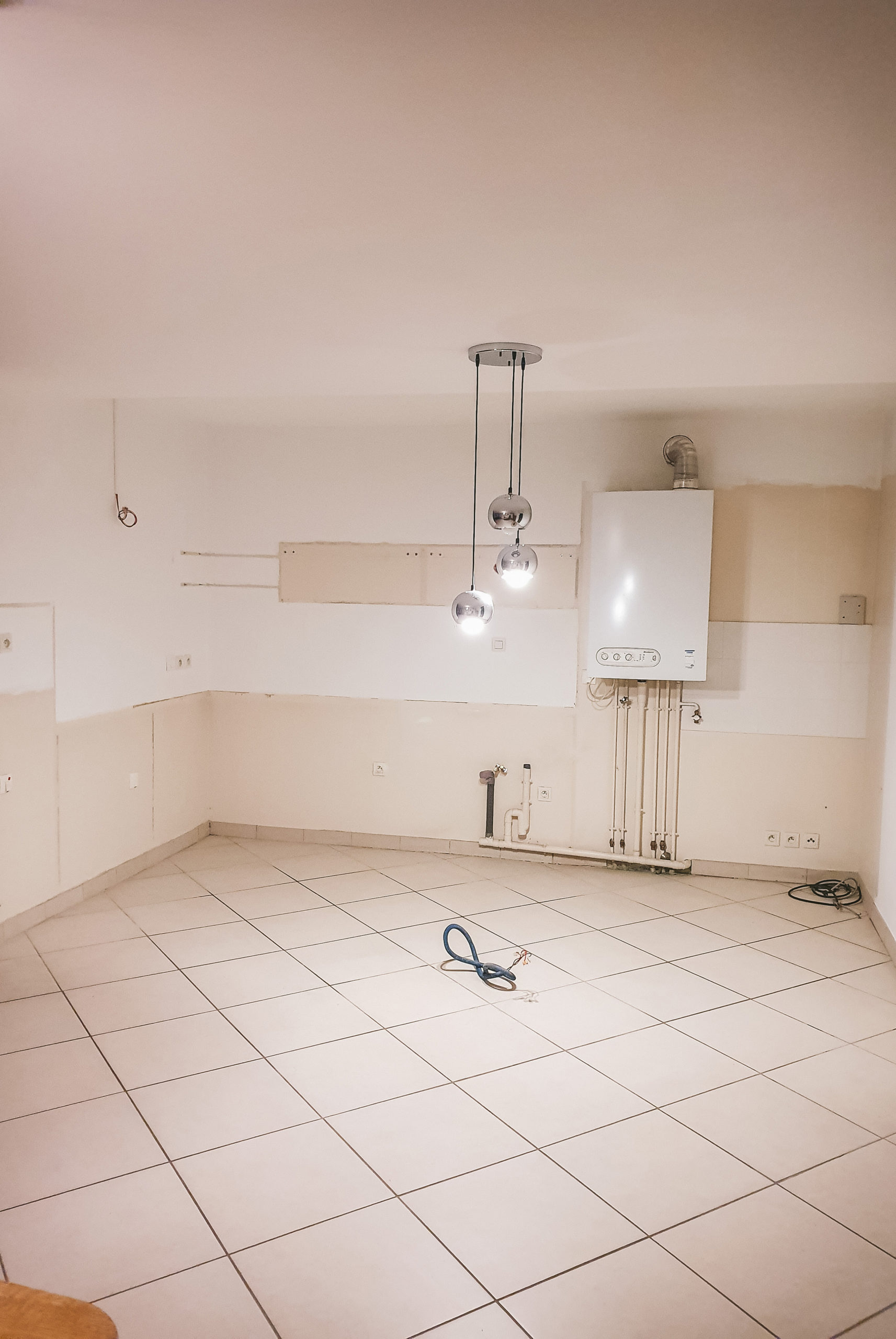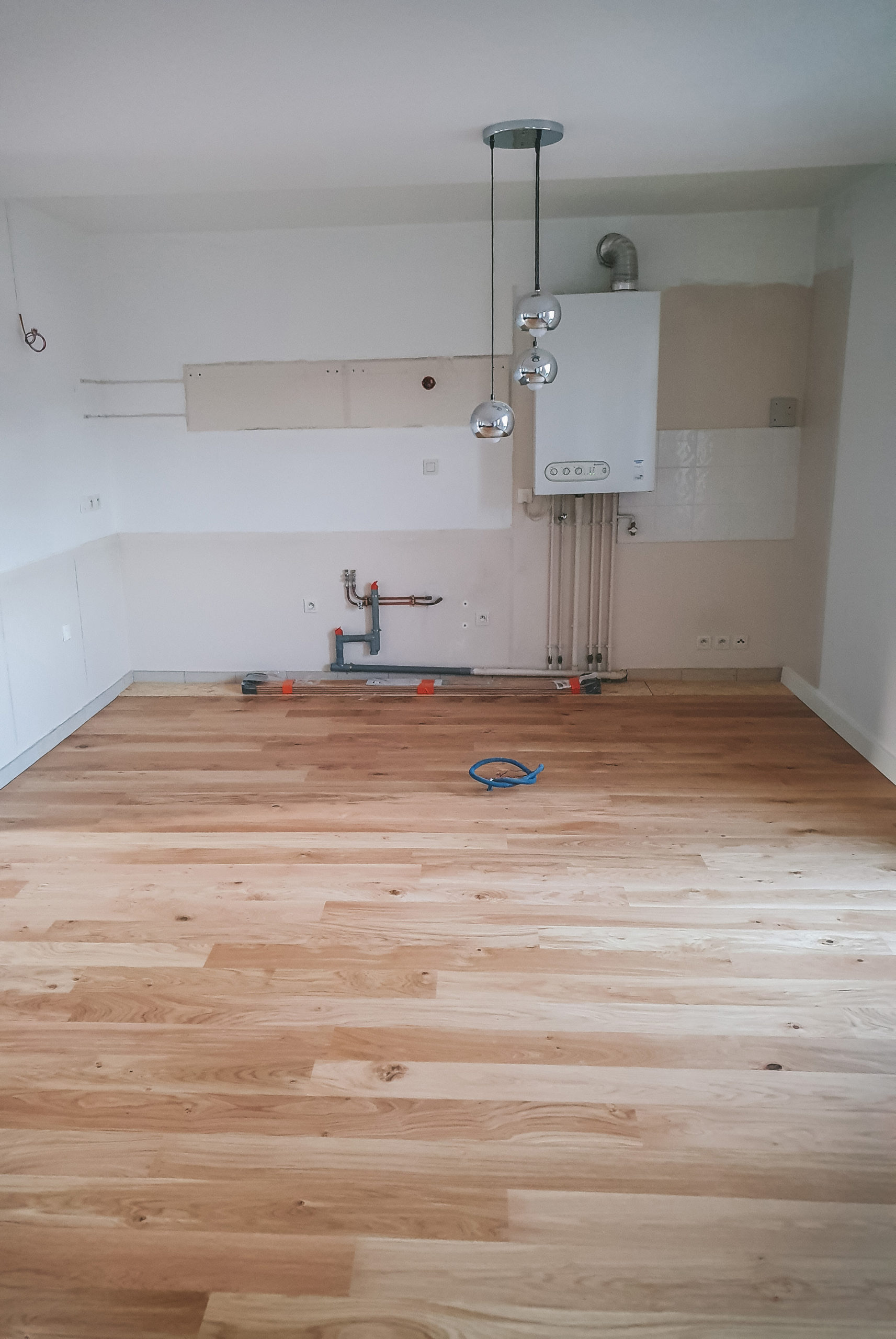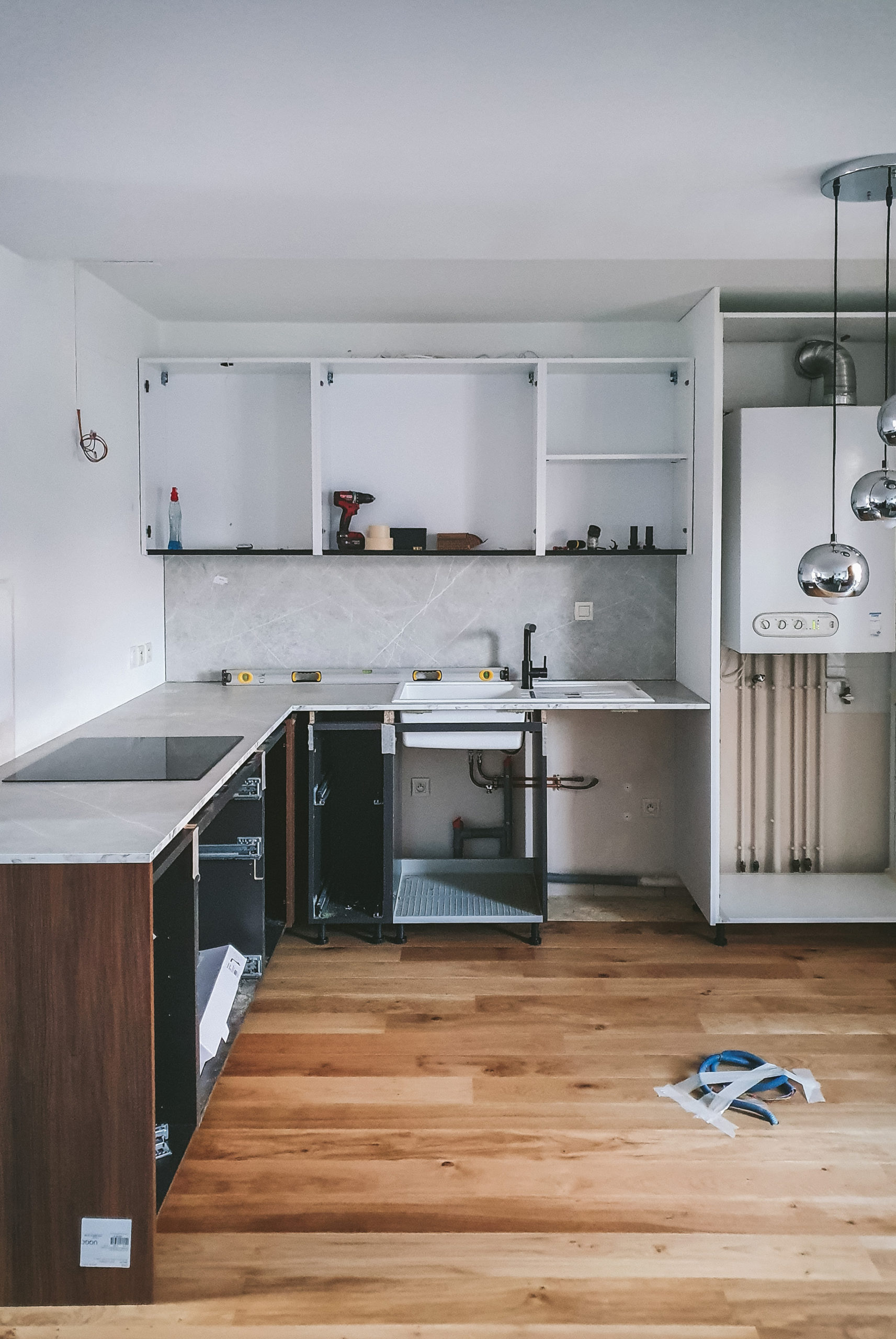 There are still some small details, including the light with three globes that is not really to our taste and then some decorative elements mainly on the right wall on which we would add a small high shelf, and perhaps a pretty picture…
As for the light fixture, I spotted a very nice one at Caravane, in glass and brass and I also like a brass flower, between the 2 my heart balances…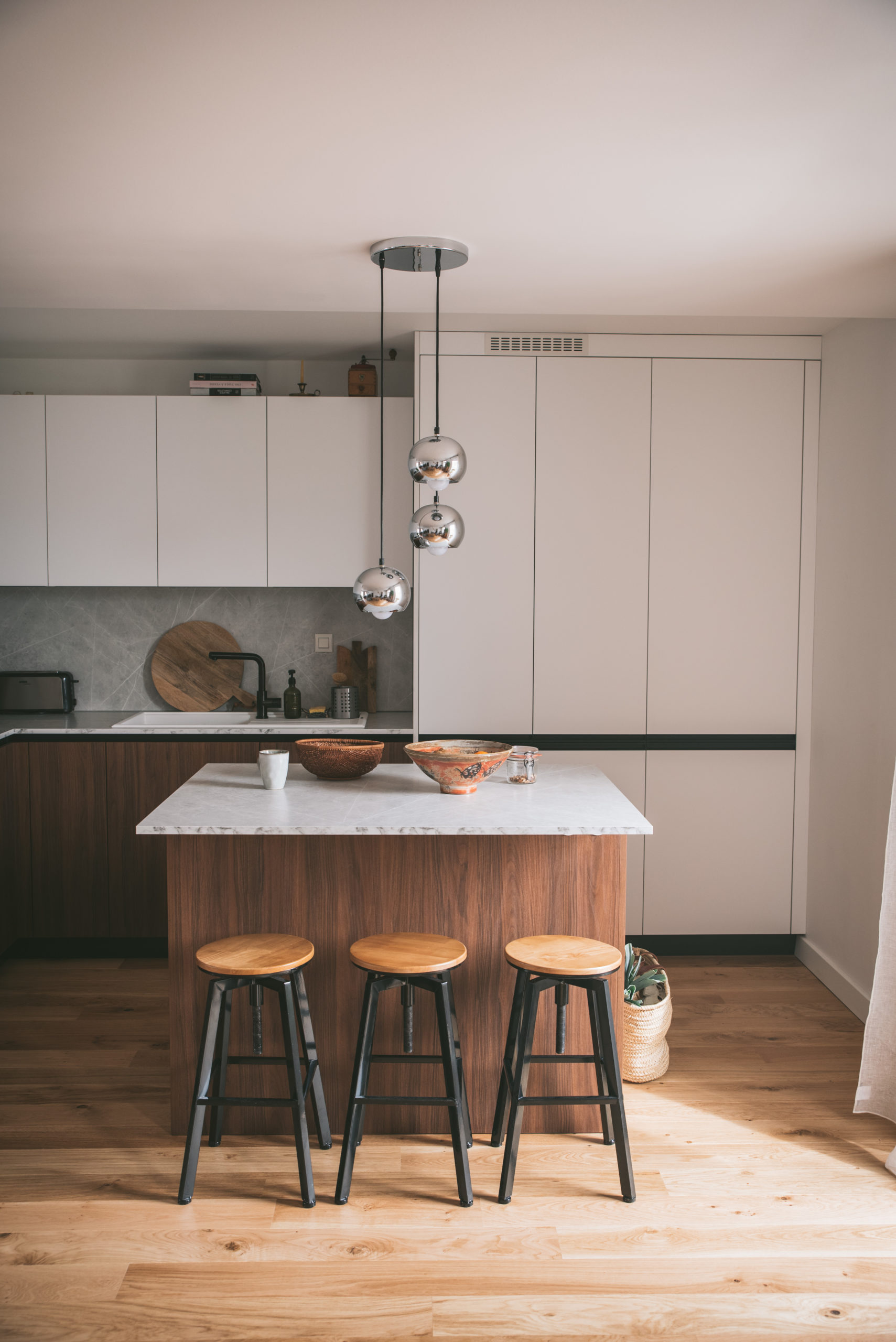 My favorite kitchen utensil is the microplane, the perfect tool for grating everything from cheese to chocolate to citrus peel. I use it absolutely everywhere! I'm also a big fan of a good, sharp knife. I have a whole series of Opinel knives and I love them.
A good sharpener, of course! And finally a nice cutting board, always on my work surface, within reach!
I am also a big fan of handmade ceramics, and have been aware of them since I was a little girl. I love Revol or Jars, but I also appreciate the pieces of the potters of Dieulefit.
Eecently I discovered the work of Nolwenn Baillet from whom I bought some pretty little plates.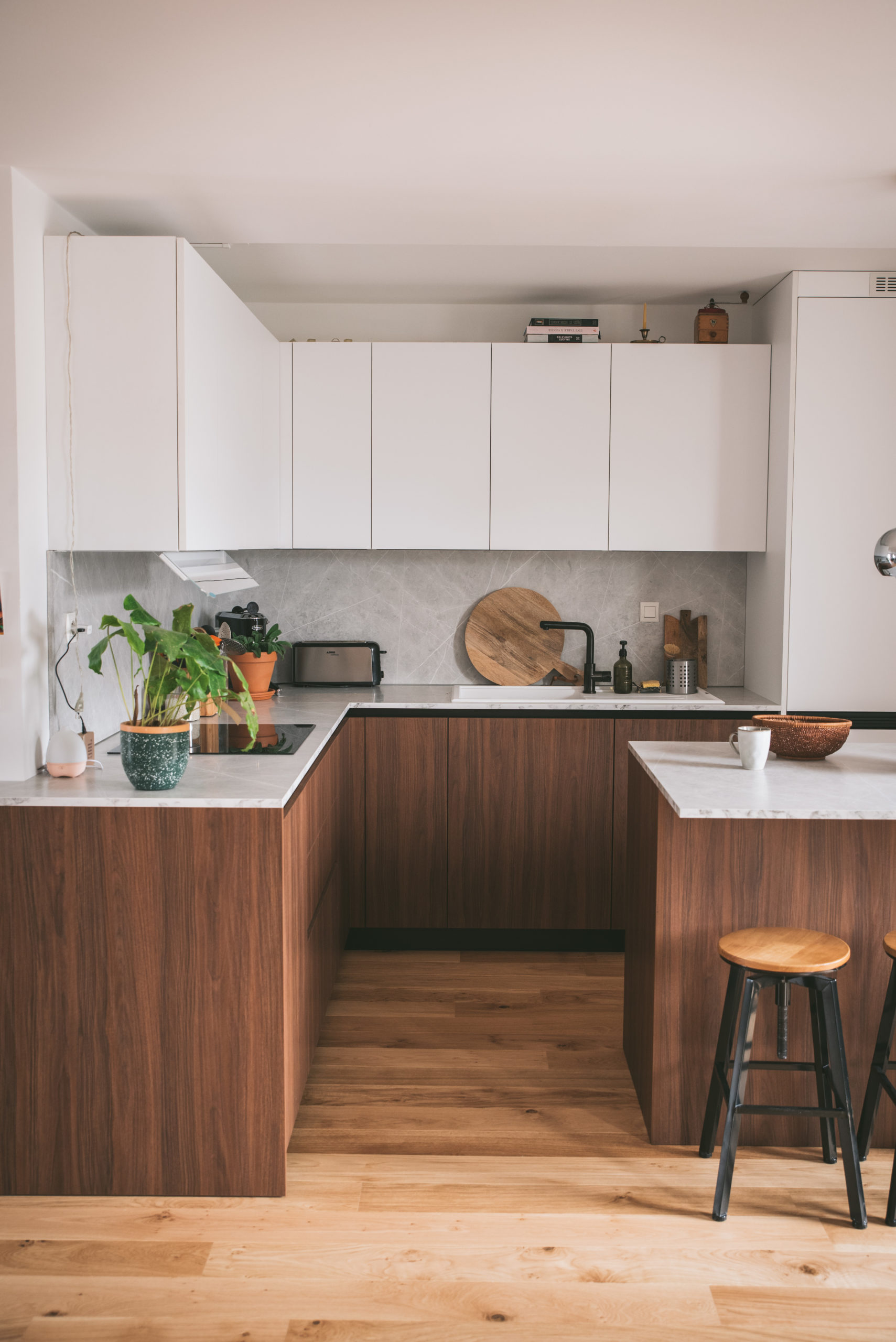 The ingredients I use the most in the kitchen are probably fleur de sel de Guérande, good quality olive oil and I couldn't do without garlic either!
I like to do most of my shopping at local grocery stores and markets. I also like to grow a lot of fresh herbs on the balcony and use them in my recipes, and when the weather is nice, we like to eat the little strawberries, raspberries and cherry tomatoes that we grow…
And I anticipate the question, but where did this beautiful kitchen come from? We called JCD Cuisine, a kitchen designer in Grenoble, who gave us excellent advice, listened to our needs and provided excellent follow up!
Since the article was published, I've had several requests for finishes, so here are the details:
wood-based furniture: noce americano
white furniture: bianco nordico opaco
worktops and credenzas: pietra graphite stratagem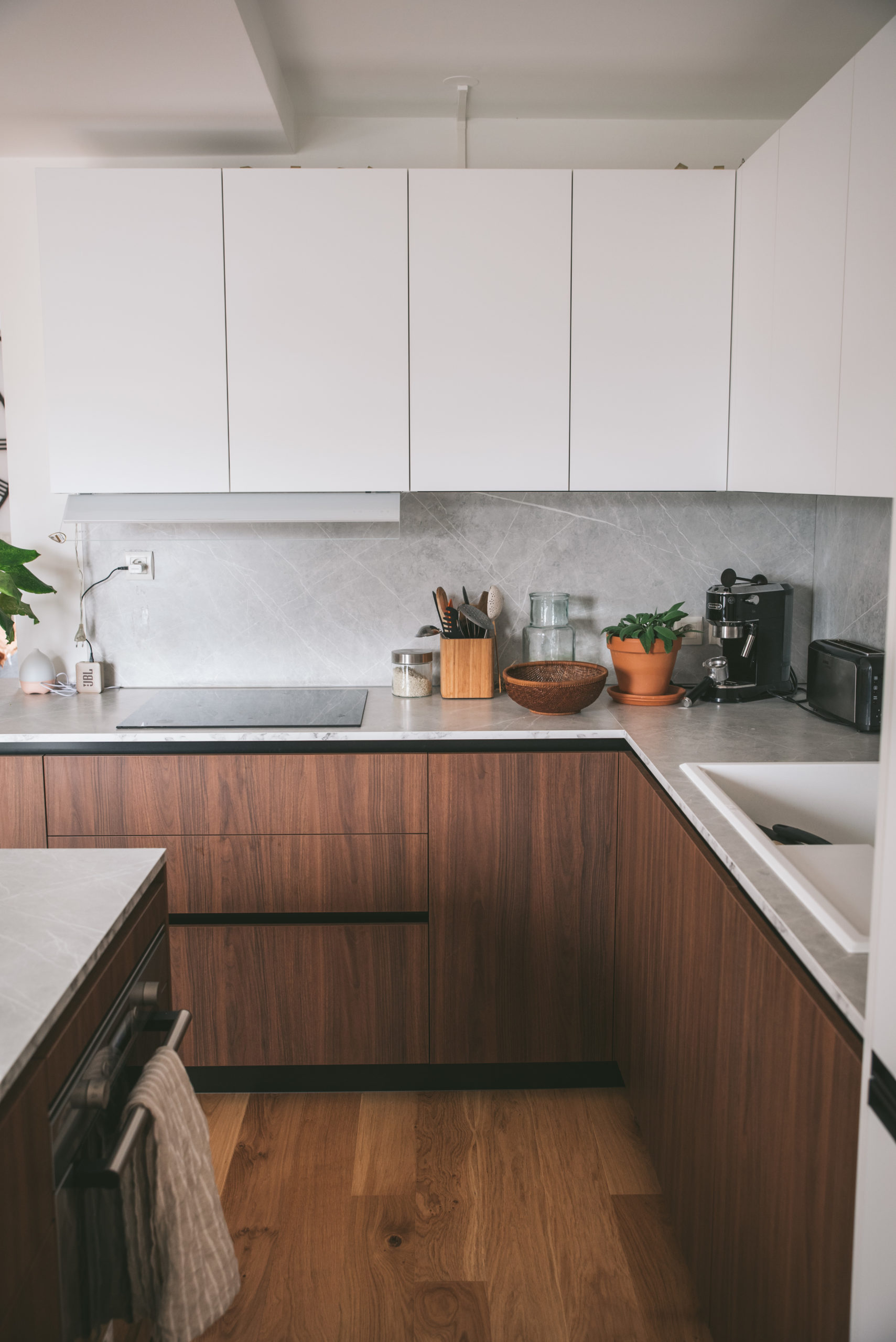 I hope you enjoyed the tour of my new white and wood kitchen and if you have any ideas or questions, feel free to drop me a line! In any case we are thrilled with our choices both functionally and visually!
And now, we continue with the end of the painting, and then we will also have 2 bathrooms to redo one day, but that's not for now…