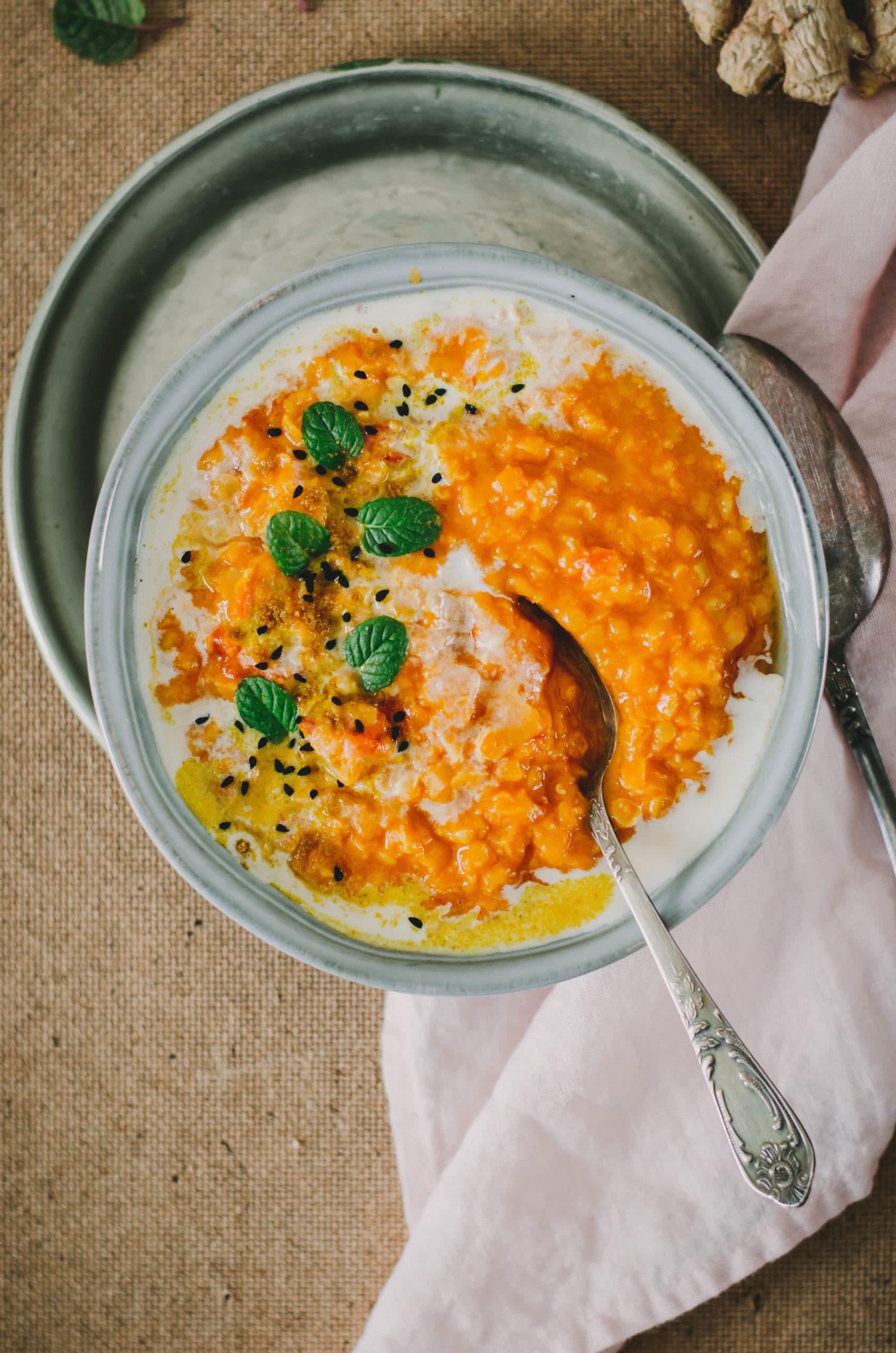 Today, I'm taking you on a colorful and tasty journey with this Coconut Red Lentil Dahl. It's really good, especially right now, and it's a really easy recipe to make, quick and doesn't require you to spend a lot of time in the kitchen.
To make this Dahl, I was inspired by the recipe in Ottolenghi's book Simple, from the book Simple, he calls it Curried Lentil Soup, Tomato and Coconut Milko….
I love this book!
I think I've talked about it before, but I think the recipes are super inspiring, full of freshness, and simple, as the name implies! In short, I really recommend it!
At home, everyone enjoyed this dish which has really light but still fragrant flavors that are great for kids. For those who want, you can increase the doses of curry and chili to suit your taste.
You can also serve this dahl with rice or homemade cheese naans, it is really delicious.
This time I didn't have fresh coriander at home so I used mint leaves, and yes with the confinement we are obliged to adapt but don't hesitate to use and abuse it if you like!
Here we go, I let you discover this delicious and simple recipe of Dahl of coral lentils with coconut milk! Enjoy your meal and have a good trip…
Coconut Red Lentil Dahl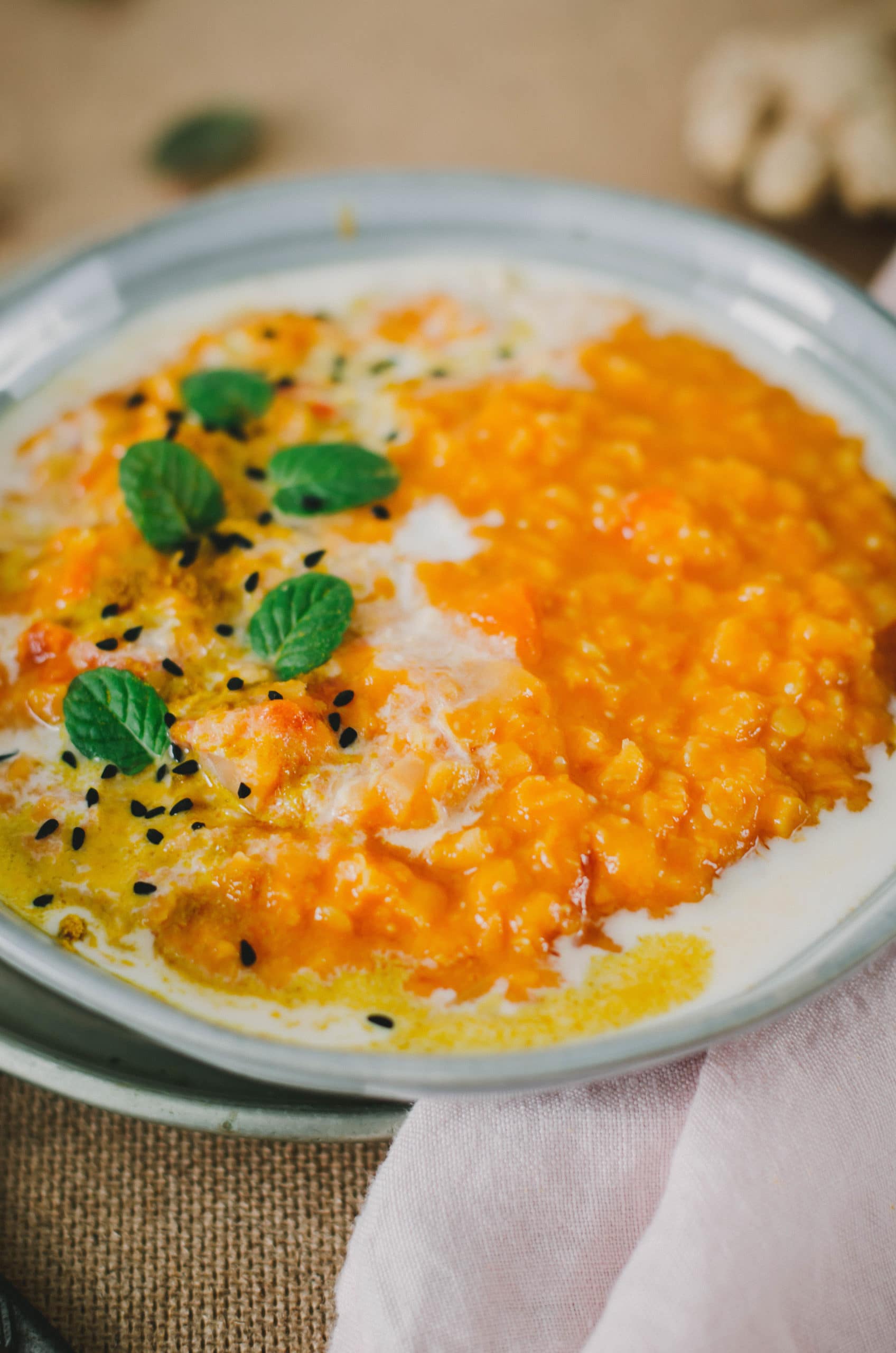 WHAT INGREDIENTS WILL YOU NEED TO MAKE THIS DELICIOUS RECIPE FOR LENTIL DAHL WITH COCONUT MILK AND CORAL?
red lentils
onion
curry powder
garlic
ginger
tomato pulp
fresh coriander or mint leaves
salt and pepper
oil
chili flakes
water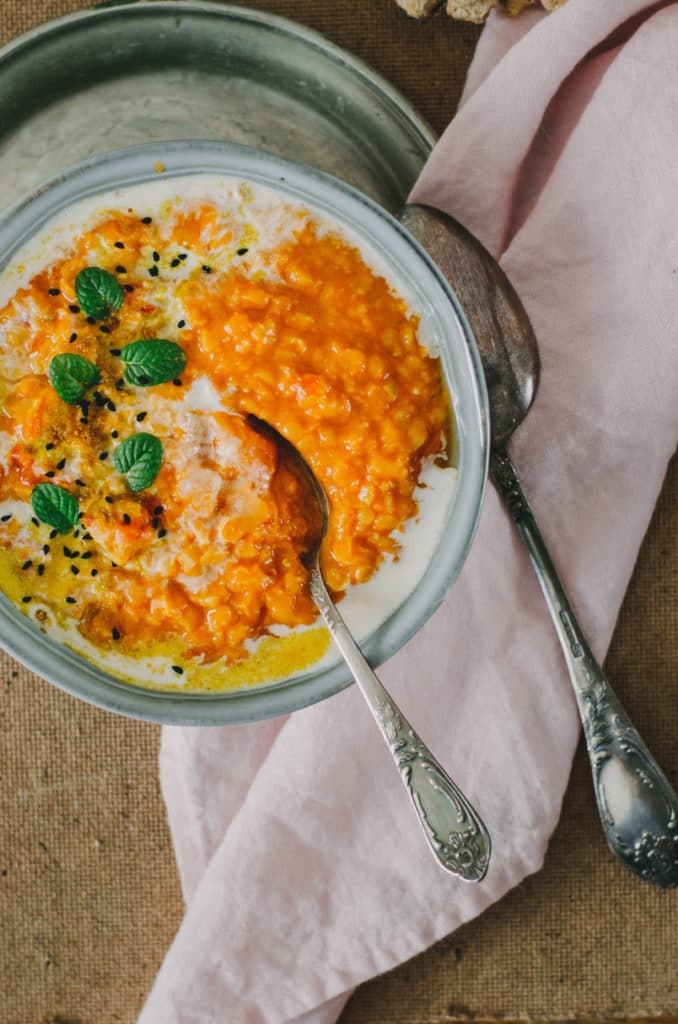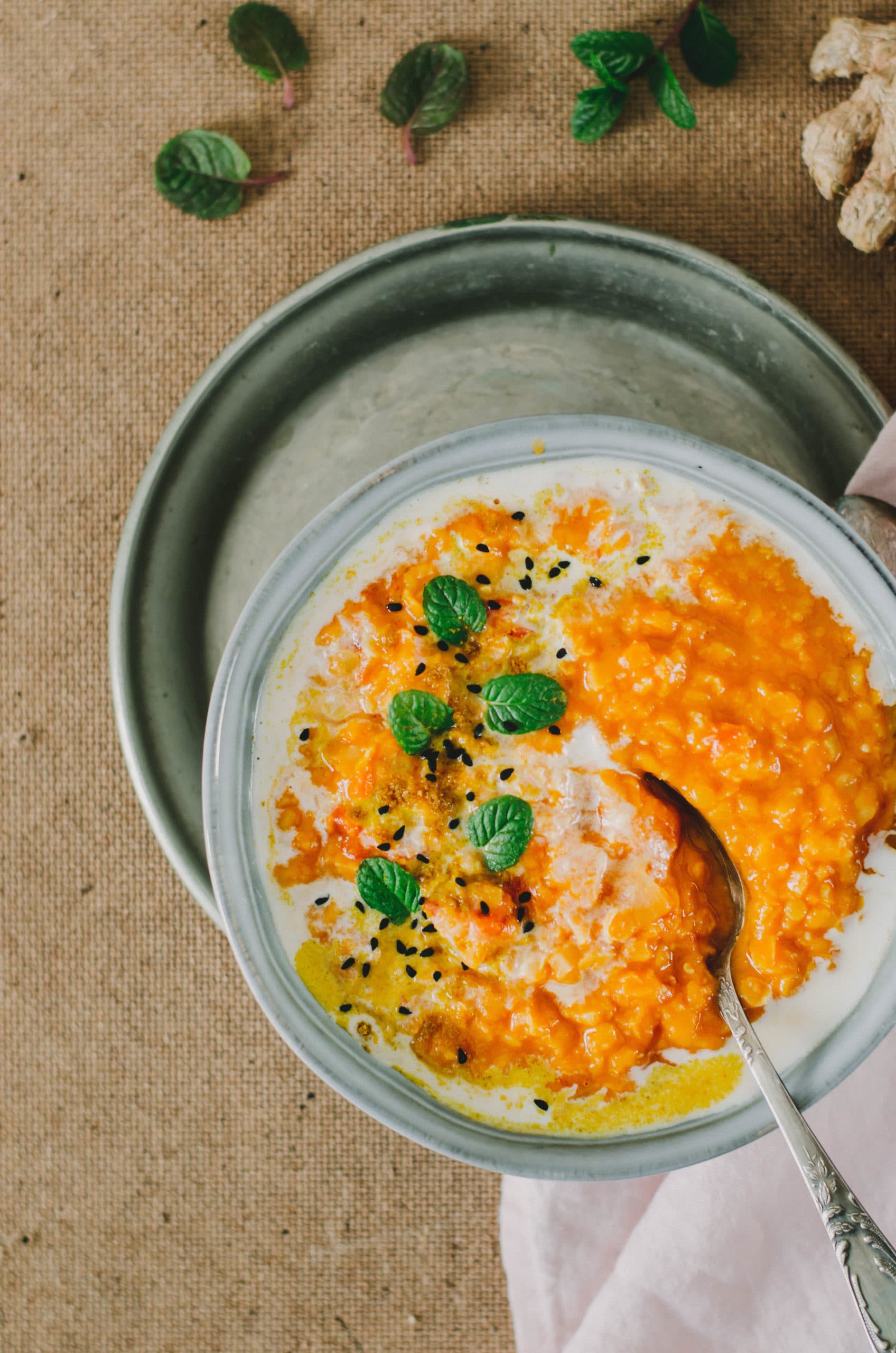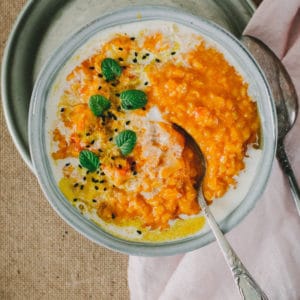 Coconut Red Lentil Dahl
Ingredients
150

g

red lentils

1

onion

finely chopped

1

tablespoon

curry powder

2

garlic cloves

30

g

fresh ginger,

peeled and finely chopped

400

ml

diced tomato pulp

400

ml

coconut milk

fresh coriander or mint leaves

salt and freshly ground pepper

oil

chili flakes

(optional)

600

ml

water
Instructions
In a Dutch oven, heat the minced onion with a little oil over medium heat for about 8 minutes, until lightly colored. Add the curry powder, chopped garlic, chilli and chopped ginger. Cook and stir for another 2 minutes.

Pour in the coral lentils and mix well.

Add the tomato pulp and 600 ml of water. Add salt and pepper and mix.

Add the tomato pulp and 600 ml of water. Add salt and pepper and mix.

Pour the coconut milk into a bowl and mix. Pour half of it with the lentils and leave the rest to serve.

Bring the lentils to a boil and cook for 25 minutes, stirring occasionally.

Arrange in 4 bowls, add a tablespoon of coconut milk and sprinkle generously with fresh coriander and/or mint leaves.

You can also serve this dahl with a little rice.
Notes
At the end of cooking, the lentils should be soft but still hold together well.
If your dish seems too thick, you can add a little water.
If you make my Coconut Red Lentil Dahl recipe and you like it, don't hesitate to tag me on Instagram or on Facebook so that I can see the result and share it myself…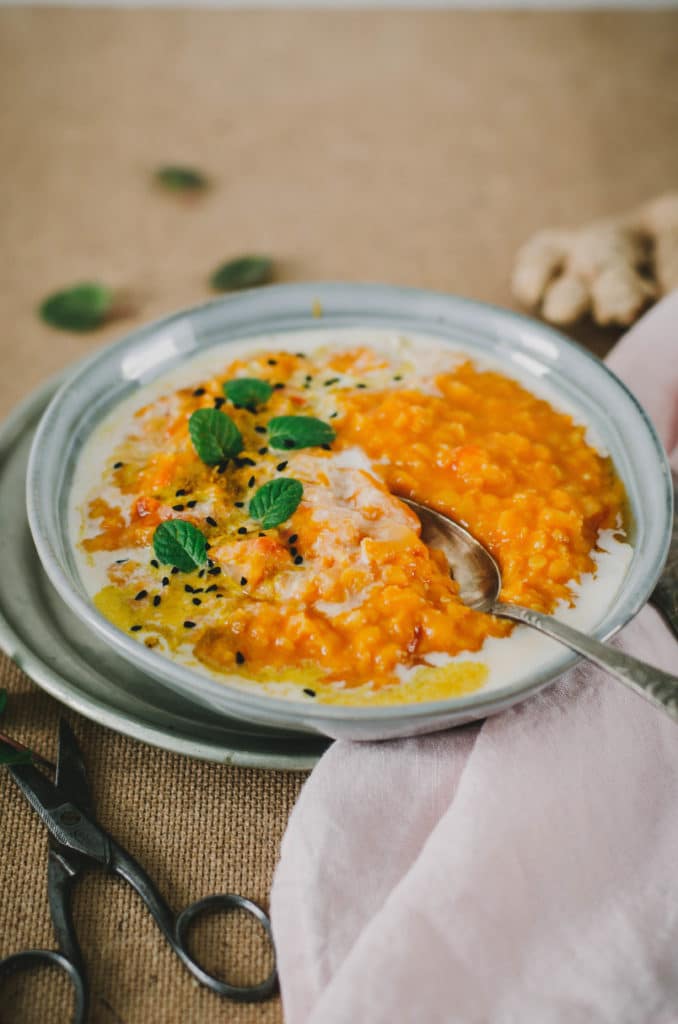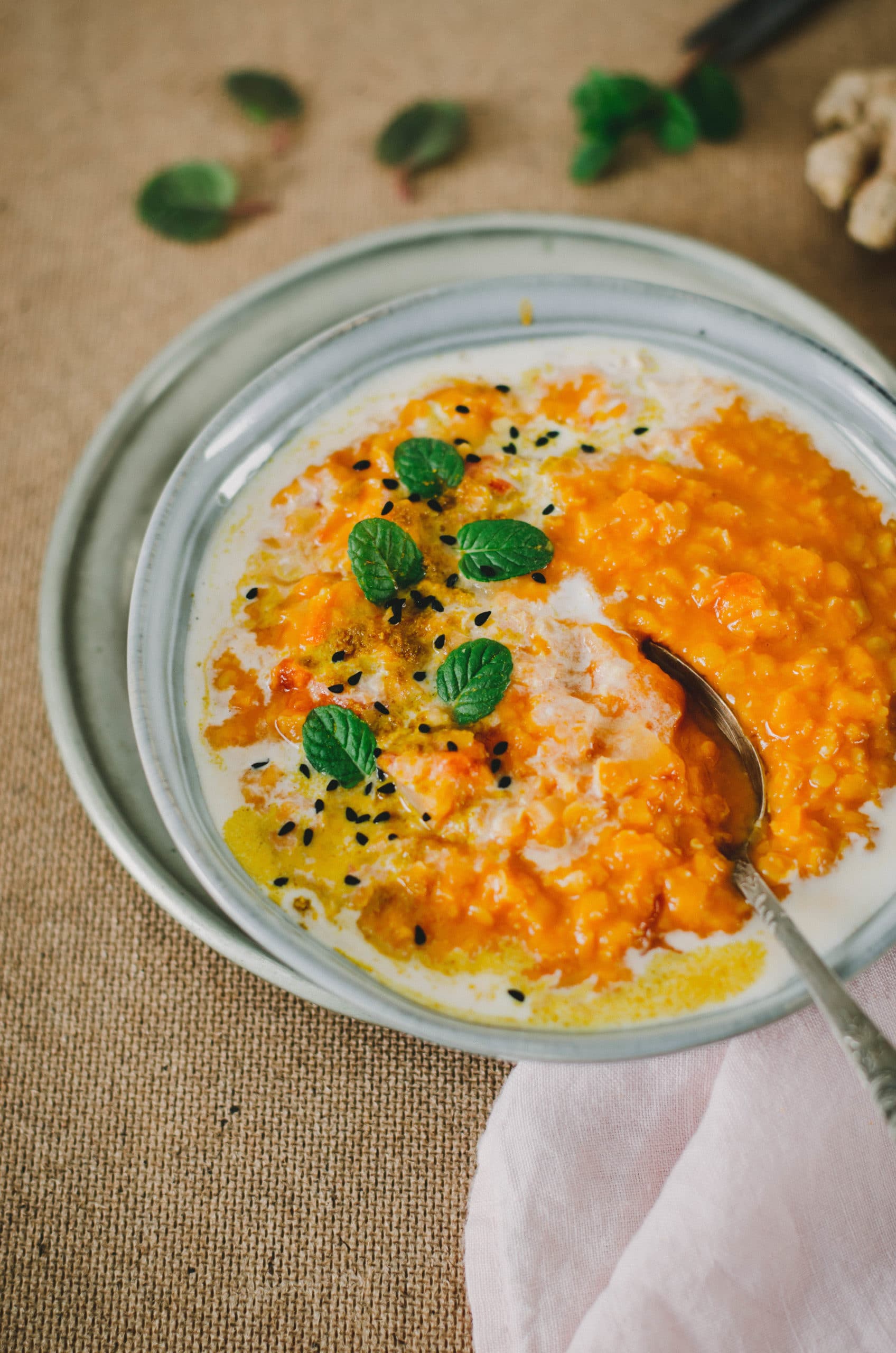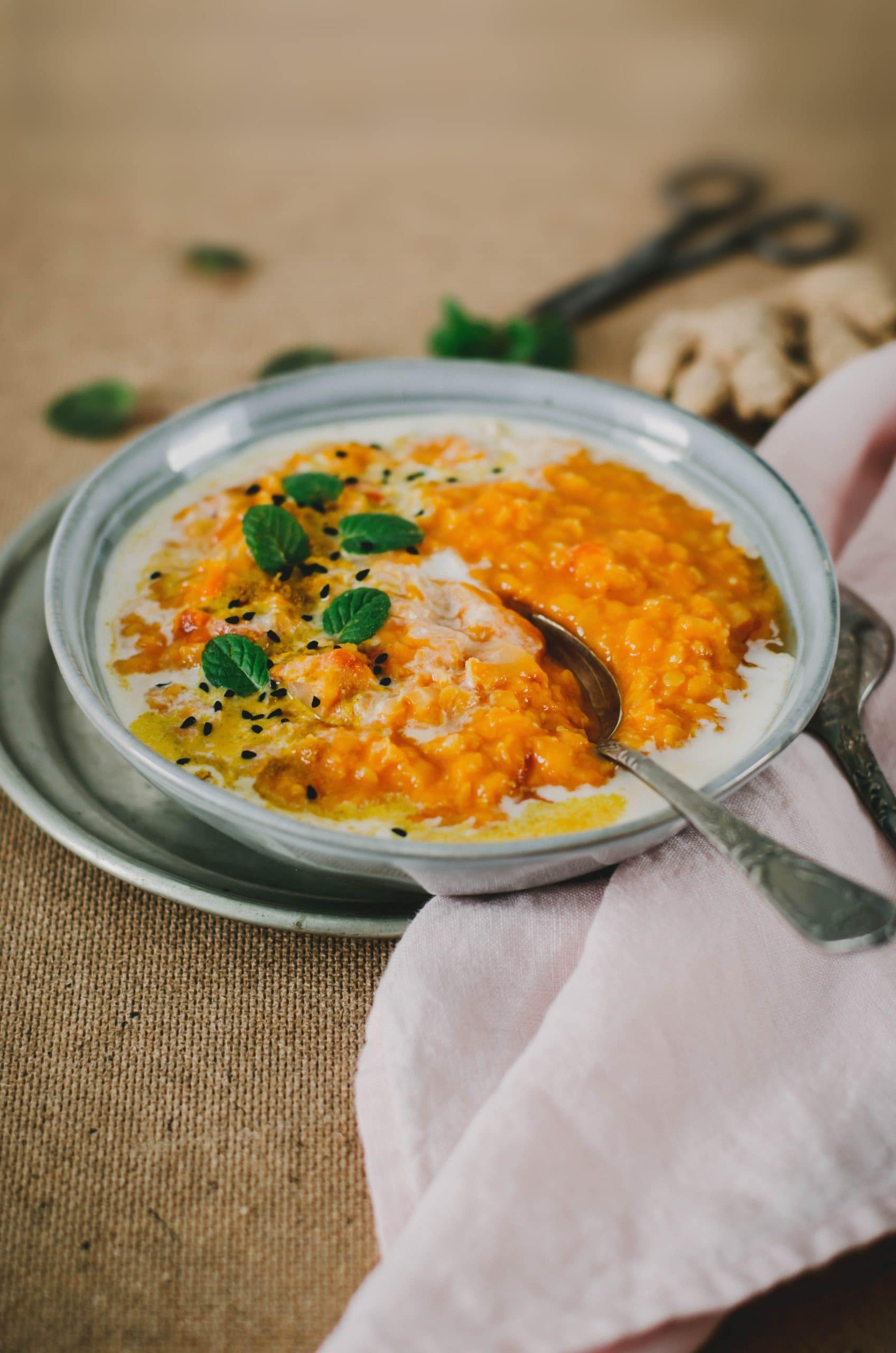 Just to let you know I am French and I translate my recipes, be indulgent if you see syntax errors and do not hesitate to leave me a comment so I can correct it. I hope you will like my recipes and enjoy your visit to my food blog!