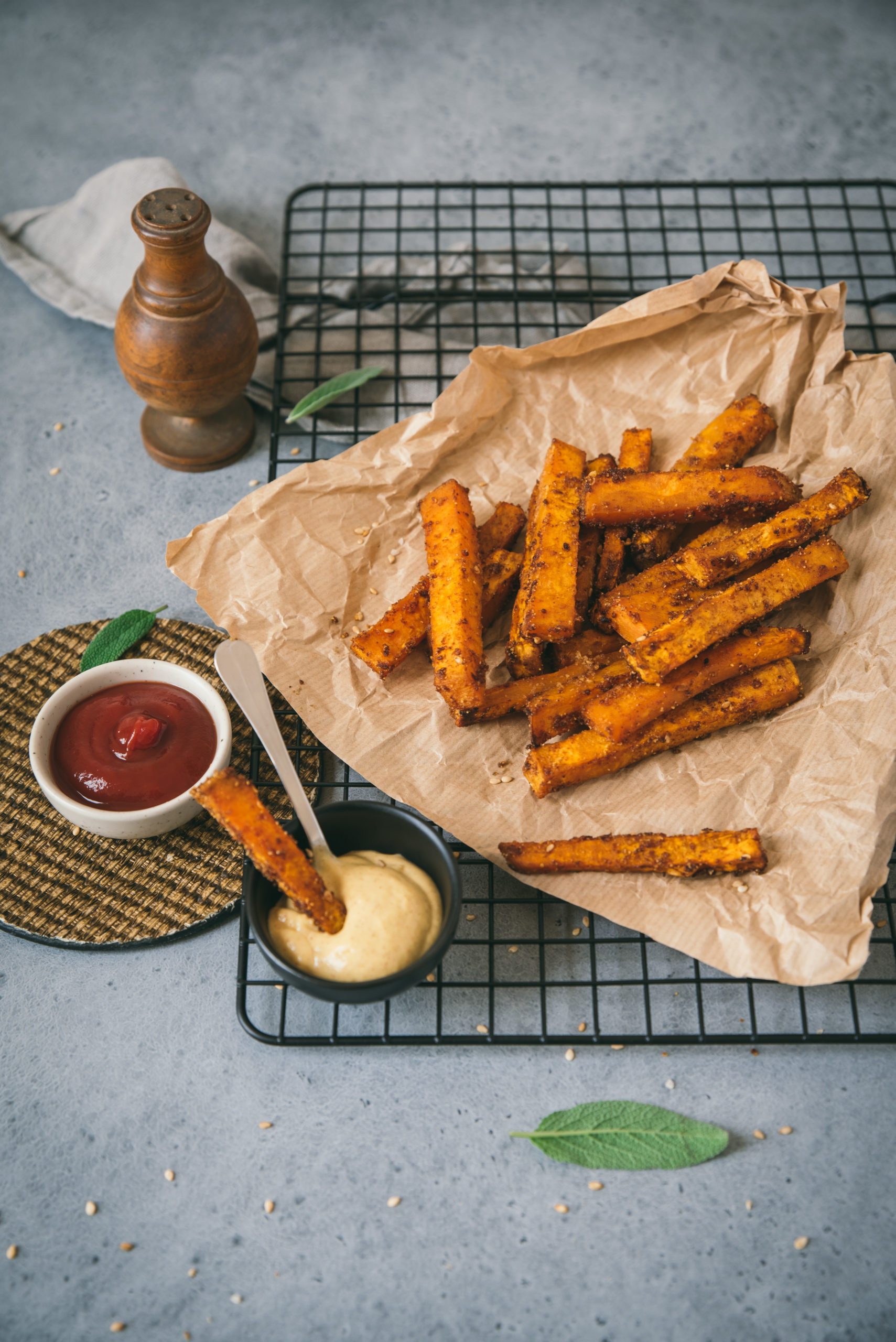 I don't know if you've ever tried making oven baked sweet potato fries, but it's a real treat! This is a recipe that I often make at home because it is simple to make and enchants children, just like us. I like this recipe in the oven because I'm not a big fan of frying at home and the result is really good and crispy. It is also a cooking that I also use for my potatoes.
I flavored my fries with paprika and garlic but you can of course leave them plain or change the seasoning with provencal herbs or other spices such as cumin, for example.
We like to eat these sweet potato fries with a salad, as an accompaniment to a dish like a sausage rougail or burgers, or simply with some good sauces, mustard, homemade ketchup, etc.
Oven Baked Sweet Potato Fries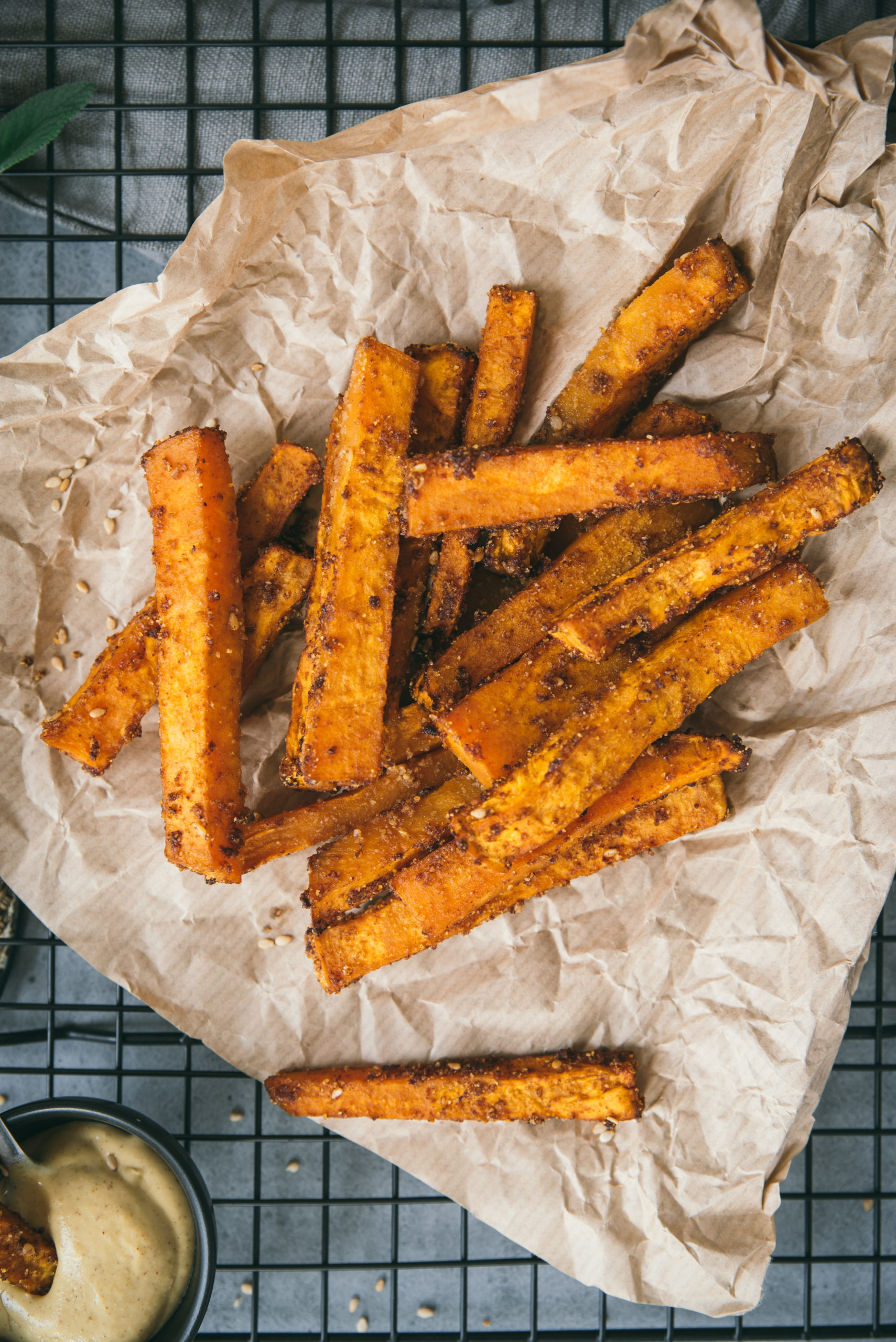 What ingredients do you need to make this delicious Baked Sweet Potato Fries recipe?
paprika powder
sweet pepper
garlic powder
olive oil
polenta
salt and ground pepper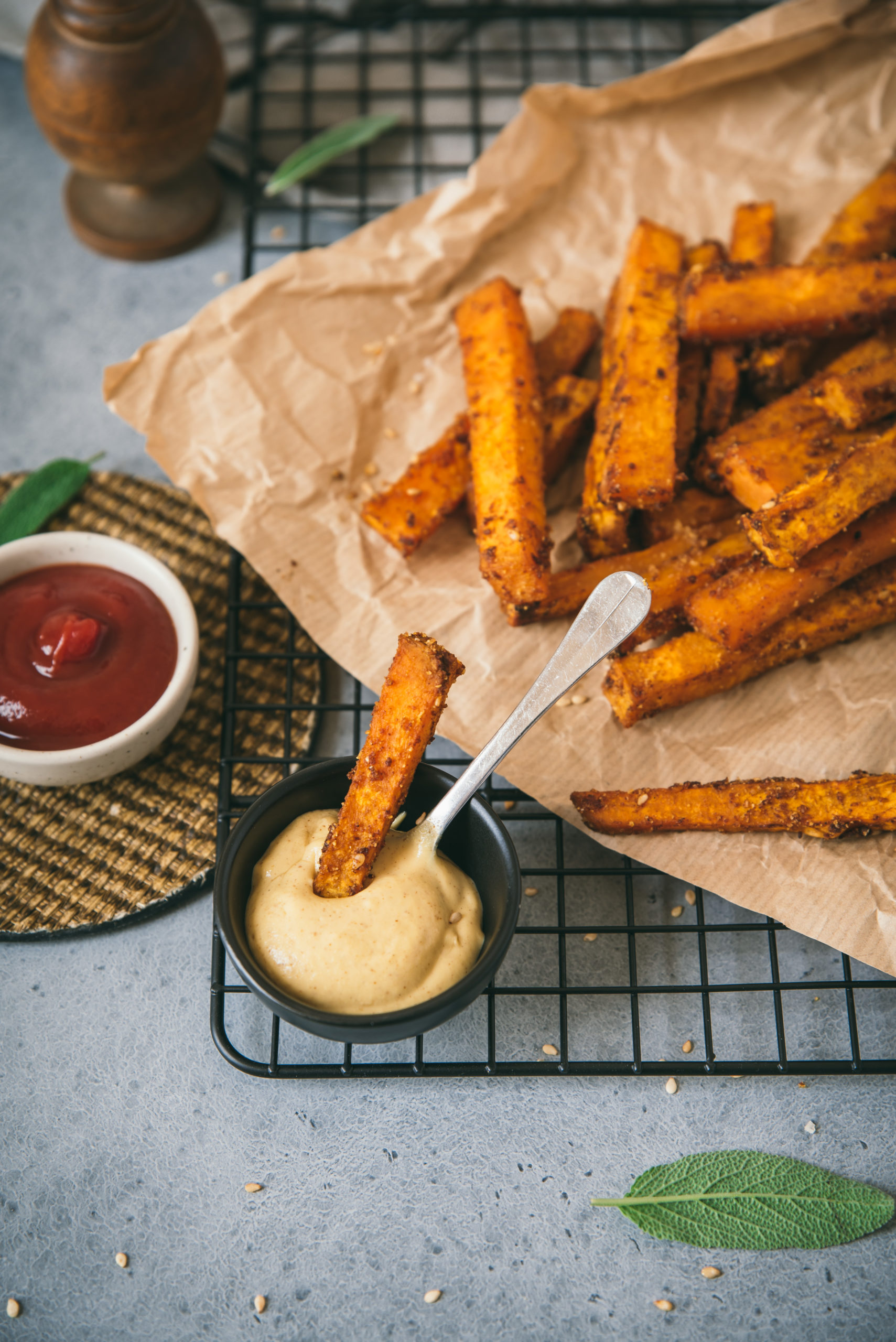 HOW TO GET CRISPIER SWEET POTATO FRIES?
If you want even crispier fries, you can add an egg white to the oil and spice mix compared to my recipe below.
For the fries, I recommend a medium size, that is to say about 1 centimeter on each side and I cut them lengthwise.
For my part, I do not mix my fries during cooking because sometimes they break, so I let them brown quietly and only touch them when tasting them.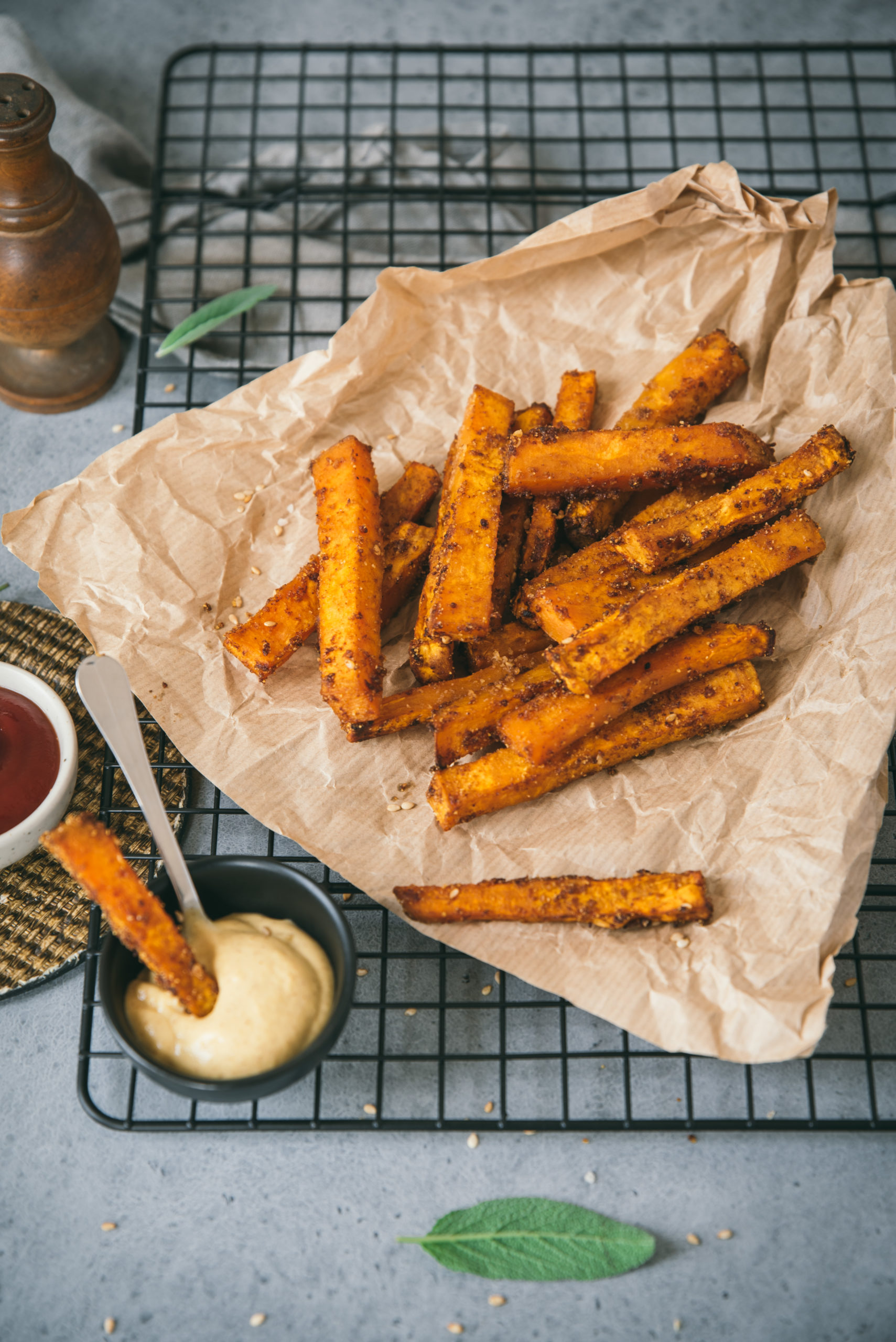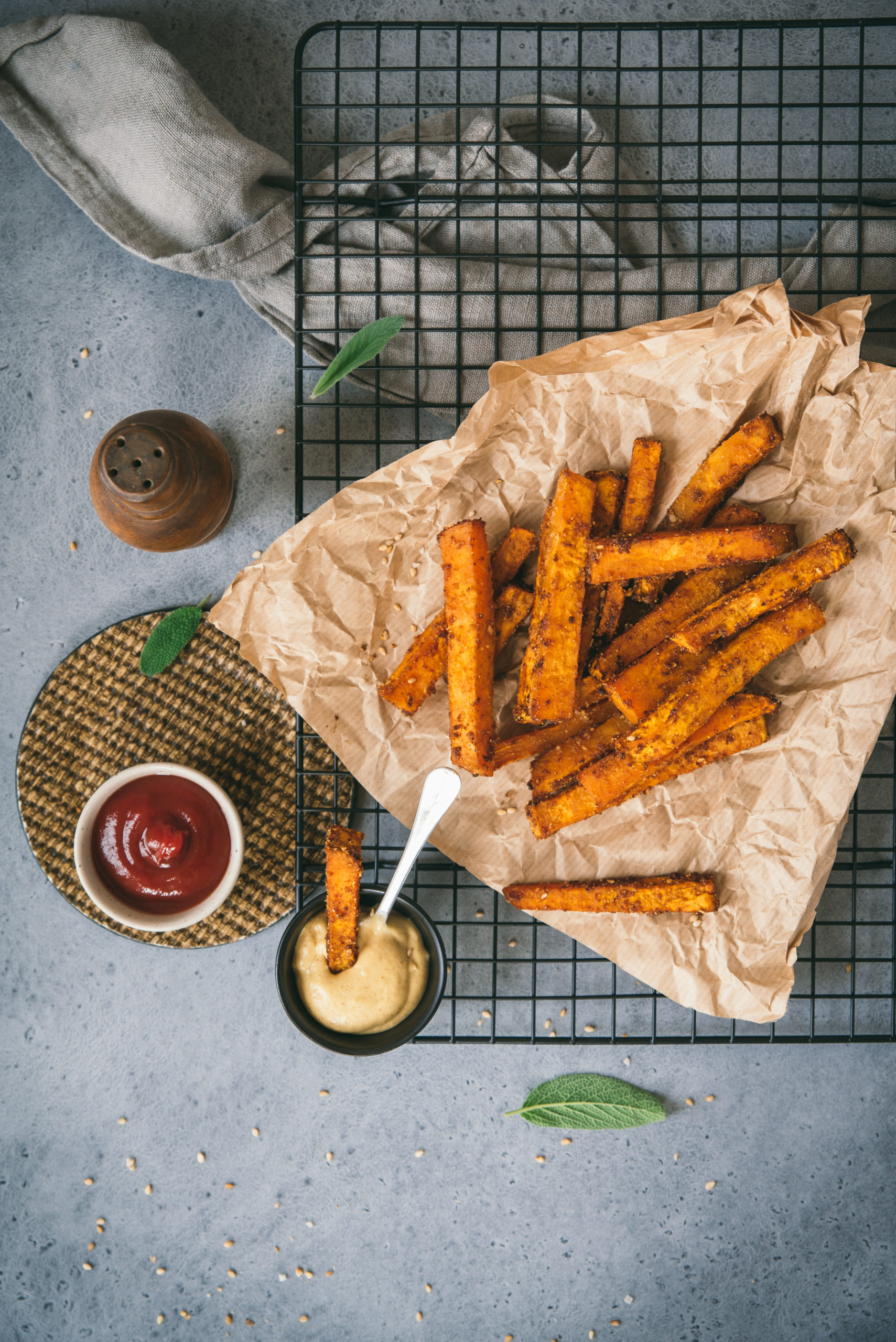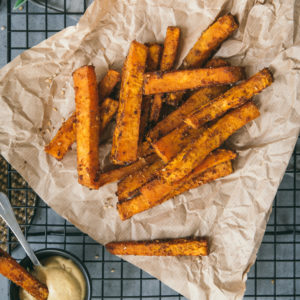 Oven Baked Sweet Potato Fries
Ingredients
800

g

sweet potato

3

tablespoons

paprika powder

1

tablespoons

sweet pepper

1

tablespoons

garlic powder

3

tablespoons

olive oil

1

tablespoons

polenta

Salt and ground pepper
Instructions
Preheat the oven to 220°C/428°F.

Line your baking sheet with baking paper.

Peel, wash and cut the sweet potato in pieces in the shape of fries and put them in a bowl.

I usually cut my fries lengthwise and 1 cm on each side.

Add all the spices and other ingredients.

Mix gently so that the sweet potatoes are well coated.

Place them on the baking sheet.

Bake in the oven for 25 minutes or more if necessary. The pieces will become crispy on the outside and soft on the inside.

Enjoy as soon as they come out of the oven.
If you make my oven Baked Sweet Potato Fries recipe and you like it, please tag me on Instagram or Facebook so I can see the result and share it myself…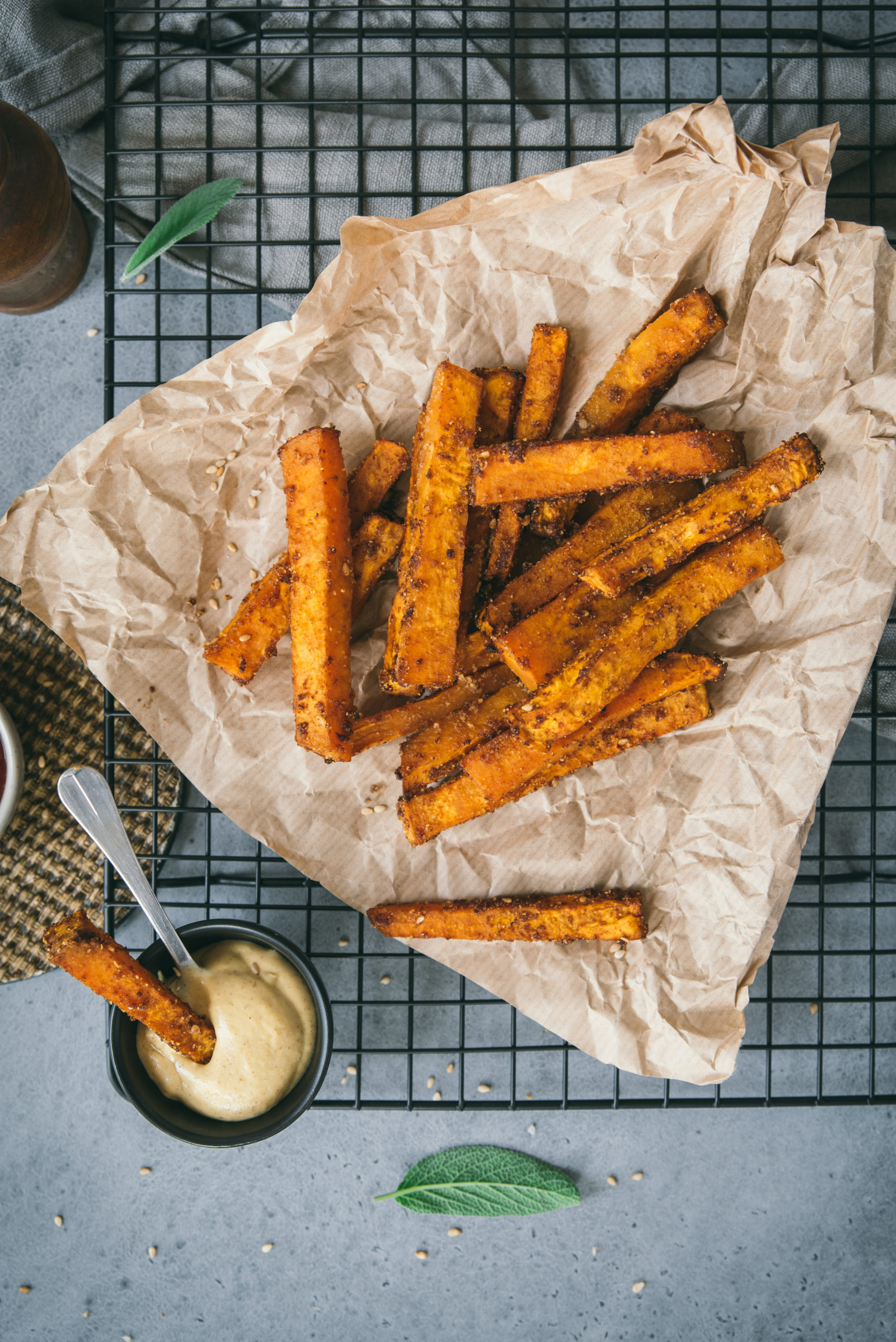 Just to let you know I am French and I translate my recipes, be indulgent if you see syntax errors and do not hesitate to leave me a comment so I can correct it. I hope you will like my recipes and enjoy your visit to my food blog!