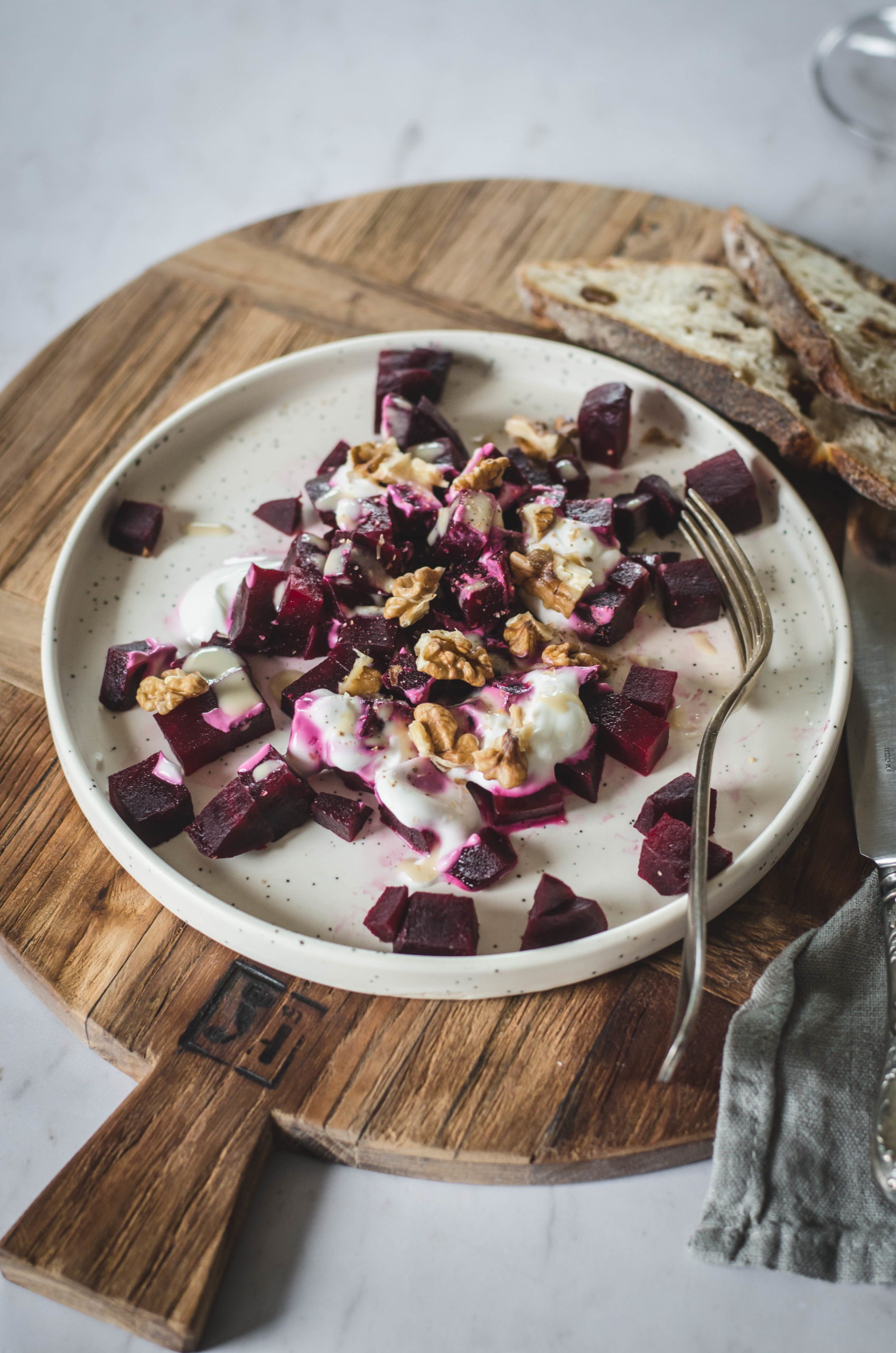 This Beetroot and Yogurt Salad with Walnut, is quick and tasty recipe for a light start to the new year.
But don't worry, those who know me know that I bounce back very quickly afterwards, and for the curious, know that the next recipe is really gourmet since I've concocted a Swiss fondue for you….
I'll tell you more soon, but in the meantime, let's get back to this salad!
To make this recipe, I took inspiration from one of my cookery books, Simple from Ottolenghi, but as usual, I'm unable to follow a recipe 100%, so I adapted it according to my mood of the day and what I had in the cupboards at home.
I really like this recipe, full of freshness and flavor. If you don't have or don't like spices and fresh coriander, that's okay, you can still serve this recipe with the basic ingredients that almost all of us have on hand: beet, yoghurt, garlic, salt and pepper!
It's ready in 5 minutes and everyone in our family loves it!
It can also be expanded into a main course by adding a few pieces of pita or Lebanese bread, for example, as well as chopped endives or hard-boiled quail eggs cut in 2.
Bon appétit!
Beetroot and Yogurt Salad with Walnut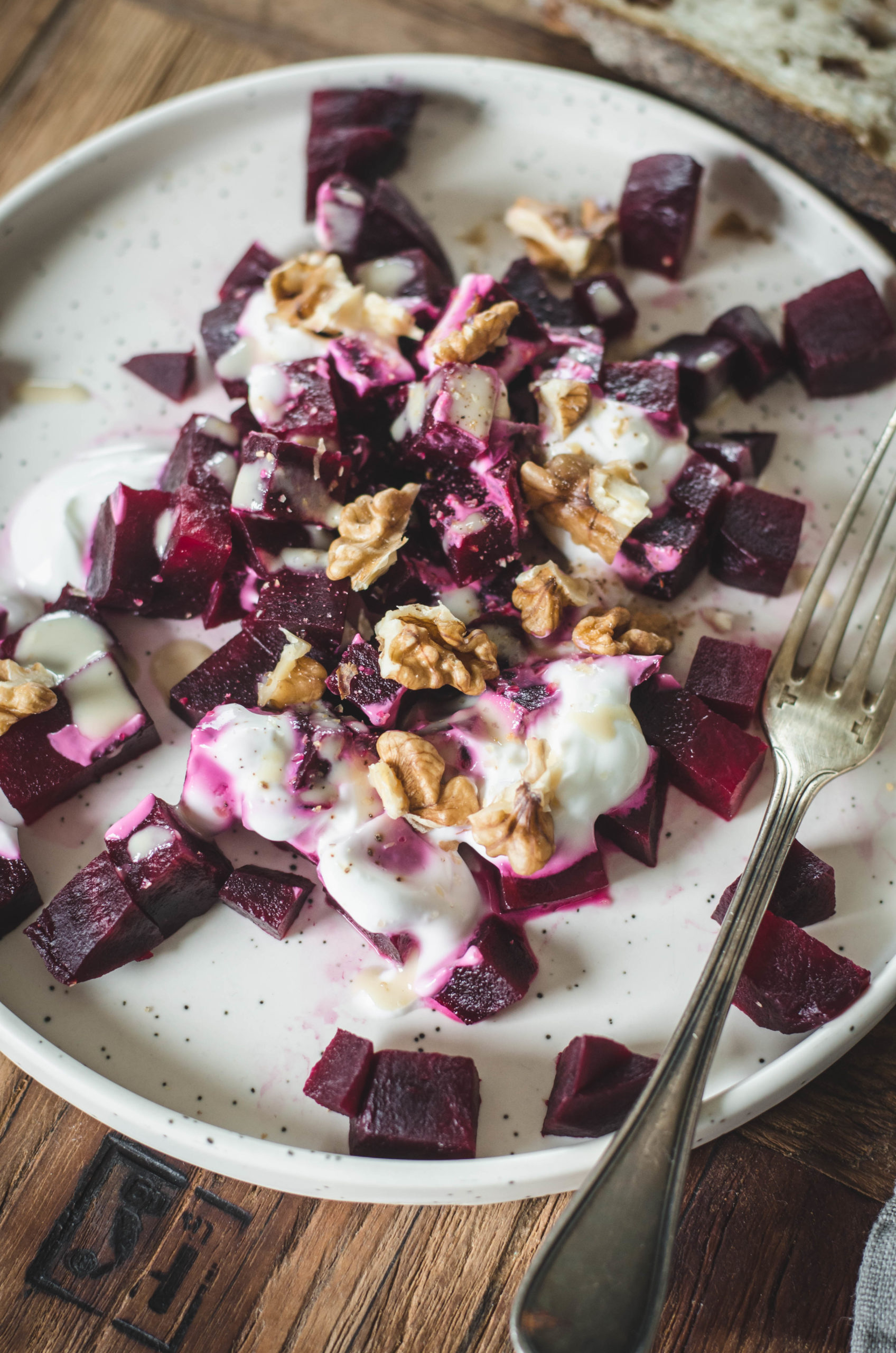 What ingredients do you need to make this salad?
cooked red beets
pressed garlic clove
red onion (optional)
Greek yogurt
tahin (sesame puree)
Salt and pepper from the mill
Walnuts
Fresh herbs (cilantro) (optional)
Zaatar (optional)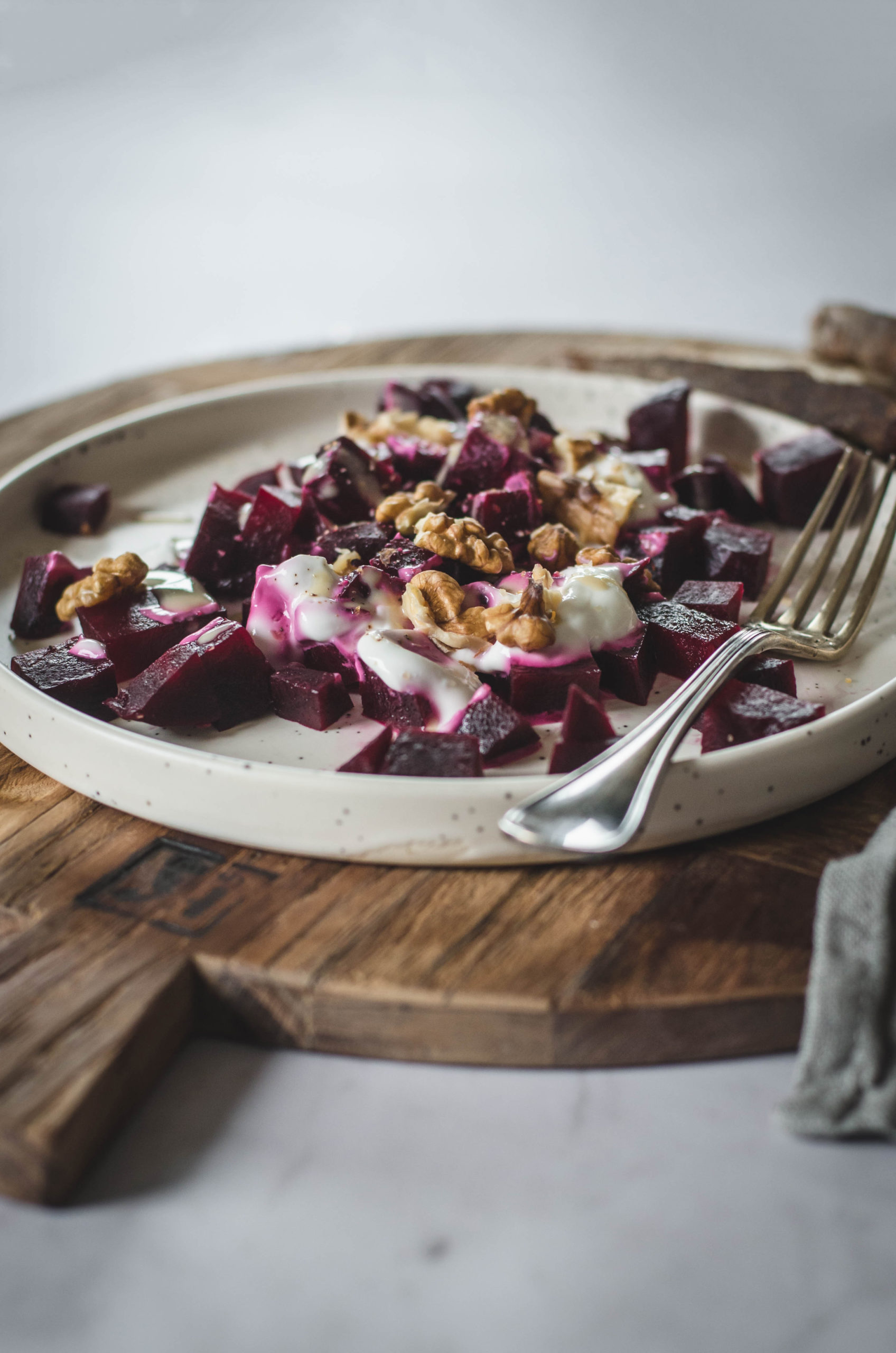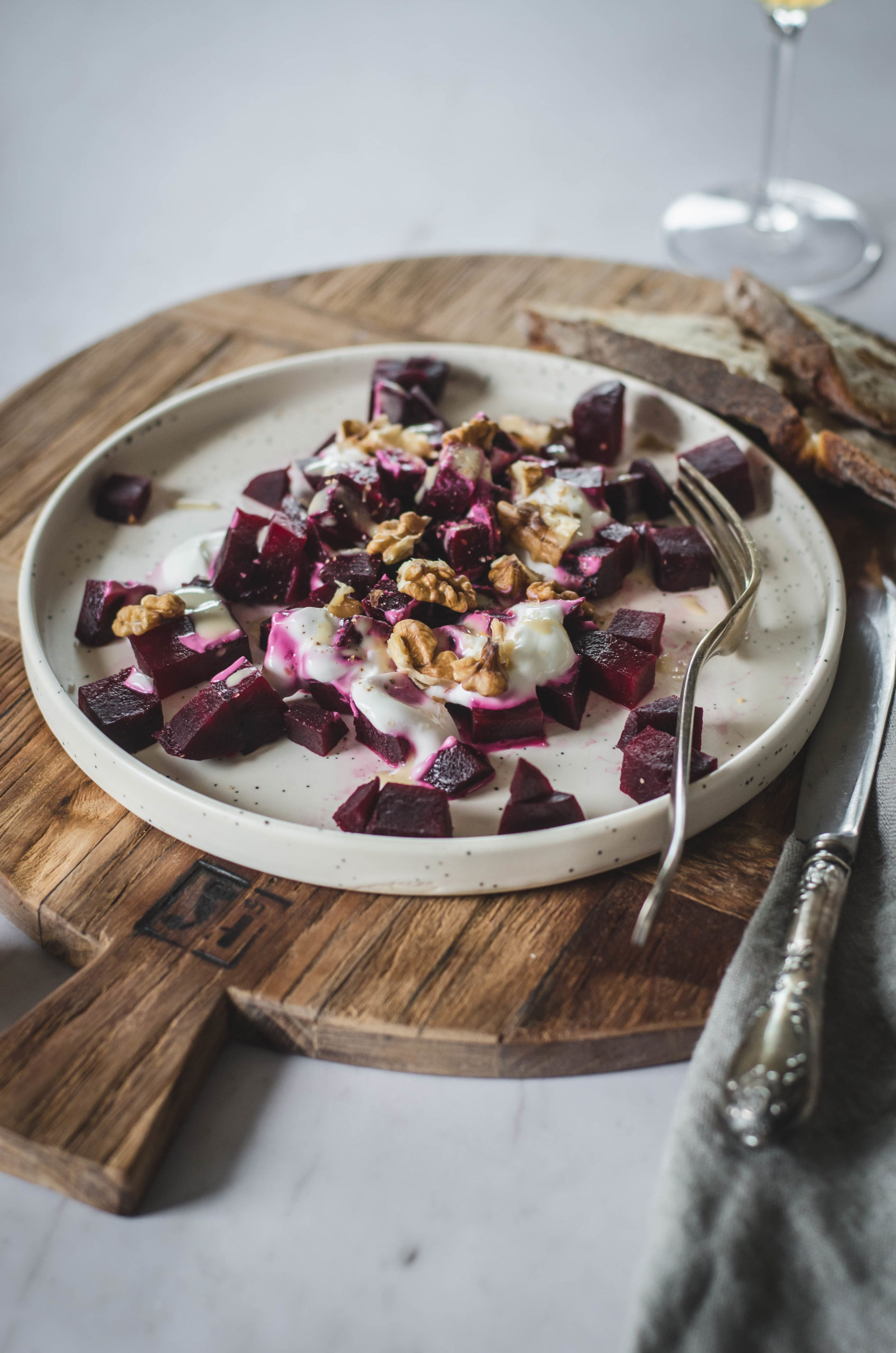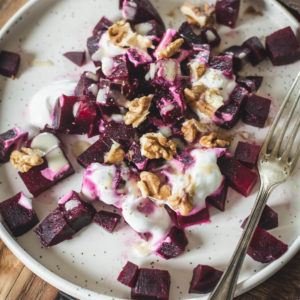 Beetroot and Yogurt Salad with Walnut recipe
Ingredients
2

cooked red beets

1/2

pressed garlic clove

1/2

red onion

(optional)

200

g

Greek yogurt

2

tablespoons

tahini (sesame puree)

Salt and pepper

Walnuts

Fresh herbs (cilantro)

(optional)

Zaatar (optional)
Instructions
Wash and peel the cooked red beets then cut them into small cubes. Arrange them in a dish.

Add the degermed and pressed garlic and the red onion cut into thin strips. Mix.

Place a few spoonfuls of Greek yogurt on top as well as the sesame puree.

Salt, pepper, add the nuts on top.

You can also add chopped fresh coriander and a little za'atar.

And that's all ! Serve and enjoy, it's full of freshness and flavors.
If you ever make my Beetroot and Yogurt Salad recipe and you like it, don't hesitate to tag me on Instagram @tangerinezest so I can see the result and share it myself…
Finally, just to let you know I am French and I translate my recipes, be indulgent if you see syntax errors and do not hesitate to leave me a comment so I can correct it. I hope you will like my recipes and enjoy your visit to my food blog!