A Chicken Bo Bun recipe, here is an Asian Salad I love to prepare, especially in summer, because of its freshness, its flavors and the travel memories that it evokes for me.
I make it almost once a month during the sunny days, but it can be enjoyed all year round…
It's a truly delicious mix of hot and cold, with a combination of raw vegetables, marinated meats, vermicelli, without forgetting the small spring rolls and a good sauce…
For those who wish, this chicken bo bun can simply be enjoyed cold. In a lunch box, for example, it's a treat!
I must nevertheless tell you that I discovered during my trip to Vietnam that calling this recipe bo bun was not entirely correct…
In fact, in Vietnamese 'bo' means beef, so it's not really fair to call this dish chicken bo bun…
The real name would rather be Gà bun, but hey, the main thing is that it is excellent!
Don't be scared at all by looking at the list of ingredients, it's not at all complicated and you just need to go to an Asian grocery store and you will find everything you need!
The result is well worth it!!
Also, I like to make my own sauce at home but you can use a store-bought spring roll sauce without any problem.
Chicken Bo Bun Asian Salad Recipe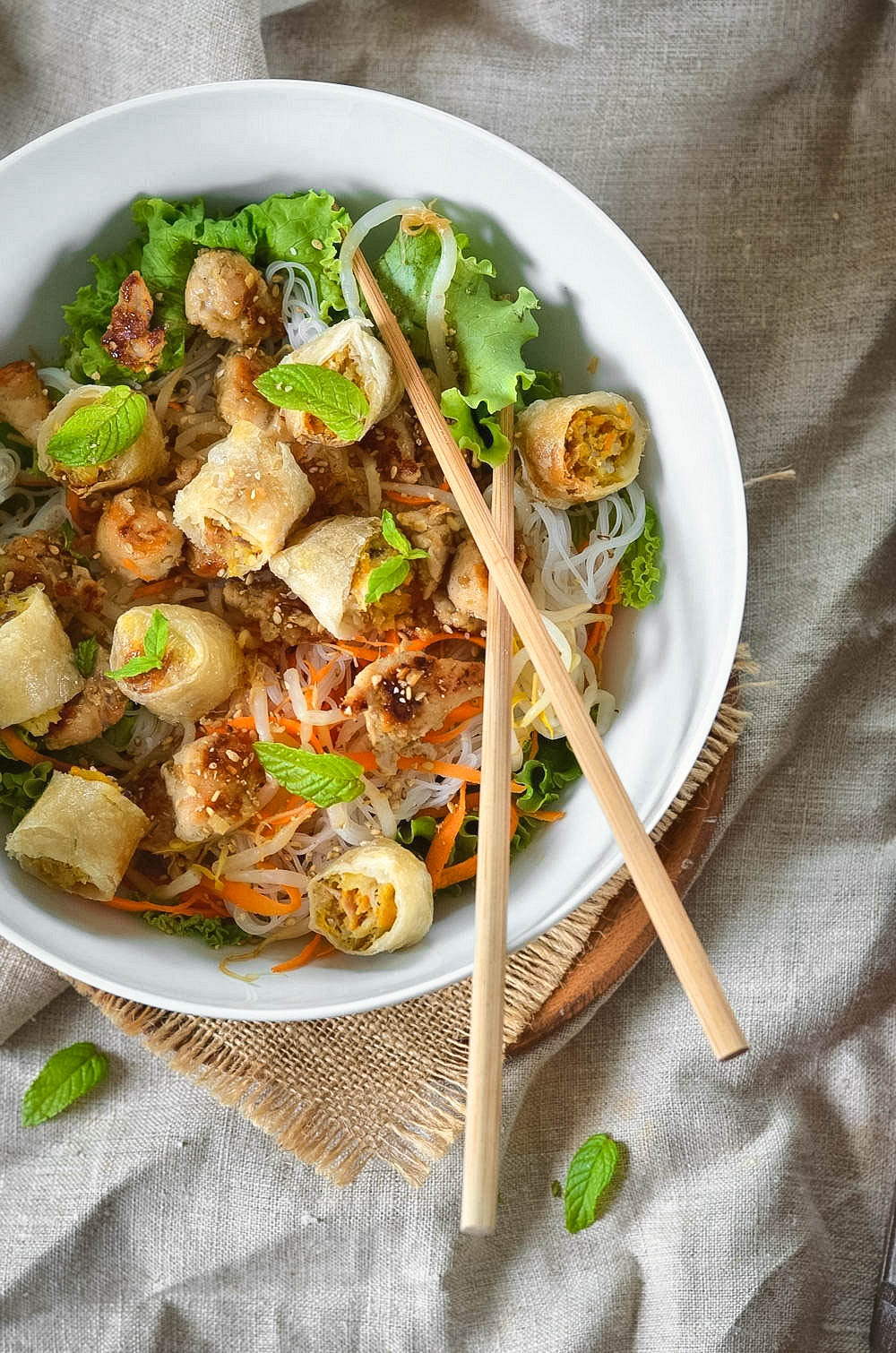 What ingredients do you need to make this delicious chicken bo bun salad recipe?
Don't be afraid, I can assure you that it's really simple to do and as you will see in the comments, my readers love it and have never found it complicated! 😉
green salad
carrots
spring rolls
bean sprouts
rice vermicelli
fresh herbs (mint and cilandro)
mild curry
lemongrass
nuoc mam sauce
pepper
garlic
sauce for the spring rolls
oil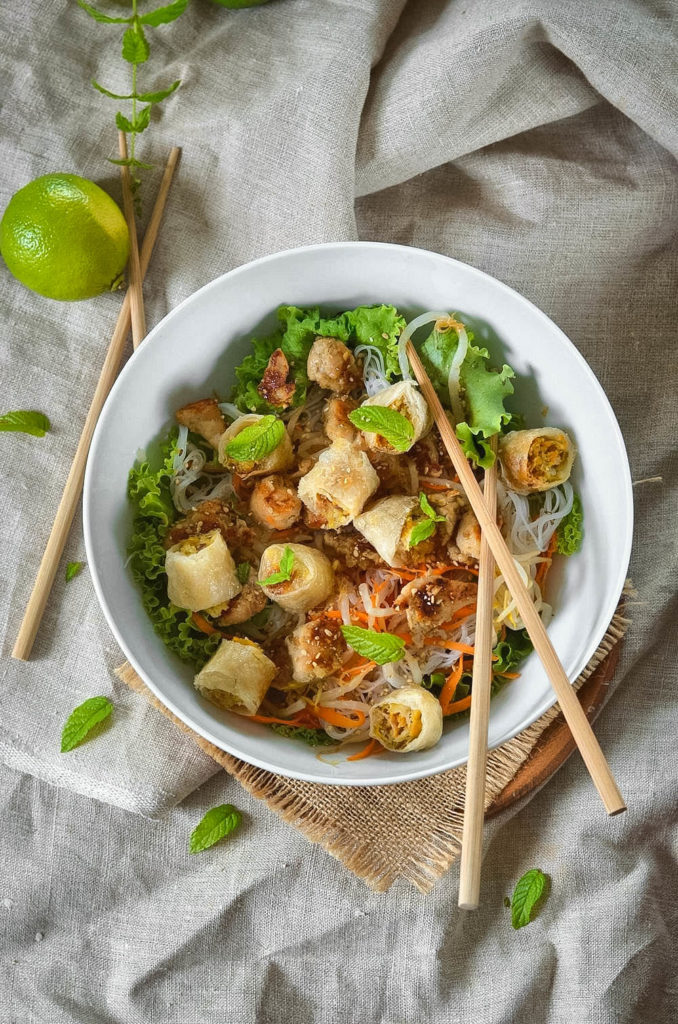 My tips for making this recipe a success:
Read the recipe instructions below carefully before starting.
Prepare all the ingredients (correct quantities and weighed) before starting.
This will allow you to check that you have everything at home and to supplement it if necessary, to understand the recipe well and to go faster overall in making the recipe, and to have more fun cooking! 😉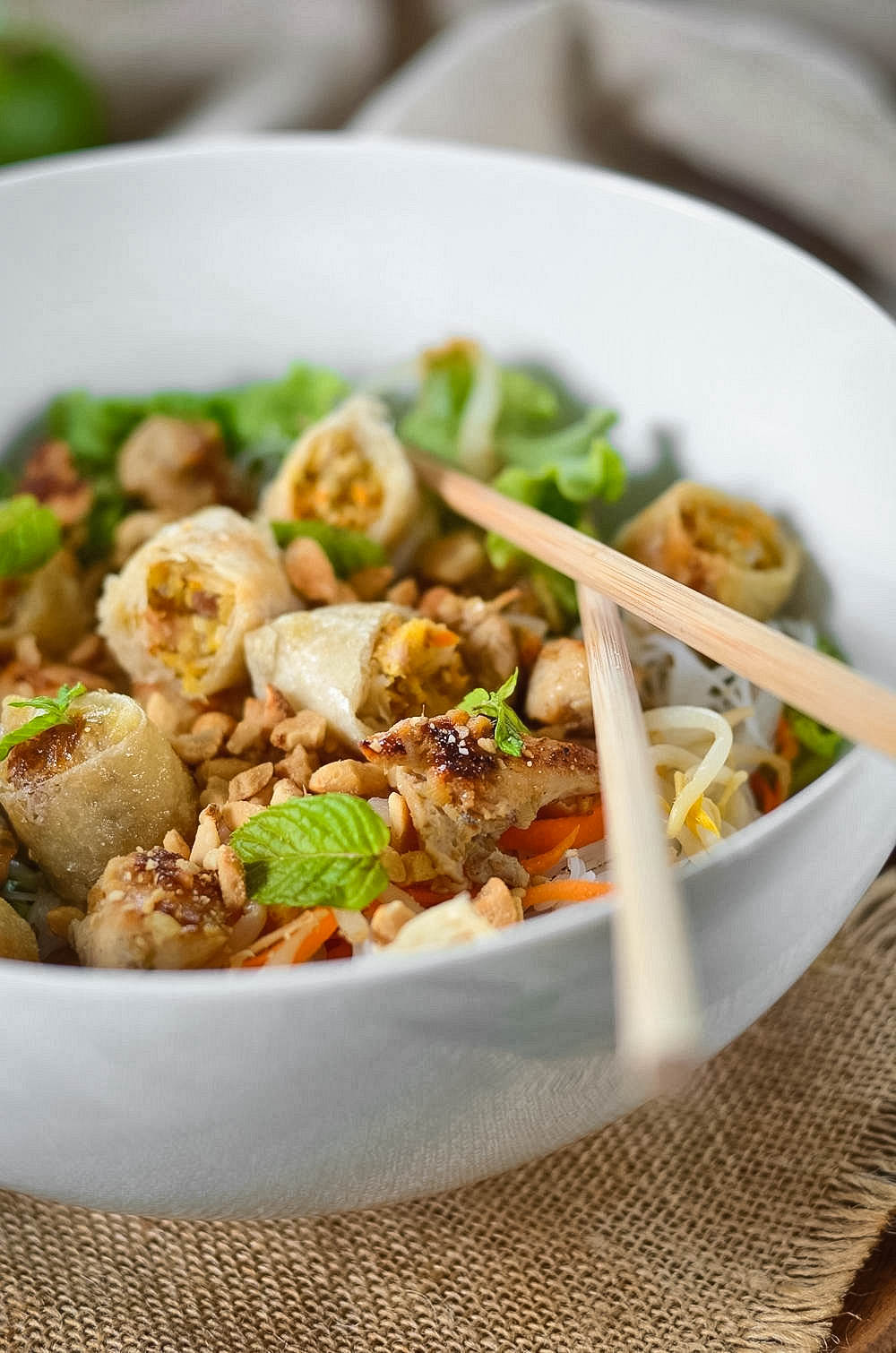 If you like this kind of recipe, here are some of the ones that I also really like: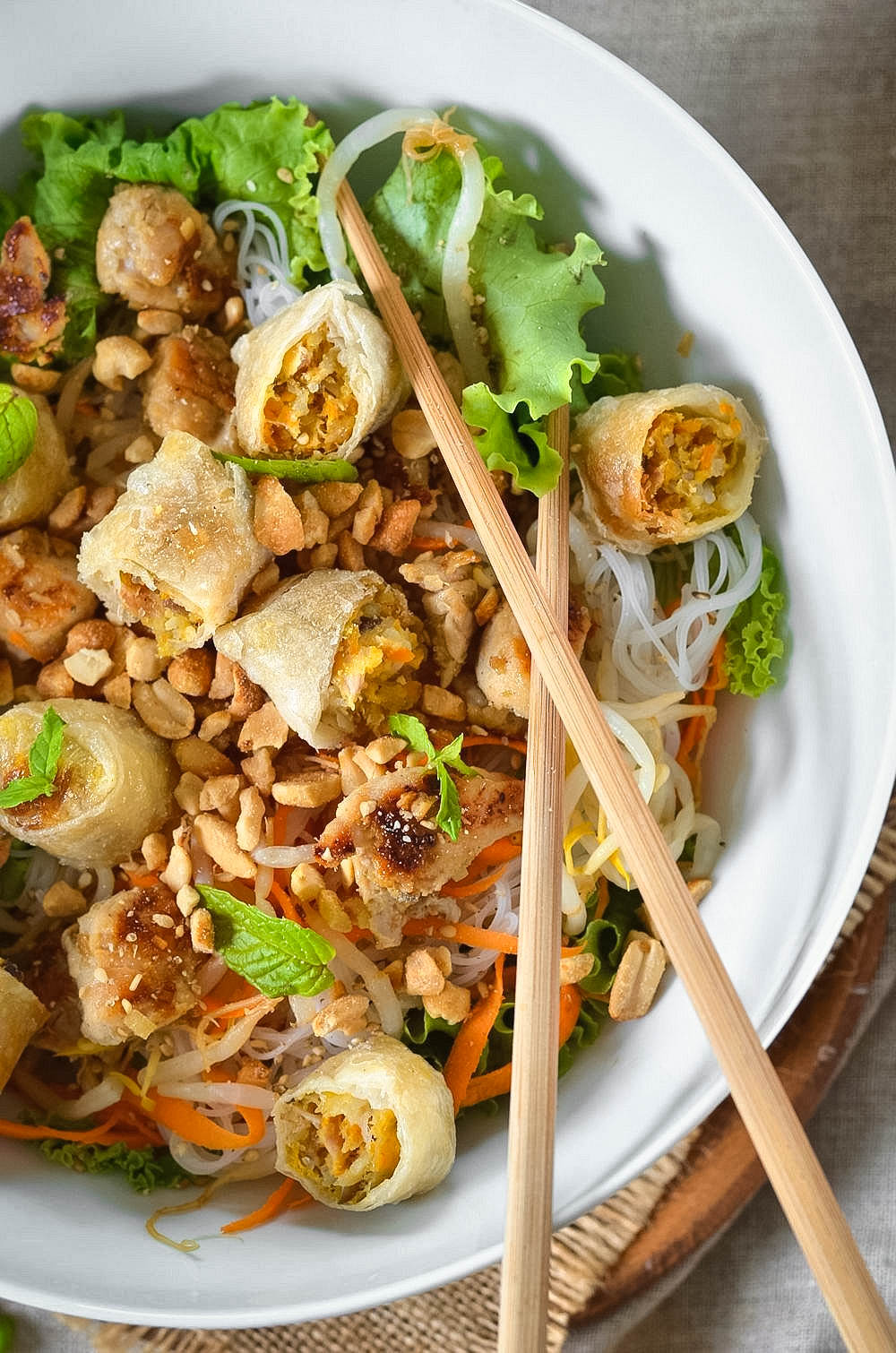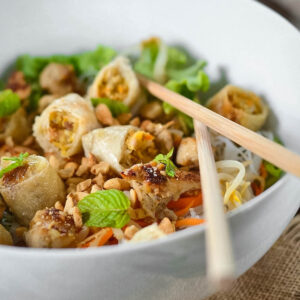 Chicken Bo Bun Asian Salad Recipe
Ingredients
2

chicken or turkey escalopes

12

batavia salad leaves

2

carrots

6 to 8

store-bought spring rolls

300

g

bean sprouts

250

g

rice vermicelli

6

sprigs of mint

1

small bunch of fresh coriander

2

tablespoons

oil

2

tablespoons

peanuts
FOR THE CHICKEN MARINADE
1

tablespoon

mild curry powder

1

tablespoon

lemongrass powder or whole and finely chopped

3

tablespoons

nuoc mam sauce

(asian fish sauce)

1

pinch

pepper

1

garlic clove
FOR THE SAUCE (YOU CAN ALSO USE AN ALREADY READY-MADE NEMS SAUCE)
8

tablespoons

water

4

tablespoons

brown sugar

1

tablespoon

white or rice vinegar

2

tablespoons

nuoc-mam

(asian fish sauce)

1

pinch

chili powder
Instructions
Cut the chicken into small cubes and leave it to marinate in the refrigerator with the curry, chopped garlic, lemongrass, pepper and nuoc mam sauce (at least 30 minutes).

Meanwhile prepare the sauce. Bring all the sauce ingredients to a boil and set aside.

For the vermicelli, bring a good pot of water to the boil. Immerse the vermicelli in it for 2 to 3 minutes. Drain them and arrange them by handfuls on a plate.

Cut the salad into strips and grate the carrots.

Brown the spring rolls in a pan and cut them into small pieces.

Brown the meat in a little oil, over very high heat and very briefly: you simply need to sear the meat to keep it tender.

Serve in large bowls: start with the salad, carrots, soy, then the vermicelli.

Place the spring rolls cut into small pieces and the meat.

You can decorate with chopped coriander, mint and some crushed peanuts.

Drizzle with sauce and your chicken Bo bun is ready!
If you ever make my homemade Chicken Bo Bun salad recipe and you like it, don't hesitate to tag me on Instagram @tangerinezest so I can see the result and share it myself…
Finally, just to let you know I am French and I translate my recipes, be indulgent if you see syntax errors and do not hesitate to leave me a comment so I can correct it. I hope you will like my recipes and enjoy your visit to my food blog!