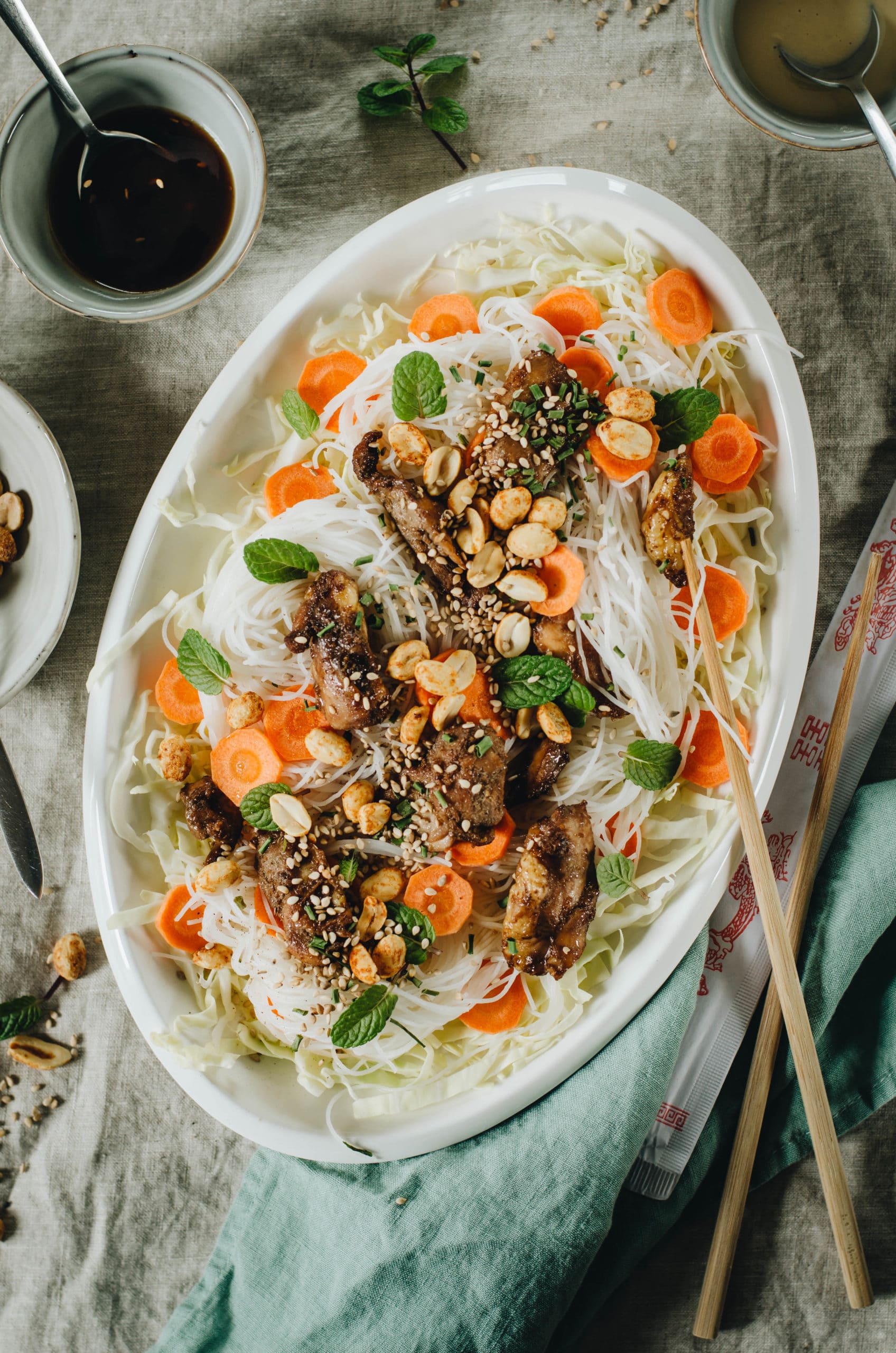 After my little survey on Instagram where I asked you to choose the next recipe that you would like to see on the blog, a large majority of you chose this Vietnamese Chicken Salad.
So there you have it and for the others, don't worry, cookies, fresh pasta and flambéed bananas will follow soon… 😉
With this Vietnamese chicken salad recipe, I continue our virtual journey, if not discovering the world physically, we are at least taking our taste buds on a journey with a little world cuisine.
You will see that in this version I cooked chicken but you can use other meats, beef or pork, do as you wish.
Of course, it can also be cooked in a vegetarian version, replacing the chicken with mushrooms or tofu, for example.
This recipe is very similar to my chicken bo bun recipe but there is no spring roll inside. Just like the previous recipe, I really like the hot-cold and cooked-raw mixture. At the moment, I really want raw vegetables and fruits so I put them everywhere and it's a treat.
For those who wish, you can also add a little coconut milk, it really adds a little gourmet touch that I particularly like.
Come on, I'll leave you with the recipe and wish you a good (virtual) trip… 😉
Vietnamese Chicken Salad Recipe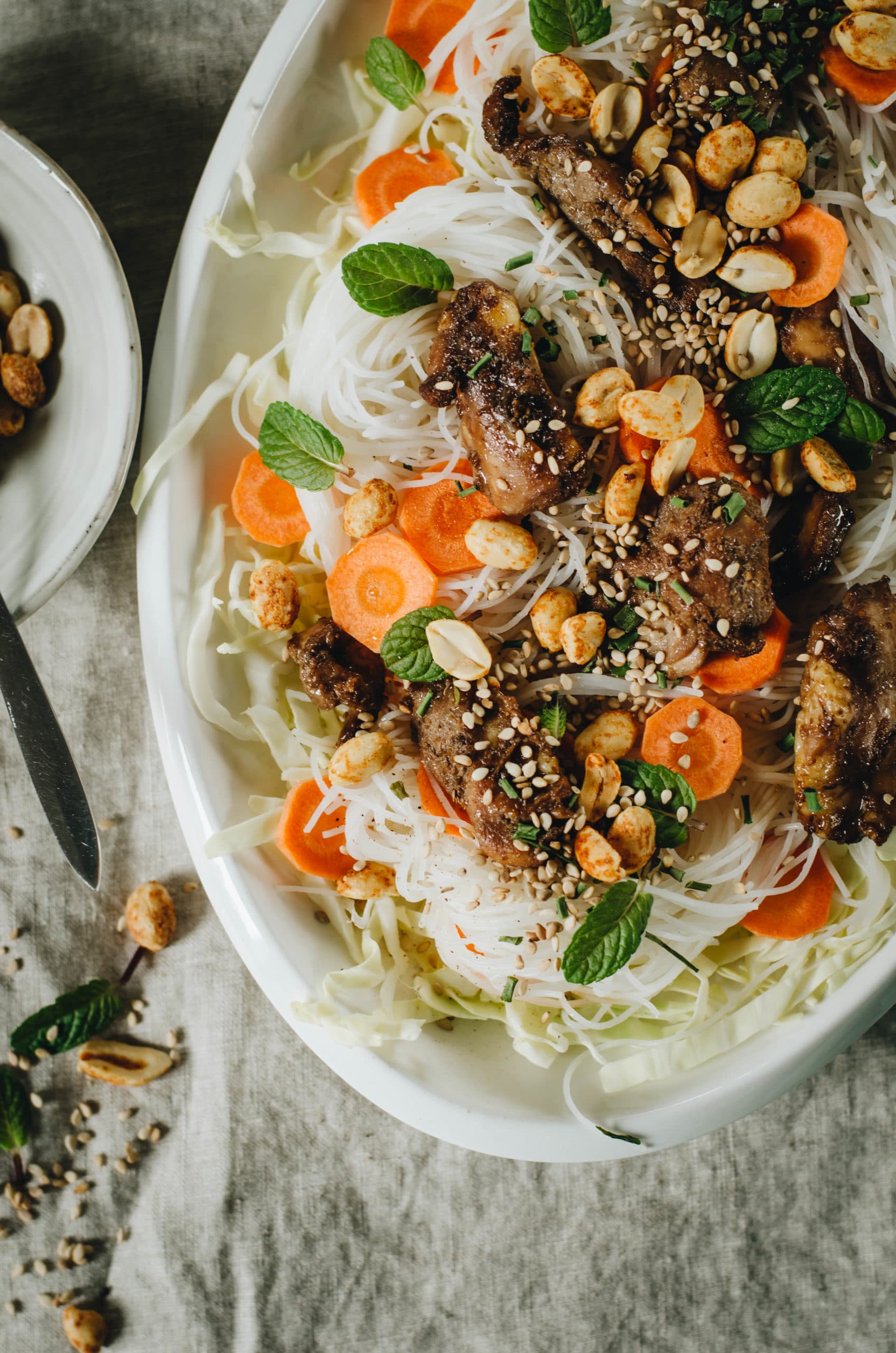 What ingredients do you need to make this delicious Vietnamese chicken salad recipe?
Don't get scared with the list, it's very simple!
salad or cabbage
rice vermicelli
beautiful carrots
chicken or other meats, mushrooms or tofu
nuoc mam sauce
soy sauce
pressed garlic
fresh or powdered ginger
due lime juice
rice vinegar
sesame oil
brown sugar
SEASONINGS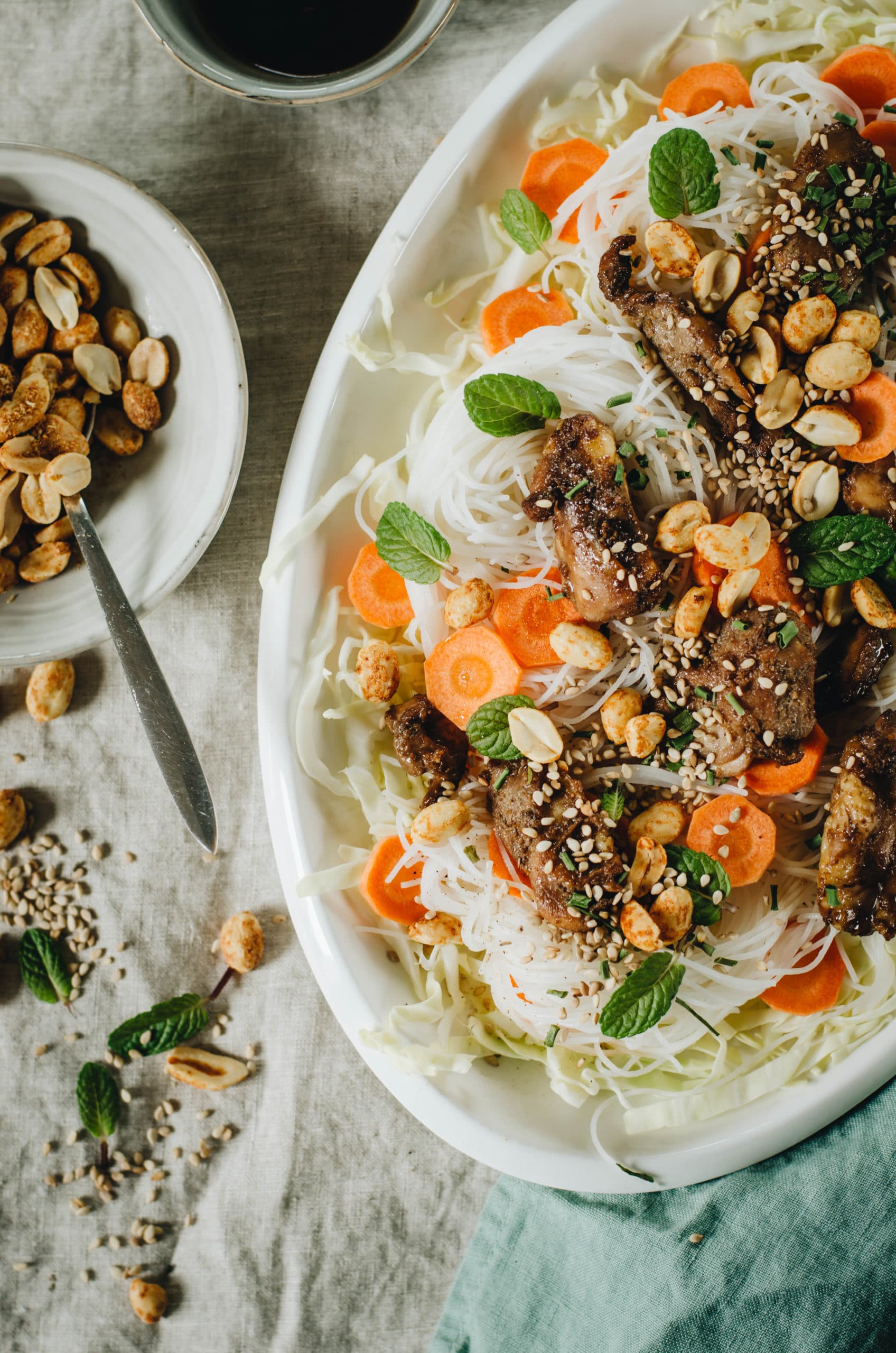 MY ADVICE FOR SUCCEEDING WITH THIS EASY AND DELICIOUS RECIPE:
Read the recipe instructions below carefully before starting.
Prepare all the ingredients (correct quantities and weighed) before starting.
This will allow you to check that you have everything at home and to supplement it if necessary, to understand the recipe well and to go faster overall in making the recipe, and to have more fun cooking!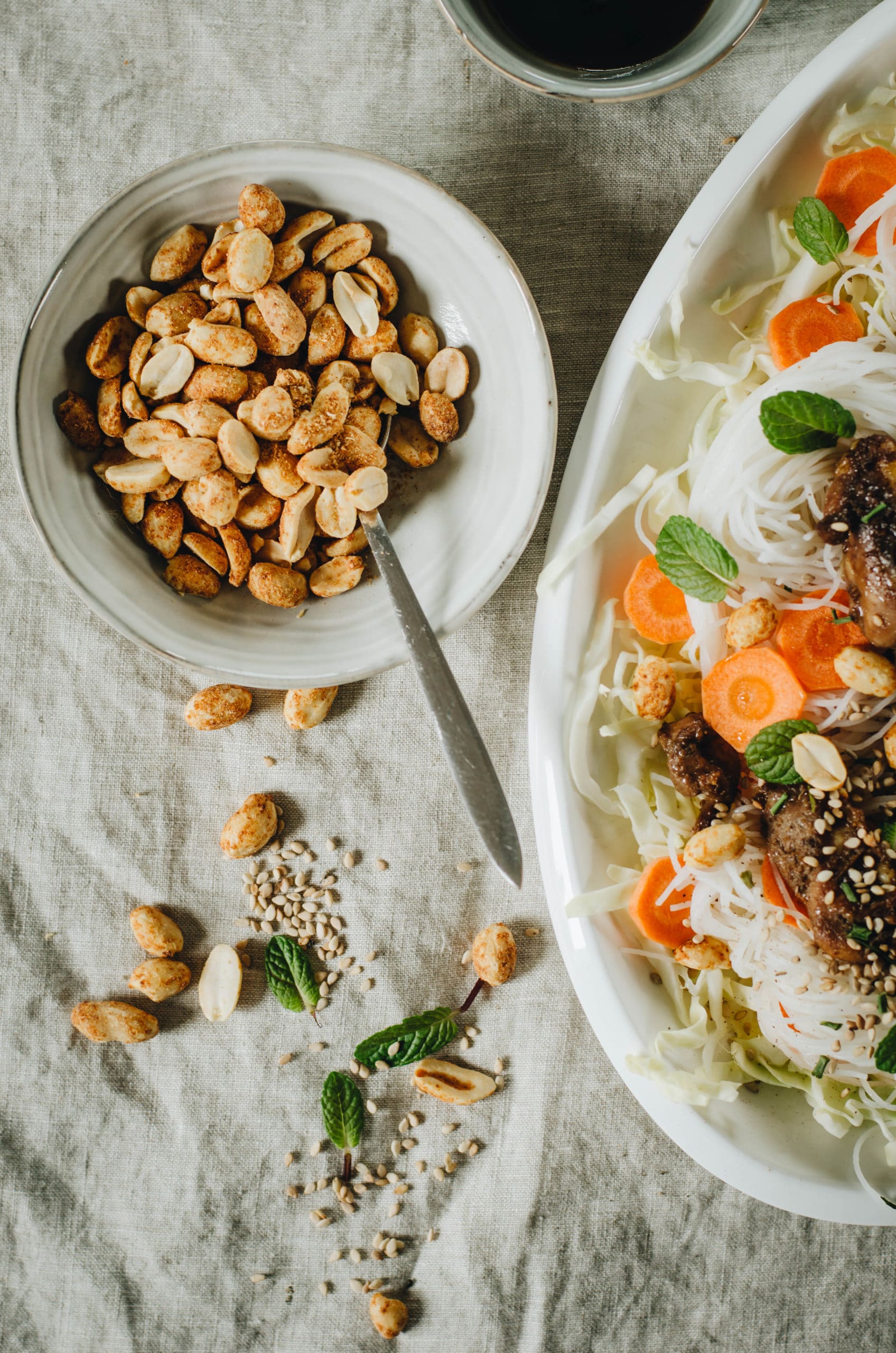 Here are other Asian recipes that you might also like: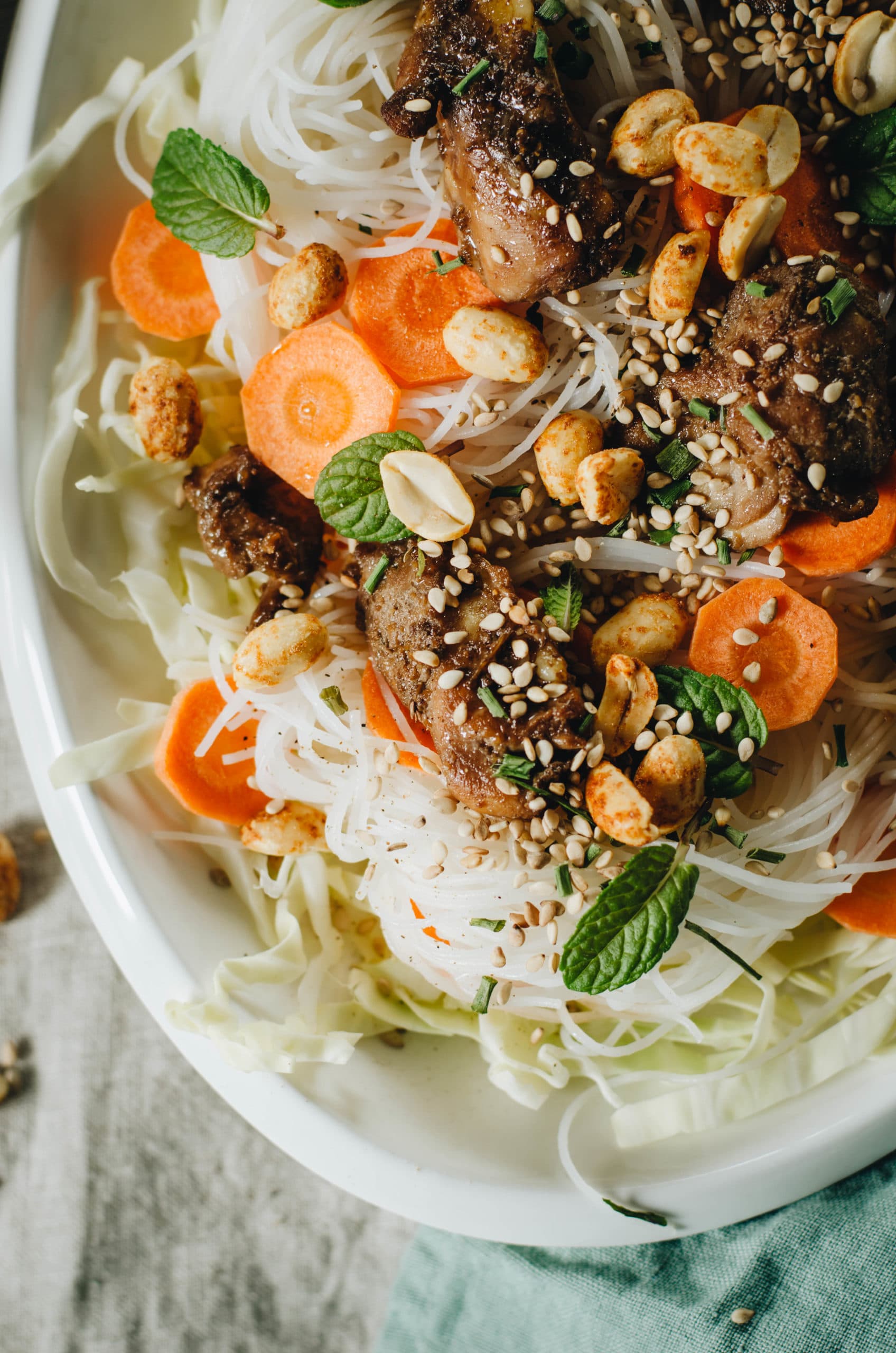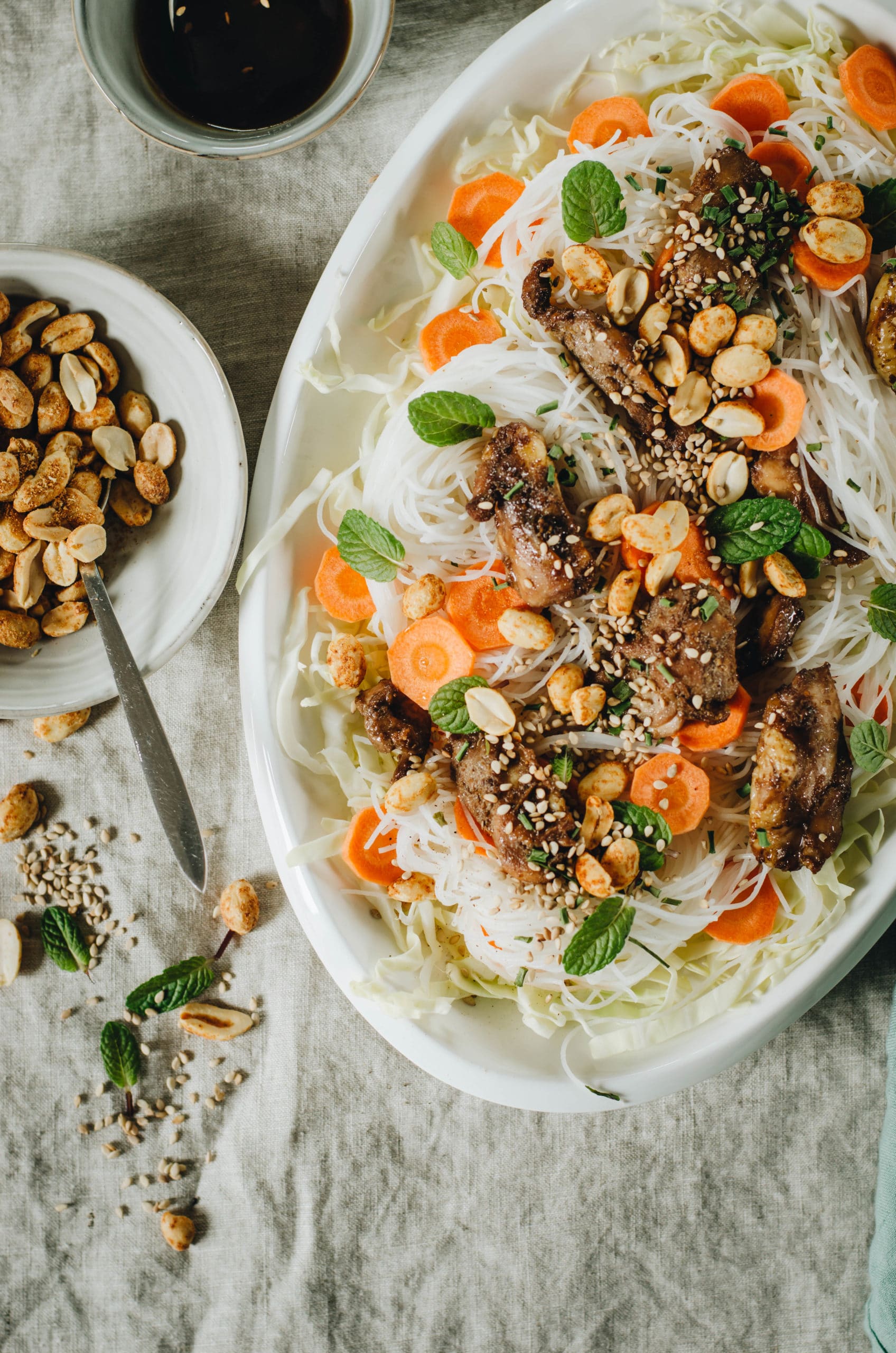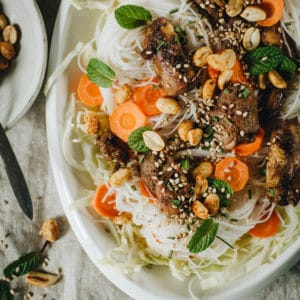 Vietnamese Chicken Salad Recipe
A recipe full of freshness and flavors to take your taste buds on a journey from home.
Ingredients
1/2

salad or cabbage

100

g

rice vermicelli

2

nice carrots

200

g

chicken

or other meats, mushrooms or tofu
FOR THE CHICKEN MARINADE
1

tablespoon

nuoc mam sauce

(asian fish sauce)

1

tablespoon

soy sauce

1

pressed garlic clove

1/2

teaspoon

fresh or powdered ginger
FOR THE SAUCE
1

tablespoon

nuoc mam sauce

(asian fish sauce)

1

tablespoon

lime juice

1

tablespoon

rice vinegar

1

tablespoon

sesame oil

1

tablespoon

brown sugar
SEASONINGS
Fresh mint leaves

Fresh coriander

Fresh chopped chives

Crushed peanuts

Sesame seeds

Mill pepper
Instructions
Start by marinating your chicken (at least 30 minutes) cut into small pieces with all the marinade ingredients: soy sauce, nuoc mam, pressed garlic and ginger.

Meanwhile, cook the vermicelli as directed on the packet. Generally, you need to rehydrate them in hot water for about 5 minutes, then rinse them in cold water to stop the cooking and drain them. Reserve them.

Prepare your sauce by mixing all the ingredients in a small bowl.

Also prepare the other ingredients such as carrots (peeled, washed, cut into slices), as well as seasonings (wash and chop the herbs).

Then cook the chicken in a pan with a drizzle of oil (sesame for example) for 5 to 10 minutes depending on the size of your pieces of meat. Also add the marinade sauce if there is any left.

Then serve the salad in a large dish. Start with the salad, then the vermicelli. Add the carrots and chicken on top.

Then season with the sauce, chopped herbs, crushed peanuts and sesame seeds. Season with pepper and serve.

Bon appetit, you will enjoy yourself!!!
Notes
When it comes to seasonings, use what you have on hand. If you don't have all the ingredients, it doesn't matter.
On sunny days, you can also add cucumber in slices or small sticks, this will bring a lot of freshness.
For those who wish, you can also add a little touch of coconut milk by putting 2 tablespoons in the sauce.
If you ever make my homemade Vietnamese Chicken Salad recipe and you like it, don't hesitate to tag me on Instagram @tangerinezest so I can see the result and share it myself…
Finally, just to let you know I am French and I translate my recipes, be indulgent if you see syntax errors and do not hesitate to leave me a comment so I can correct it. I hope you will like my recipes and enjoy your visit to my food blog!