With this winter weather, I like to cook good dishes to share with family or friends and I must admit that lighting the oven with a good southern dish also helps to warm up the atmosphere. This sweet and savory recipe of oven-baked chicken tagine with apricot and almond is particularly appreciated at home and we make it regularly.
This is truly one of my favorite recipes… I had shared this same recipe at the very beginning of the blog but I wanted to redo the photos that were a bit dated and share it with you if you missed it…
Chicken Tagine with Apricot and Almond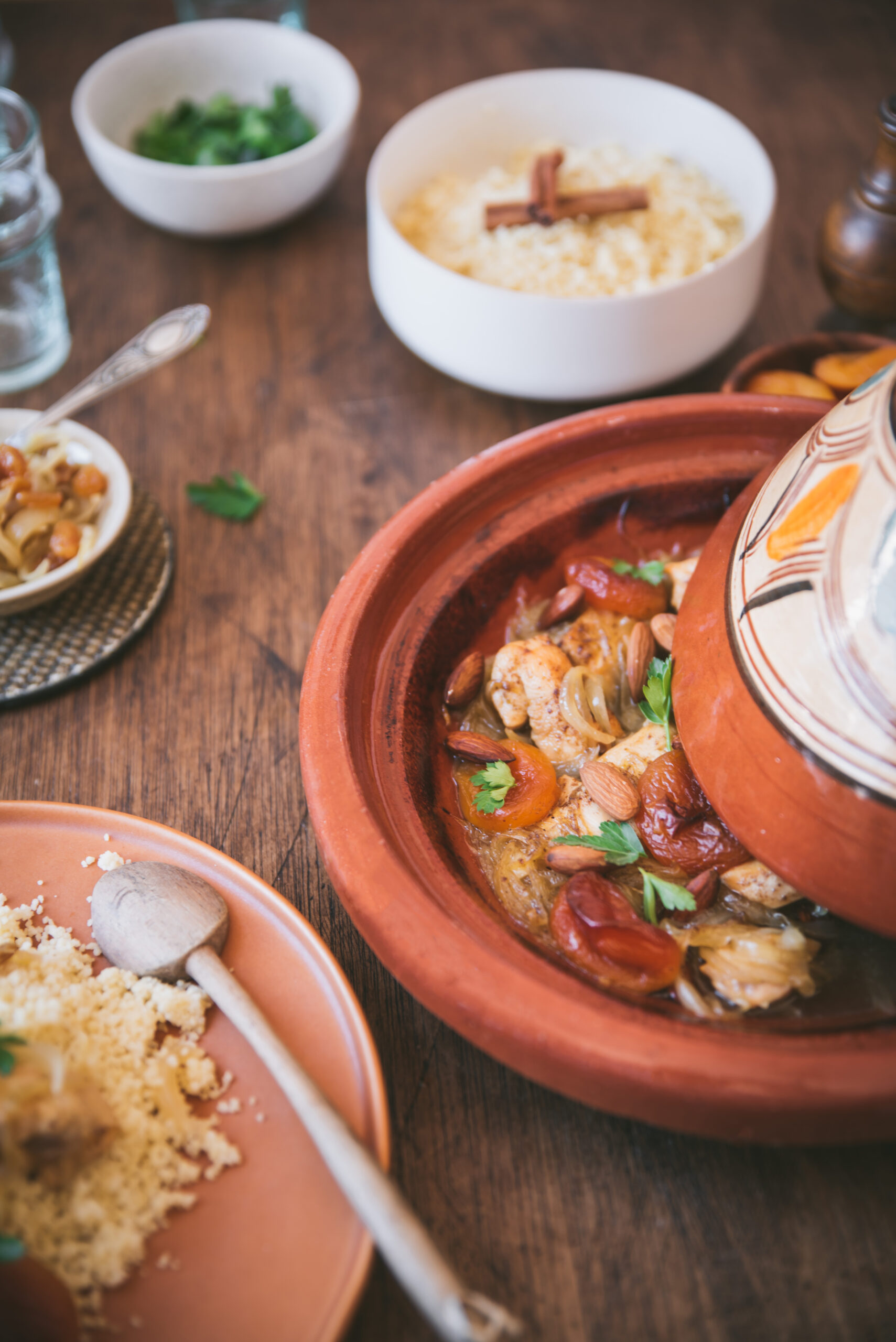 This time I used chicken breast, but I also often cook it with chicken drumsticks. I also sometimes add prunes, it goes very well with apricots and almonds, it's a treat.
For the onions, I tried several versions, either to put them raw in strips in the tagine, but I admit that it is really better if you brown them before, very gently in a pan. Same for the meat, it will be really better if you sear it on all sides before putting it in your tagine dish.
For cooking, I use my favorite tagine dish that I brought back from Morocco, but if you don't have one, you can use a ceramic or cast iron casserole dish that is oven safe.
If you have gas at home, you can cook your dish with this method. As for the oven, you will have to start heating very slowly so that your dish does not crack because of the thermal shock.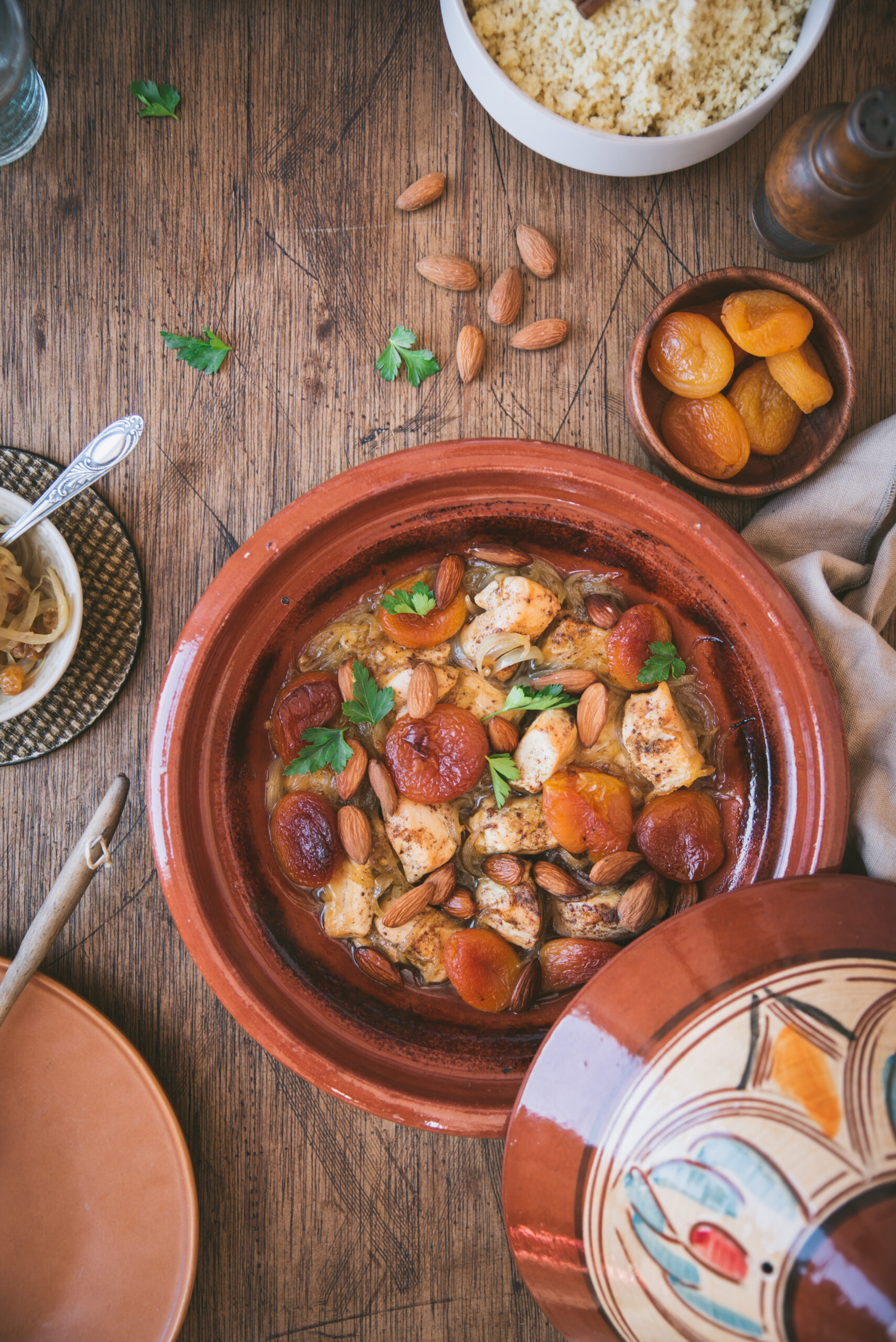 To serve this chicken, I like to serve it in different ways, either simply with semolina or a little bulgur, but with a flatbread it will also be delicious. You can then sprinkle with a little chopped fresh coriander or flat leaf parsley.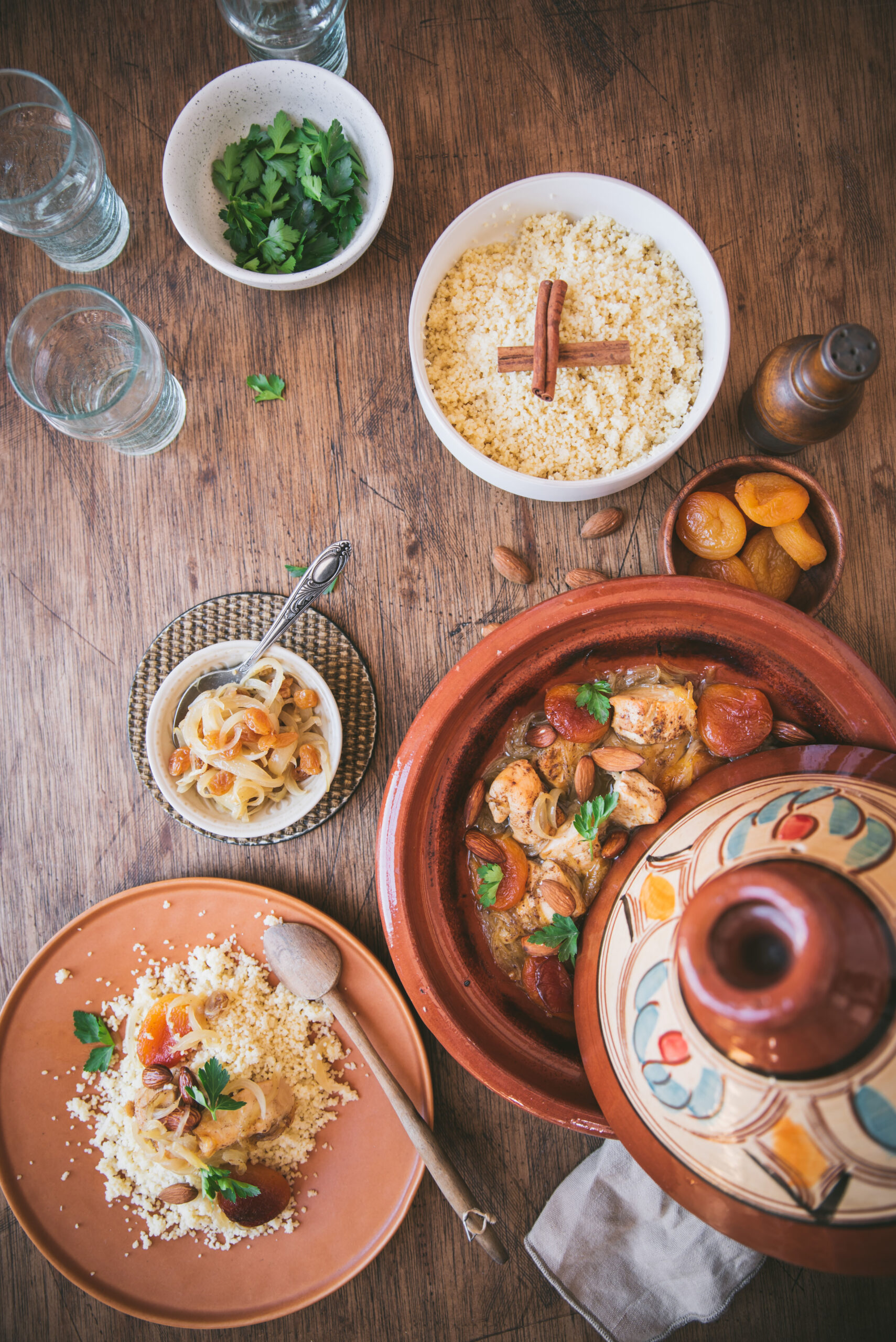 WHAT INGREDIENTS DO YOU NEED TO MAKE THIS DELICIOUS chicken, apricot and almond tagine recipe?
onions
garlic
dried apricots (and/or prunes)
vegetable or poultry stock cube
brown sugar or honey
cinnamon
cumin
olive oil
pepper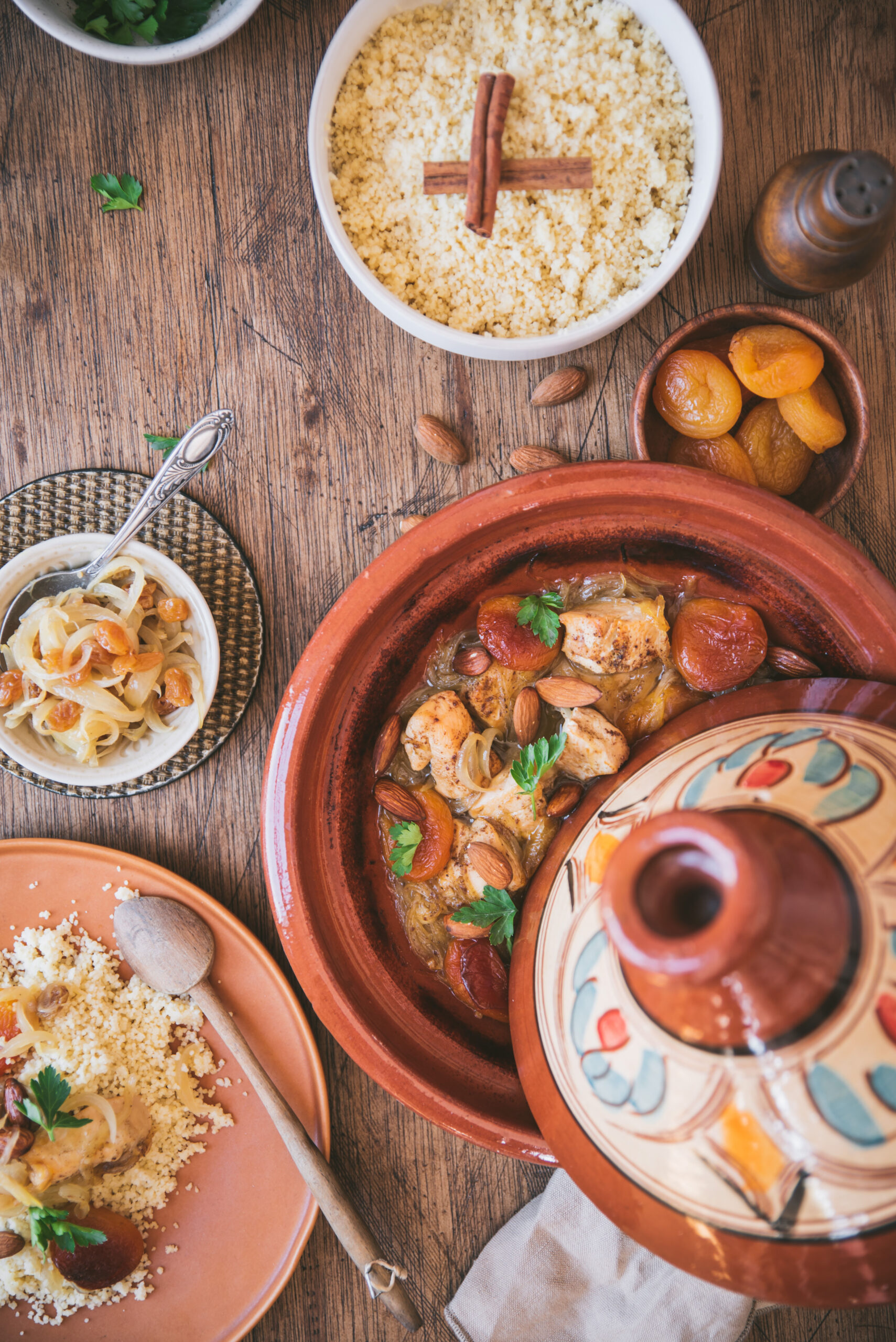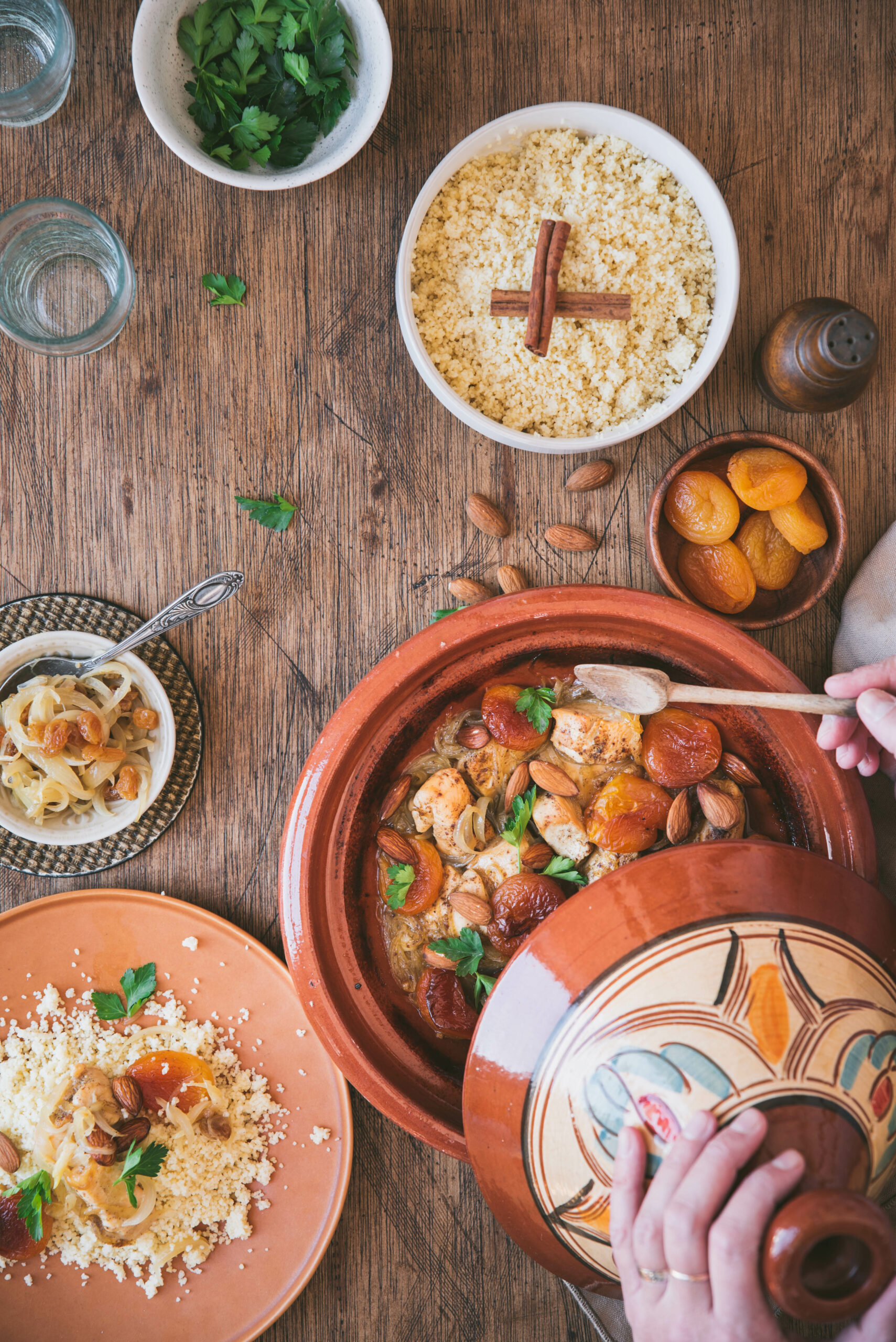 Here are also some recipe ideas that will allow you to complete your dish that will make your taste buds travel.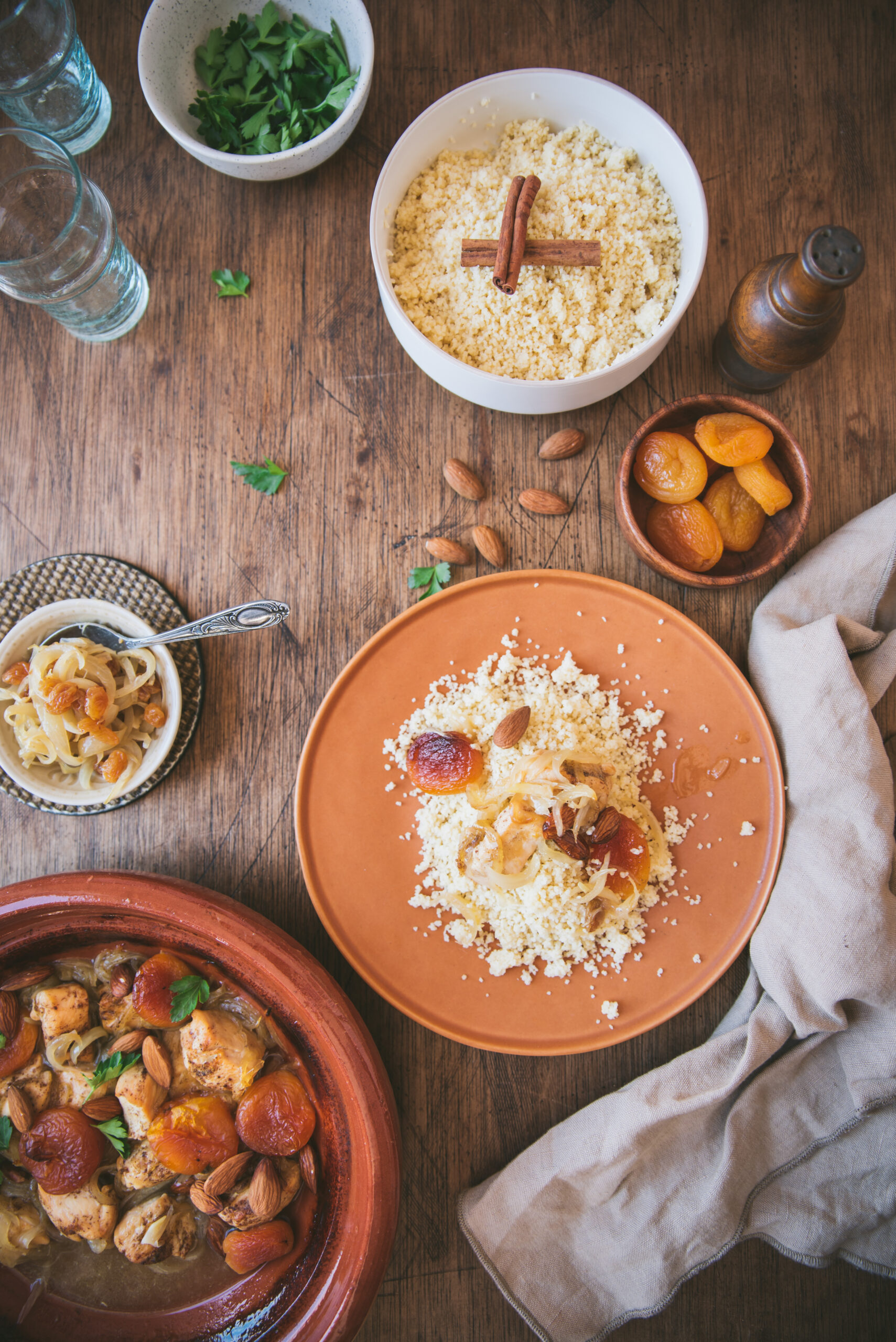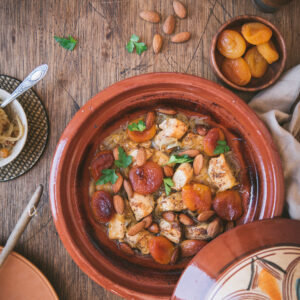 Chicken Tagine with Apricot and Almond
Ingredients
4

chicken legs or breasts

(about 400 g)

20

g

butter

2

onions

finely chopped

250

g

dried apricots

50

g

almonds

1

tablespoon

brown sugar or honey

1

teaspoon

cinnamon

1

teaspoon

cumin

1

tablespoon

olive oil

salt and pepper

20

cl

water

Fresh coriander

chopped
Instructions
Peel and thinly slice the onions.

Melt the butter in a frying pan over medium heat, add the onions and cook over low heat, covered, for 10 minutes. Stir from time to time.

They should be translucent. Remove and set aside in a bowl.

In the same pan, add olive oil to brown the chicken on all sides (cut into pieces if using white meat).

In a tagine dish, place the chicken in the bottom with the onions. Add salt and pepper, spices and brown sugar or honey. Pour the water on top.

Add the apricots and place your tagine dish in your cold oven.

Then heat your oven to 170°C.

The goal is not to break your dish with a strong heat contrast. Let it cook for 40 minutes.

Add the almonds and cook for another 10 minutes without the tagine lid.

Just before serving, you can chop fresh coriander on top and serve with semolina.
Notes
Be careful to put your dish in a cold oven so that there is no big thermal break that could crack your tagine dish!
If you ever make my chicken tagine recipe and you like it, don't hesitate to tag me on Instagram @tangerinezest so I can see the result and share it myself…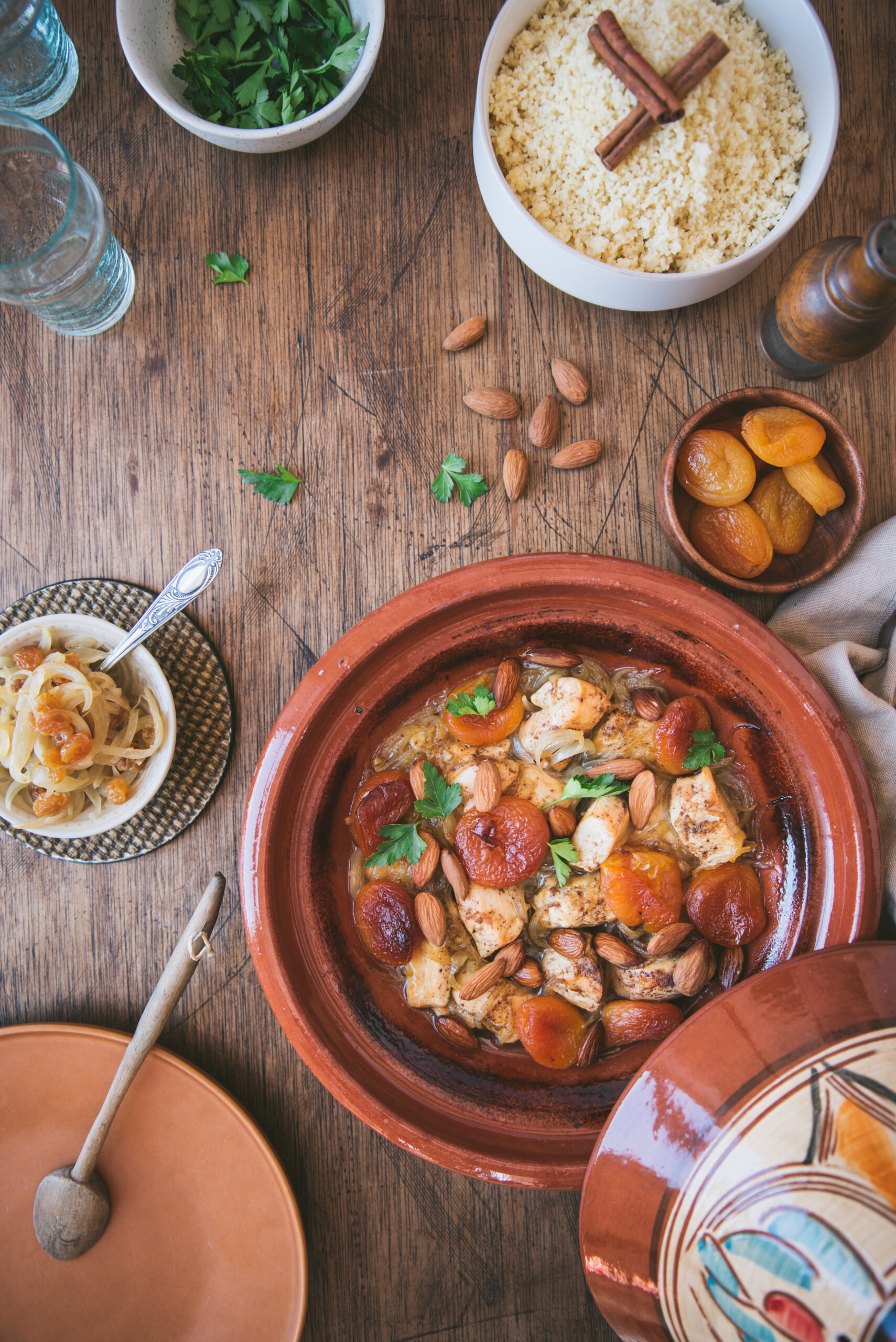 Finally, just to let you know I am French and I translate my recipes, be indulgent if you see syntax errors and do not hesitate to leave me a comment so I can correct it. I hope you will like my recipes and enjoy your visit to my food blog!