I have to be honest with you right now, my man made this delicious Chorizo and olive cake with some feta cheese! And yes, it's not me… At the same time, at the moment, as I am at home, it is me who was in charge of preparing our meals. There comes a time when it's a bit tiring and when we run out of ideas. And yes, it happens, even to food bloggers…
So, that day, we had a little picnic planned on the heights of Grenoble and we thought that a cake would be perfect for that. It's true that it's practical to bring a cake for a picnic, you can prepare it in advance, and it's easy to transport and to eat once there. In any case, this cake with chorizo, feta and olives was particularly delicious and won a great success with all the people who could taste it! And yes, because we are quite a lot of people to have tested it because we also ate it in small pieces for the aperitif of the next day… 😉
A perfect cake : for the aperitif or a picnic !
Chorizo and olive cake
What ingredients will you need to make this delicious Chorizo Cake recipe?
flour
eggs
chorizo
dried tomatoes
pitted green olives
Gruyere cheese
olive oil
milk
fresh basil leaves
baking powder
salt and pepper
If you ever make my savoury recipe, and you like it, feel free to tag me on Instagram or Facebook so I can see the result and share it back…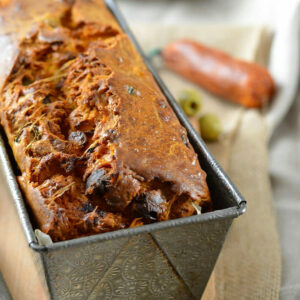 Chorizo and olive cake
Ingredients
250

g

flour

3

eggs

150

g

chorizo

50

g

dried tomatoes

100

g

feta cheese

80

g

pitted green olives

100

g

Gruyere cheese

8

cl

olive oil

13

cl

warm milk

5

fresh basil leaves

1

tablespoon

rosemary

1

tablespoon

baking powder

salt and pepper
Instructions
Drain and chop the sun-dried tomatoes. Cut the feta cheese into small cubes. Chop the basil and crumble the rosemary. Mix everything together in a bowl. Set aside.

Preheat your oven to 180°C.

In a bowl, mix the eggs, flour and yeast. Gradually add the olive oil and warm milk. Add the grated cheese and mix well.

Add the tomato-feta-herb mixture, the chorizo in small pieces and the olives cut in 2. Add a little salt and pepper and stir well.

Pour into a cake tin lined with baking paper and place in the oven for 45 minutes. The cake should be golden brown.

Let it cool down before turning out and eating.
Just to let you know I am French and I translate my recipes, be indulgent if you see syntax errors and do not hesitate to leave me a comment so I can correct it. I hope you will like my recipes and enjoy your visit to my food blog!