I've been wanting to try a zucchini spaghetti recipe for a long time and for this first experience, I chose a Carbonara Zoodle recipe, in my own way of course!
I'm talking about zucchini spaghetti but we could rather talk about zucchini tagliatelle because they are more coarsely grated, otherwise it becomes mush.
Well, I added some pasta to give a little more consistency to the dish but if you want, you don't have to add more and you can add a second zucchini.
Why not try with a yellow zucchini, it will be visually nice with this duo of colors…
I had already tried raw or barely cooked zucchini in my zucchini tartare and I particularly enjoyed it. This is why I tried the experiment again by cooking the zucchini very little.
It remains slightly crunchy and retains its aromas better. You might as well enjoy good seasonal vegetables, don't you think!?
In any case, it's a really nice dish, complete, tasty and really quick to prepare. Nothing insurmountable…
In addition, you can make it for 2, as in the recipe, or for a larger number of people, without it being complicated.
Carbonara Zoodle Recipe
WHAT INGREDIENTS do YOU NEED TO MAKE THIS DELICIOUS ZUCCHINI CARBONARA SPAGHETTI RECIPE?
If you like this recipe then here are some other ideas using zucchini, I think you will like them as much as I do: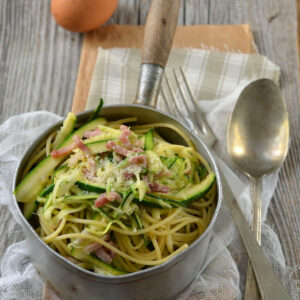 Carbonara Zoodle Recipe
Ingredients
1

zucchini

100

g

spaghetti

1

garlic clove

100

g

smoked bacon

1

shallot

10

cl

fresh cream

Salt and pepper

Parmesan cheese

1

egg yolk

(optional)
Instructions
Wash the zucchini and roughly grate them lengthwise. Season lightly with salt and set aside.

Cook the spaghetti as directed on the package.

Meanwhile, in a saucepan, brown the bacon with the pressed garlic and minced shallot. When the shallot begins to brown, add the large zucchini spaghetti and fry for 5 minutes, stirring gently.

When the spaghetti (pasta) is cooked, add it to the vegetables, pour in the cream and season to taste. You can also add an egg yolk and mix well, if you wish.

Serve on plates and sprinkle with parmesan.

Enjoy immediately.
If you ever make my homemade Carbonara Zoodle recipe and you like it, don't hesitate to tag me on Instagram @tangerinezest so I can see the result and share it myself…
Finally, just to let you know I am French and I translate my recipes, be indulgent if you see syntax errors and do not hesitate to leave me a comment so I can correct it. I hope you will like my recipes and enjoy your visit to my food blog!