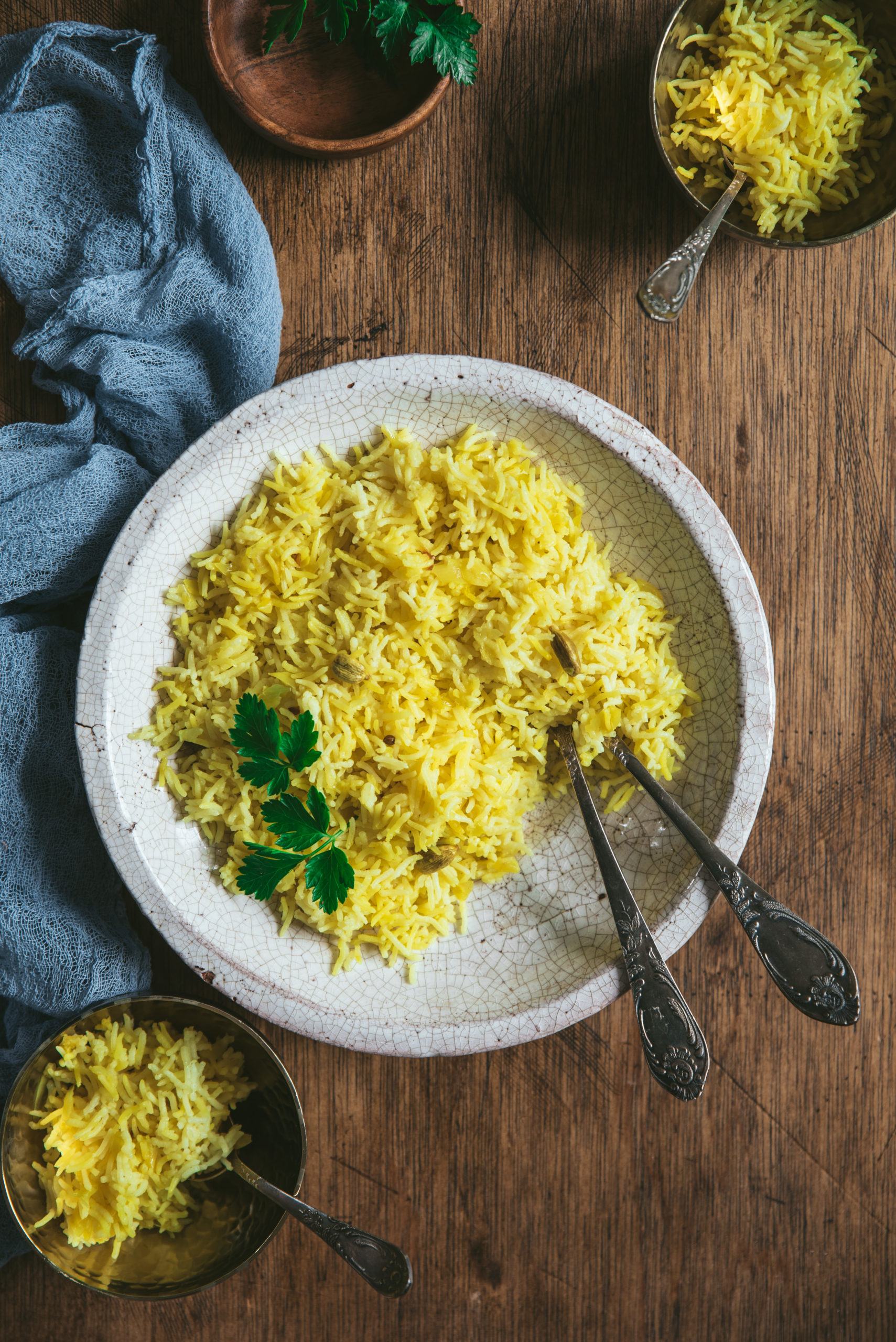 Today I'm taking you on a culinary journey with this delicious Indian style rice recipe. Have you ever tried it?
It is very simple to make and full of light flavors, but not at all spicy. That doesn't prevent those who like to add a few drops of chilli to spice it up… 😉
The principle of the recipe is to stew a good quality basmati rice with the spices so that they color but especially release all their delicious flavors.
It is the turmeric that will bring this beautiful yellow color to the rice. I didn't use any in my recipe but you can add fresh peas (it's the peak season right now) or frozen peas when they are out of stock…
You can also add a lot of fresh herbs like flat parsley, mint or coriander, finely chopped.
Well, on the pictures I forgot some ingredients, especially the slivered almonds, but don't forget to add them, it's even prettier and more delicious.
This rice would be perfect with a nice butter chicken and cheese naan. My mouth is watering just thinking about it…
Indian Style Rice with Spices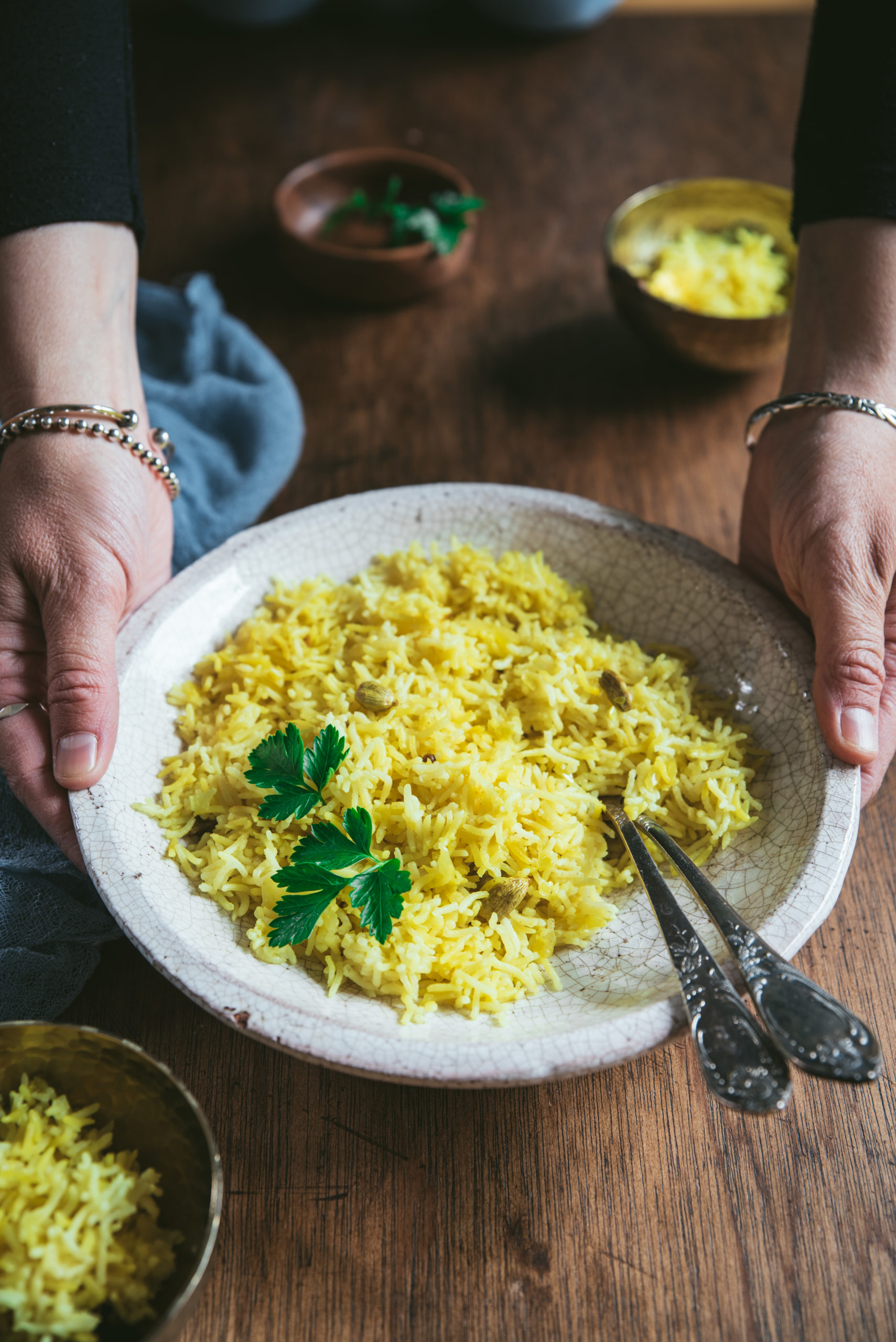 What ingredients do you need to make this Indian style rice recipe?
basmati rice
turmeric
cardamom seeds
coriander seeds
onion
garlic
ginger
sweet butter and oil
slivered almonds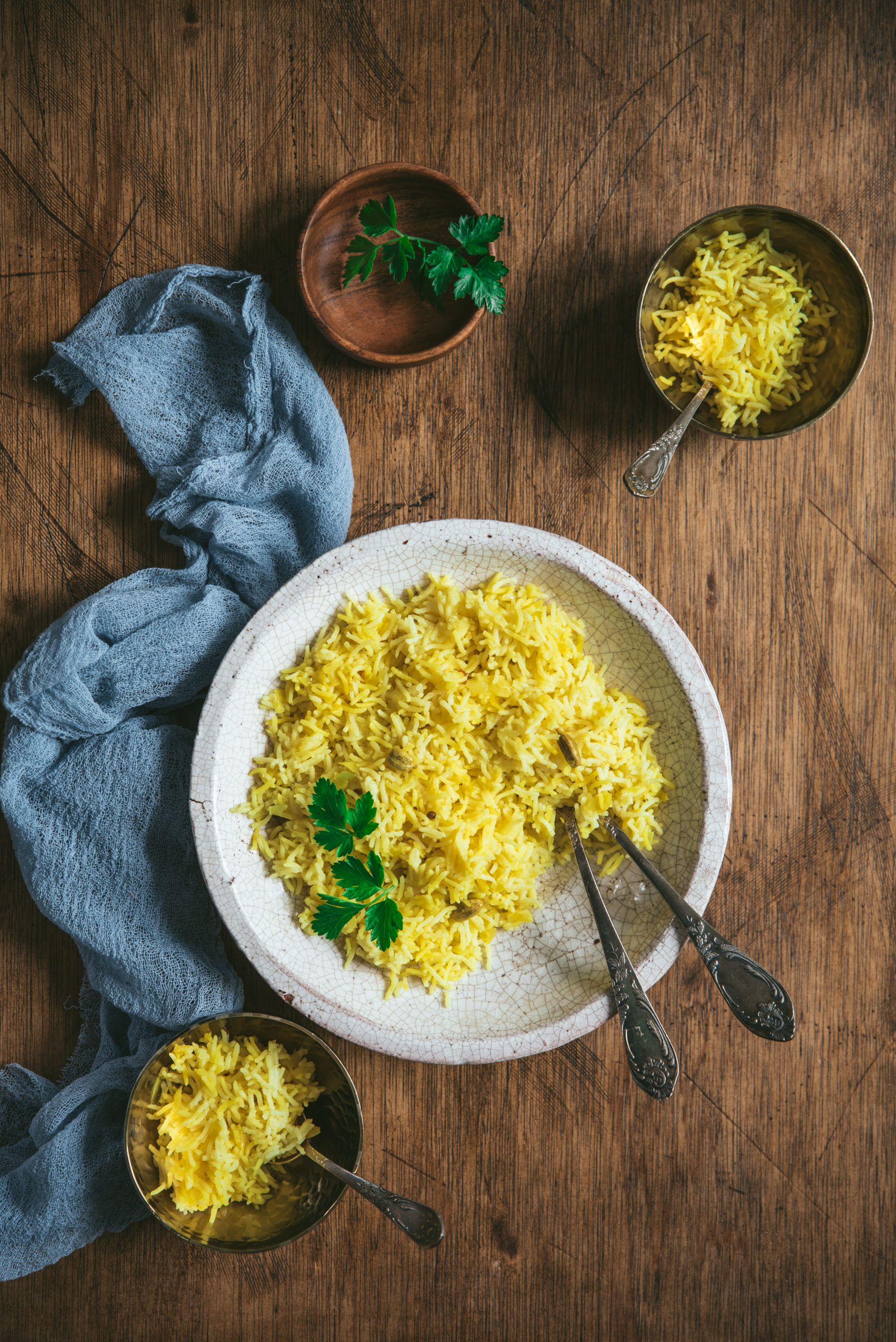 Indian Style Rice with Spices
Ingredients
200

g

basmati rice

1

teaspoon

turmeric powder

8

cardamom seeds

1/2

teaspoon

coriander seeds

1

onion

2

garlic cloves

1

pinch

ginger

1

tablespoon

soft butter

1

tablespoon

oil

Saffron

(optional)

Almonds

(optional)

Water

(2 times the volume of rice)

Salt
Instructions
Start by soaking the rice in cold water for 1/2 hour, then rinse and drain. By doing this, the rice will not stick and will be well elongated.

Meanwhile, lightly crush the cardamom and coriander seeds.

Peel the garlic, onion and ginger and chop finely.

Heat the butter and oil in a large, heavy-bottomed, high-sided pan (the rice layer should not be too thick).

Gently fry the onion, garlic and ginger, add the turmeric, cardamom and coriander seeds.

Stir and let the aromas develop for 2 to 3 minutes.

Pour the drained rice into the pot, add salt and stir again to coat with spices, then cover with boiling water (twice the volume of the rice).

Cover and simmer over medium/low heat for about 20 minutes, without stirring or lifting the lid.

Stir gently with a fork.

Serve immediately with a few chopped fresh herb leaves and slivered almonds toasted in the pan.
If you ever make my indian style rice recipe and you like it, don't hesitate to tag me on Instagram @tangerinezest so I can see the result and share it myself…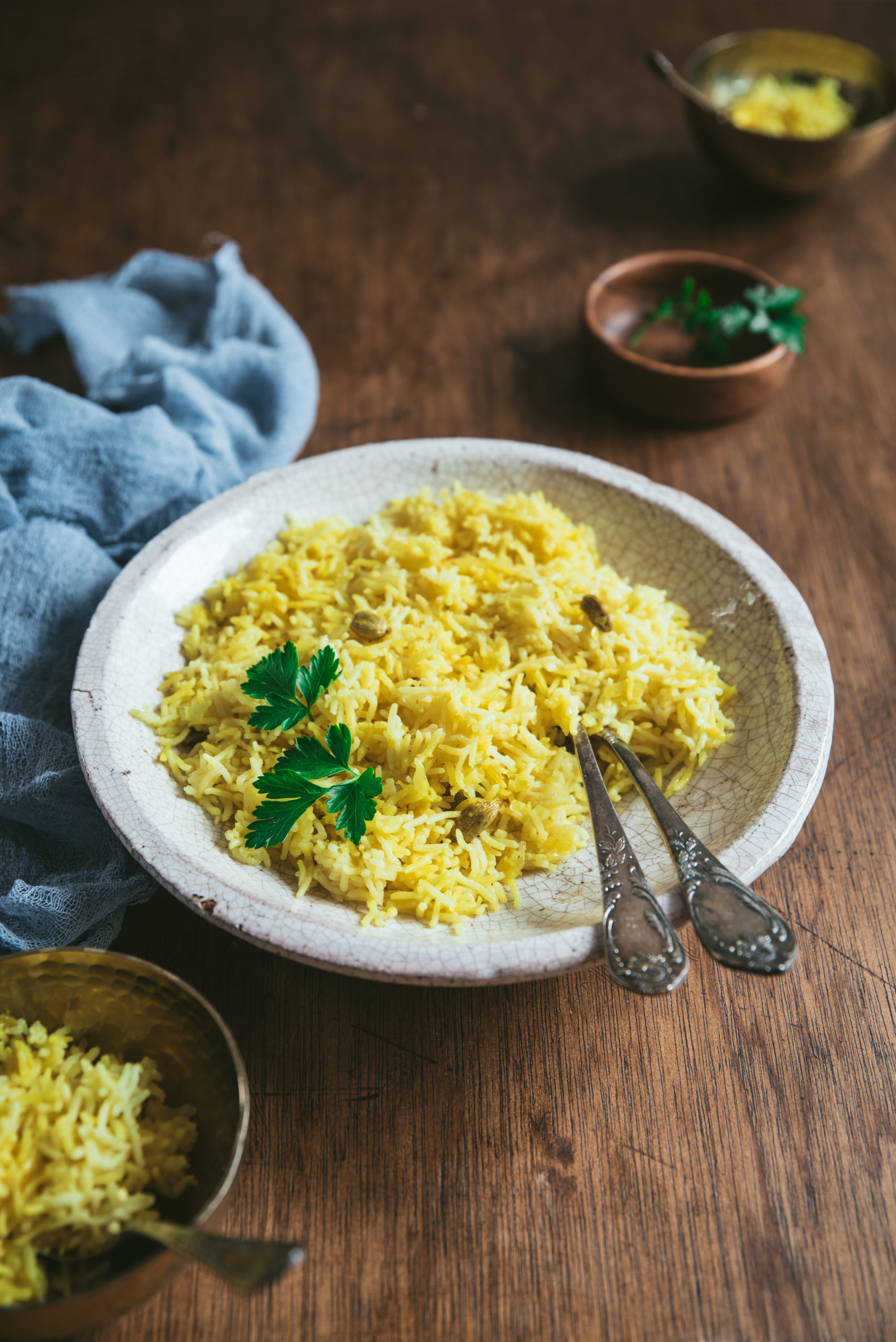 Finally, just to let you know I am French and I translate my recipes, be indulgent if you see syntax errors and do not hesitate to leave me a comment so I can correct it. I hope you will like my recipes and enjoy your visit to my food blog!