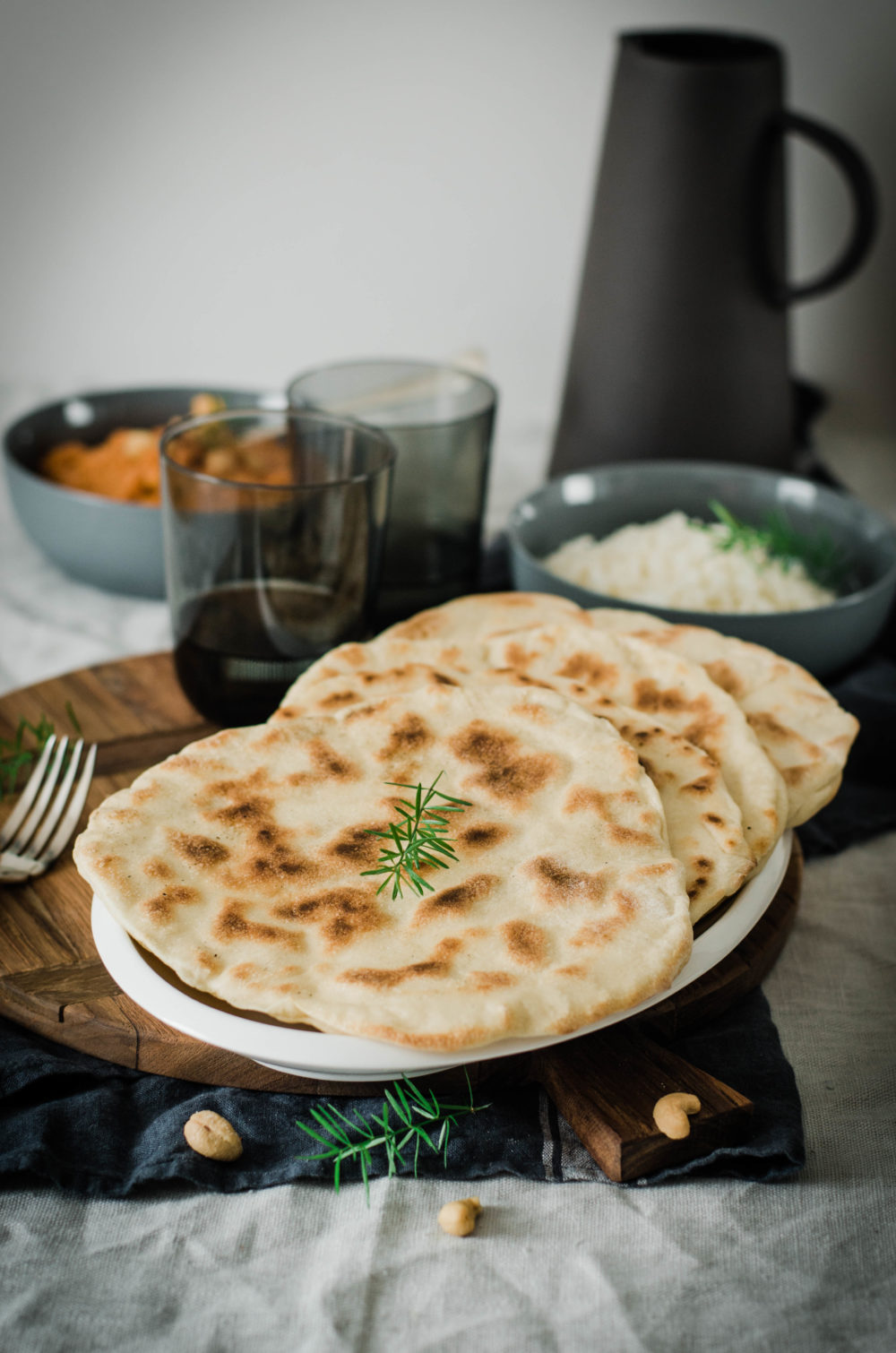 I promised them to you in my chicken butter recipe (another Indian recipe to try urgently) so here is the homemade cheese naan!
When I made my chicken butter, it was unthinkable for me to eat an Indian dish without naan, but I had already tried a first time a long time ago by baking them in the oven and I was not really satisfied with this version.
So I tried a pan-fried version and I can say that this cooking is much more satisfying than the one in the oven, for me at least. I even saved some naans for my lunch boxes at work and it was very good reheated too. Let's be honest, it's still not like the tandoor cooking in Indian restaurants but it's really good.
You can make the dough for these Indian breads by hand if you have the arm strength, but I must admit that the help of a food processor would be more than appreciated! It does the job so well, I can't do without my best friend in the kitchen!
If you ever have too many, these cheese naans would also be great reheated in the microwave. It gives them a softer texture.
You can also enjoy them with a red lentil dahl, it's a real treat!
So I leave you with this cheese naan recipe and I even put step by step pictures below the recipe to make it easier to follow and make 😉
Homemade Cheese Naan – Indian Bread Recipe
WHAT INGREDIENTS do YOU NEED TO MAKE THIS DELICIOUS HOMEMADE CHEESE NAAN?
flour
warm water
Greek yogurt
oil
baker's yeast
salt
powdered sugar
fresh cheese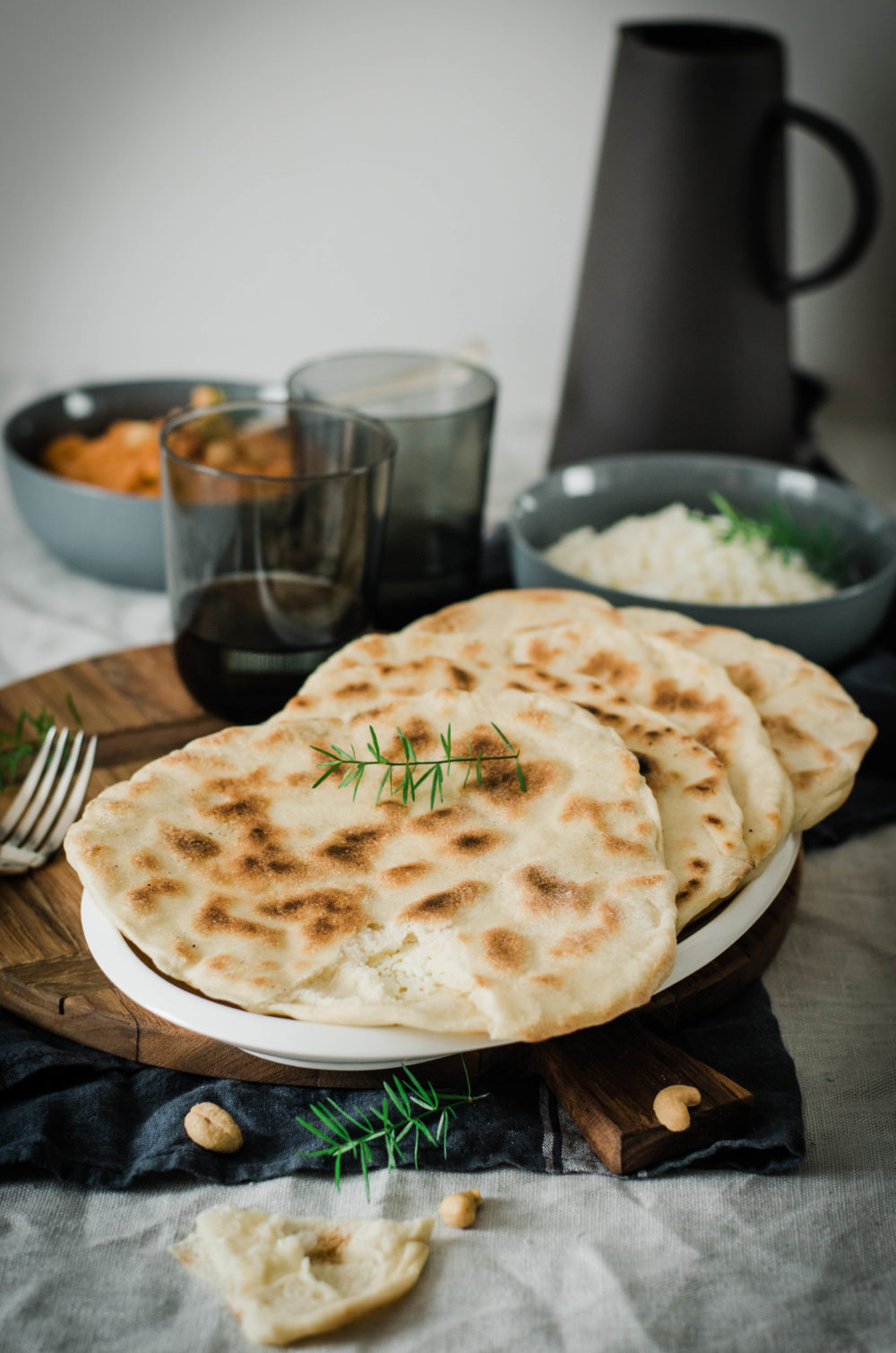 How to make cheese naans step by step in pictures?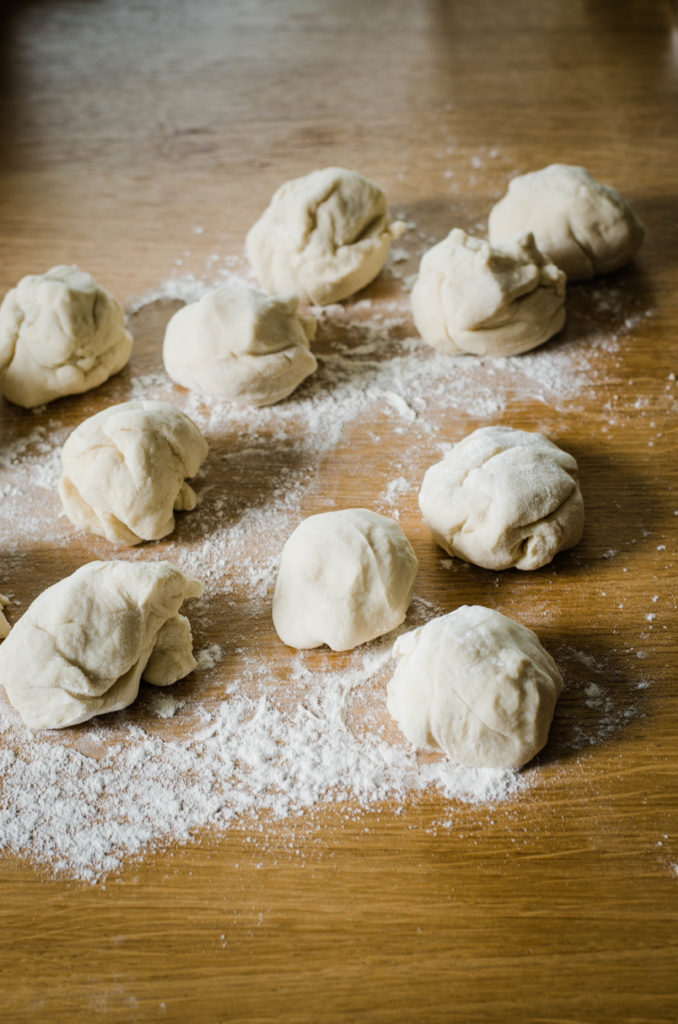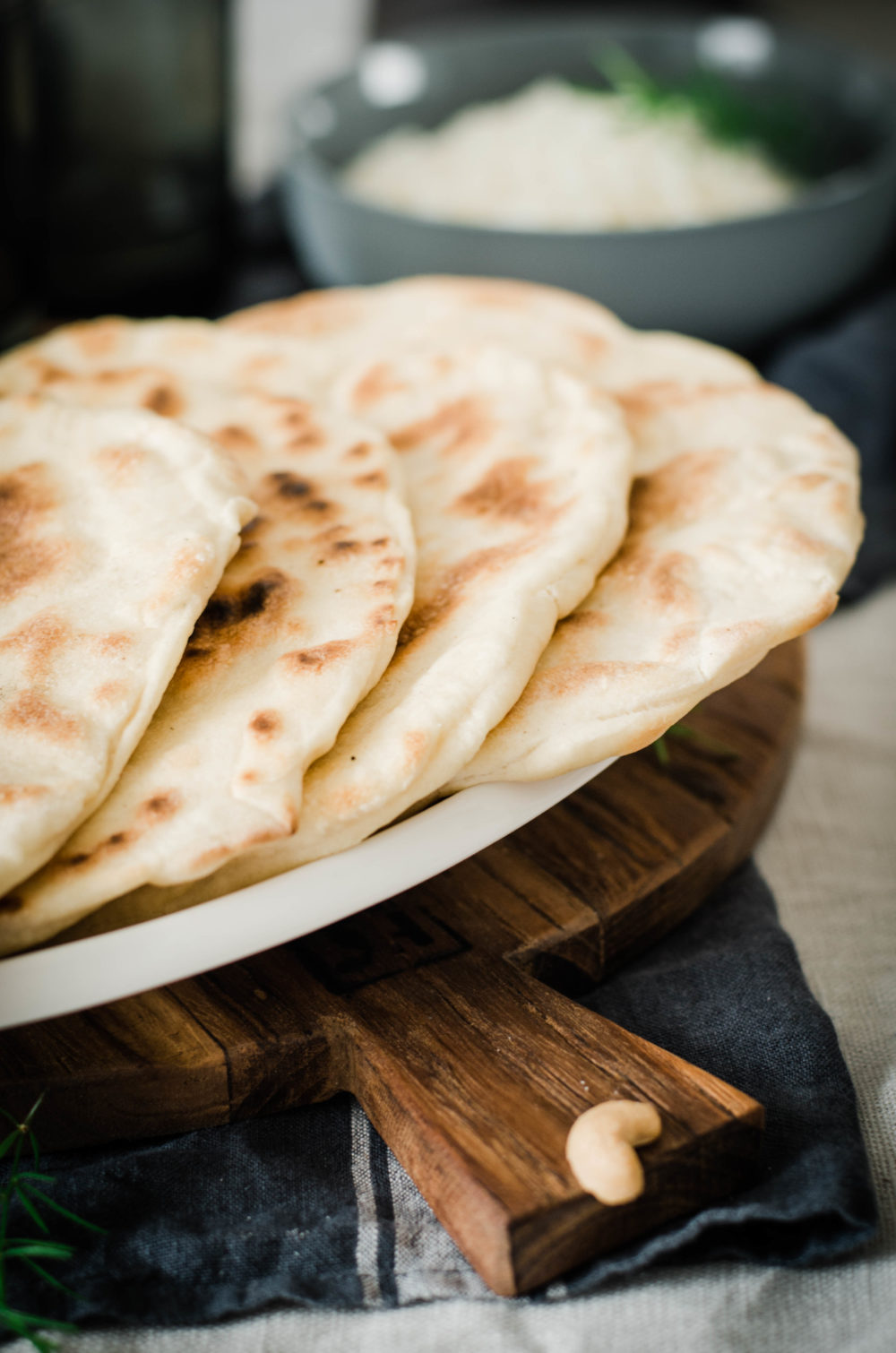 You don't need a food processor to make cheesy naan dough, you can make it by hand in a bowl, but you will need elbow grease and a longer kneading time.
You'll love it and you won't be able to live without it!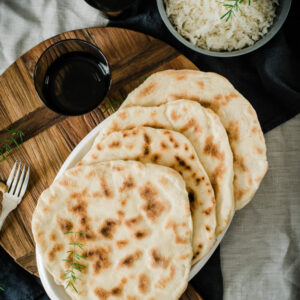 Homemade Cheese Naan – Indian Bread Recipe
Ingredients
Fresh cheese or The Laughing Cow type

500

g

white wheat flour (T45 or T55)

18

cl

warm water

1

Greek yogurt

(120 g)

4

tablespoons

neutral oil

(rapeseed type)

8

g

dry baker's yeast

or 20 g of fresh yeast

1

teaspoon

salt

1

teaspoon

powdered sugar

Fresh cheese

or The Laughing Cow type
Instructions
Dissolve the baker's yeast in the barely warm water and let it rehydrate for 5 to 10 minutes.

In the bowl of your food processor, with the dough hook, mix the flour, salt, sugar, yogurt and oil.

Then add the water and the yeast mixture. Let knead for 15 minutes (more if you do it by hand), the dough should be soft and form a ball that comes off the sides. Add flour if necessary to prevent the dough from sticking.

Cover the dough with a clean, dry cloth or cling film and let it rest for at least 2 hours in a very slightly ajar oven where you have also placed a bowl of hot water. The idea is to create a slightly humid and warm atmosphere in your oven. The dough should double or even triple in volume.

Then peel off the dough and divide it into 12 small balls.

Using a rolling pin, roll out the first ball on a floured work surface to a thickness of 2 to 3 mm. Roll out a second ball to make two similar sized discs.

Spread the first disk with cream cheese (at least 1 tablespoon of The Laughing Cow type), leaving a good centimeter free on the edge.

Lightly moisten the edge and place the second disk on top of the first. Weld the two discs together, pressing gently without pushing the cheese out.

Repeat with the remaining dough balls.

Heat a non-stick pan (or crepe pan, cast iron or plancha) over high heat without fat and cook the naans, one by one, for 3 minutes on each side.

If you wish, you can lightly brush the butter with garlic and fresh coriander.

Enjoy your meal!
If you ever make my homemade cheese naan recipe and you like it, don't hesitate to tag me on Instagram @tangerinezest so I can see the result and share it myself…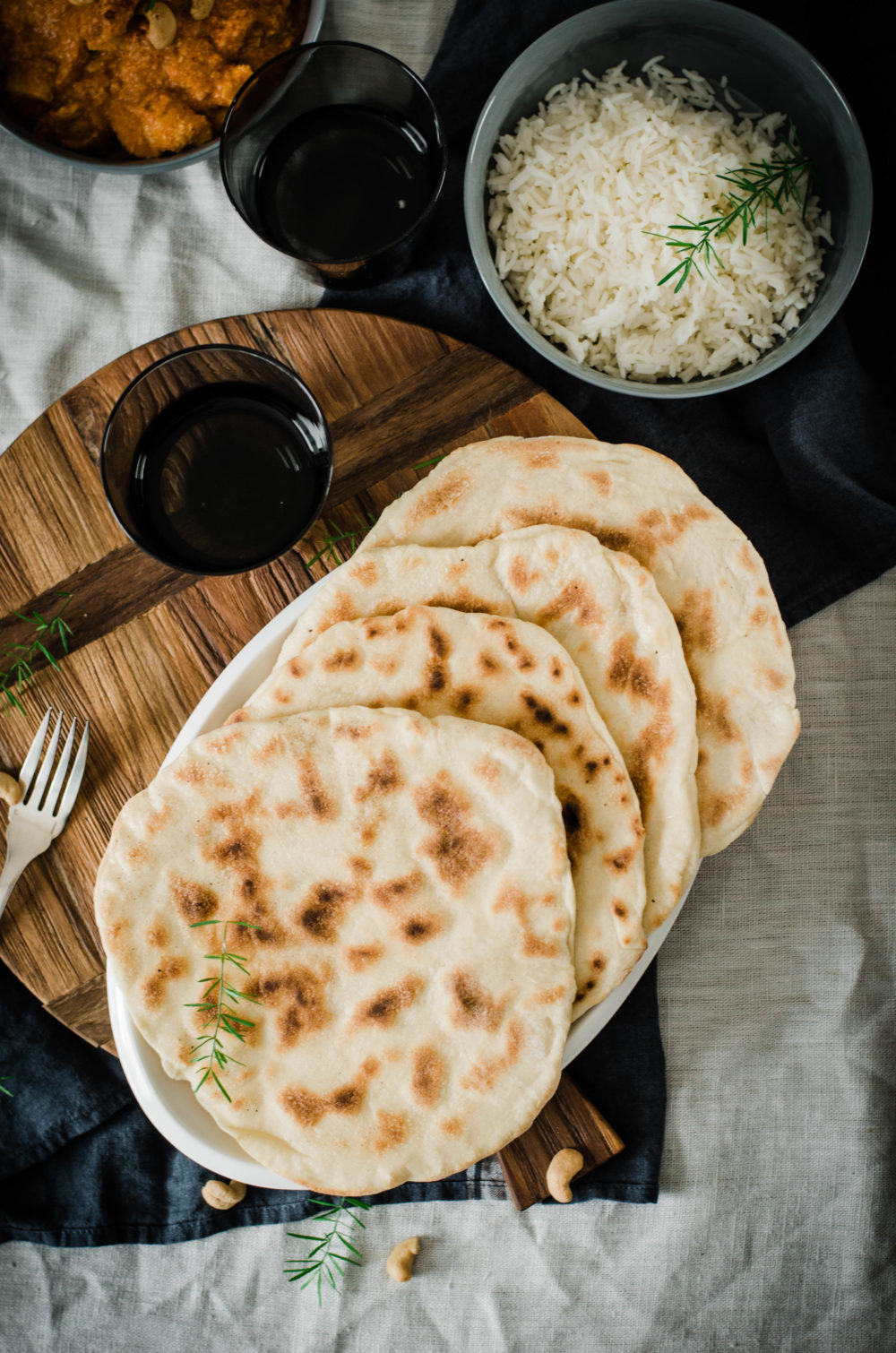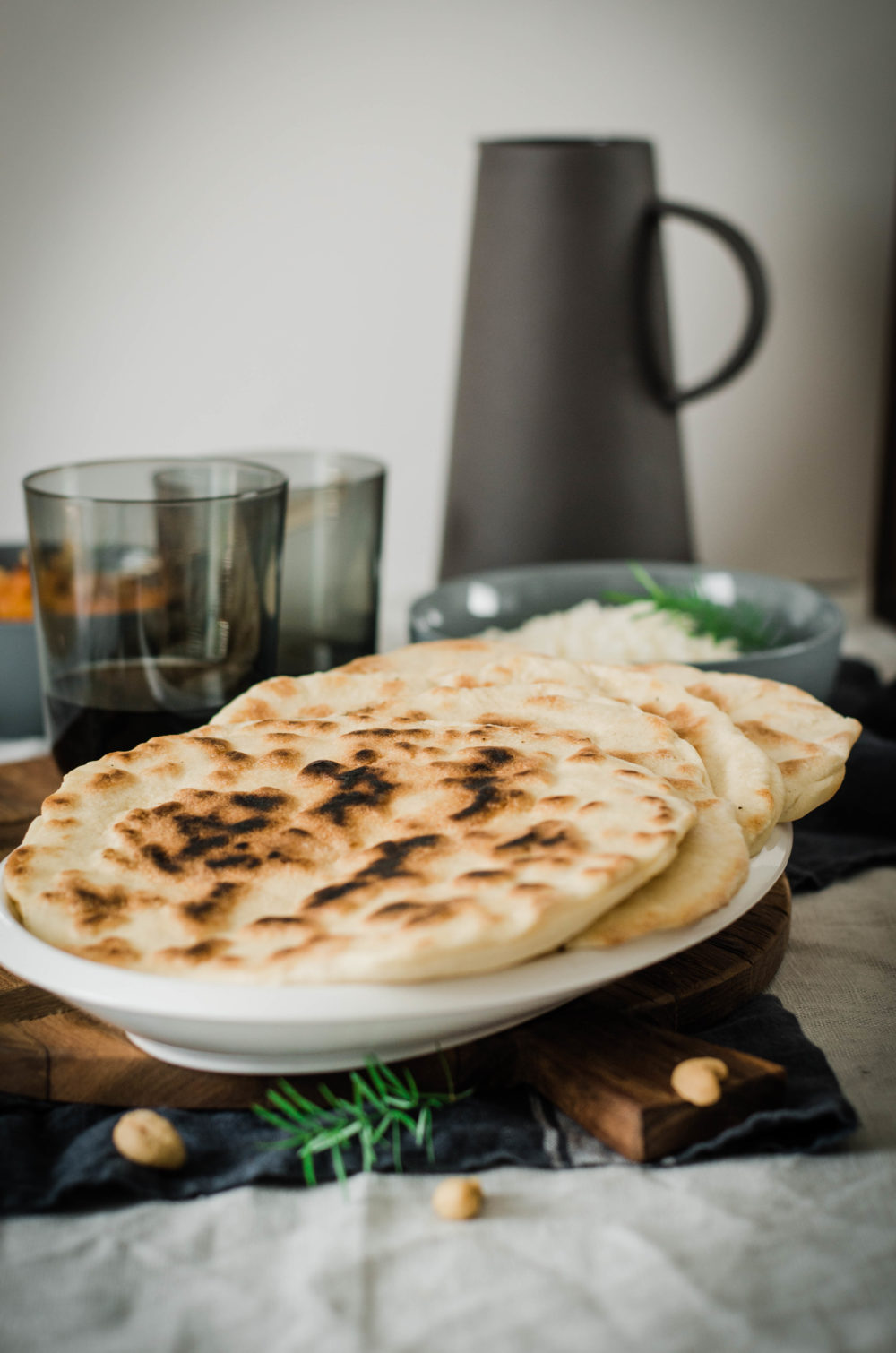 Finally, just to let you know I am French and I translate my recipes, be indulgent if you see syntax errors and do not hesitate to leave me a comment so I can correct it. I hope you will like my recipes and enjoy your visit to my food blog!