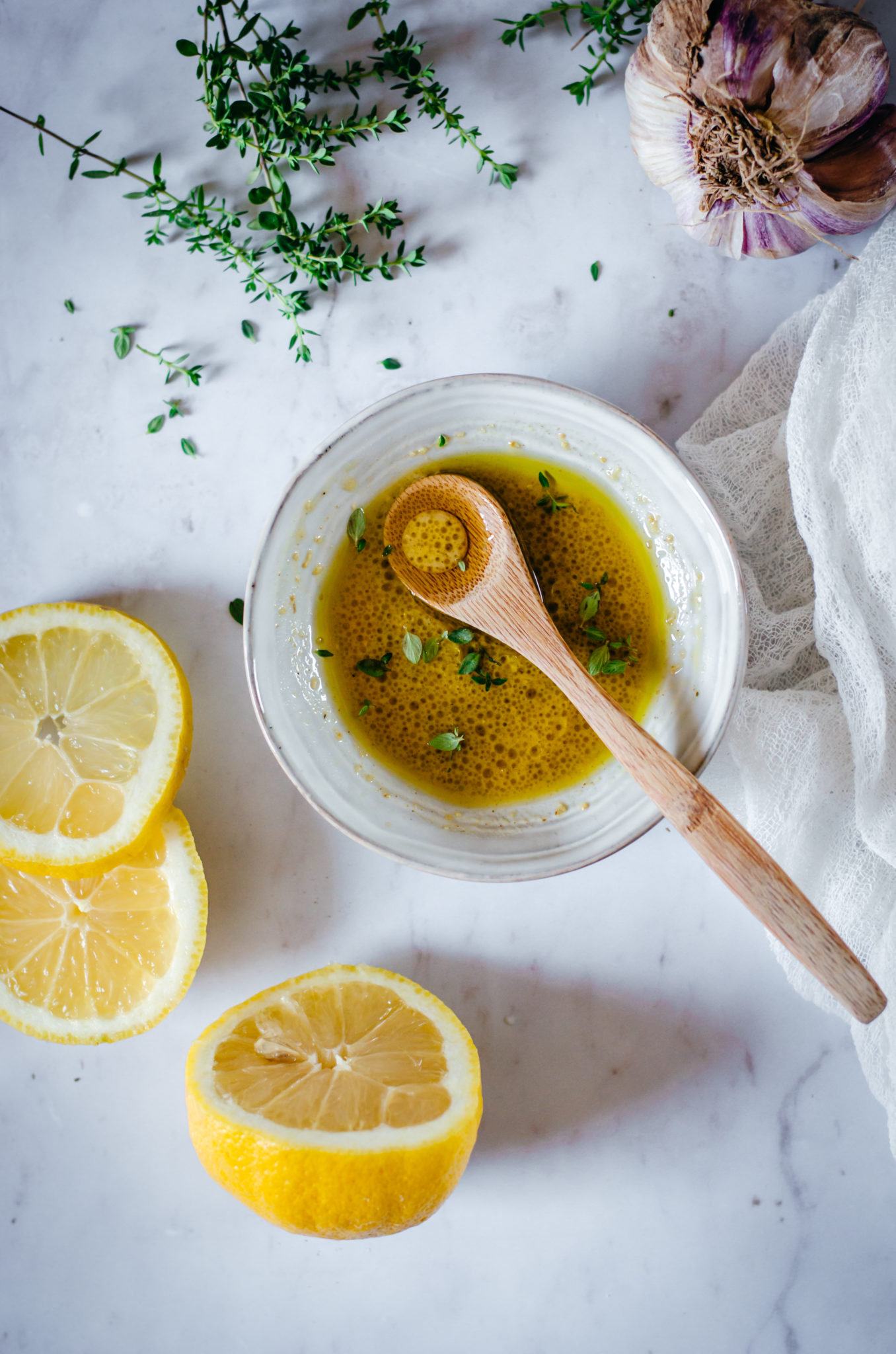 How is it possible that in over 9 years of writing my blog, I still hadn't shared my lemon vinaigrette dressing recipe!
I often post salad recipes with a dressing, like in my Chickpea Salad with Cumin and Lemon, my Cucumber, Chickpea and Feta Salad, or my Vietnamese Chicken Salad, but a few days ago, as I was making this lemon dressing (to go with a great raw zucchini recipe…), I realized you might be interested in a little dressing recipe to reuse in many of your raw recipes…
This lemon vinaigrette is one of my favorite vinaigrettes. It's fresh, flavorful and can be made in just a few minutes and stored in the refrigerator for several days.
You can use it in many other recipes besides a salad. Sure, it gives a kick to greens, but it can also make roasted vegetables a little more gourmet.
So make it, chill it and start pouring it over whatever you're cooking in the next few days… Easy, versatile and delicious, this little lemon vinaigrette recipe is one you'll make again and again.
For this lemon vinaigrette recipe, here's what you'll need:
Fresh lemon juice, for the pep,
Extra virgin olive oil, for body and richness,
Garlic, it brings a nice roundness
Dijon mustard, essential,
Honey or maple syrup, optional but its sweetness balances perfectly with the other ingredients.
Fresh or dried thyme, again optional, but I like to add fresh herbs from my balcony throughout the preparation.
And salt and pepper, that goes without saying…
Lemon Vinaigrette Dressing Recipe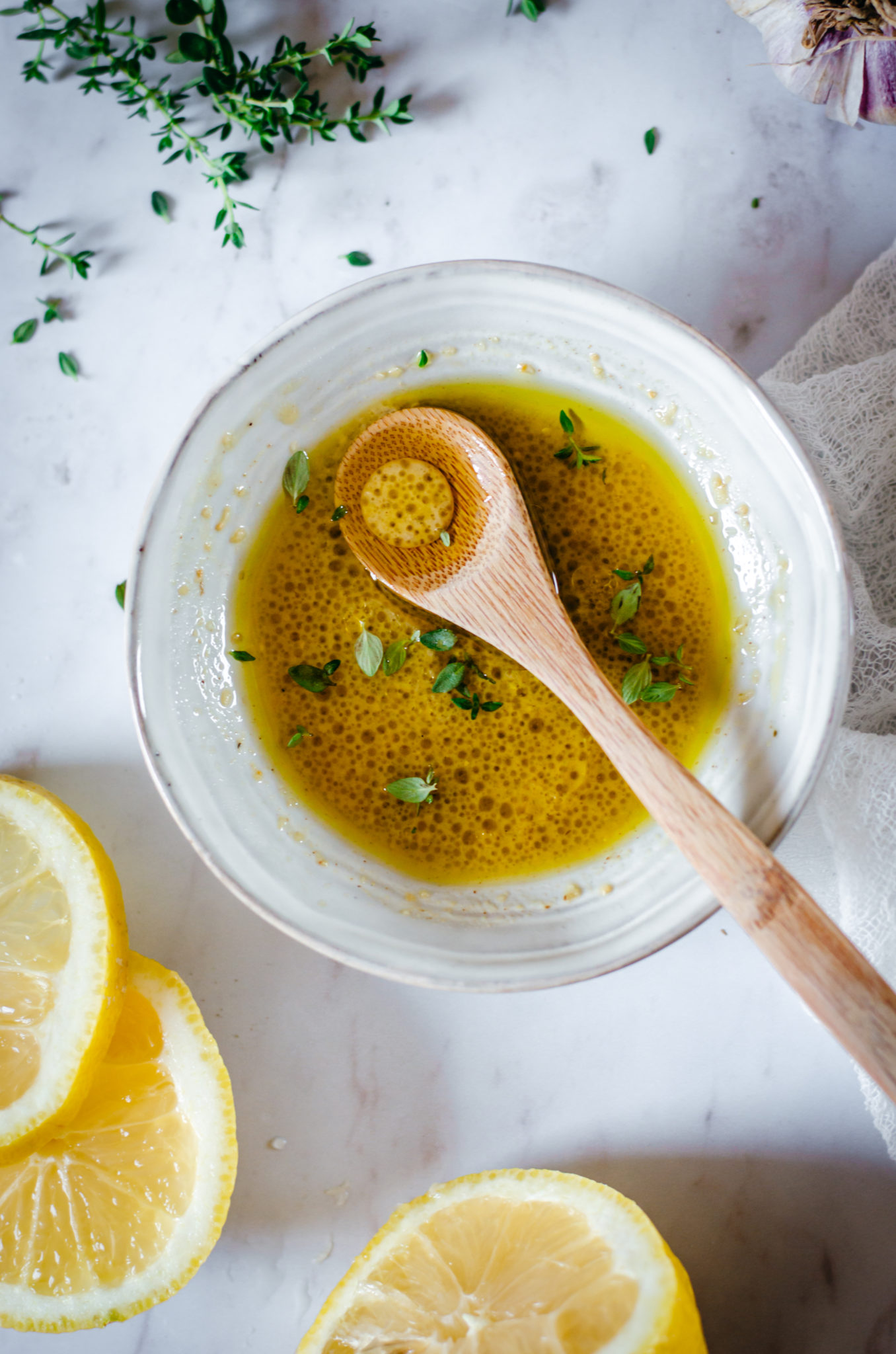 I hope you find this simple recipe useful. In any case, stay tuned because it is one of the main elements of my next recipes, one of my favorites of this summer 😉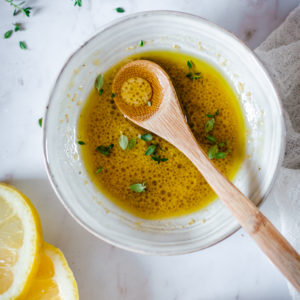 Lemon Vinaigrette Dressing Recipe
Ingredients
1

fresh lemon juice

1

small garlic clove, grated

1

teaspoon

Dijon mustard

Salt and pepper

1/2

teaspoon

honey or maple syrup

(optional)

8

tablespoons

olive oil

(adjust to taste)

fresh or dried thyme

(optional)
Instructions
In a small bowl, whisk together lemon juice, grated garlic, mustard, salt, pepper and honey.

Whisk in olive oil and continue whisking until dressing is emulsified.

Add thyme and season to taste.
If you ever make my vinaigrette recipe and you like it, don't hesitate to tag me on Instagram @tangerinezest so I can see the result and share it myself…
Finally, just to let you know I am French and I translate my recipes, be indulgent if you see syntax errors and do not hesitate to leave me a comment so I can correct it. I hope you will like my recipes and enjoy your visit to my food blog!