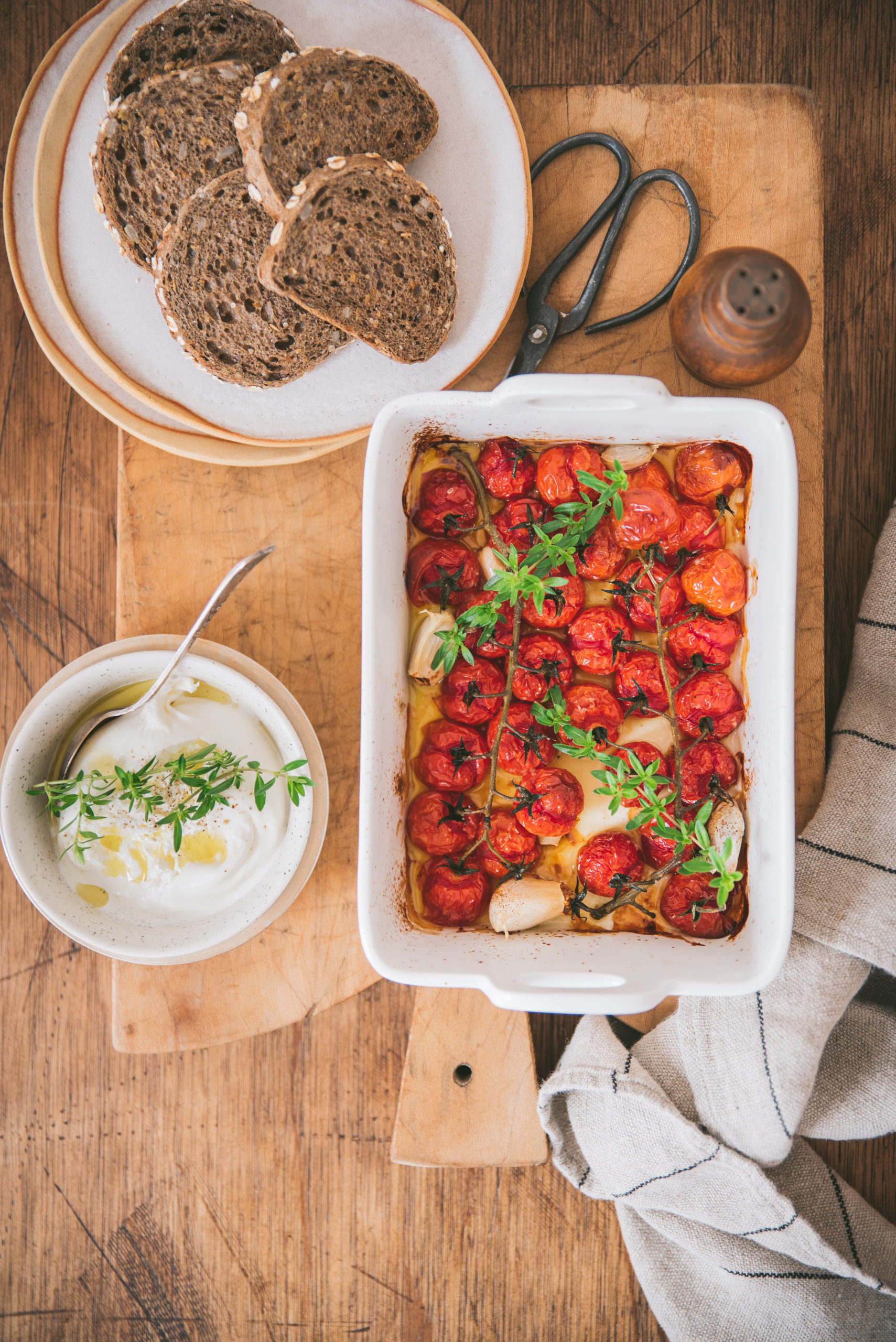 Roasted tomatoes in the oven are still a great classic in the kitchen, you will agree, right!? Well, I realize that I hadn't put them in the spotlight yet this year, incredible!
For this recipe, I like to use cherry tomatoes or small vine tomatoes, a little larger than cherry tomatoes, but you can pick any variety you like as long as they aren't too big.
It's a really easy and practical recipe because these oven-roasted tomatoes can be reused in a whole host of summer dishes and will keep very well for a few days in the fridge if you want to prepare them in advance.
As they are well candied in oil, I kept them for a week, gradually tasting them in several recipes that I will not fail to share with you in the coming days (you will find them below, following the recipe)…
In any case, what I can already tell you is that it's a real treat, both hot right out of the oven and cold!
You just have to be a little patient because the cooking of these candied tomatoes is a bit long and the smell that will spread in your kitchen will be unbearable so much it will make you drool with envy… 😉
But what a joy to slowly cook these cherry tomatoes in the oven. They will have a slightly sweet taste with an irresistible confit.
Since it's rather hot at the moment (isn't it!), I advise you to prepare them in the evening, so you can ventilate your house all night and enjoy these tomatoes the next day.
And if you do this, do not hesitate to leave your tomatoes in the oven after cooking, it will be even better! 😉
Roasted tomatoes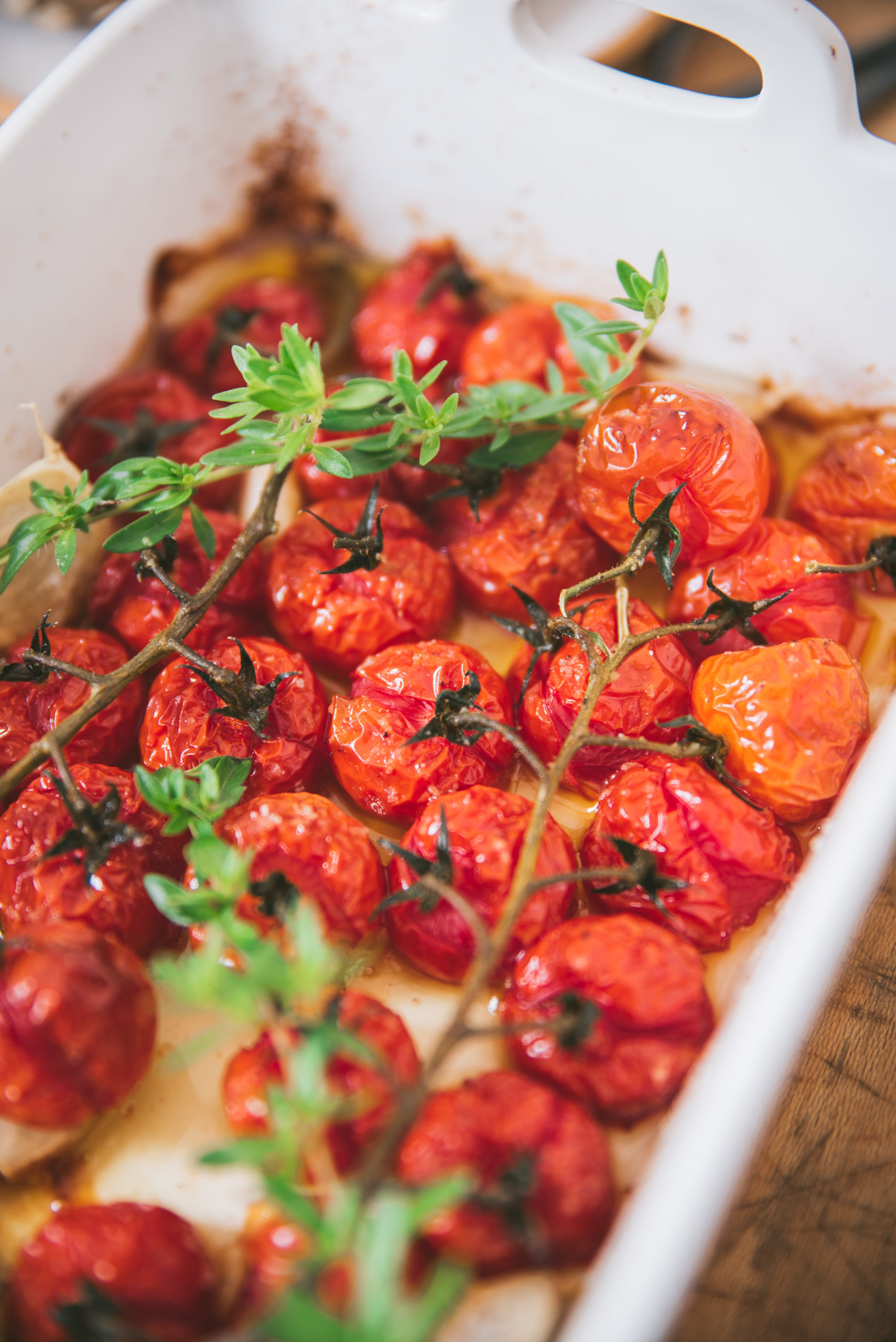 WHAT INGREDIENTS WILL YOU NEED TO MAKE THIS DELICIOUS OVEN ROASTED CHERRY TOMATOES RECIPE?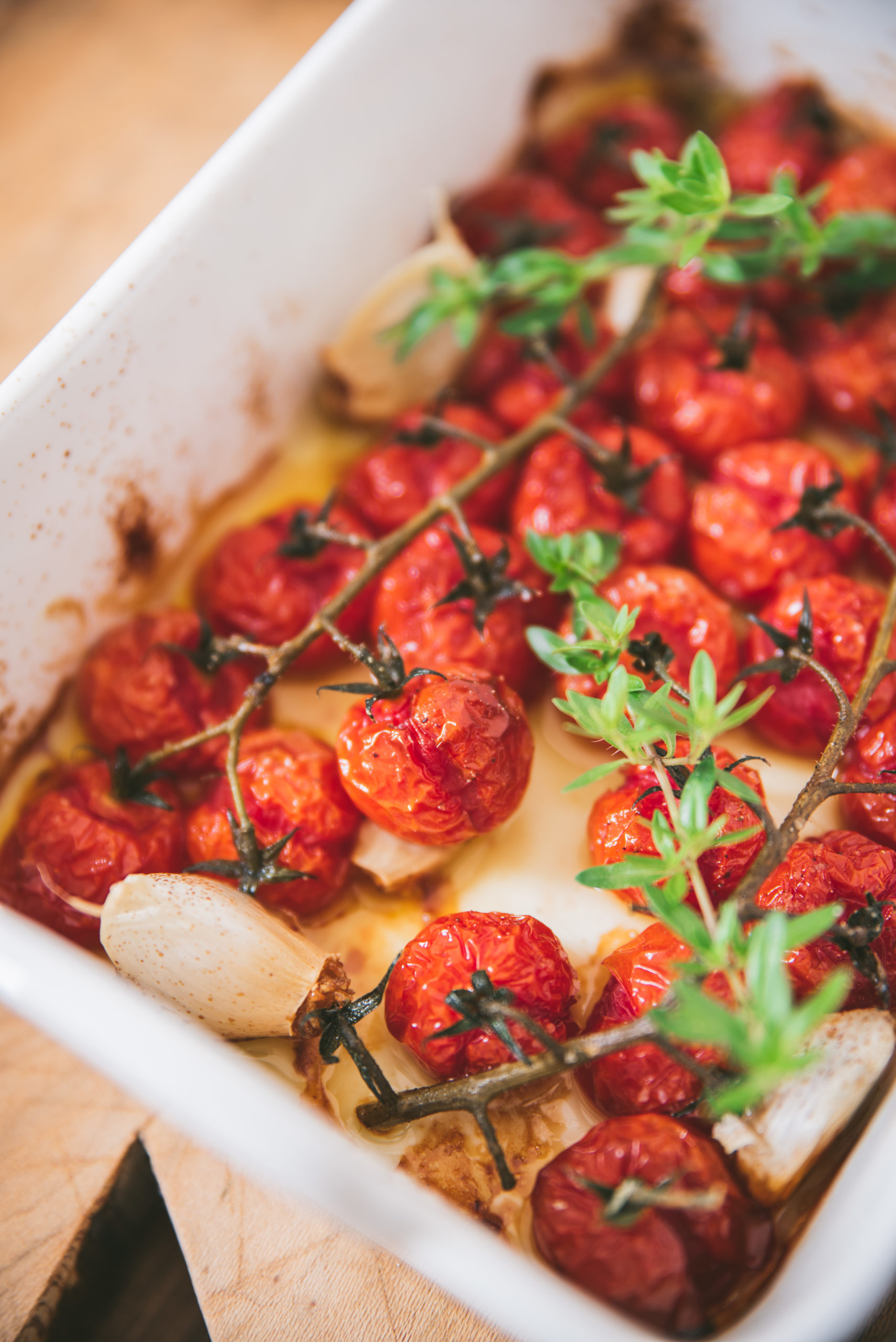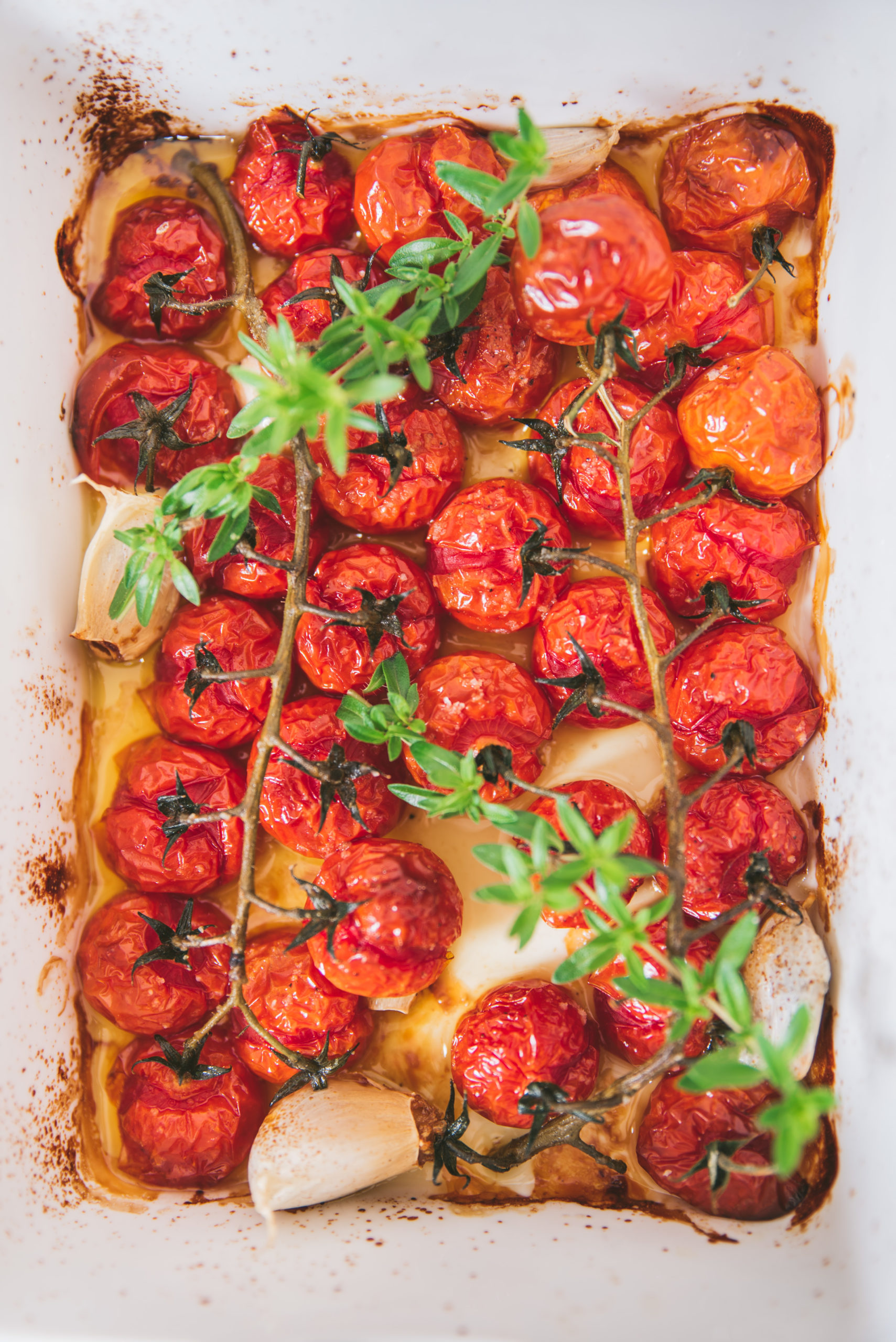 If you make my Roasted tomatoes recipe and you like it, don't hesitate to tag me on Instagram or on Facebook so that I can see the result and share it myself…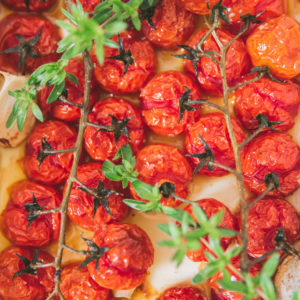 Roasted tomatoes
Ingredients
2

cherry tomatoes bunches

3

garlic cloves

salt and peppe

olive oil

thyme
Instructions
In an ovenproof dish, place the tomatoes in bunches and add the garlic cloves.

Sprinkle generously with olive oil.

Add salt and pepper and a few sprigs of thyme.

Bake for 1 hour and 30 minutes in an oven at 150°C.

Twice during cooking, pour the oil from the bottom of the dish over the tomatoes to water them well.

You can eat it hot or cold, it will be delicious.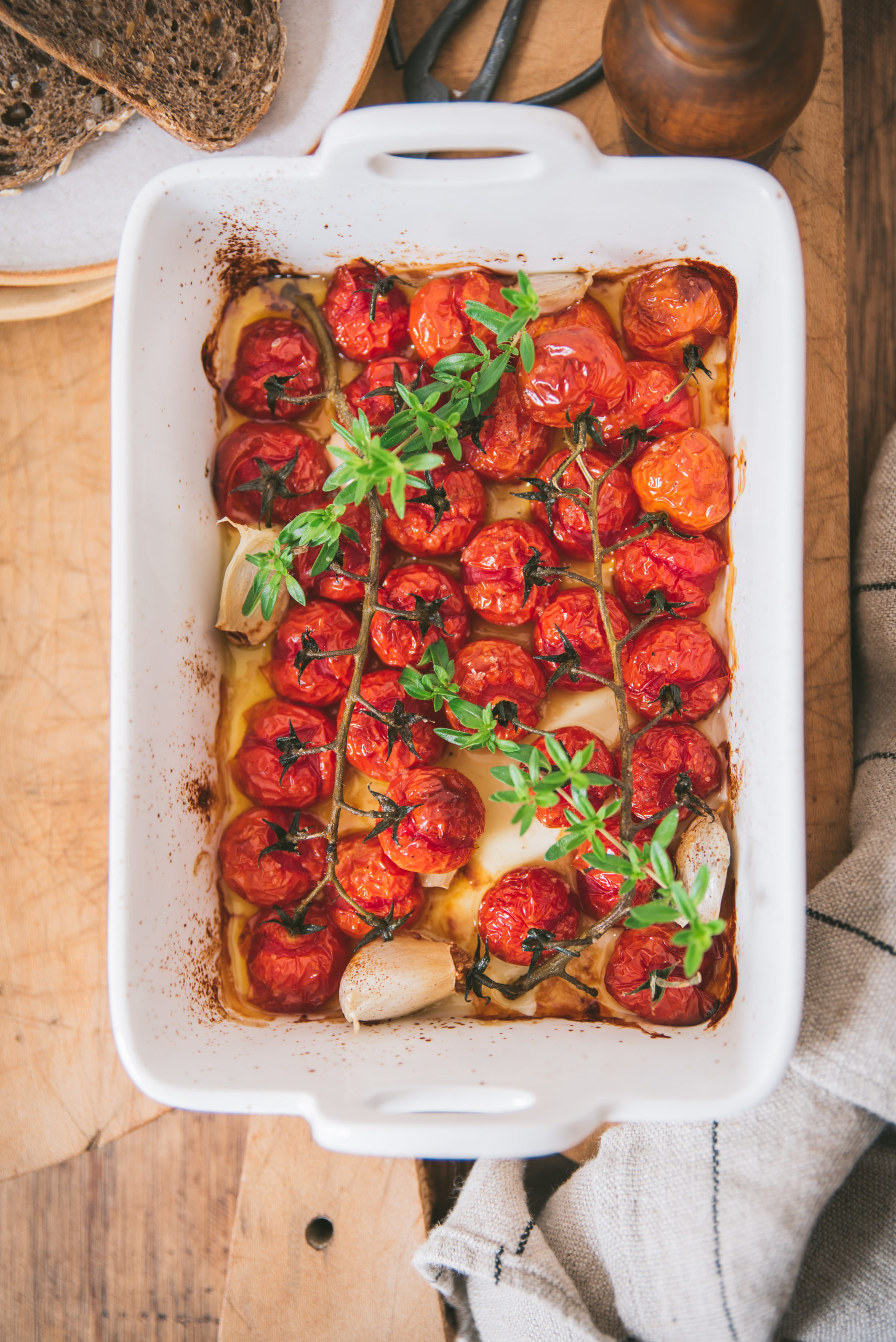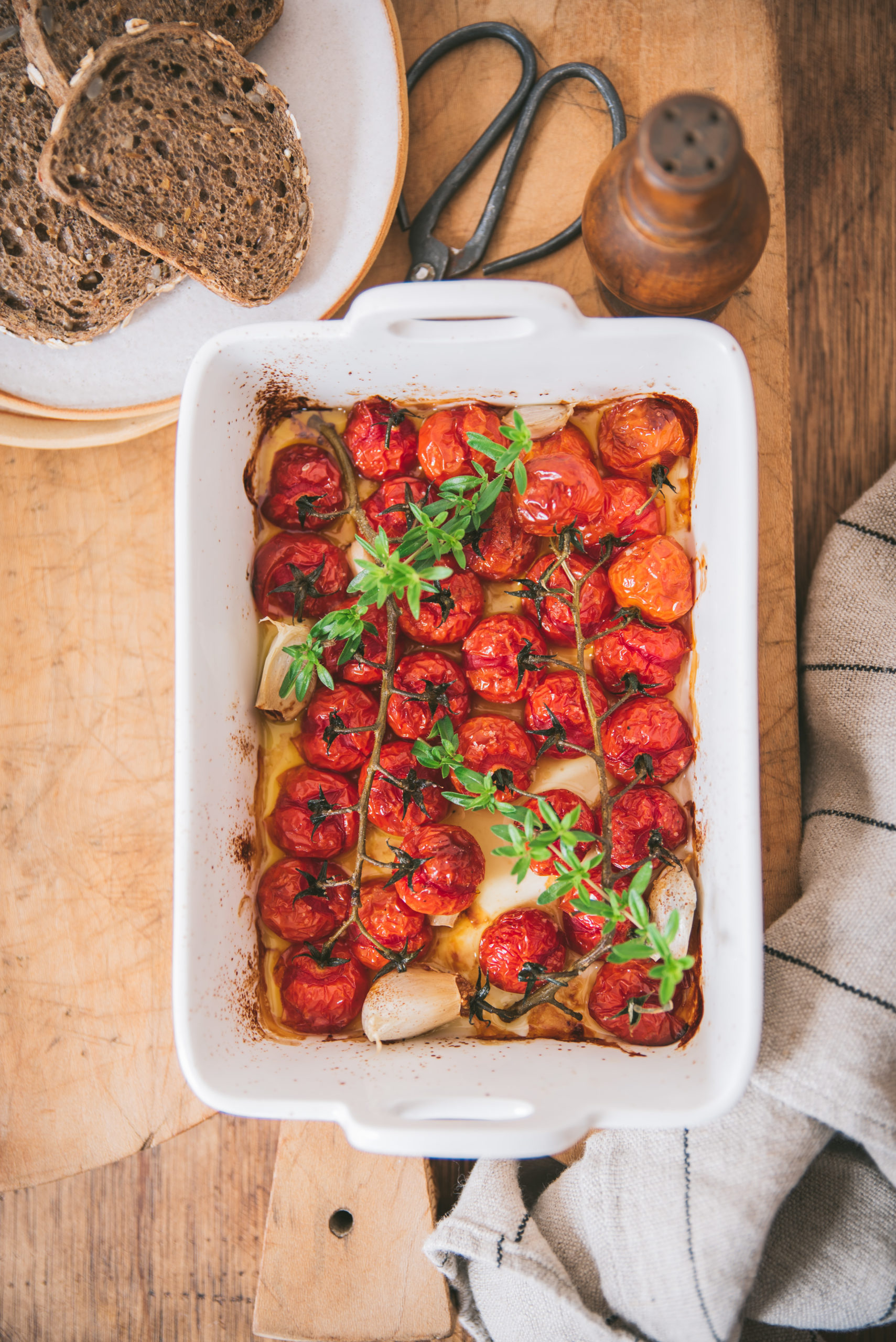 Just to let you know I am French and I translate my recipes, be indulgent if you see syntax errors and do not hesitate to leave me a comment so I can correct it. I hope you will like my recipes and enjoy your visit to my food blog!