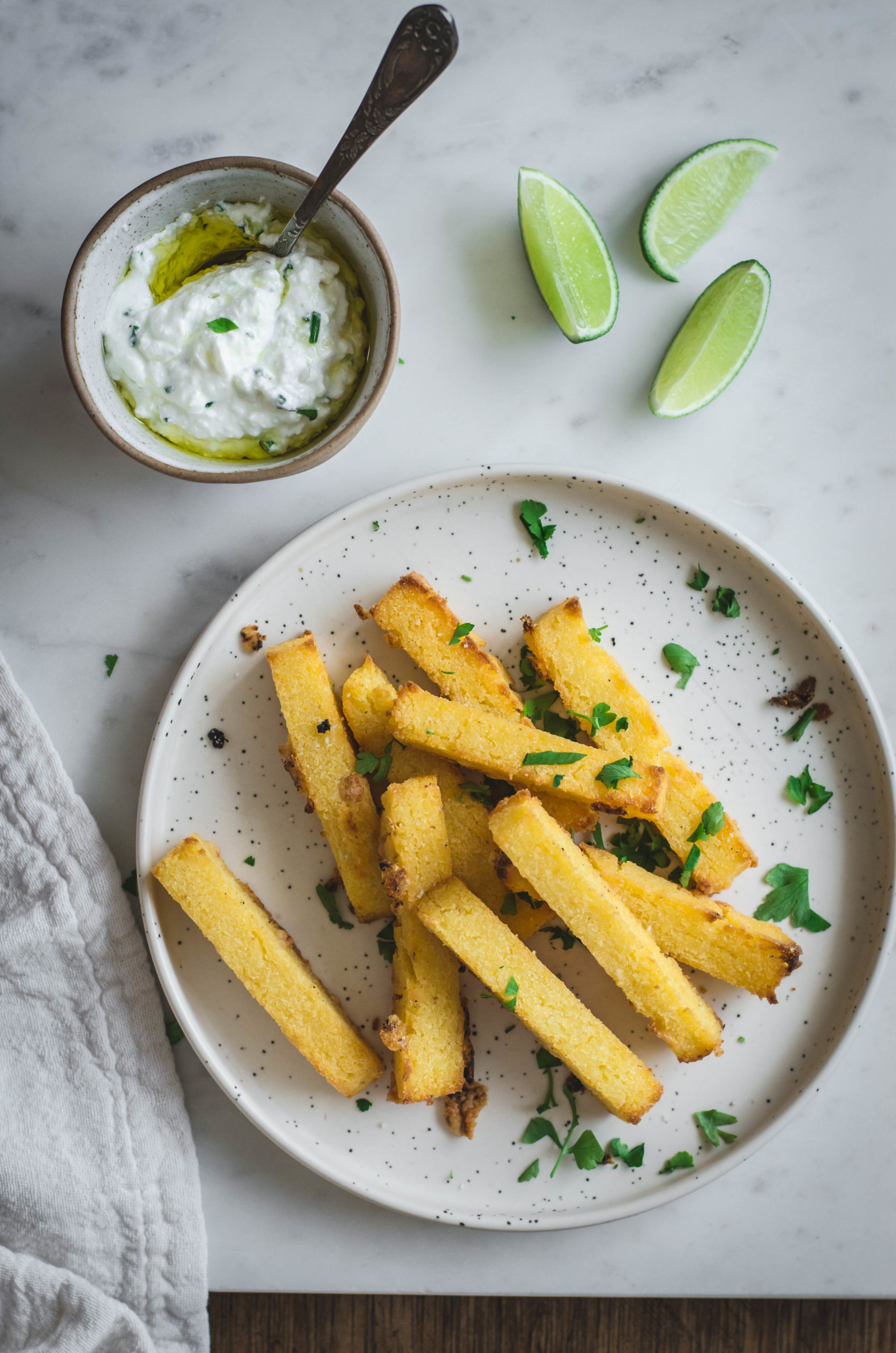 Have you ever made baked polenta fries? It's clearly something absolutely too good that I recommend you to try very quickly! Not being a big fan of polenta I didn't expect to like it so much, but these oven-baked polenta fries are really the discovery of the moment! I served them with a little herb sauce but you can also make an aioli, it will be delicious or a smoked tomato sauce!
This recipe is very practical because you can prepare it in advance and cook it at the last minute. The principle is to cook a polenta with broth, milk and parmesan cheese and then let it set and cool in a rectangular dish.
Then you have to cut fries out of the polenta 'block' and bake them in the oven.
Of course, I add a few gourmet touches and explain it all in the recipe details. I even put some pictures to show you how to cut the polenta, you'll see it's very simple. You can then serve these fries with a meat in sauce as a side dish (like an Osso Bucco, for example) or simply with a little home-made sauce.
In any case, if you make this recipe, don't hesitate to leave me a little note to tell me what you think.
Baked polenta fries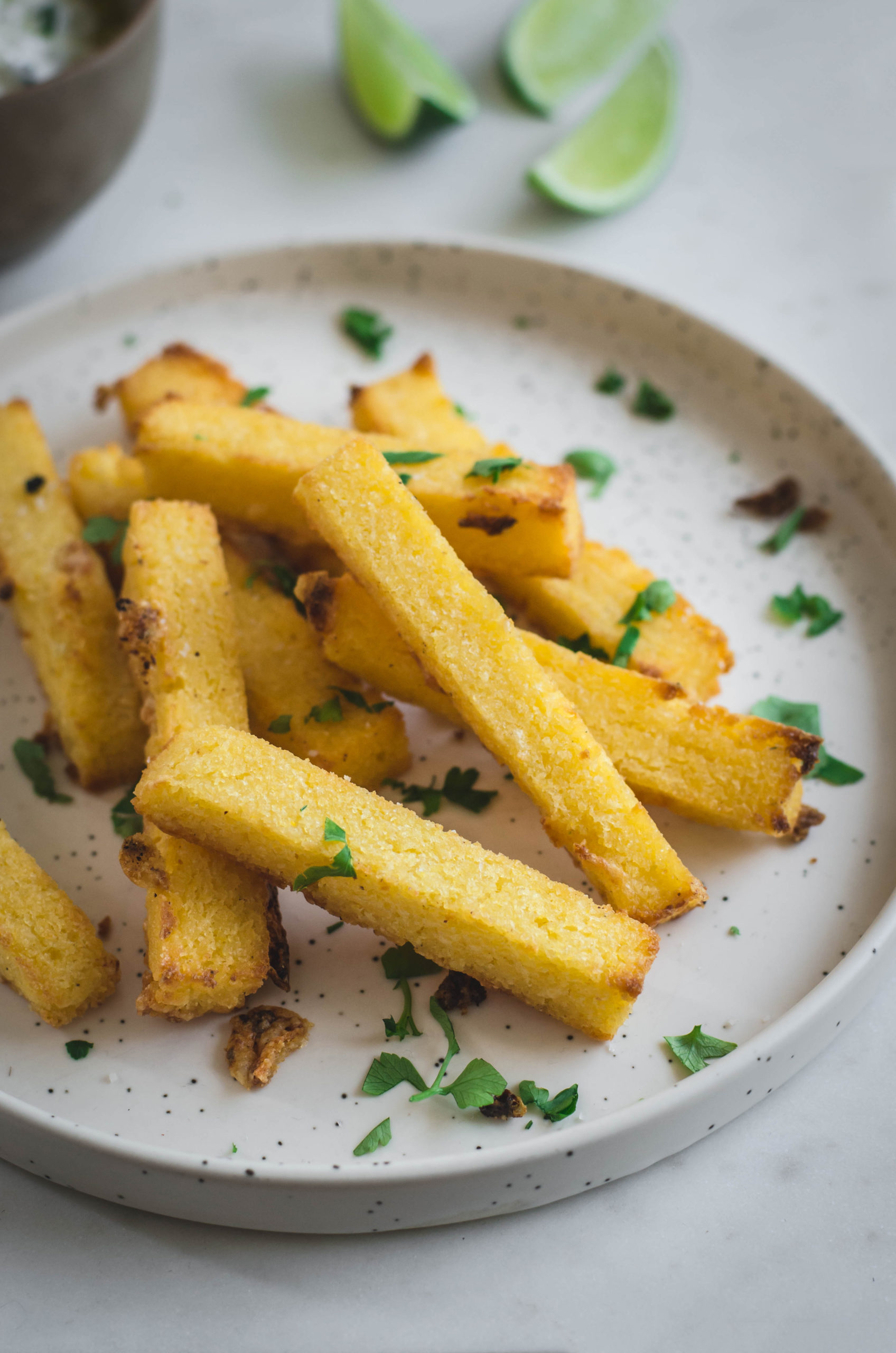 WHAT INGREDIENTS DO YOU NEED TO MAKE THIS DELICIOUS BAKED POLENTA FRIES RECIPE?
polenta
vegetable broth
milk
Parmesan cheese
salt and freshly ground pepper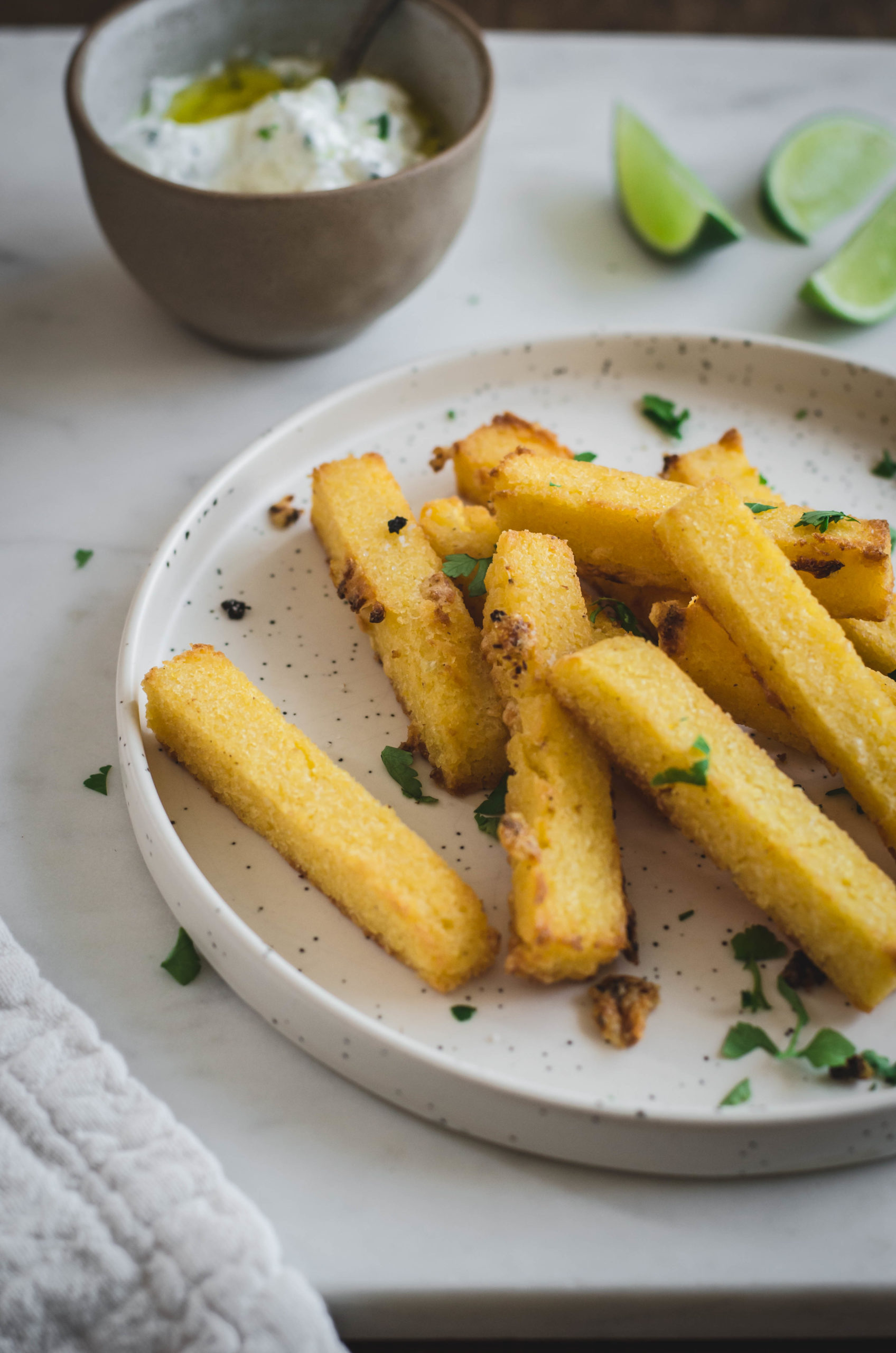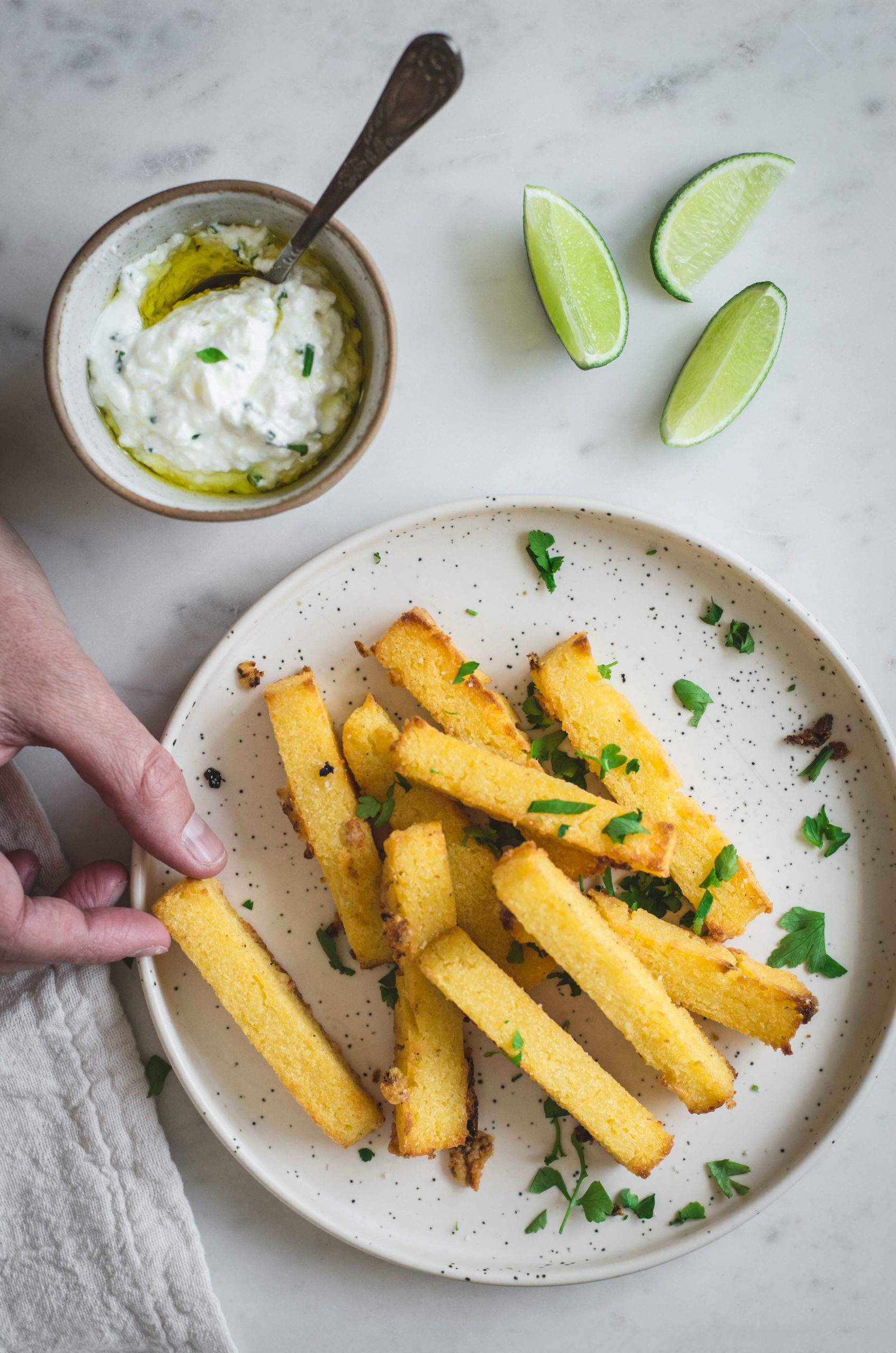 How to make POLENTA FRIES ?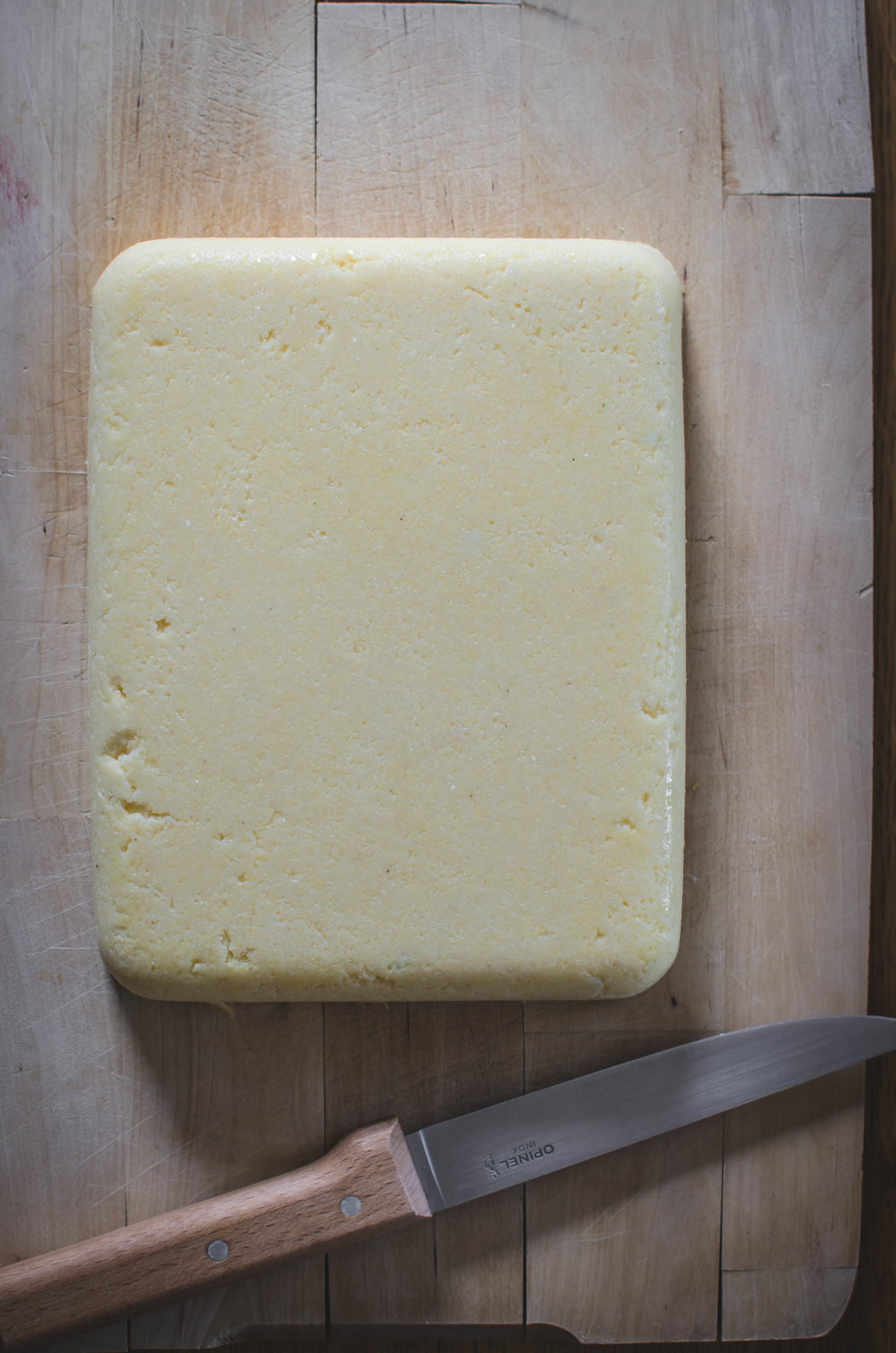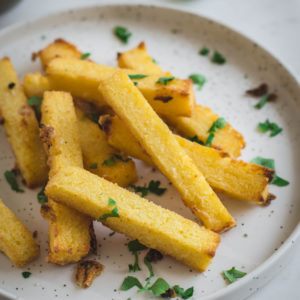 Baked polenta fries
Ingredients
For polenta fries
200

g

polenta

1

liter

vegetable broth

250

ml

milk

60

g

Parmesan cheese

1

garlic clove

salt and freshly ground pepper
For parmesan cheese and garlic butter
2

teaspoons

melted butter

20

g

grated parmesan

1

garlic clove

fresh or dried thyme

black pepper
To garnish
salt

sesame seeds

parsley

finely chopped
Instructions
For polenta fries
To make the polenta fries, start by bringing the vegetable stock to a boil. In a bowl, pour the polenta, add the milk, grated parmesan, pressed garlic, a pinch of salt and pepper. When the water boils, pour in the polenta, lower the heat and stir for 1 to 2 minutes until the texture is smooth.

Pour into an oiled or buttered rectangular dish and spread the polenta well so that the top is smooth. Once at room temperature, chill for at least 2 hours or freeze for 30 minutes.
For parmesan cheese and garlic butter
Prepare the Parmesan butter mixture by adding all the ingredients in a small saucepan, let it cook on low heat for 2 to 3 minutes.
To garnish
When ready to bake your polenta fries, preheat your oven to 220°C.

Remove the polenta from the refrigerator, take it out of the dish and cut it into fries about 1.5 centimetres thick.

Cover your baking sheet with a sheet of baking paper and place the polenta fries on top.

Brush the fries generously with Parmesan butter.

Bake for about 30 minutes and turn halfway through cooking until each side is perfectly browned.

While the fries are cooking, prepare your sauce in a small bowl.

At the end of cooking, sprinkle the fries with truffle salt, sesame seeds or finely chopped flat-leaf parsley and enjoy them with your sauce, it's a treat!
Notes
If you try to flip the fries if they are still too brittle, cook them a little longer until they are firmer and easy to flip.
Have fun with the spices and herbs in this recipe, you can really make it any way you want!
If you ever make my recipe, and you like it, feel free to tag me on Instagram or Facebook so I can see the result and share it back…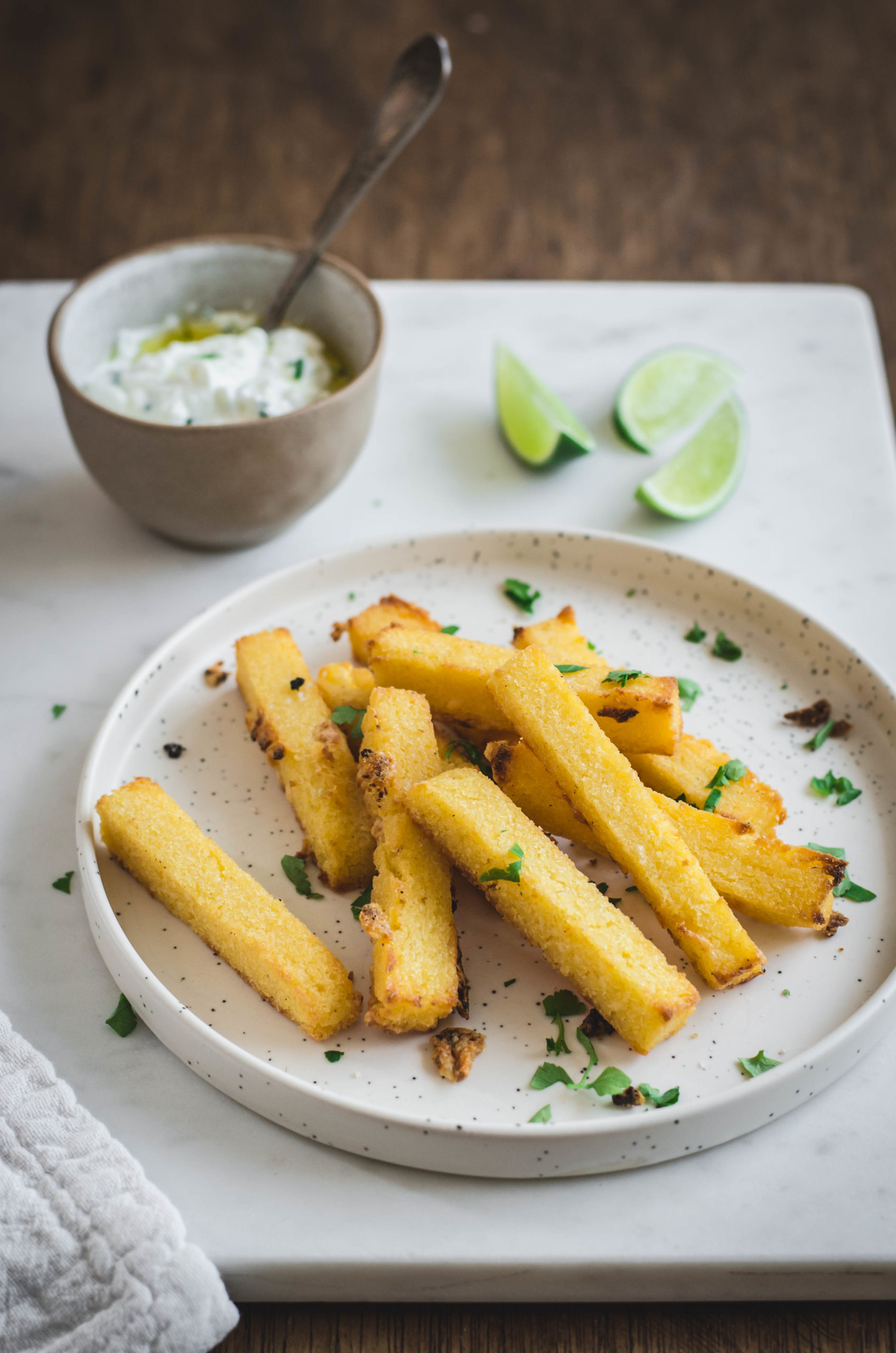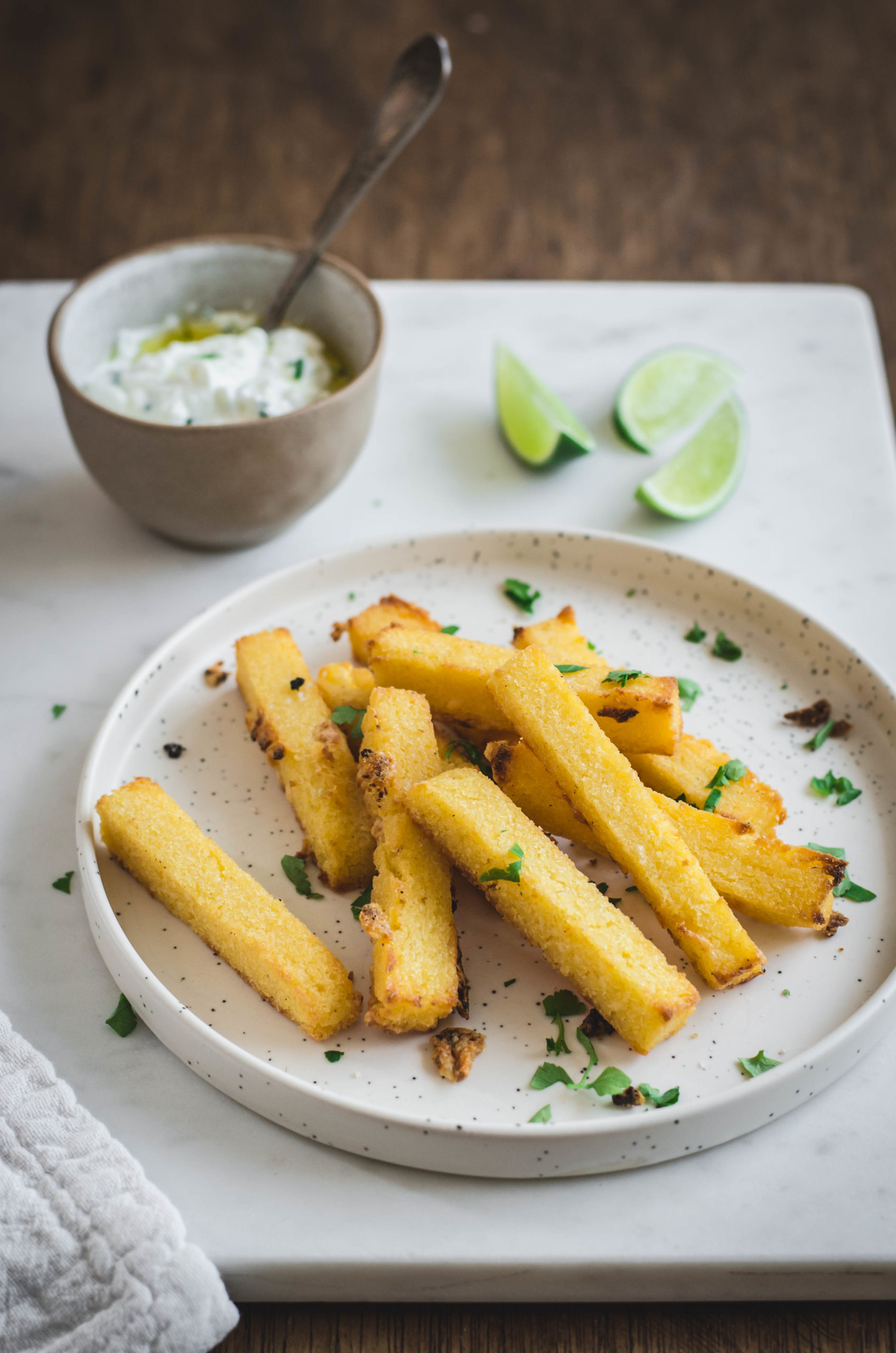 Just to let you know I am French and I translate my recipes, be indulgent if you see syntax errors and do not hesitate to leave me a comment so I can correct it. I hope you will like my recipes and enjoy your visit to my food blog!