After a very complicated few weeks from a personal point of view and with a professional change after 13 years, I find some energy to come back here and share an easy recipe that I love.
I'm a big fan of all kinds of savory pies but I have to admit that I have a soft spot for the onion pie. It can be declined in many ways and today it is a version of French Onion Pie recipe that I propose to you.
The "rustic" version of the pies is very simple, just spread a pie crust on a large baking sheet, put the filling on it and then fold the edges over the top. This makes for a great rim with a nice crispy crust. I love it!
For the pie dough, you can make a traditional version, which I list in my recipe below, but you can also make a dough that I love, without butter, ready in under a minute!
My little trick for a crispy pie dough: I preheat my oven on fan heat or traditional heat and for the first 5 minutes of baking, I just put the heat setting on the bottom and push it into the bottom of the oven.
After 5 minutes, I turn the heat back on but leave my pie in the bottom of my oven.
French Onion Pie Recipe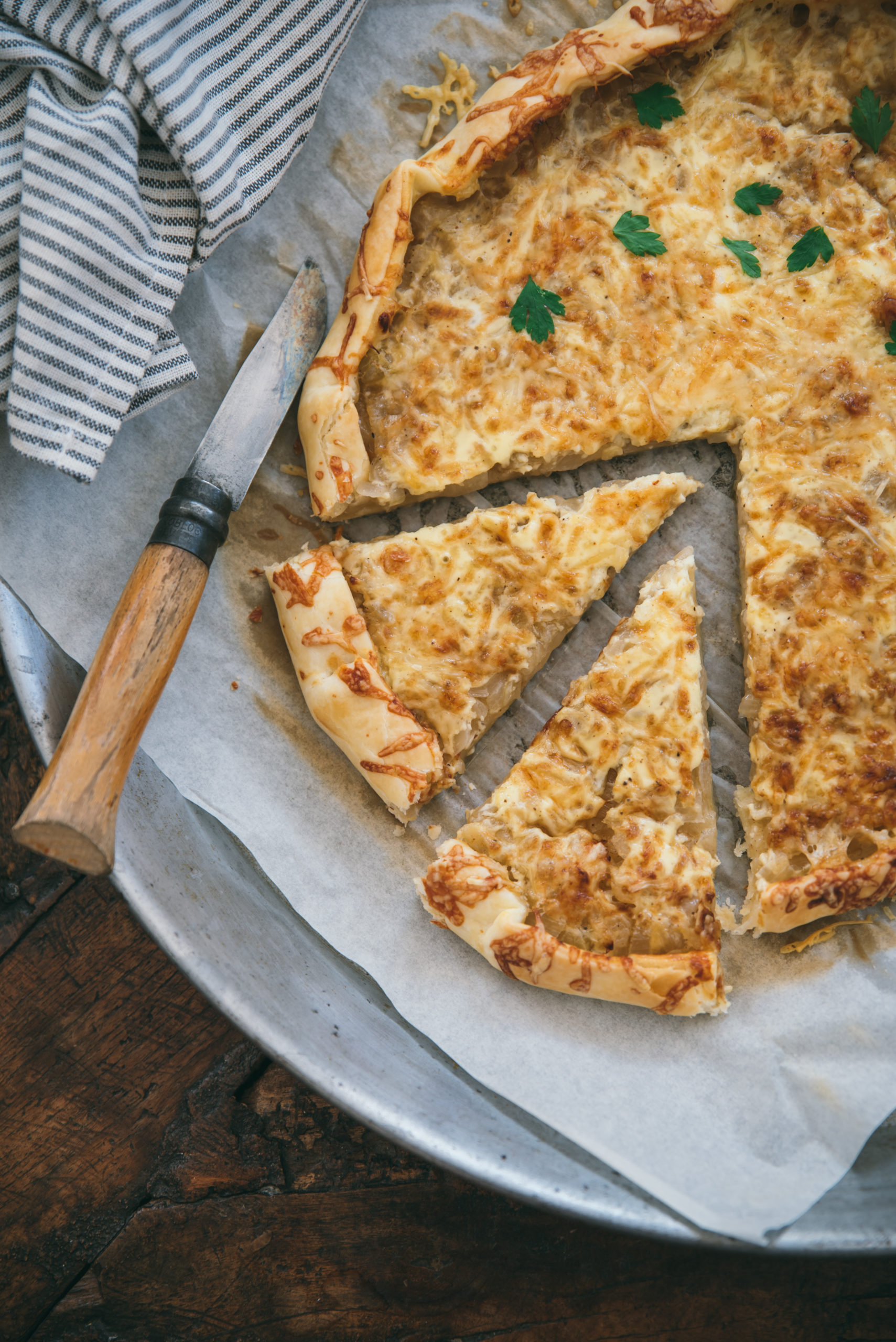 What ingredients do you need to make this easy Rustic Onion Pie recipe?
FOR THE SHORTCRUST PASTRY
FOR THE GARNISH
onions
butter
white wine
egg
liquid cream
nutmeg
salt and pepper
brown sugar
And if you want, you can add some lardons, and when it's in season, thin slices of tomatoes. I also add a little grated cheese because I love it, but you do as you like!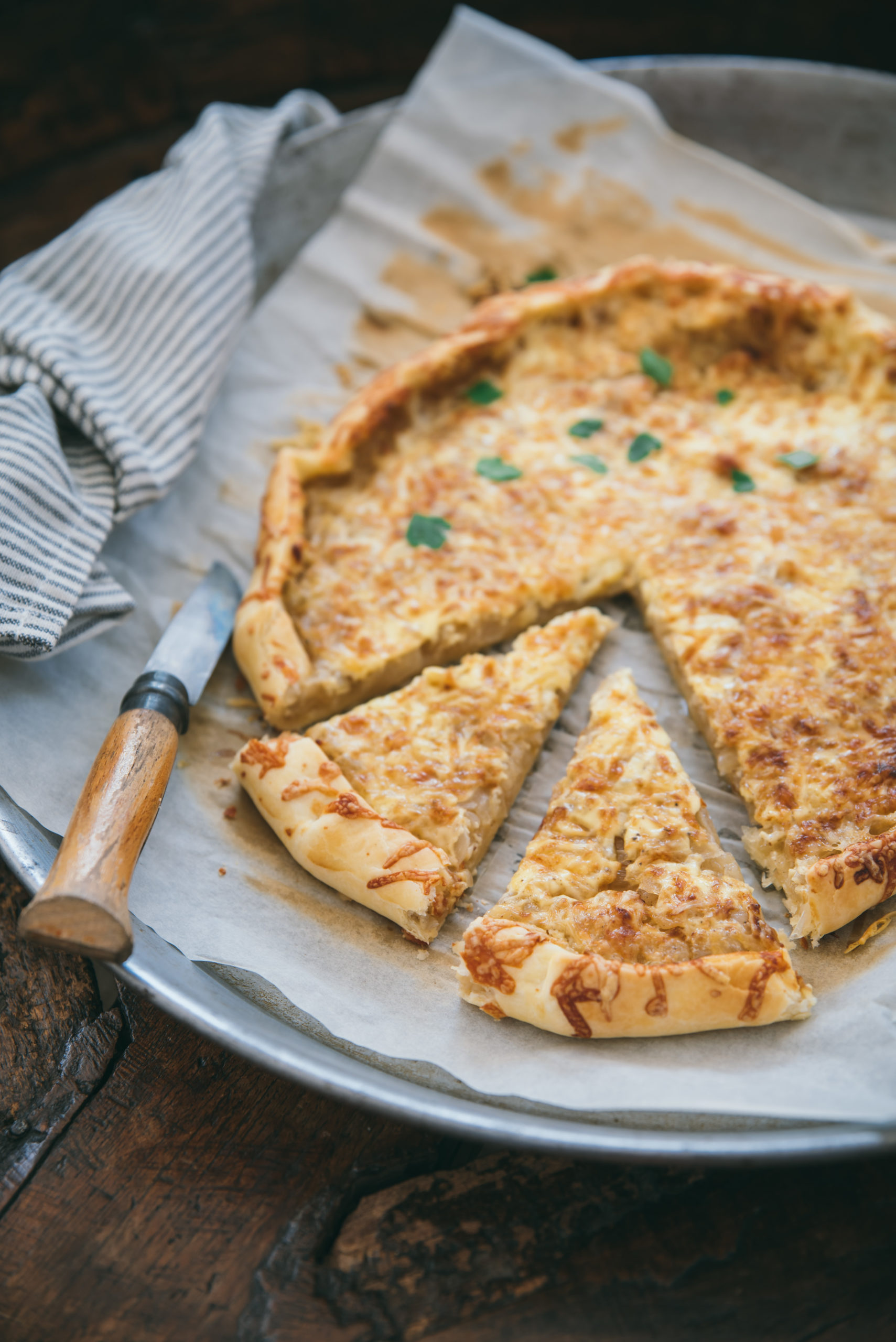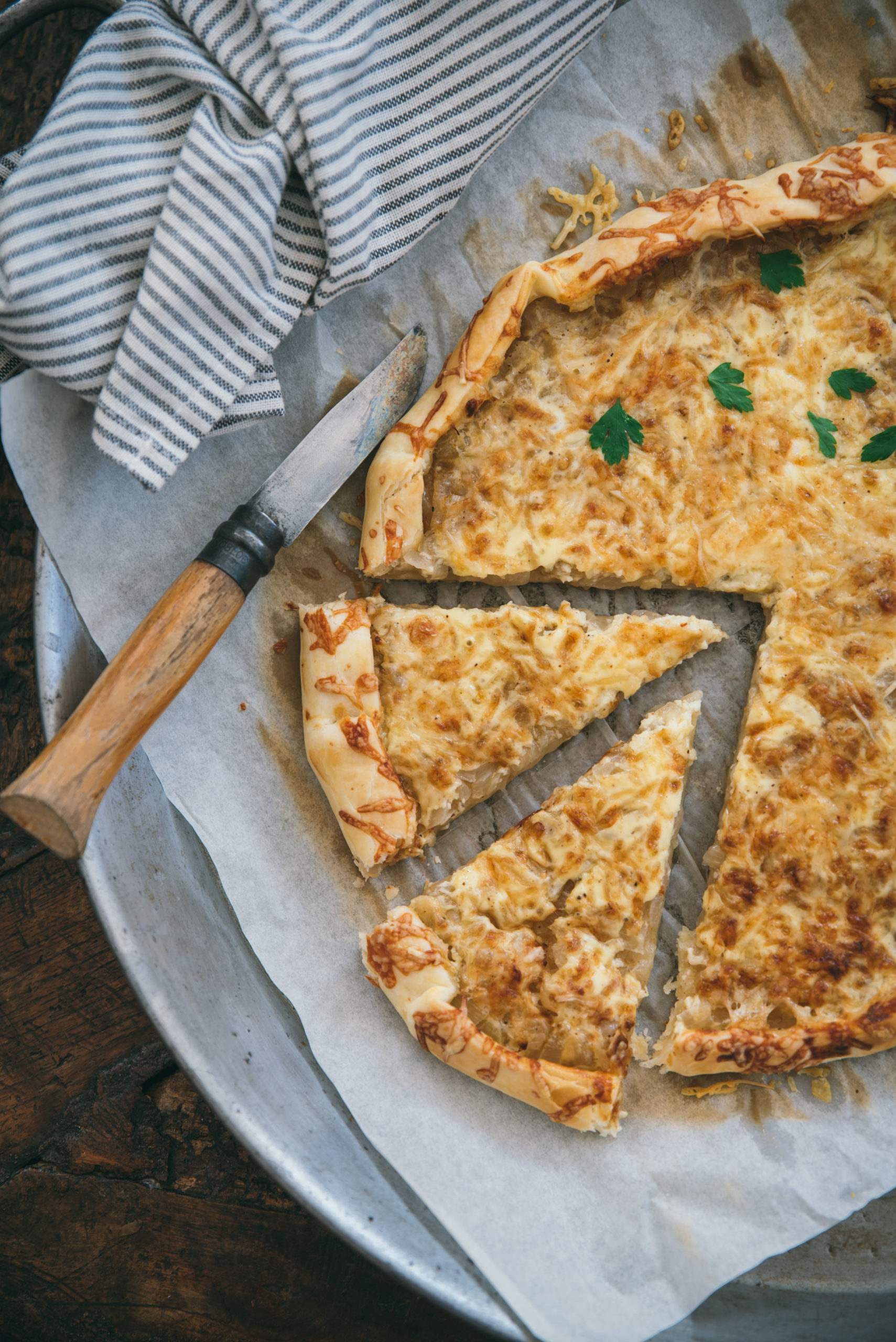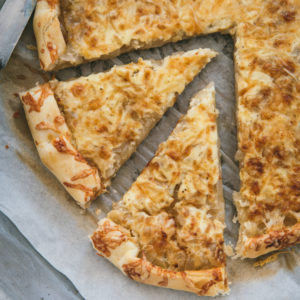 French Onion Pie Recipe
Ingredients
for the pie dough
250

g

flour

125

g

butter

1

egg

1

tablespoon

water

salt
FOR THE FILLING
800

g

onions

30

g

butter

5 to 10

cl

white wine

2

eggs

10

cl

liquid cream

Grated nutmeg

salt and pepper

1

teaspoon

brown sugar
Instructions
for the pie dough
Using the blade of your food processor, mix the flour with the salt and the soft butter cut into small cubes. You can also do this by hand.

When the butter is incorporated into the flour, add the egg and water.

Knead until a ball of dough forms.

Strain and chill for 30 minutes. Meanwhile, prepare the filling.
FOR THE FILLING
Heat the butter in a pan.

Add the finely chopped onions and cook for about 20 to 30 minutes, stirring regularly. You can add the white wine after 5 minutes of cooking and the spoonful of brown sugar. They should become translucent.

Add salt, pepper and nutmeg.

In the meantime, mix the eggs with the liquid cream and the milk, add salt and pepper.

Preheat the oven to 180°C.

When ready to garnish, roll out the dough on a floured work surface.

Spread the onions on the bottom of the pie and pour the egg mixture.

Bake at 180°C for about 35 to 40 minutes.
If you ever make my recipe and you like it, don't hesitate to tag me on Instagram @tangerinezest so I can see the result and share it myself…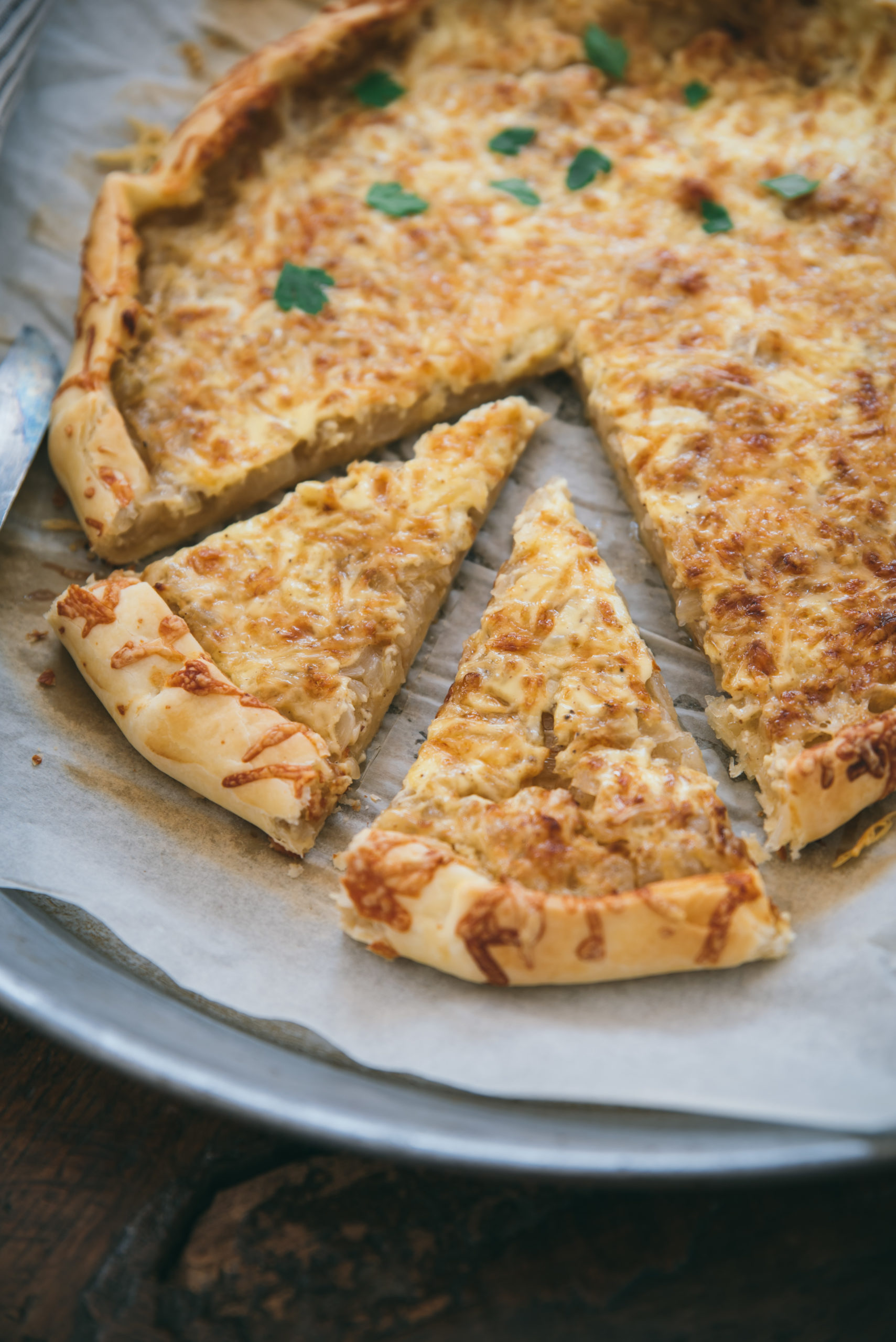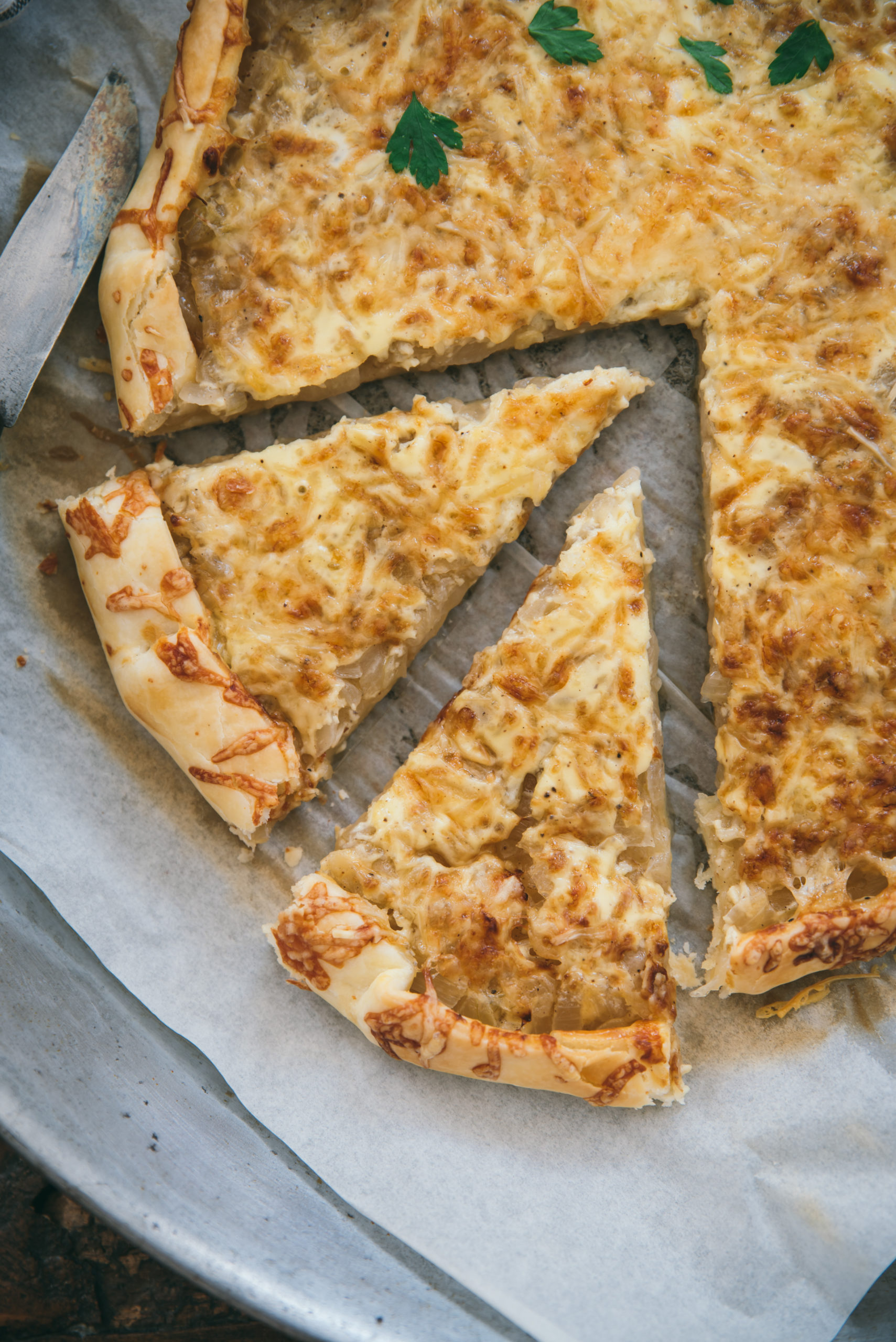 Finally, just to let you know I am French and I translate my recipes, be indulgent if you see syntax errors and do not hesitate to leave me a comment so I can correct it. I hope you will like my recipes and enjoy your visit to my food blog!