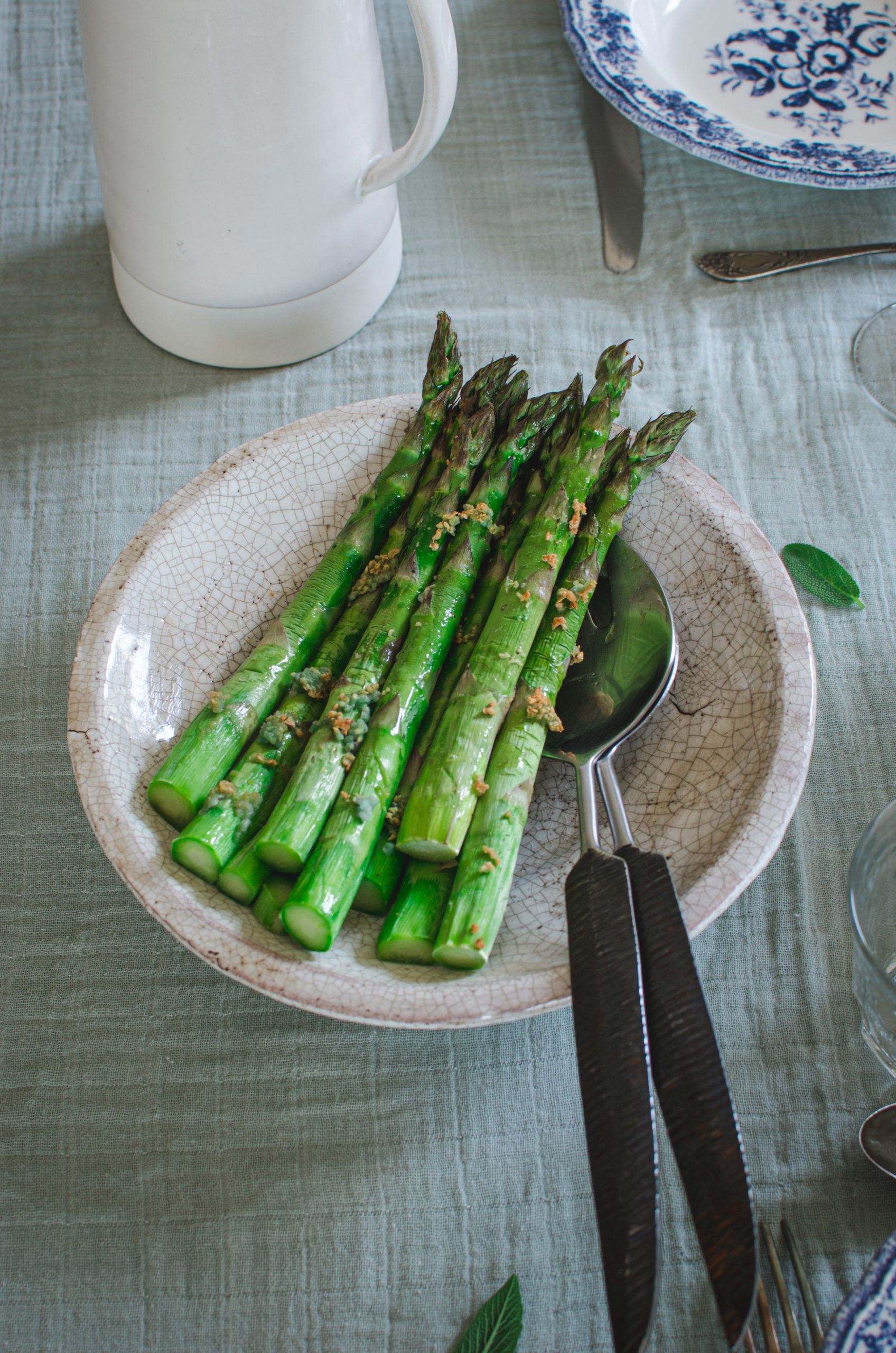 Asparagus is really the first culinary sign that spring has arrived, followed or accompanied by strawberries and every year I look forward to it. When I see the first ones at the market, it is the first sign that spring has arrived. So I made this recipe for oven-roasted green asparagus recipe a few weeks ago and I wanted to share it with you because it is really delicious!
Usually I cook green asparagus in a pan with a drizzle of olive oil and pressed garlic, but this time my oven was hot and I wanted to try it in a roasted version. It's very easy to make and very good.
I wonder if you prefer white or green asparagus? Personally, I prefer green asparagus, which I find firmer but less stringy, so easier to prepare and eat.
For this recipe, it is very simple, you just have to cut the end of the asparagus at the base on 1 or 2 centimeters then with the help of a peeler, to remove the bulk of the skin if it is hard. Rinse the asparagus, place it in an oven dish, sprinkle with olive oil and pressed garlic, add salt and pepper and place in the oven… That's it!
You can then eat them as an appetizer or as an accompaniment to grilled meats, you can also put them on a risotto or cook them in an omelette.
Oven-Roasted Asparagus Recipe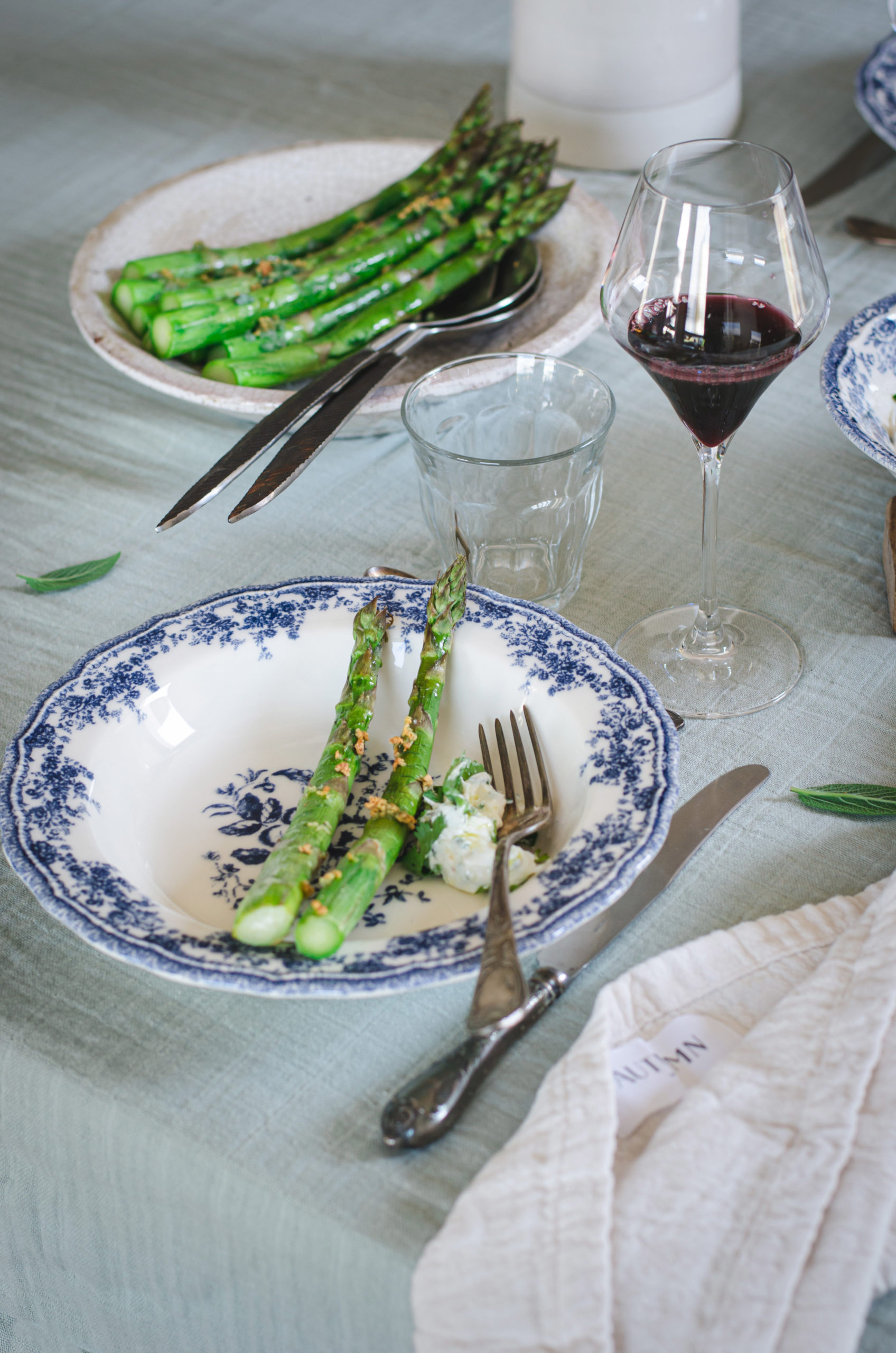 WHAT INGREDIENTS ARE NEEDED TO MAKE THIS OVEN-ROASTED GREEN ASPARAGUS RECIPE?
green asparagus
garlic
olive oil
salt and pepper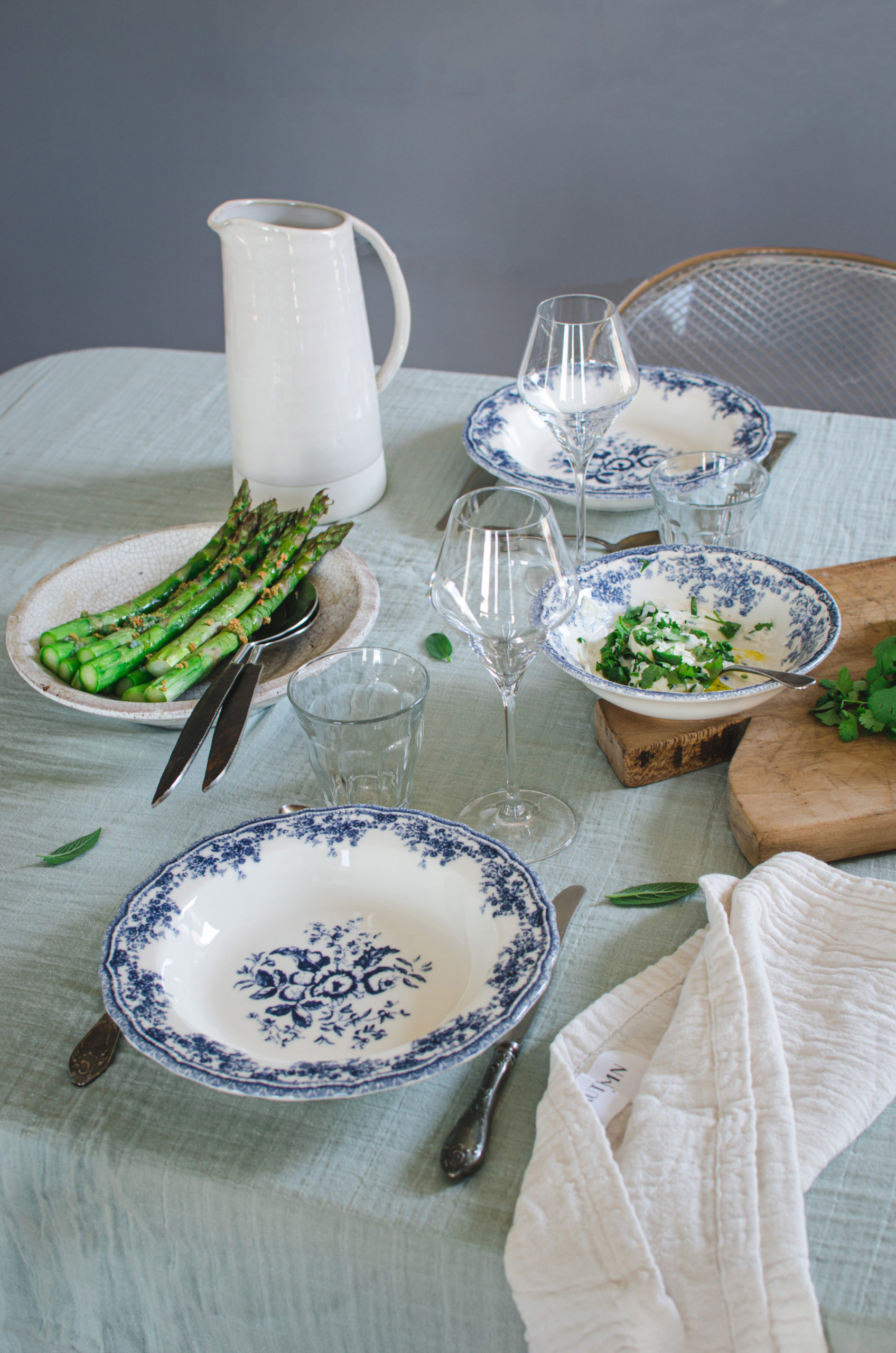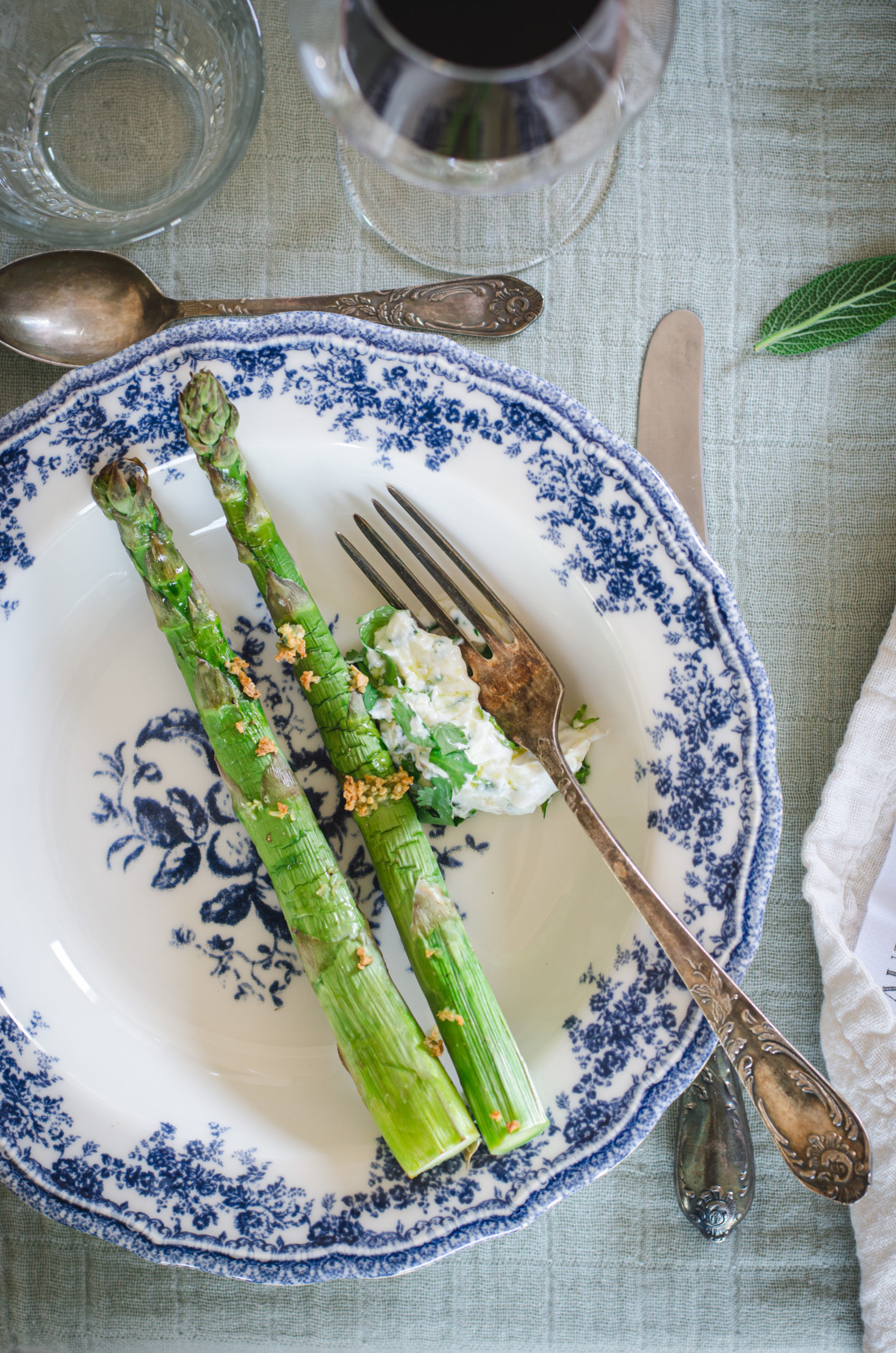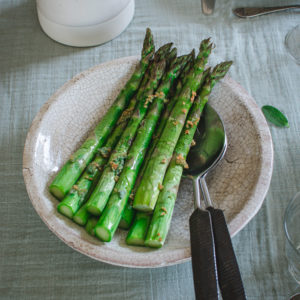 Oven-Baked Asparagus Recipe
Ingredients
500

g

green asparagus

2

garlic cloves

pressed

2

tablespoons

olive oil

Flower of salt and pepper
Instructions
Preheat your oven to 200°C.

Cut the bottom of the stems for about 1 cm if they are thin, a little more if they are thick. If necessary, quickly peel the bottom of the stems with a peeler and rinse them.

Place asparagus on a parchment paper-lined baking sheet and brush with olive oil to coat well.

Press the peeled and degermed garlic cloves.

Bake for 12 to 15 minutes, depending on their size. They should not over color, remain shiny and meaty, or they will be too dry.

Stick a knife inside to make sure they are tender.

Remove from oven and sprinkle with fleur de sel and pepper.

You can enjoy them cold or hot, as you like.
Notes
For pan-frying, oil in the same way, then cook over medium heat, covered, for a maximum of 20 minutes to obtain melting and slightly browned asparagus. Take care to turn them regularly.
If you ever make my recipe and you like it, don't hesitate to tag me on Instagram @tangerinezest so I can see the result and share it myself…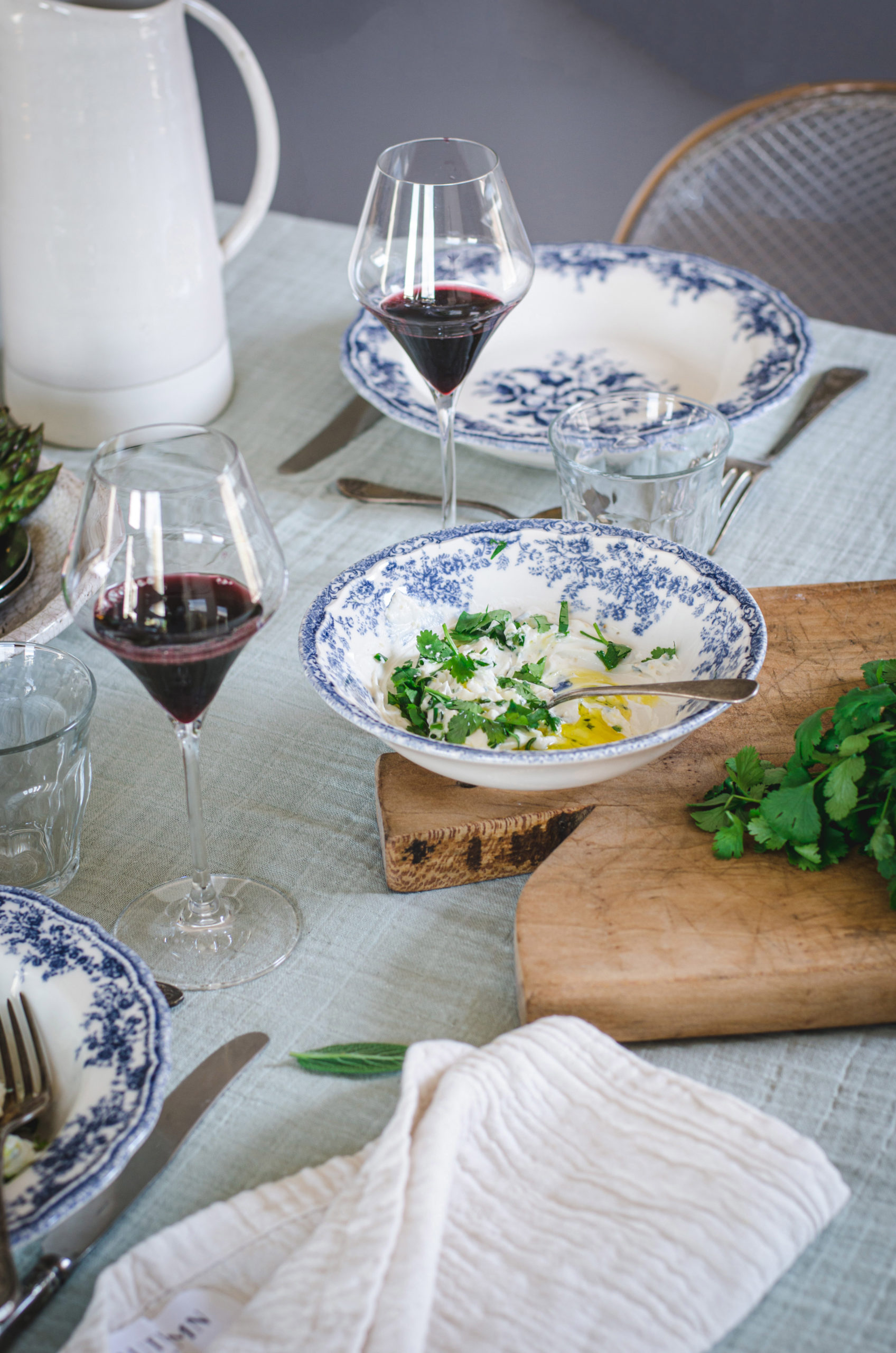 Finally, just to let you know I am French and I translate my recipes, be indulgent if you see syntax errors and do not hesitate to leave me a comment so I can correct it. I hope you will like my recipes and enjoy your visit to my food blog!