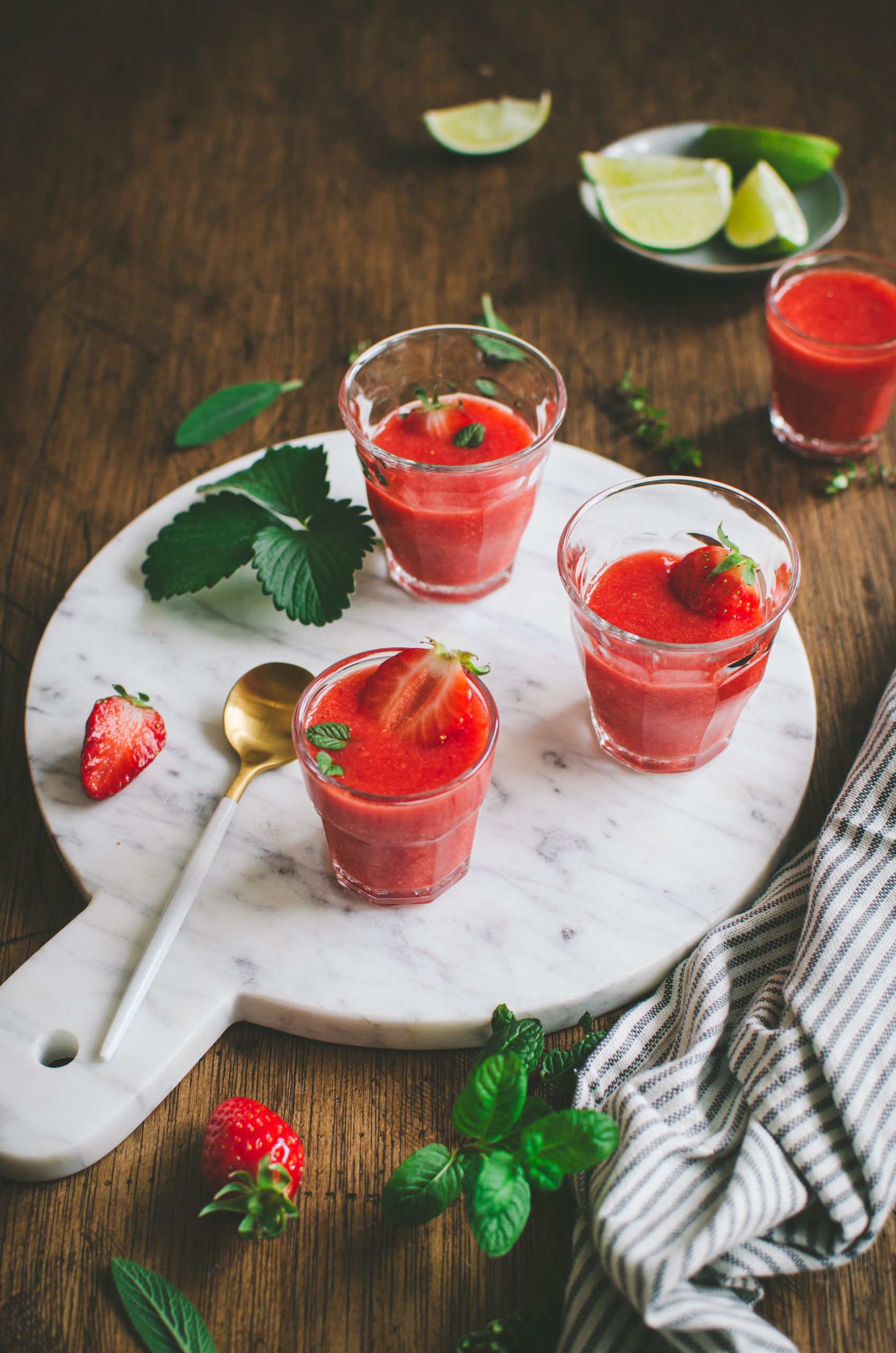 This Strawberry and Mint Smoothie recipe is one of the first ones I published on the blog but I wanted to share it with you again because it is really excellent and full of freshness, and it was also the occasion for me to take a picture of it.
I must say that my photo style has evolved a bit… 😉 If you want to see the original photo, it's here, and I did worse to say that it's from 2011!
It's strawberry season so don't hesitate to take advantage of it… This recipe blends the flavors of the ingredients perfectly, without removing the taste of the strawberry.
I made this strawberry soup after going to the market and you can also replace the mint with basil, depending on your taste or just for a change.
We enjoyed this very fresh and fragrant dessert that can also be consumed as a smoothie in the afternoon, for example…
I used very sweet Clery strawberries, so I didn't need to add too much sugar, but you can adjust according to your taste and the strawberries you use.
For those who don't like the little strawberry seeds that crunch under the tooth, you can strain your strawberry soup…
Personally, I like to make this strawberry soup with fruit straight from the fridge so that it is fresh when served.
You can enjoy this strawberry soup in a variety of ways: as a dessert with a few cookies, as an appetizer with a few ice cubes and a splash of sparkling water, for example, or as a smoothie for breakfast.
Strawberry and Mint Smoothie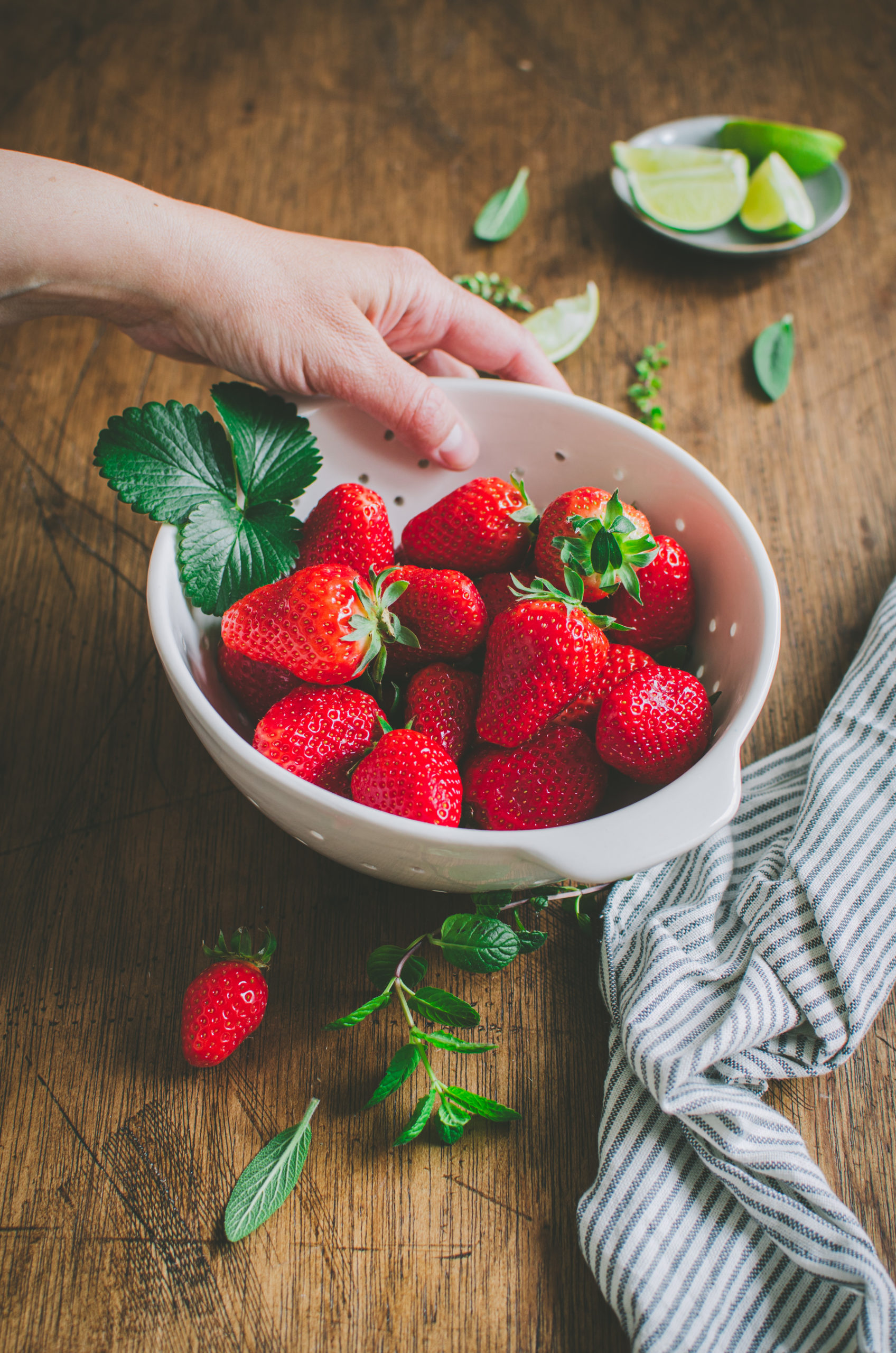 WHAT INGREDIENTS WILL YOU NEED TO MAKE THIS STRAWBERRY SOUP RECIPE?
vanilla sugar
lemon or lime
fresh mint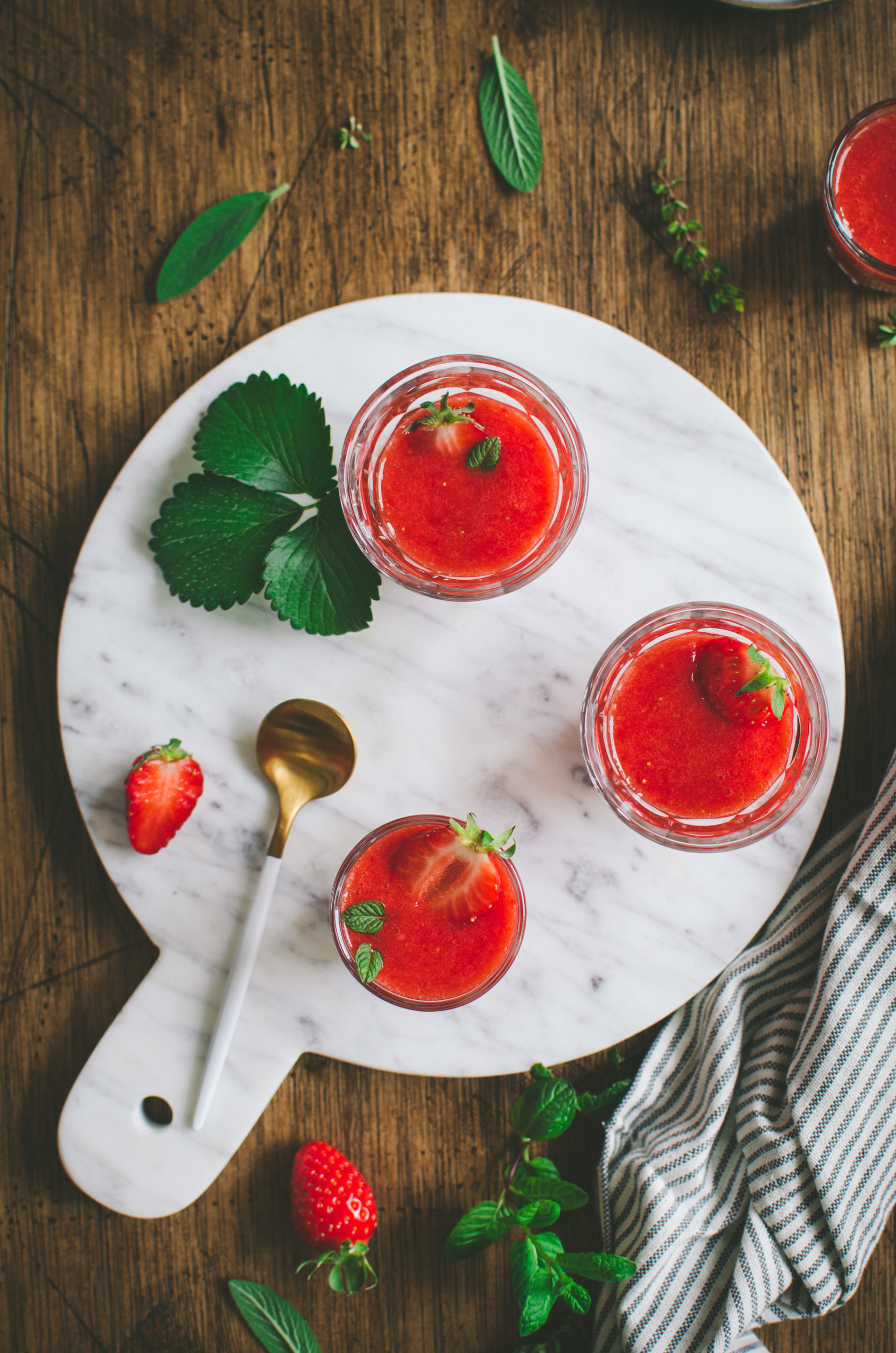 If, like me, you are a big fan of strawberries, here are some recipe ideas you might like: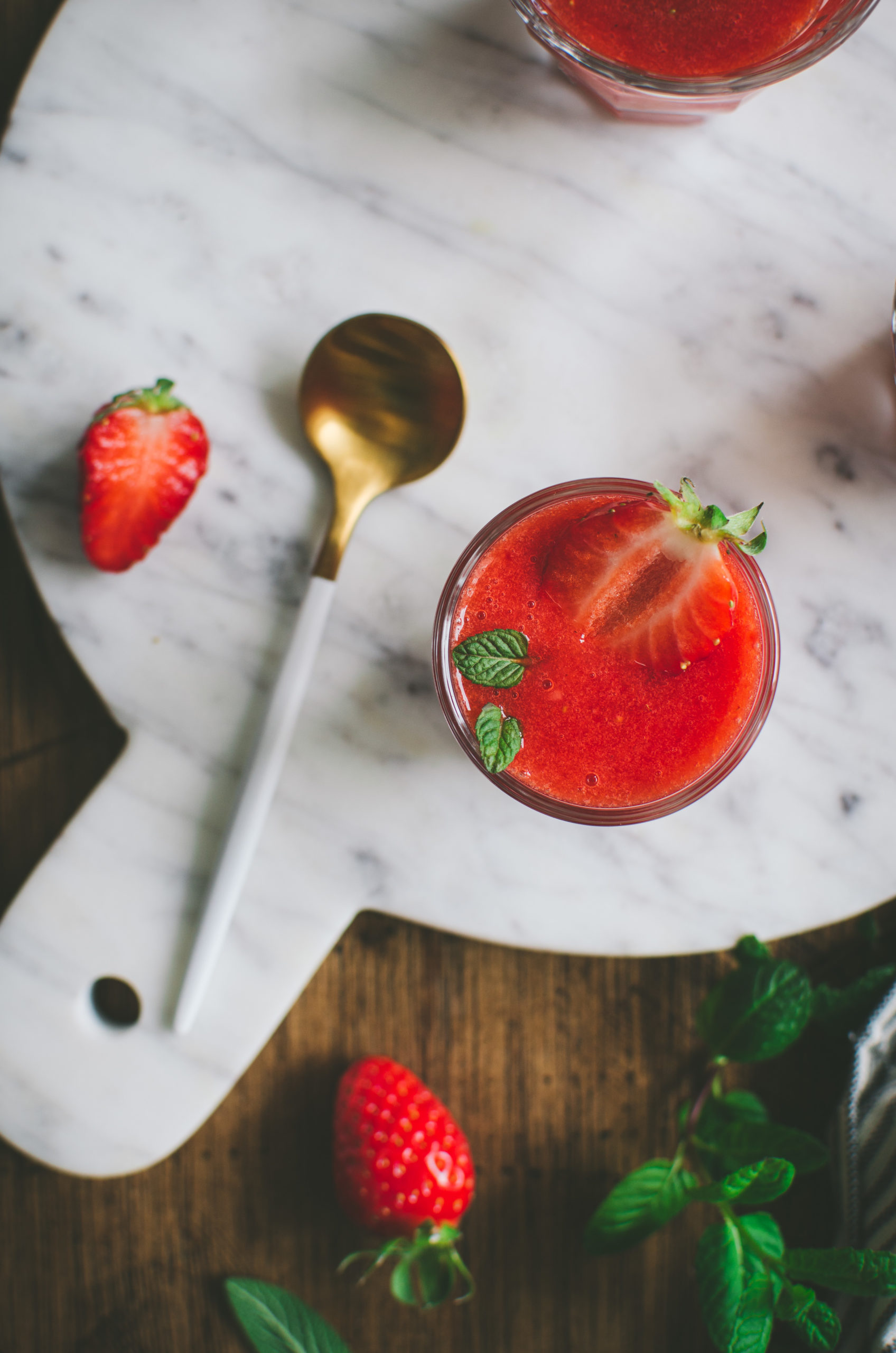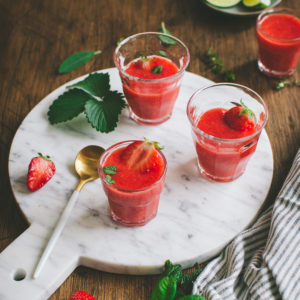 Strawberry and Mint Smoothie
Ingredients
500

g

strawberries

1

tablespoon

vanilla sugar

juice of 1/2 lemon or lime

5

beautiful mint leaves for the smoothie

+ for decoration

Sugar

(optional)
Instructions
Remove the leaves from the strawberries and place them with the lemon juice and vanilla sugar in the bowl of your blender and blend.

Depending on your taste, you can add mint, basil or cinnamon, then blend again. Today I used peppermint leaves.

Decorate with a few fresh leaves and serve fresh.
If you ever make my Strawberry and Mint Smoothie recipe and you like it, don't hesitate to tag me on Instagram @tangerinezest so I can see the result and share it myself…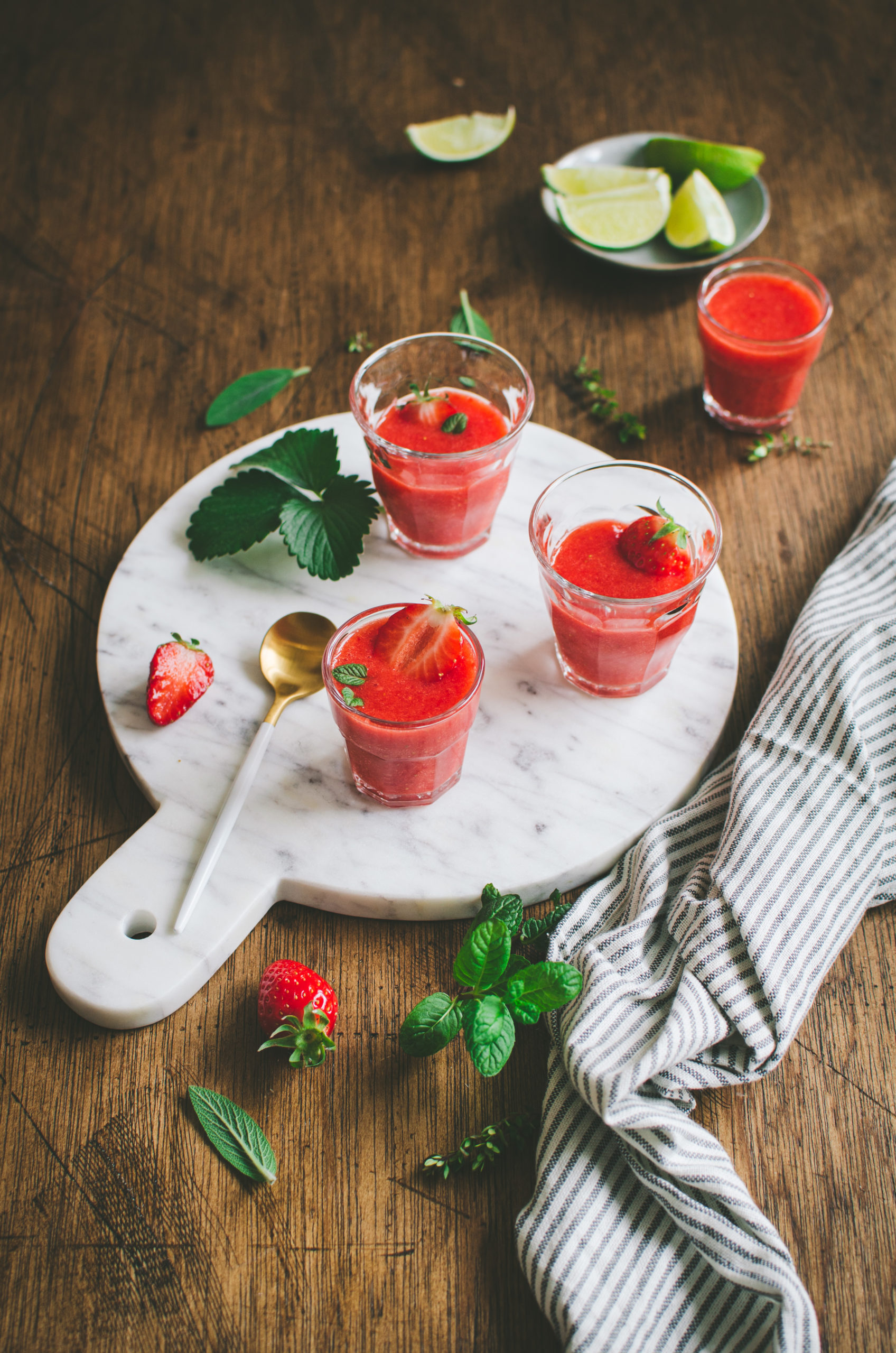 Finally, just to let you know I am French and I translate my recipes, be indulgent if you see syntax errors and do not hesitate to leave me a comment so I can correct it. I hope you will like my recipes and enjoy your visit to my food blog!