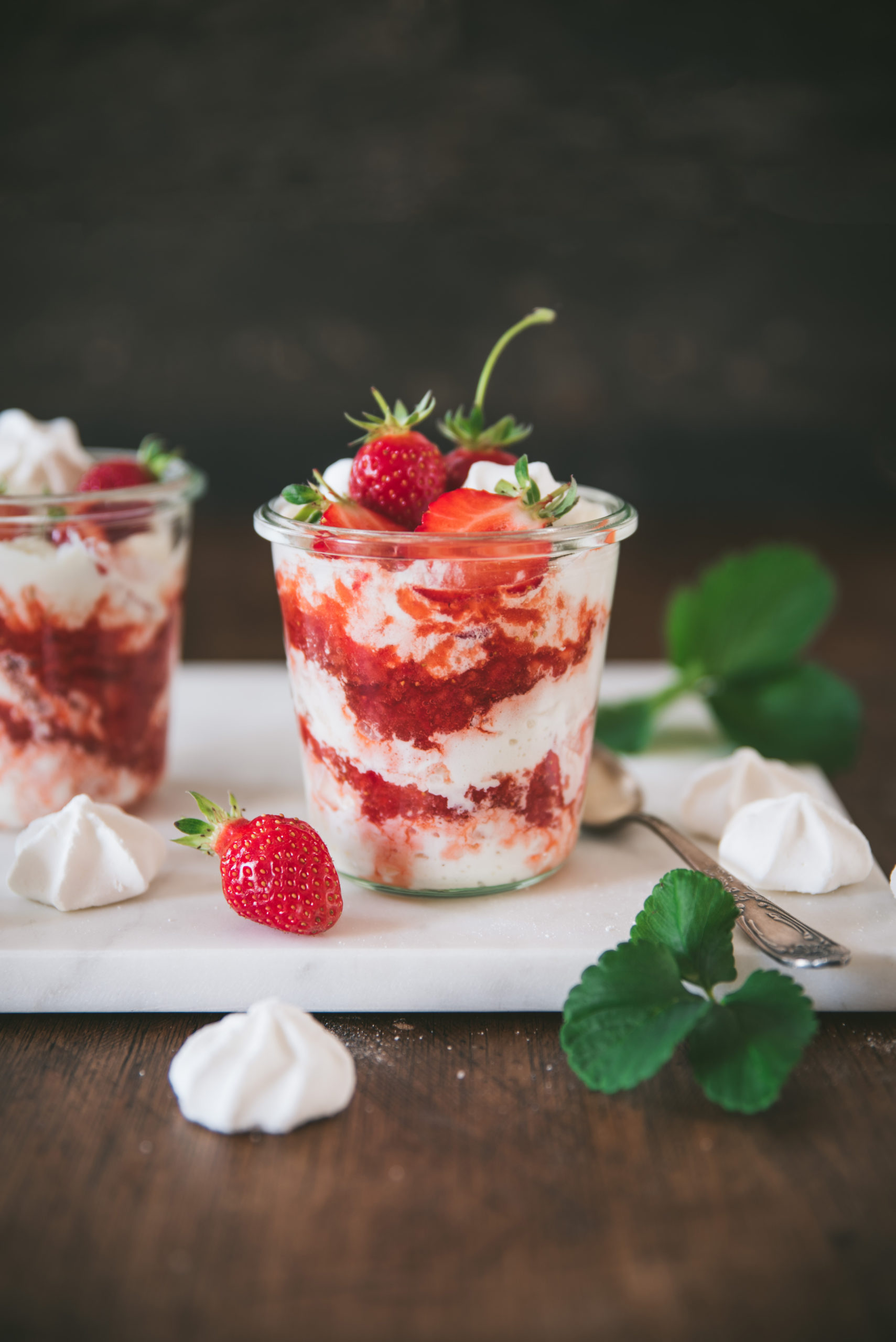 I'm more of a salty eater, and I realize that with this Strawberry Eton Mess recipe, it's the third consecutive dessert recipe I've shared here. But what do you want, with all these red fruits, how can you resist!
After the strawberry pie, the cherry sorbet, I come back to the strawberries… only the raspberries will be missing as red fruits, I already have a little idea…, I think that a Nice cream would tempt me well. .. 😉
But in the meantime, let's get back to this Eton mess recipe because it's one of my favorite desserts!
The first time I shared this recipe was in 2014 but I thought it needed a new light and a good facelift, especially for the photos…
Strawberry Eton Mess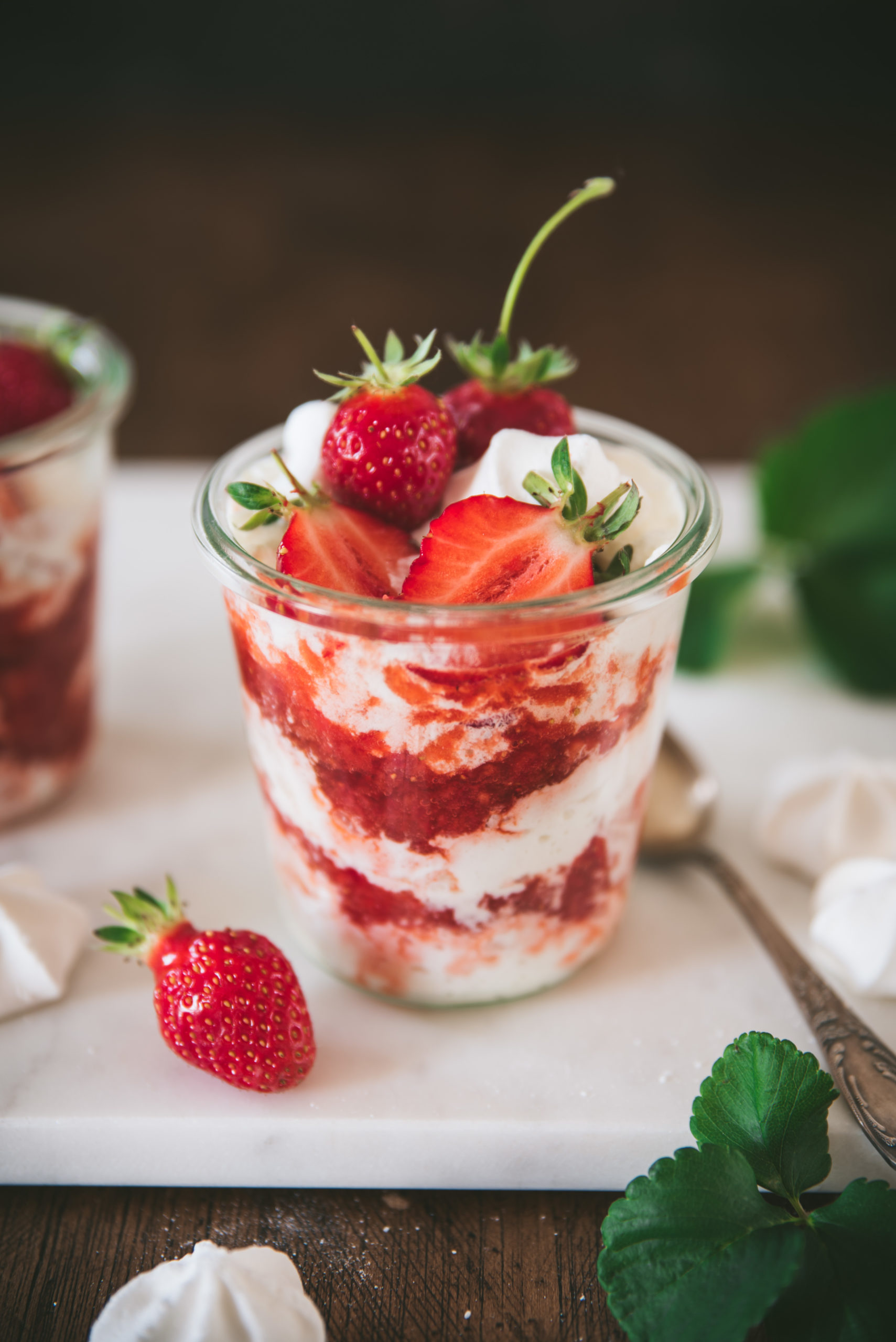 What is Eton Mess?
It is a dessert of English origin, very fresh, which combines meringues, whipped cream, and fresh and cooked strawberries in a compote. I alternate the different ingredients in layers.
I love this dessert so much that I can't tell you how much I love this one! I believe that with the Pavlova they are tied! It's probably because the ingredients of the 2 desserts are very similar, the Eton mess is just more destructured.
The longest part of this absolutely simple recipe is making the meringues. You can also buy some from your best pastry chef and you will only have it for a quarter of an hour…
To serve you can arrange the ingredients on plates or in verrines. I like the second solution because I find it more aesthetic with the different layers that make up the recipe.
You can prepare all the preparations in advance but the dressing is done at the last moment so that the eton mess holds together well and the meringues remain crunchy.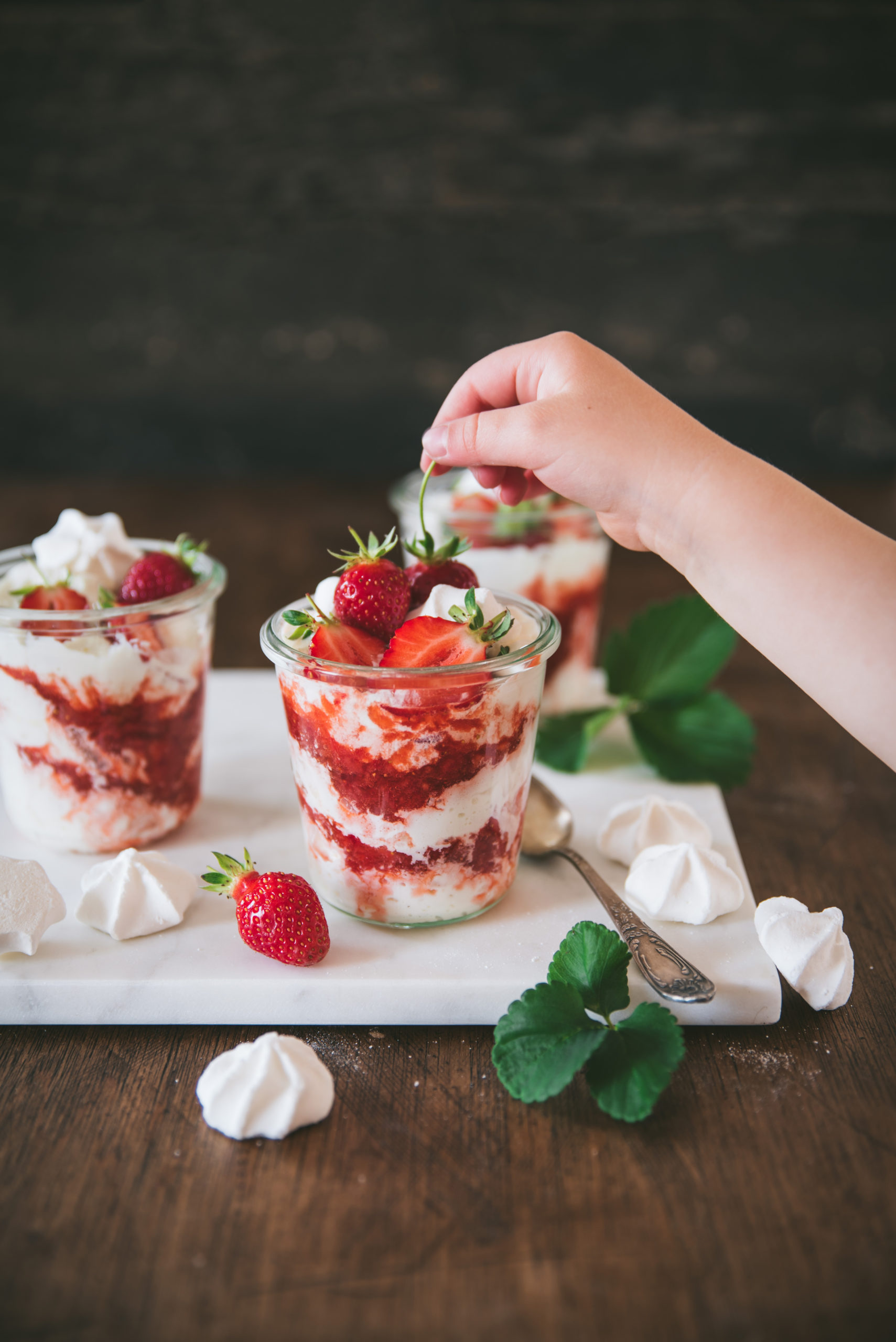 What ingredients will you need to make this delicious Strawberry Eton Mess recipe?
FOR THE MERINGUES
egg whites at room temperature
powdered sugar
a pinch of salt
a few drops of lemon juice or white vinegar
FOR THE WHIPPED CREAM
cold whole cream
icing sugar
vanilla
FOR THE FRUIT COMPOTE
balsamic vinegar
sugar (optional)
FOR DECORATION
fresh strawberries
slivered and toasted almonds if desired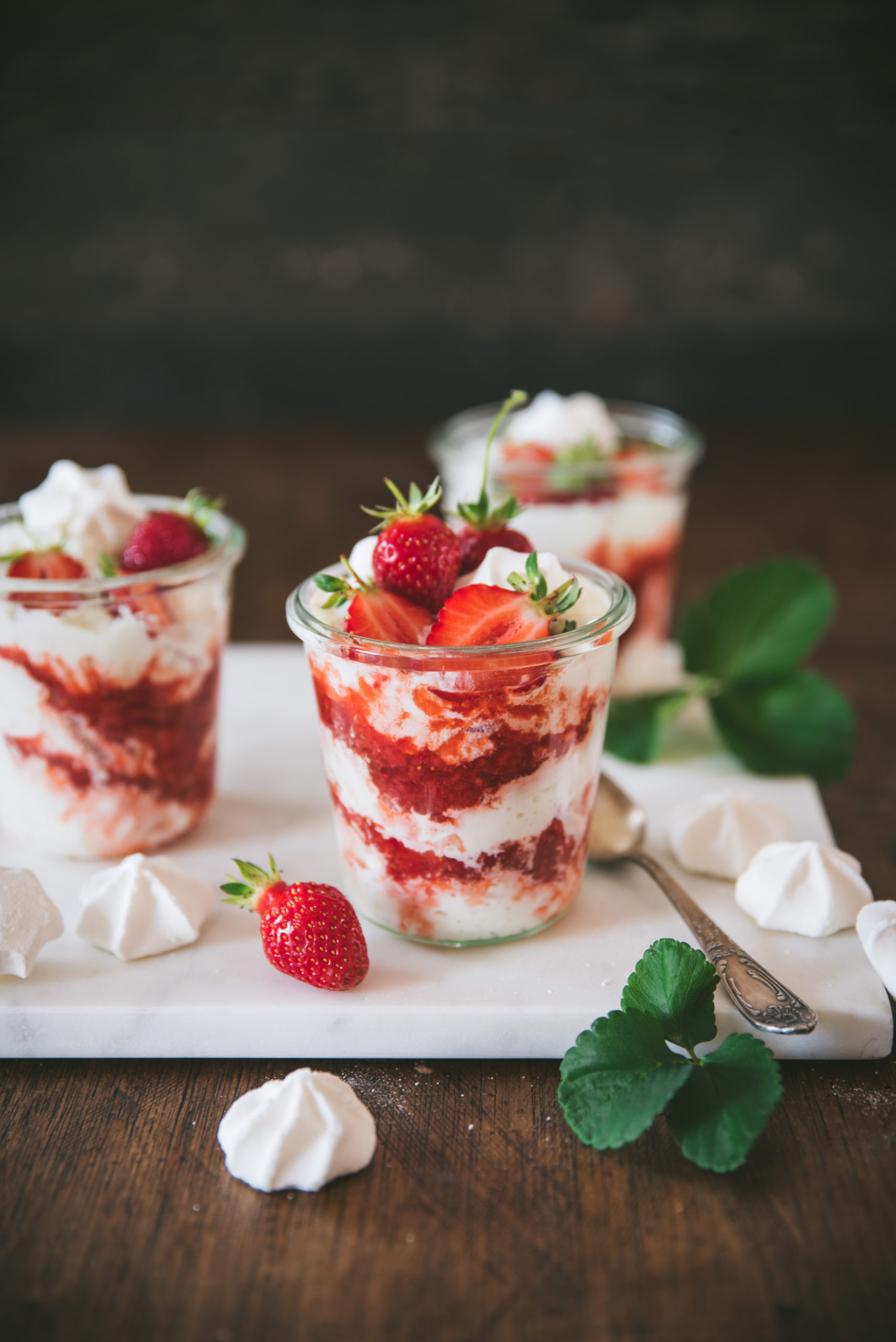 HERE ARE SOME DESSERT IDEAS THAT YOU MIGHT LIKE: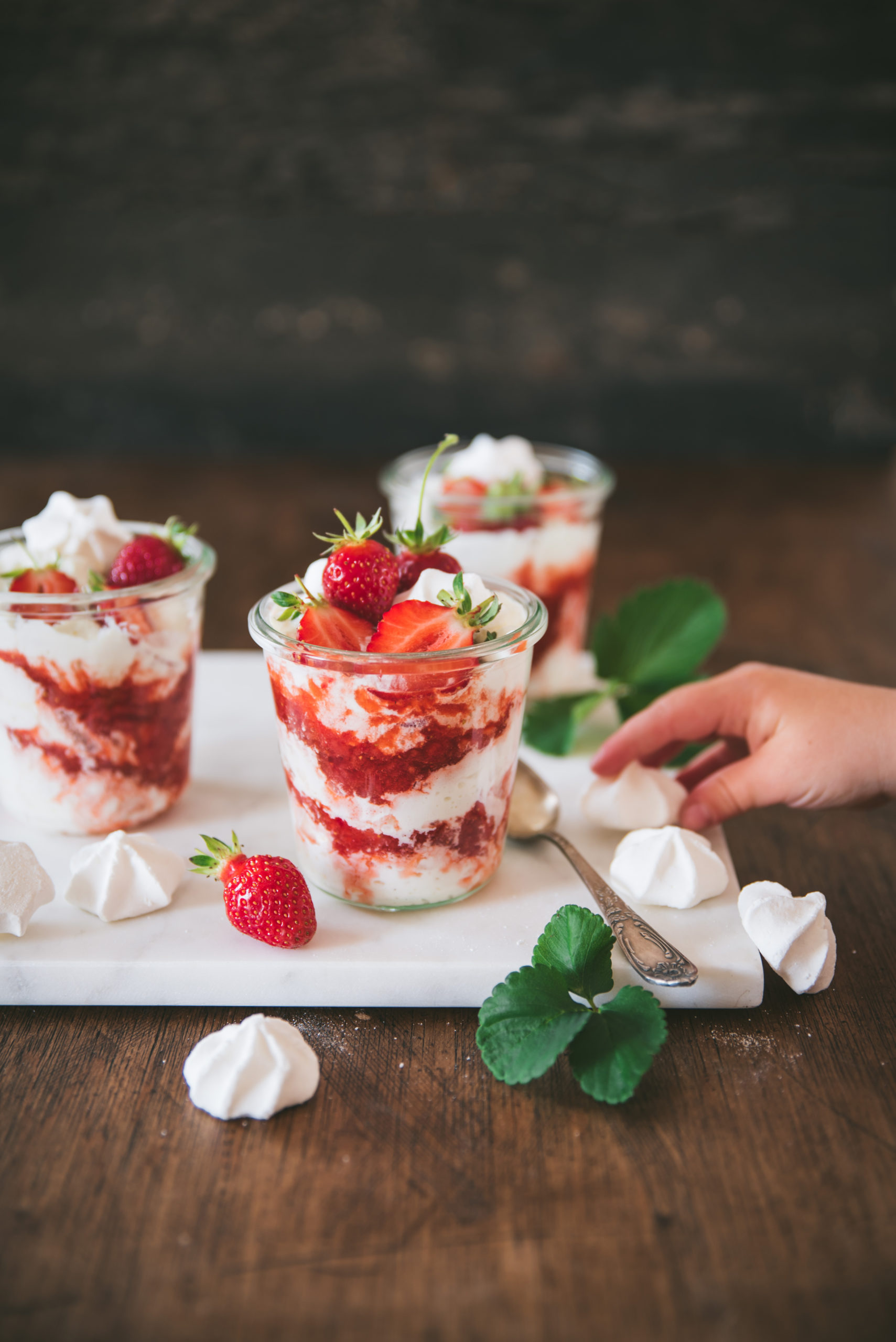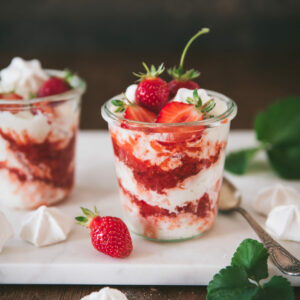 Strawberry Eton Mess
Ingredients
FOR MERINGUES
2

egg whites at room temperature

80

g

powdered sugar

1

pinch

of salt

a few drops of lemon juice or white vinegar
FOR THE WHIPPED CREAM
20

cl

cold whole cream

10

g

powdered sugar

Vanilla

(optional)
FOR THE COMPOTE
300

g

fresh strawberries

1

tablespoon

balsamic vinegar

1

tablespoon

powdered sugar
FOR MOUNTING
200

g

fresh strawberries

slivered almonds

(optional)
Instructions
POUR LES MERINGUES
Preheat your oven to 100°C.

Pour the egg whites and salt into the bowl of your food processor with the whipping attachment.

Start whipping the egg whites at medium speed. When they become frothy, start pouring in the sugar a little at a time. Then add a few drops of lemon juice/white vinegar while continuing to beat. Stop beating when the whites are stiff. When you remove your beaters from the meringue, a peak should form at the end.

Place parchment paper on a baking sheet. Using a pastry bag, pipe small piles in a staggered pattern so they don't touch each other. Bake for 1 hour. Every 20 minutes, ajar the oven door to let the steam escape. Watch regularly. To see if the meringues are done, try peeling one off. At the end of baking, leave the door barely ajar and let the meringues cool in the oven. Then carefully remove the meringues from the paper.
FOR THE COMPOTE
In a saucepan, place the hulled strawberries cut into small pieces with the spoonful of balsamic vinegar and possibly the sugar.

Heat gently until everything is well candied. Stir regularly for about 10 minutes.

Let cool and set aside.
FOR THE WHIPPED CREAM
Place the crème fraiche in a cool place well in advance, as well as the beaters of your mixer and the bowl in which you will whip it.

When it's time to make your dessert, take the cream out of the refrigerator and the utensils needed to make the whipped cream now.

Pour the cream into the bowl and whip it with an electric mixer or food processor. As soon as the cream begins to thicken, add the powdered sugar and vanilla a little at a time and continue beating until smooth.

Roughly crush the meringues and gently fold them into the whipped cream.
FOR MOUNTING
To make your verrines, alternate layers: chopped strawberries, strawberry compote and whipped cream with meringues, then repeat each layer once.

You can add a few whole strawberries on top and possibly some toasted slivered almonds.

Serve immediately and enjoy!
If you ever make my Strawberry Eton Mess recipe and you like it, don't hesitate to tag me on Instagram or on Facebook so that I can see the result and share it myself…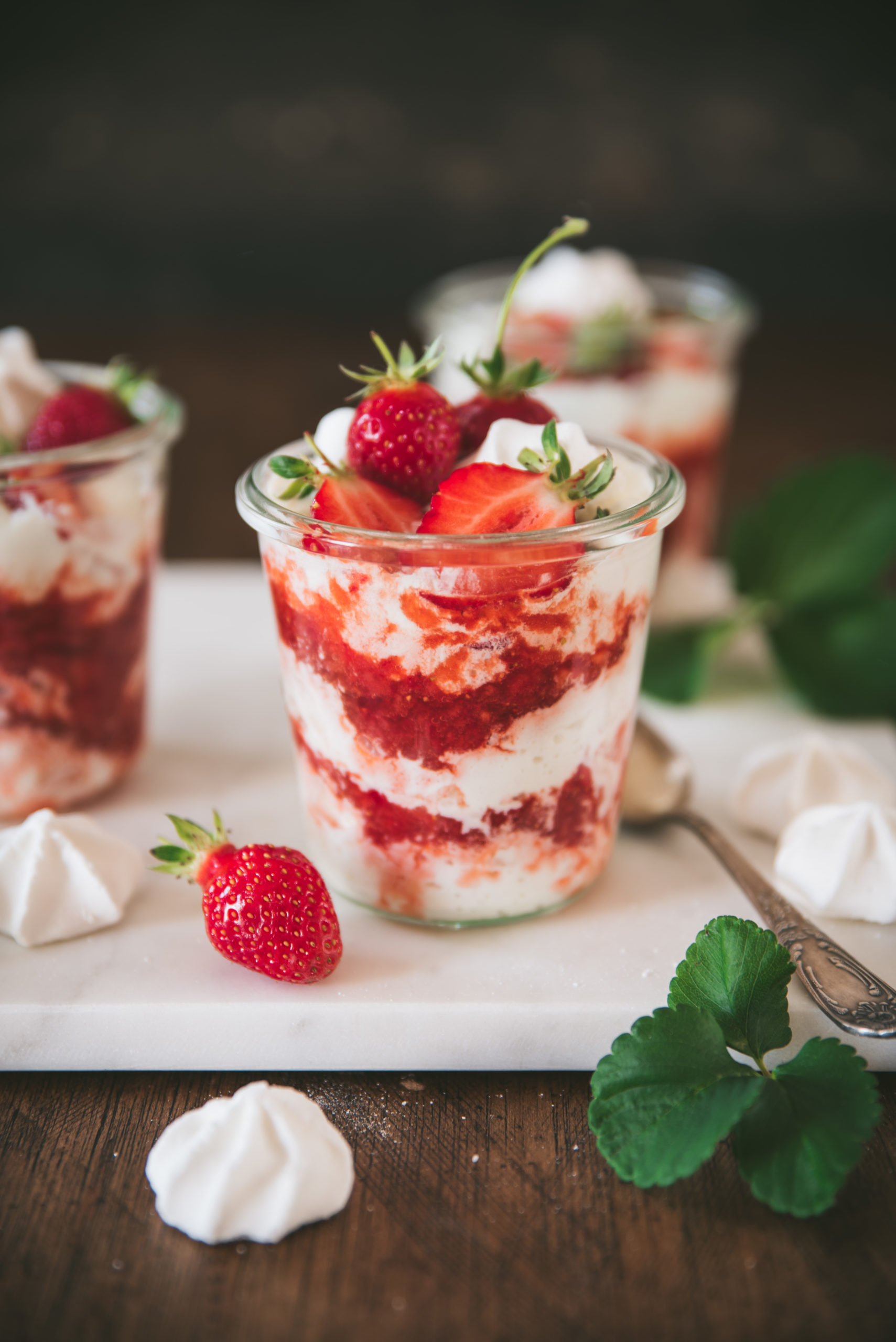 Just to let you know I am French and I translate my recipes, be indulgent if you see syntax errors and do not hesitate to leave me a comment so I can correct it. I hope you will like my recipes and enjoy your visit to my food blog!