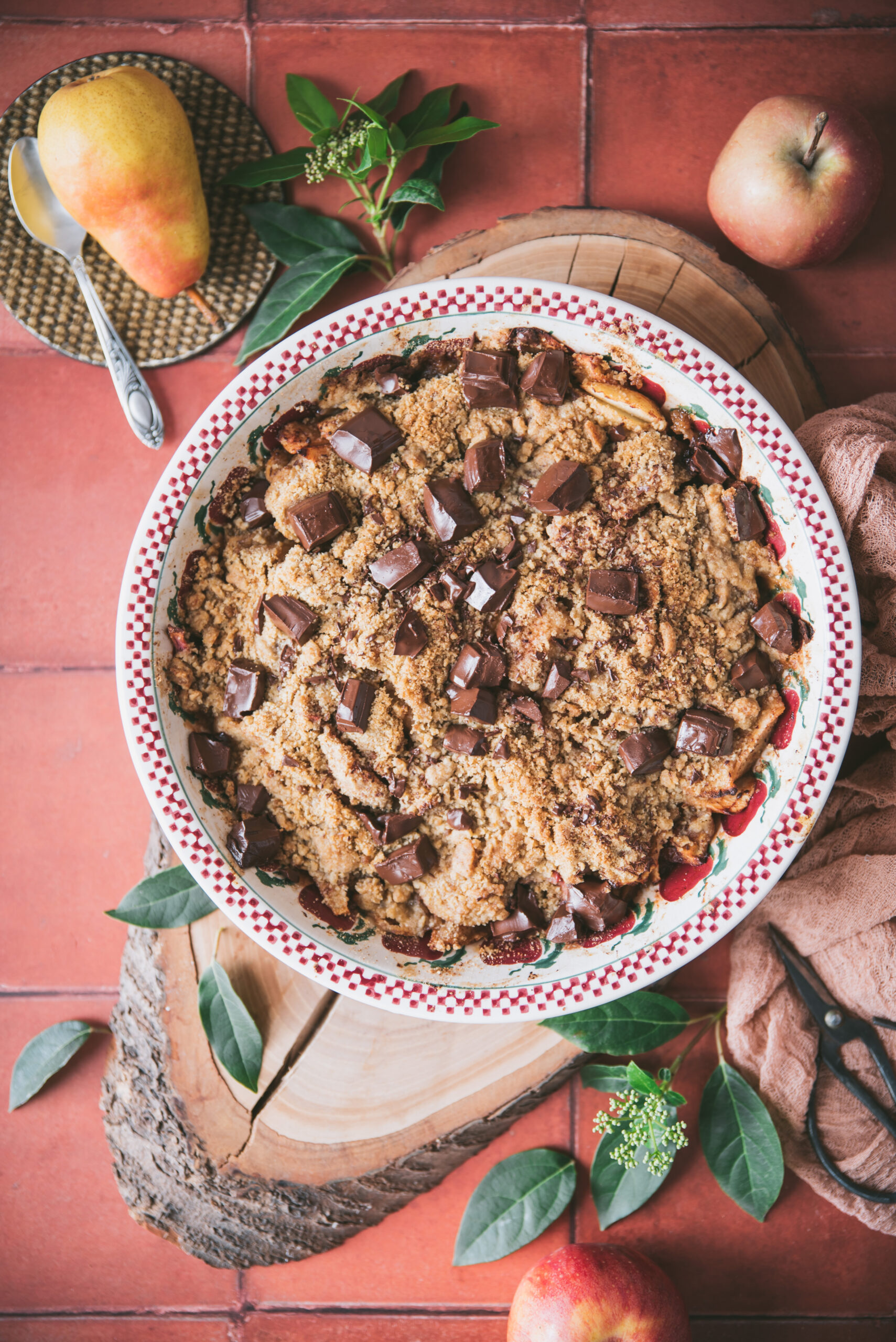 This Apple and pear crumble with cinnamon and chocolate recipe is a must to try!
Crumble has to be one of the desserts I make most often in the fall because I love it and it's quick and easy to make, but also and most importantly because my little ones love it!
They love the cooked fruit, the cinnamon (to pour the jar) and the delicious crunch of the crumble batter on top. This time, we made (with 6 hands), an apple and pear crumble with cinnamon and chocolate!
A marvel, especially when you taste it still warm! This dessert is really a treat and what I like is this melting and crunchy side at the same time!
So for the chocolate, there are 2 possibilities, either put it under the crumble batter, with the fruits, or on top.
Both work very well and are delicious, but to be honest, I put it on the top because I forgot to put it back with the fruits.
And as it was at least 5 times that my kids asked me for a chocolate crumble, I couldn't tell them yet that I forgot it… 😉
Apple and pear crumble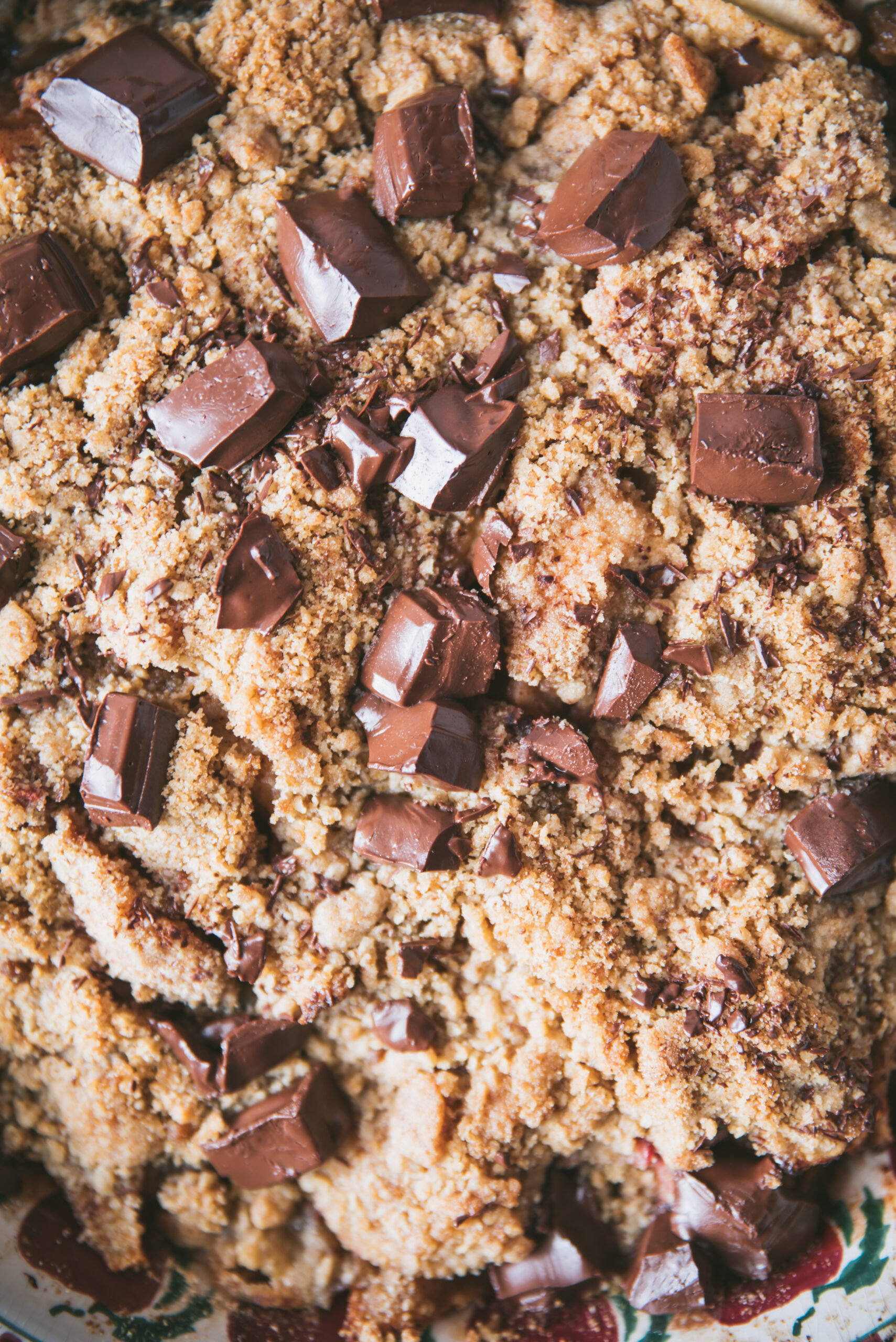 As for cooking the fruit, you can choose to brown it a bit with a knob of butter and cinnamon or you can put it raw in the bottom of your dish. I like to do both, so I switch it up depending on what I want to do and how much time I have.
About cinnamon, I know not everyone likes it, so if you do, you can remove it from the recipe. In our house, it's the opposite, we put twice as much 😉 I also love the scent that comes out of the oven when we cook this crumble.
A reassuring and comforting smell of warm fruit, cinnamon and warm butter. Mmmmmhhhhh, a treat!
By the way, when I bake these at home, the kids always end up walking into the kitchen and immediately asking me "you're making a crumble mom ???? " !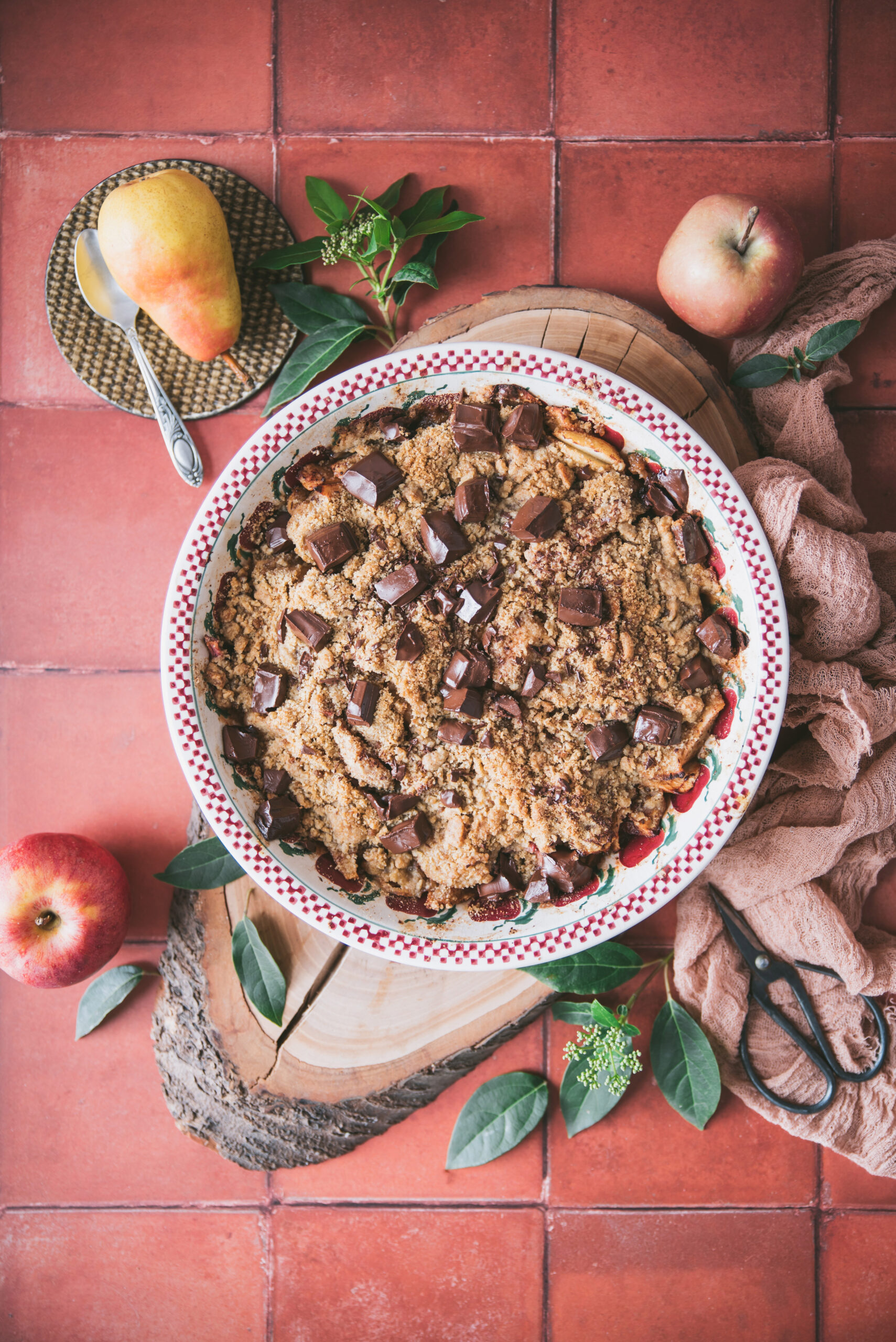 What ingredients do you need to make this delicious apple and pear crumble recipe?
FOR THE CRUMBLE
flour
salty butter at room temperature
sugar, i like to use brown sugar
For fruits
Depending on your taste and the season, you can use other fruits, you can remove the cinnamon. You can put vanilla instead, or also add oatmeal in the crumble batter, you can put a little hazelnut powder…
You can also serve it with a scoop of ice cream. In short, here is a base, it's up to you to personalize it or to follow my recipe to the letter. 😉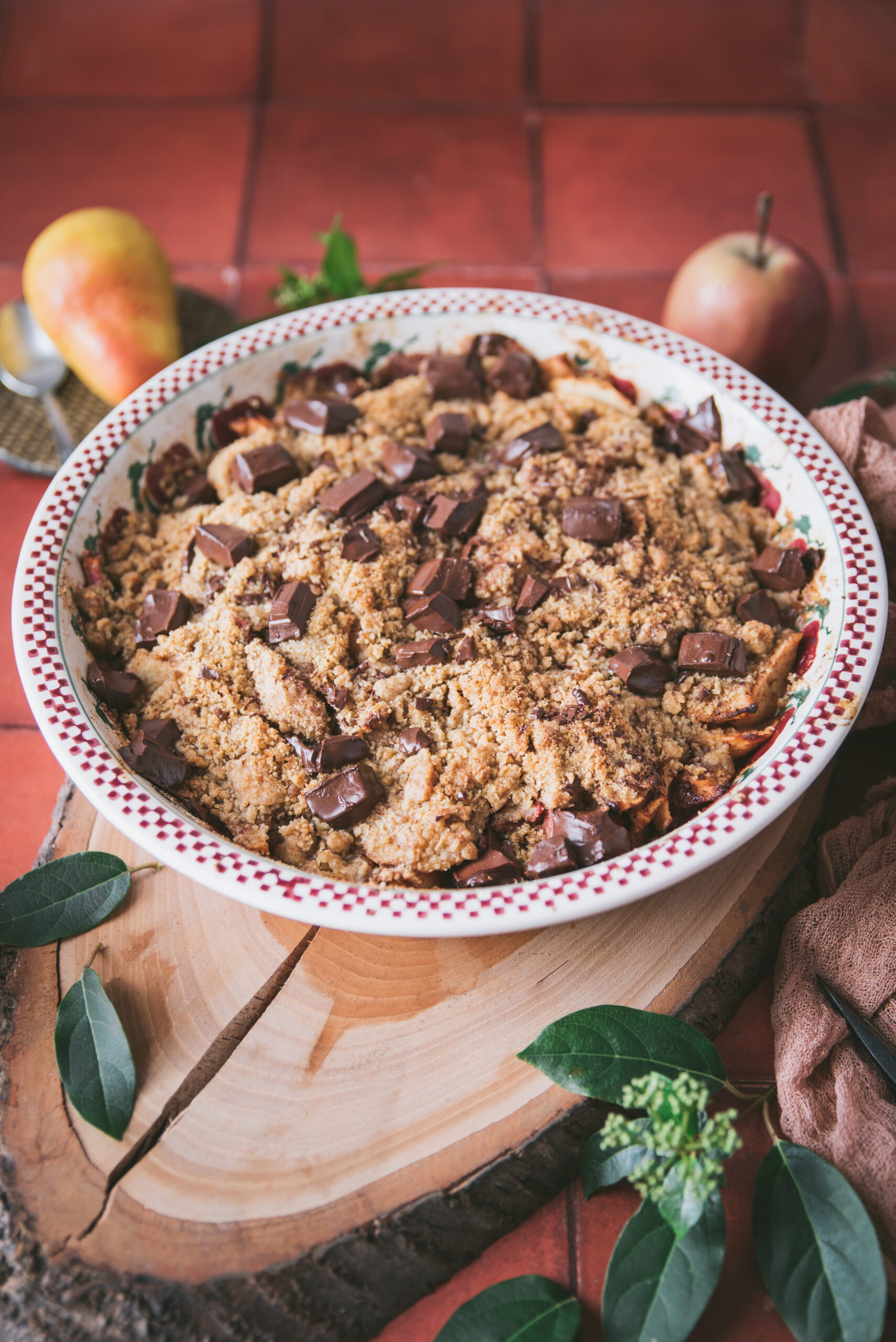 If you're a big fan of apple recipes, here is idea that should appeal to you as much as it does to me: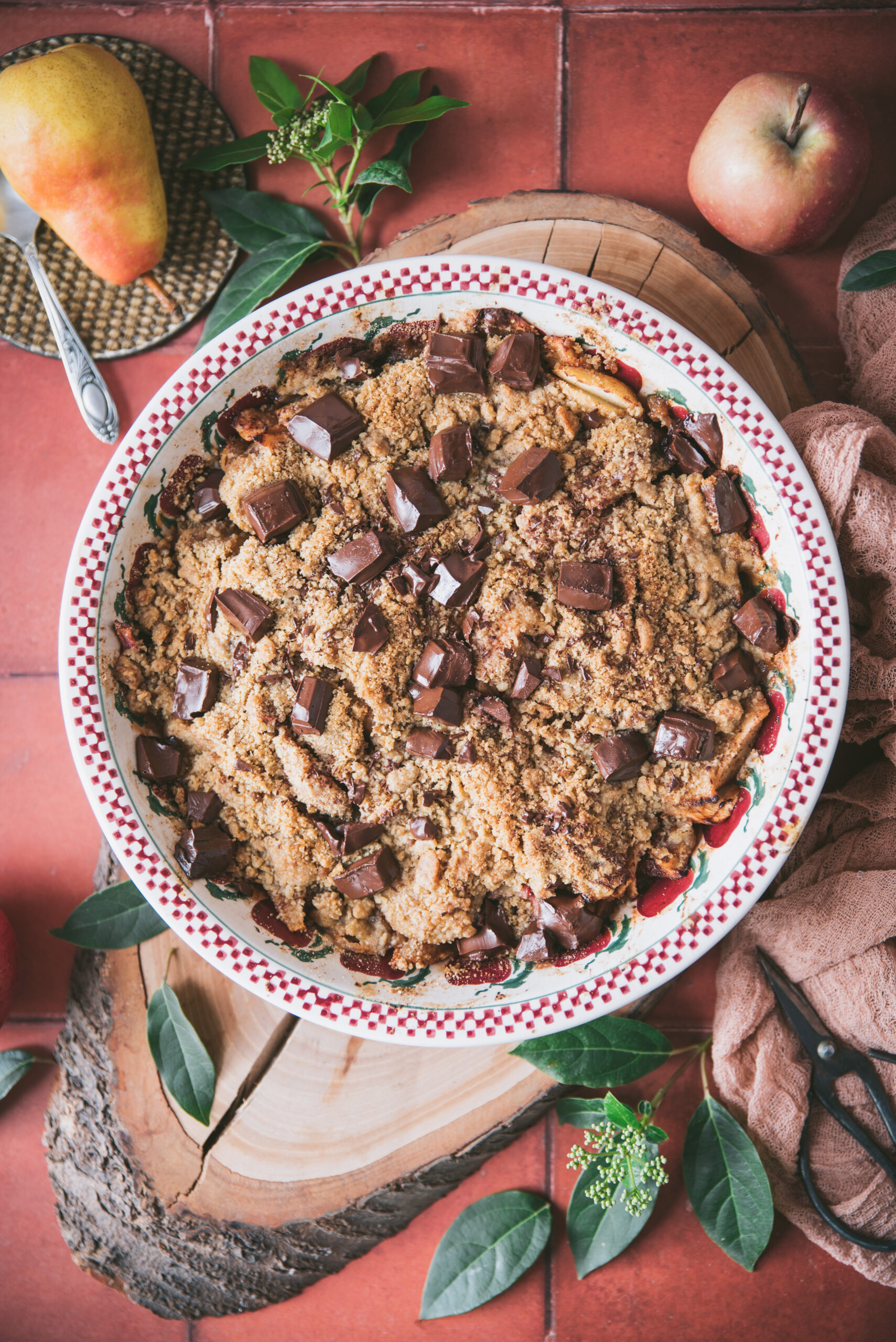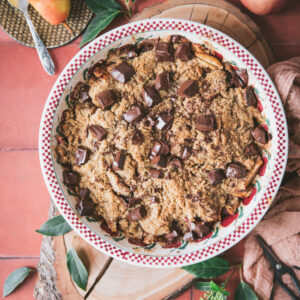 Apple and pear crumble
Ingredients
For fruits
4

pears

4

apples

2

tablespoons

cinnamon

1

tablespoon

butter
For crumble
150

g

flour

100

g

butter

50

g

raw sugar

1

tablespoon

cinnamon
Instructions
Start by washing the fruit. Peel them, remove the seeds and cut them into small pieces.

Put the butter, fruit pieces and cinnamon in a pan. Cover and heat.

Meanwhile, prepare the crumble batter. In a bowl, pour the flour, sugar, room temperature butter cut into small cubes and cinnamon.

Using your fingertips, mix the ingredients without forming a ball. The mixture should be crumbly.

Do not overwork the ingredients as the heat from your fingers will melt the butter.

Preheat your oven to 180°C.

Pour the fruit into a baking dish. Place the chopped chocolate on top of the fruit, then spread the crumble mixture on top.

Bake for 20 to 30 minutes.
This dessert keeps at room temperature and you can eat it within two days of making it, but I doubt it will last that long because it is so good.
If you ever make my recipe and like it, feel free to tag me on @tangerinezest so I can see your pretty crumbles….