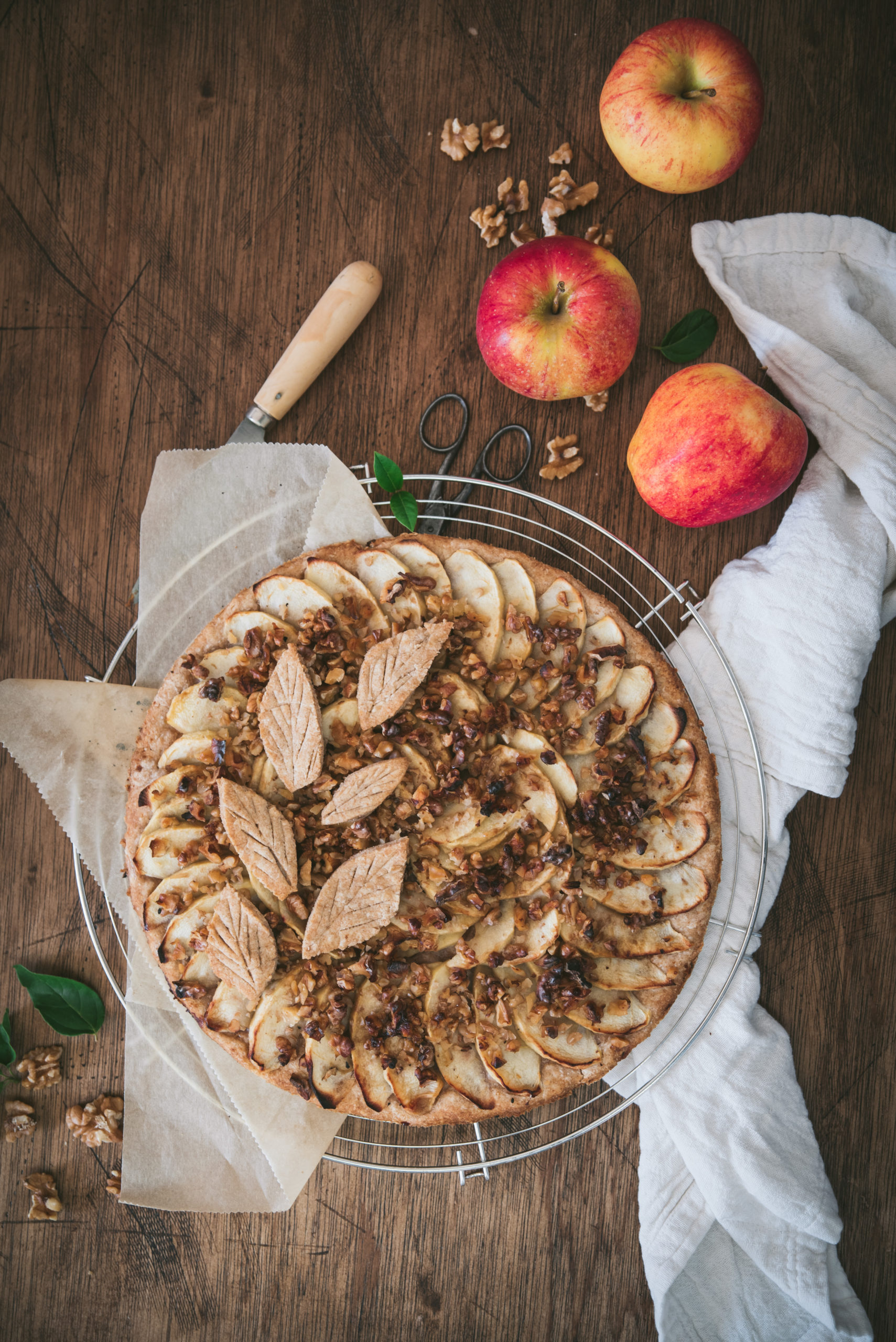 This Apple and Walnut Tart with Caramel Sauce recipe has long since become a classic at home, but I remember that the first time I made it, it was because of a lack of walnuts, but the result was far beyond my expectations, so good is this pie… 😉
Originally, I wanted to make a walnut pie, but I quickly realized that I wouldn't have enough walnuts. So I decided to try adding a fruit, and my pie became an apple walnut pie. The result? A treat, without a doubt, because there are only good things in this recipe! I love apple pie as much as I love walnut pie, but I have to admit that the textures of this dessert and the tastes are a perfect match!
This type of dessert is absolutely perfect for an autumn or winter afternoon, with a good tea or a Warm Mulled Apple Juice (even better if there is a small fire)… You can also add a touch of cinnamon if you like.
Apple and Walnut Tart with Caramel Sauce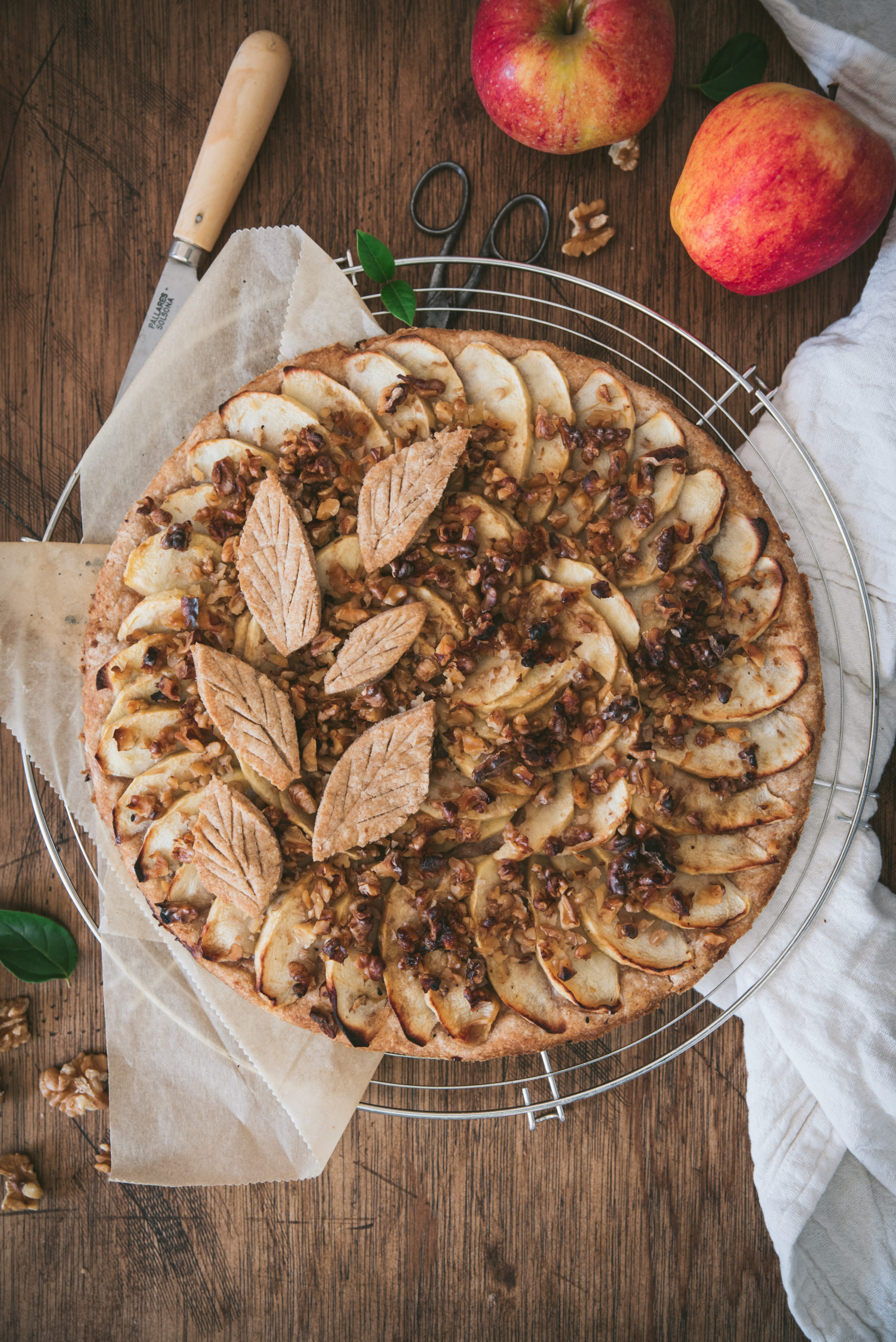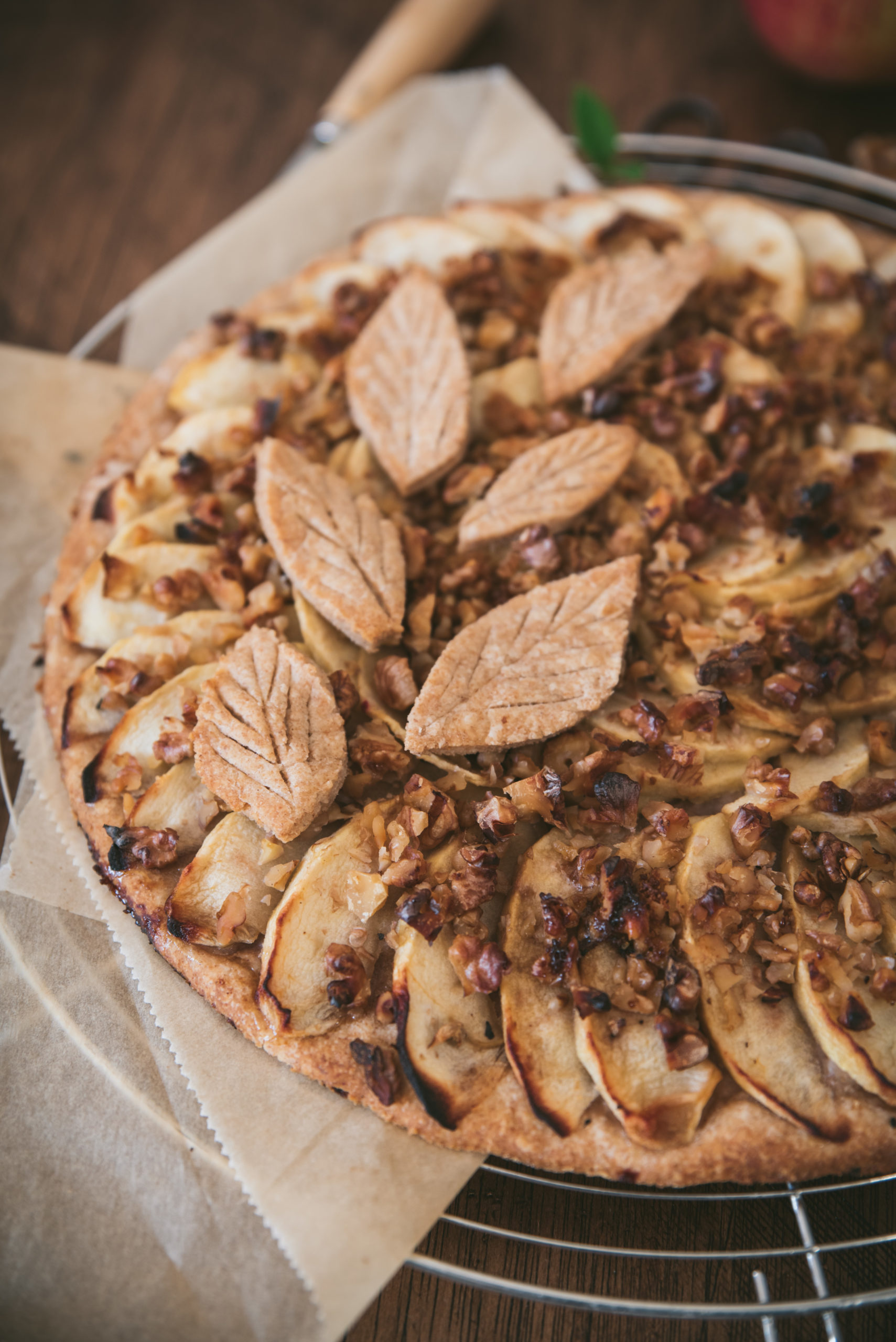 What ingredients do you need to make this delicious caramel apple and walnut pie recipe?
…and there is a small variation that I mention in the detailed description of the recipe…
I made this recipe as a flat pie but you can also make it in a pie dish or as a rustic pie, folding the edges over, and you can add a beaten egg with cream on top of the apples. This will also be very good!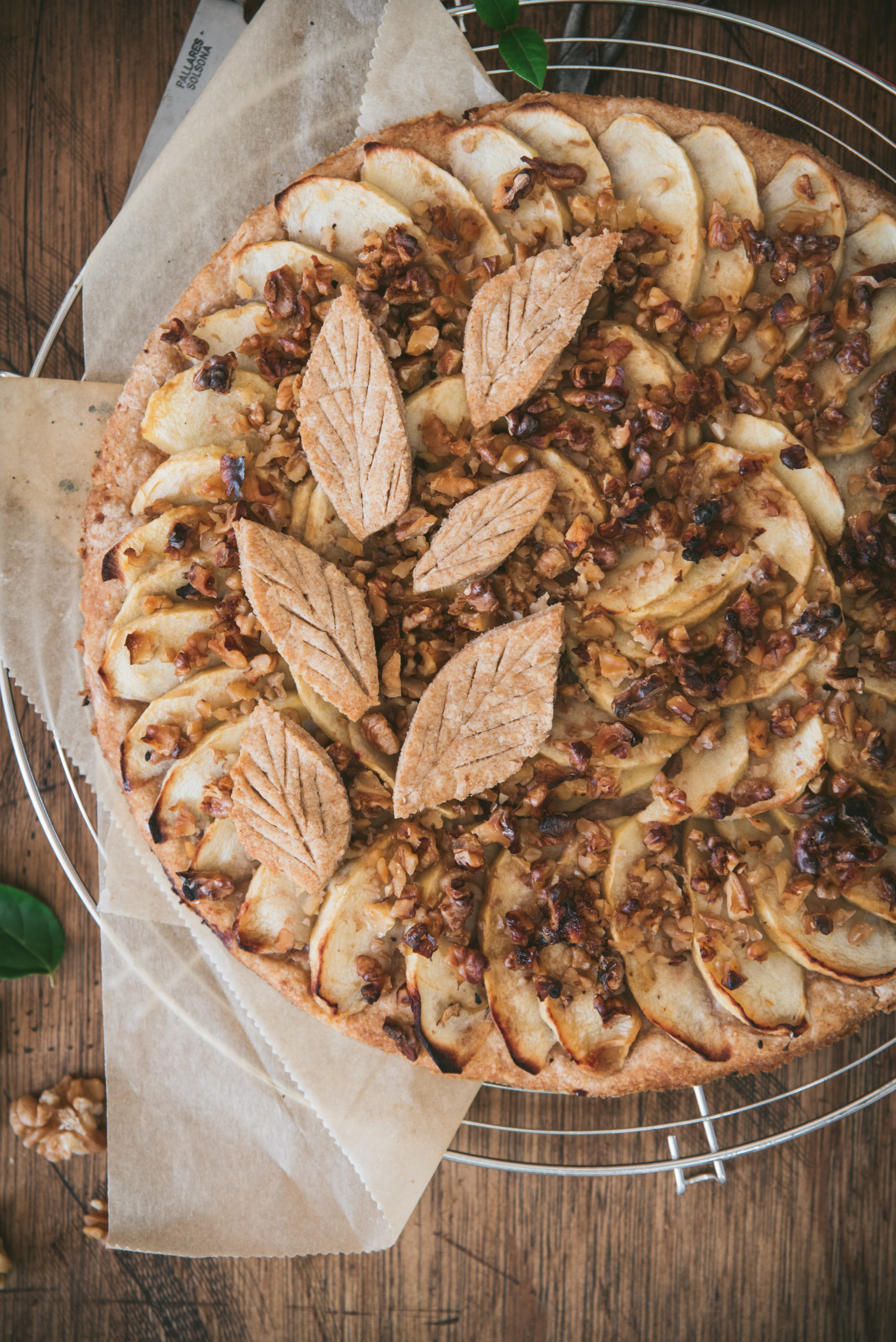 If you like these kinds of recipes, I'm sure you'll like these other ideas as much as I do: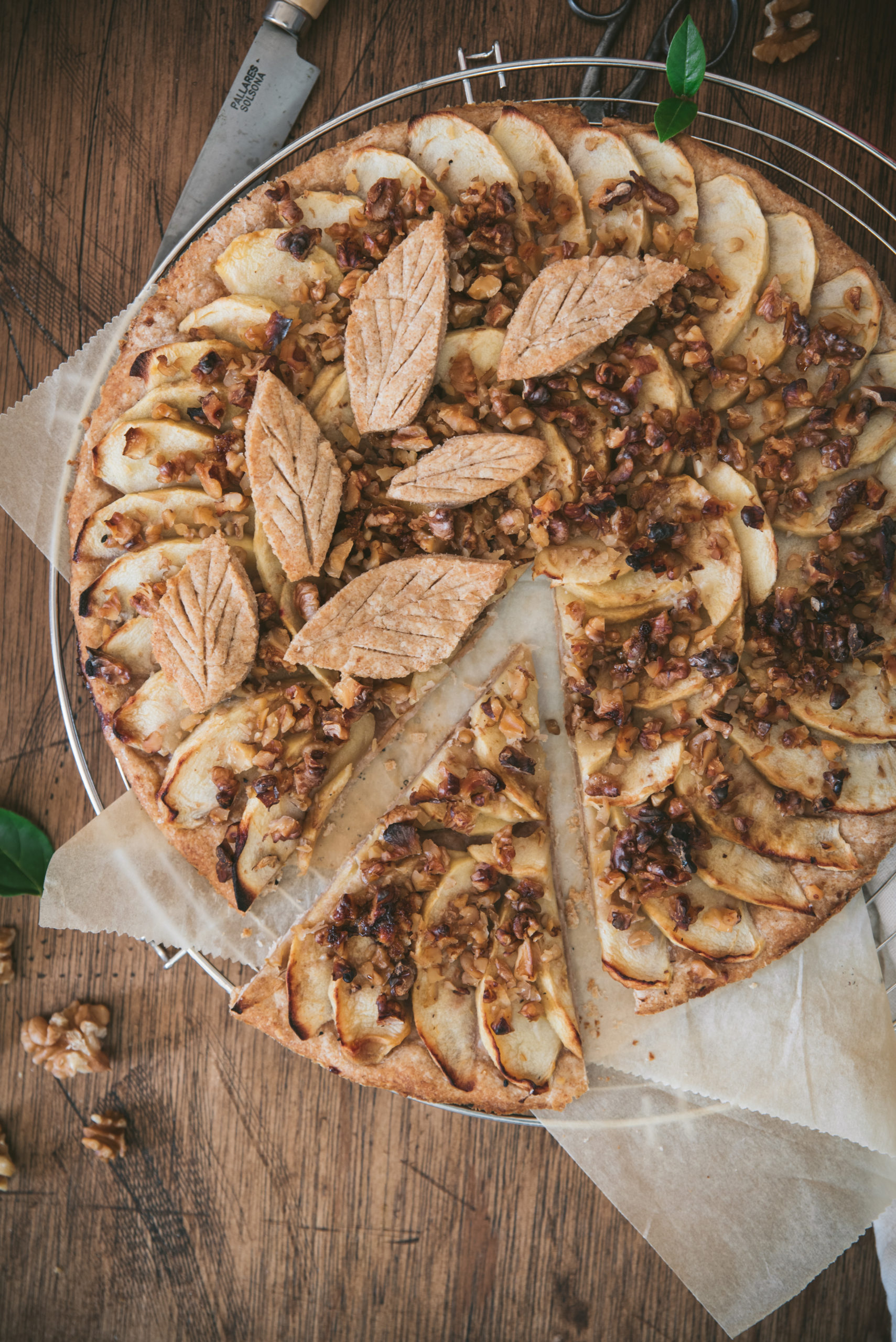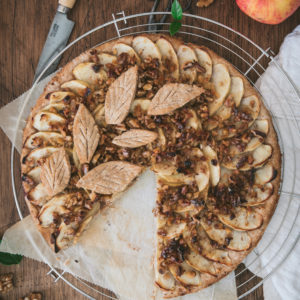 Apple and Walnut Tart with Caramel Sauce
Ingredients
For the pie crust
250

g

flour

8

cl

oil

(you can use different types of oil: walnut, hazelnut, etc.)

8

cl

water

1

pinch of salt
Instructions
Preheat the oven to 180°C.

Start by preparing your pie crust.

In a bowl, pour the flour, oil, water and a pinch of salt.

Knead quickly until you have a ball of dough. Be careful to knead as little as possible so that the dough is not too hard and keeps its crispness, a pie dough does not knead.

If the dough is too sticky add a little flour, if it is too dry add a little oil and/or water.

Lightly flour your work surface and roll out the dough and place it in a pie pan or flat on a baking sheet lined with parchment paper. Prick the base with a fork.

Peel and slice the apples. Lay them flat on the dough.

Place the coarsely chopped nuts on top of your apples.

Bake for 35 to 40 minutes on low in your oven (the top of the pie should be golden brown).

Serve hot or cold with salted butter caramel, or sprinkle with vanilla sugar.
If you ever make my appel tart recipe and you like it, don't hesitate to tag me on Instagram @tangerinezest so I can see the result and share it myself…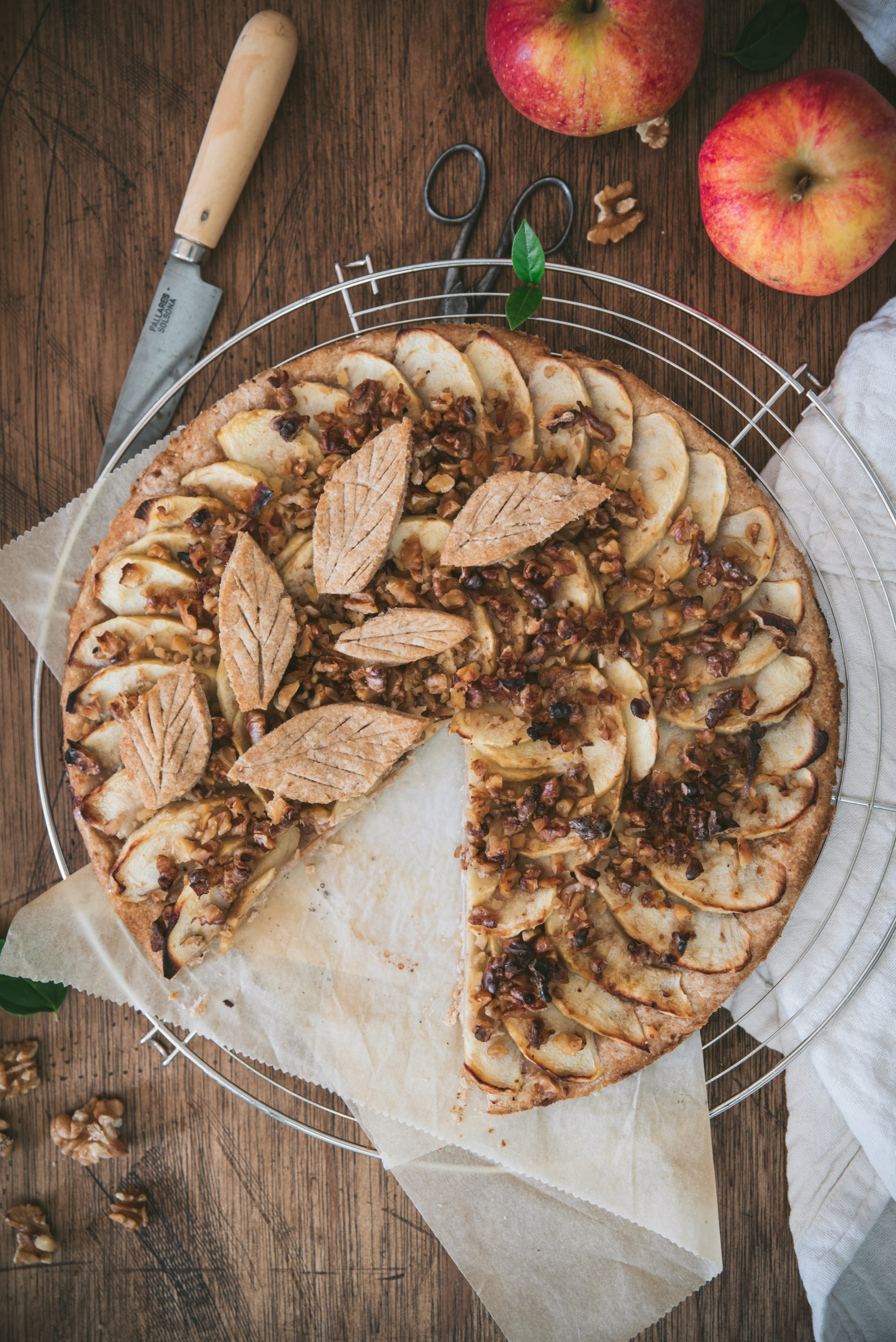 Just to let you know I am French and I translate my recipes, be indulgent if you see syntax errors and do not hesitate to leave me a comment so I can correct it. I hope you will like my recipes and enjoy your visit to my food blog!