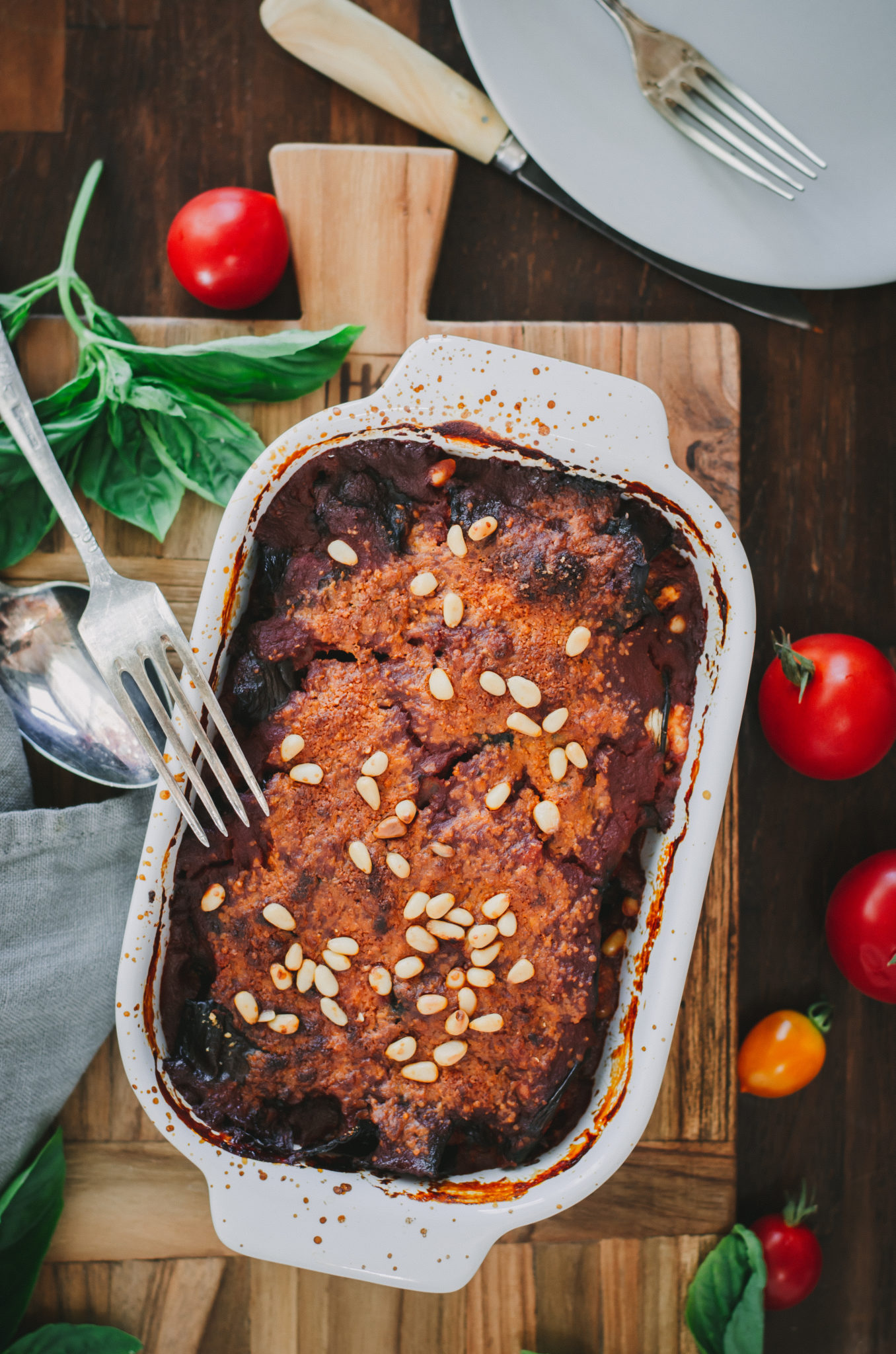 I think this Eggplant and Ricotta Cannelloni recipe is the last summer treat I'll be sharing with you this year.
I've dragged summer out to the end, but it's time to let it go, even if eggplants are still on the market.
I'm going to slowly tip into autumn (given that the snow has fallen to 700 or 800 meters!) and start cooking recipes that are a little more autumnal, turning on the oven for some gratins or brioches, as you saw this weekend in my Instagram stories.
In the meantime, if you still want to enjoy eggplants, this recipe is absolutely ideal. It's easy to make, gourmet and at home, everyone really enjoyed it, young and old alike! It's also a great opportunity to fire up the oven and warm up the atmosphere.
Eggplant and Ricotta Cannelloni Recipe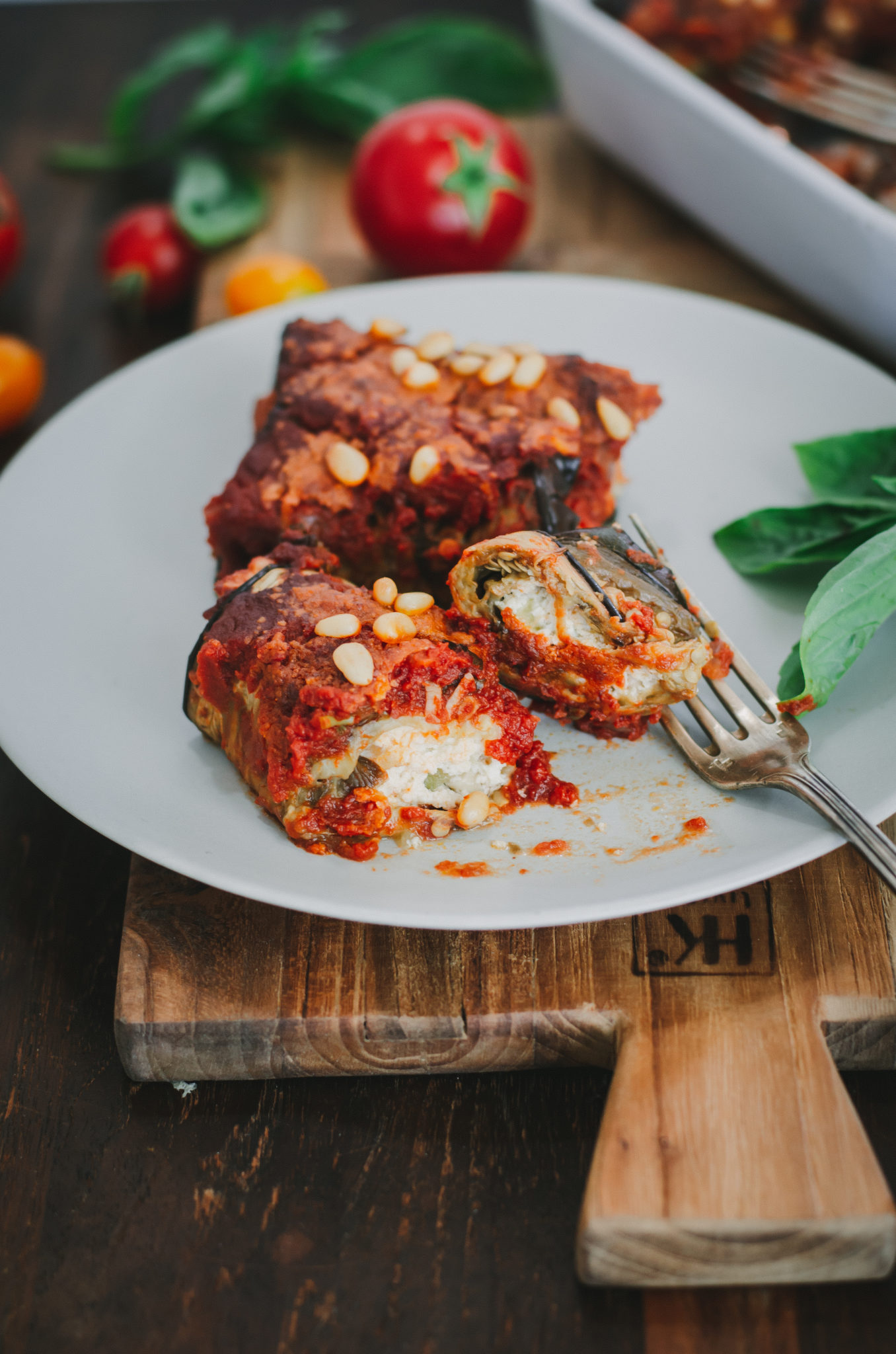 What ingredients will you need to make this delicious recipe for Eggplant Cannelloni with Ricotta?
olive oil
parmesan cheese
crushed tomatoes
onions
garlic
basil
powdered sugar
salt and freshly ground pepper
pine nuts
breadcrumbs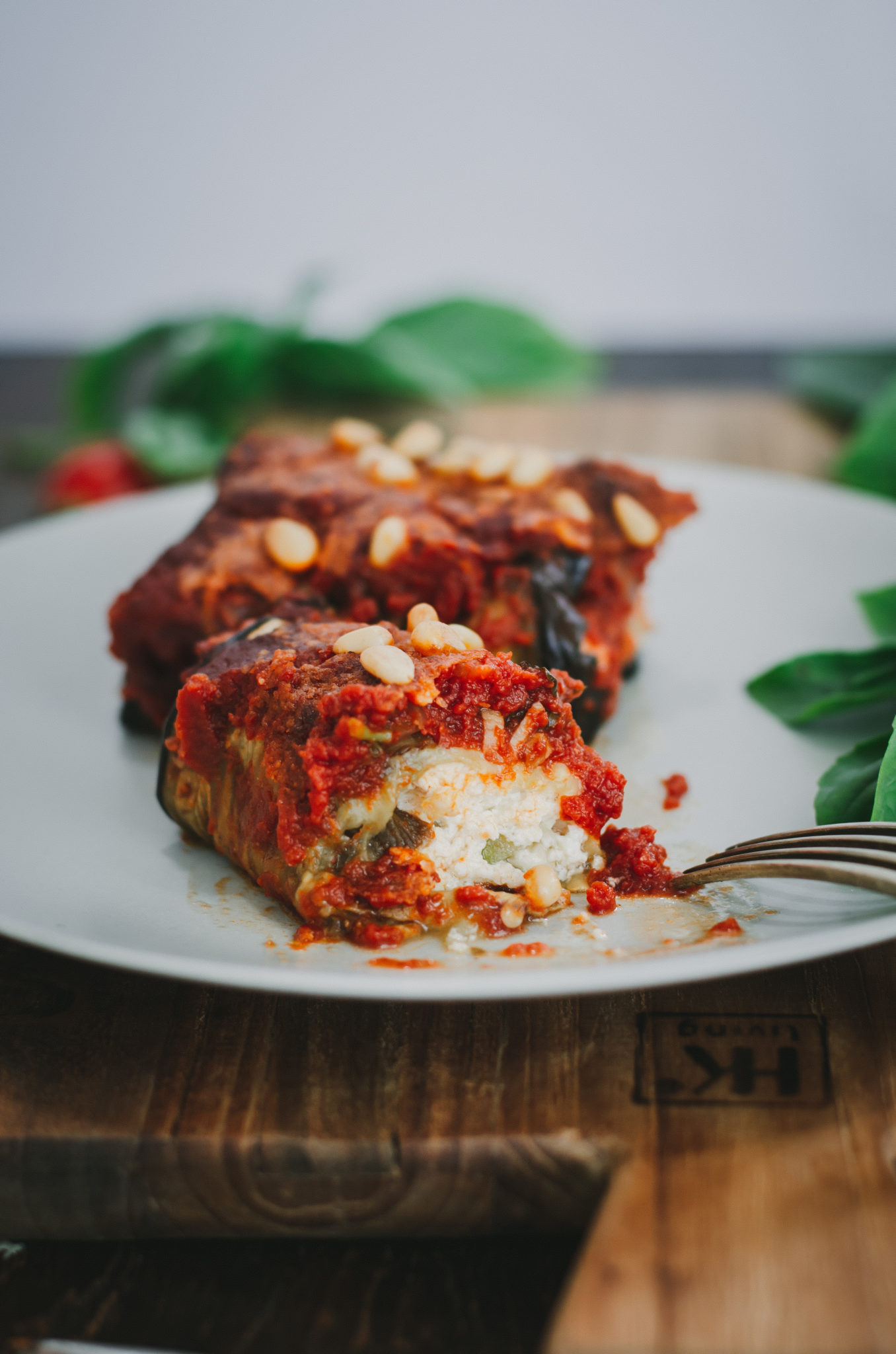 Do you like eggplant? Here are 2 other recipes to try:
I also have a recipe for spinach and ricotta cannelloni that I particularly like!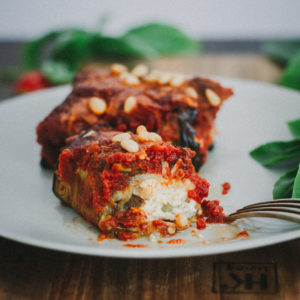 Eggplant and Ricotta Cannelloni Recipe
Ingredients
2

medium eggplants

(for approx. 20 cannelloni)

olive oil

40

g

grated Parmesan (for the top of the dish)
FOR THE TOMATO SAUCE
250

g

chopped tomatoes

1

onion

1

garlic clove

A few basil leaves

1

pinch basil

1

teaspoon

caster sugar

salt and freshly ground pepper
FOR THE FILLING
250

g

ricotta

40

g

grated Parmesan cheese

50

g

pine nuts, toasted in a frying pan

40

g

breadcrumbs

salt and freshly ground pepper
Instructions
Start by preparing the tomato sauce. Finely chop the onion and mince the garlic.

In a frying pan, sauté the onion in a drizzle of olive oil, then add the garlic and sauté for a few minutes.

Add the crushed tomatoes, a few chopped basil leaves, cumin and sugar. Season with salt and pepper and simmer over a low heat for 30 minutes.

Wash eggplants and trim ends. Cut into thin slices about 3 mm thick. Place on a baking sheet lined with parchment paper. Brush eggplant slices with olive oil on both sides, using a kitchen brush.

Place in the oven for approximately 15 minutes. Make sure they don't toast.

Next, prepare the filling. Coarsely chop the pine nuts in a bowl, add the ricotta and mix with a fork. Add the pine nuts, grated Parmesan and breadcrumbs. Season with salt and pepper and mix well.

Place a small amount of filling at the end of each eggplant slice and roll up to form cannelloni.

Place the cannelloni in a gratin dish and pour the tomato sauce over them.

Sprinkle with grated Parmesan and bake for around 25 minutes, until gratinated.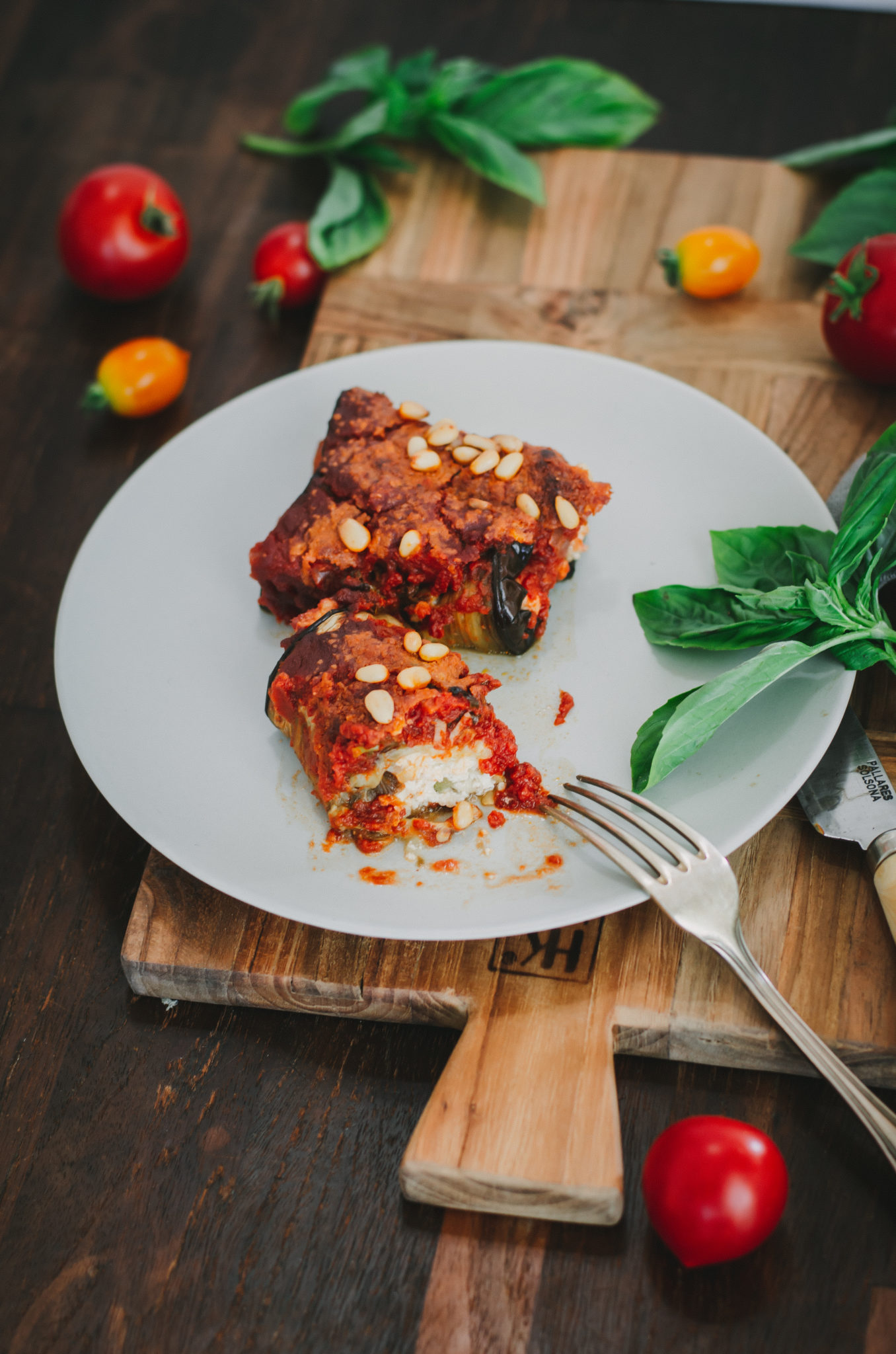 If you ever make my recipe and you like it, don't hesitate to tag me on Instagram @tangerinezest so I can see the result and share it myself…
Just to let you know I am French and I translate my recipes, be indulgent if you see syntax errors and do not hesitate to leave me a comment so I can correct it. I hope you will like my recipes and enjoy your visit to my food blog!