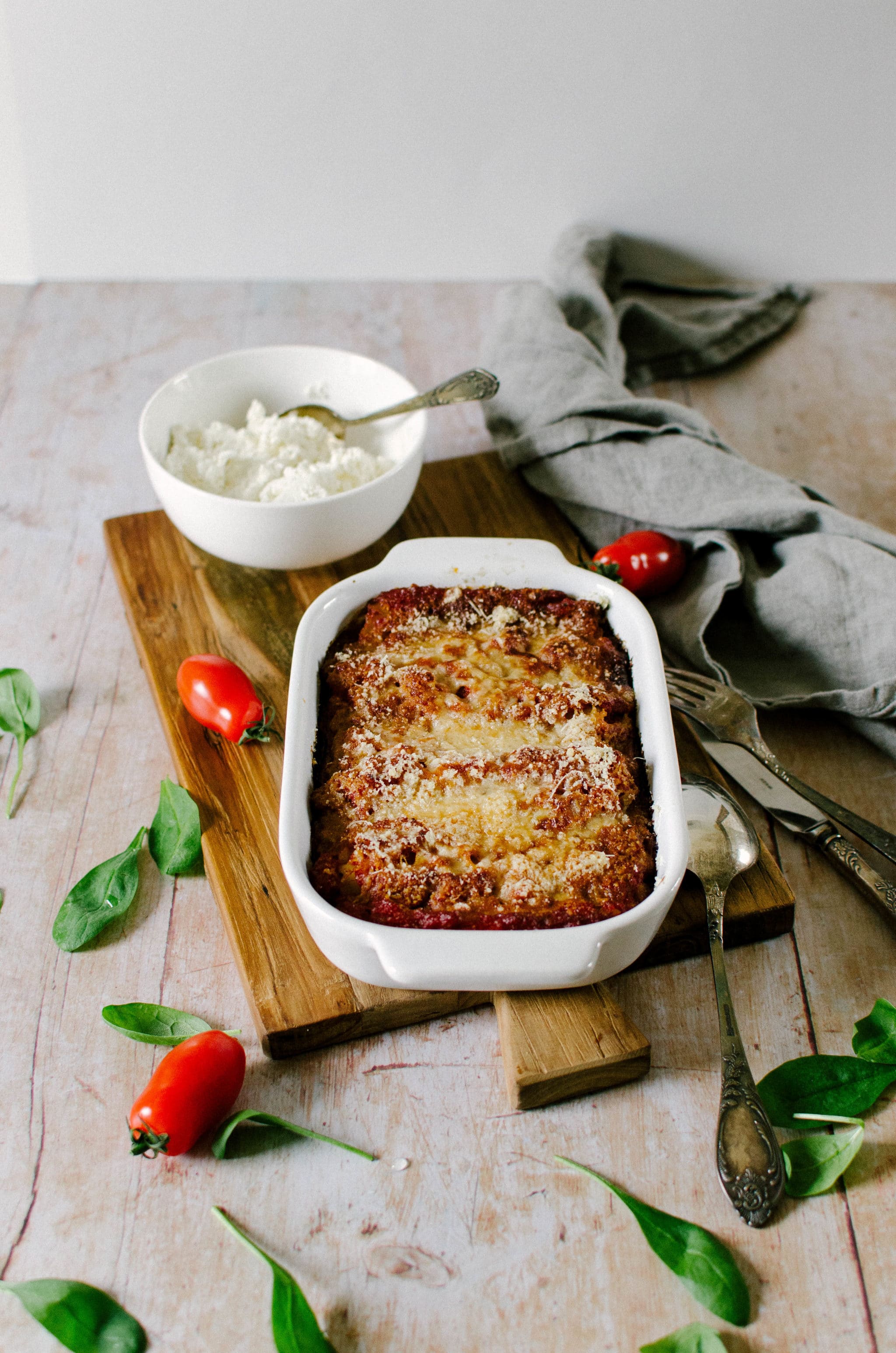 After my marble cake recipe that opened the ball of autumn recipes, I offer you today a recipe that will tempt many. Temperatures are dropping a bit, so I'm taking pleasure in turning on my oven to offer you my spinach and ricotta cannelloni with tomato sauce!
With the start of the new school year, I'm back to my usual routine and when I was last at the market, I saw my cheese counter. I immediately thought of my cannelloni recipe that I hadn't made in a while and I thought that with the fresh spinach shoots and the pasta that I had just put in my basket, a ricotta cheese for the softness and some parmesan cheese for the gratin, it would be a nice combination….
I don't know if you're used to cooking cannelloni, but I have a little trick to make them as soft as you like, and it also makes organizing your meals easier. I prepare them the day before and leave them overnight in the refrigerator. The result is great, with soft pasta and a perfect texture. The flavors are even more developed. Try it and you'll see, you'll adopt it immediately. You can also do this little trick with lasagna, and it's super convenient when you're having people over or when you want to prepare dinner in advance. Just put them in the oven and bake them au gratin.
Spinach and ricotta cannelloni with tomato sauce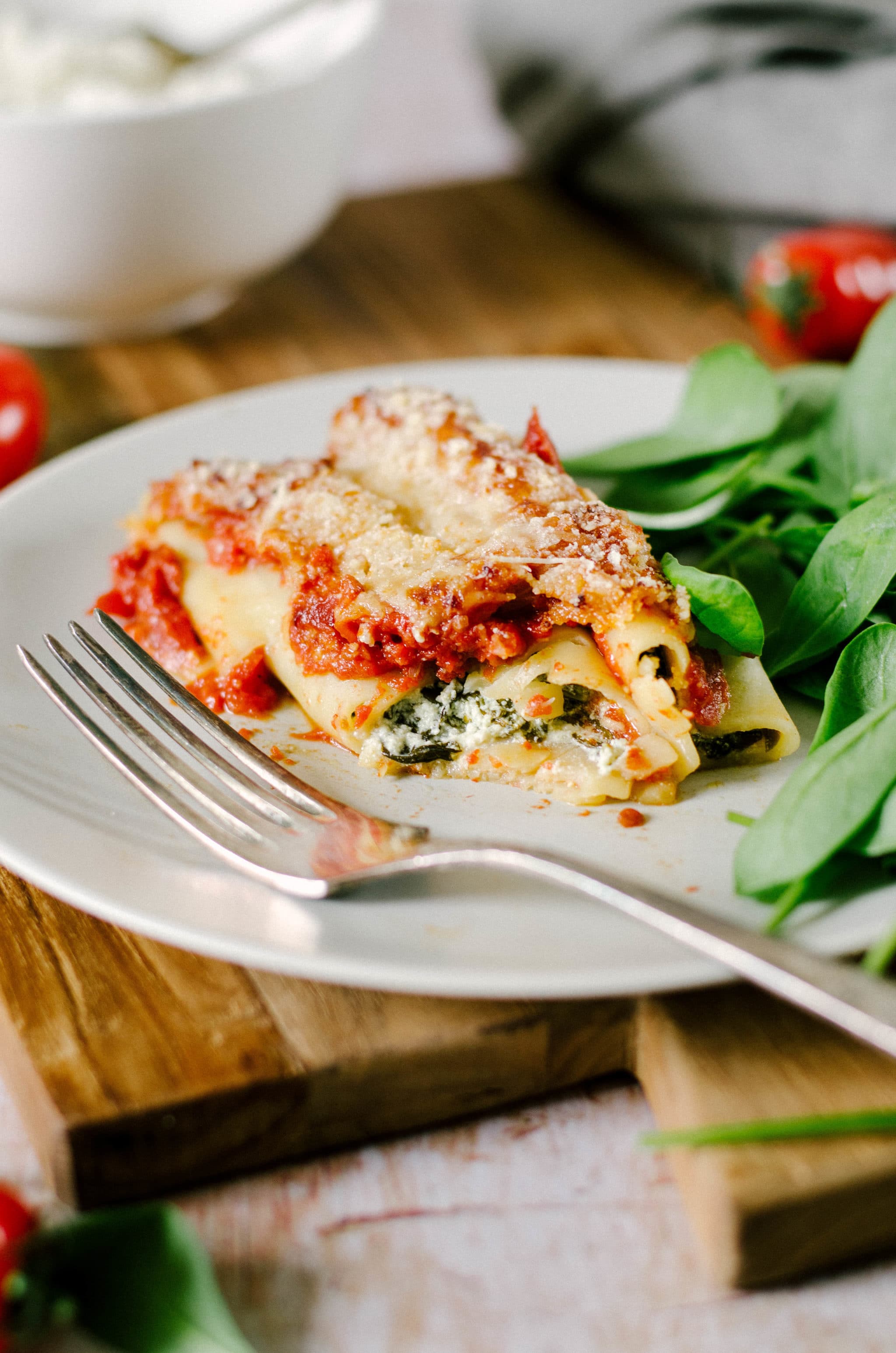 WHAT INGREDIENTS DO YOU NEED TO MAKE THIS DELICIOUS RECIPE OF Spinach and Ricotta Cannelloni with Tomato Sauce?
cannelloni pasta
parmesan cheese
crushed tomatoes
onion
garlic
rosemary
fresh spinach
garlic
olive oil
nutmeg
olive oil
salt and pepper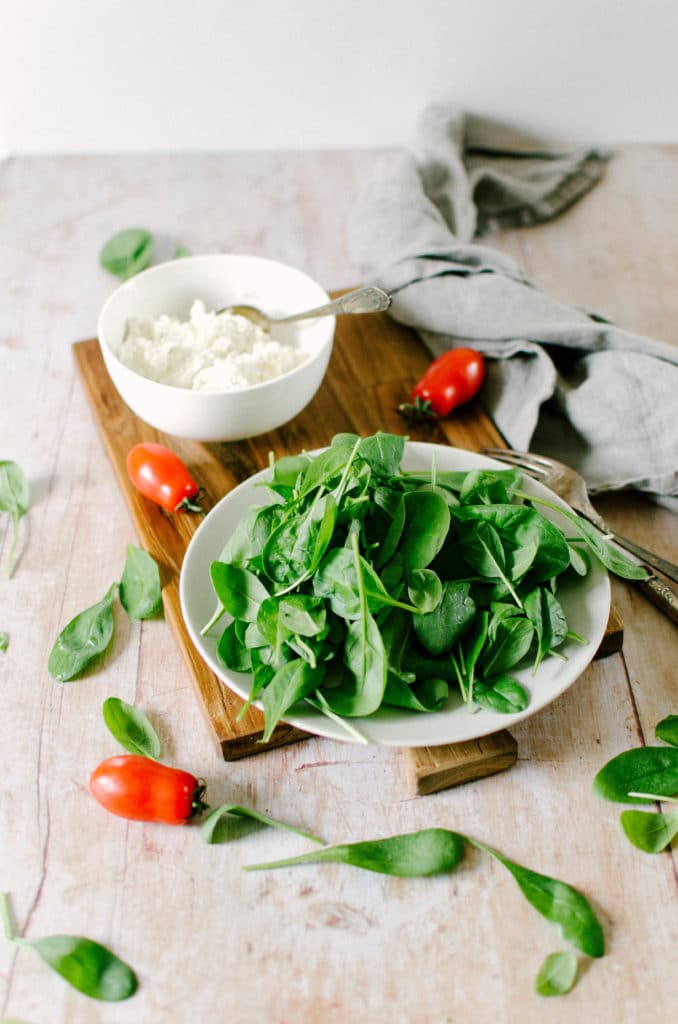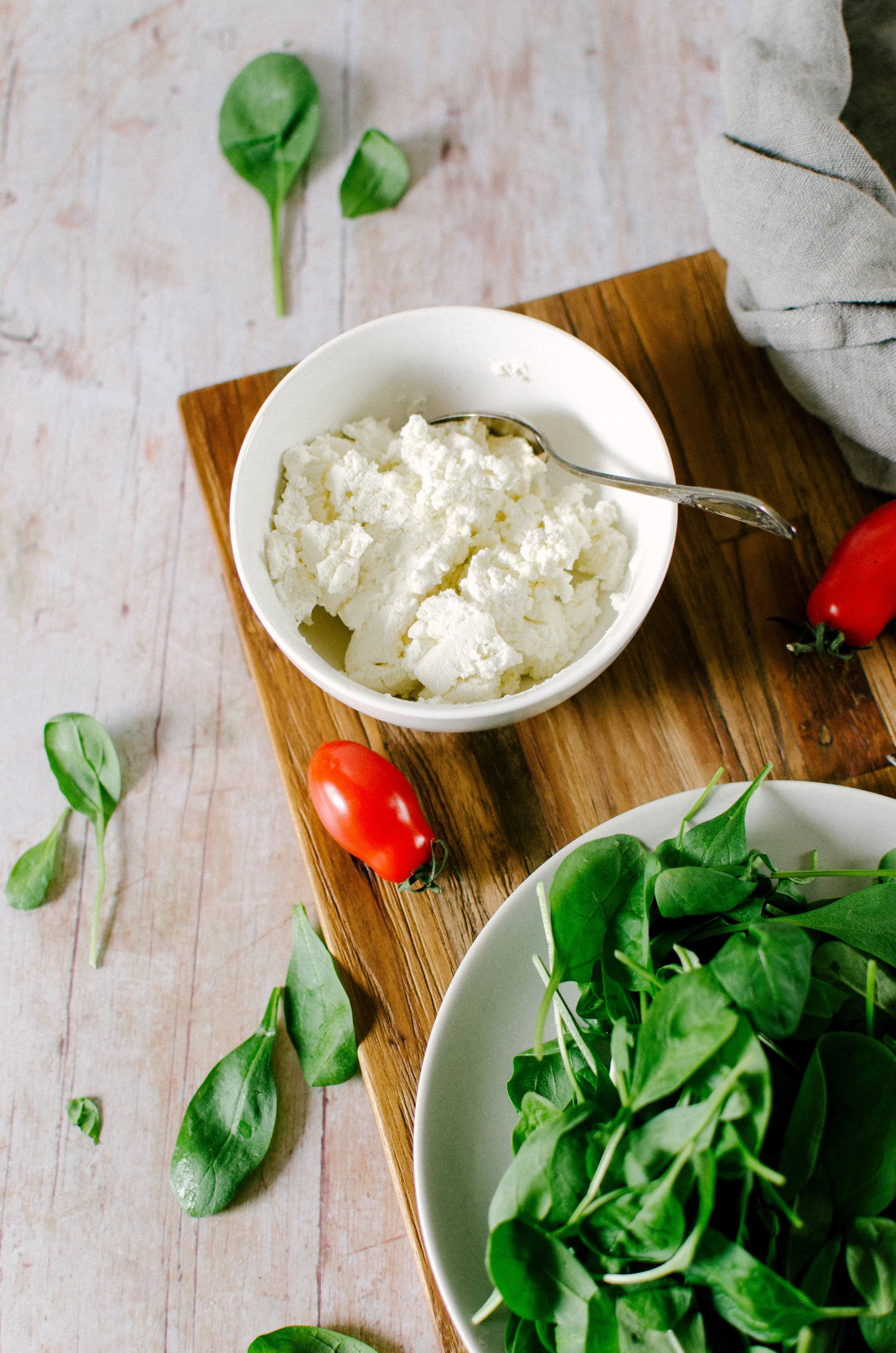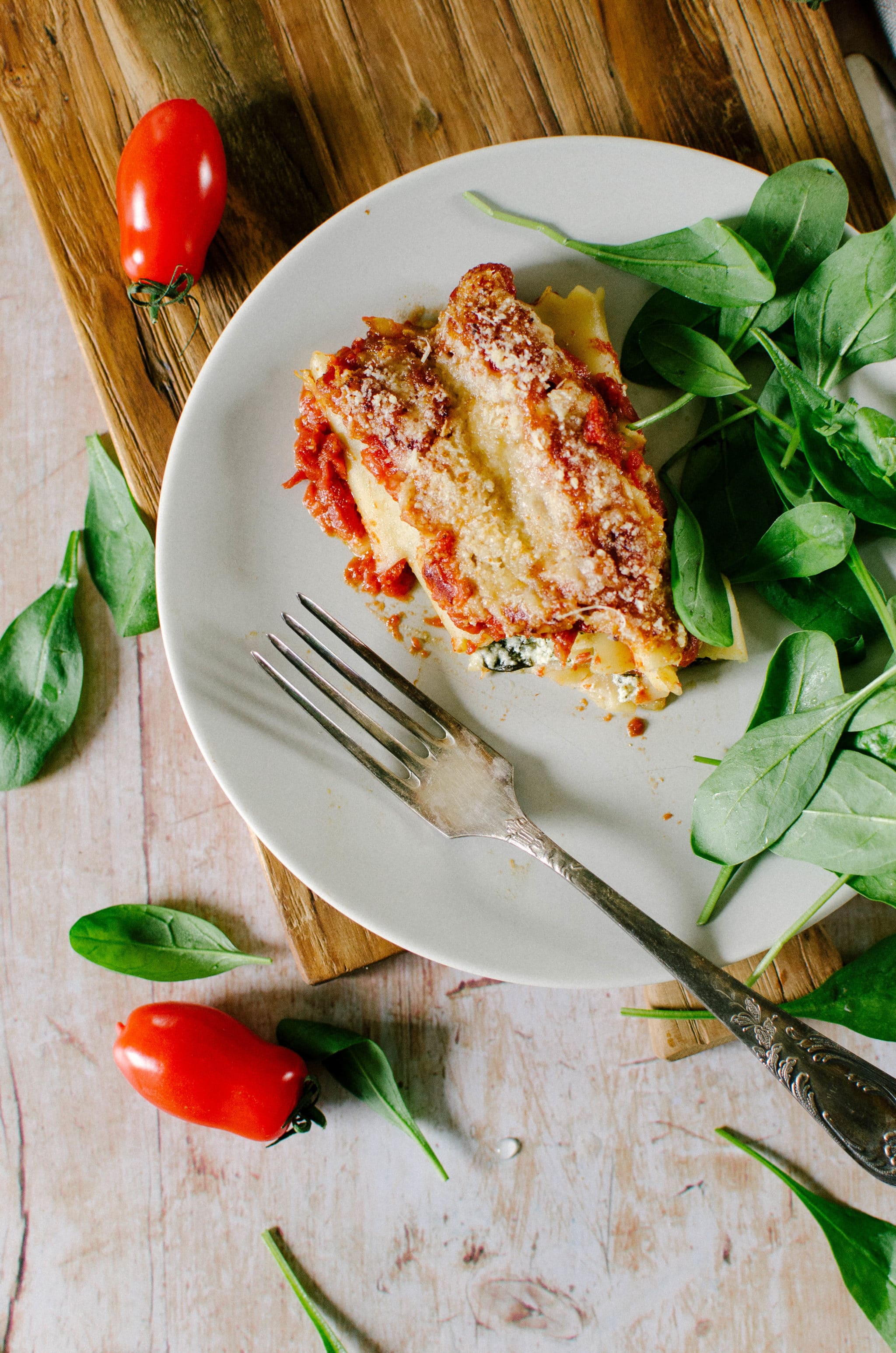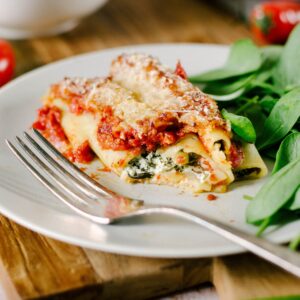 Spinach and ricotta cannelloni with tomato sauce
Ingredients
20

cannelloni pasta

(approx.)

200

g

parmesan cheese
FOR TOMATO SAUCE
800

g

crushed tomatoes

1

onion

1

garlic clove

2

pinches

rosemary

olive oil

salt and pepper

1

pinch

chili peppe

(optional)
FOR FARCE
400

g

fresh spinach shoots

600

g

ricotta cheese

2

garlic cloves

olive oil

1

pinch

nutmeg powder

salt and pepper
Instructions
Prepare your tomato sauce first, so it can simmer while you work on the cannelloni.

In a Dutch oven, drizzle with olive oil and sauté the minced onion and pressed garlic. Then add the crushed tomatoes, rosemary and chilies. Add salt and pepper and simmer over low heat for at least 20 minutes.

Meanwhile, in a frying pan, sauté the 2 pressed garlic cloves in a little olive oil with the grated nutmeg. Add the fresh spinach leaves and stir quickly, then remove from the heat. Don't leave them too long, otherwise there won't be much left…

Place them on a cutting board and coarsely chop them with a sharp knife.

Mix them well with the ricotta and begin to gently stuff the cannelloni.

Place them in the bottom of a baking dish and pour the tomato sauce over them. Sprinkle cannelloni with Parmesan cheese.

Then let the cannelloni dish sit for at least 2 hours, overnight would be ideal. If you don't have time to rest, you will need to pre-bake the cannelloni.

To bake, preheat your oven to 180°C and bake for 30 minutes. If the cheese is not well toasted, you can extend the cooking time a little.
If you make my cannelloni recipe and enjoy it, feel free to tag me on Instagram or Facebook so I can see the result and share it back…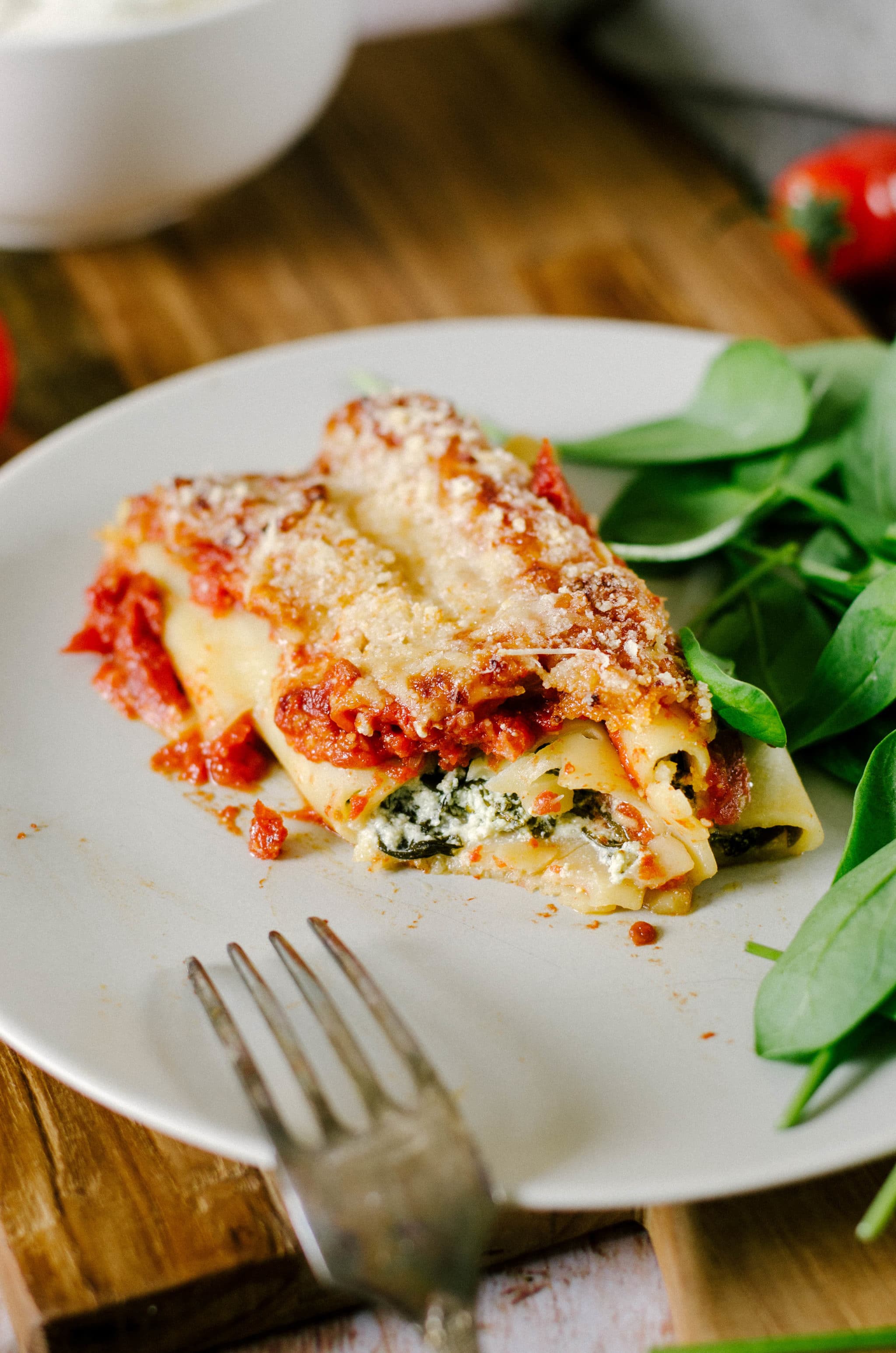 If you like these kinds of recipes, here are some ideas that I really like and that you should like as much as I do:
– Spaghetti and Meatballs in Tomato Sauce
– Roasted Tomatoes
– Tomato and Burrata Cheese Salad
– Zoodle with pesto, roasted tomatoes and feta cheese
– Tomato Burrata Basil and Mortadella Pizza
– Conchiglioni Pasta Stuffed with Ricotta and Spinach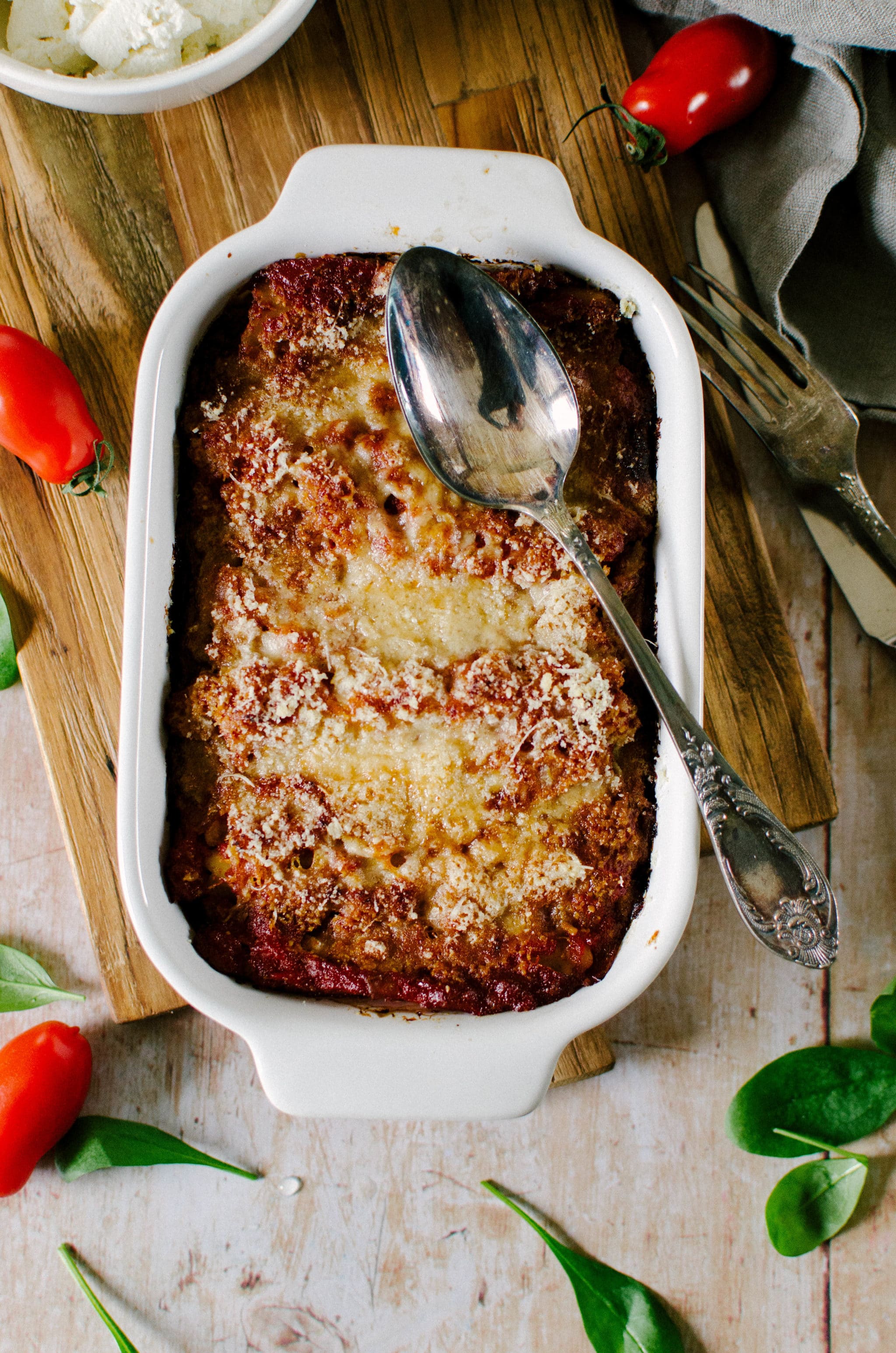 Just to let you know I am French and I translate my recipes, be indulgent if you see syntax errors and do not hesitate to leave me a comment so I can correct it. I hope you will like my recipes and enjoy your visit to my food blog!