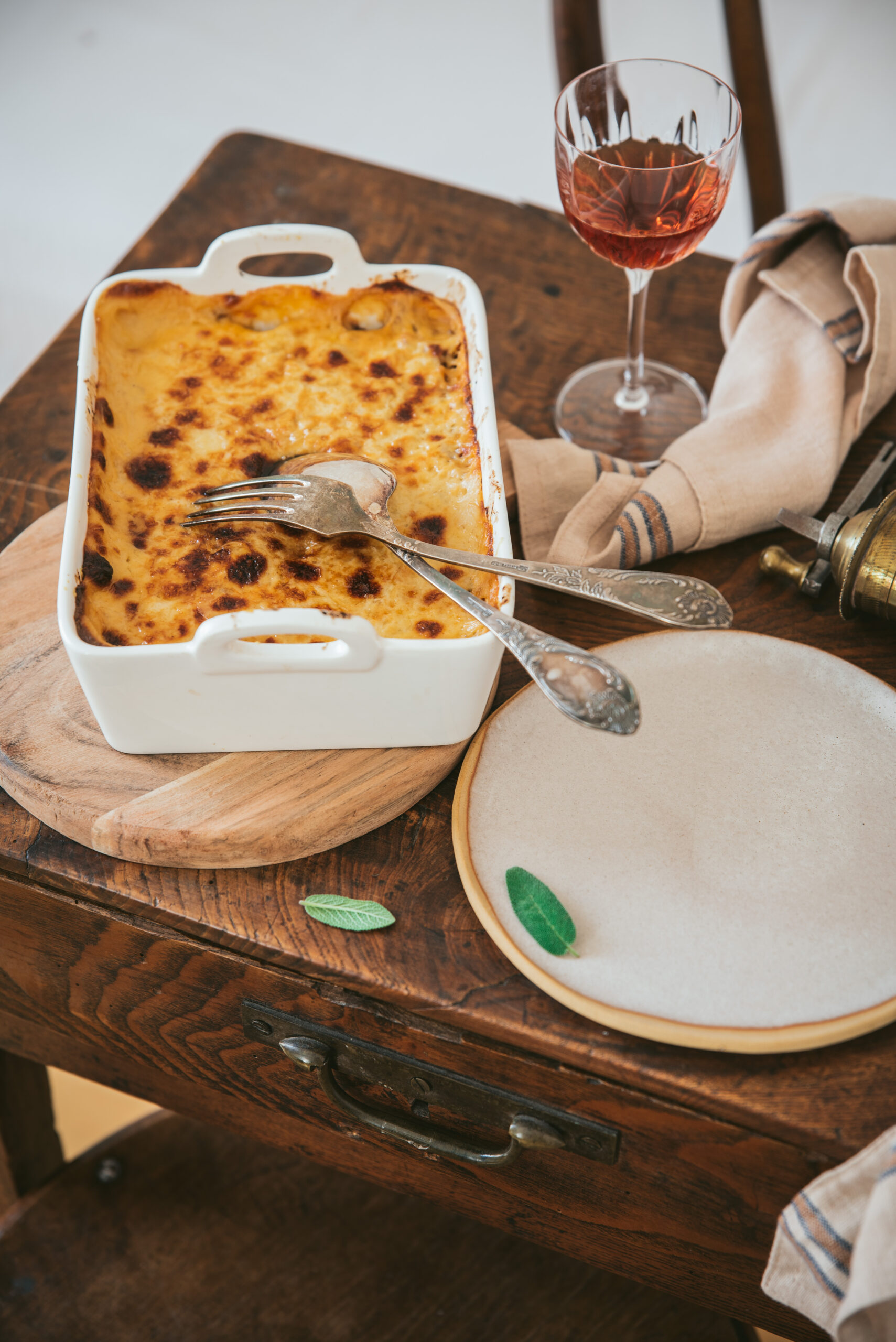 I've been wanting to make my Greek Moussaka recipe, an eggplant and beef gratin, at home for a long, long time. It's now done, and it's the perfect way to enjoy the last eggplants of the season…
Well, when I say it's done, I must admit that this recipe was made by Fab. Yes, there are 2 of us at home and he also often puts his hand to the dough… 😉
He liked cooking eggplants so much that he proposed me to do it again with another recipe. He would like to make an Indian dish called beghan bharta.
Greek Moussaka – Eggplant and beef gratin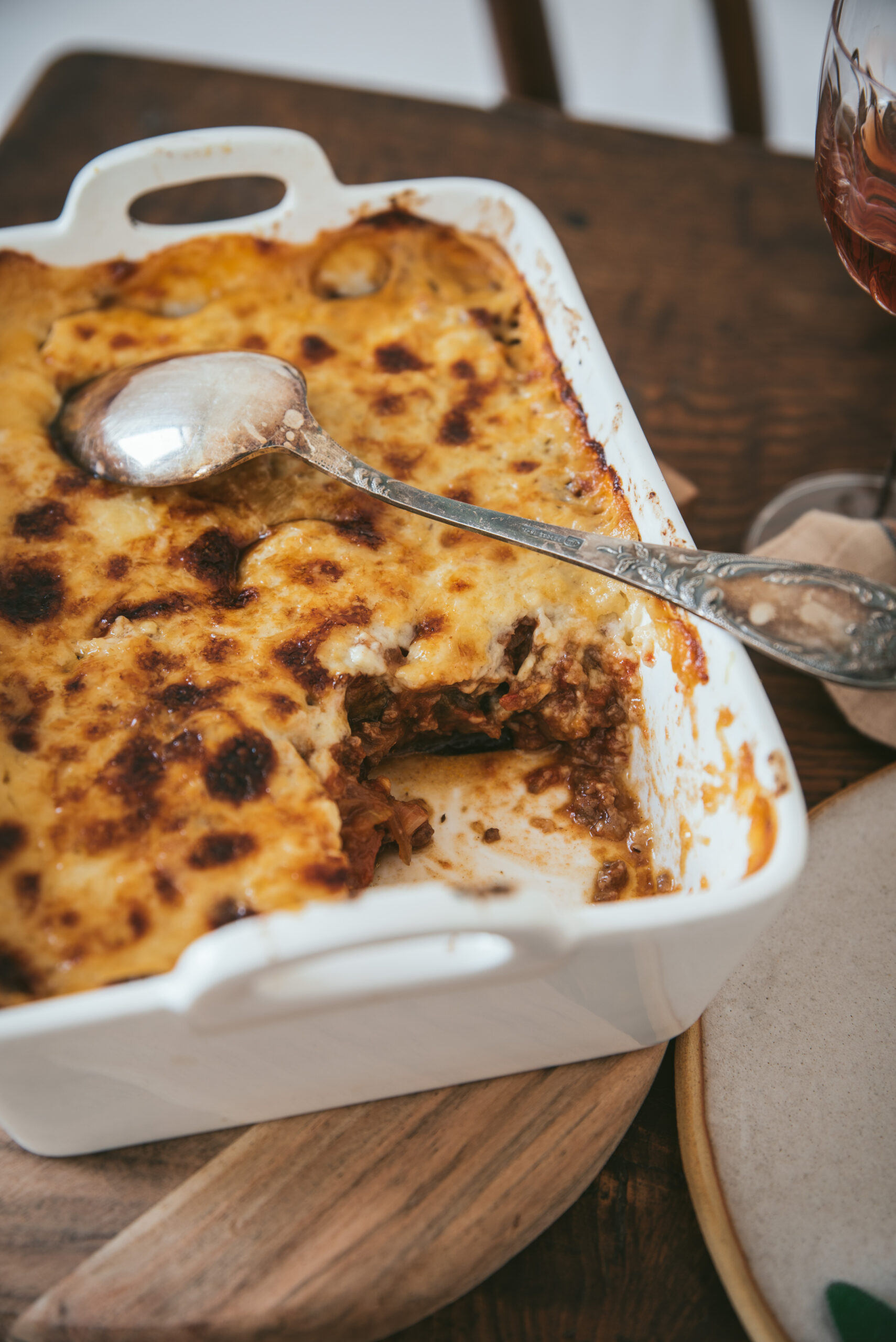 It's a recipe I've tried several times before and never got what I wanted so I never posted it. We'll see if he succeeds… I'd love to! And if he does, I'll share it, here, with you. It's so good that I'm salivating just writing it and I can't wait to see it, but this time I think it will be for next year… 🙂
Well, normally, there is no grated cheese on top of a Moussaka, but Fab brought his personal touch. Yes, gratin is synonymous with cheese gratin, isn't it? 🙂 I say, why not, because I have to admit that it was perfect and delicious. For the purists, or those who don't like cheese, you don't have to use it, it's just a bonus.
In the meantime, let's get back to our Moussaka recipe!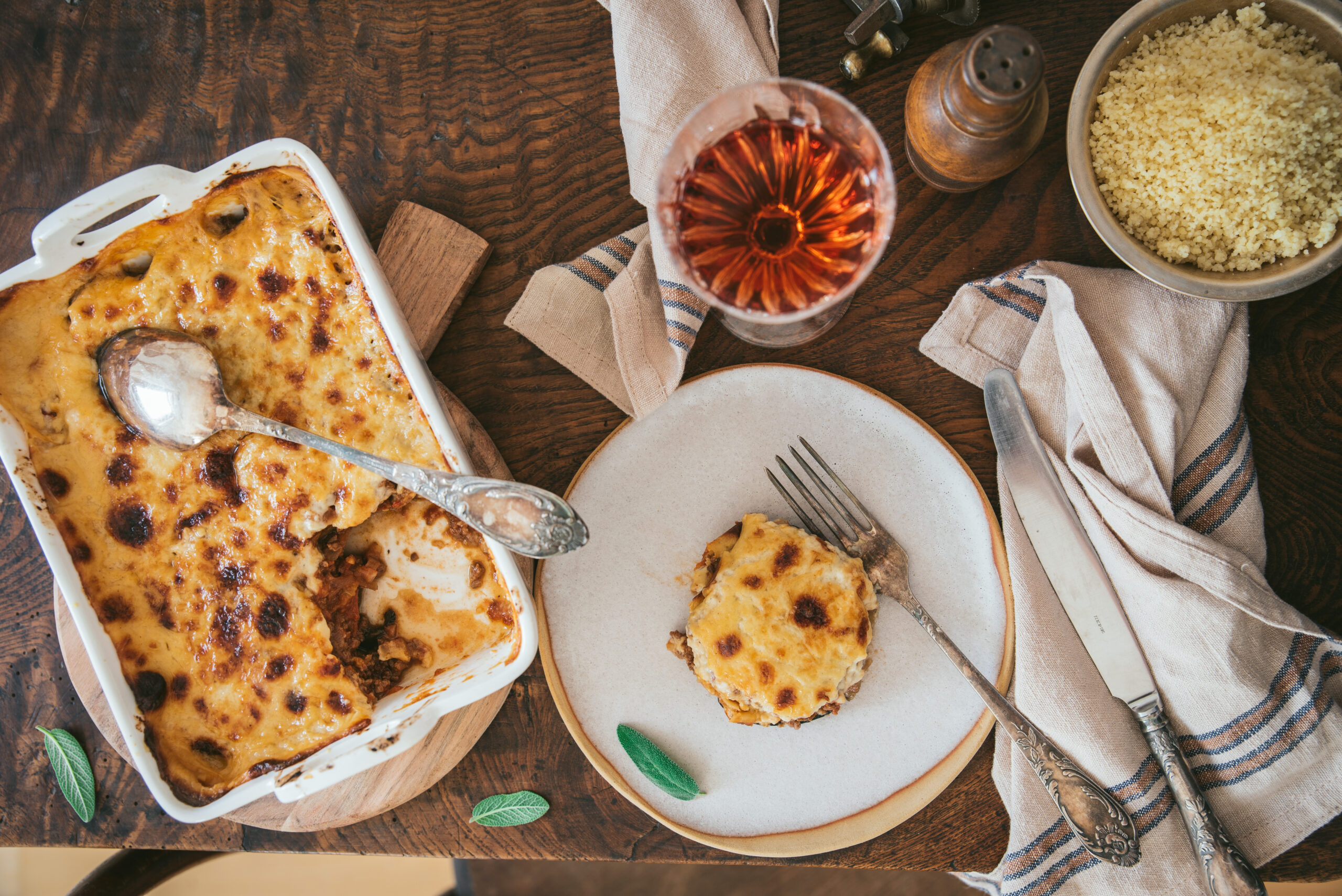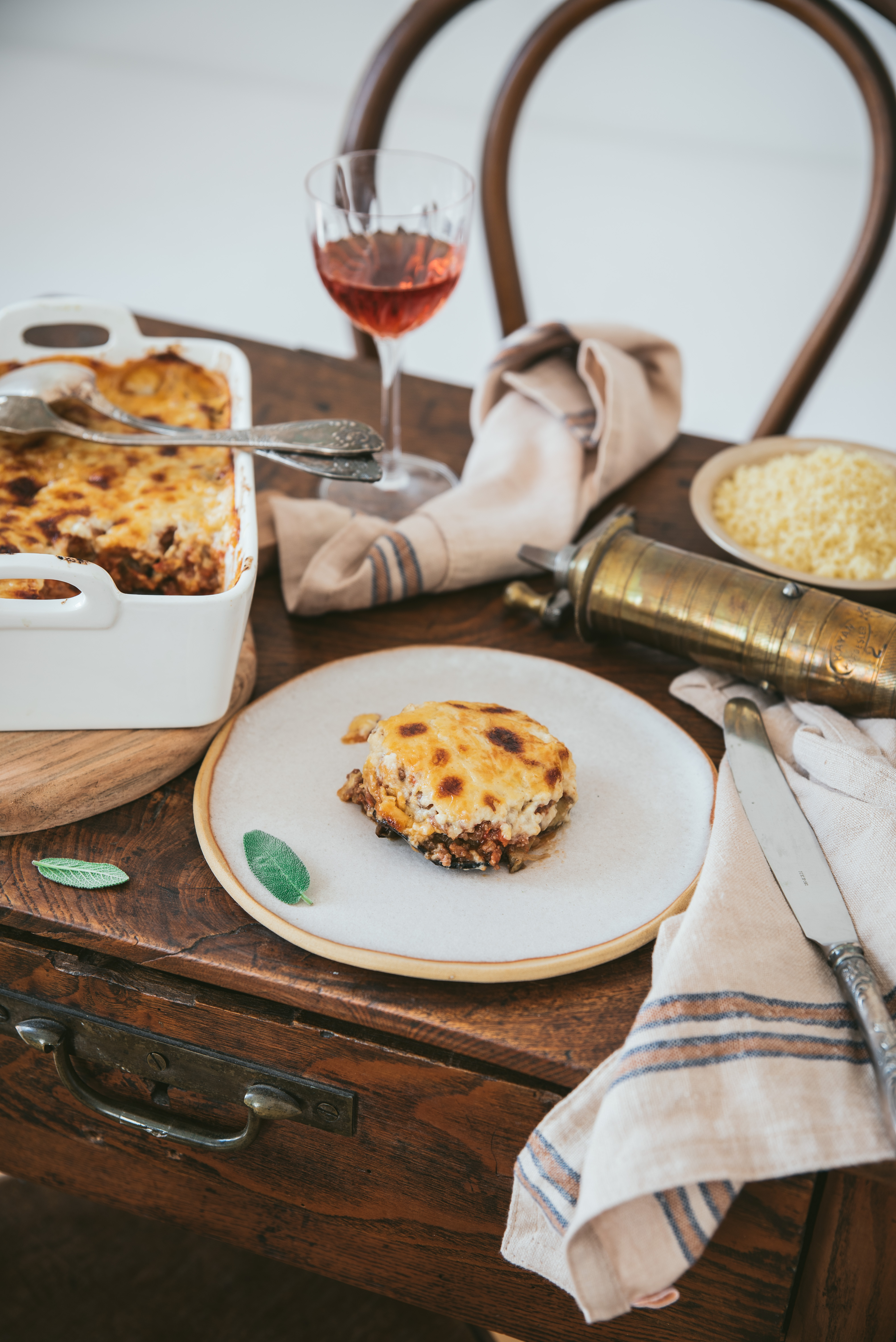 What ingredients do you need to make this delicious moussaka recipe?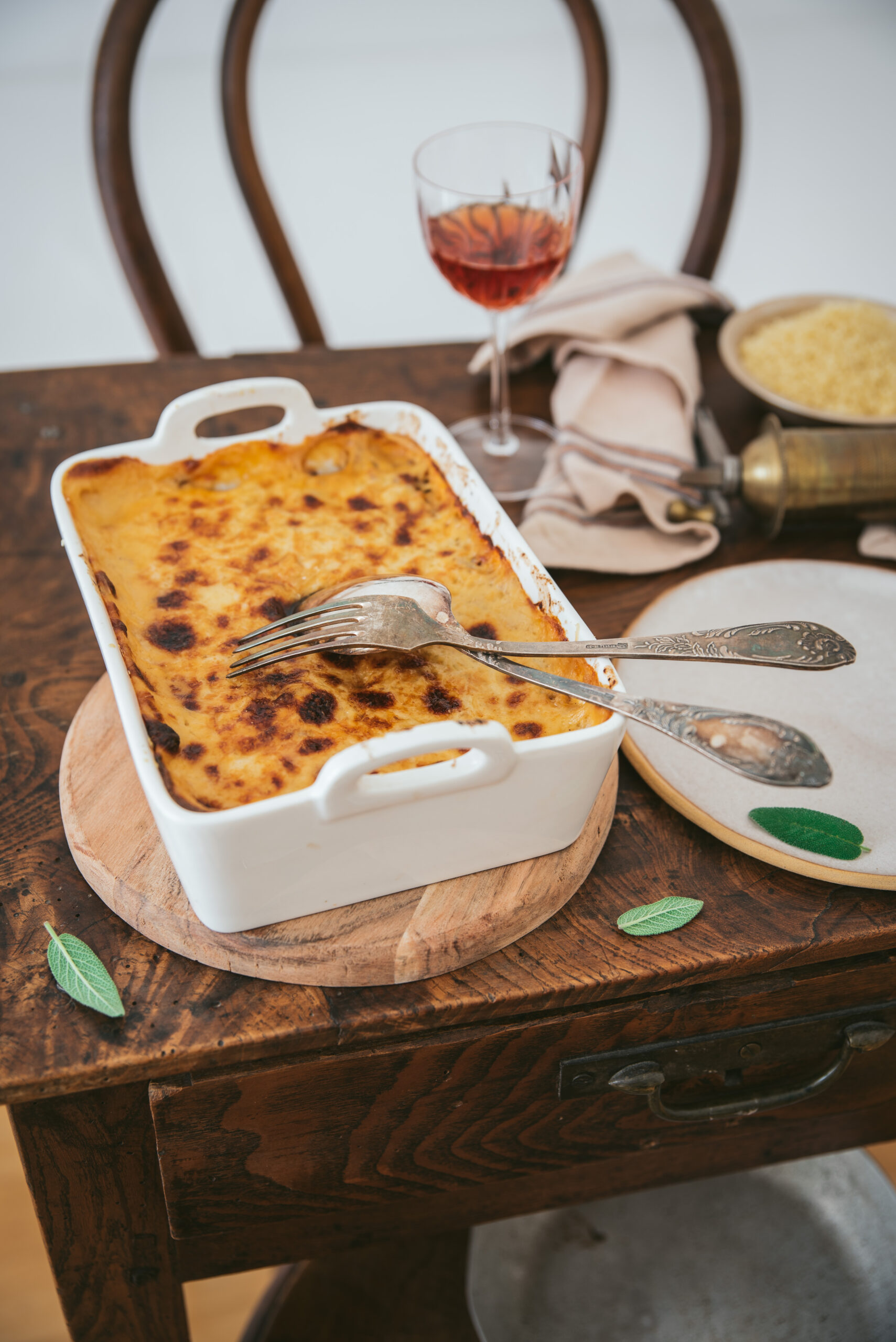 If you like eggplant recipe, here are some homemade other ideas :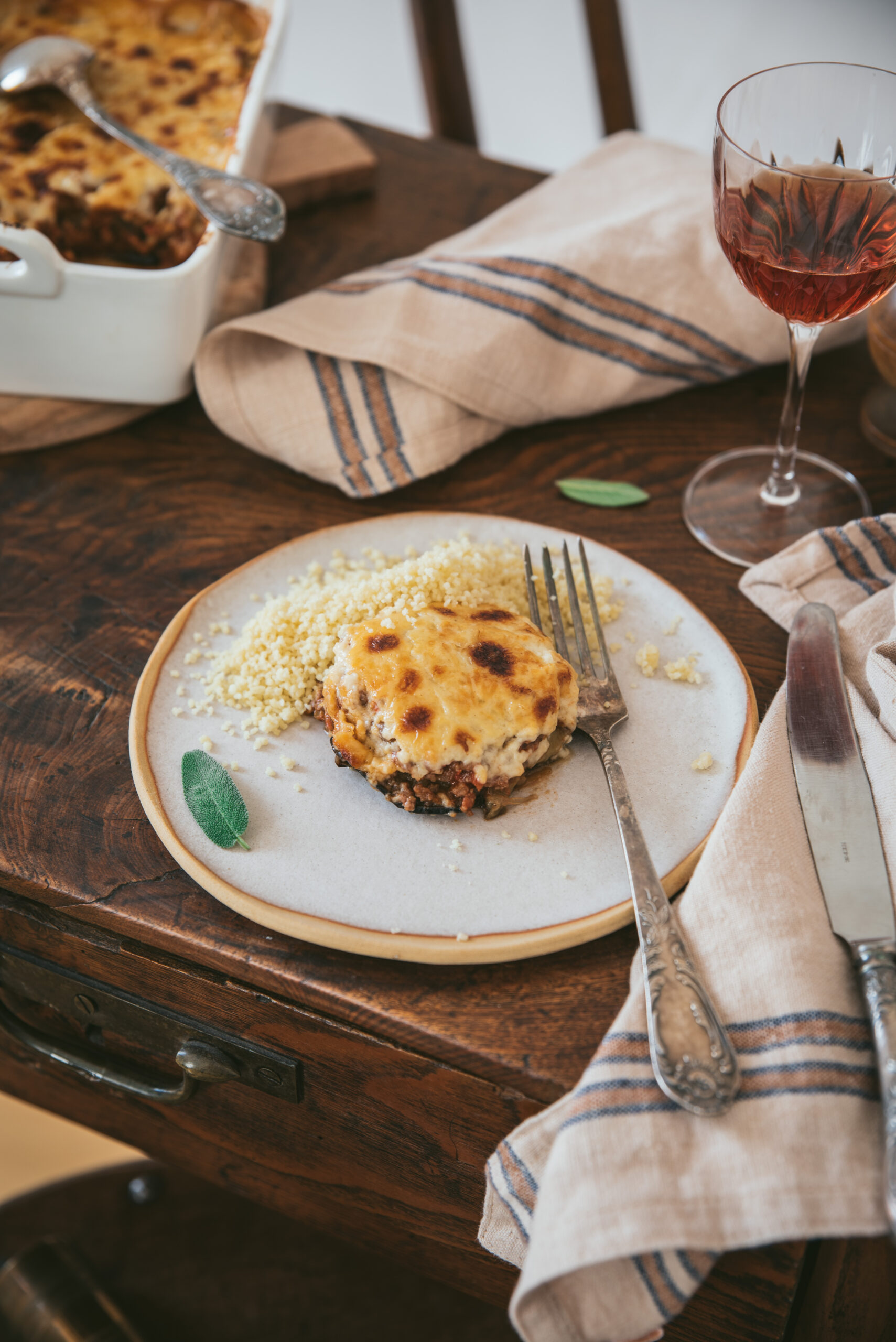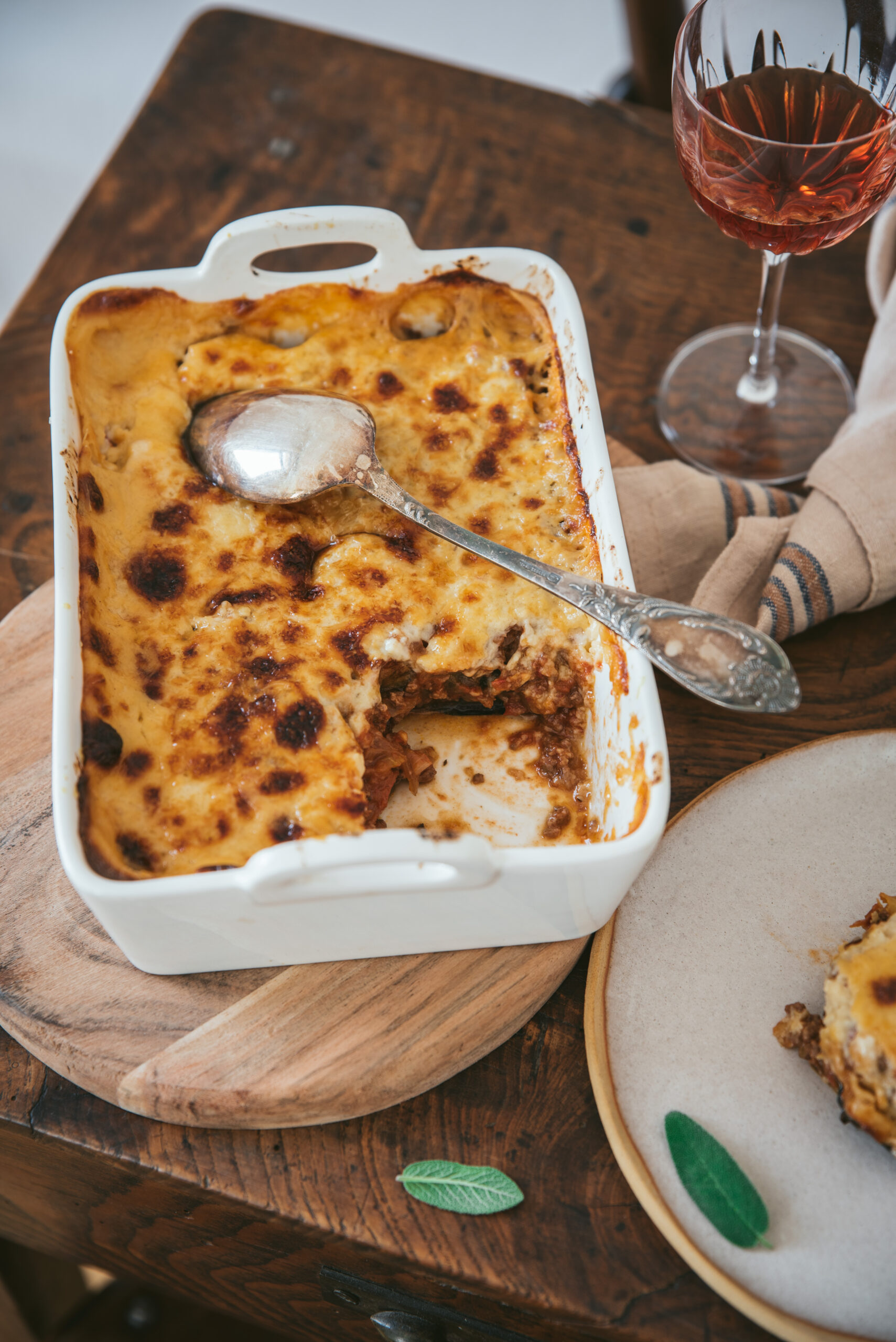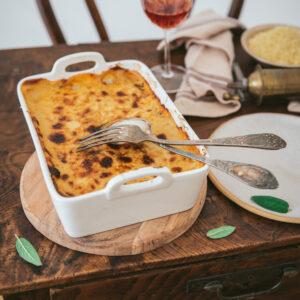 Greek Moussaka
Ingredients
3

eggplant

5

tomatoes

1

pinch

cinnamon

1

pinch

chili pepper

500

g

beef

3

onions

2

garlic cloves

olive oil

salt and pepper
For bechamel sauce
30

g

butter

40

g

flour

50

cl

milk at room temperature

1/2

teaspoon

nutmeg

salt and pepper

100

g

shredded cheese
Instructions
Prepare your bechamel sauce and set aside.

Melt butter in a saucepan over very low heat. Add salt, pepper and nutmeg.

Add half the sifted flour and whisk well for 5 minutes.

Pour in the milk little by little while whisking and gradually add the rest of the sifted flour. Continue whisking until the sauce becomes smooth, creamy and lump-free.

Cut the tomatoes into small pieces and put them in a pan without oil. Let them cook until a lot of water evaporates, about 10 minutes. Then add a tablespoon of olive oil, the cinnamon and the chili pepper. Add salt and pepper and cook for another 5 minutes on low heat. Reserve also.

Cut the eggplants into 1 cm slices and brush them with olive oil on both sides, using a kitchen brush.

Place oiled slices in a hot skillet until golden brown. Cook longer to ensure they are well toasted. Set aside on a plate.

In the same pan, fry the chopped onions and pressed garlic with a little olive oil. Then add the minced meat and brown it. Then add the tomato sauce.

Preheat your oven to 180°C.

In a baking dish, alternate layers of eggplant and tomato sauce.

Finally, pour the béchamel sauce over the top of the gratin and sprinkle with grated cheese. Bake for 20 minutes until golden brown.
If you ever make my Greek Moussaka recipe and you like it, don't hesitate to tag me on Instagram @tangerinezest so I can see the result and share it myself…
Just to let you know I am French and I translate my recipes, be indulgent if you see syntax errors and do not hesitate to leave me a comment so I can correct it. I hope you will like my recipes and enjoy your visit to my food blog!