Well, after my last few recipes, nothing too surprising in this one… I combined my homemade bagel bread with my roasted summer vegetables and added goat cheese in a log. The result is a great Roasted Vegetables Bagel and Goat Cheese, a vegetarian recipe you should enjoy.
In any case, we really enjoyed this dish that combined the crunch of the bread, the confit of the vegetables and the delicious flavors of the goat cheese….
I used summer vegetables because it was in season, but since it's fall, you can adapt very well to the season with roasted squash, like pumpkin, or cabbage or fennel.
Here, I'll test it out for you if you like and let you know what I think. I guess with goat cheese it will work too but I'll see if I change the cheese too….
And for those who would like to add some meat, I think with a slice of good roast beef or pork, it should be a treat…
Roasted Vegetables Bagel and Goat Cheese
If you enjoy this type of recipes, here are some ideas that should please you as much as it does me: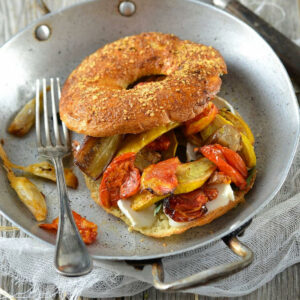 Roasted Vegetables Bagel and Goat Cheese
Ingredients
1

homemade or store-bought bagels

200

g

goat cheese

1

teaspoon

honey per person

optional
FOR ROASTED VEGETABLES
1

eggplant

1

zucchini

1

big tomato

1

garlic cloves

salt and pepper

olive oil

Chili powder
Instructions
Preheat your oven to 150°C.

Prepare the roasted vegetables by placing them in an oven dish sprinkled with olive oil, seasoned and roasted for 1 hour.

Cut bagels in half and place goat cheese slices on bottom half.

Spread the roasted vegetables and drizzle with a little honey, if desired.

Replace the lid and cook for 10 minutes, just long enough to heat up and melt the cheese.

To be enjoyed as is or with a good green salad, for example.
If you ever make my bagel recipe and like it, feel free to tag me on Instagram or Facebook so I can see the result and share it back…
Just to let you know I am French and I translate my recipes, be indulgent if you see syntax errors and do not hesitate to leave me a comment so I can correct it. I hope you will like my recipes and enjoy your visit to my food blog!