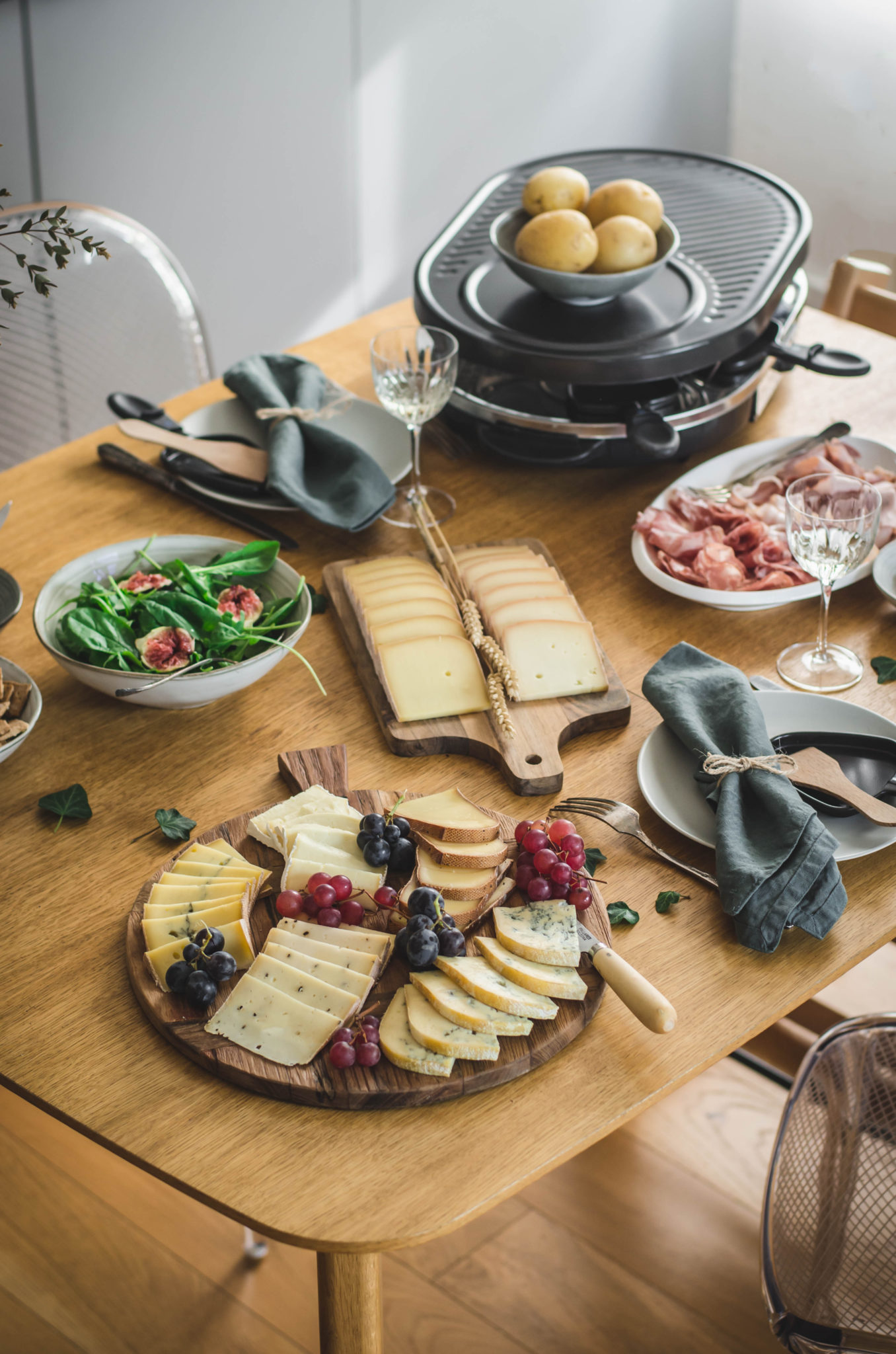 Raclette, but what is it? It's a melted cheese drizzled over potatoes, accompanied by cold cuts and salad! You know it, of course! Well, I have to tell you that I'm one of those people for whom making homemade raclette is a bit second nature, since I've been making it since I can remember.
But I realize that this is not necessarily the case for everyone because I have asked myself a lot of questions on the subject. Even as a child, it was a dish we made several times a winter and when we moved into our own apartment, it was one of the first appliances we bought!
A raclette is composed of several elements:
the cheese, it is the base
the cold cuts
the potatoes
the salad
the wine
the raclette machine
I explain all this in this article and you will find a summary at the end of the page 😉
Homemade raclette, how to do it and which cheeses to choose ?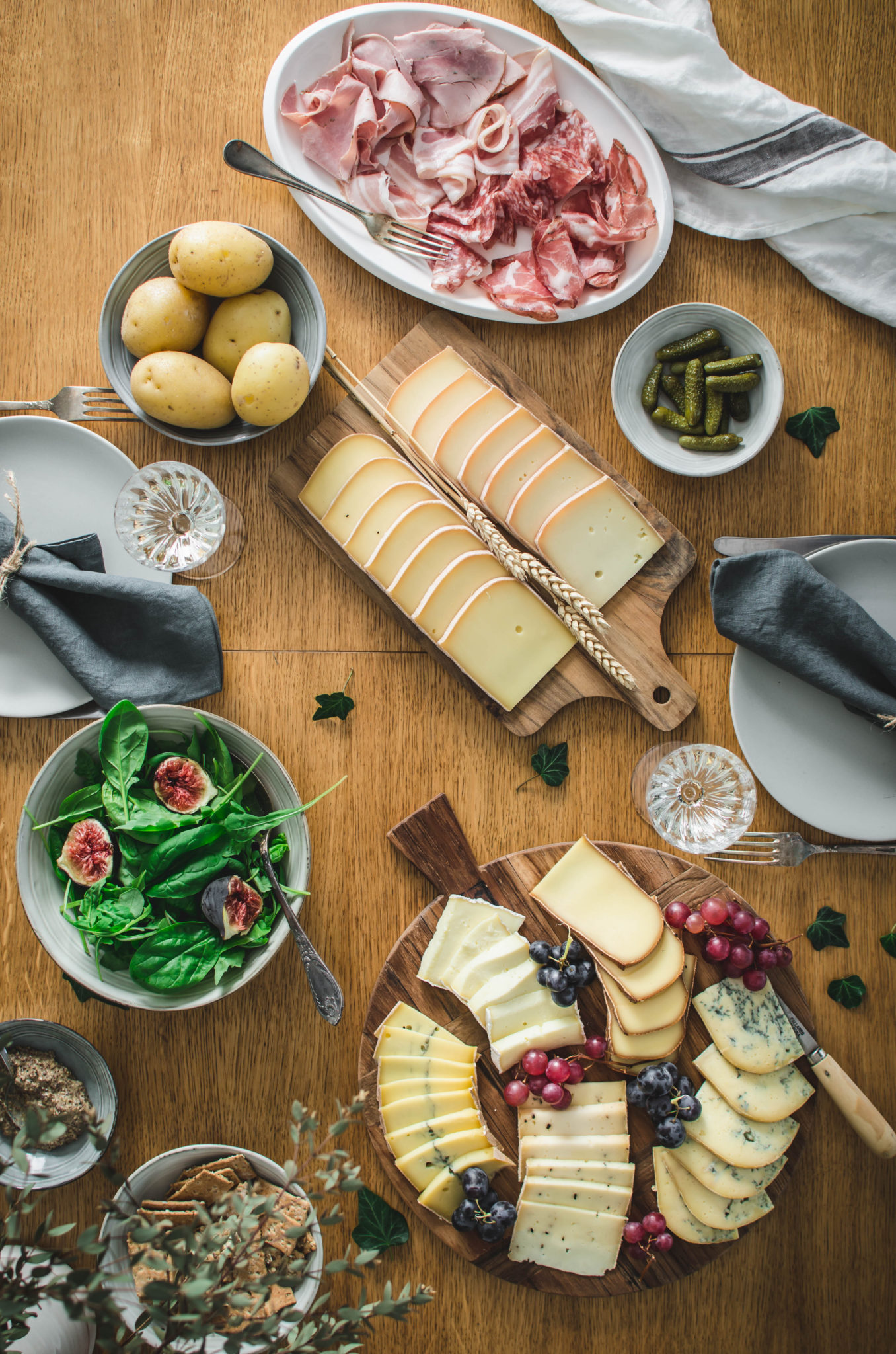 Which cheeses to choose for a raclette ?
The cheese in a raclette is the main ingredient, but did you know that you can vary the pleasures and use several kinds of cheese!
I like to use different types of cheese, it allows to vary the tastes, and to bring a little more lightness (if I may say…) to this copious meal.
So I invite you to compose a nice platter with :
Plain raclette cheese,
Smoked or flavored raclette cheese such as pepper, mustard, Espelette pepper, wild garlic, truffle,
Goat cheese, sheep cheese, Morbier, Bleu de Gex or Sassenage, Reblochon, etc.
Tip: Take the cheeses out at least 30 minutes beforehand so that they are at room temperature and do not render oil when reheated.
How much raclette cheese do you need per person?
They say you usually need 200 g per person, or 5 slices, but I've found that foodies eat 250 to 300 g, or about 7 slices…
If you have any leftover cheese, you can freeze it for a future feast or put it in a gratin.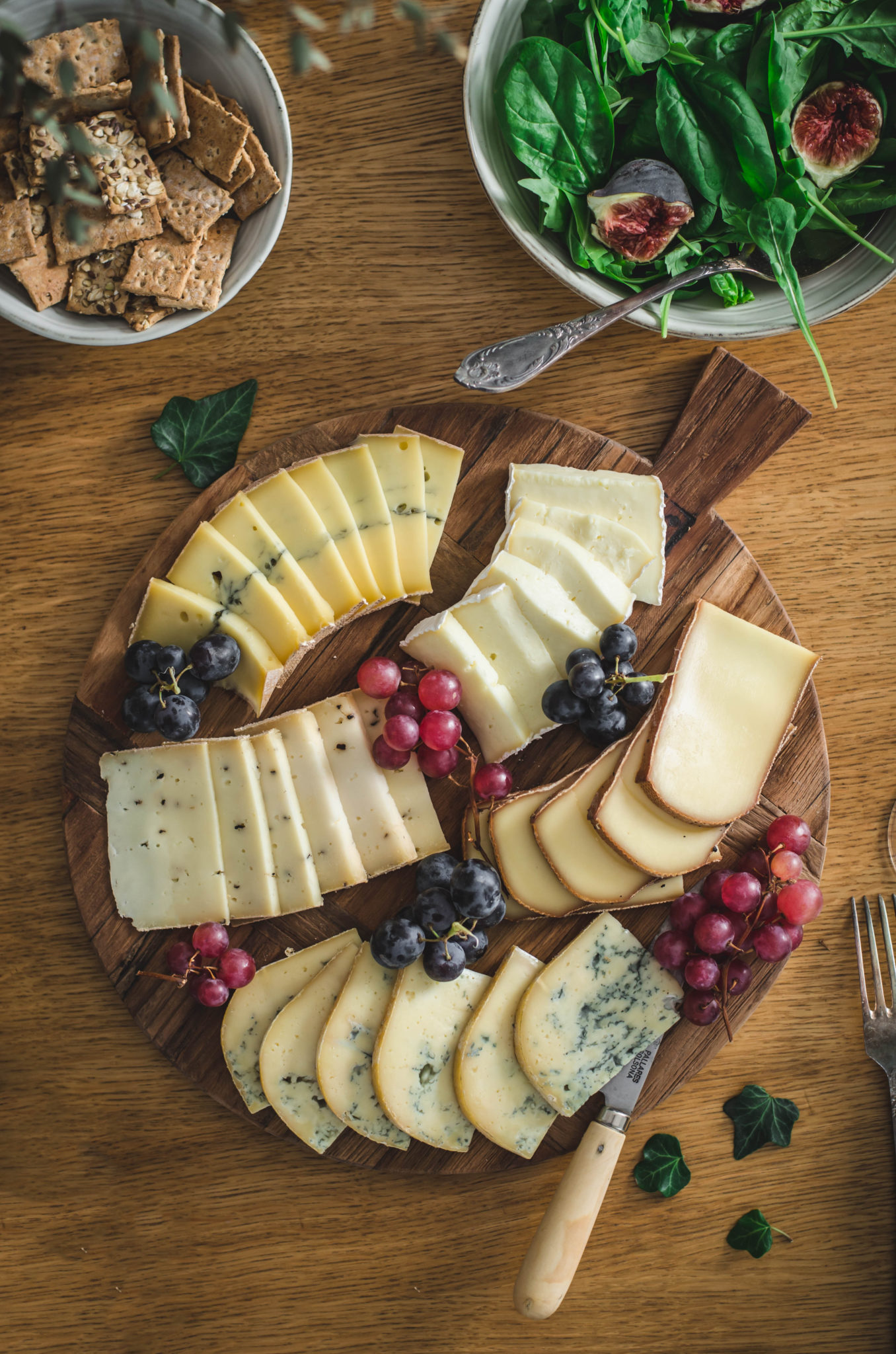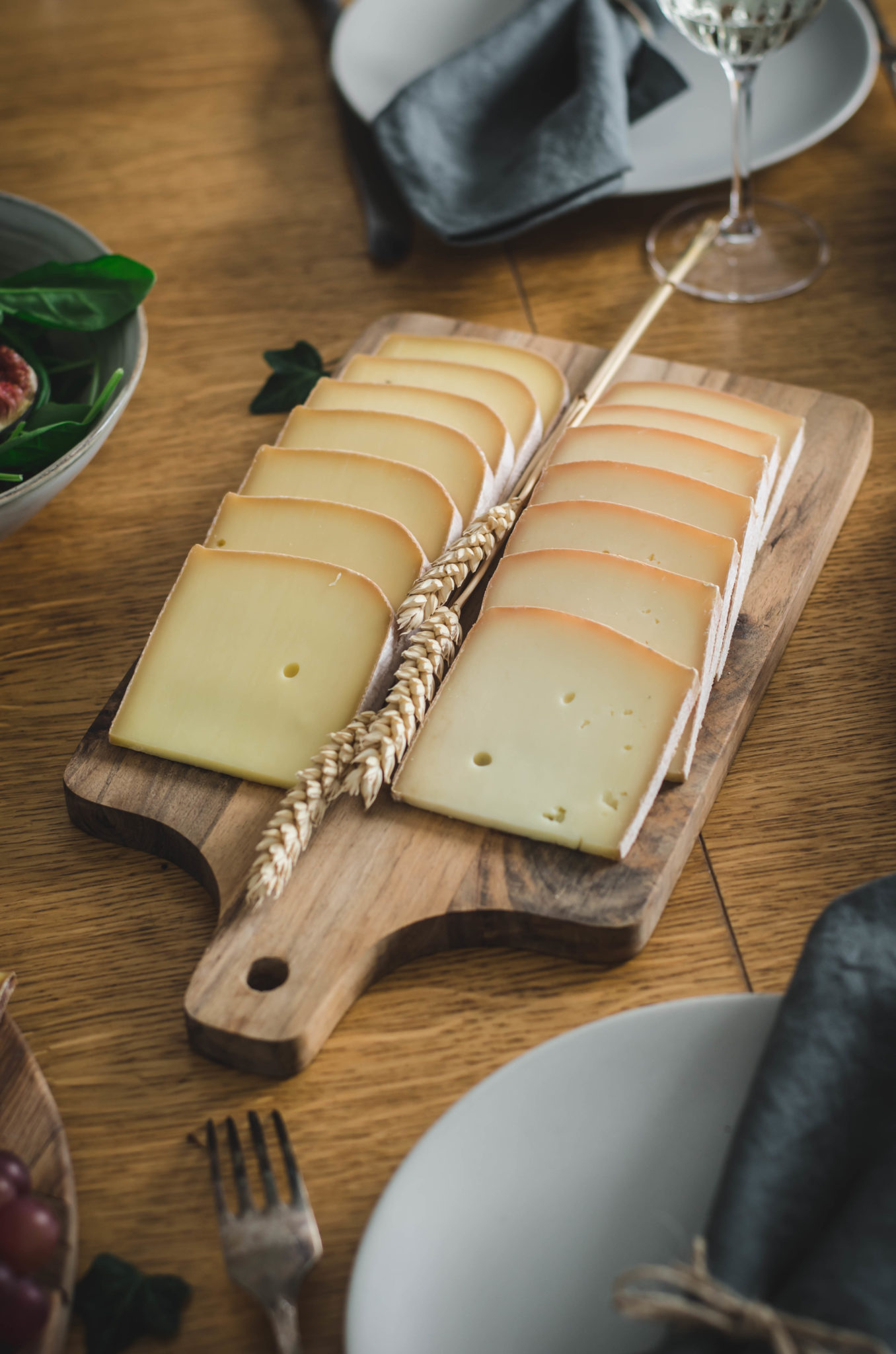 Cold cuts
As with the cheese, I like to have several types of charcuterie. I like to put cooked ham (with herbs or smoked), raw ham, pancetta, thin slices of sausage, rosette, beef, bacon to heat up… It's up to you to be imaginative and adapt according to your tastes and what you find in the butcher's department.
How much deli meat do you need per person for a raclette?
It is said that you generally need 150 to 200 g per person, and a little more for the greedy…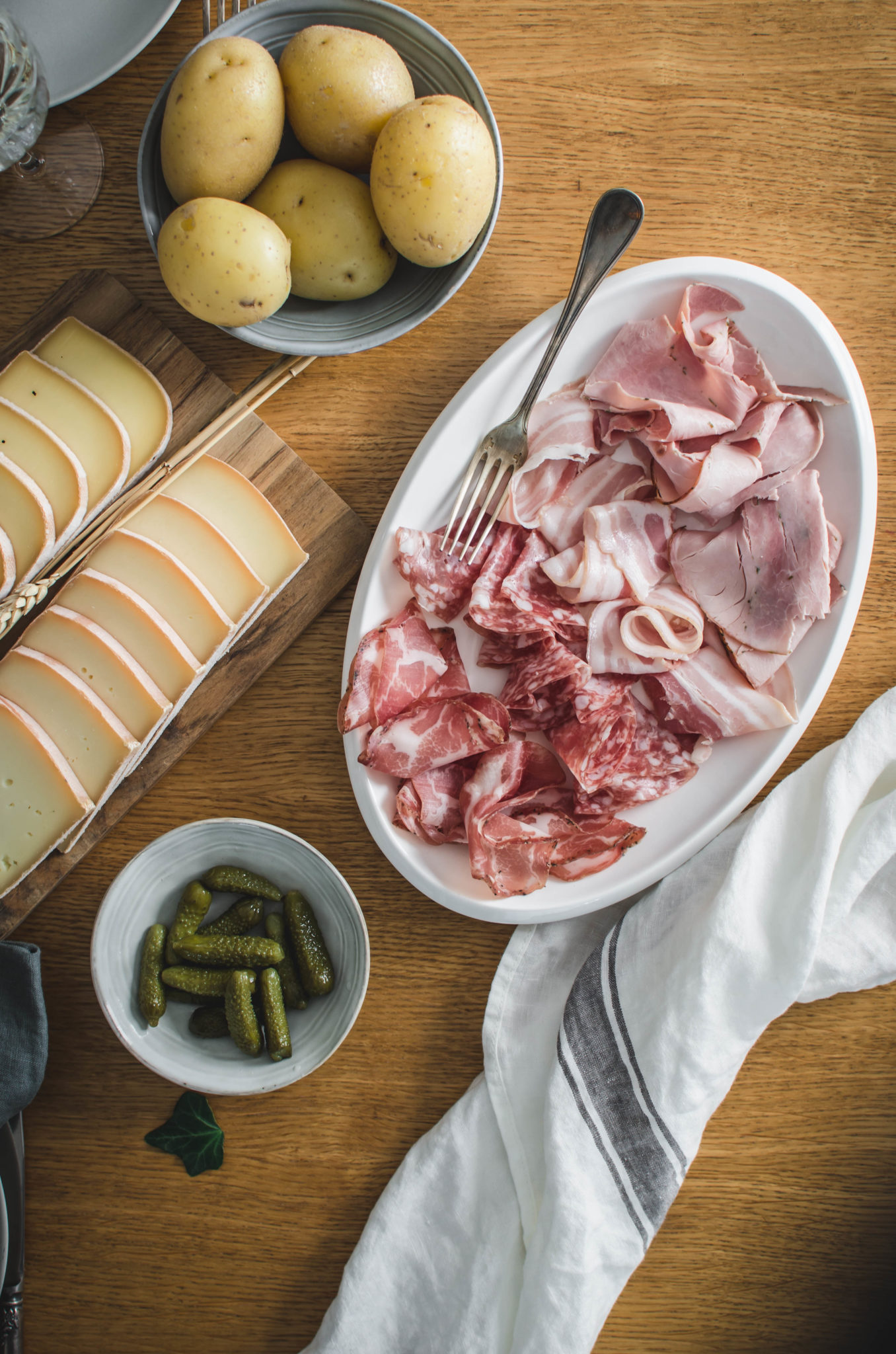 Potatoes
A raclette cannot be made without potatoes (with firm flesh) because generally the melted cheese is poured on them. Generally, there are 3 or 4 medium-sized potatoes per person, but this varies according to their size. This represents about 400 g.
Salad and other raw vegetables
I also like to serve my homemade raclette with a mixed salad and raw vegetables that I adapt according to the season. It brings a little color, lightness and also allows better digestion.
This time, as it is autumn, I put on the table an arugula and spinach salad with some fresh figs and different varieties of fresh grapes. You can also add walnuts, almonds or hazelnuts or other raw vegetables like radishes, carrot sticks…
Don't forget the pickles and mustard if you like that!
A little treat I recently tried at a friend's house is to add fresh chopped chives to the cheese when melting it. I'll tell you right now, it's a pure delight!!!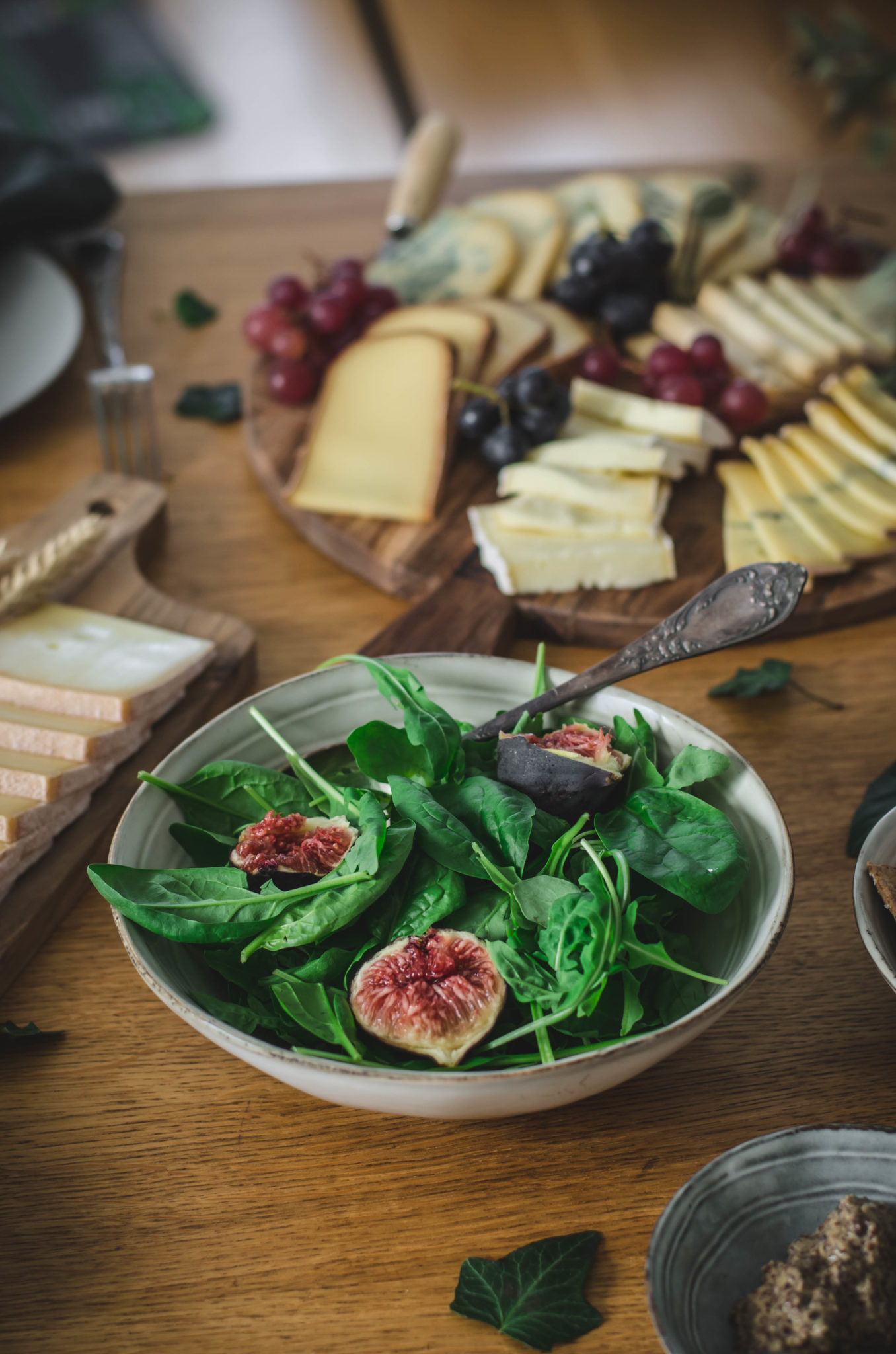 The wine
Like any good meal, I cannot imagine eating without wine. With a raclette, I tend to favor white wine (Chignin Bergeron or Roussane, for example) but feel free to serve red wine (a Pinot Noir, for example) if you prefer.
The raclette machine + the wooden scrapers
As I said, the raclette machine is one of the first appliances I bought when I had my own house. Mine is 10 years old and that I recommend because it's resistant, with a small price (about 60$) and it also allows you to make pancake or pierrade evenings.
There is a new one that seems to be great too. Don't forget the small wooden scrapers that are not sold with the device and that allow not to damage the small cassolettes.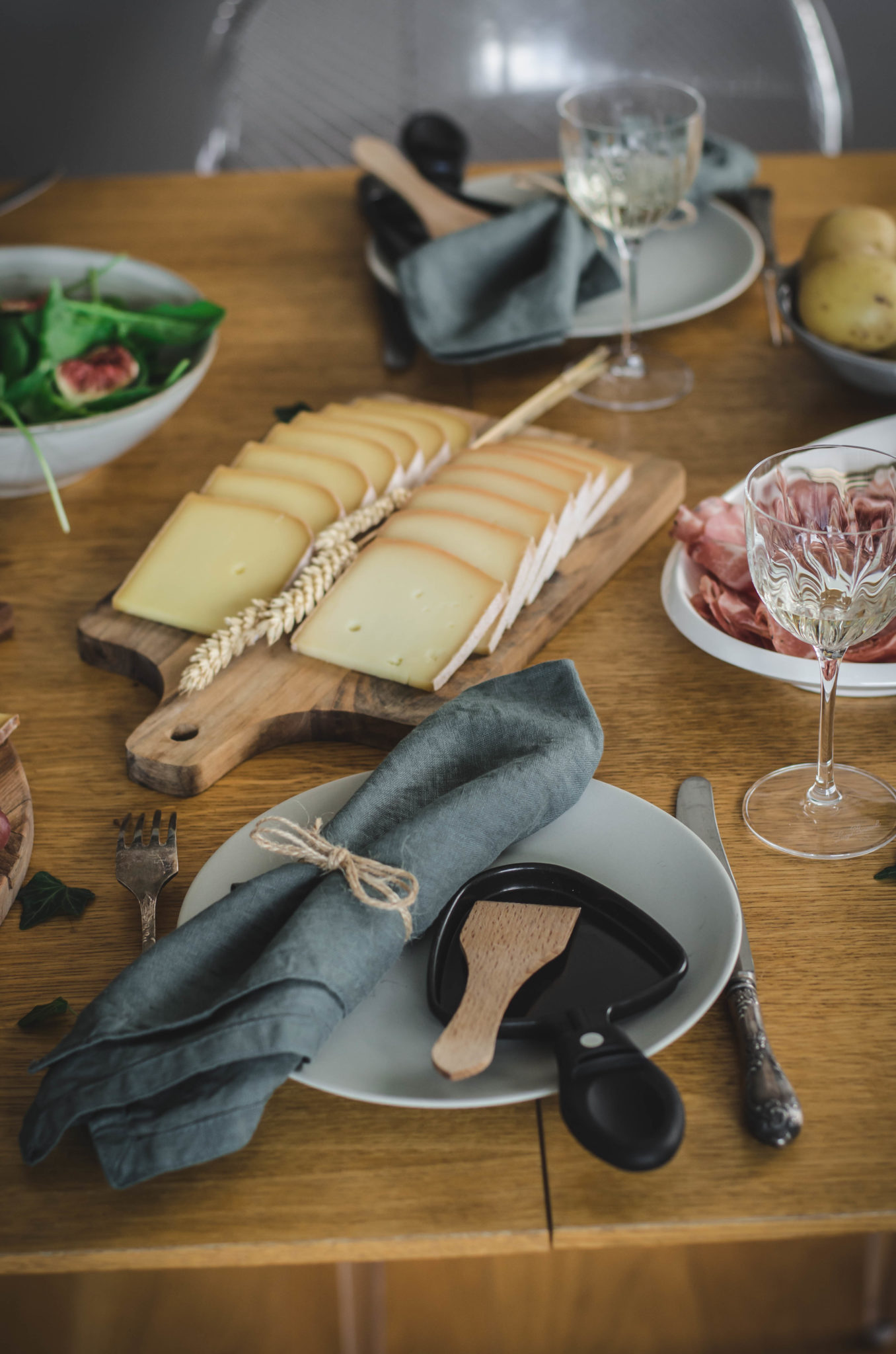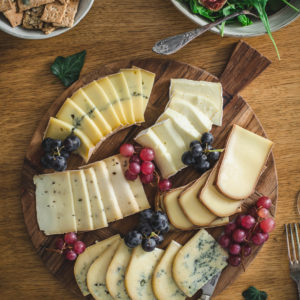 Homemade raclette
Ingredients
FOR CHEESE
200

g

various cheeses

(raclette, smoked, flavored, morbier, reblochon, blue cheese…)
FOR CHARCUTERIE/MEAT
150 to 200

g

various cold cuts

(cooked or raw ham, bacon, rosette, pancetta, grison meat…)
FOR SIDE DISHES
3 or 4

small potatoes

green salad

fruits

(grape…)

nuts

gherkins

mustard
Instructions
Start by cooking the potatoes, adjusting for variety and size.

Arrange the cheeses and cold cuts on trays and remove them at least 30 minutes before eating so that the cheeses are at room temperature.
Notes
. For 1 person, you need 150 to 200 g of cheese, 150 g of cold cuts, and 3 or 4 potatoes depending on their size (about 400 g).
. For 2 people, you need 450 g of cheese, 300 g of cold cuts and 8 potatoes (about 800 g).
. For 4 people, you need 850 g of cheese, 600 g of cold cuts and 15 potatoes (about 1.5 to 2 kg).
. For 6 people, you need 1 to 1.5 kg of cheese, 900 g of cold cuts and 18 to 25 potatoes.
. For 8 people, you need 1.5 to 2 kg of cheese, 1.2 kg of cold cuts and 25 to 30 potatoes (about 2.5 to 3 kg).
You are now ready for your next homemade raclette!
If you ever make my homemade raclette recipe and you like it, don't hesitate to tag me on Instagram @tangerinezest so I can see the result and share it myself…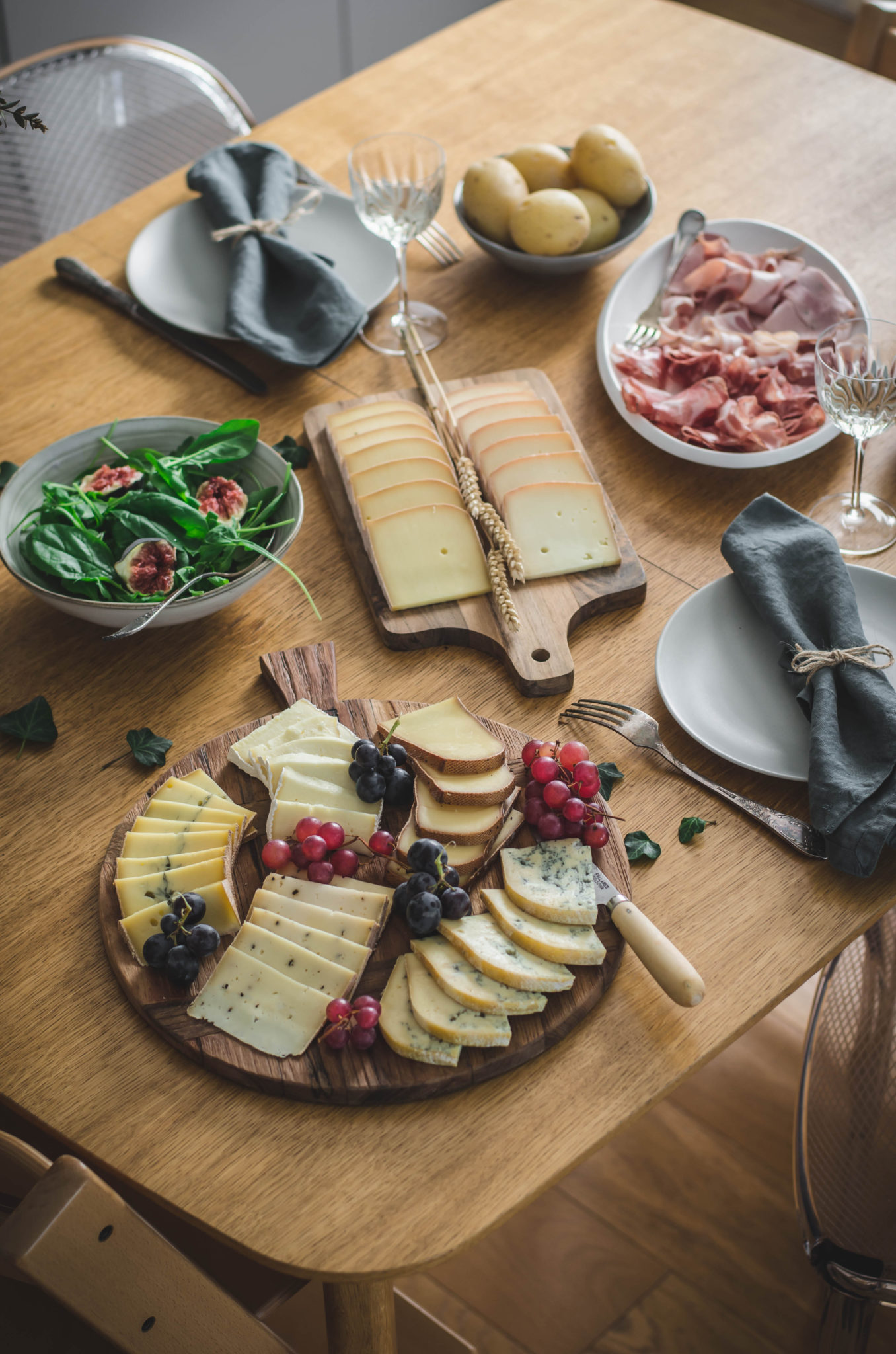 If you like melted cheese, I also invite you to discover some of my other favorite recipes: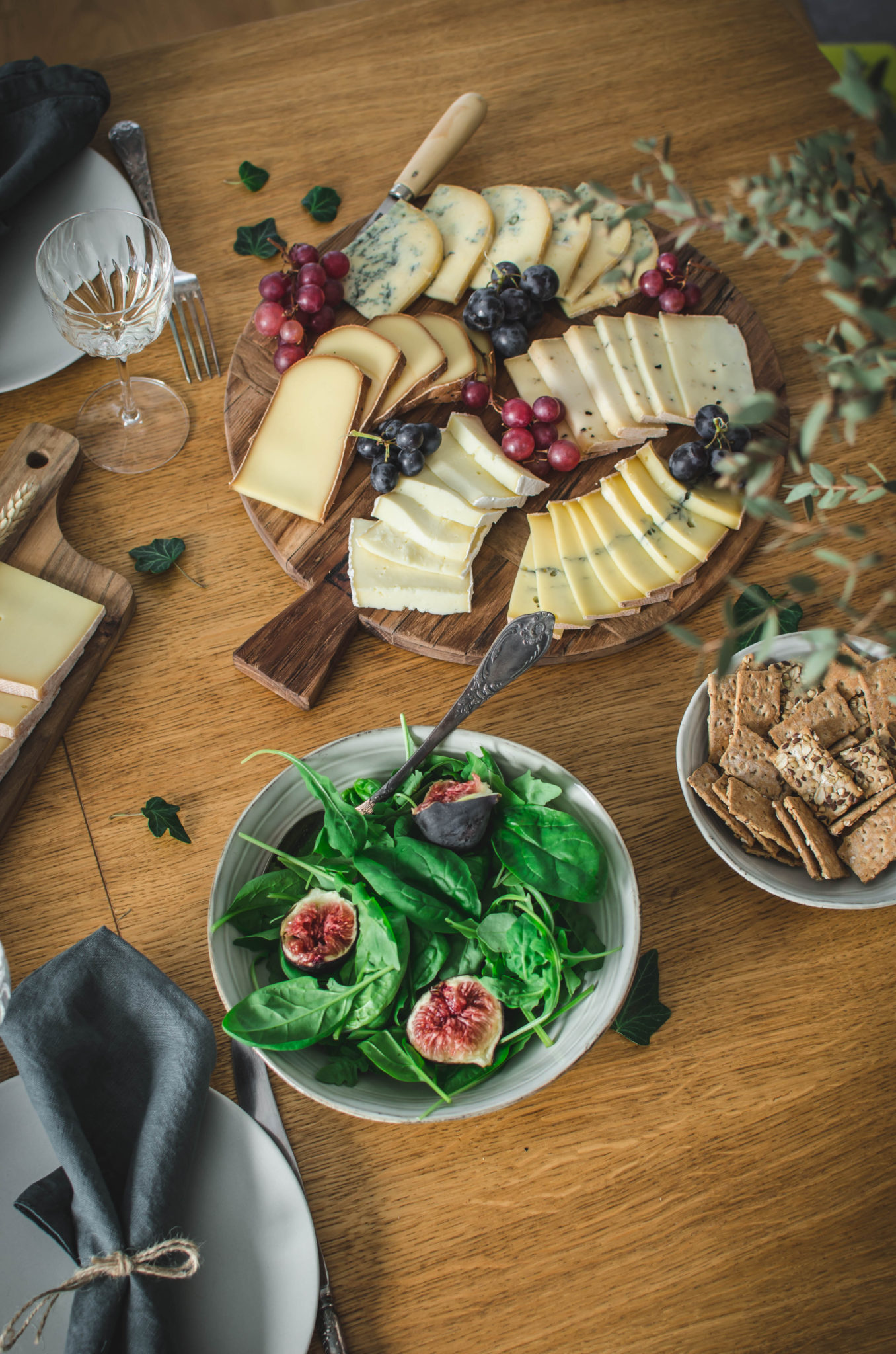 Finally, just to let you know I am French and I translate my recipes, be indulgent if you see syntax errors and do not hesitate to leave me a comment so I can correct it. I hope you will like my recipes and enjoy your visit to my food blog!