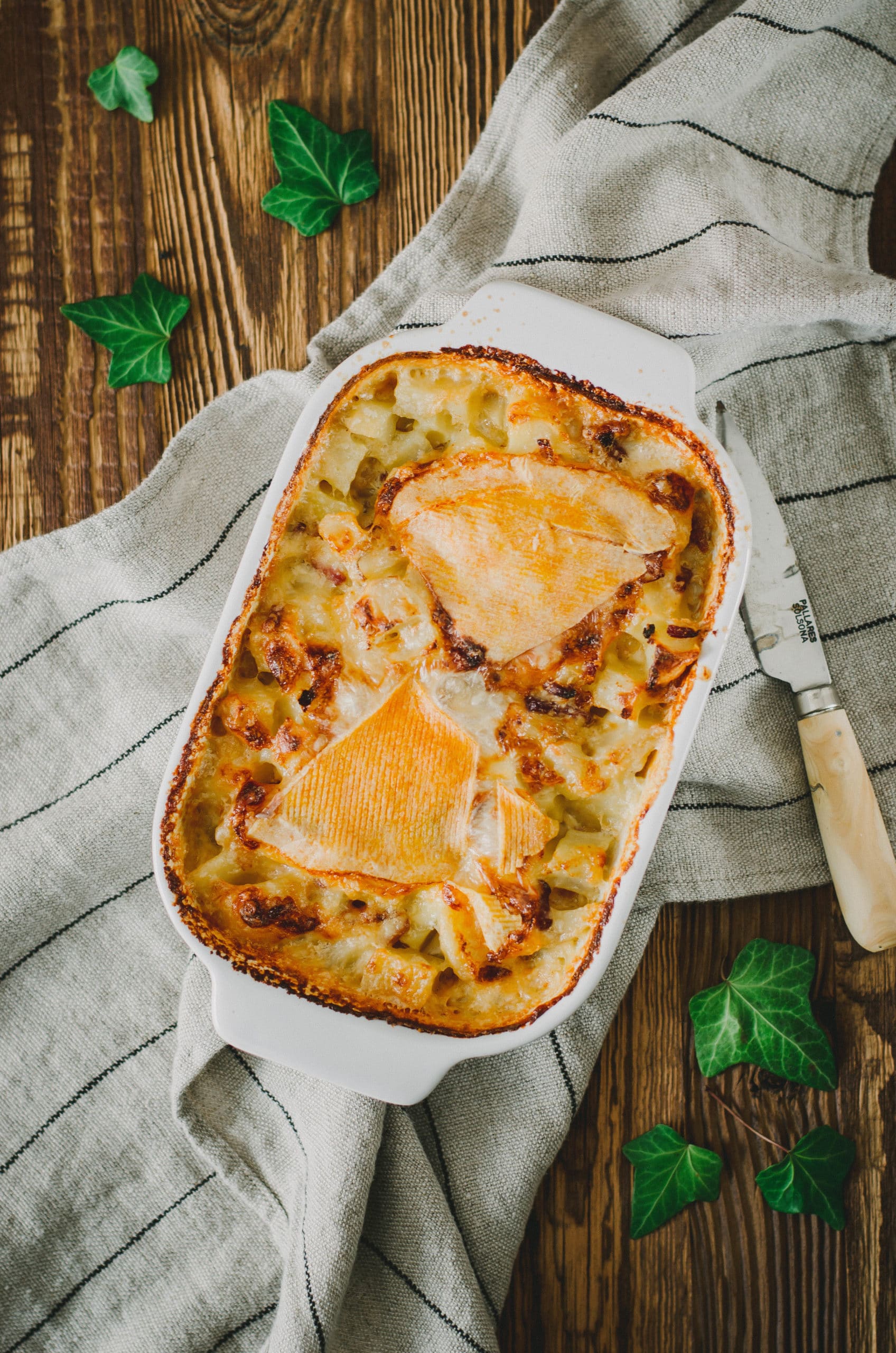 Don't judge me right away with a homemade tartiflette recipe with reblochon in April and a lot of sunshine because in fact I made this potato gratin at the beginning of the lock-in.
And yes, I had a reblochon in the fridge for a while and plenty of potatoes at home and with the lockdown and well we needed comfort.
So this tartiflette recipe was perfect.
And in fact, we don't really need any excuses and there is no season to make a tartiflette at home, right! And to tell you the truth, I even have enough to make a Swiss fondue in the next few days…. Hahahhaaa !!! 😉
Well, and so this tartiflette recipe… So on my side, I cut the potatoes in very small cubes so that they cook faster and that the reblochon cheese is well distributed in the dish.
My little trick to melt the potatoes, I proceed as for a gratin dauphinois, I precook them a little in milk with a little garlic and then I cook them slowly in the oven.
It's a real delight and I really invite you to try it! I leave you with the details of the recipe below…
Tartiflette – Potato Gratin with Reblochon Cheese Recipe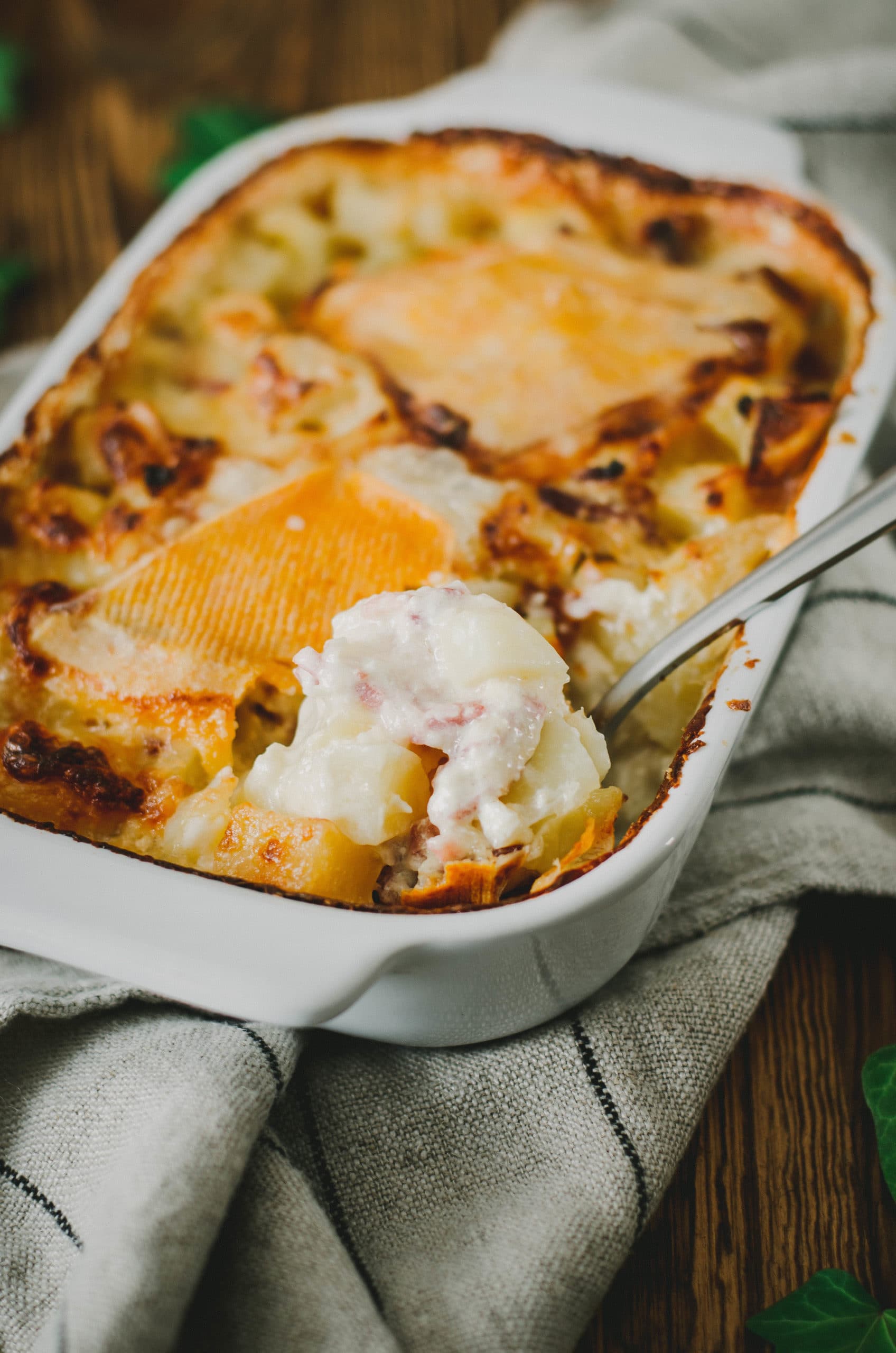 What ingredients will you need to make this tartiflette recipe at home?
firm-fleshed potatoes
whole milk
reblochon cheese
smoked lardons
dry white wine
onions
garlic
grated nutmeg
whipping cream
pepper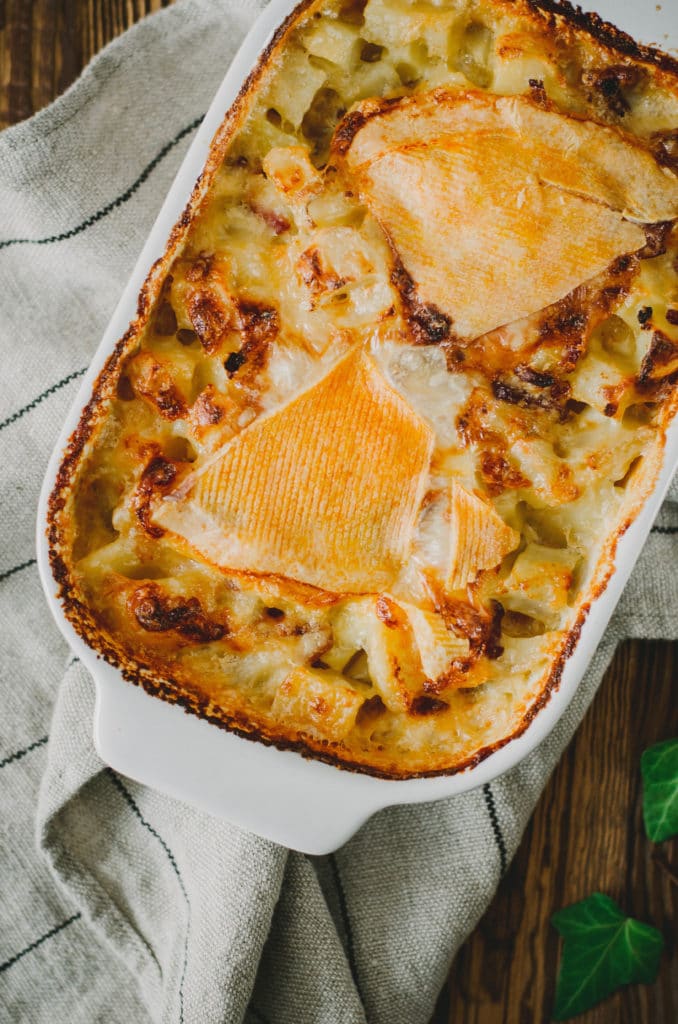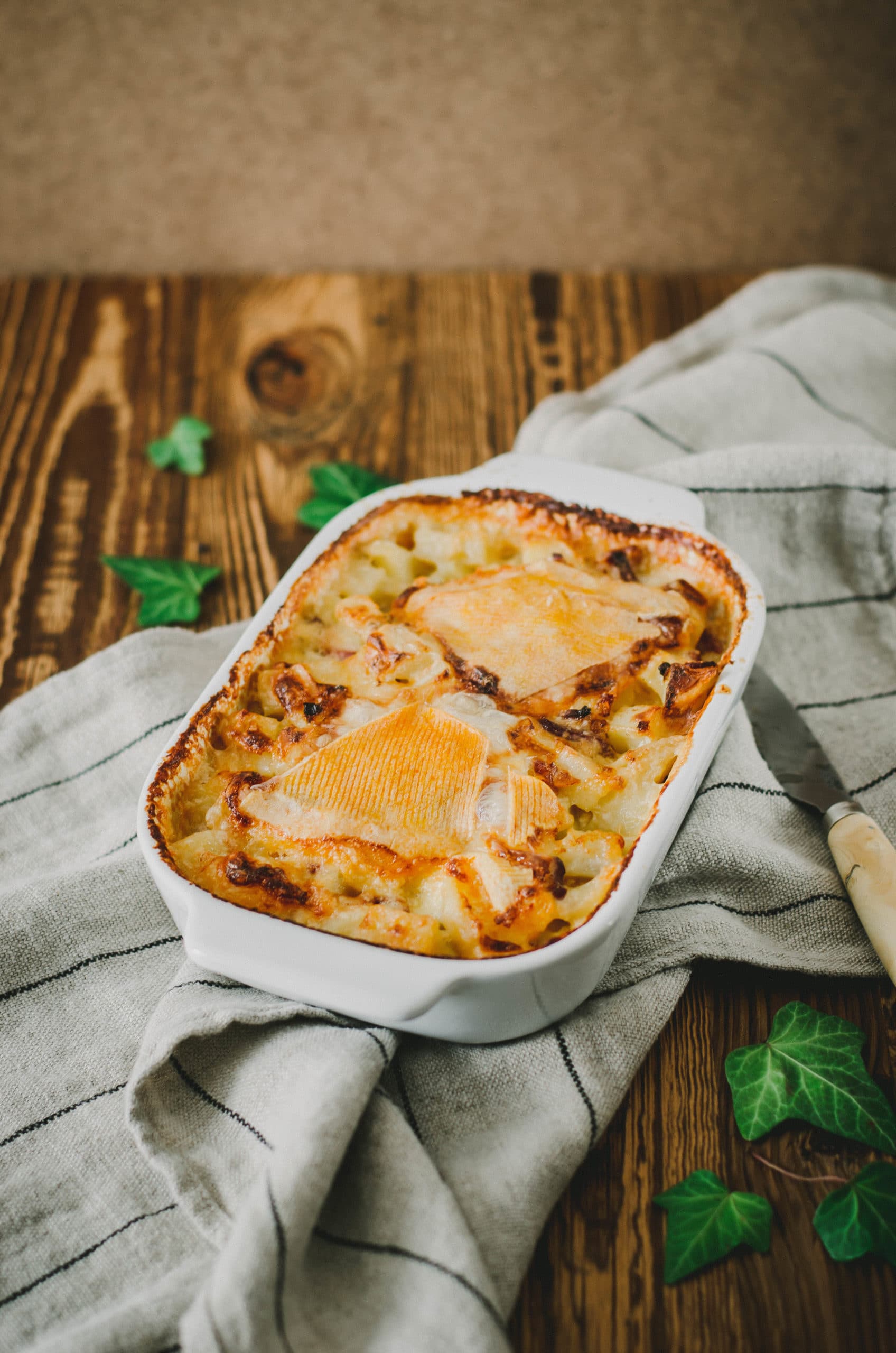 If you are a fan of cheese and like this type of recipe, here are some ideas you might like: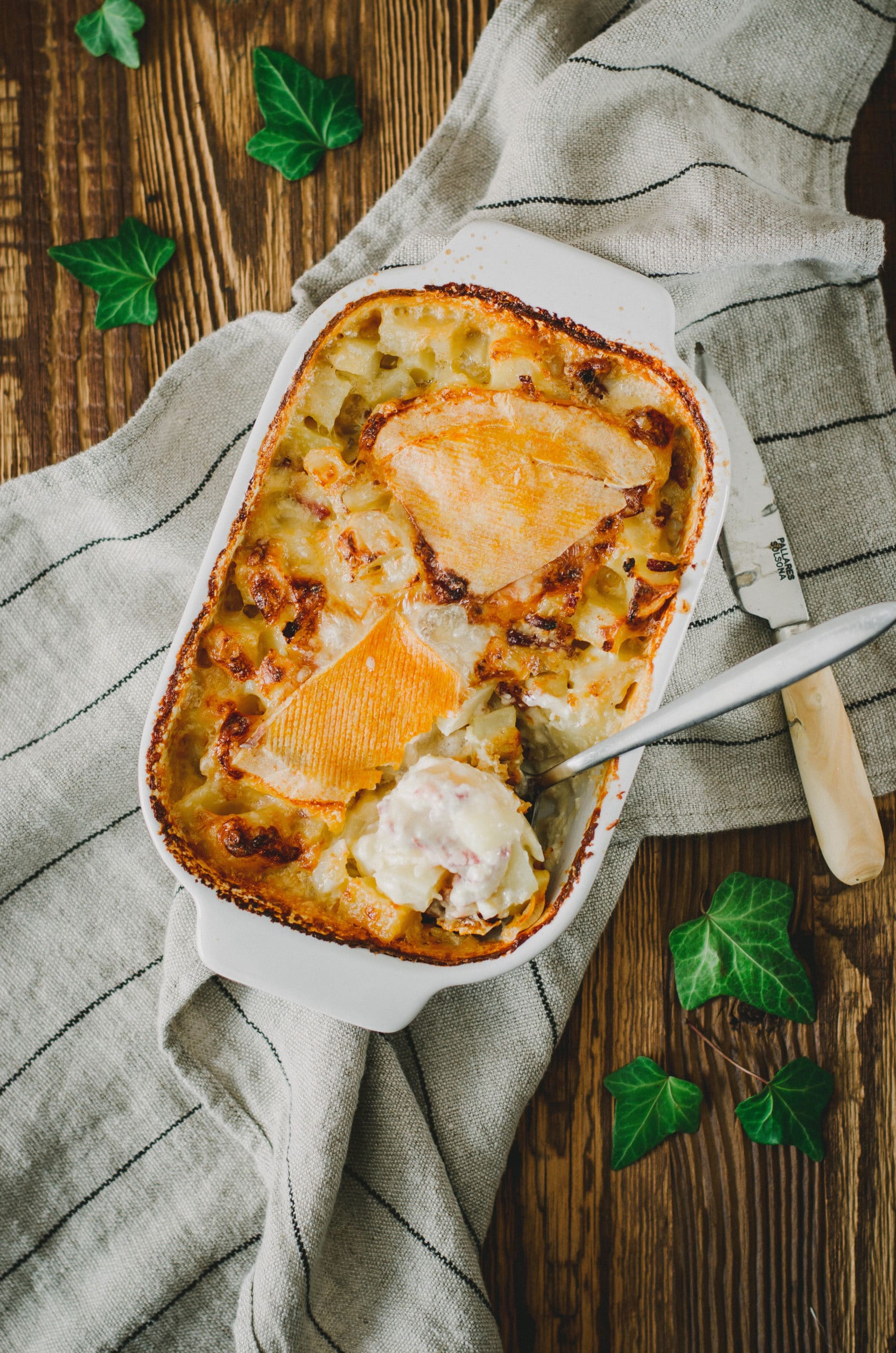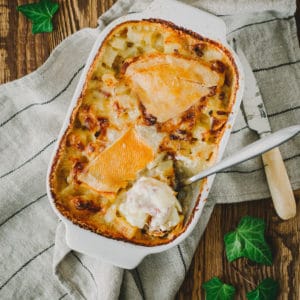 Tartiflette – Potato Gratin with Reblochon Cheese Recipe
Ingredients
1,5

kg

firm potatoes

30

cl

whole milk

500

g

Reblochon cheese

200

g

smoked bacon

5

cl

dry white wine

3

onions

finely chopped

1

clove of garlic

grated nutmeg

10

cl

whipping cream

black pepper
Instructions
Peel and wash the potatoes whole.

Cut them into small cubes of about 1 to 1.5 cm.

Put them in a large saucepan with the milk and half the pressed garlic clove. Cook over low heat, covered, for 15 to 20 minutes, stirring gently from time to time.

In the meantime, in a frying pan, brown the lardons, then add the finely chopped onions and the remaining pressed garlic. Let brown, then add a pinch of nutmeg and the white wine. Cook gently until the wine evaporates.

Preheat your oven to 150°C.

Gently toss the potatoes with the bacon and onion mixture. The milk from the potatoes should have almost evaporated.

In a casserole dish, place the potatoes and bacon. Add the cream and cover with the cheese. For the cheese, cut it in 2 in the thickness then in quarters and put it on the top of the gratin.

Bake for 1 hour so that the gratin cooks gently and all the flavors develop.

Serve as soon as it comes out of the oven so that it is hot, accompanied by a green salad, it will be even better.
If you ever make my Tartiflette recipe and like it, feel free to tag me on Instagram or Facebook so I can see the result and share it back…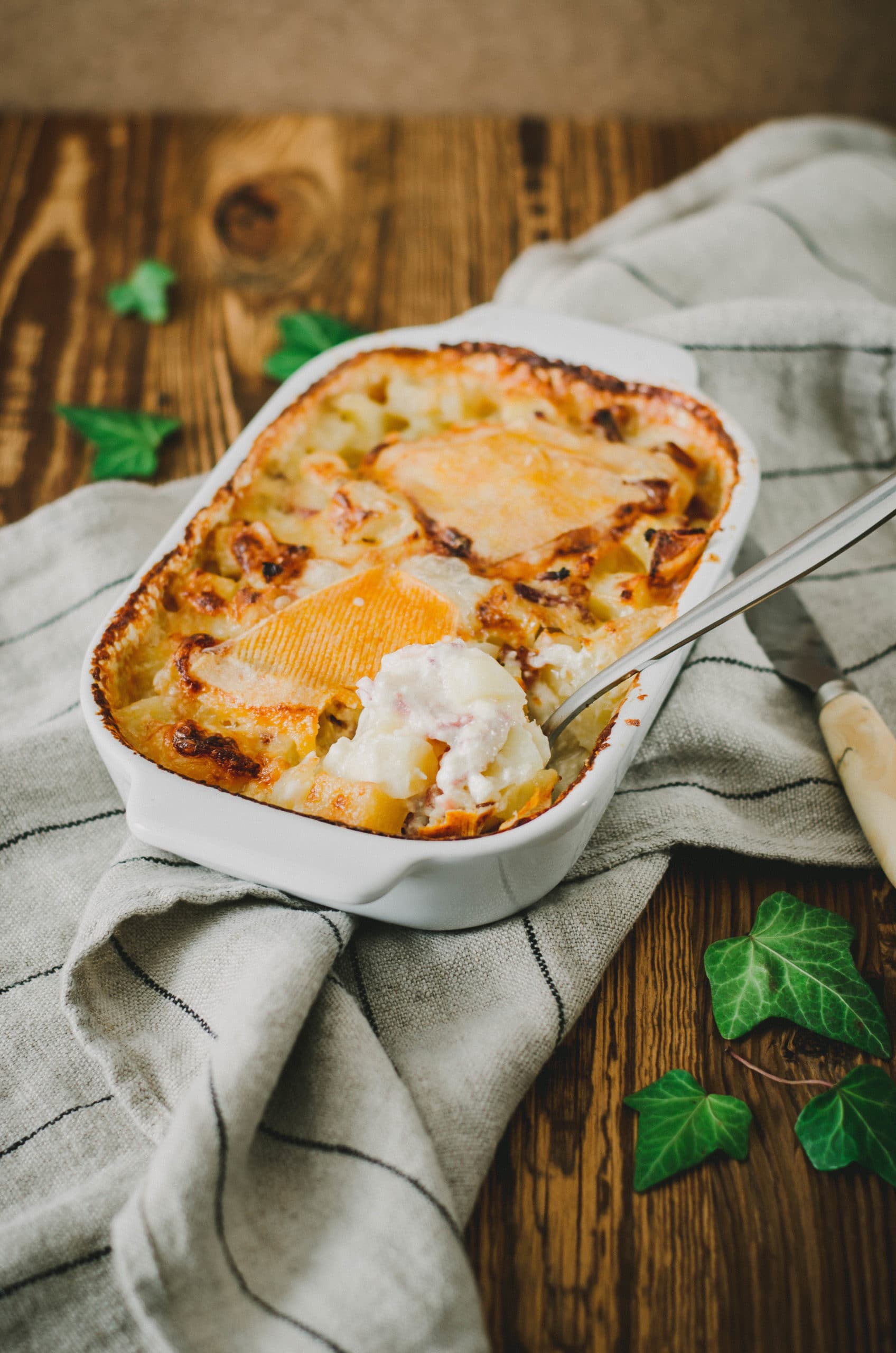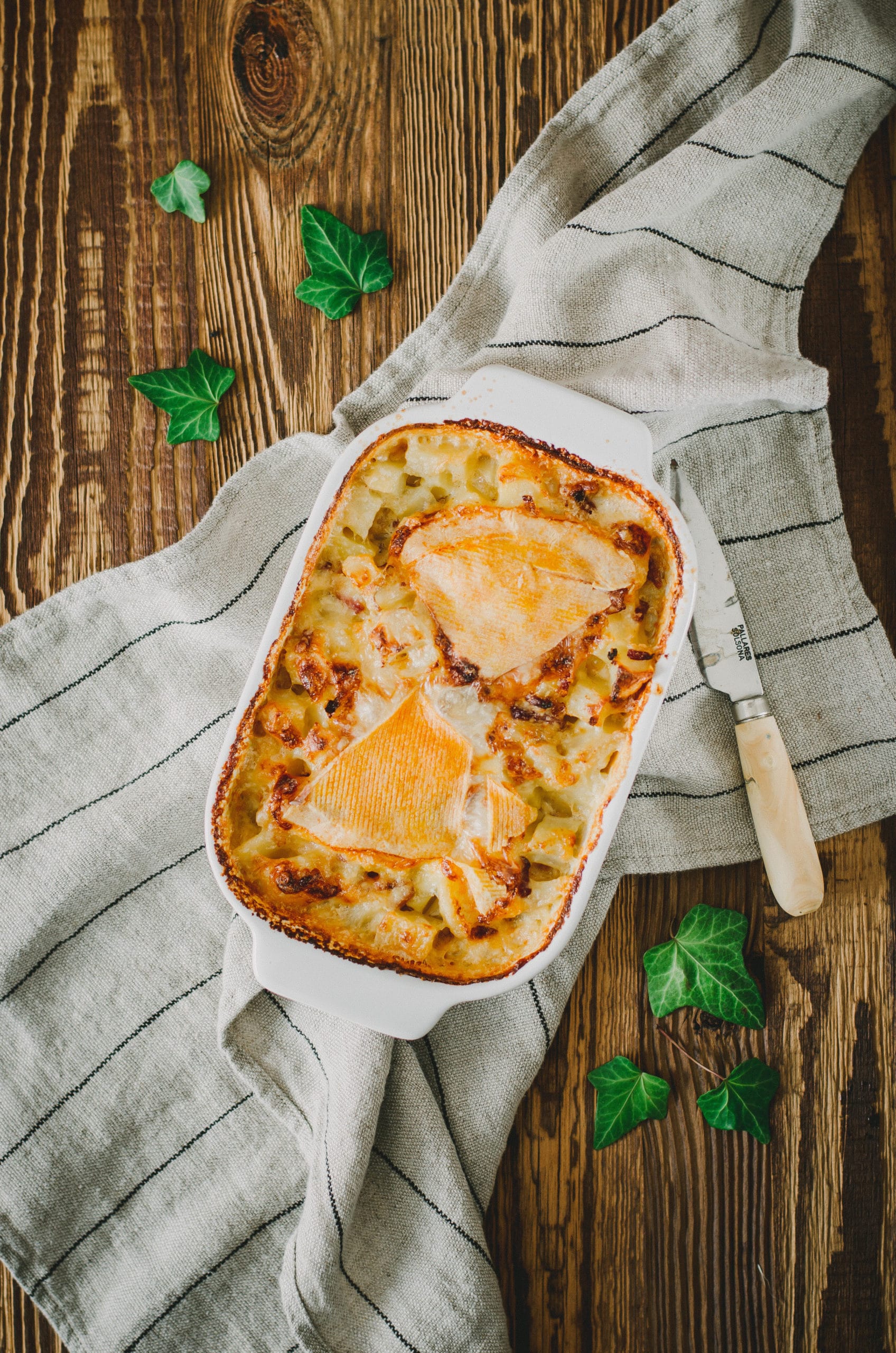 Just to let you know I am French and I translate my recipes, be indulgent if you see syntax errors and do not hesitate to leave me a comment so I can correct it. I hope you will like my recipes and enjoy your visit to my food blog!