I don't know about you but I increasingly want to enjoy good summer fruits and vegetables in winter. The problem is that I particularly want to only eat seasonal products! Well, it's not really a problem since there are solutions well known to our grandmothers and others: making pots and jams! That's why I started making homemade Rhubarb and Raspberry Jam recipe!
Plus, it's super quick and easy to make, and you don't need to have a million ingredients at home! It's very useful !
I had already tested several recipes of this type last year, such as apricot jam or tomato sauce. We enjoyed this winter so much that I'm doing it again this year…
So take advantage of it because the rhubarb season unfortunately doesn't last very long… and don't hesitate to top your toasted breakfast sandwiches or your yogurts with it for dessert, it's great!
I'm sure you can also find other ideas for enjoying this jam… 😉
Homemade Rhubarb and Raspberry Jam Recipe
WHAT INGREDIENTS do YOU NEED TO MAKE THIS DELICIOUS Homemade Rhubarb and Raspberry Jam RECIPE?
If you wish, you can even use frozen fruit, if you haven't had time to prepare your jam during the rhubarb and raspberry season… 😉
WHAT OTHER HOMEMADE JAM RECIPES YOU MIGHT LOVE AS MUCH AS ME?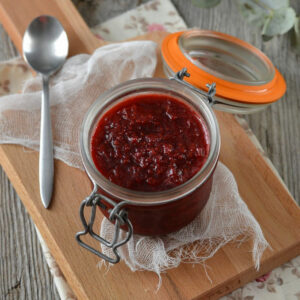 Homemade Rhubarb and Raspberry Jam Recipe
Ingredients
4

stalks of rhubarb

400

g

raspberries

300

g

powdered sugar

1

squeeze of lemon juice
Instructions
Scald your jam jars and invert them onto a clean cloth.

In a saucepan, put the raspberries, the rhubarb cut into small pieces of 1 centimeter, add the sugar, the lemon and mix.

Cook over high heat for 20 minutes, at a strong boil, stirring regularly.

Fill your jam jars as full as possible to avoid leaving too much air, close them tightly and place them upside down. Wait for them to cool before putting them right side up and storing them in the refrigerator or cupboards…
Notes
It may be ridiculous to write this, but be careful not to burn yourself, it happens quickly!
If you ever make my homemade Jam recipe and you like it, don't hesitate to tag me on Instagram @tangerinezest so I can see the result and share it myself…
Finally, just to let you know I am French and I translate my recipes, be indulgent if you see syntax errors and do not hesitate to leave me a comment so I can correct it. I hope you will like my recipes and enjoy your visit to my food blog!