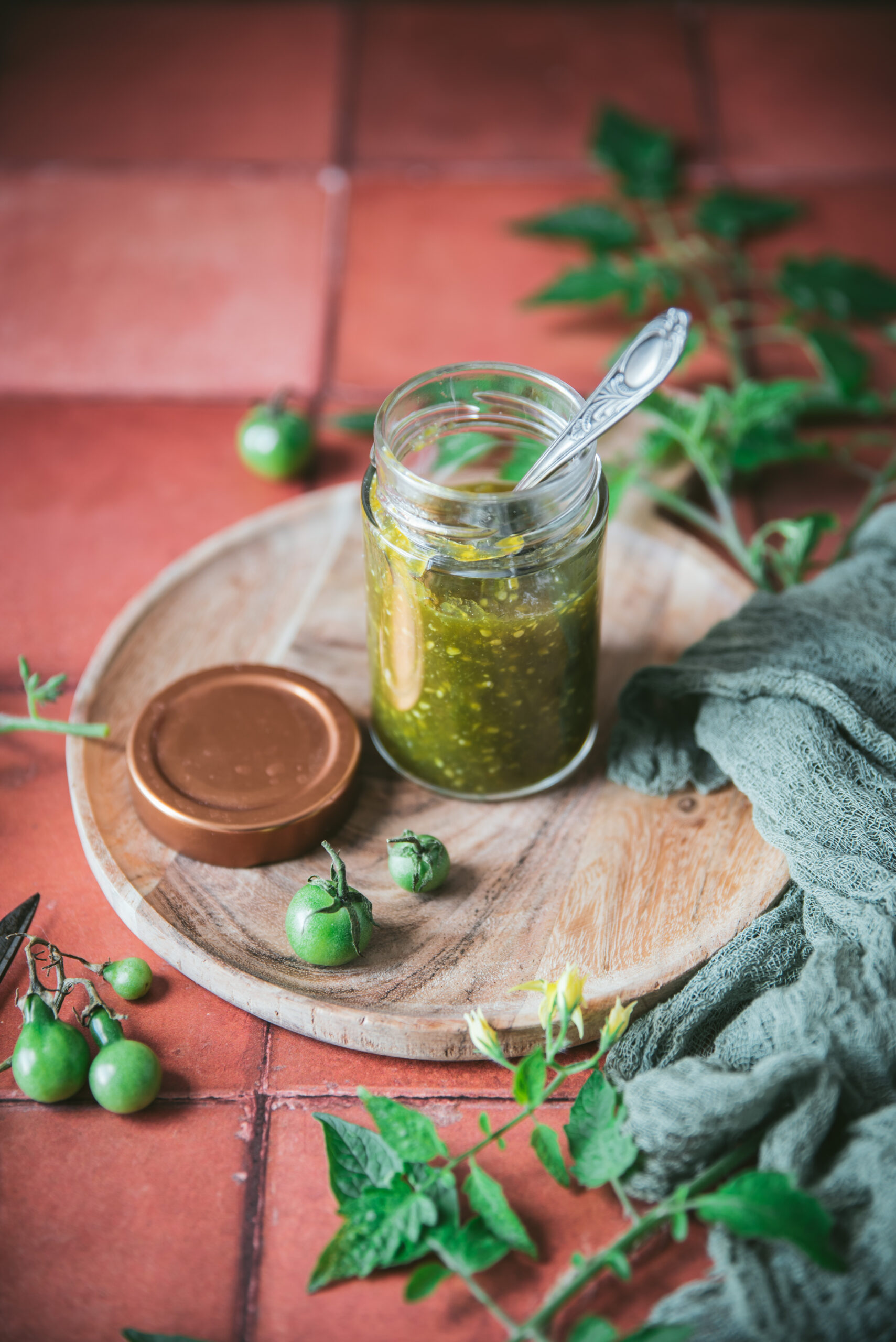 Have you ever made or eaten green tomato jam? For me it's a first and it's really very very good!
In the spring, we had planted several varieties of small tomato stalks on our terrace and after the hot weather, they had a new life.
When the rain arrived, the plants that I thought were roasted, turned green again and even bloomed again when I thought I had to pull them up a few days earlier.
I left them just to have a little green on the terrace, and finally, one day like that, I realized that there were plenty of small tomatoes… What a surprise!
Of course, they were overtaken by the arrival of the cold and I said to myself that I could not leave them like that. So that's when I came up with the idea of ​​making a single jar of green tomato jam. 🙂
I started with a big bowl of small tomatoes and it's exquisite! I'm sure with nice green tomatoes, it must be even better.
So, you like it ? You may have a few tomatoes that won't ripen but you didn't want to waste.
Green tomato jam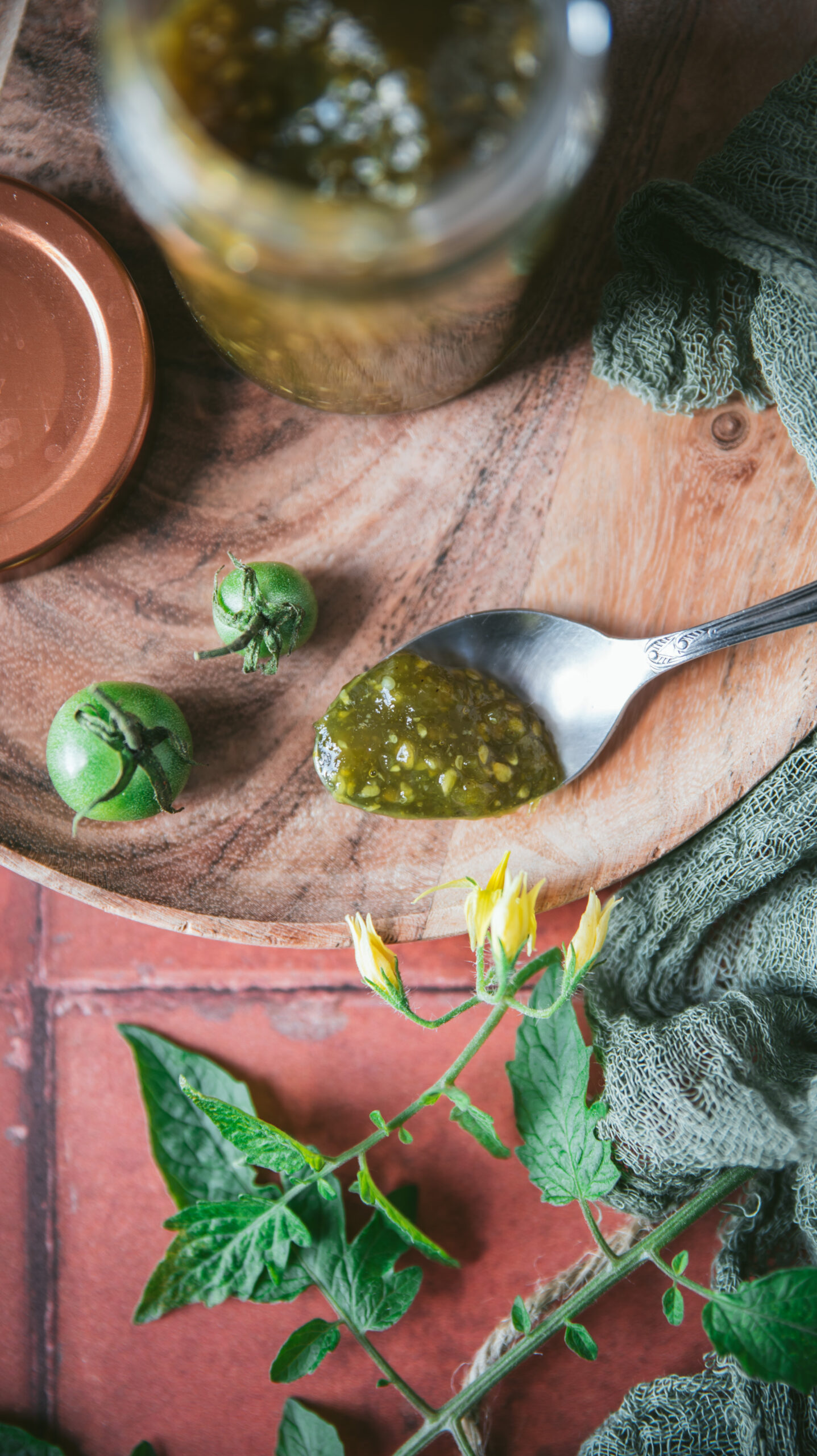 What are the ingredients you will need to make this delicious homemade Green Tomato Jam recipe?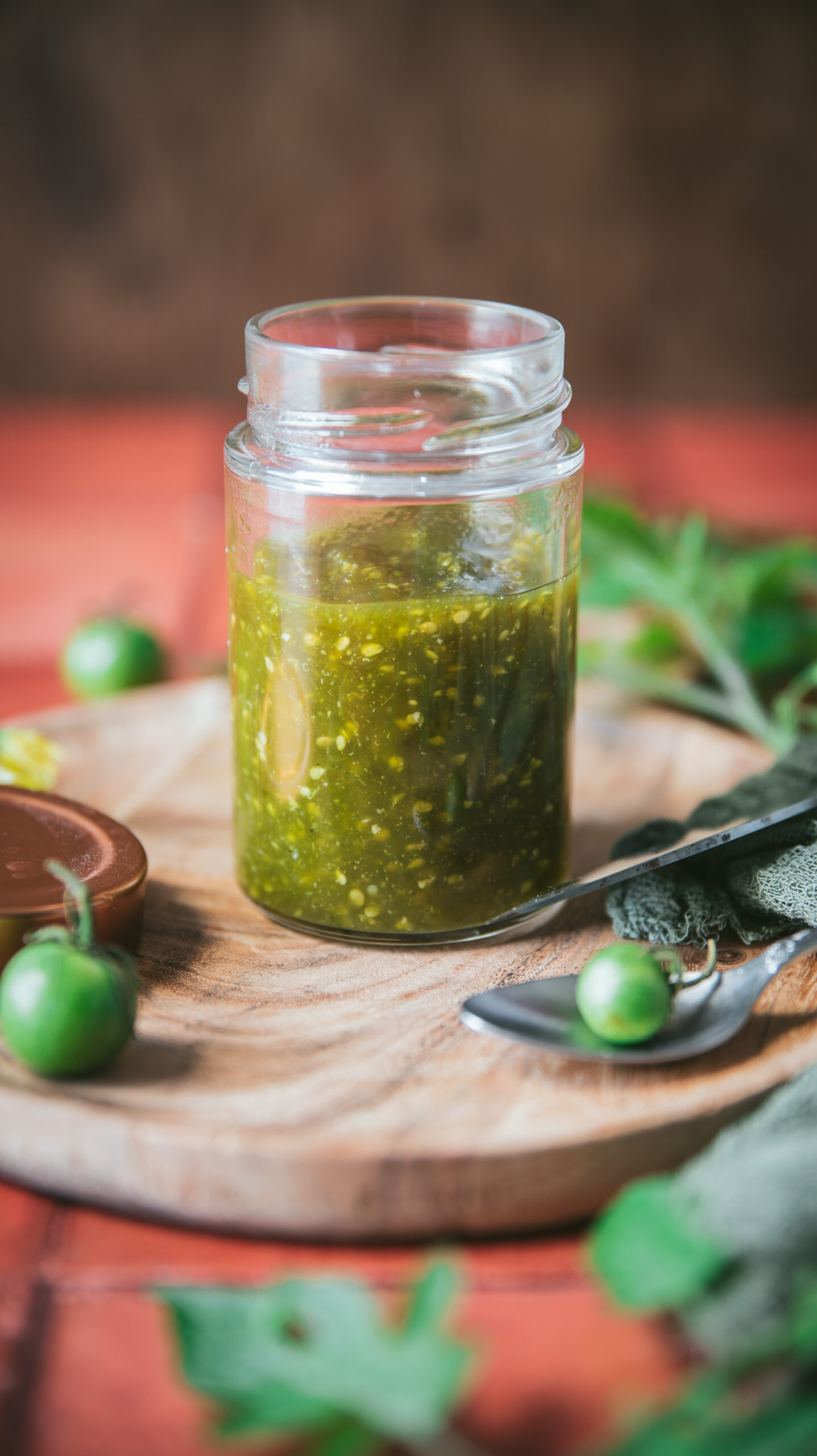 With what types of tomatoes can you make green tomato jam?
Did you know that green tomato jam is not made with tomatoes of a variety that stays green, but in fact, it is made with tomatoes that will not have time to ripen… 😉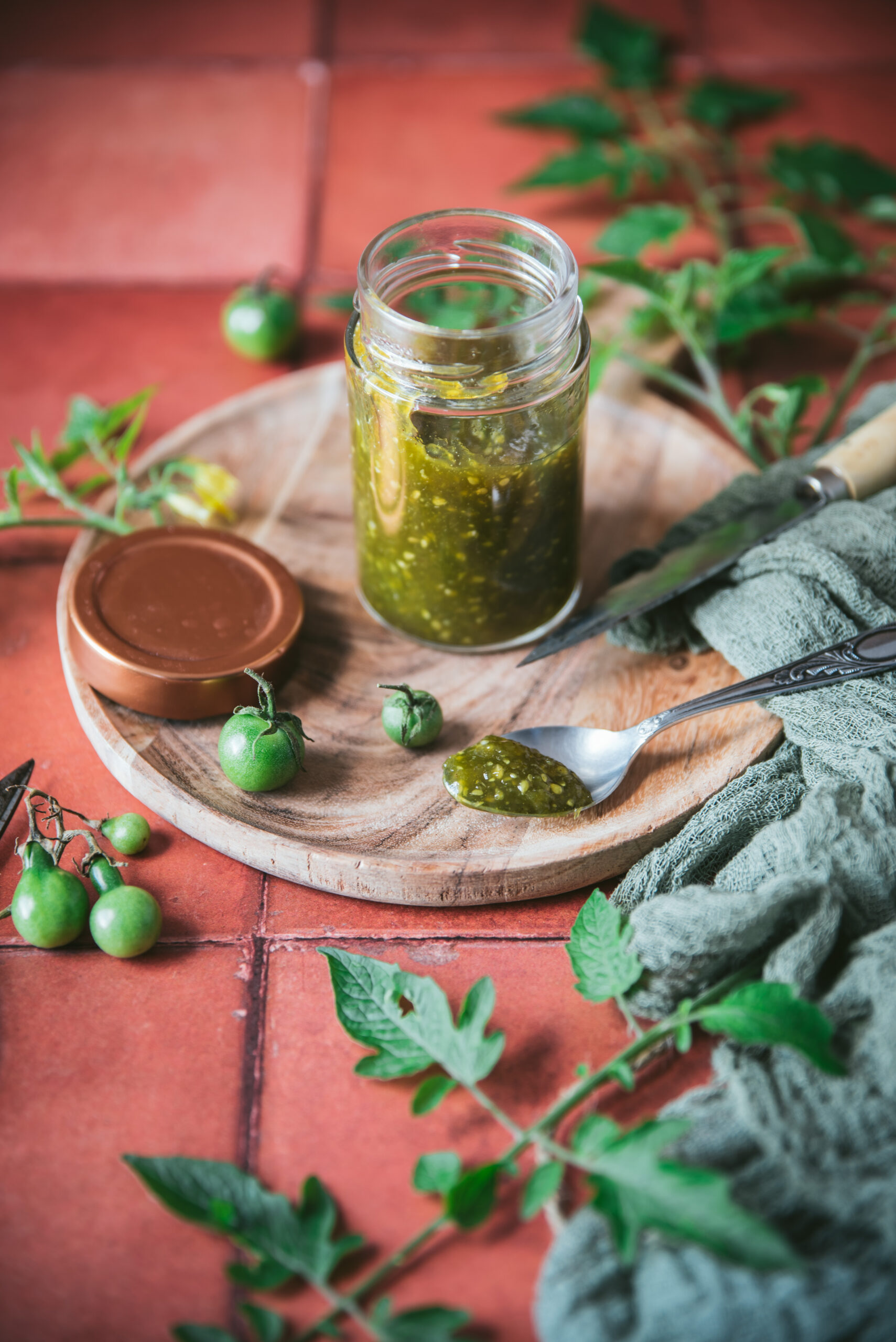 What to eat with this jam?
This jam is obviously eaten like any other jam! On toasted sandwiches at breakfast, in milk rolls at snack time, in plain yoghurts, with cottage cheese…
You can also try a sweet and savory version, with cheese toast, goat cheese for example, toast for an aperitif, and add a touch of this jam to them. It also goes very well with raw ham.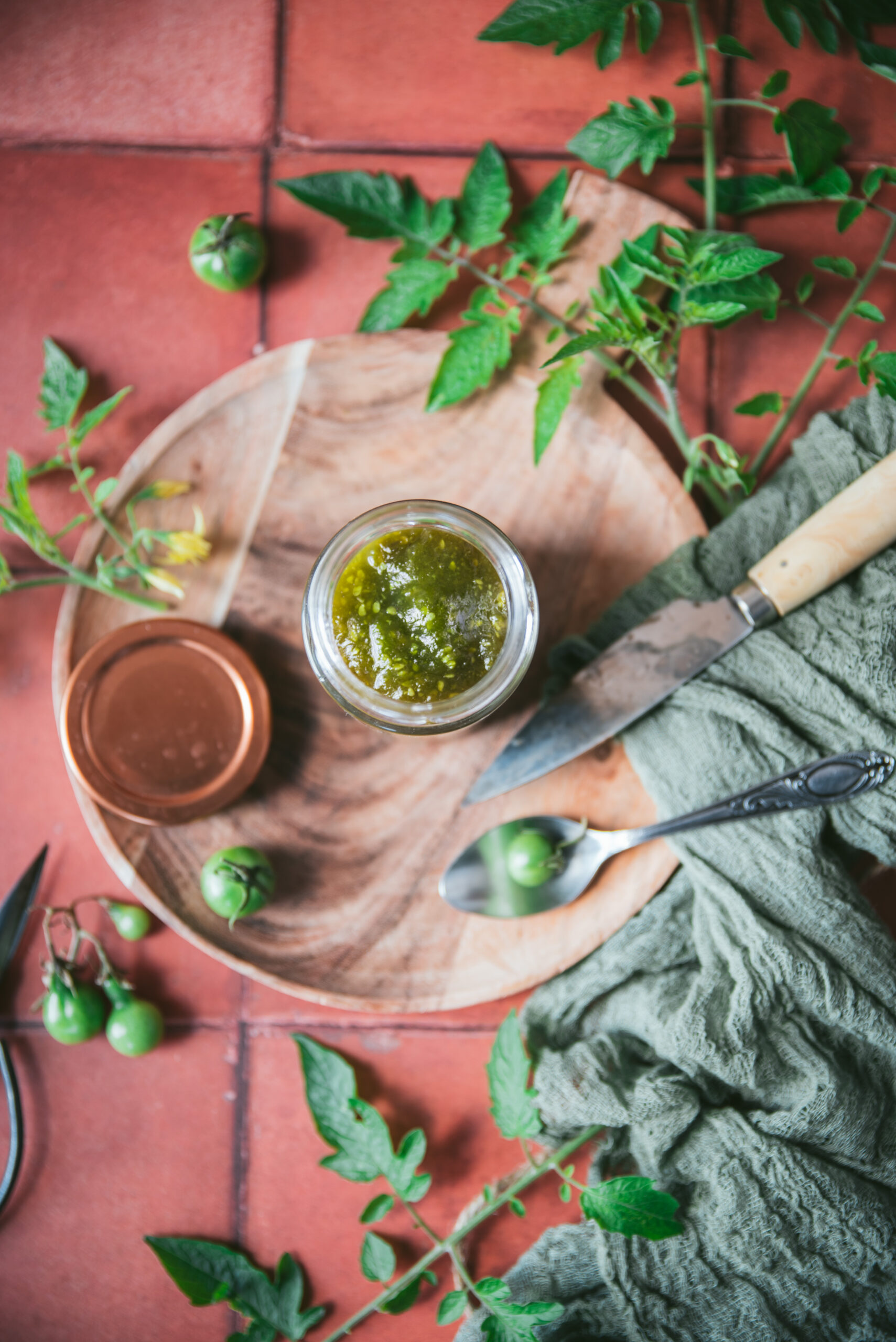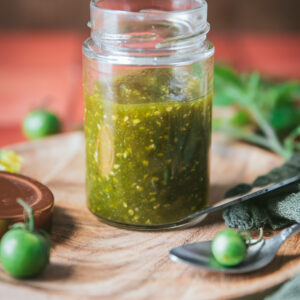 Green Tomato Jam
Ingredients
400

g

green tomatoes

150

g

powdered sugar

1

organic lemon

for juice

1

pinch

cinnamon powder
Instructions
Wash your tomatoes and cut them into pieces.

In a bowl, combine tomatoes with sugar, lemon juice and cinnamon. Strain and store in the refrigerator for at least 12 hours.

Heat your mixture and when the sugar is completely dissolved, cook over high heat for 10 minutes, stirring regularly. Skim off the foam.

Put everything in a blender and blend finely.

Lower the heat and continue cooking for 25 minutes, stirring regularly.

Then pour your jam into sterilized jars and turn them over until they are cold.
If you make my jam recipe and you like it, don't hesitate to tag me on Instagram or on Facebook so that I can see the result and share it myself…
Just to let you know I am French and I translate my recipes, be indulgent if you see syntax errors and do not hesitate to leave me a comment so I can correct it. I hope you will like my recipes and enjoy your visit to my food blog!