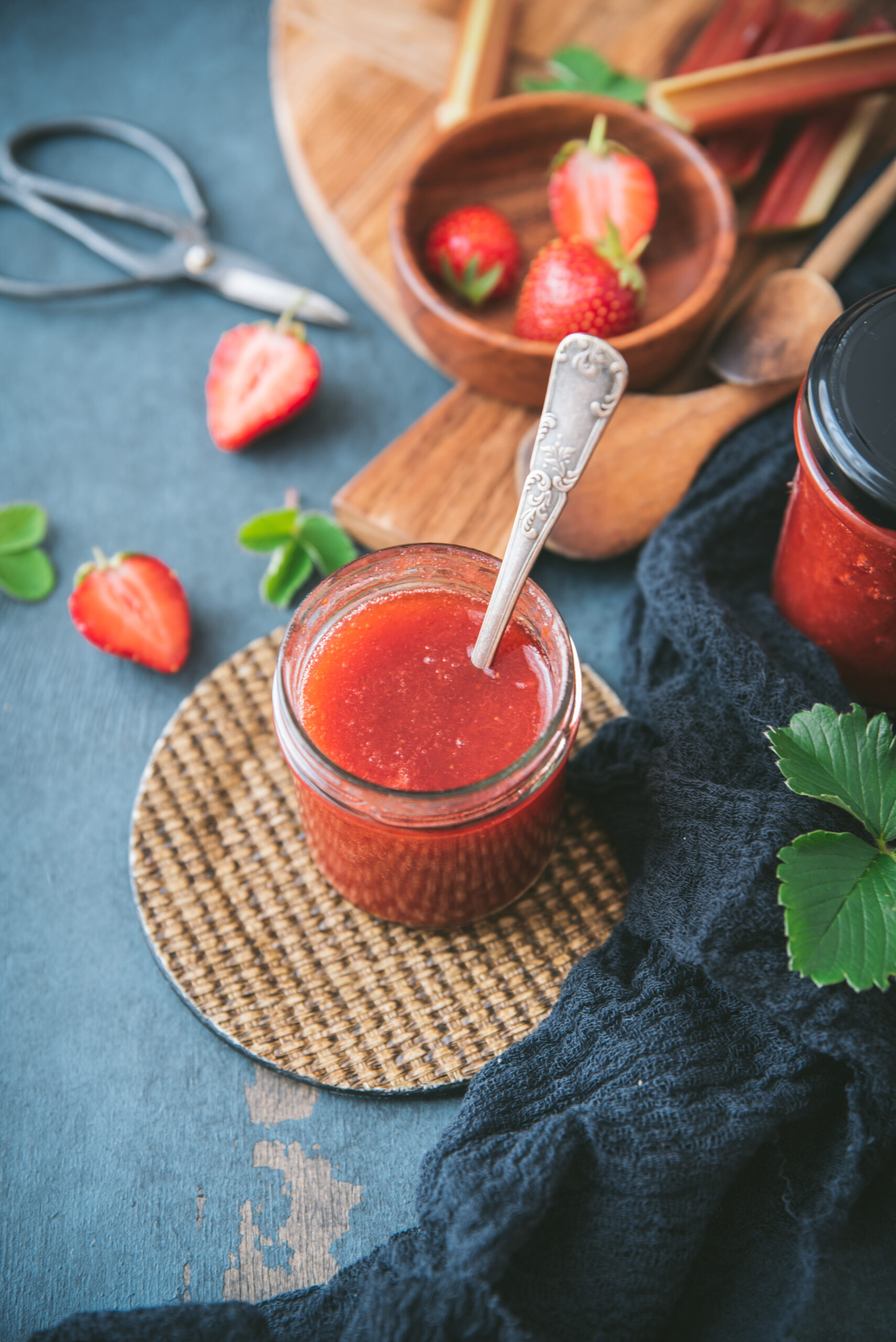 Every year or season, I like to make a few jars of homemade jam for the following season. This time, I tried strawberry-rhubarb jam and it's a real treat.
I have to admit that at home, it's almost impossible to make recipes with strawberries, let alone cook them, as they're devoured before you even have time to say woof….
But strawberry jam is a family favorite, so this year I forced myself to buy some specially to make this recipe for strawberry jam with rhubarb.
Strawberries are an expensive fruit, and I find that combining them with rhubarb makes it possible to have several jars and makes the recipe more economical but just as delicious.
Strawberry Rhubarb Jam Homemade Recipe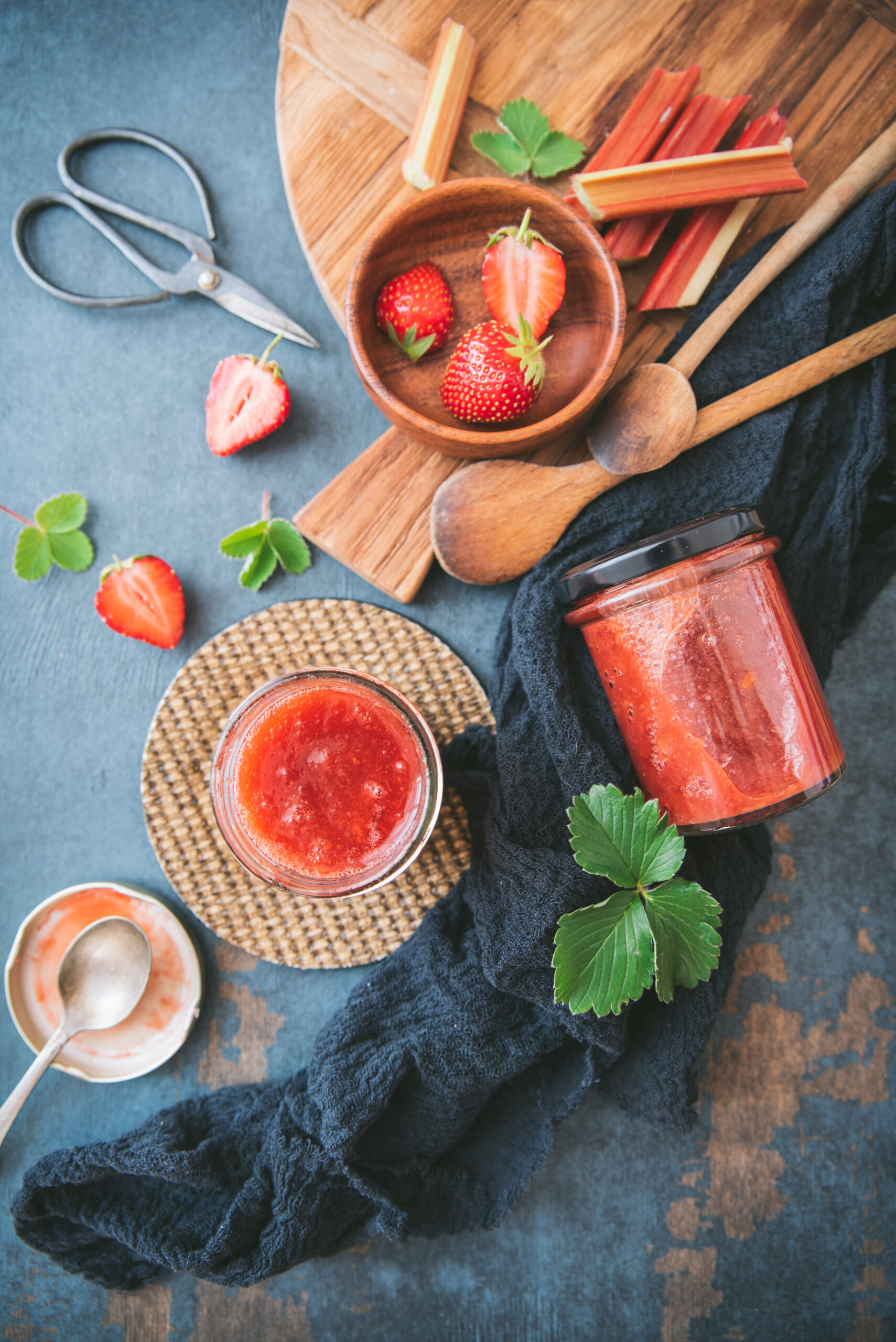 What ingredients do you need to make this strawberry-rhubarb jam recipe?
granulated sugar
lemon juice
At home, jars of jam don't last long… We eat a lot of them for breakfast on toast, and everyone has their own preferences.
As a result, since we consume our jams quickly at home, I tend to sweeten them less because we don't need to keep them for long, but also because I like them. I tend to sweeten everything less, even cakes. So, if you need to keep your jams longer (more than one season), don't hesitate to add some.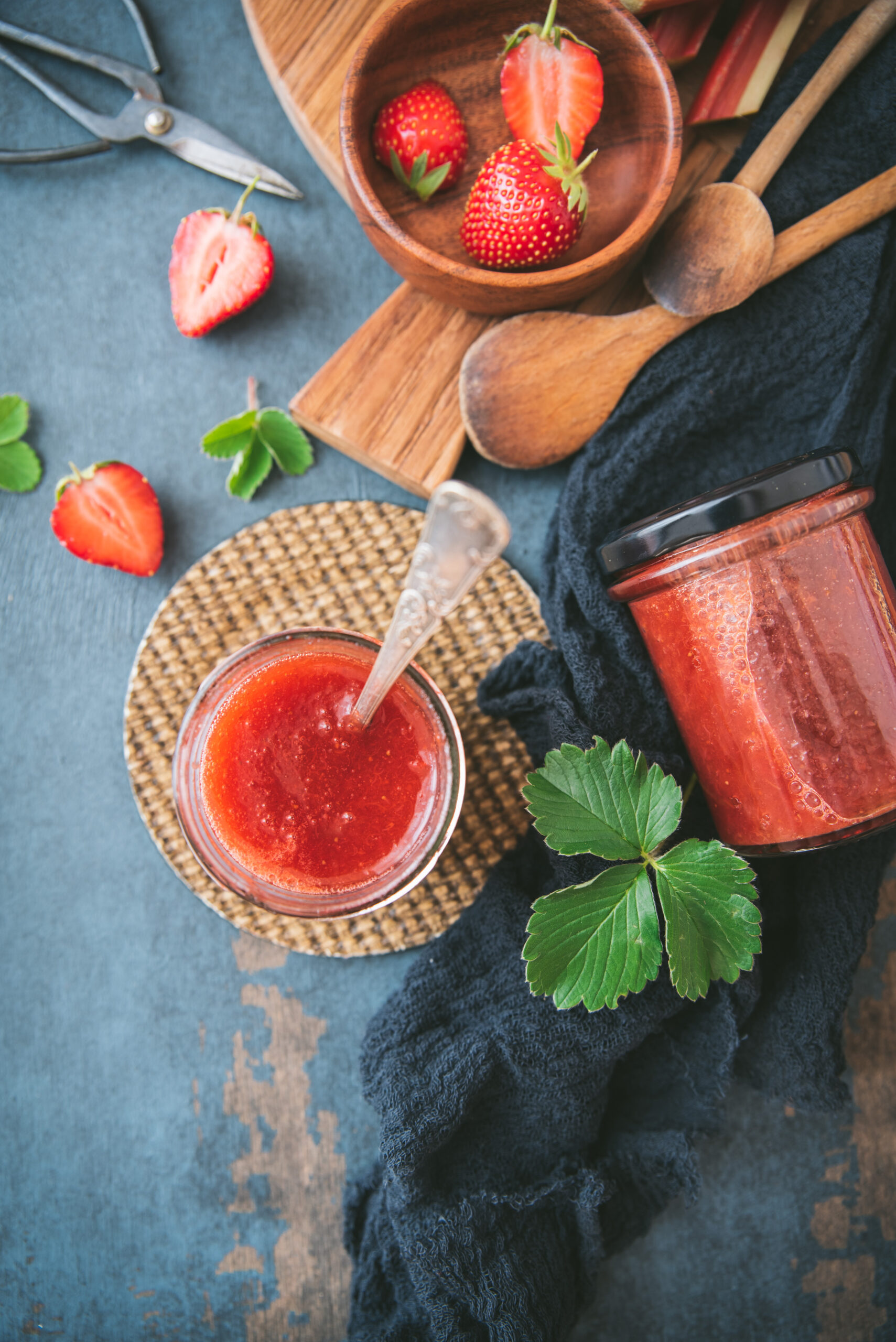 How do you prepare your fruit to make this jam?
Personally, I like jams with few or no pieces. So, either I put the jam in a blender before putting it in the jar (I know purists don't), or I cut my fruit into tiny pieces.
How do you check that your jam is ready?
Pour a generous drop of jam onto the top of a plate and tilt; the jam should set quickly without falling off the plate.
How can you sterilize your jam jars?
This step is important for the cleanliness of your jars, but above all for the preservation of your jams. You need to soak the jars and caps in boiling water and leave them to dry on a clean cloth.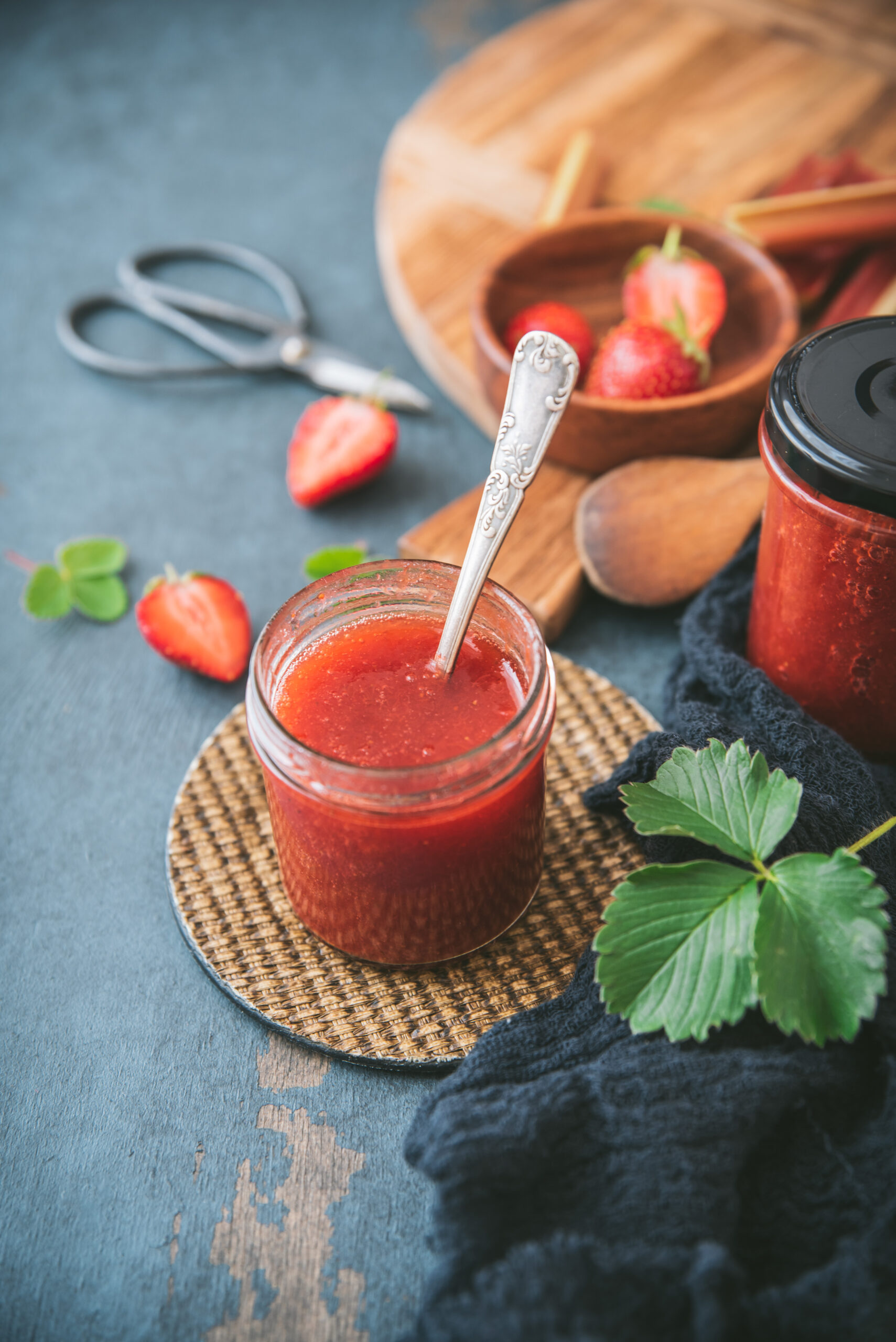 What other homemade jam recipes would you love as much as I do?
And you, what is your favorite jam ???
What other recipes can you make with strawberries?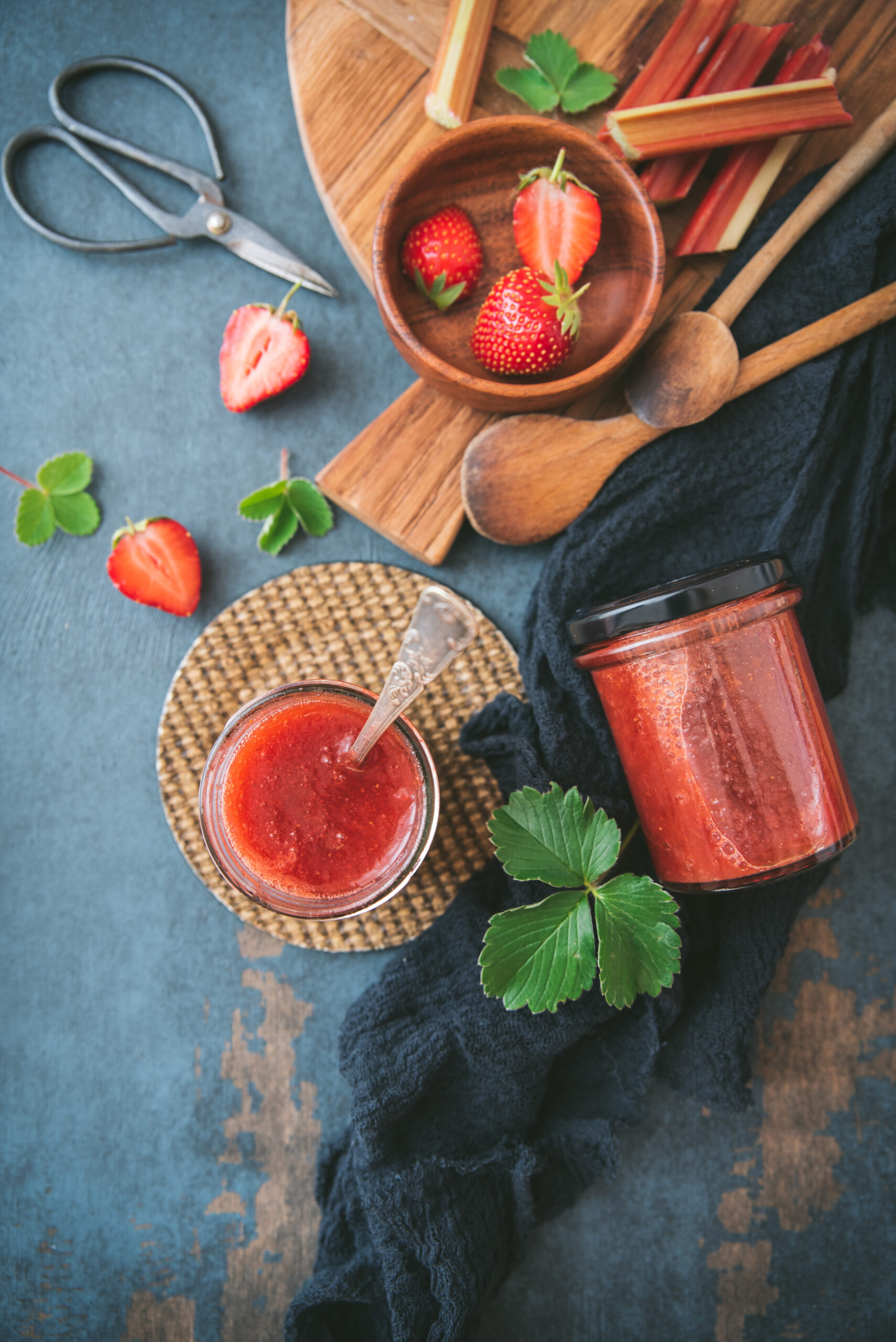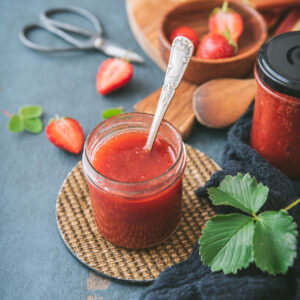 Strawberry Rhubarb Jam Homemade Recipe
Ingredients
250

g

strawberries

250

g

rhubarb

250

g

granulated sugar

1/2

lemon juice
Instructions
Wash the strawberries, hull and cut into pieces. Pour into a bowl, add 50 g sugar and mix well.

Peel rhubarb stems and cut into very small sections. Pour into a bowl, add 200 g sugar and mix well.

Start by heating the rhubarb in a saucepan over medium heat. When hot, simmer gently for around 10 minutes, stirring occasionally.

After 10 minutes, add the strawberries and lemon juice and cook for around 20 minutes.

Check that the jam is ready by pouring a generous drop of jam onto the top of a plate and tilting it. The jam should set quickly, but not slide off the plate too much.

If it doesn't, extend the cooking time by 5 minutes.

Then fill your jars with sterilized jam. Be careful not to burn yourself.

Close your jars and turn them upside down until they have cooled.
If you ever make my homemade Strawberry Rhubarb Jam recipe and like it, feel free to tag me on Instagram or Facebook so I can see the result and share it back…
Just to let you know I am French and I translate my recipes, be indulgent if you see syntax errors and do not hesitate to leave me a comment so I can correct it. I hope you will like my recipes and enjoy your visit to my food blog!