I'm continuing my homemade bread adventure, and still without a machine. This time, I made a great classic from my region, a nut bread recipe, and I varied the classic flour with a multi-grain flour I found at the little organic market next to my house. Let me to tell you, I could only eat two or three slices, Fab having gobbled up the rest! So would you like my Multi-Grain Flour Walnut Bread Recipe?
It's the perfect recipe for the next cocooning Sunday at home and it marks, for me, the passage of my blog in autumn mode. Beware, these recipes will be colorful, using the good products that this period offers 😉 There are still beautiful tomatoes, zucchinis and eggplants at the market, so let's not switch too quickly anyway…
Multi-Grain Flour Walnut Bread Recipe
What ingredients do you need to make this delicious homemade bread recipe?
T55 flour
multigrain flour
water
salt
fresh baker's yeast or 1 packet of rehydrated baker's yeast
shelled walnuts
What other bread recipes might you want to try?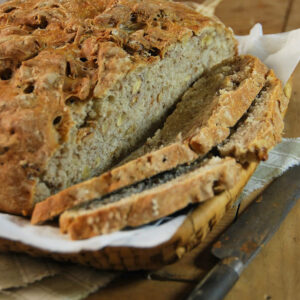 Multi-Grain Flour Walnut Bread Recipe
Ingredients
200

g

flour

300

g

multigrain flour

30

cl

water

1

teaspoon

salt

12

g

fresh baker's yeast

or 8 g of dehydrated baker's yeast

1

bowl

shelled walnuts
Instructions
In a bowl, pour all ingredients: flours, water, salt, yeast and nuts. Mix everything together by hand. When the dough starts to form, knead it into a ball.

Do not hesitate to work the dough on your work surface. It should be elastic and not stick anymore.

To push the dough, I recommend that you lightly oil the bowl in which the dough will rest, using a paper towel.

Form the dough into a ball, place it in your bowl and cover it with a clean, dry cloth. Leave it at room temperature for 3 hours. The dough should have at least doubled in size.

Shape the dough into a ball and place it on a baking sheet lined with parchment paper. Lightly flour the ball and make indentations (in this case star-shaped) with a clean, sharp knife.

Place a clean tea towel over the ball and let sit for another 40 minutes at room temperature.

Preheat your oven to 210°C and place a pie pan filled with water at the bottom.

Bake in the oven at half height for 30 minutes. Then turn your bread over and continue baking for another 5 minutes at 180°C.

Then let your bread cool on a rack outside the oven.
If you ever make my Multi-Grain Flour Walnut Bread recipe and like it, feel free to tag me on Instagram or Facebook so I can see the result and share it back…
Baking the bread in a moist environment will allow it to have a nicely colored and crispy crust.
This nut bread was perfect with the different cheeses we had at home. In particular, we had a little brillat-savarin with truffles! A little gustatory wonder. If you haven't tried it yet, you absolutely must!
Just to let you know I am French and I translate my recipes, be indulgent if you see syntax errors and do not hesitate to leave me a comment so I can correct it. I hope you will like my recipes and enjoy your visit to my food blog!