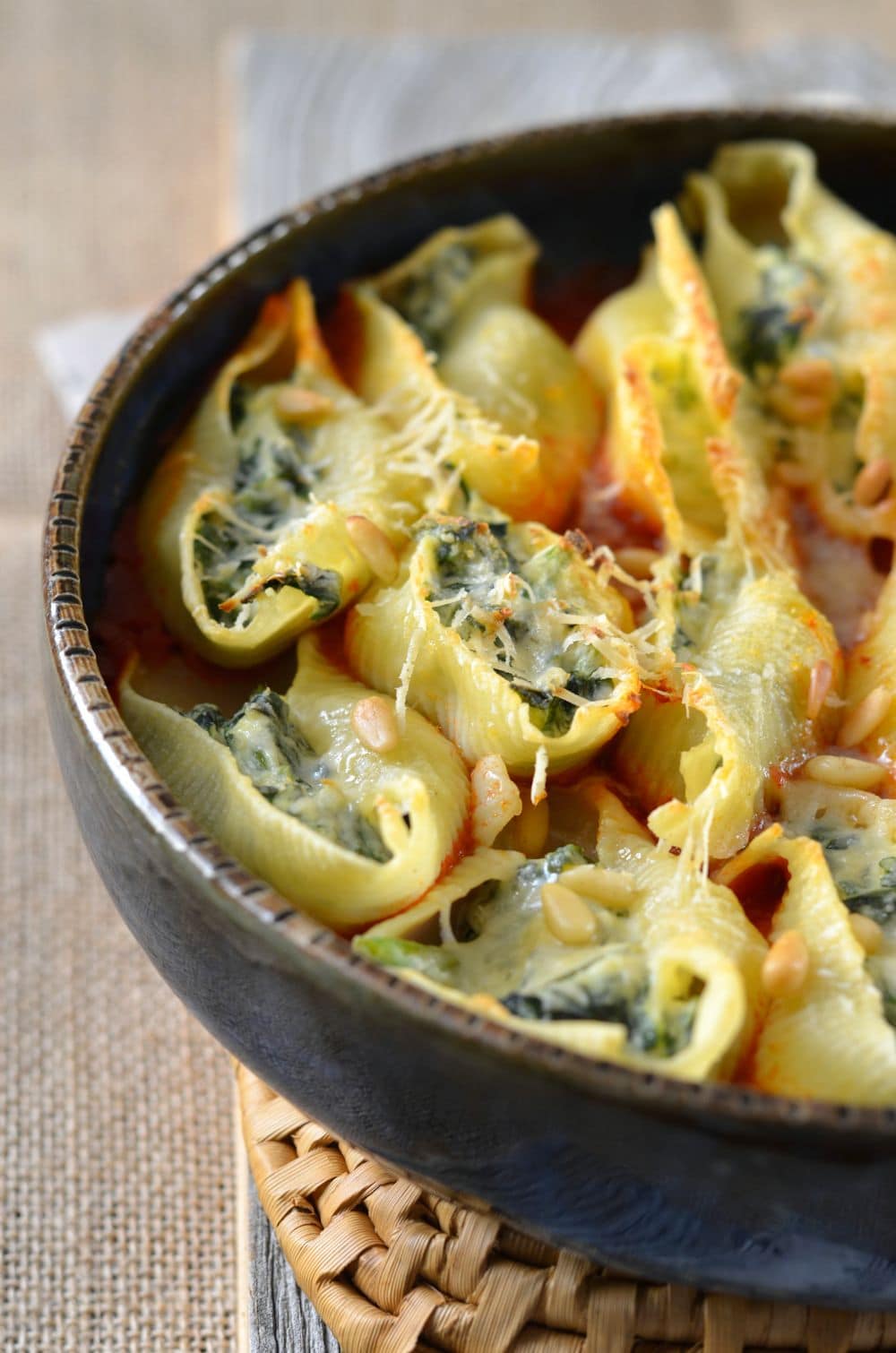 Conchiglioni pasta stuffed with ricotta cheese and spinach is a dish I've been wanting to make for a very long time.
I must admit that I love pasta!
I love it so much that, even if I don't make it, I think I could eat it every day. That's what I used to do before I had this cooking blog and especially when I was a student… 😉
And here, with the famous spinach and ricotta mixture, it's really great… We associate a small tomato sauce with it and it is the top!
If you are also a fan of the ricotta-spinach association, you will surely like my vegetarian cannelloni or my appetizer turnovers…
And since I still have some conchiglioni left, I think I will try another recipe soon. I'm not sure which one yet, but if you have any ideas, I'm in! Maybe I'll try a version other than vegetarian, like bolognese, or in the fall, with squash, I'll see…
Conchiglioni pasta stuffed with ricotta and spinach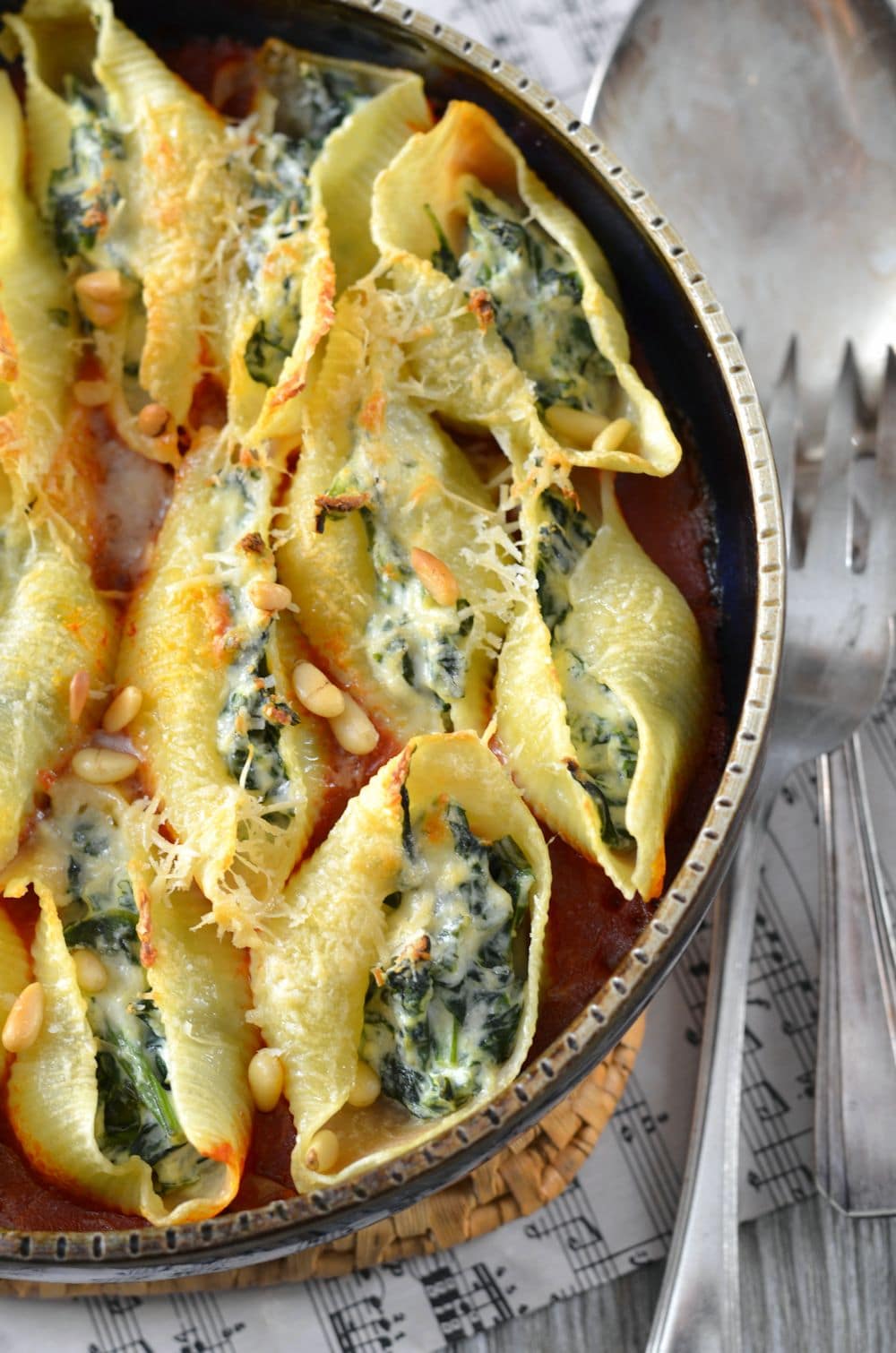 WHAT INGREDIENTS WILL YOU NEED TO MAKE THIS DELICIOUS RECIPE FOR Ricotta and Spinach Stuffed Conchiglioni Pasta?
fresh spinach
egg
parmesan cheese
nutmeg
salt and pepper
tomato sauce
garlic
olive oil
pine nuts
The details of the quantities for each ingredient is indicated more in the recipe below.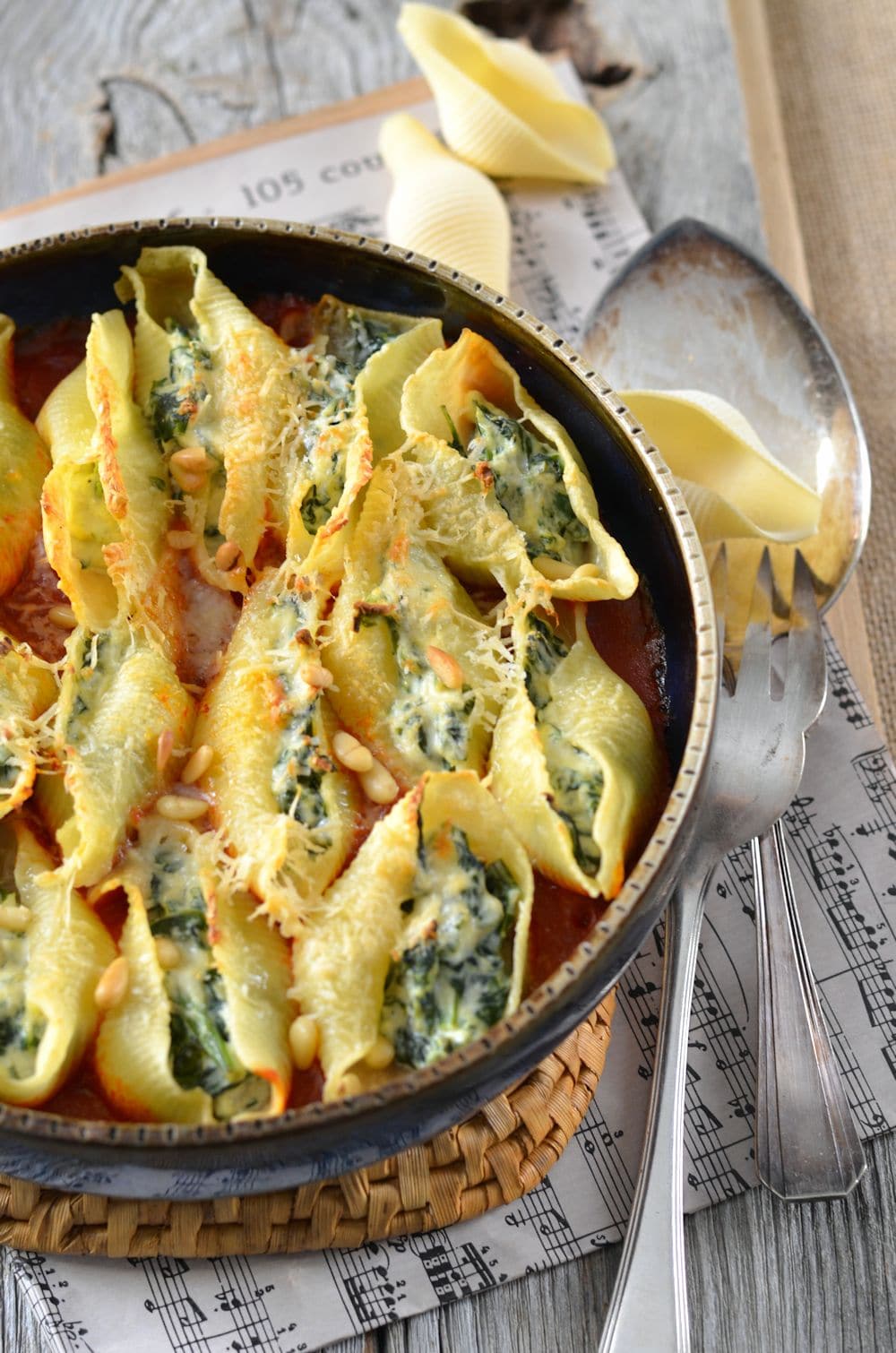 If you like these kinds of recipes, here are some pasta ideas that I really like and that you should like as much as I do: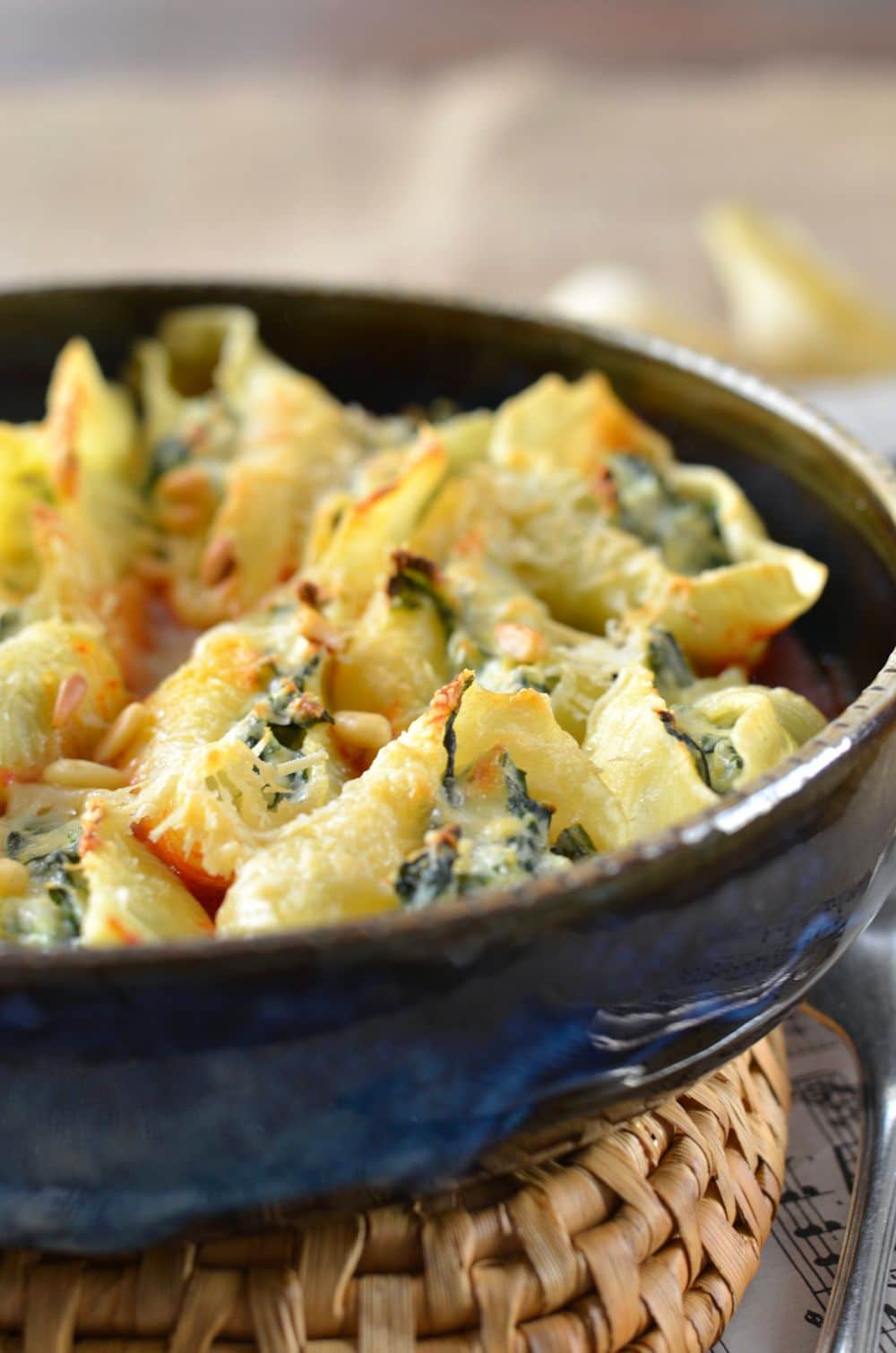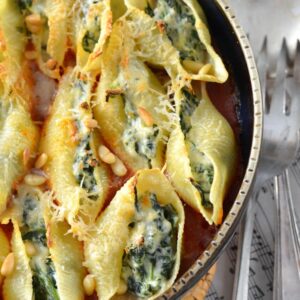 Conchiglioni pasta stuffed with ricotta and spinach
Ingredients
20

big conchiglioni pasta

500

g

fresh spinach

300

g

ricotta

1

egg

100

g

parmesan cheese

Nutmeg

Salt and pepper

400

g

tomato sauce

1

garlic clove

1

tablespoon

olive oil

Pine nuts
Instructions
Prepare the sauce by browning the pressed garlic clove in a saucepan with a good tablespoon of olive oil. As soon as it begins to color add the tomato sauce, salt, pepper and cook over medium heat for 10 minutes. Pour the sauce into a baking dish.

Prepare the stuffing. Rinse the spinach well, cut it into strips and sauté it in a frying pan (without fat) for 5 minutes, until the leaves brown. Remove from the heat and stir in the ricotta. Season with salt and pepper, stir in the egg then add the parmesan and a pinch of nutmeg. Mix well. You should get a consistent but still soft dough.

Preheat your oven to 180°C/356°F.

In a large saucepan, bring water to a boil then season with salt. Immerse the conchiglioni pasta in it and stir gently from time to time during cooking. Cook 5 minutes less than the time indicated on the package (in my case, 15 minutes so 10). Drain them with a slotted spoon and place them next to each other on the sauce in the oven dish.

Fill each pastry with stuffing and sprinkle with parmesan. Add a few pine nuts on top for decoration.

Bake for about 30 minutes until everything is nicely browned.
If you make my recipe for stuffed pasta and you like it, don't hesitate to tag me on Instagram or on Facebook so that I can see the result and share it in turn…
Just to let you know I am French and I translate my recipes, be indulgent if you see syntax errors and do not hesitate to leave me a comment so I can correct it. I hope you will like my recipes and enjoy your visit to my food blog!