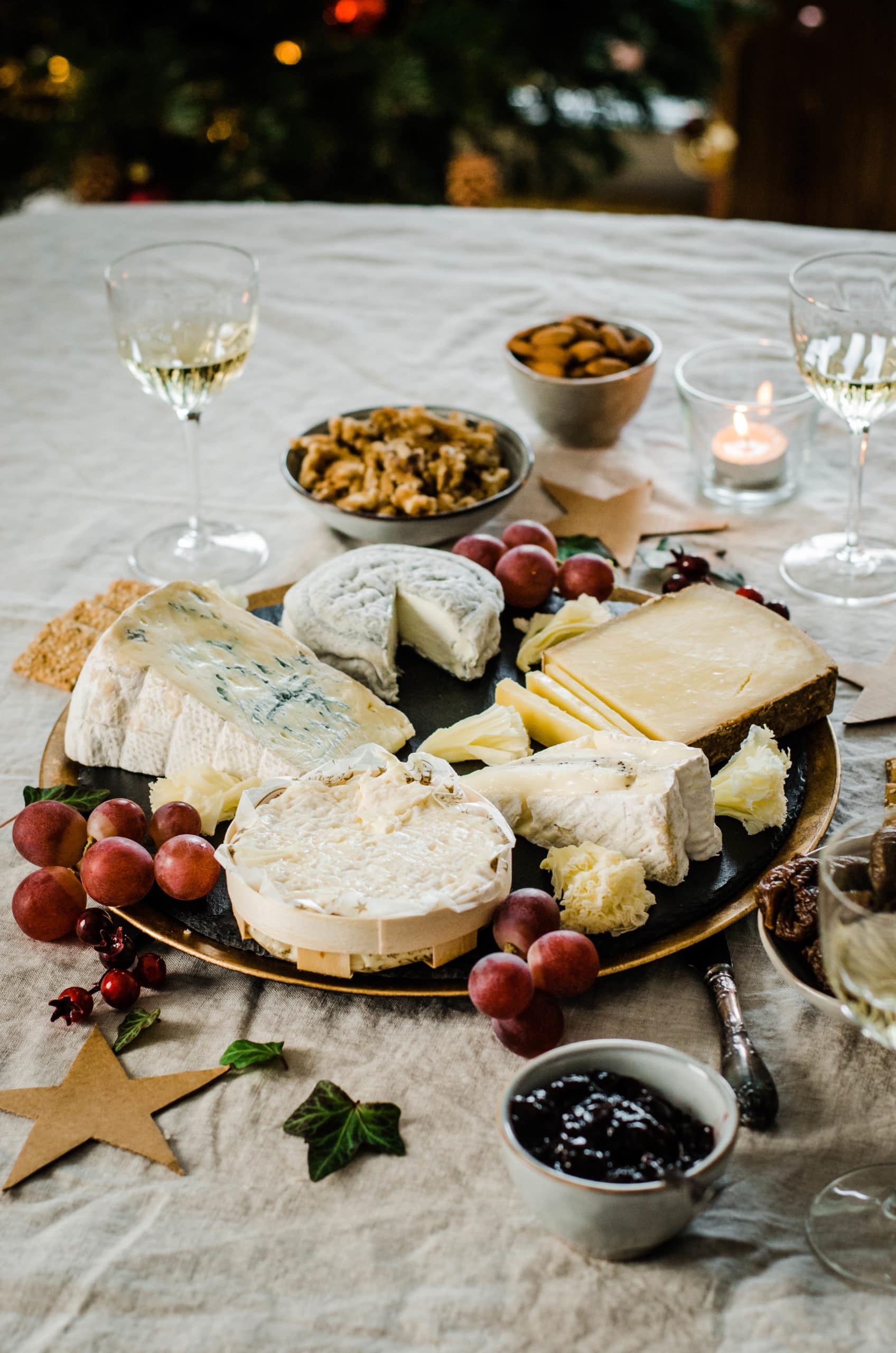 Here is my perfect cheese platter for Christmas!
For me, a good meal cannot end without cheese! I think I still prefer cheese over dessert.
So as I am in the process of preparing my end-of-year holiday menus and I have the impression that you are too, I suggest I talk to you a little about how to prepare a perfect cheese platter for Christmas.
I found everything I needed at my cheesemonger, so I'm going to explain how to make a platter that is both delicious and visually appealing.
The hardest thing for me is not choosing cheeses but limiting myself because I love them so much! On the program for us: Comté 24 months, Brie with truffles, Selles sur Cher, Tête de Moine, Saint-Félicien and Bleu de Sassenage. I have selected my cheeses according to my regions of heart…
Follow these tips and you too will have a lovely cheese platter for the holidays.
How to prepare the Perfect Cheese Platter for Christmas?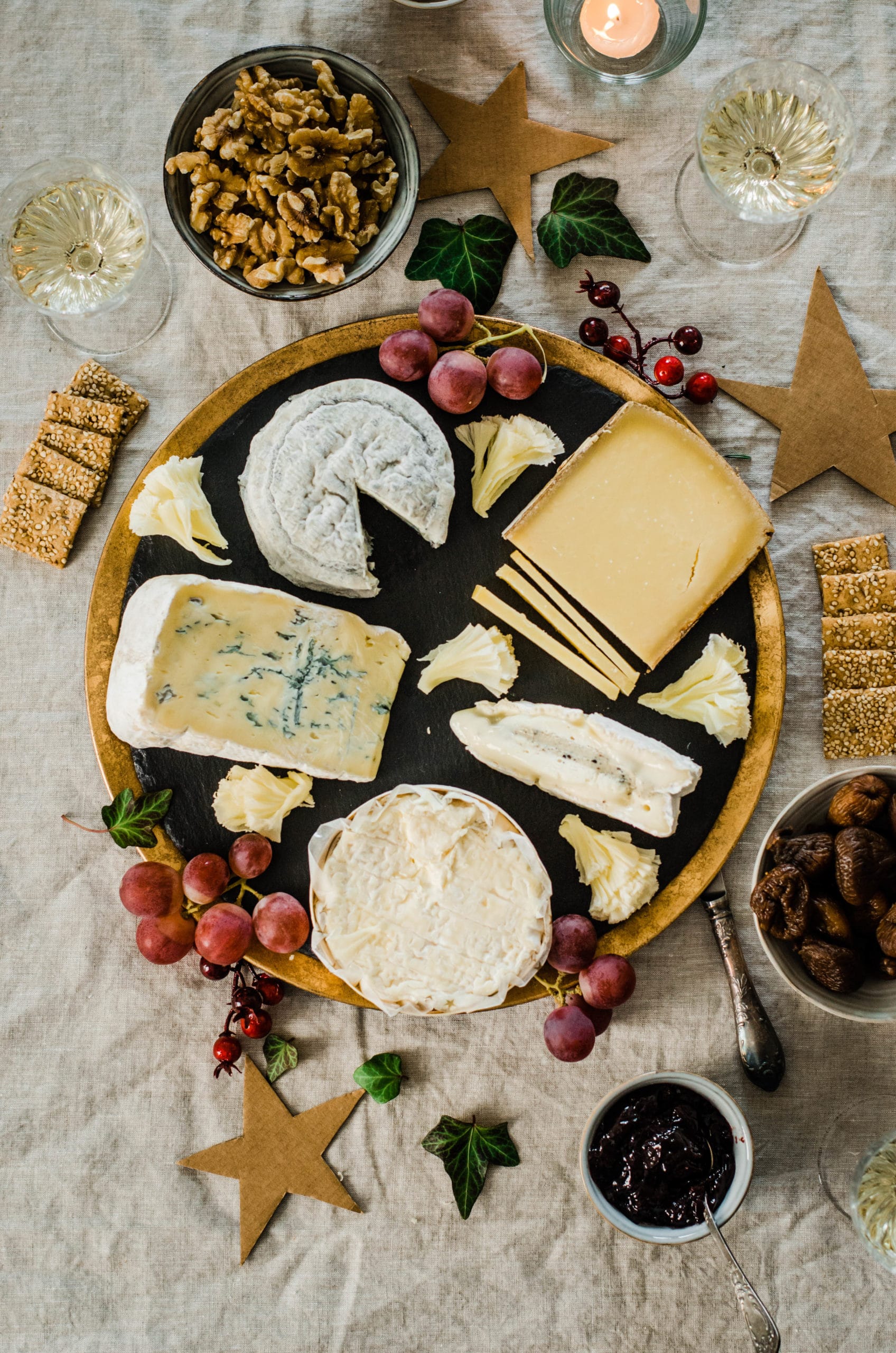 First step: select your cheeses
I like to match different types of cheeses in terms of shape, size, type (cow's and goat's milk). I also like to combine hard and soft cheeses and without forgetting a little fantasy and refinement since it's Christmas with a truffle cheese, here Brie.
The Tête de moine cheese is a bonus but will allow you to garnish your tray with pretty petals. There will be something for everyone and it will be prettier to serve.
If you can't decide, don't hesitate to ask the cheese maker for advice, he will be able to recommend you very well.
For 6 to 8 people, I advise you to select 4 to 6 cheeses so that everyone has a choice and can help themselves.
Step Two: Think About the Decor
The decoration of your table is essential for a Christmas meal. This year, I opted for a light tablecloth, some sober and chic decorations, candles, a little greenery and a slate tray to showcase your cheeses.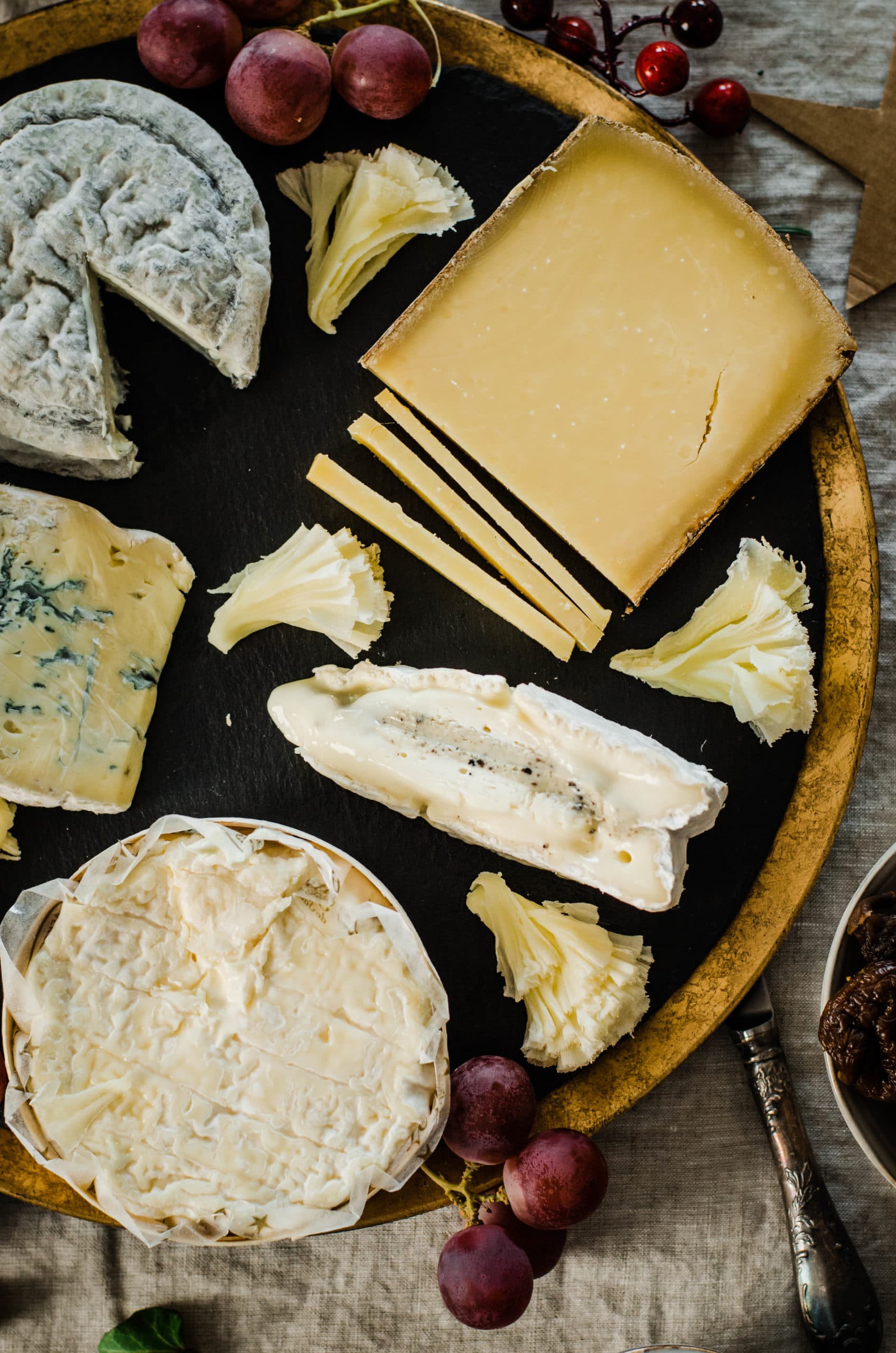 Third step: distribute the cheeses on your board
Start by placing the largest pieces then place the smallest cheeses at the end. Distribute them well over the entire surface of the tray.
Choose from hard cheeses and cut a few pieces to invite your guests to help themselves.
You can leave some as whole blocks, crumble them, cut them into triangles, put a soft cheese in a bowl and drizzle with olive oil…
the possibilities are limitless. Be creative!
Step four: place the sides
After the cheese, come the side dishes. I like to eat my cheese with some fruit (raisins, apples or dried figs), nuts, almonds or jam, bread and crackers. But be careful not to steal the spotlight from the cheese.
Remember to vary the colors to maintain the visual dynamics and better highlight the cheeses which are often in shades of beige.
One of the keys to creating a beautiful cheese platter is to have the same accompaniments several times in different places on your platter because this creates a nice visual balance.
And if an element appears more than once, be sure to arrange it in the same way to encourage repetition and create cohesion in your table.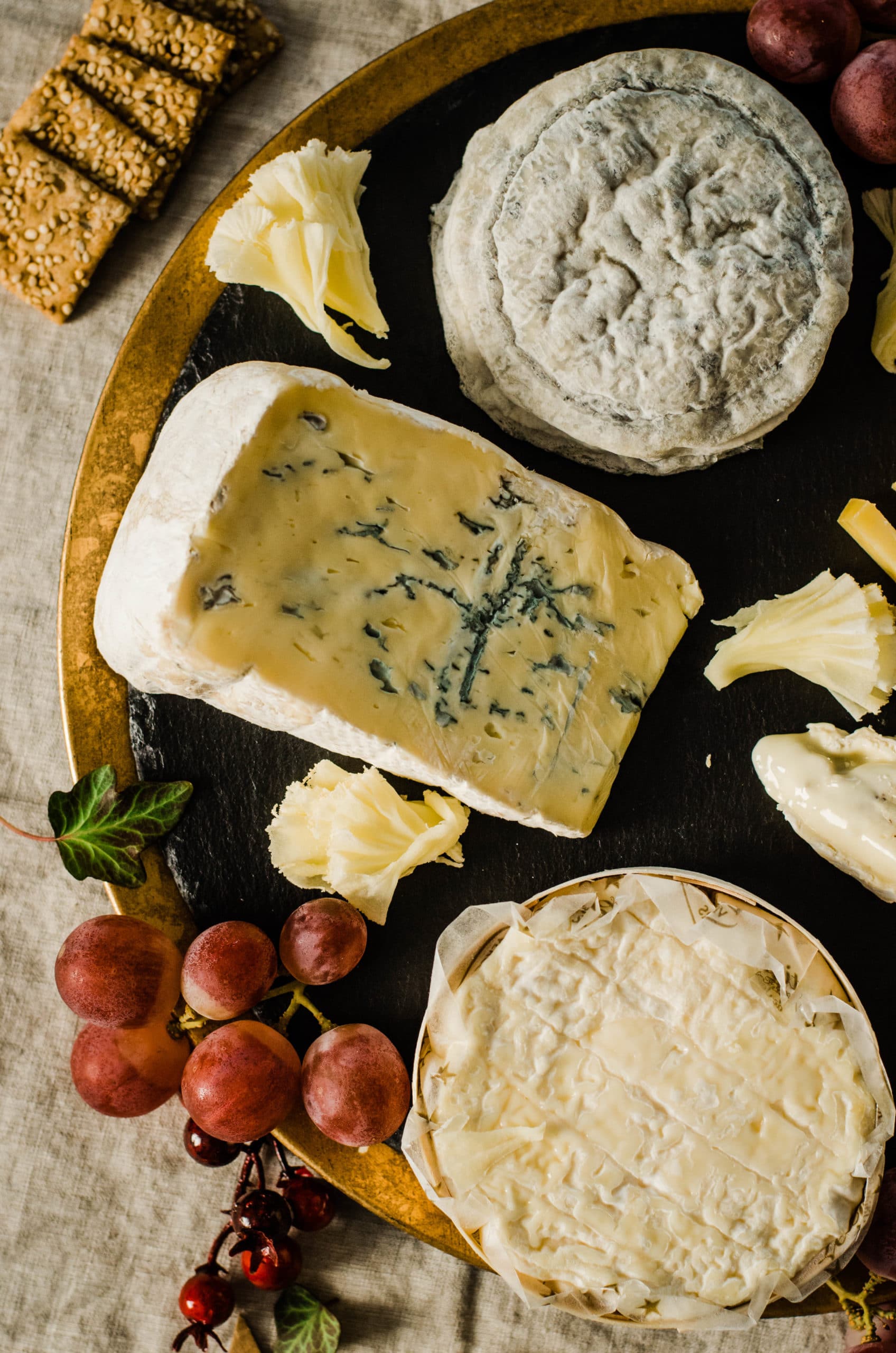 Step five: Enjoy your cheese platter by sharing it with the family…
I advise you to start with the weakest cheeses to better enjoy all the flavors.
Personally, I like to eat them in this order: Tête de Moine > Comté > Selles sur Cher > Saint-Félicien > Brie with truffle > Bleu de Sassenage.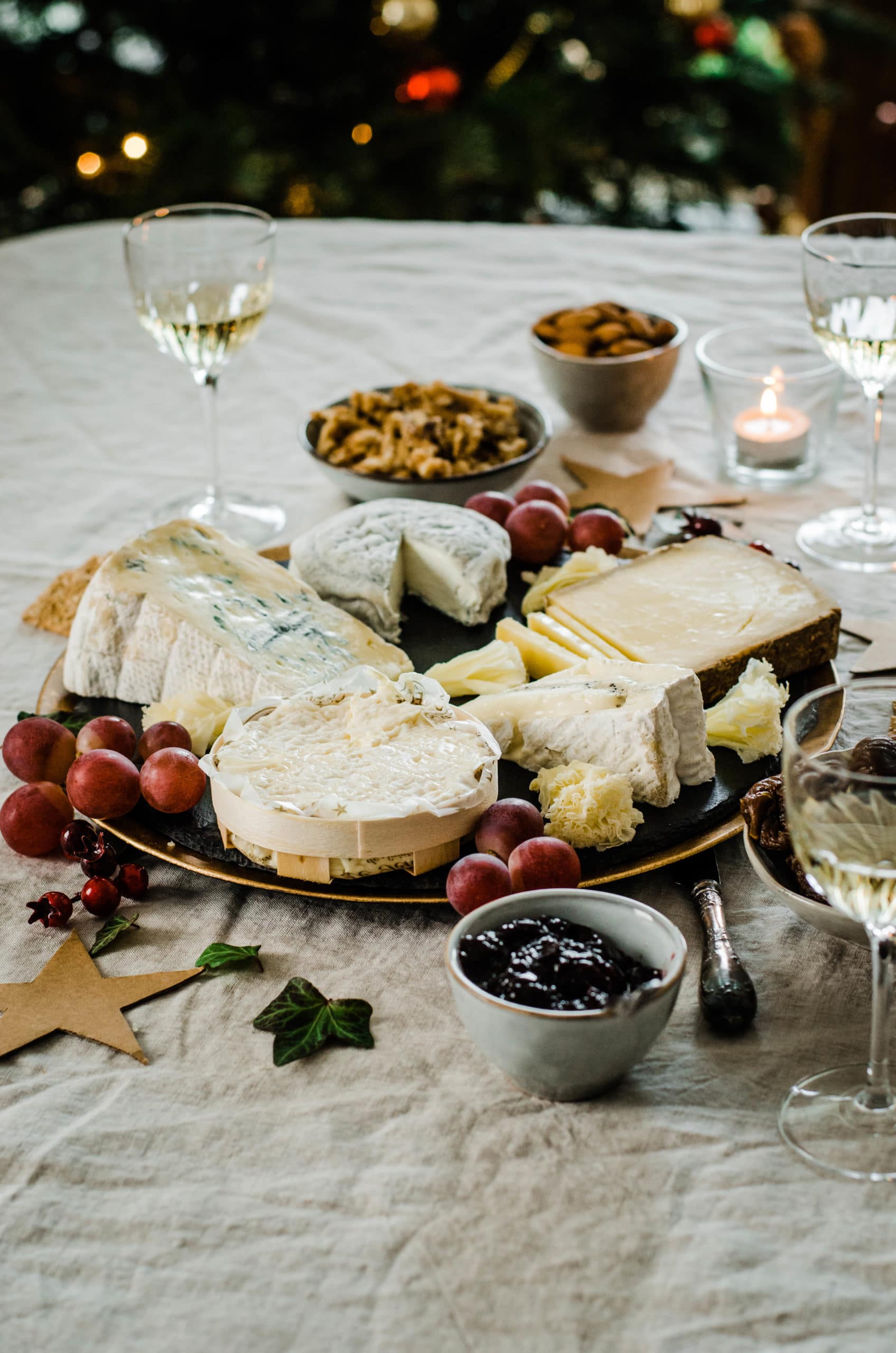 And if you are ever looking for a charcuterie and cheese platter, I wrote a great article to give you all my advice on how to make it a success!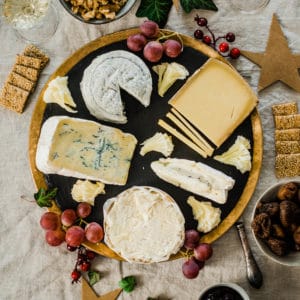 Perfect Cheese Platter for Christmas
Equipment
1 nice wooden cheese board
Ingredients
Cheeses
Comté

Truffled Brie

Stools on Cher

Blue Cheese

Saint-Félicien

Monk's head in flowers
Sides
Fresh grape

Dried figs

Almonds

Nuts

Cherry or fig jam

Crackers or breads
Notes
This selection of cheeses is obviously to be adapted according to your tastes and your country.
This is mainly my French selection.
If you ever make a nice Cheese Board for Christmas make sure you tag me on Instagram @tangerinezest so I can see the result…
Finally, just to let you know I am French and I translate my recipes, be indulgent if you see syntax errors and do not hesitate to leave me a comment so I can correct it. I hope you will like my recipes and enjoy your visit to my food blog!