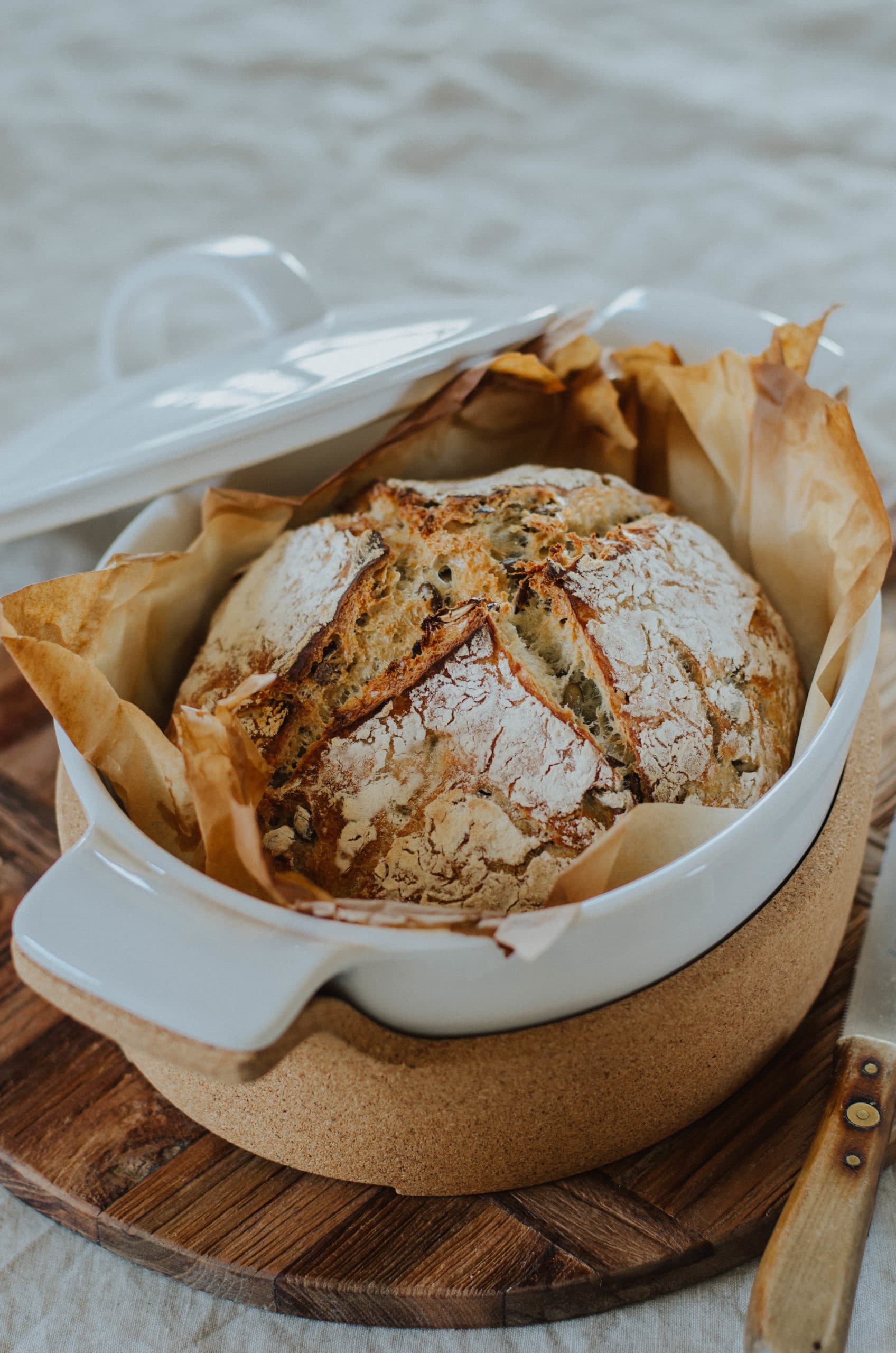 The famous homemade No Knead Bread Easy Recipe and without machine! Here is a recipe that made the buzz these last weeks and curious as I am, I couldn't miss it 😉 The result is absolutely amazing: you get a beautiful ball of bread with an airy and honeycombed crumb.
As for the cooking, I saw that it was done in a cast iron casserole but as I don't have one, I wanted to test it in a ceramic casserole and it works very well too!
You have to be careful not to burn yourself while handling the oven and the casserole because everything is cooked at 240°C and it's very hot. You can also break your ceramic casserole by banging it, so it is better to be delicate.
In short, at the beginning I admit that I didn't believe in this magic bread recipe, I was a bit skeptical, but that was before! When I opened the lid of the casserole for the second part of the cooking, I discovered a well swollen ball that just had to brown. The result is absolutely amazing!
No Knead Bread Easy Recipe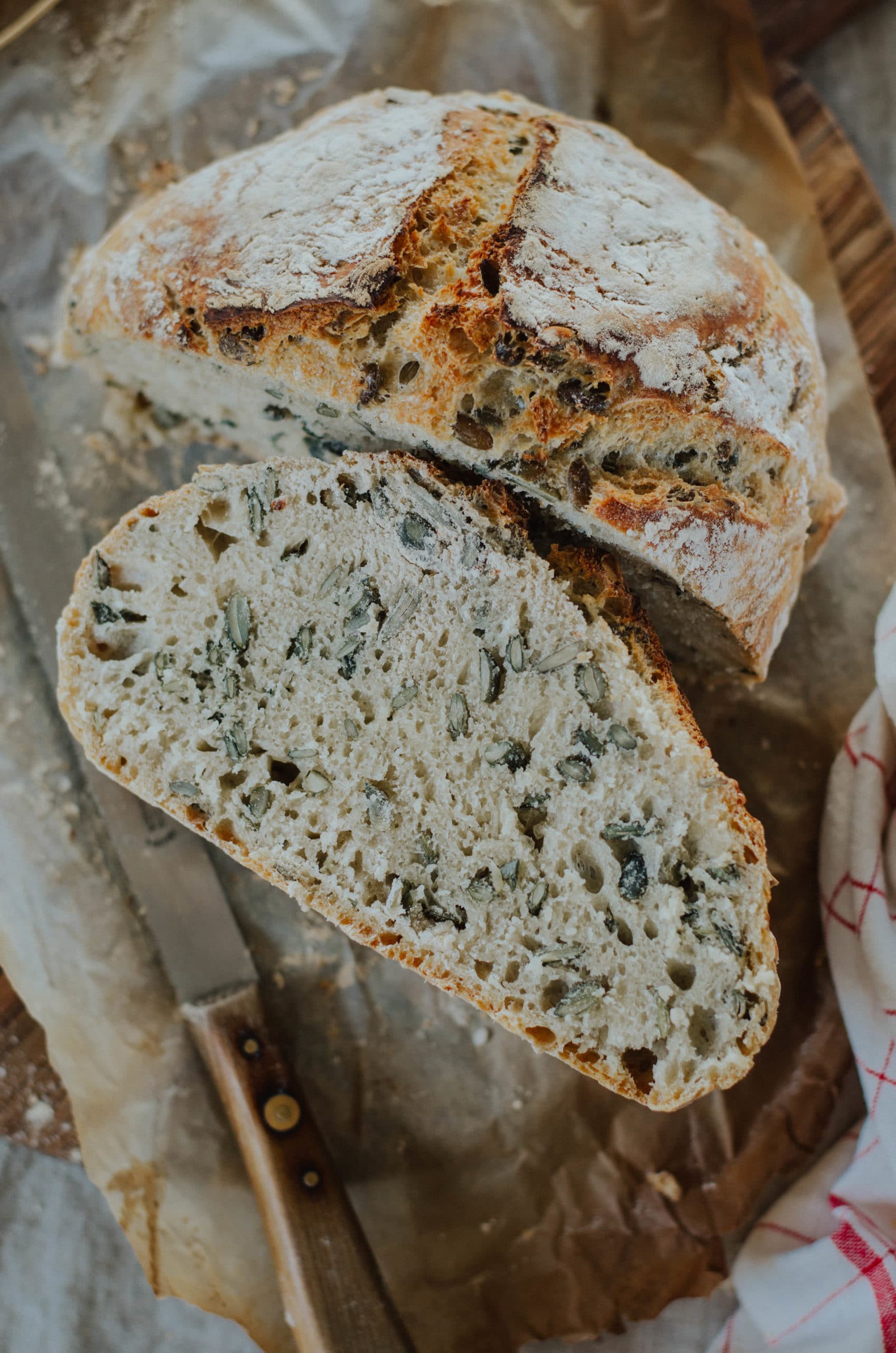 You'll see that I put a lot of seeds in my bread, that's because I love it but on your side, you can really adapt it with or without seeds and choose what kind of seeds you want to put or make with what you have at home: sesame, flax, sunflower, squash, etc.
Ideally, it should be prepared in the evening for the morning or in the morning for the evening. The preparation takes only 10 minutes and then the dough must be left to rest for about 12 hours before baking, which is why…
You will see later in the article, after the recipe, I show you in pictures all the steps of the recipe to visualize well because at the beginning, the ball of dough does not look at all like what you usually get for a bread dough. It sticks but that's perfectly normal. This will not prevent it from puffing up well and coming off the sides of the bowl easily.
If you have flour and baker's yeast at home, then you have no excuse not to try this easy homemade bread recipe!
And if you want, you can also try my traditional homemade bread recipe.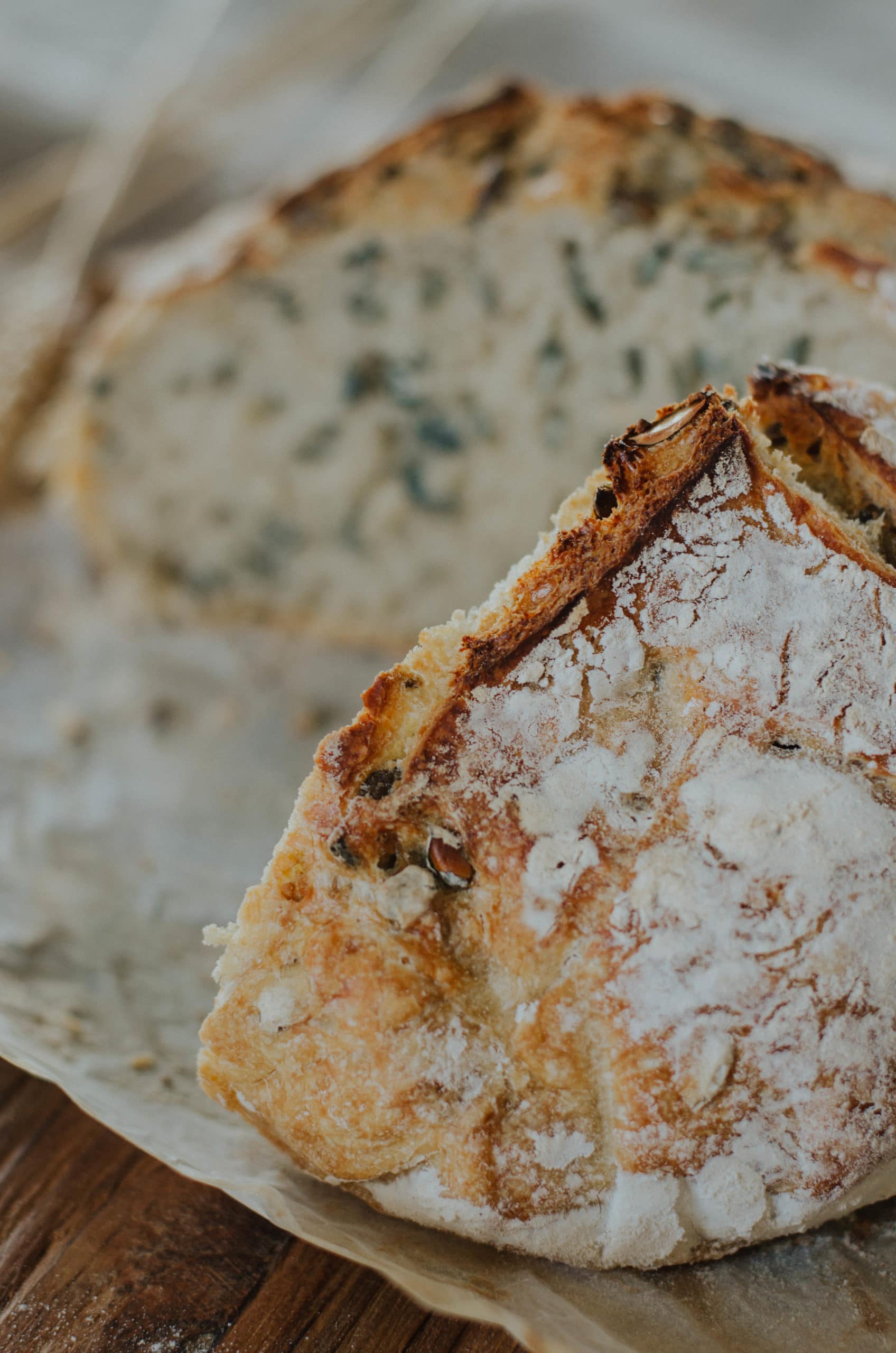 What ingredients will you need to make this no-knead bread recipe?
wheat flour T65
water at room temperature (about 25°C)
pumpkin seeds or other seeds, nuts… (optional)
dry baker's yeast or 20 g fresh yeast
fine salt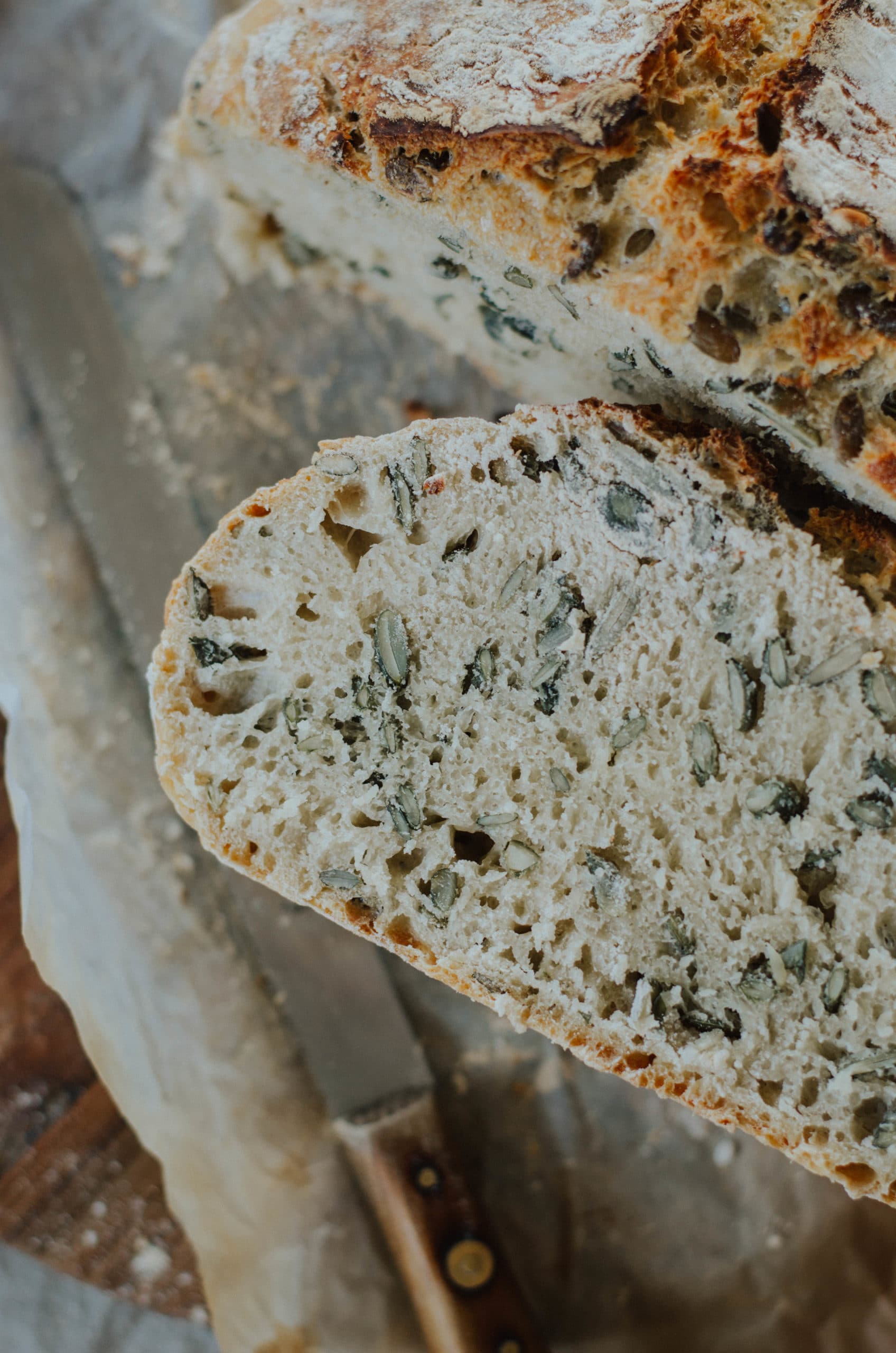 Homemade bread without kneading step by step in pictures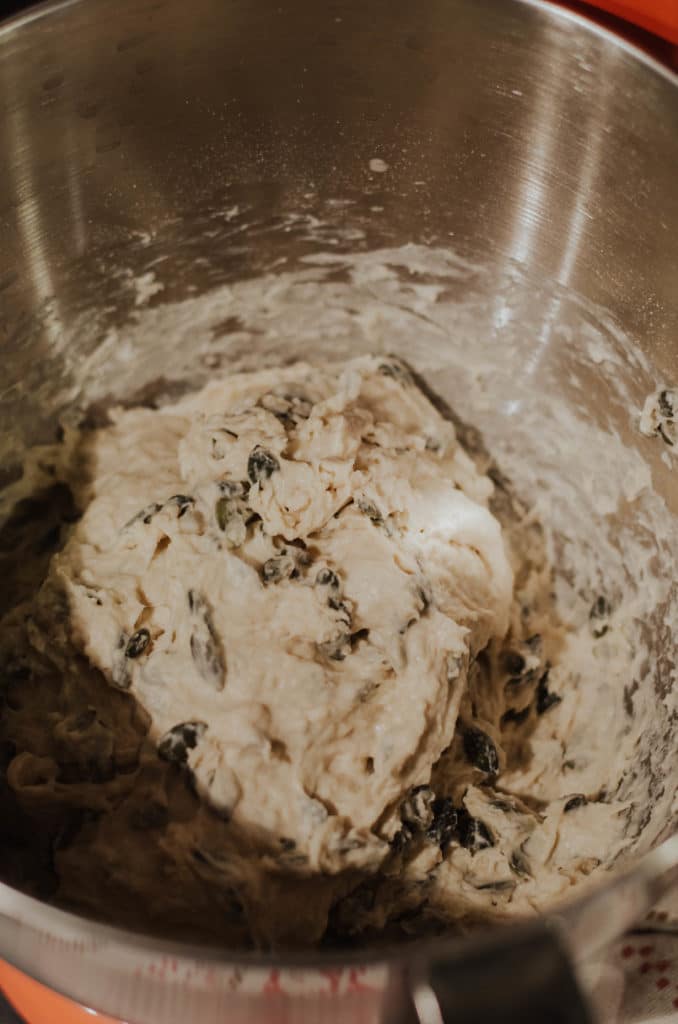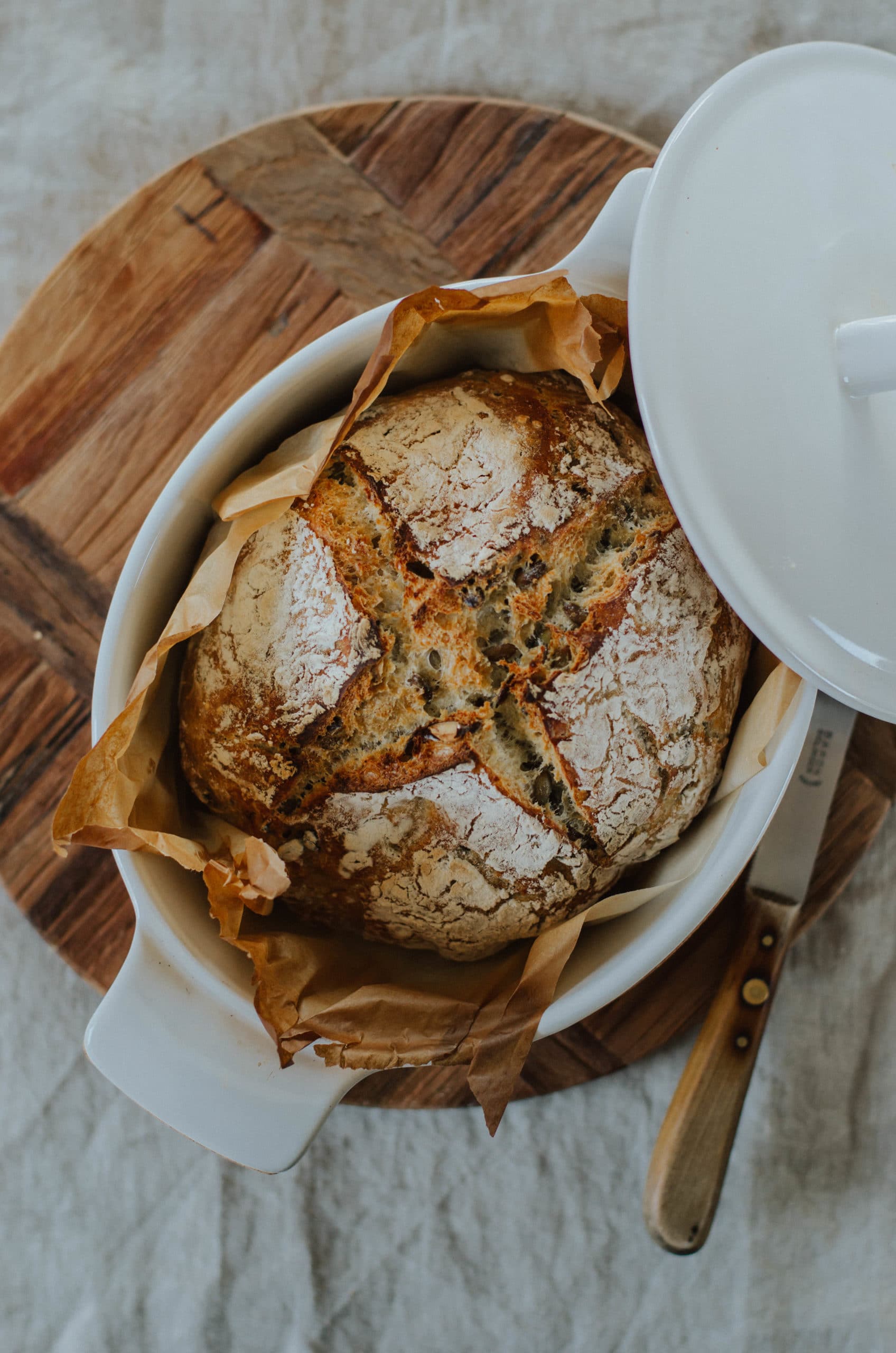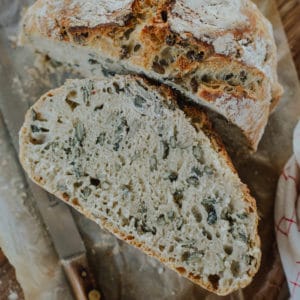 No Knead Bread Easy Recipe
Ingredients
500

g

wheat flour T65

350

g

water at room temperature

(about 25°C)

100

g

pumpkin seeds or other seeds, nuts…

(optional)

1

packet of dry baker's yeast

or 20 g fresh yeast

7

g

fine salt
Instructions
Begin by pouring the dry baker's yeast into a ramekin and mixing with 2 tablespoons of warm water.

In the bowl of a food processor (or by hand), add the flour, salt, water and seeds (optional). Mix a little, then add the yeast from the ramekin.

Mix gently until everything is well blended. The dough will be sticky and will not form a dough like bread, but this is normal.

Let stand for 12 hours at room temperature (or near a radiator), covered with a clean, dry cloth.

After this resting time, place a cast iron or ceramic casserole dish (in my case) in your cold oven. Preheat the oven to 240°C in a convection oven. Once the oven is hot, let it warm up for 30 minutes so that the casserole is nice and hot.

At the end of the 30 minutes, slightly degas the dough which should have at least doubled in volume.

Quickly form a ball of dough on a floured sheet of parchment paper. Flour the dough ball and cut it with a sharp knife. Immediately place the bread with the parchment paper in the very hot casserole dish. The parchment paper will prevent the dough from sticking to the pan.

Cover with the lid of the pan and bake at 240°C for 25 minutes, then remove the lid and continue baking for another 20 minutes to color the crust of the bread.

Remove from oven and let bread cool (at least 20-30 minutes) on a cake rack before cutting.

Enjoy!
If you ever make my no knead Bread recipe and you like it, don't hesitate to tag me on Instagram @tangerinezest so I can see the result and share it myself…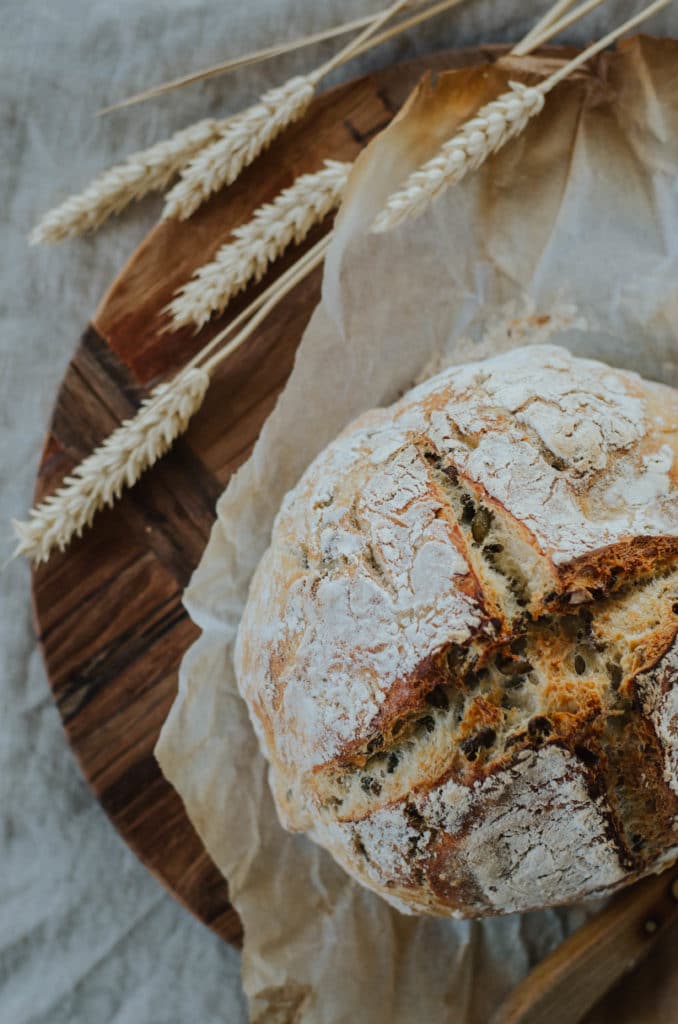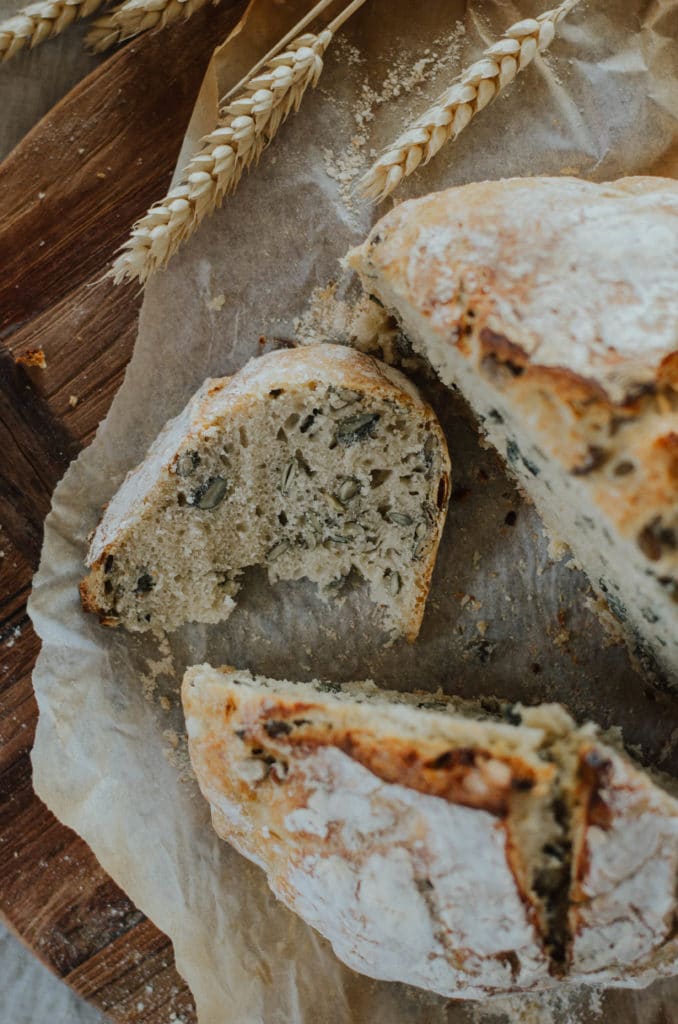 Have you seen these little thieving hands?
At the moment, it's quite an adventure to manage to do a little staging and to take my recipe pictures, between my little man and my doll, there is always one to come and steal the little slice that I cut while I have my eye in the viewfinder.
At the same time, I have to say that this no knead bread was tempting and well flavored 😉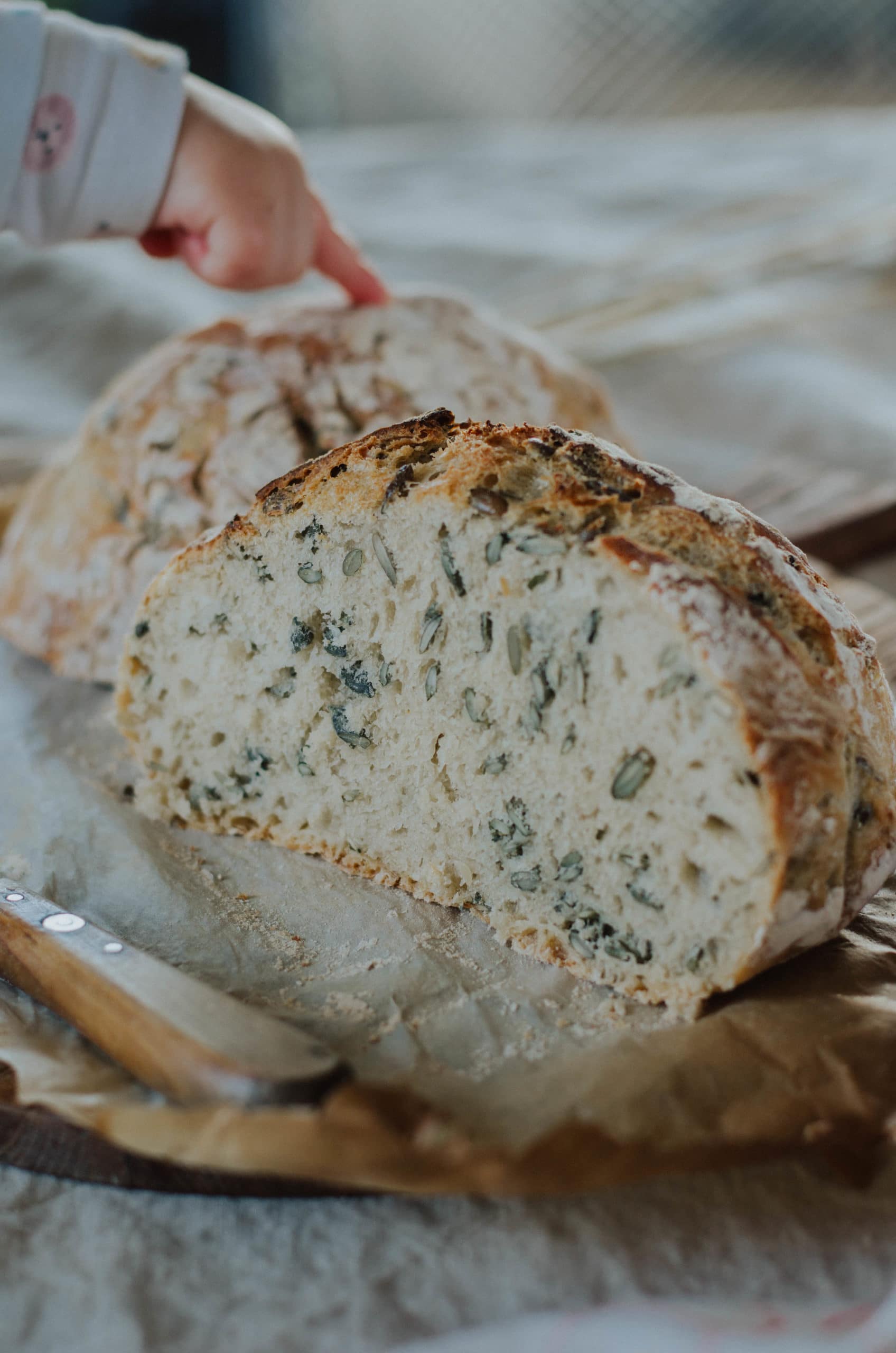 Here are some other bread recipes you should love as much as I do: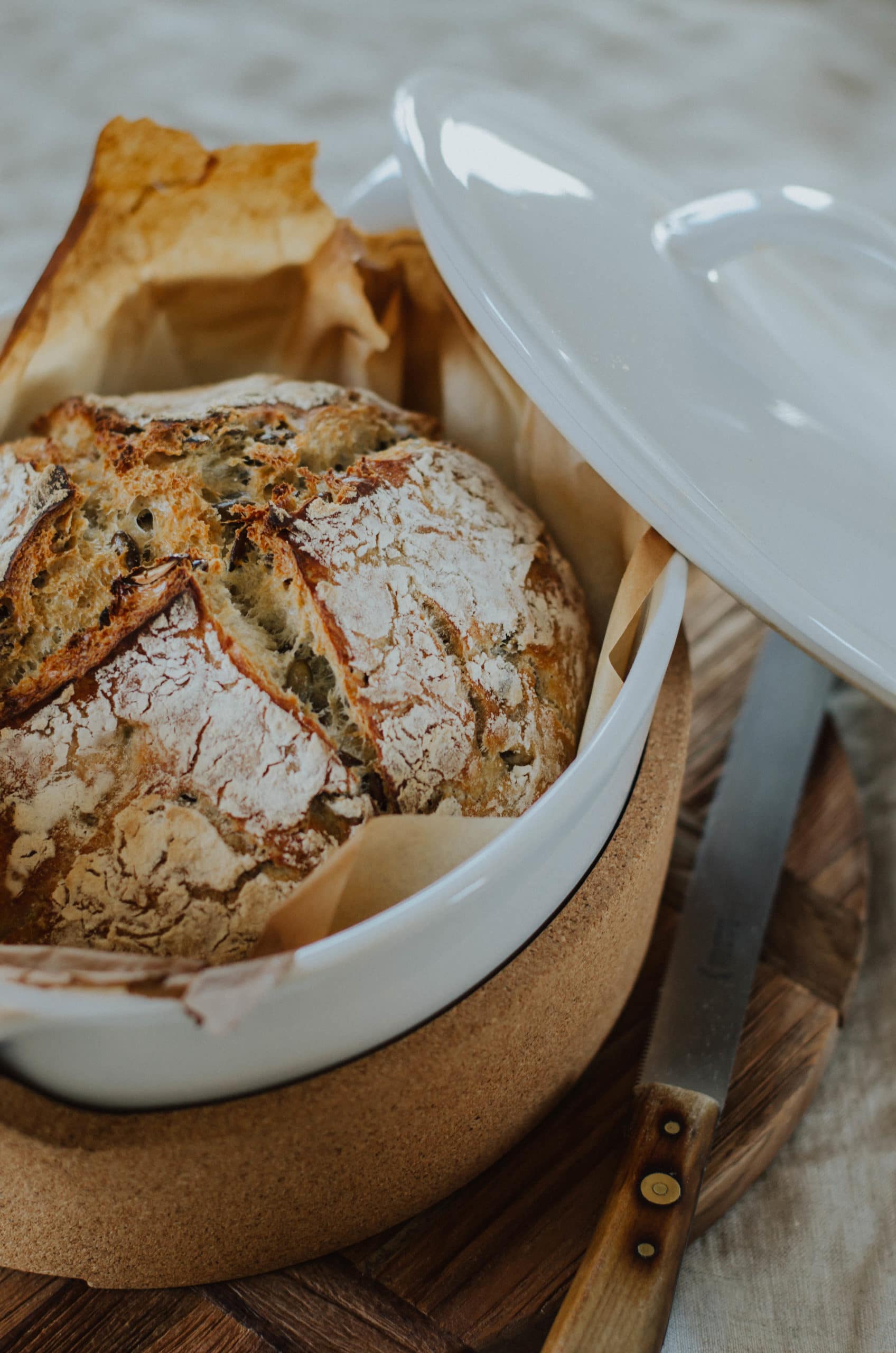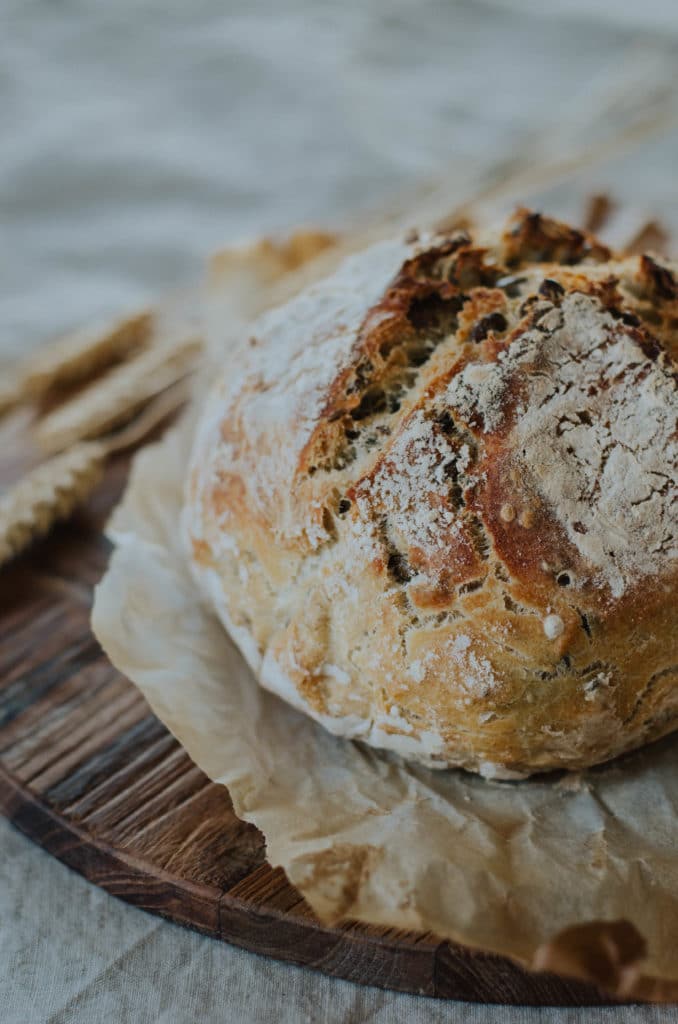 Finally, just to let you know I am French and I translate my recipes, be indulgent if you see syntax errors and do not hesitate to leave me a comment so I can correct it. I hope you will like my recipes and enjoy your visit to my food blog!