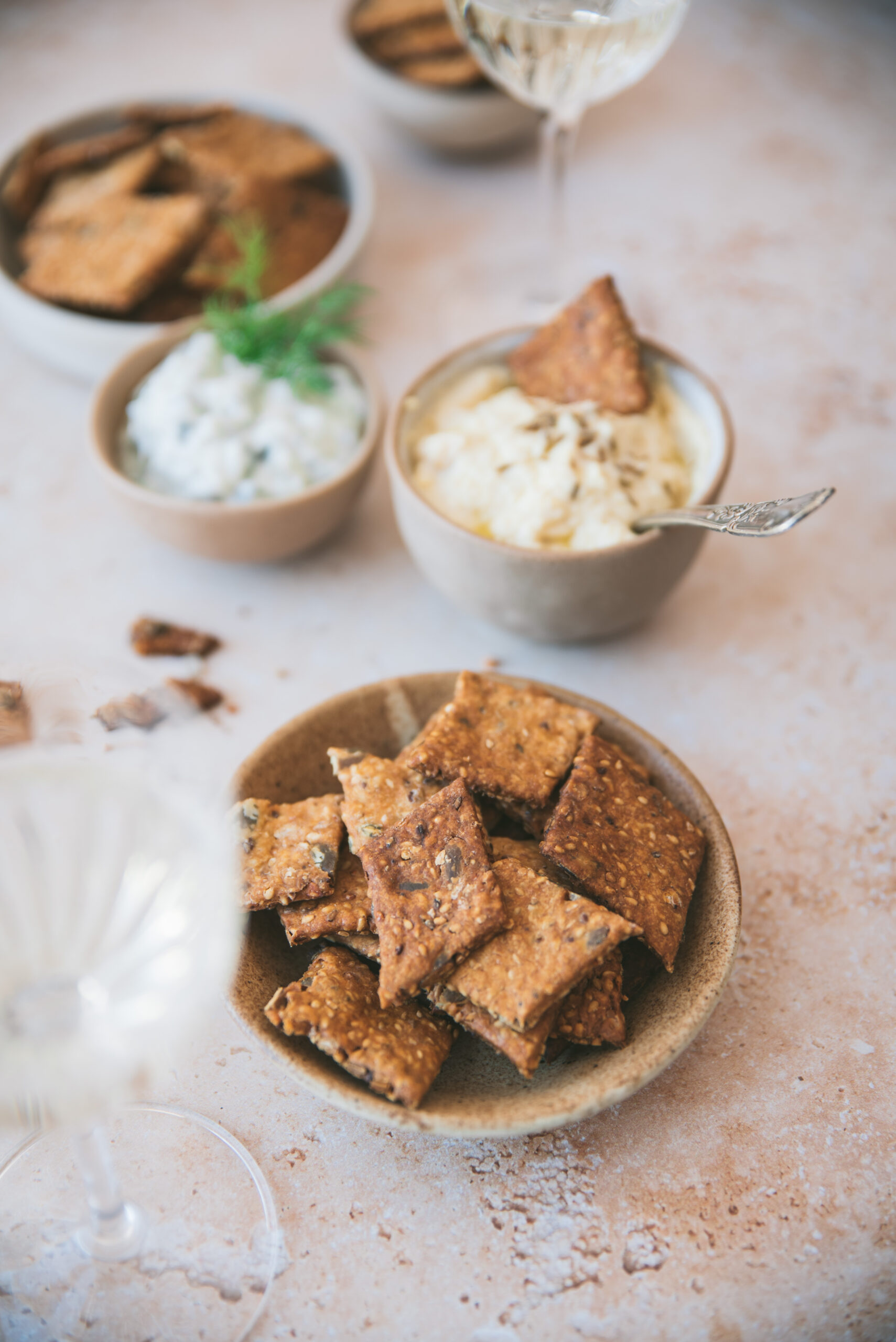 This homemade seed crackers recipe is a real treat! It's a recipe that I've been refining for several years and that I shared at the beginning of the blog, but I think today I've arrived at THE recipe for appetizer crackers!
And since I'm super nice, I'll even give you lots of ideas to make several versions of these crackers, always keeping this seed base.
This recipe of crackers will be ideal to slip into all your appetizer trays, it is delicious, easy to make and very fast to realize, I even made 3 batches during a weekend with 11 people at home….
I cut them into small squares but you can also make strips and serve them as toast.
Homemade Seed Crackers Recipe with Chickpea Flour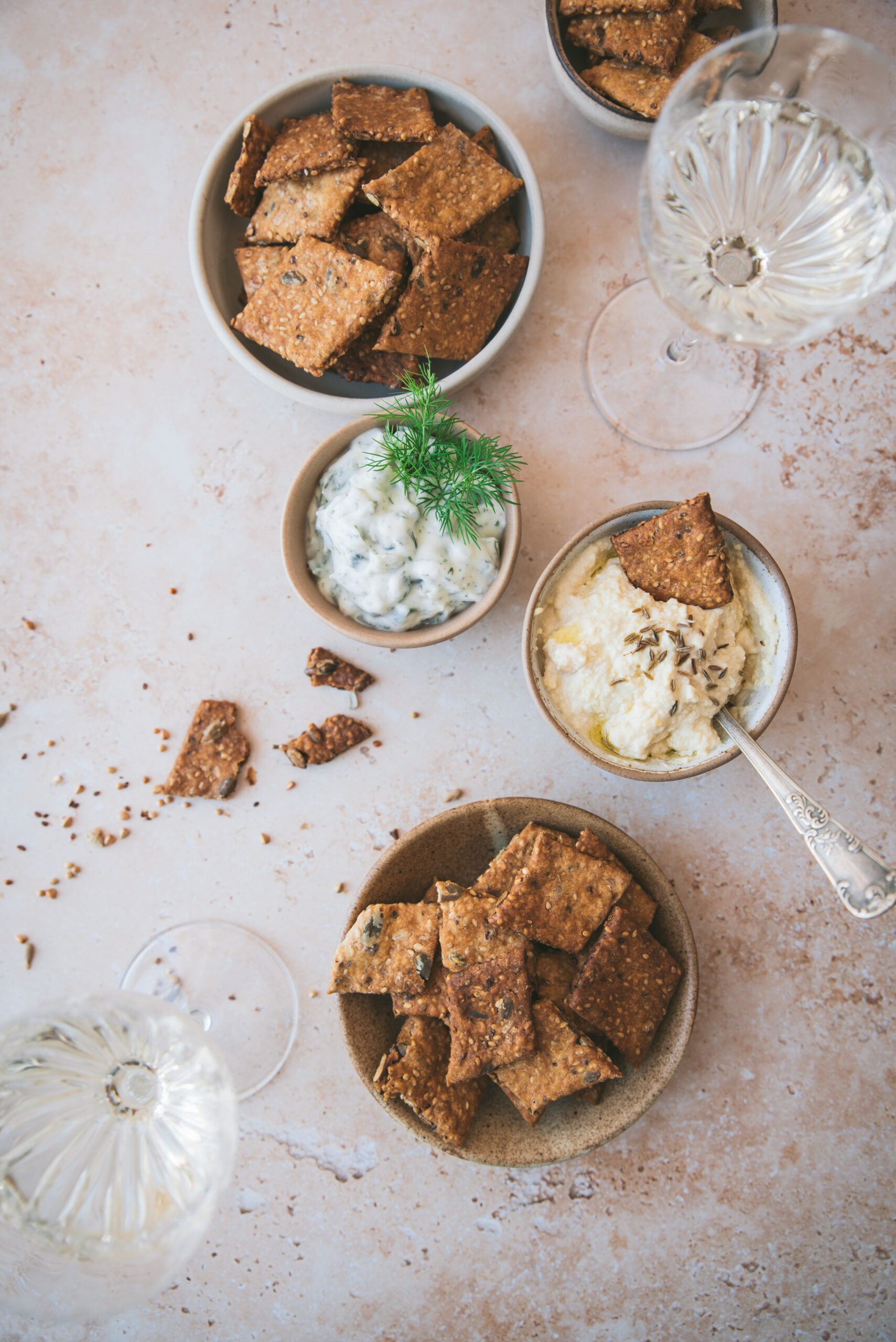 What ingredients do you need to make this homemade seed cookie recipe?
a mixture of seeds of your choice: sunflower, pumpkin, sesame, buckwheat, flax, poppy, etc.
flour: I use T65 or T110 and I also like to add a little chickpea or rye flour
malted yeast (in the organic section, which can also be used on salads)
fleur de sel
semolina garlic
Espelette pepper
olive oil
water
How to make different versions of appetizer snacks?
walnuts, hazelnuts, almonds that you will have previously coarsely crushed
spices: curry, paprika (smoked), Espelette pepper, cumin, etc.
dried herbs: Provencal, oregano, mint, tarragon, chives, etc.
grated cheese: parmesan or pecorino to slip inside or on top, or grated Comté to sprinkle directly on the surface of crackers
vary the oils
vary the flours: chickpea, buckwheat, rye, corn, etc.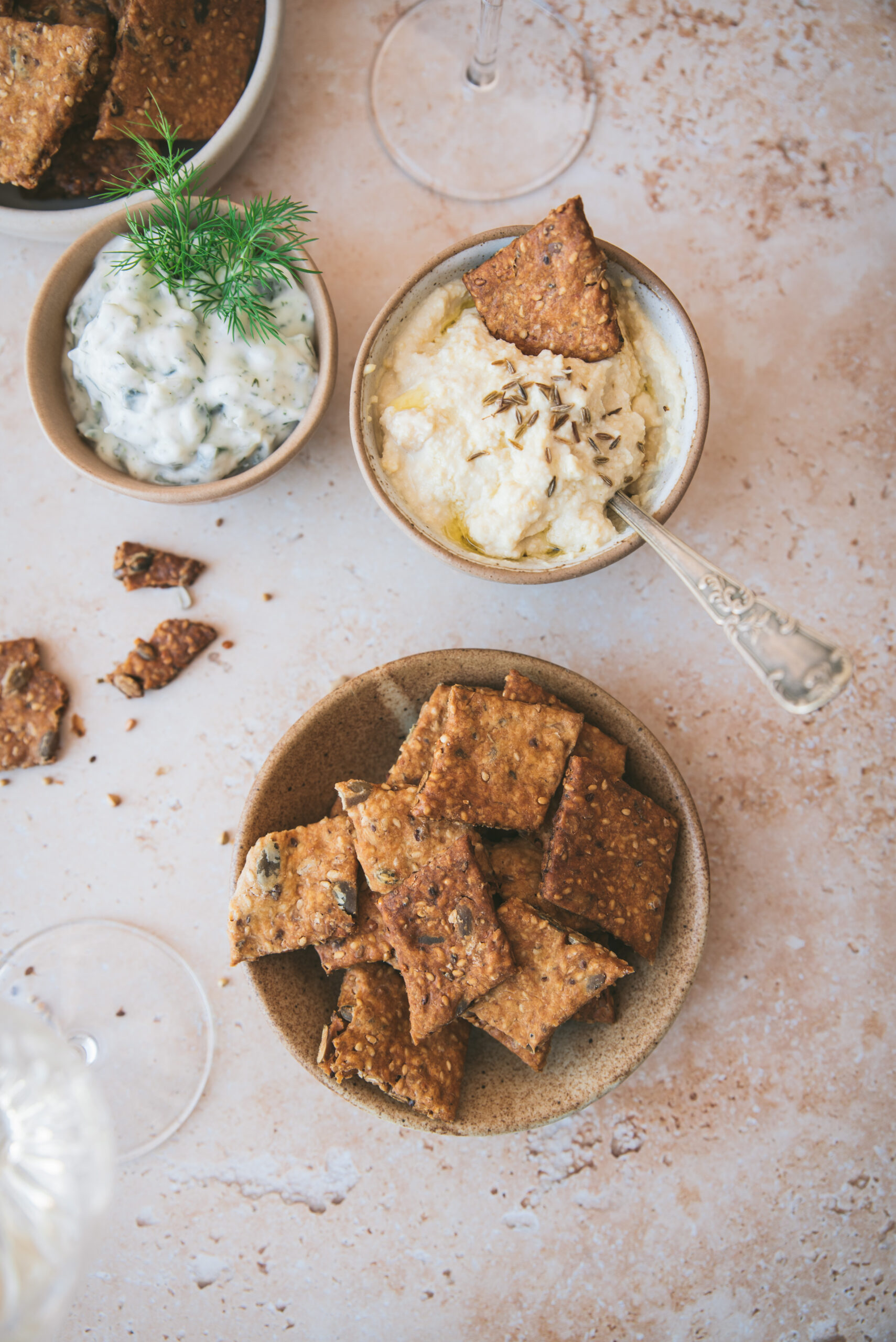 Why will you like this recipe?
It is extremely easy and quick to prepare.
It's super crispy.
It is healthy. It will allow you to replace store-bought cookies that are often too salty and greasy. Homemade is good! 🙂
It can be customized according to your desires and tastes.
It keeps very well, for example, in a metal cookie jar.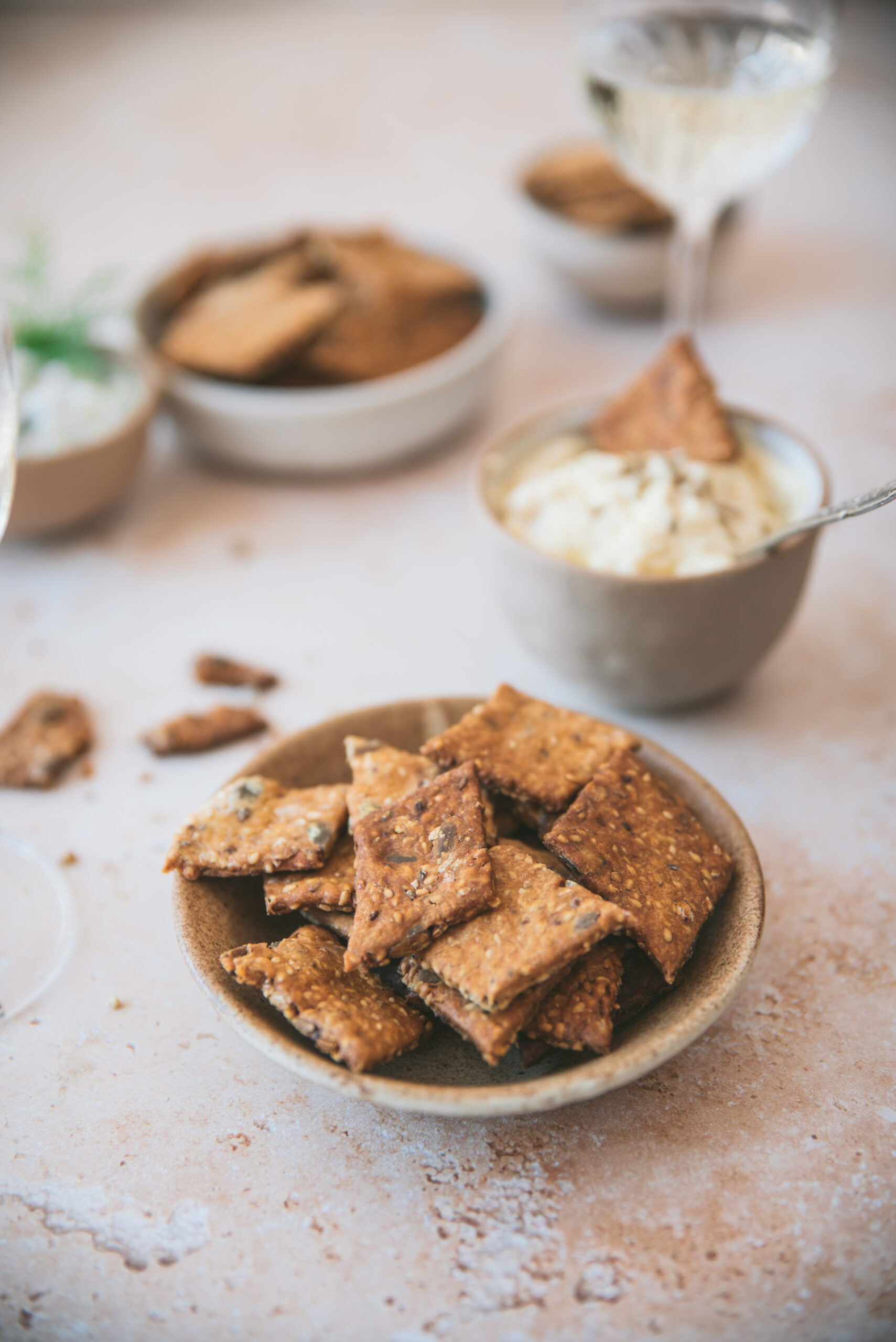 What to serve these seed crackers with?
They'll be fine as is, especially if you've added spices or something, but here are some ideas for homemade recipes you can dip them in?
So, are you ready to eat seeds with me 😉
The detailed recipe is available just below!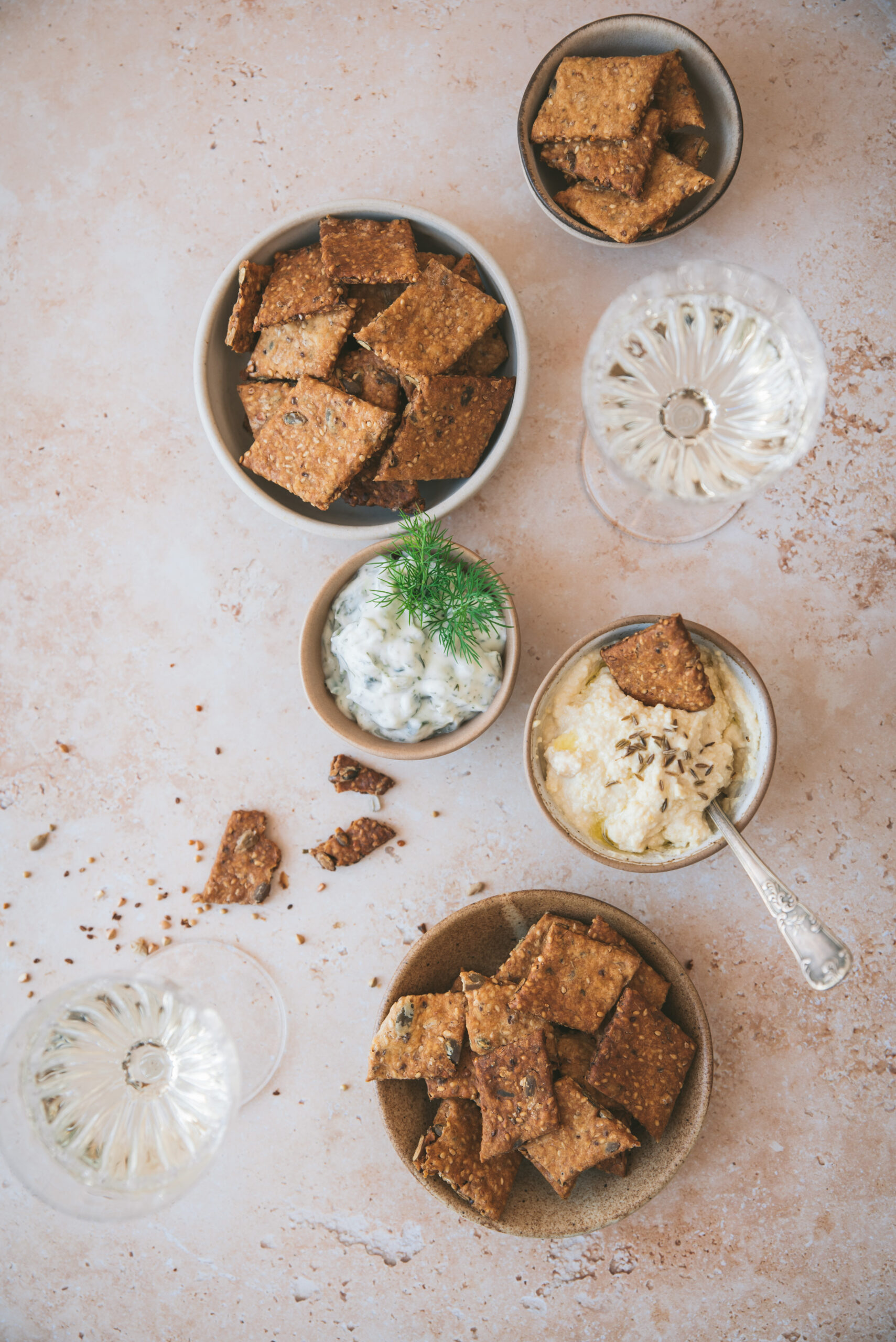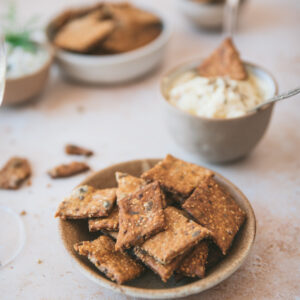 Homemade Seed Crackers Recipe with Chickpea Flour
Ingredients
60

g

seeds

(mix of your choice: sesame, sunflower, flax, hemp, poppy, pumpkin, etc.)

50

g

flour

20

g

chickpea flour

1

tablespoon

malted yeast

1/2

teaspoon

sea salt

1/2

teaspoon

garlic powder

1

pinch

Espelette pepper

20

g

olive oil

50

g

water
Instructions
Preheat oven to 170°C/330°F.

Place all dry ingredients in a bowl and mix with a spoon.

Add the oil and water and mix quickly until you have a smooth dough.

Place the dough on a sheet of parchment paper.

Lightly flour and roll out thinly (about 2 mm) with a rolling pin.

Transfer to a baking sheet, leaving the baking paper under the dough.

Cut out rectangles or diamonds with a pizza cutter or large knife.

Place in the oven for 15 to 18 minutes, watching for doneness.

Let cool for a few minutes before removing the crackers.

You can store them in a tin for several days.
If you ever make my homemade Seed Crackers recipe and like it, feel free to tag me on Instagram or Facebook so I can see the result and share it back…
Just to let you know I am French and I translate my recipes, be indulgent if you see syntax errors and do not hesitate to leave me a comment so I can correct it. I hope you will like my recipes and enjoy your visit to my food blog!