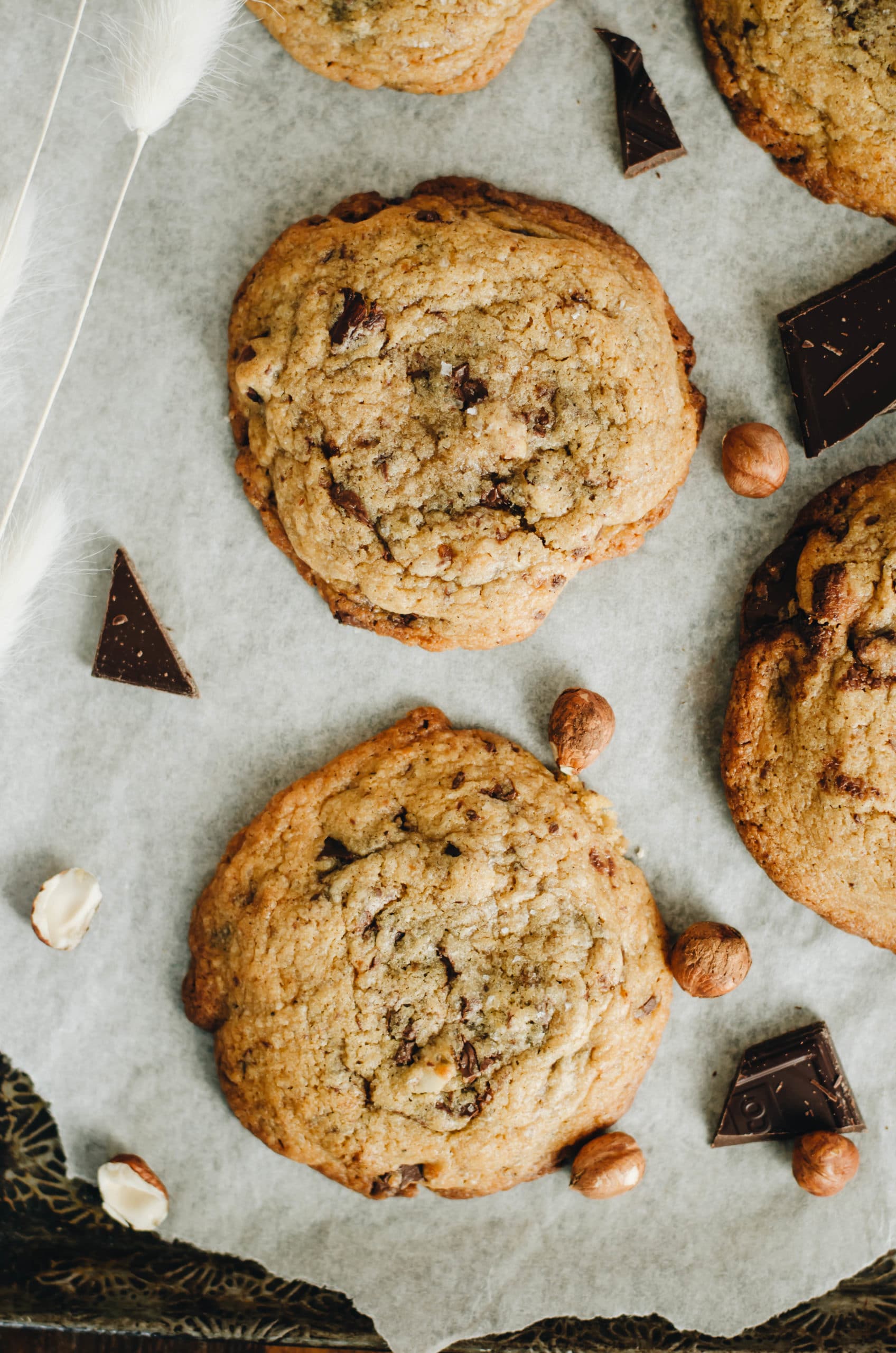 You will be tempted by one of my cookies… But not just any cookies, Soft and Chewy Chocolate Cookies Recipe with a pinch of salt! The texture is just perfect, very crispy on the outside and ultra soft on the inside!
Well yes, this will only be the hundredth cookie recipe for now, but at the same time, I think we all need one these days.
And as the only punnet of strawberries I could find evaporated before I had time to say phew, well here is a very delicious recipe!
So while waiting for other more plant-based recipe ideas, I'll leave you with these wonderful cookies! Yes, I promise you, you will see, we will change register in the next recipes, well almost… 😉
You will see that I put the quantities for around twenty cookies because we usually keep them in an airtight metal box so that the little ones can snack when they go to school, but for the moment, as we have a little more time to cooking and you want to vary the pleasures, divide the quantities by 2.
We alternate this way with other biscuits or madeleines… 😉 I still admit that the little hint of fleur de sel and the large pieces of dark chocolate make all the difference!
Soft and Chewy Chocolate Cookies Best Recipe with a pinch of salt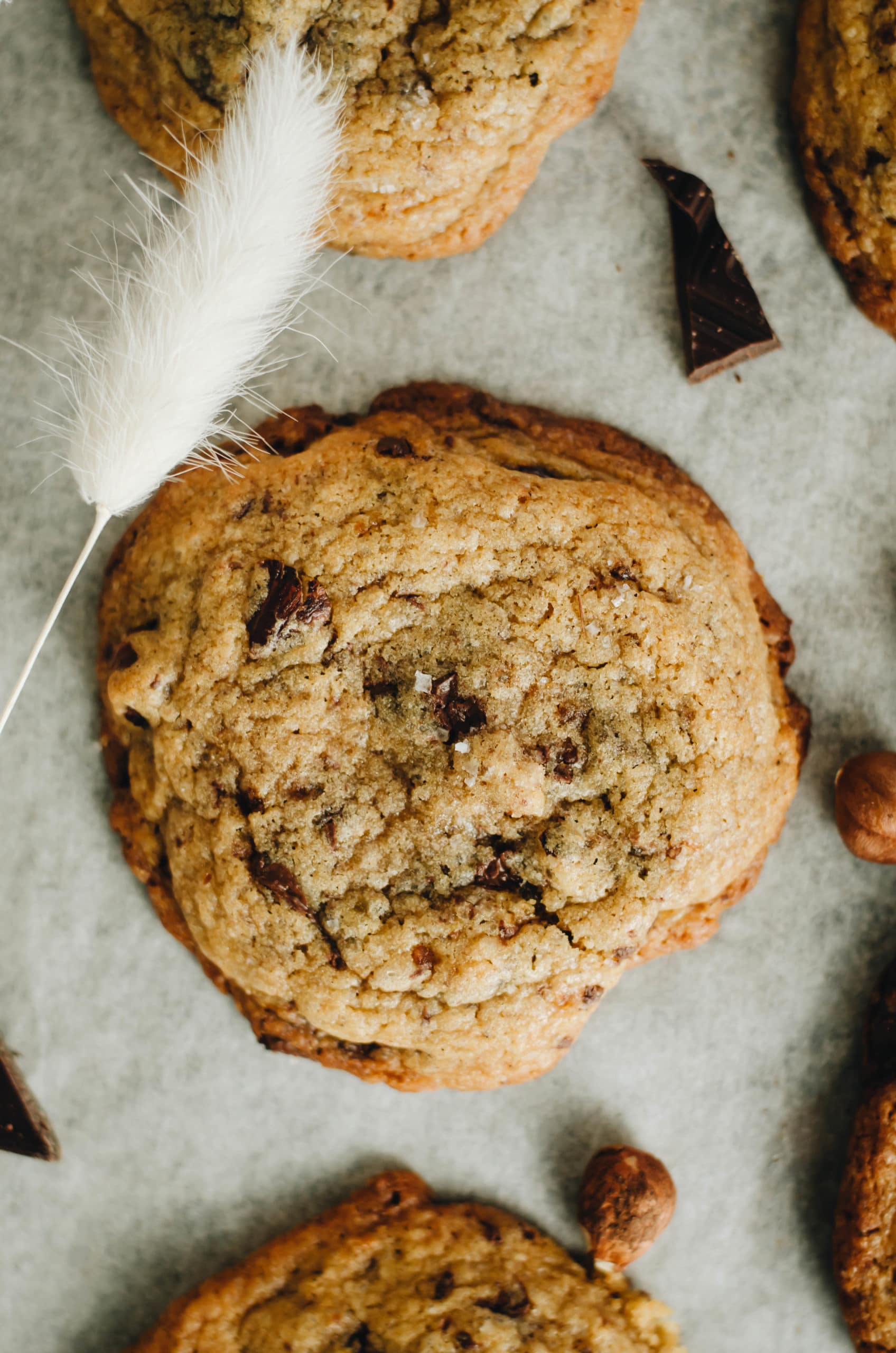 What ingredients do you need to make this delicious cookie recipe?
flour
good quality dark or milk chocolate (either in bars or large pastilles from Valrhôna)
butter
brown sugar (you can also use a little brown sugar or whole sugar)
crushed hazelnuts (optional)
from the egg
baking powder or baking powder or even baking soda
flower of salt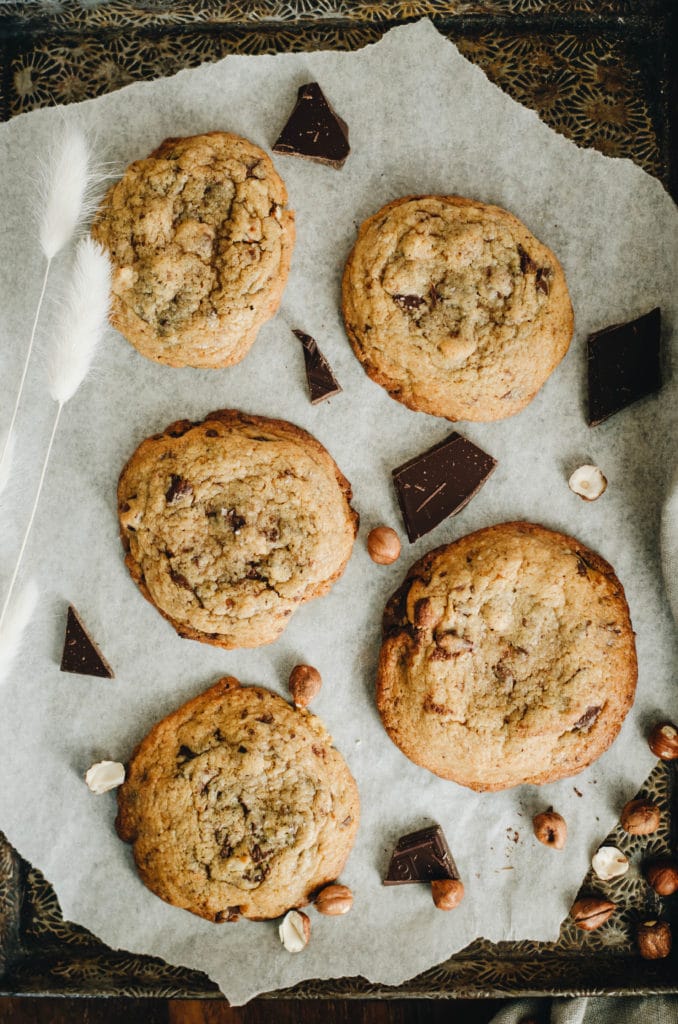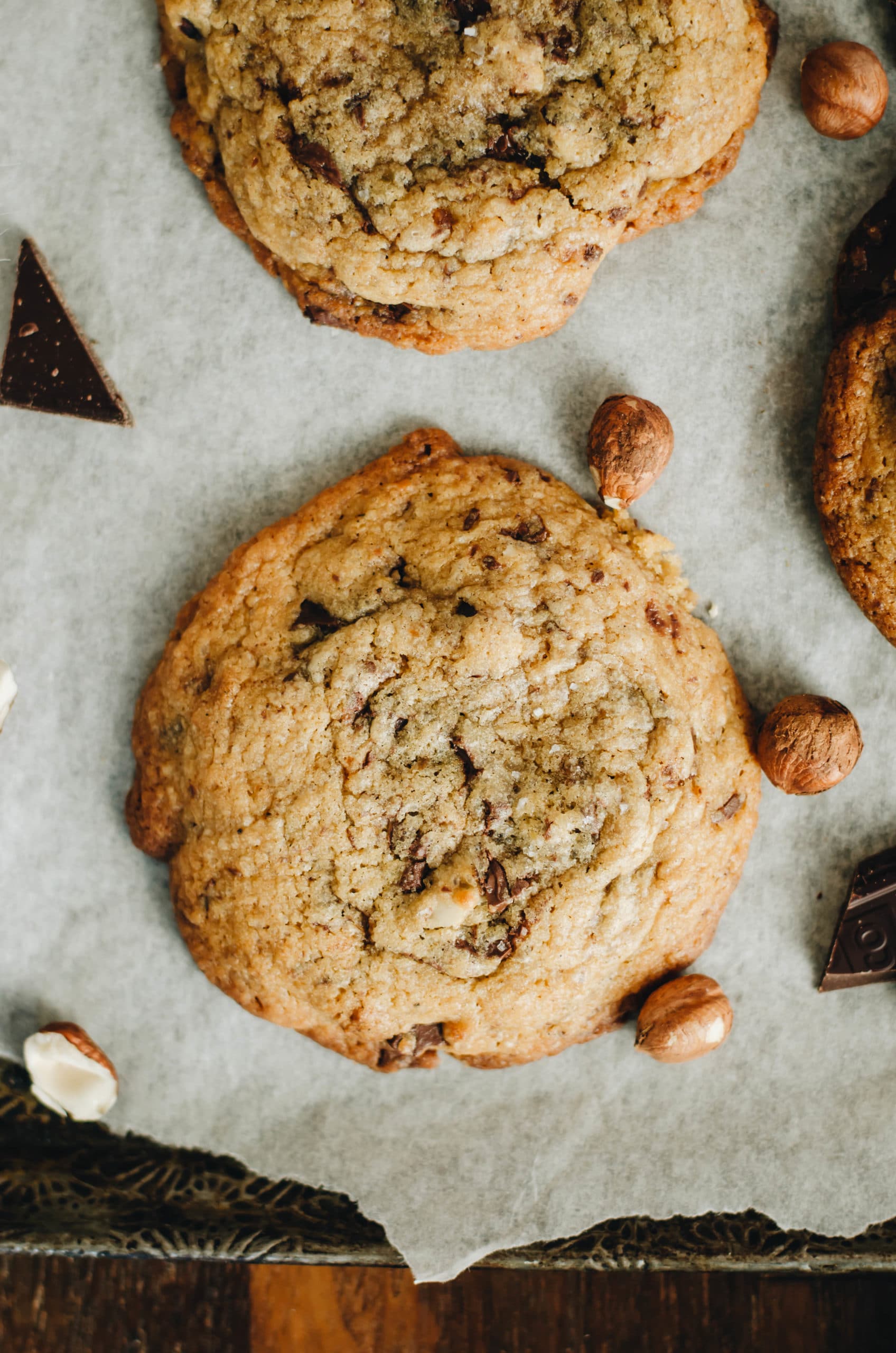 If you are like me, big fans of cookies, then here are some recipe ideas that should please you:
So…, which ones will you choose? I'm curious to know!
I love using chocolate bars that I cut and not chips because the pieces are bigger and more delicious. These cookies keep very well for 1 week in an airtight metal box, but I doubt you will be able to resist… 😉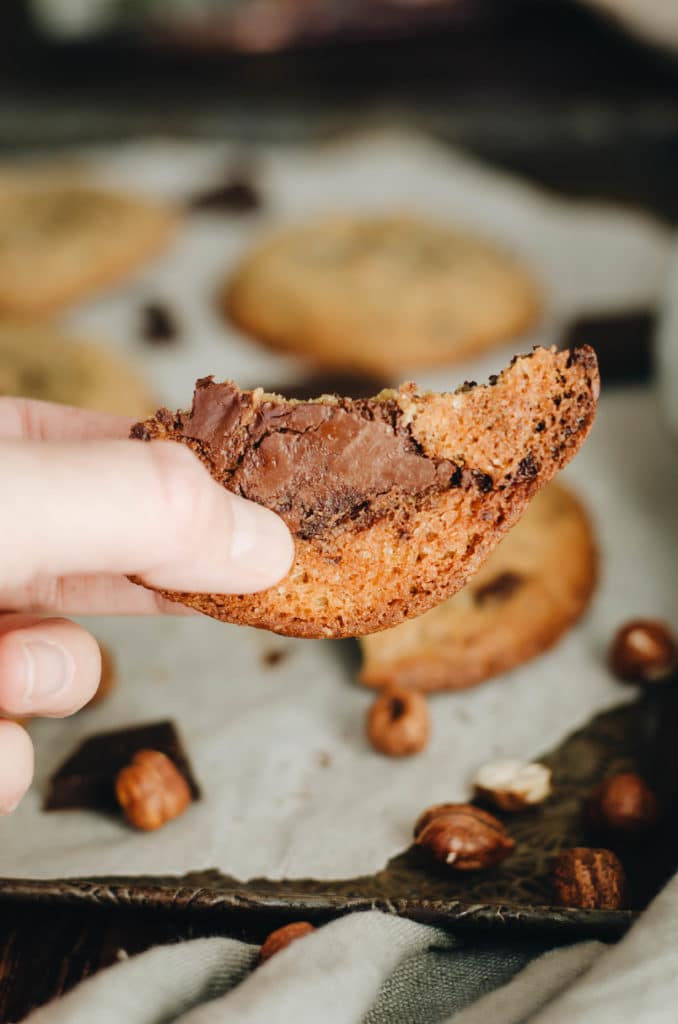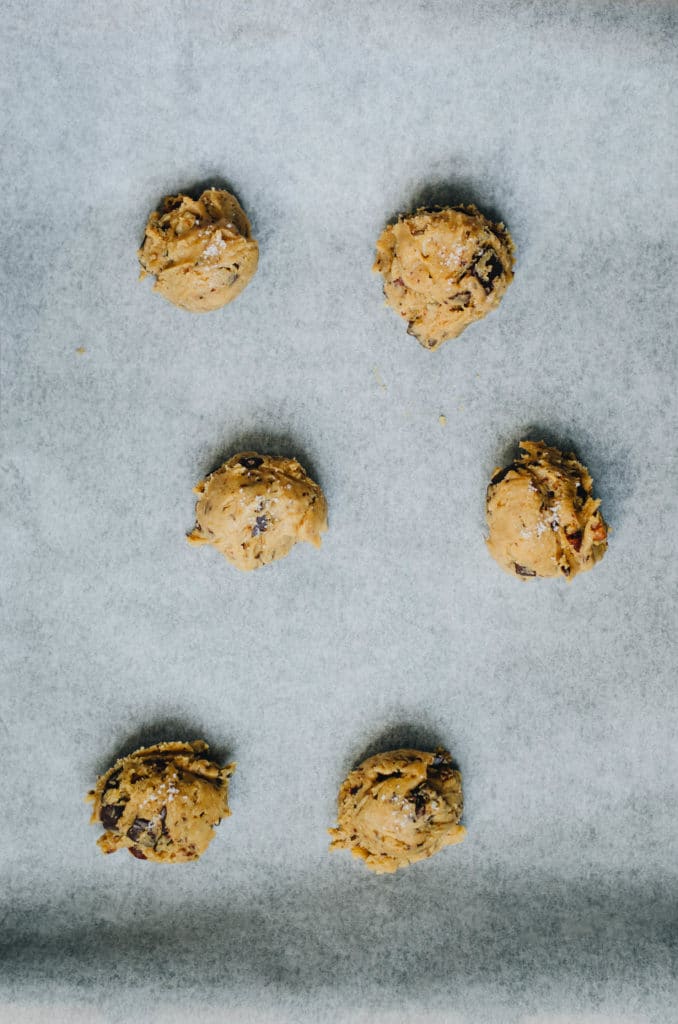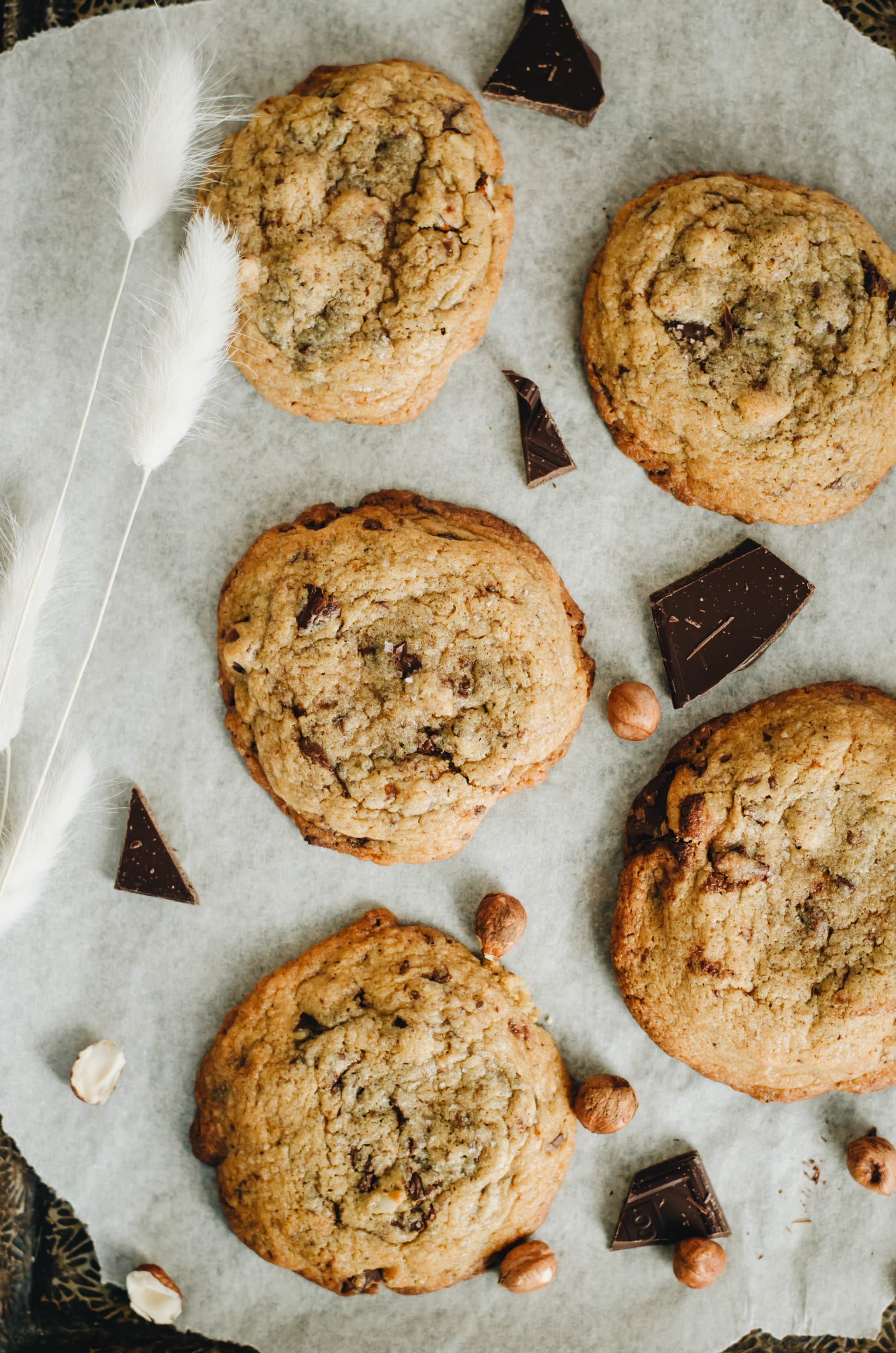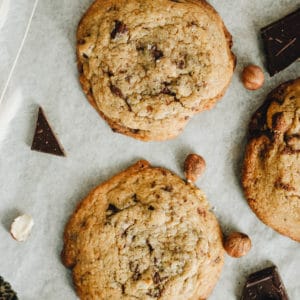 Soft and Chewy Chocolate Cookies Best Recipe
Ingredients
350

g

flour

200

g

dark or milk chocolate

200

g

butter

200

g

brown sugar

2

handfuls of crushed hazelnuts

(optional)

1

large egg

1

teaspoon

baking powder or baking soda

Sea salt
Instructions
In a large bowl, mix the flour and baking powder.

Melt the butter over medium heat. Once melted, pour it into another bowl then add the brown sugar. Mix well until you obtain a homogeneous mixture.

Add the whole egg and mix again until the texture is smooth and shiny.

Pour half of the flour-yeast mixture into the bowl, mix a little with a spoon, then pour in the rest without mixing.

Cut the dark chocolate into pieces using a large knife then add them to the preparation in the bowl. Do the same with the hazelnuts. Mix until the chocolate and hazelnuts are well incorporated.

Cover the bowl and place it in the refrigerator for 30 minutes.

Preheat your oven to 180°C.

Using an ice cream scoop or a tablespoon, form balls of dough and place them on a baking tray covered with baking paper. Space them well so that the cookies do not merge together during baking. Lightly sprinkle the pasta balls with fleur de sel.

Bake for 10 minutes. After 8 minutes of cooking, open the oven, take the baking tray and tap it gently on the work surface. This will allow the cookies to spread well. Bake again for 2 minutes.

Once cooked, leave to rest for 5 minutes then carefully place the cookies on a rack by sliding them and let them rest for at least 10 minutes before eating them.
If you ever make my homemade Soft and Chewy Chocolate Cookies best recipe and you like it, don't hesitate to tag me on Instagram @tangerinezest so I can see the result and share it myself…
Finally, just to let you know I am French and I translate my recipes, be indulgent if you see syntax errors and do not hesitate to leave me a comment so I can correct it. I hope you will like my recipes and enjoy your visit to my food blog!