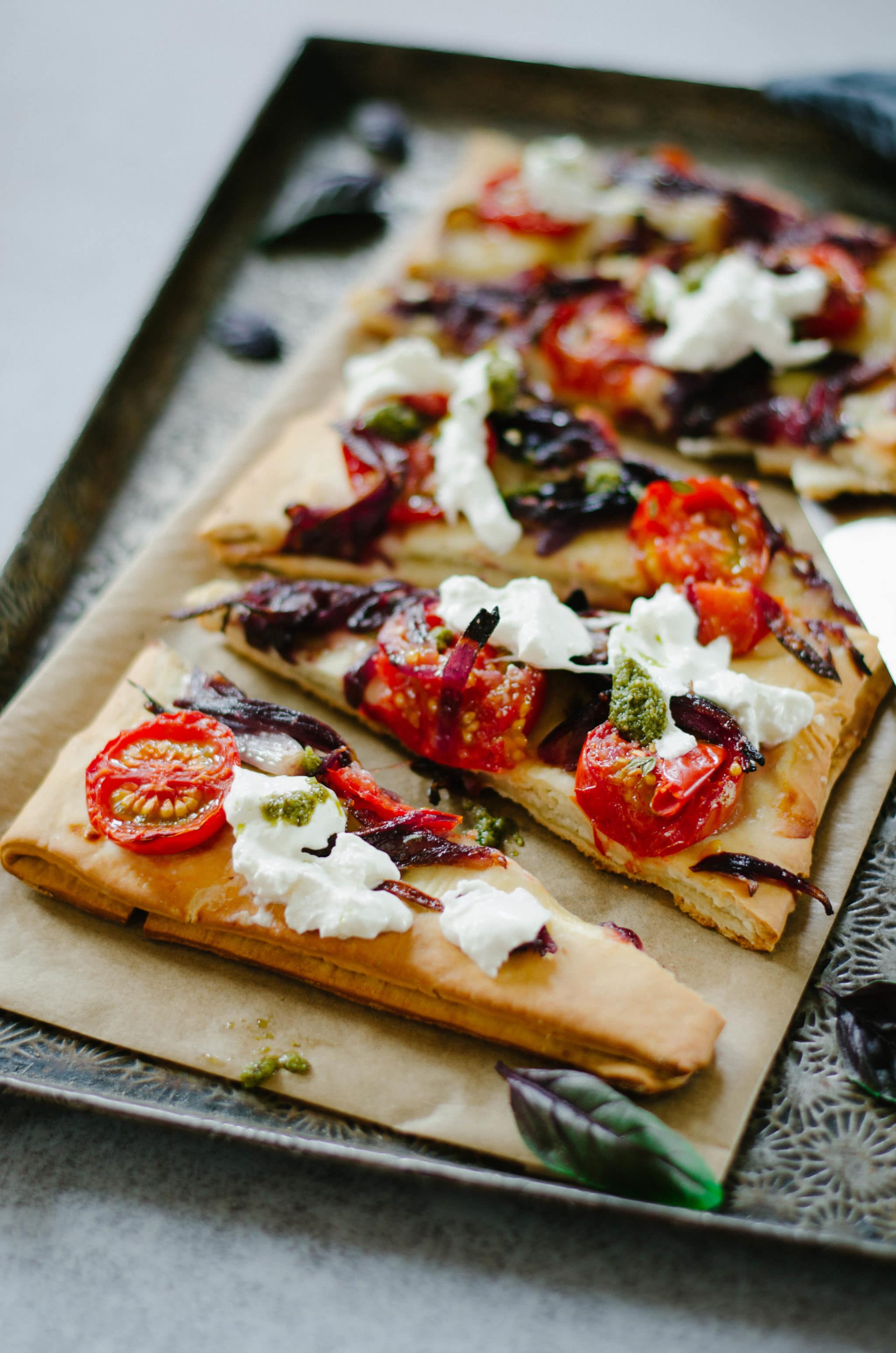 If there's one thing I can tell you, it's that this tomato Focaccia with Burrata and onion recipe is a must-try! It's a real delight!
Initially, I wanted to make a tomato tart, but in the end I wanted a focaccia. So I mixed the 2 and added a few gourmet touches.
I know you really liked my previous recipe for ricotta and tomato focaccia, and the bar was set high, but this time I think I've reached the ultimate focaccia!
Take gourmet ingredients like burrata, candied red onions and a little pesto, and combine them with a mustard and tomato base, and you've got a recipe that's more than delicious!
Try it and you'll see that it's totally addictive! !!
You'll see that I've filled it with mustard, but you can add or replace it with ricotta, depending on whether you like mustard or not, or whether you're going to feed it to the kids….
Well, I'll leave you with a few photos that still have me salivating, as well as my recipe, which I can't wait to make again 😉
Tomato Focaccia with Burrata and Onion recipe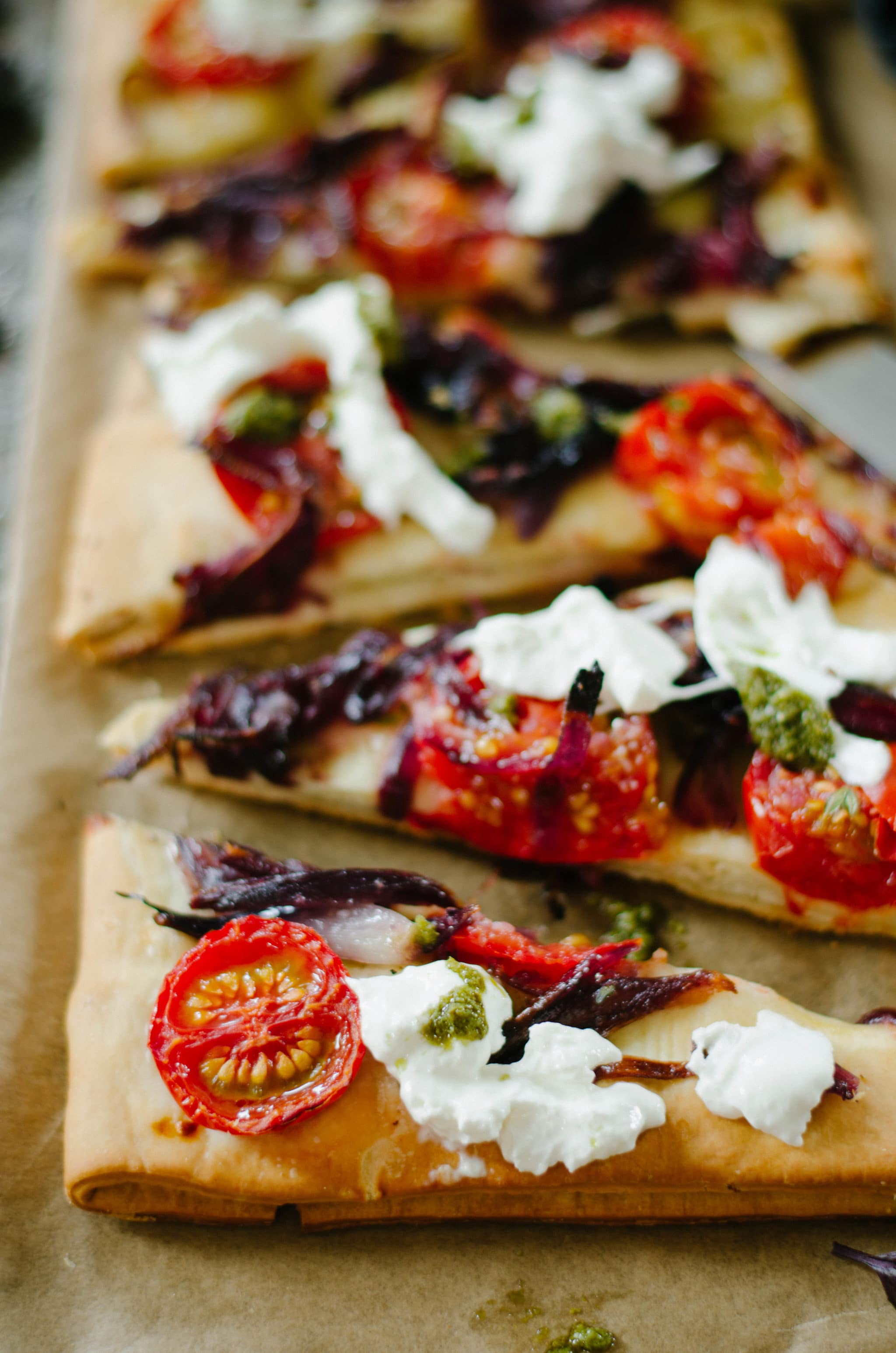 What ingredients do you need to make this delicious focaccia recipe?
cherry/cocktail tomatoes
some mustard
pesto
red onion (confit)
brown sugar
olive oil
thyme
salt and freshly ground pepper
coppa or pancetta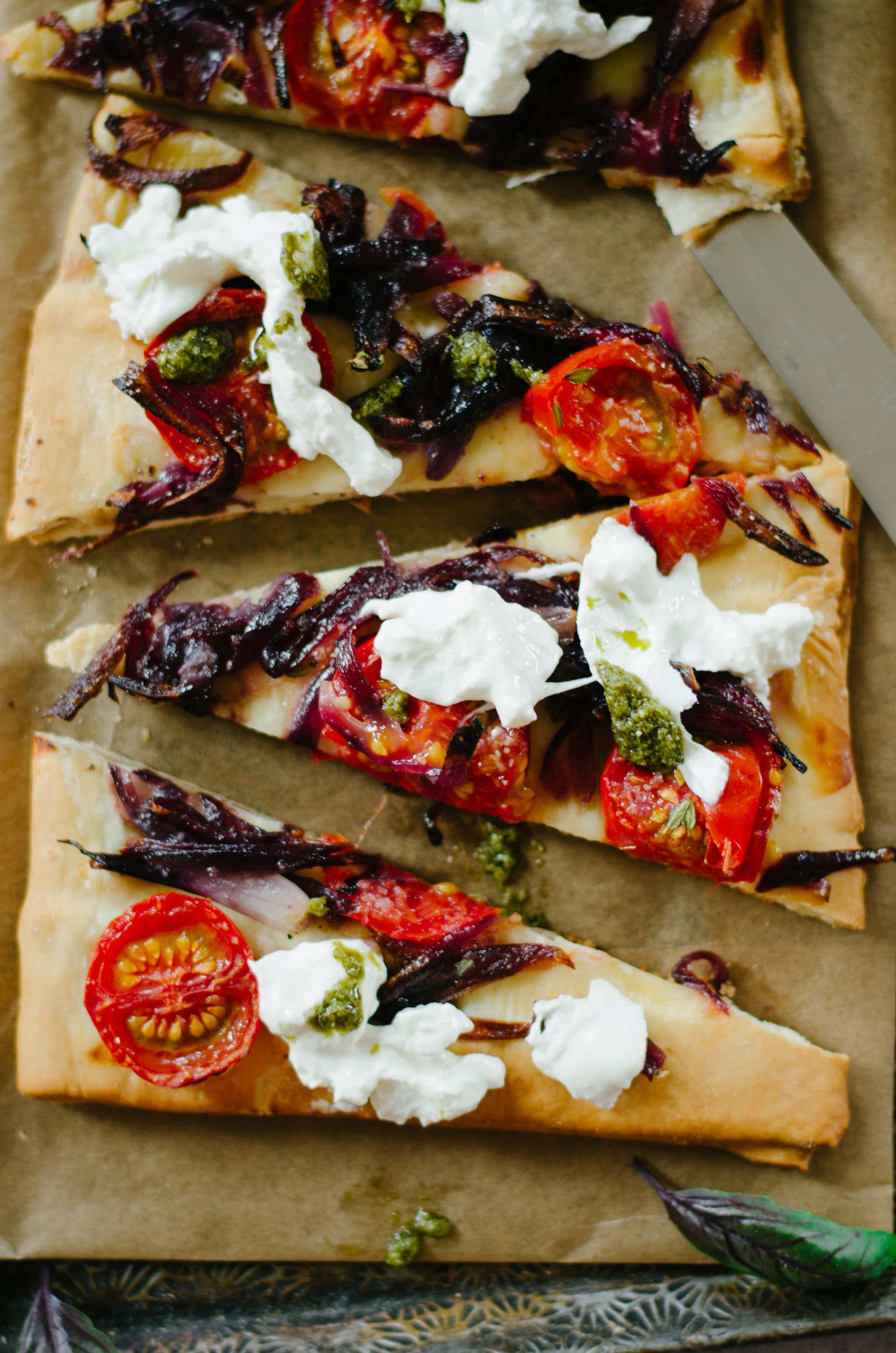 And if you're interested, I'm sure you'll also enjoy an excellent, easy-to-make recipe, Italian Rosemary Focaccia!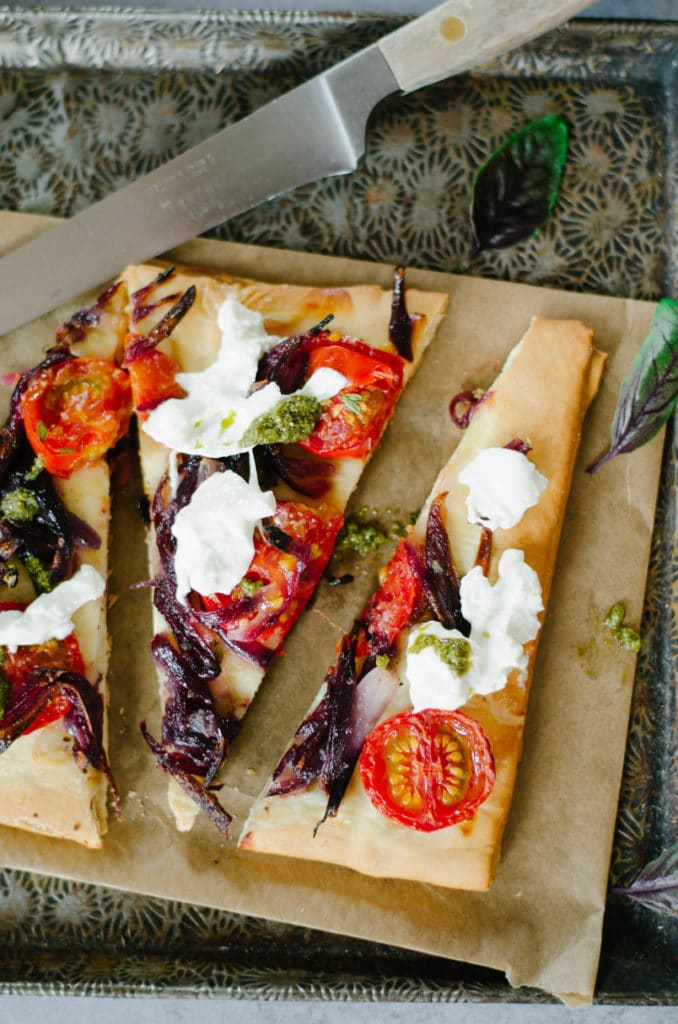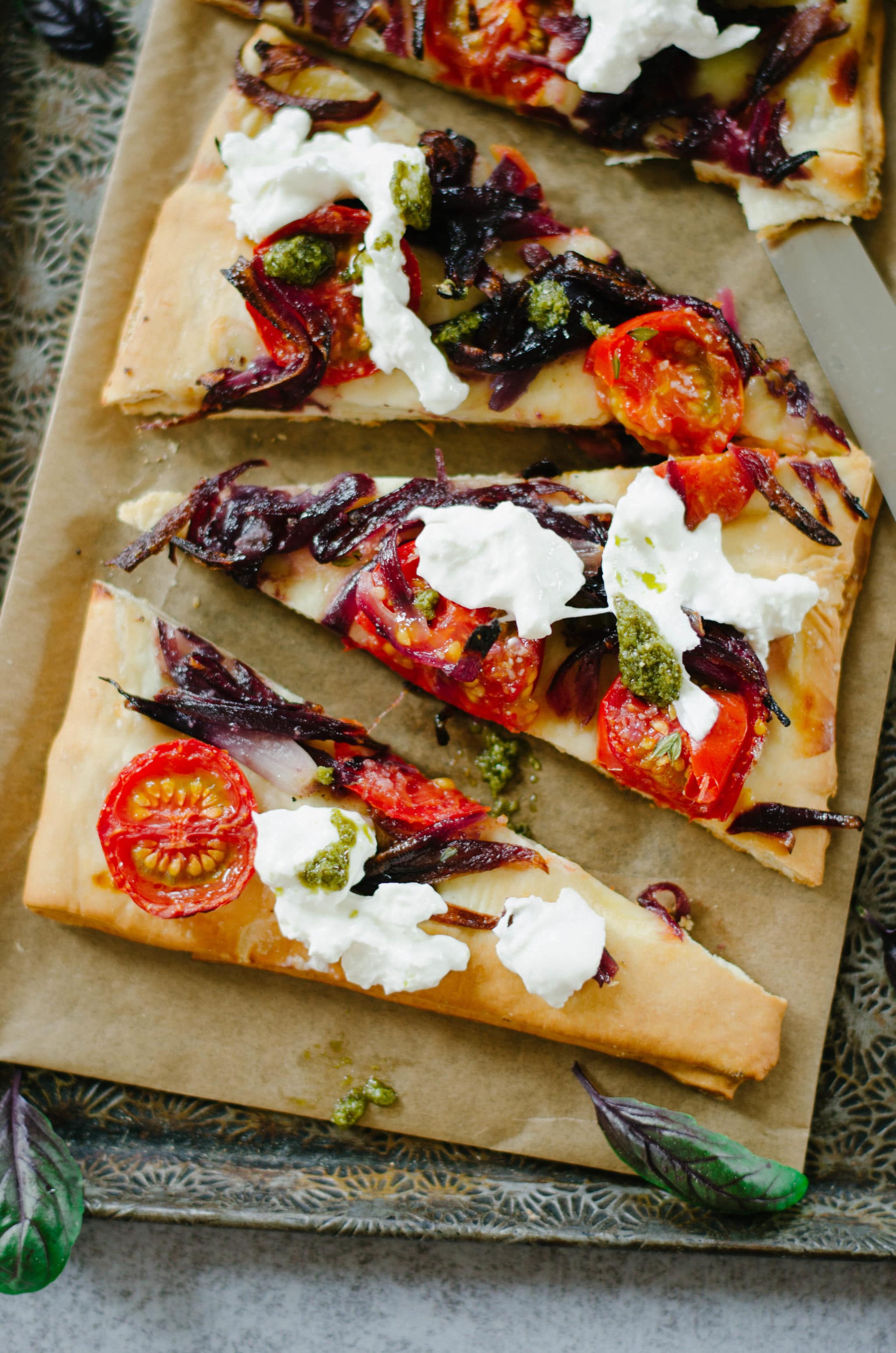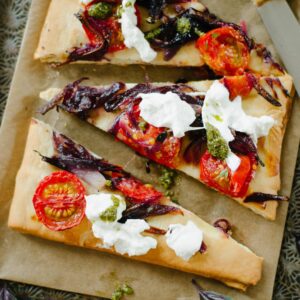 Tomato Focaccia with Burrata and Onion recipe
This focaccia recipe so delicious that as soon as you finish it, you can only think of making it again…
Ingredients
1

homemade pizza dough

10

cherry/cocktail tomatoes

4

tablespoons

of mustard

Pesto

1

large red onion

1

tablespoon

brown sugar

1

burrata cheese

Olive oil

Thyme

Salt and pepper

Slices of coppa or pancetta

(optional)
Instructions
Make your homemade pizza dough or use a store-bought one.

Spread it out into a large rectangle.

Preheat your oven to 180°C.

In a pan, brown the chopped red onion with a drizzle of olive oil. Then add the brown sugar and let it caramelize slightly.

Spread the mustard on half of the dough. Close the other half of the dough on top and press the edges to seal. Pierce small holes with the tip of a knife and brush generously with olive oil using a kitchen brush.

Arrange the halved tomatoes on the pizza dough, pressing them lightly into the dough and sprinkle with sprigs of thyme and salt. Spread the caramelized onions on top.

Bake for 30 to 40 minutes, monitoring the cooking.

Once cooked, spread a few spoonfuls of pesto on top as well as small pieces of burrata.

Enjoy immediately and enjoy!

You can add a few small pieces of coppa or pancetta, it's wonderful!
If you ever make my Homemade Tomato Focaccia with Burrata recipe and you like it, don't hesitate to tag me on Instagram @tangerinezest so I can see the result and share it myself…
Finally, just to let you know I am French and I translate my recipes, be indulgent if you see syntax errors and do not hesitate to leave me a comment so I can correct it. I hope you will like my recipes and enjoy your visit to my food blog!