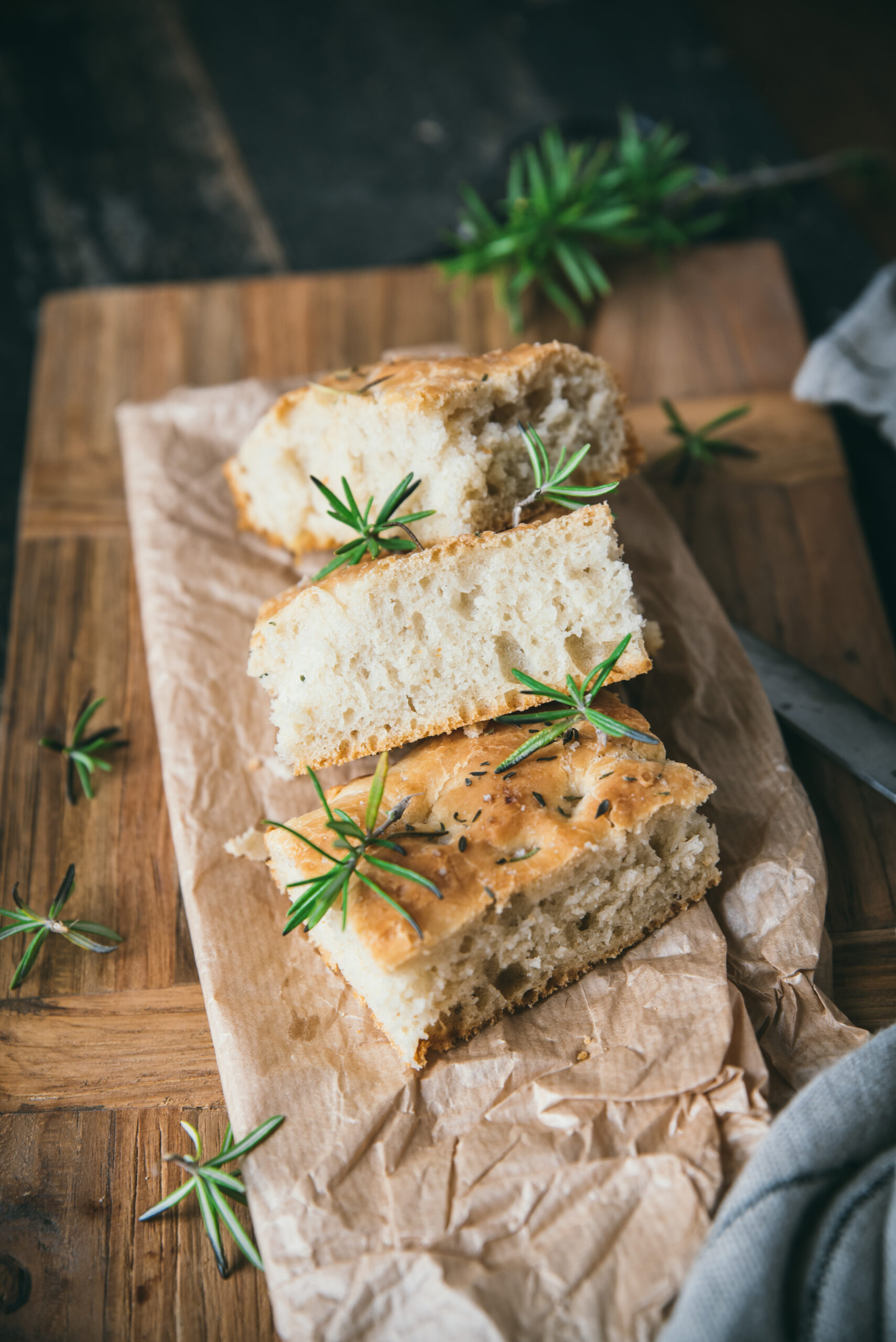 I know the weather is pretty changeable right now, but with the warm weather coming, this easy Italian Rosemary Focaccia recipe will be exactly the recipe you'll want to try and make again and again all summer long!
It is totally addictive!
It would be perfect as is with a tomato and burrata salad, but also with a raw zucchini salad or gazpacho. I even like to eat it grilled with spreads as an appetizer or for breakfast.
You'll see in the photos below that I put the different steps to make this focaccia recipe…
Italian Focaccia with Rosemary Recipe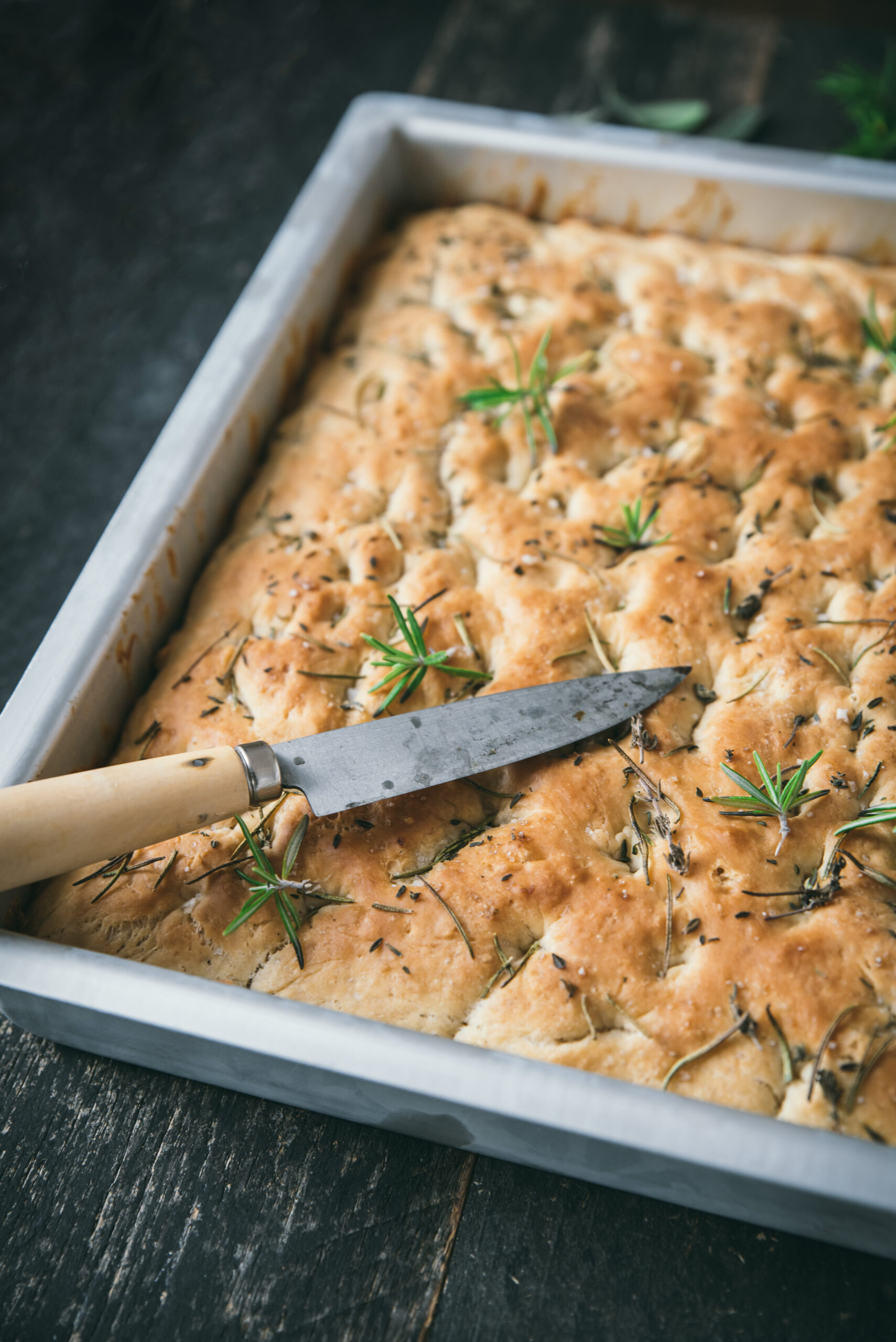 What ingredients do you need to make this delicious Italian Focaccia recipe?
flour
fresh baker's yeast
warm water
good quality olive oil
fine salt
sugar
rosemary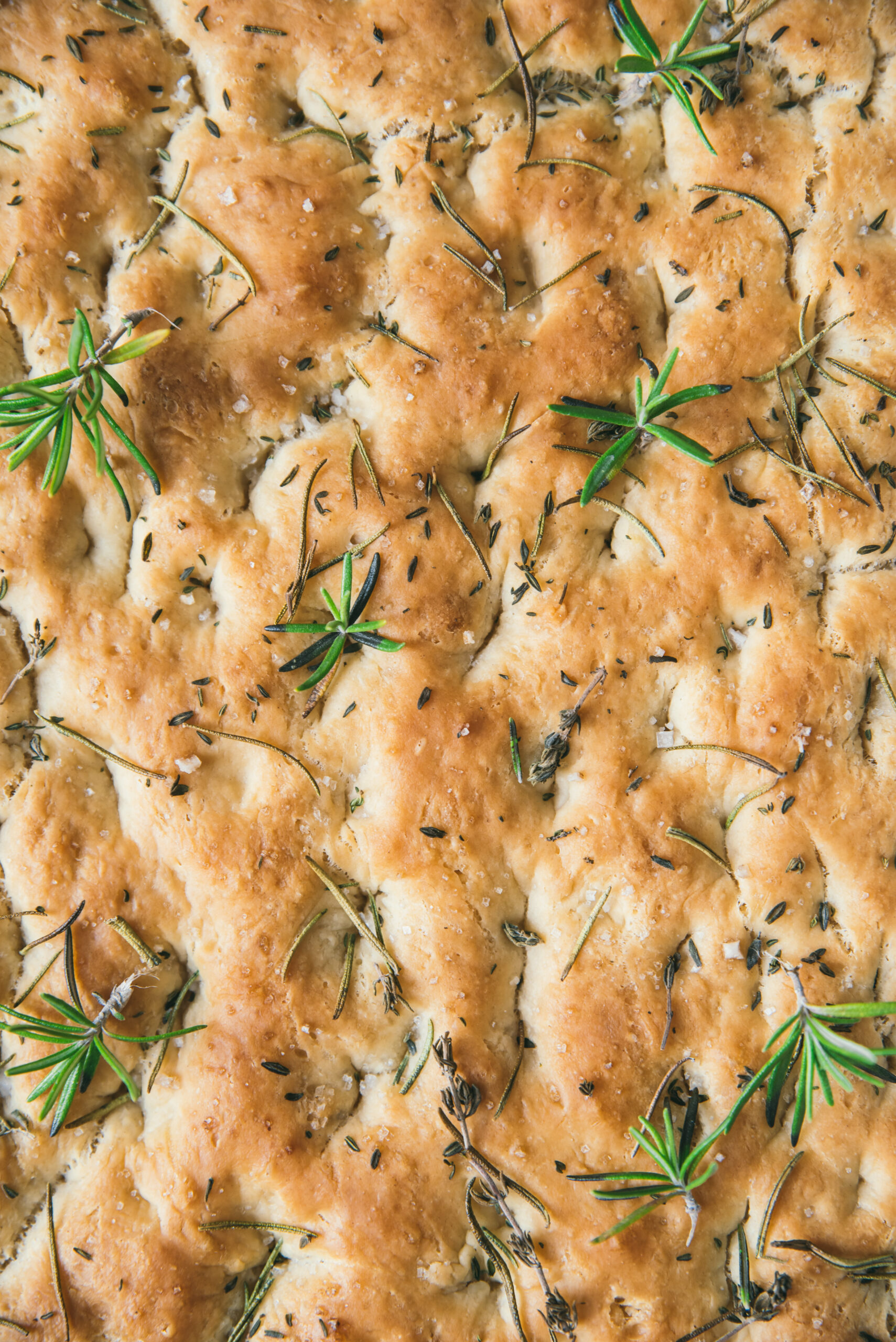 What equipment do you need to make this recipe?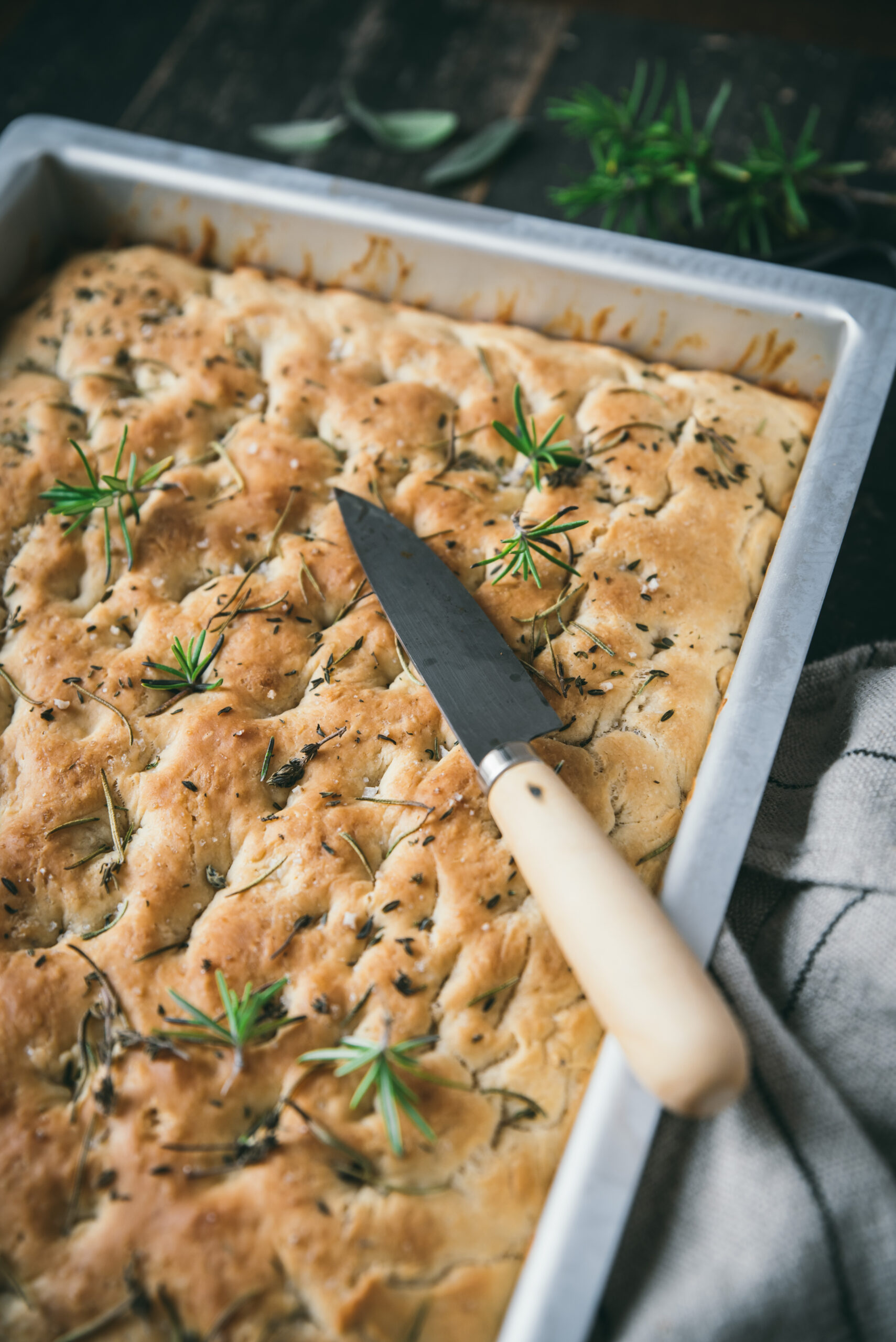 Why would you like this delicious homemade foccacia recipe?
It's very easy to make.
It's super crispy on the outside and fluffy on the inside. I'm still salivating just writing this…
You can customize it according to your taste and desires: you can add other herbs, seeds or spices, but also olives, onions, garlic, dried or cherry tomatoes, etc.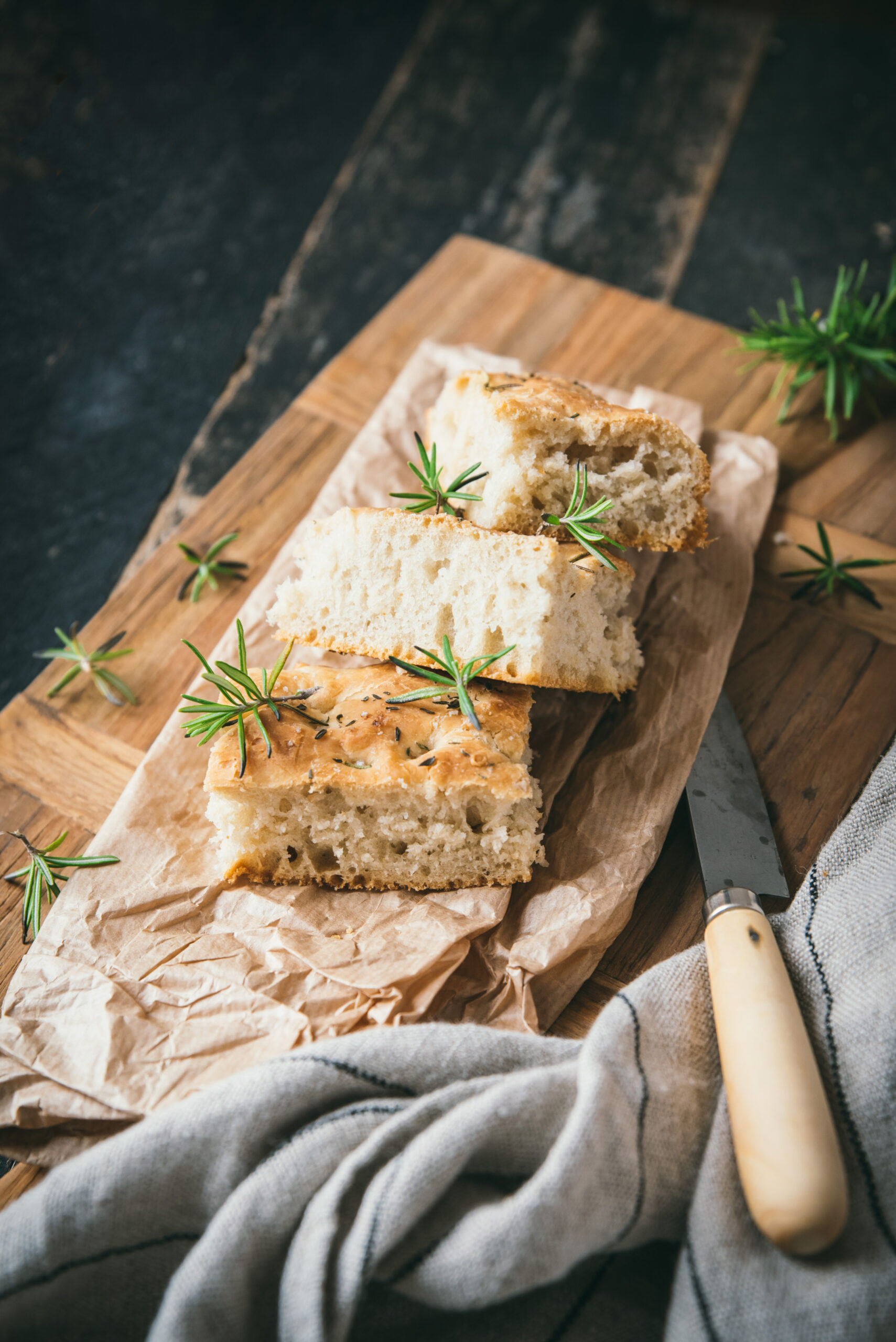 MY ADVICE TO SUCCEED WITH THIS RECIPE:
Read the entire recipe below before you begin
Prepare all ingredients (in the correct amounts and weighed) before you begin.
This will allow you to check that you have everything at home and complete if necessary, to understand the recipe well and to go overall faster in the realization of the recipe, and to take more pleasure in cooking 😉 .
So that you can visualize what this focaccia looks like, I've put the photos of the steps below. What I like most is when you push your fingers into the dough and form little holes where the olive oil will go…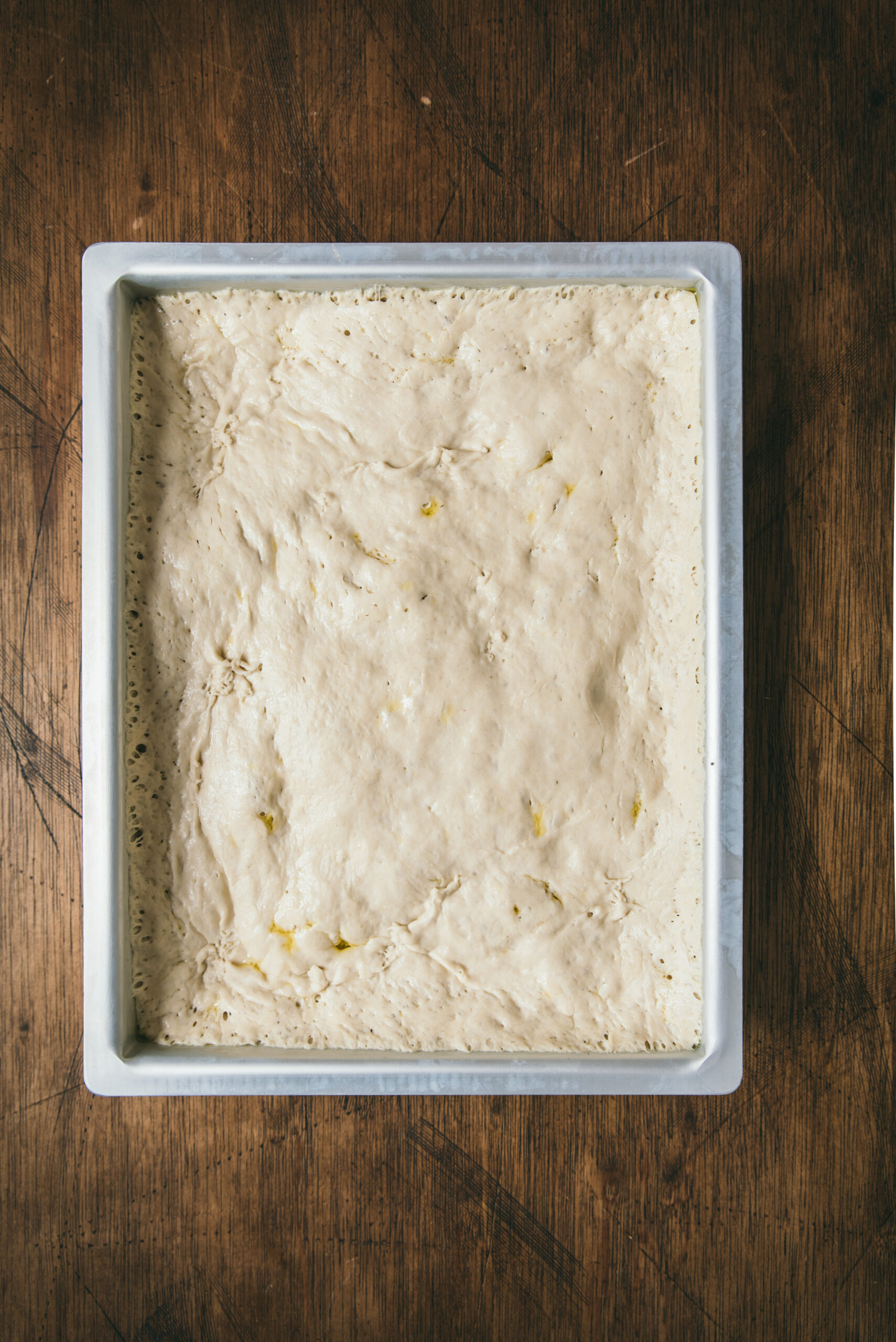 What other bread recipes would you like if you like this one?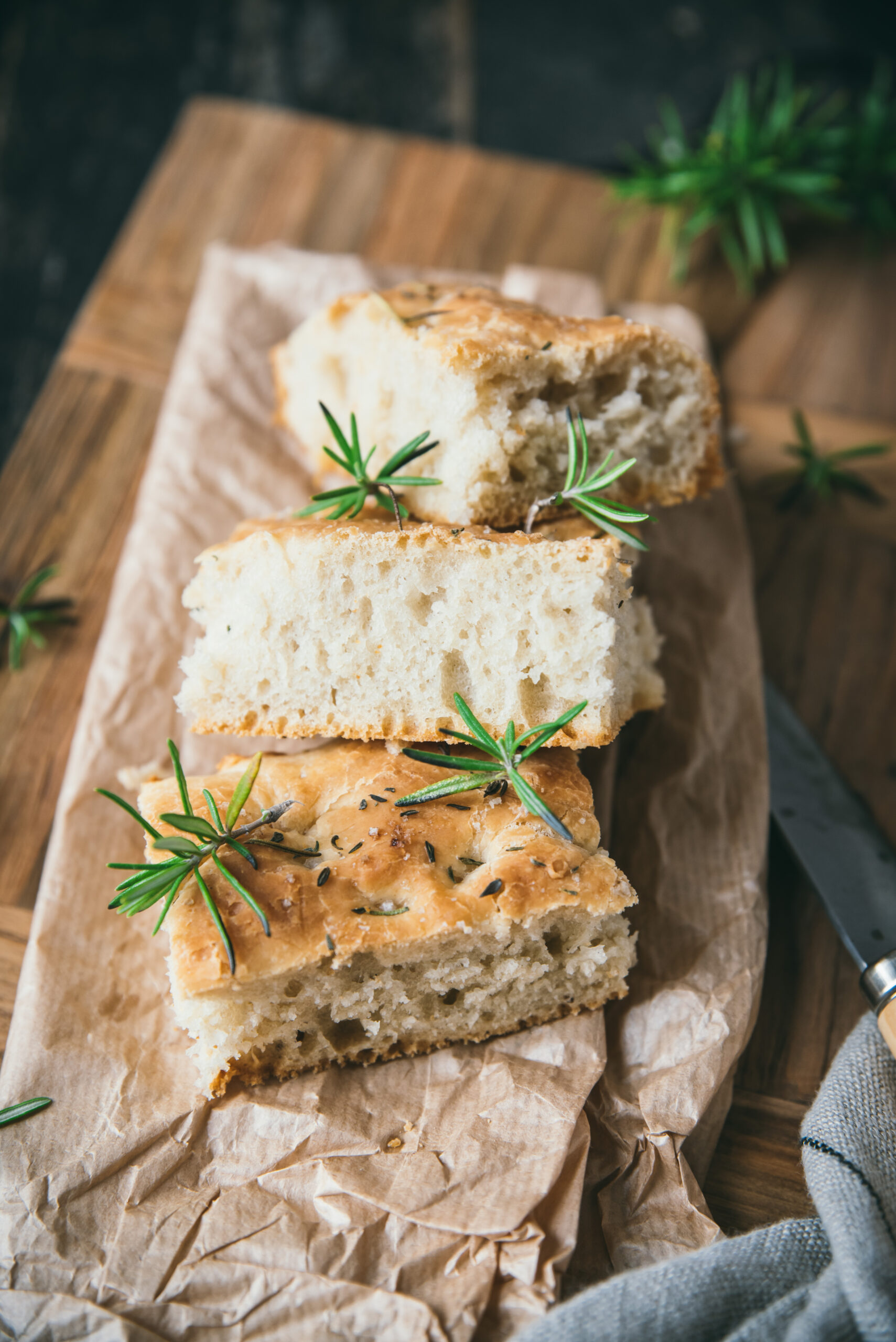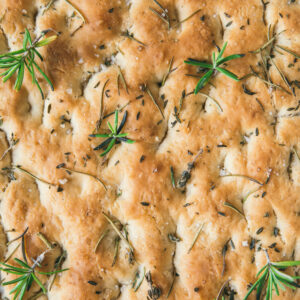 Italian Focaccia with Rosemary Recipe
Ingredients
500

g

flour

12

g

fresh baker's yeast

+ 2 tablespoons warm water

30

cl

warm water

8

cl

olive oil

10

g

salt

1

teaspoon

sugar
To garnish
Olive oil

Salt flacks

Rosemary
Instructions
In a small bowl, place the crumbled fresh yeast with the sugar and 2 tablespoons of warm water.

Let stand for 10 minutes, then mix gently.

In a bowl or in the bowl of your food processor, add the yeast-sugar-water mixture. Add the yeast-sugar-water mixture.

Pour 30 cl of warm water over the flour, the 8 cl of olive oil and the salt.

Work the dough until it is well mixed.

A slightly sticky ball should form.

Cover the bowl with a clean tea towel and place it in your turned-off oven for 2 to 3 hours (or more).

Take the dough out and check that it has puffed up.

Preheat your oven to 180°C.

Oil the pan with olive oil and lightly flour it.

Pour the batter into the pan and spread it with your fingers, it may stick a little.

Drizzle olive oil over the top and press the dough with your fingers over its entire surface.

Sprinkle generously with fleur de sel and rosemary sprigs.

Bake for 15 to 20 minutes, depending on your taste. Personally, I like to cook for 5 minutes longer.

Let cool, then gently run a knife around the edges of the pan to loosen the foccacia.

Enjoy!
If you ever make my Italian Focaccia recipe and like it, feel free to tag me on Instagram or Facebook so I can see the result and share it back…
Just to let you know I am French and I translate my recipes, be indulgent if you see syntax errors and do not hesitate to leave me a comment so I can correct it. I hope you will like my recipes and enjoy your visit to my food blog!