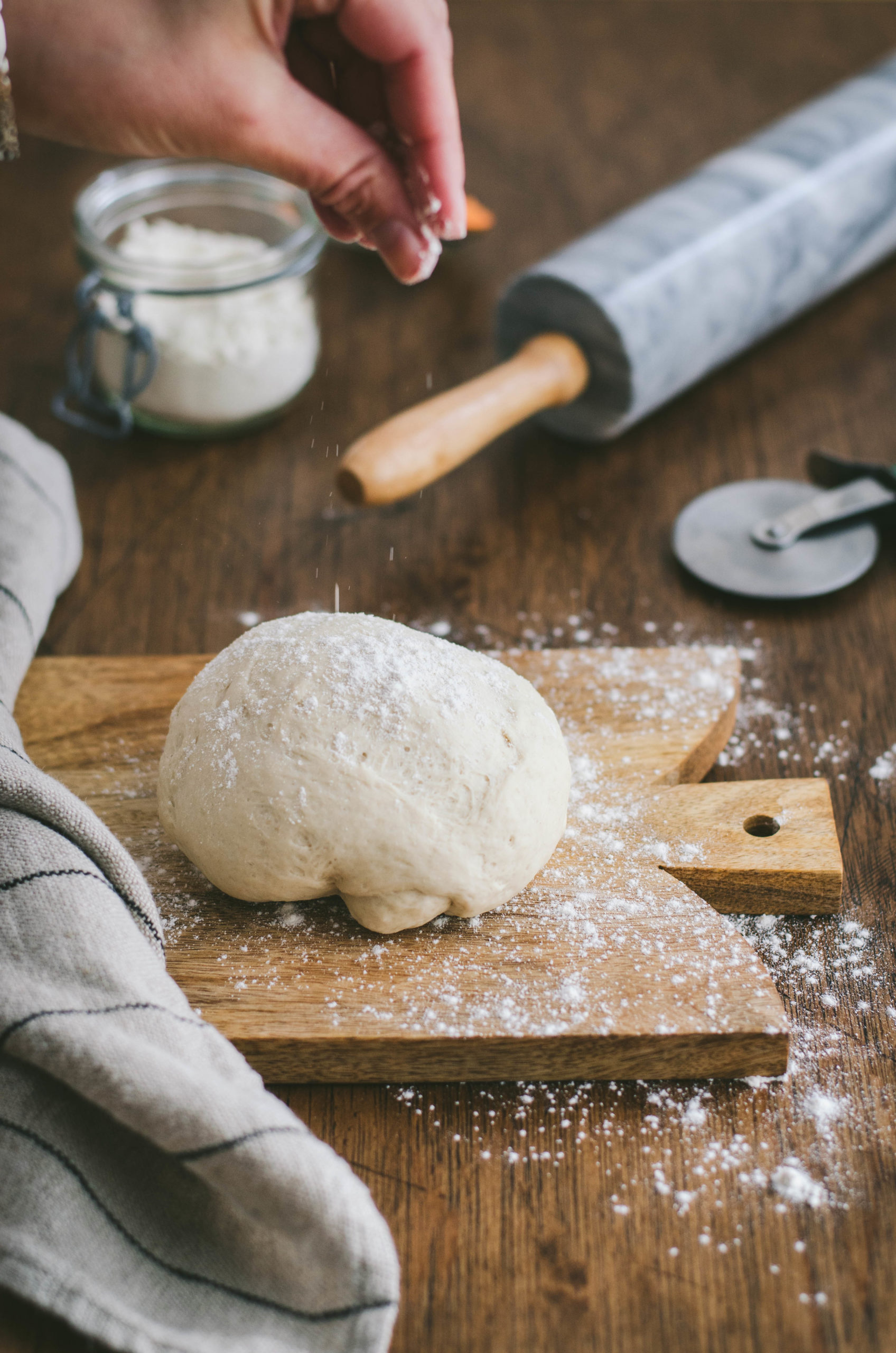 I have to admit that it's been a very long time since I made my homemade pizza dough (almost 1 year…).
So I went back to the recipe I shared here on the blog a few years ago to see if it still worked. And it still does! This pizza dough recipe is excellent and super easy to make at home!
That's why I'm re-posting it today after giving it a little facelift in terms of photos 😉
I even took a few photos of my dough rising (just below the recipe).
I confess that I tend to make savoury tarts with butter-free dough, because it's quicker and the dough doesn't have time to rise, but a good homemade pizza feels good too!
Homemade Pizza Dough Recipe
Depending on how thick you make the dough when you roll it out, it will be more or less chewy and crispy, it's really up to you and that's what's great about this recipe.
Personally, I like thin pizza dough, so when you make it yourself, you might as well enjoy it. So, with the amount of dough in this recipe, I can make a nice big, fairly thin pizza if I spread it out well.
On the other hand, if you like your pizzas softer and thicker, roll out the dough less and let it rise again for a few minutes before topping.
You can also use this dough to make focaccia.
I'll give you a few recipe ideas below… and of course, please be patient, as I'll give you the latest pizza recipes in a future post… a merrrrrveiiiiiillllllle! 🙂
Some recipe ideas you can make with this pizza dough:
Look closely at the photos below, you will see the pizza dough rise from one image to the next… 😉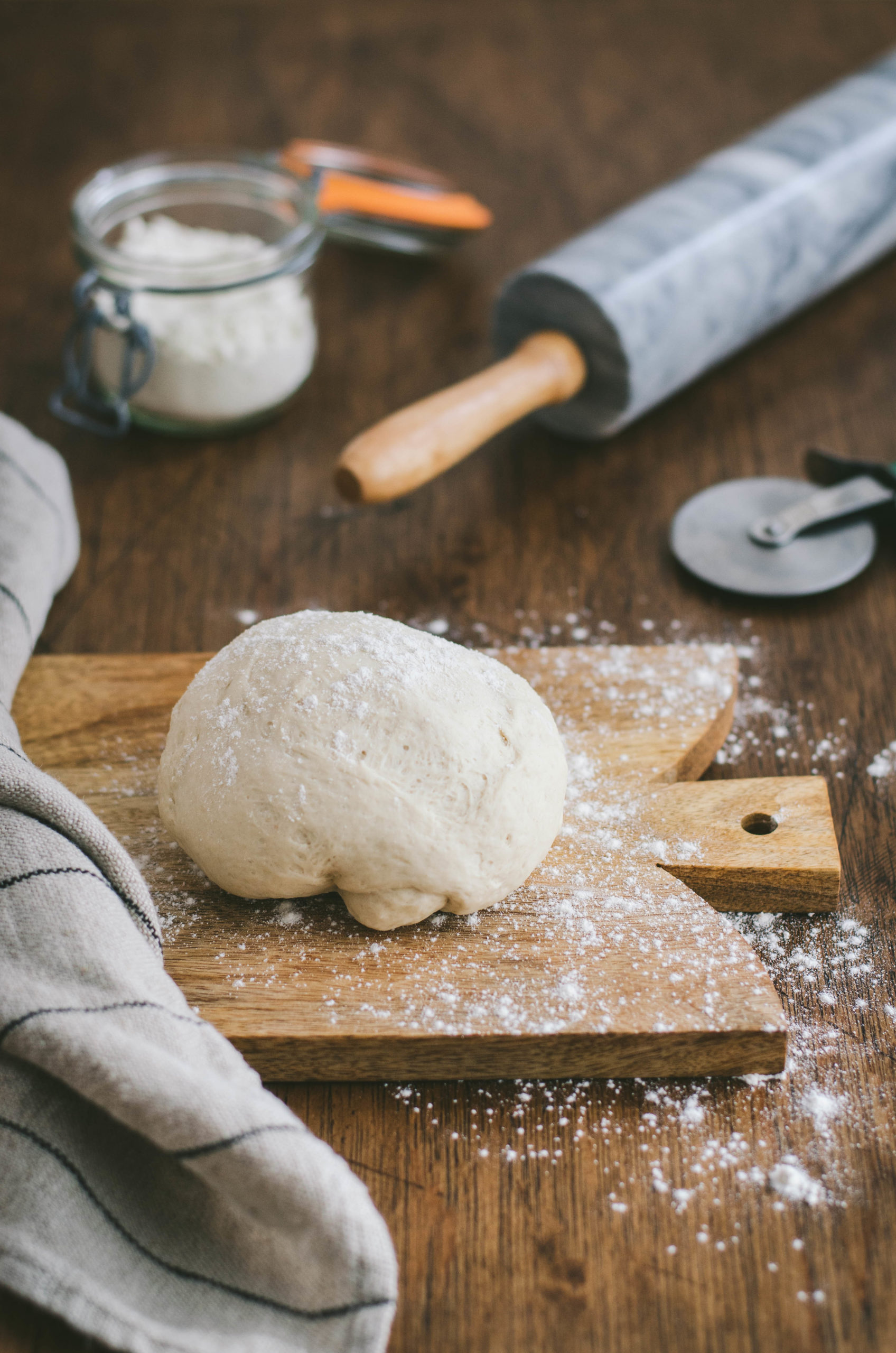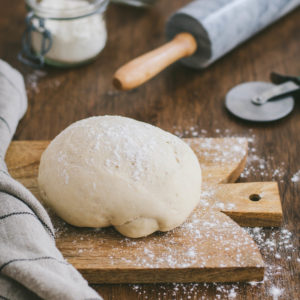 Homemade Pizza Dough Recipe
Ingredients
500

g

flour

25

cl

water

1/2

teaspoon

salt

1

teaspoon

olive oil

10

g

fresh baker's yeast

or 1/2 sachet of dry yeast

1

pinch

sugar
Instructions
Pour the flour into a bowl and make a well then add the water, salt and sugar.

Mix with a spatula adding the olive oil.

Add the crumbled fresh yeast or rehydrated dry yeast then start kneading.

Knead well until the dough is smooth and pulls away from the walls, about 10 minutes.

Form a ball and place it in a lightly oiled and floured salad bowl.

Place a clean, dry cloth over it and let stand at room temperature for at least 1 hour, possibly 2 hours. The dough must double in volume.

Roll out the dough and place it on a baking tray lined with parchment paper.

Leave to rest for another 15 minutes then garnish as desired.

Then bake in a preheated oven at around 200°C for 20 to 30 minutes depending on your filling.
Notes
If you have a pastry robot, do not hesitate to make your recipe using it. I find that it is always simpler, faster and easier, especially for kneading.
If you ever make my homemade Pizza Dough recipe and you like it, don't hesitate to tag me on Instagram @tangerinezest so I can see the result and share it myself…
Finally, just to let you know I am French and I translate my recipes, be indulgent if you see syntax errors and do not hesitate to leave me a comment so I can correct it. I hope you will like my recipes and enjoy your visit to my food blog!