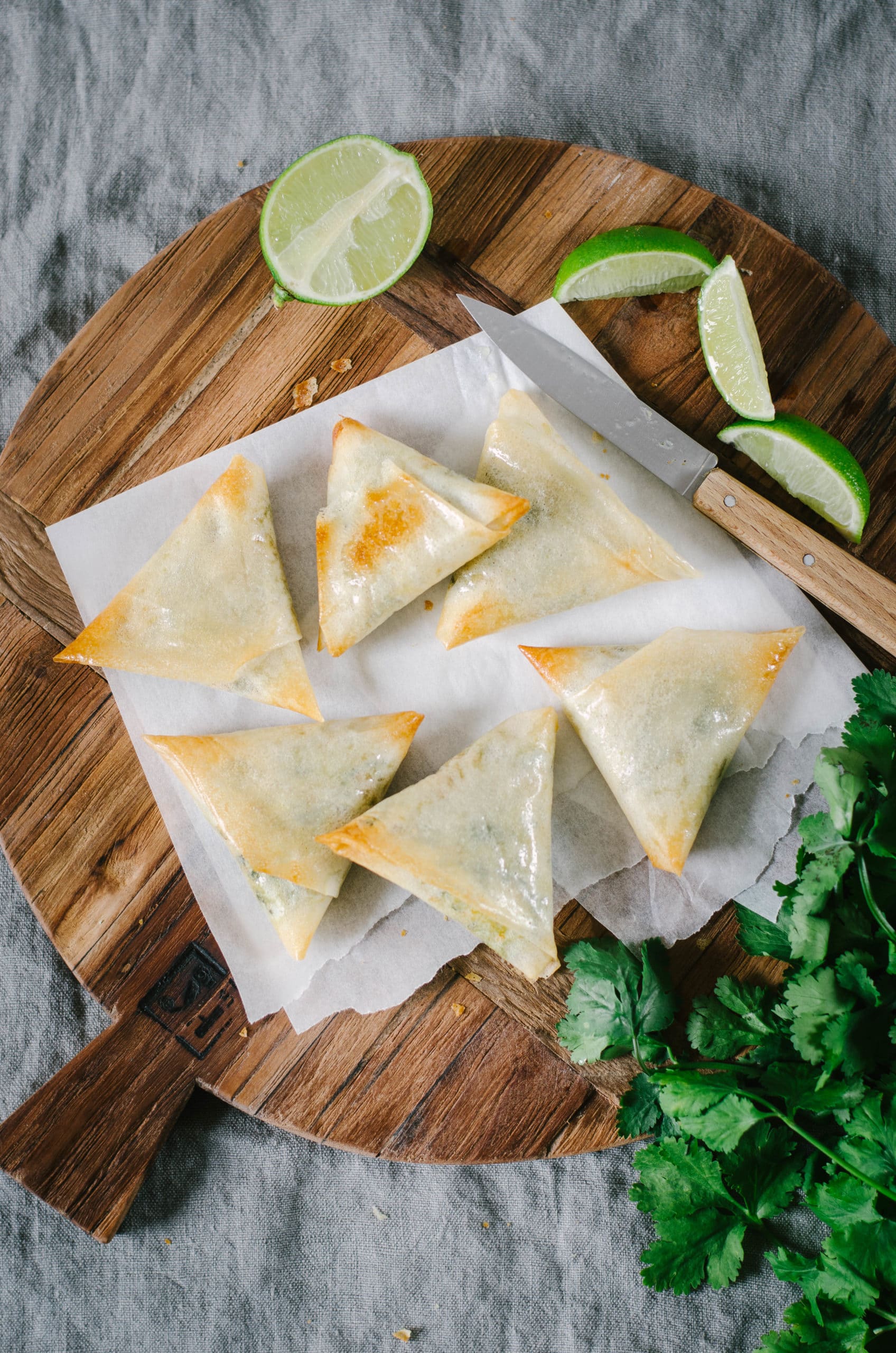 Have you ever made samoussas at home? In our house, it's a classic and ever since I was a kid, I've been eating it at home. This time, I'm sharing my version of Vegetarian Samoussa with Vegetables and Indian Spices, perfect for making our taste buds travel.
I love this super easy recipe (once you figure out how to fold them, but I'll show you all about it in video, below), lightly fragrant and full of freshness thanks to the coriander leaves.
For those who wish, you can replace the fresh coriander with flat parsley, add mint leaves or other fresh herbs. Do as you wish, but for this recipe, the base remains in the potatoes that allow the filling to hold together.
You can serve these samoussas as an appetizer, as an entrée or as a main course, it's up to you. That's really what I love about these little things, is that they are versatile and easy to reheat if there is any left over.
So what do you think?
I leave you with my recipe of vegetarian samoussas with vegetables and Indian spices, made with potatoes, spinach, carrots and many other good things…. Have a good trip 😉
Vegetarian Samoussa with Vegetables and Indian Spices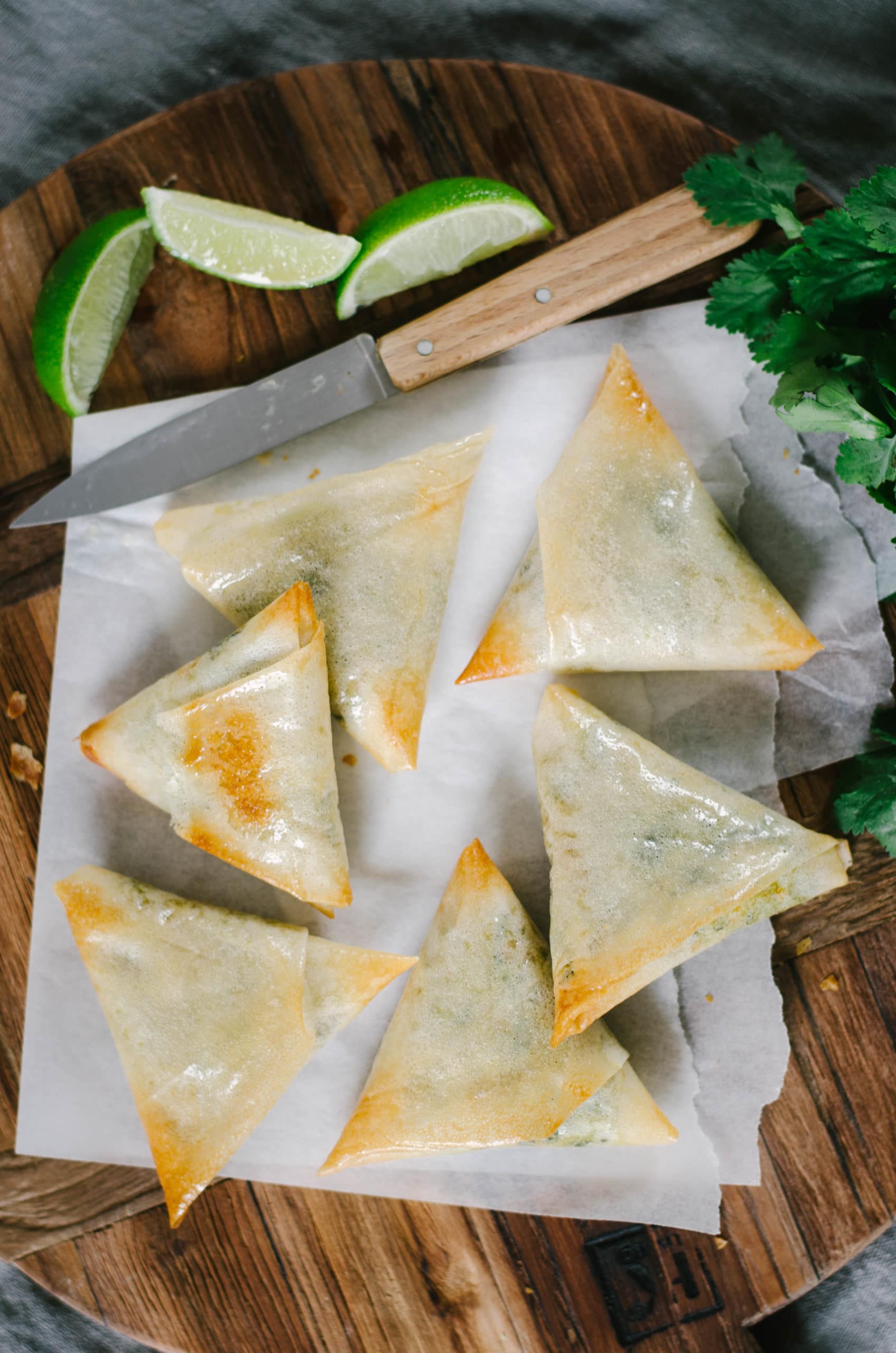 WHAT INGREDIENTS DO YOU NEED TO MAKE THIS DELICIOUS Indian Vegetable Samosa Recipe?
sheets of brick pastry
potatoes
onion
garlic
fresh spinach
curry powder
turmeric
fresh coriander
olive oil
salt and freshly ground pepper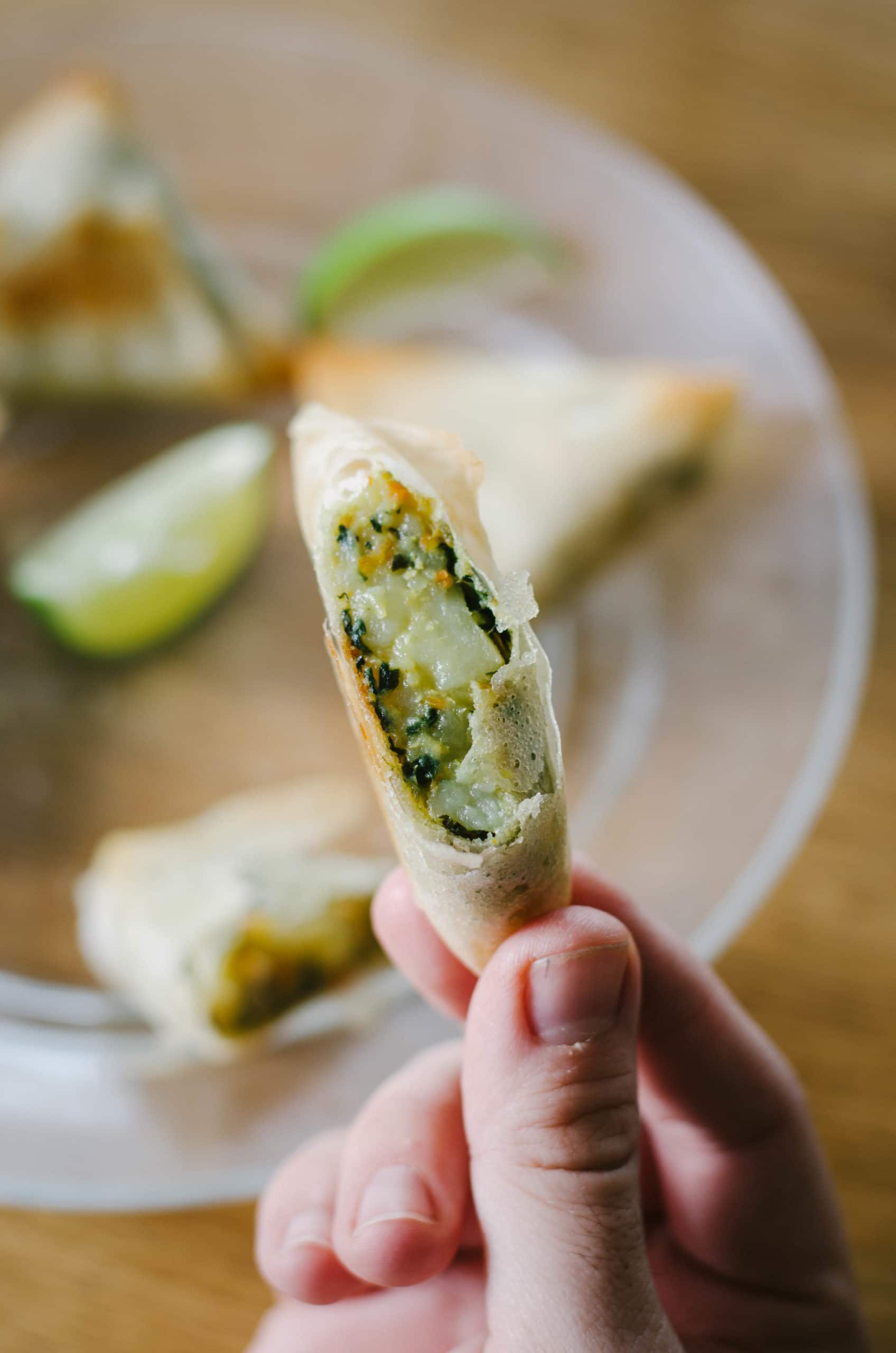 How to fold samoussas ?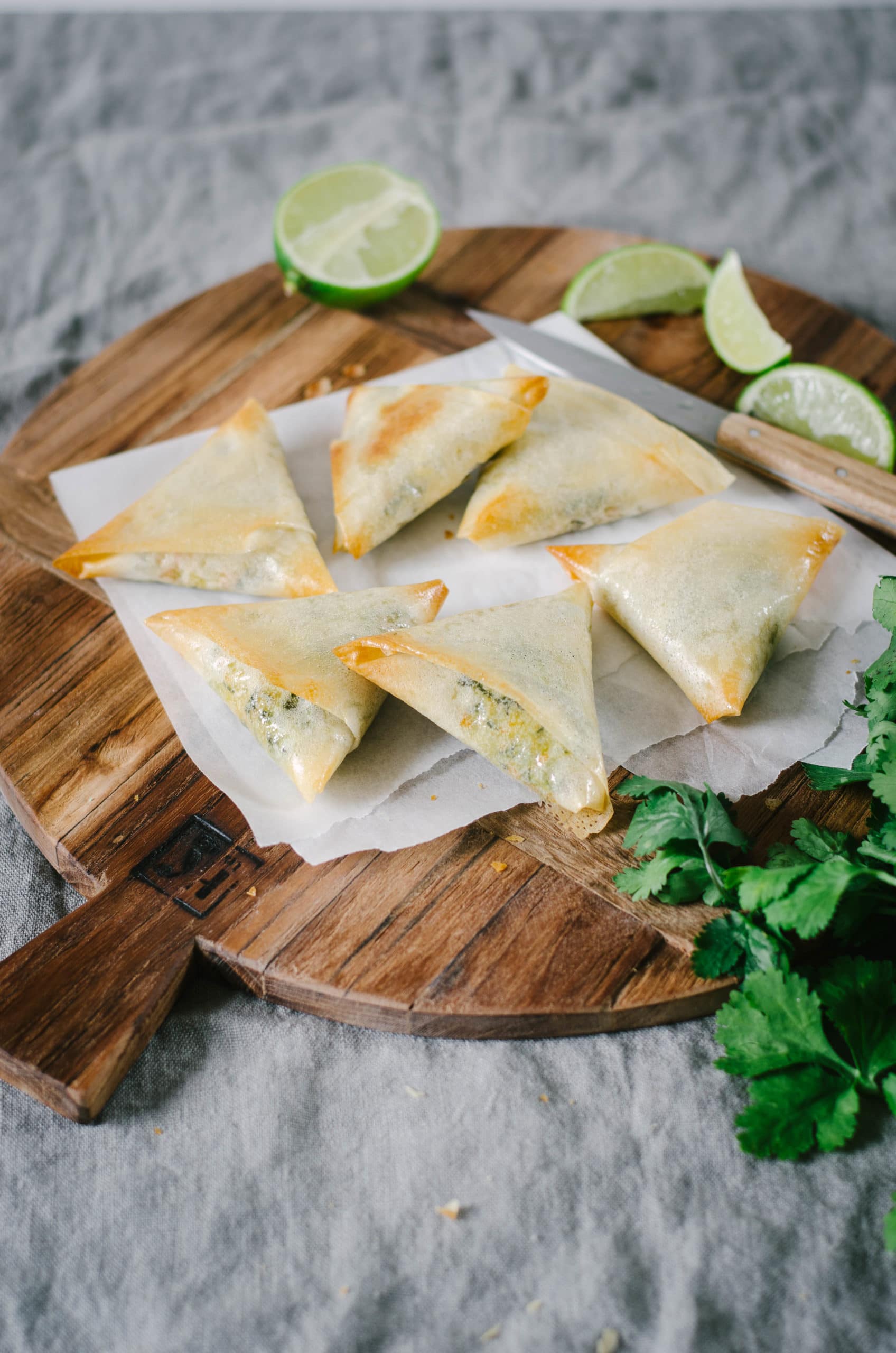 Vegetarian Samoussa with Vegetables and Indian Spices
Ingredients
10

Brick pastry sheets

5

small potatoes

1

onion

1

carrot

1

garlic clove

100

g

fresh spinach

1

teaspoon

curry powder

1

teaspoon

cumin powder

1/2

teaspoon

turmeric

few sprigs of fresh coriander

olive oil

salt and pepper
Instructions
Cook the potatoes in boiling water or steam them as desired. Once the potatoes are cooked, cut them into small pieces, place them in a bowl and mash them roughly with a fork.

In a small blender, put the peeled and chopped onion and the peeled and washed carrot, also in pieces. Coarsely chop and fry in a pan for 5 to 10 minutes with a drizzle of olive oil. Stir regularly.

Add the spices, then the washed, dried and coarsely chopped spinach and the pressed garlic. Fry for another 5 minutes over low heat.

Add the mashed potato mixture to the bowl along with the chopped fresh coriander leaves.

Mix to form a sort of paste, but not a puree.

Preheat your oven to 180°C.

Cut the sheets of brick pastry in half and fold the samoussas as shown in the diagram.

Once the samoussas are formed, lay them flat on a baking sheet lined with parchment paper and brush them with a little olive oil using a kitchen brush.

Bake for 15 to 25 minutes, watching the cooking time.

Samoussas should be golden but not toasted.

Enjoy as you wish, as an appetizer, as a starter or as a main course with sauces or a salad.
If you ever make my recipe and you like it, don't hesitate to tag me on Instagram @tangerinezest so I can see the result and share it myself…
If you're looking for more samosa inspiration, I've made some with chicken, cream cheese and mint, or goat and honey, a real treat! You can also stuff them with leftovers, but give them a different look and you have a new meal.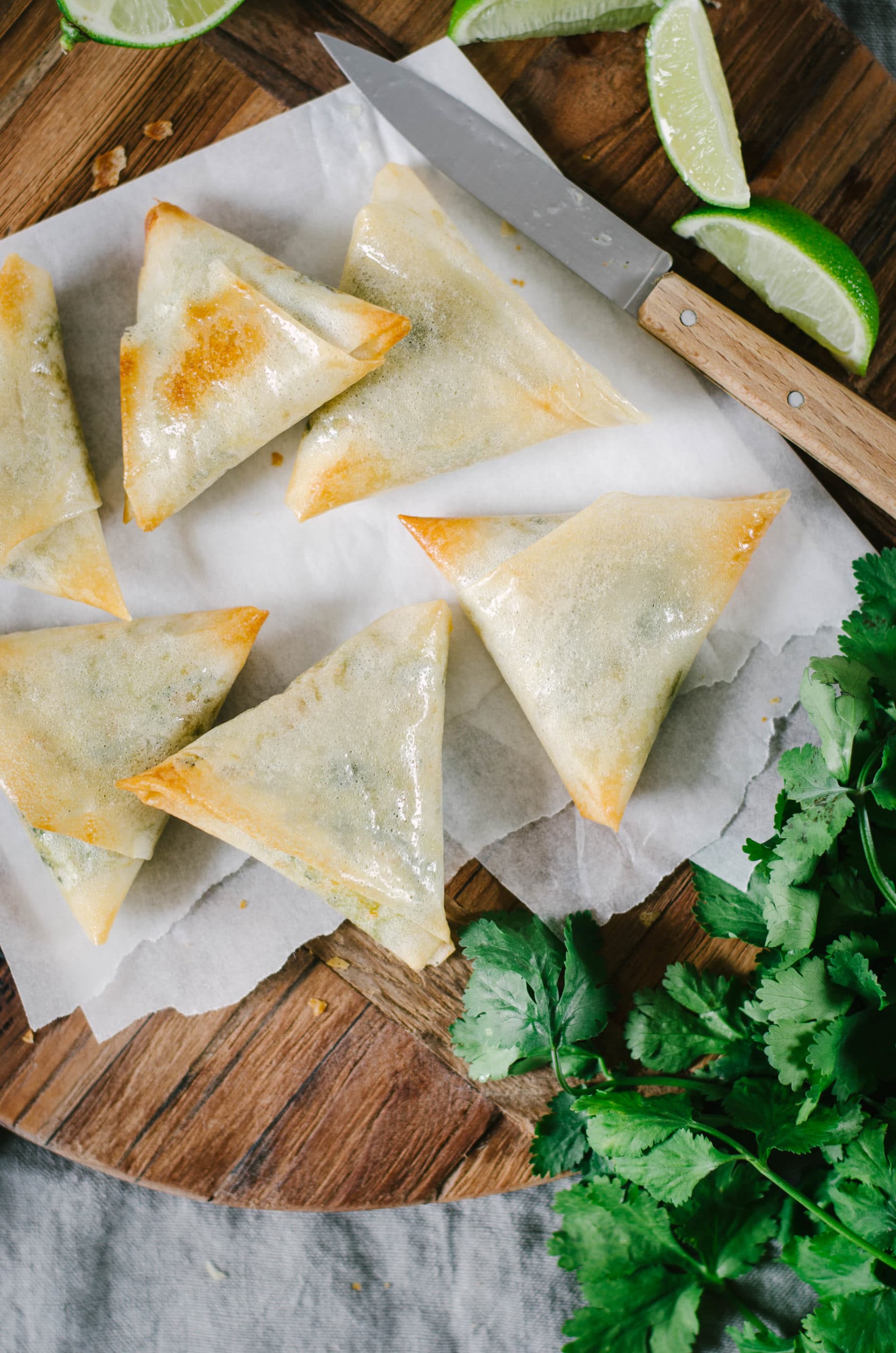 Finally, just to let you know I am French and I translate my recipes, be indulgent if you see syntax errors and do not hesitate to leave me a comment so I can correct it. I hope you will like my recipes and enjoy your visit to my food blog!