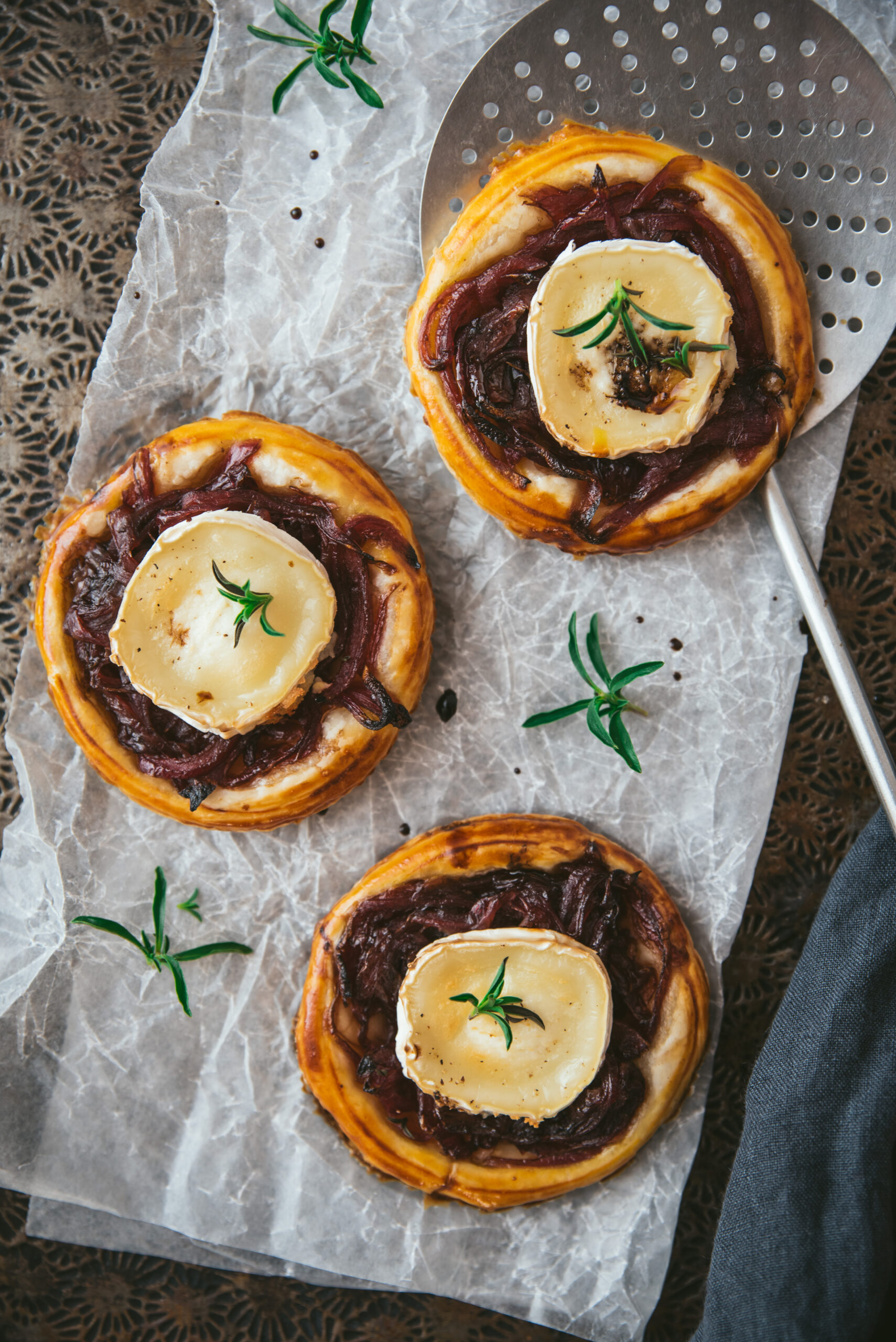 I love this caramelized Onion and Goat Cheese Pie recipe!
This recipe for goat's cheese and onion tartlets is one of the first I shared on the blog (10 years ago… hum hum…) and as it's one of my favorites, I wanted to give it a makeover and present it again here, so you can (re)enjoy it too….
This recipe has always been a big hit, and I love the sweet-savory combination of caramelized onions with balsamic vinegar and brown sugar, which works wonderfully with the sweetness of the goat's cheese.
You can then enjoy these tartlets hot or cold, which is perfect when you want to prepare them a little in advance, for an aperitif buffet for example.
It's the kind of recipe that's so easy to make and so delicious that if you try it once, you'll repeat it every week… 😉 I don't know if you're like that either, but when I discover or rediscover a recipe I love, I take the opportunity to make it again and again… 😉
Initially, to make this recipe, I was inspired by a cookbook I love, but which I'm not sure is still available. It's Katie Quinn Davis' cookbook : What Katie ate. A pure marvel that must be around ten years old and still inspires me today.
Caramelized Onion and Goat Cheese Pie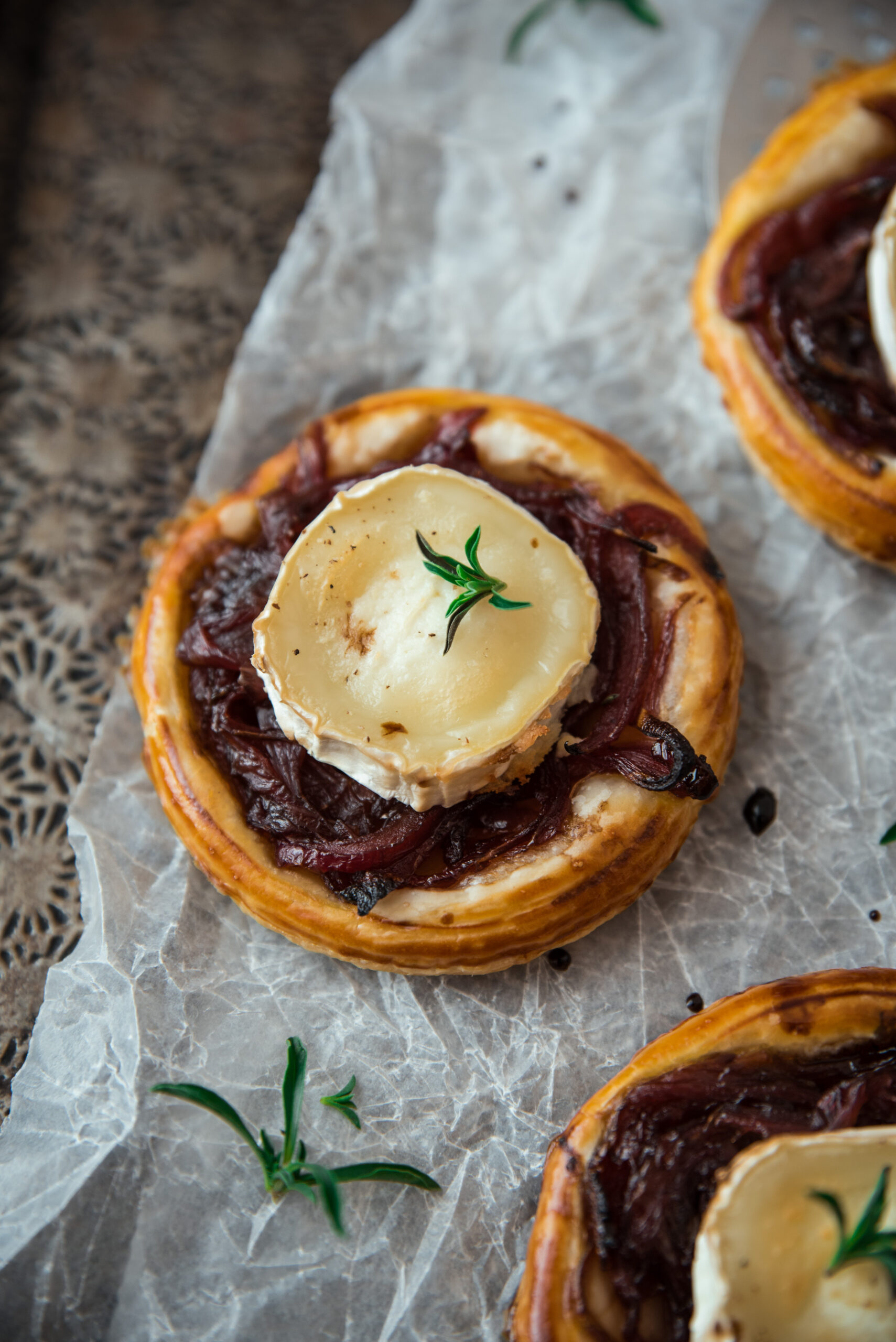 What ingredients do you need to make this delicious pies recipe?
puff pastry or homemade pie dough without butter (a real treat!)
onions: I like to use red onions for this recipe, but you can use whatever you have at home.
goat's cheese in logs, crottin or fresh. And if you don't like goat's cheese, you can use Feta or Ricotta, or even tofu.
good quality balsamic vinegar
brown sugar or honey
olive oil
pepper
egg yolk and a little milk for gilding (optional)
herbs: if you wish, you can also add a few dried herbs on top, such as rosemary, thyme or oregano…
Full details of the ingredients are given below, in the recipe!
A few ideas for variations:
For goat's cheese, I've tried several versions, either with fromage frais or in a log, and my preference is for the log, but it's a matter of taste, so you really can choose! You can even use goat's crottin, from which you can cut slices or rounds…
As for the caramelization of the onions, I tested 2 versions: one with brown sugar and the other with honey. I like both, so it's up to you to try…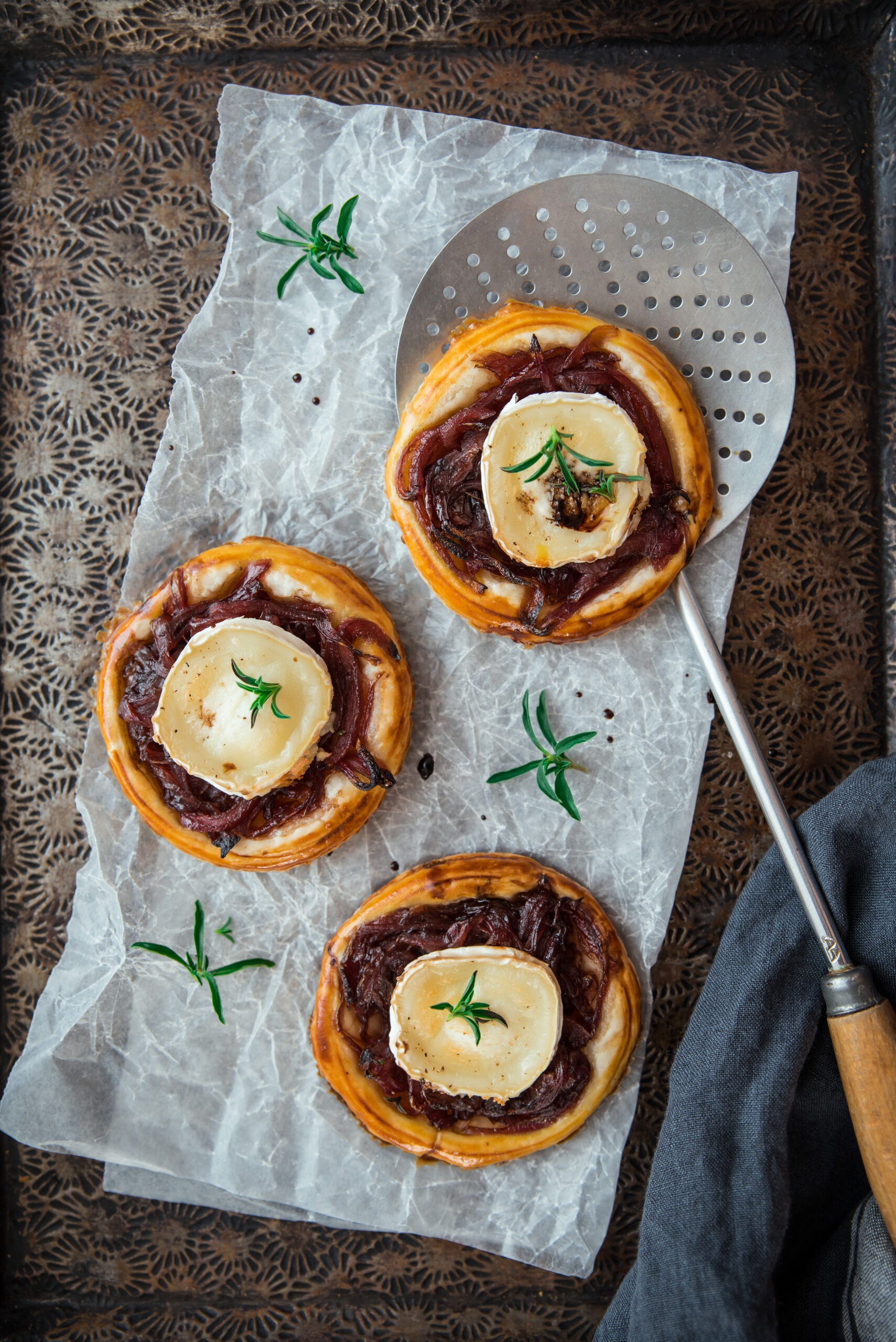 What other aperitif recipe ideas would you like to try?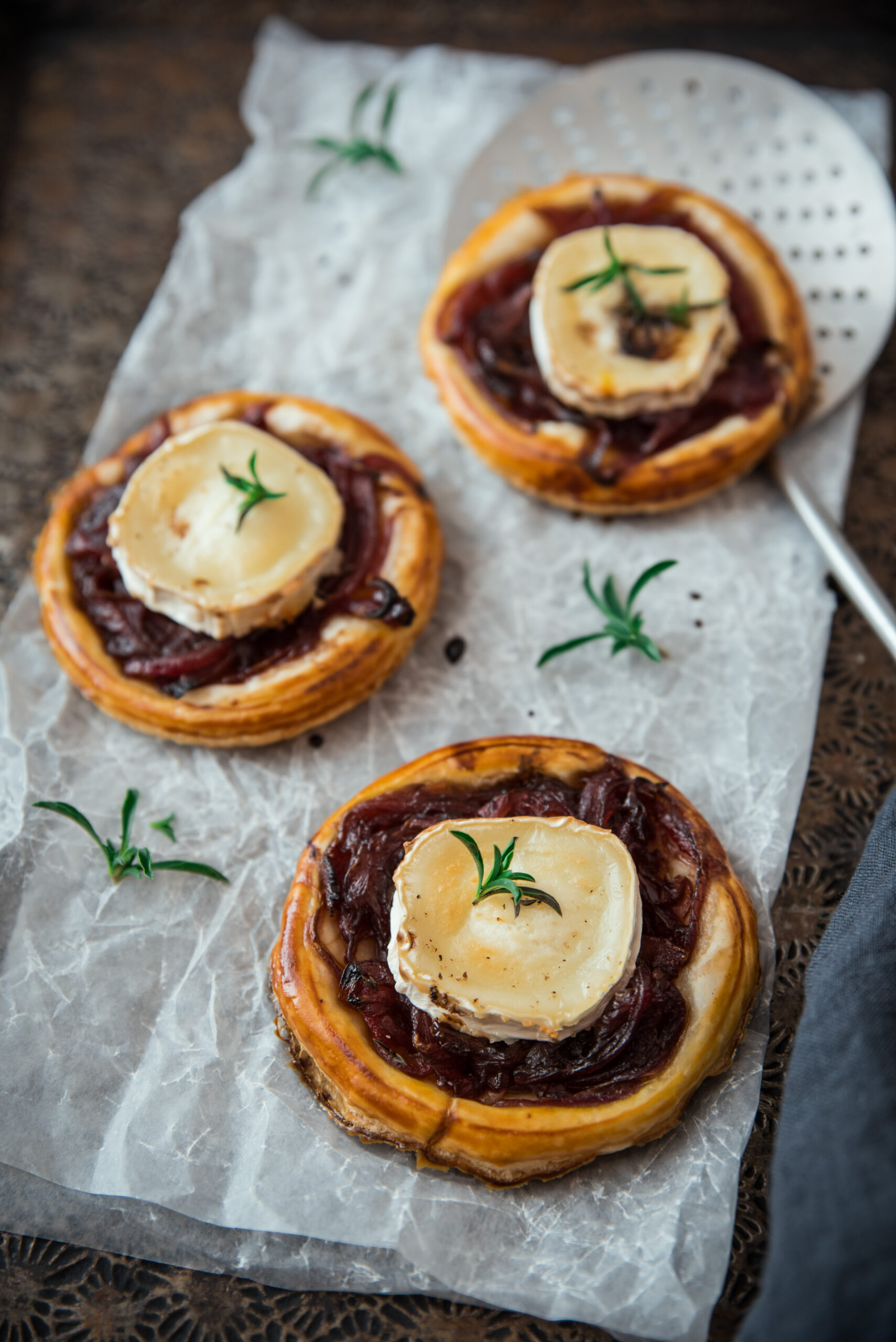 How to prepare goat's cheese and onion tarts?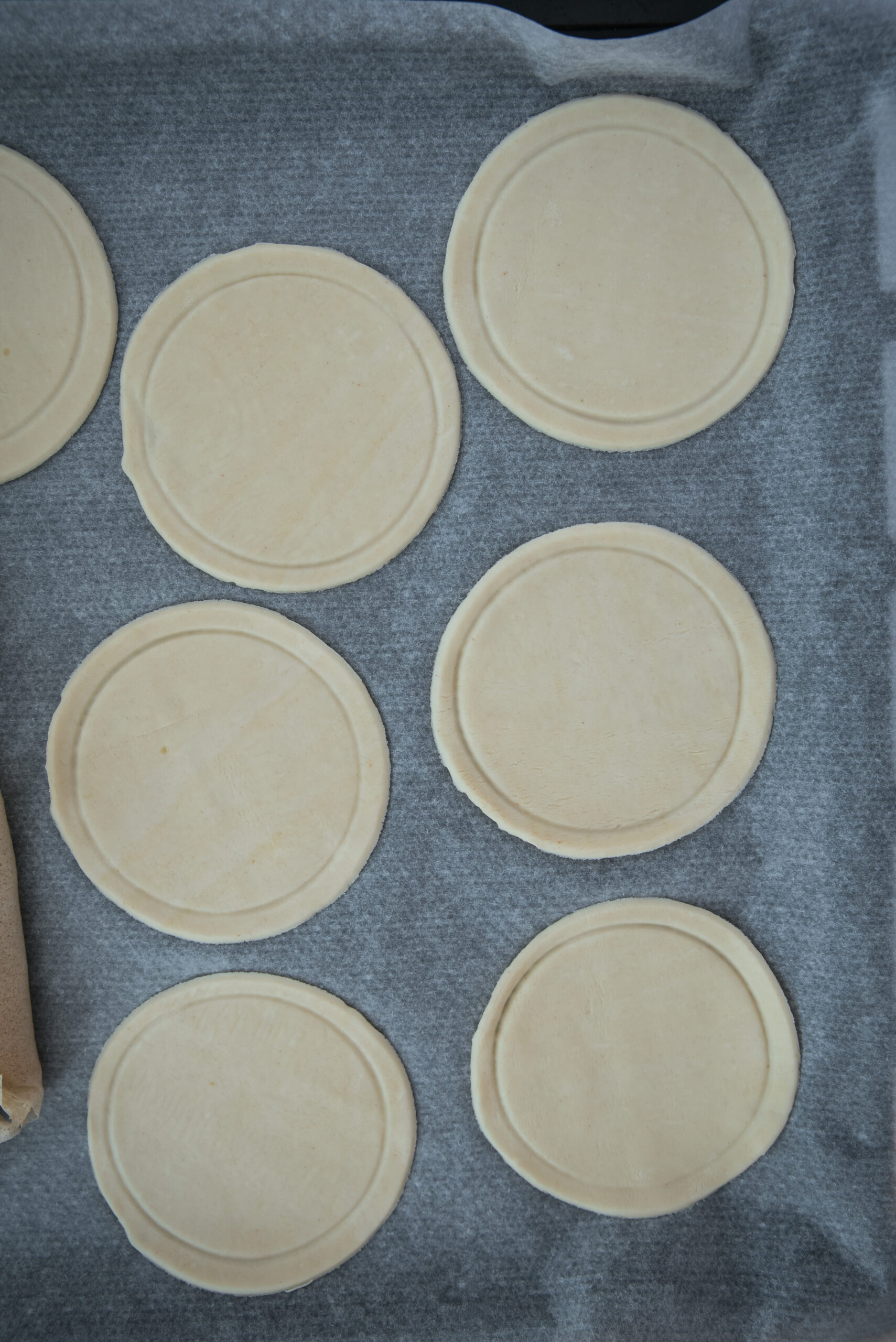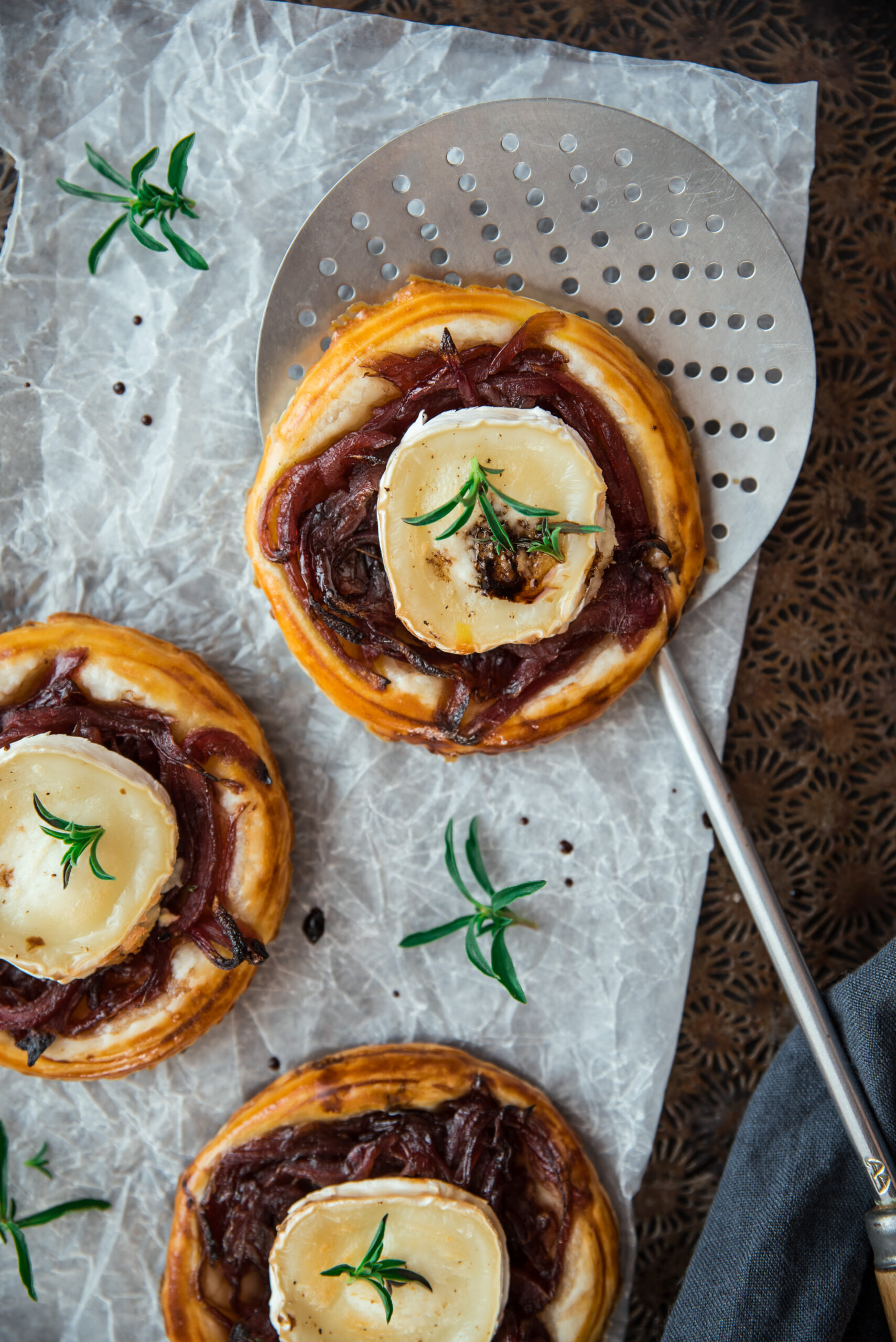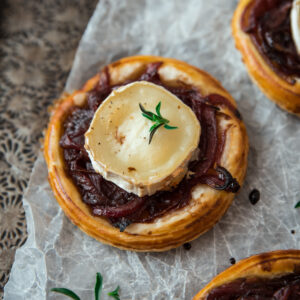 Caramelized Onion and Goat Cheese Pie
Ingredients
1

roll puff pastry

or homemade tart dough

3

medium onions

(I prefer red)

100

g

goat's cheese

or fresh goat's cheese

2

tablespoons

good balsamic vinegar

1

tablespoon

brown sugar or honey

2

tablespoons

olive oil

Back pepper

1

egg yolk

+ 1 teaspoon milk for brushing
Instructions
Mince the onions and sauté in a saucepan over low heat with the olive oil and 1 or 2 tablespoons of water for about 15 minutes.

When they start to brown, deglaze with the balsamic vinegar and add the brown sugar.

Stir well and leave to caramelize for a further ten minutes, making sure the onions don't stick.

Set aside.

Roll out the dough and, using a small conical glass, cut out discs, then place them on a baking sheet lined with parchment paper.

Press the bottom of the glass against the center of the pastry discs to create a border.

Prick the center with a fork, otherwise the pastry will push the filling out of the tartlets as it puffs up.

Mix the egg yolk and milk, then brush the edges of the pastry discs with the mixture.

Place a tablespoonful of caramelized onions in the center of the discs. Place a slice of goat's cheese on top and season with pepper.

Bake for 15 to 20 minutes. The edges should be golden brown.
If you ever make my Onion and Goat Cheese Pie recipe and like it, feel free to tag me on Instagram or Facebook so I can see the result and share it back…
Just to let you know I am French and I translate my recipes, be indulgent if you see syntax errors and do not hesitate to leave me a comment so I can correct it. I hope you will like my recipes and enjoy your visit to my food blog!