You remember, a few days ago, I told you about my trip to Morocco. That is to say, I didn't just bring back photos. I also took the opportunity to bring back lots of spices (which flavor my cooking) and a pretty tagine found in the streets of Marrakech. When I got home, I wanted to make a Chicken Tagine Recipe with Lemon and Olive.
For information, at home, I have ceramic hobs. It's absolutely brilliant, but the terracotta tagine doesn't fit on it, so I had to buy a stainless steel pan base to be able to use it but as there is still heat loss, this doubled the cost. cooking time. In short, my guests had to wait a bit… Huh!?
Since then, I have found another technique to cook my tagines, I make them in the oven. It's much faster and tastier!
So, while waiting for the 2nd part of my trip and a few other good addresses, I offer you this tasty chicken, lemon and olive tagine.
Chicken Tagine Recipe with Lemon and Olive
What ingredients do you need to make this delicious tagine?
chicken legs
some onions
garlic cloves
an organic lemon
powdered ginger
coriander seeds
paprika
curry
cinnamon powder
olive oil
black and green olives
salt and pepper
a bunch of chopped cilantro
If you like tagines, here are some other ideas you might like:
Did you see the top left of the last photo!? I have a mini public now when I take my photos. Babyboy is very interested in my scenes… 🙂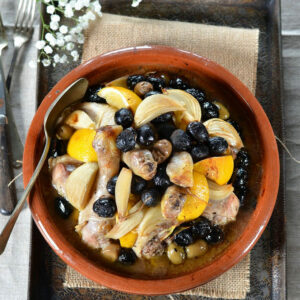 Chicken Tagine Recipe with Lemon and Olive
Ingredients
6

chicken thighs

2

onions

2

garlic cloves

2

small zucchini

2

carrots

1

lemon

1

teaspoon

powdered ginger

1/2

teaspoon

coriander seeds

1

teaspoon

paprika

1

teaspoon

curry

1/2

teaspoon

ground cinnamon

2

tablespoons

olive oil

4

handfuls of black and green olives

Salt and pepper

1

bunch

chopped cilantro
Instructions
Prepare the marinade in advance, the day before if possible, with half the olive oil, powdered ginger, coriander seeds, paprika, curry, cinnamon, salt and pepper.

The next day, brown the tagine chicken thighs in the oil and marinade until they are nicely browned. Add the sliced onions and crushed garlic.

Let the onions brown, add the roughly chopped zucchini and carrots and simmer for 10 minutes over low heat.

Cook covered for another 20 minutes over low heat, then add the olives and the lemon cut into quarters.

Cook over low heat for another 1 hour (2 in my case…)

Serve hot and sprinkle with fresh cilantro.
Notes
If you wish to cook in the oven, simply place all the ingredients in the tagine dish, place in a cold oven and cook for 2 hours at 180°C.
It is important not to preheat your oven beforehand so that the dish does not suffer too much thermal damage at once.
If you ever make my homemade tagine recipe and you like it, don't hesitate to tag me on Instagram @tangerinezest so I can see the result and share it myself…
Finally, just to let you know I am French and I translate my recipes, be indulgent if you see syntax errors and do not hesitate to leave me a comment so I can correct it. I hope you will like my recipes and enjoy your visit to my food blog!