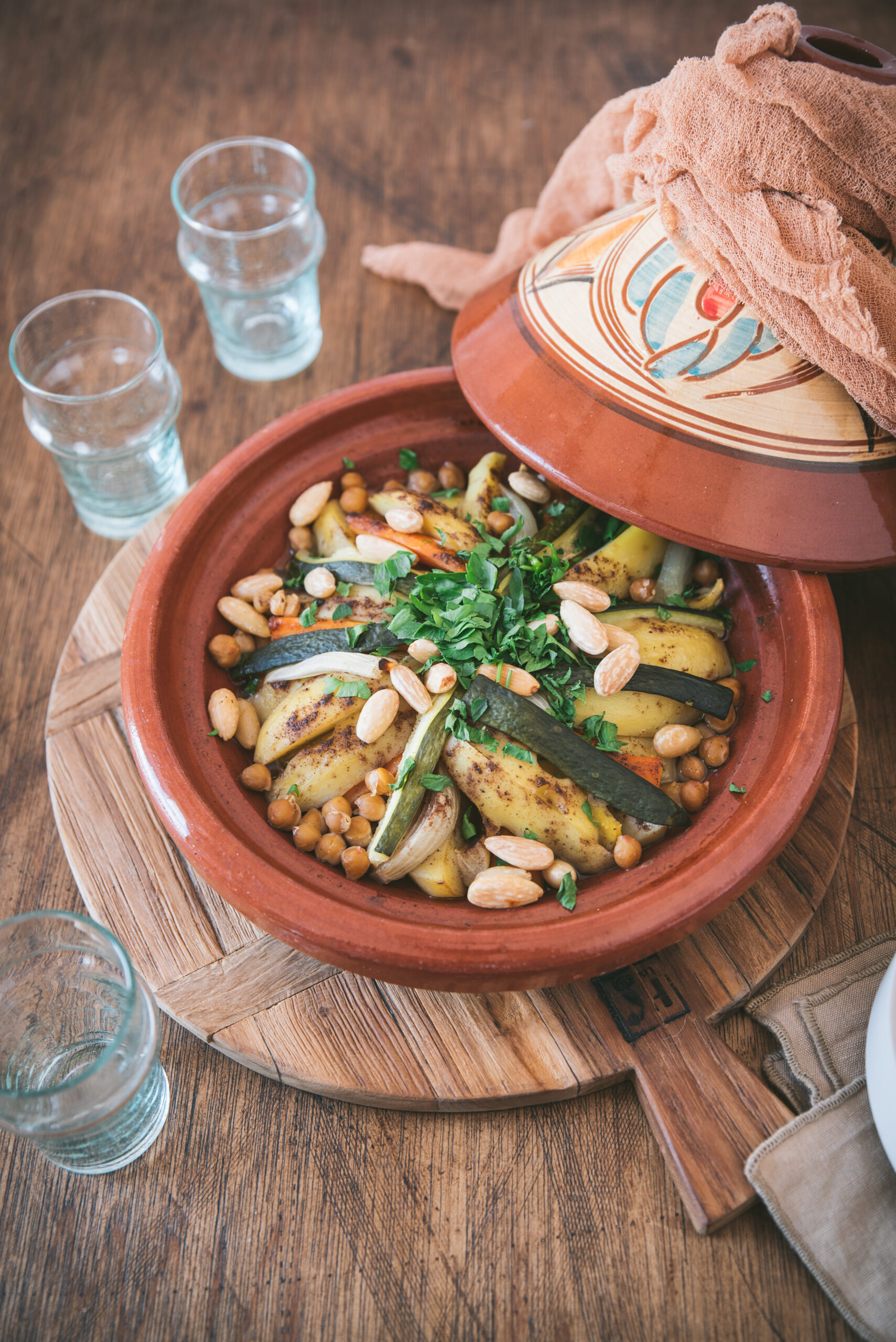 I love tagines, I think it's one of my favorite dishes and this time it's a Vegetarian Tagine recipe with vegetables and chickpeas that I'm sharing with you.
I really like this dish because the slow cooking allows the flavors to diffuse well in the food and it is a treat.
Traditionally a tagine is not served with semolina, but I have to admit that at home it's a bit of a guilty pleasure.
A few weeks ago I shared one of my classics, the chicken and apricot version and in this vegetarian version, I put a lot of vegetables, especially Amandine potatoes, for whom I made this recipe.
I like this potato a lot because it has a tender flesh that holds together very well when cooked and also soaks up the juices of the other vegetables that make up this recipe.
To keep the pleasure of this veggie recipe, I added chickpeas and almonds at the end of the cooking.
You can also add dried fruits like apricots or prunes, it will be a treat!
Vegetarian Tagine Recipe with Vegetables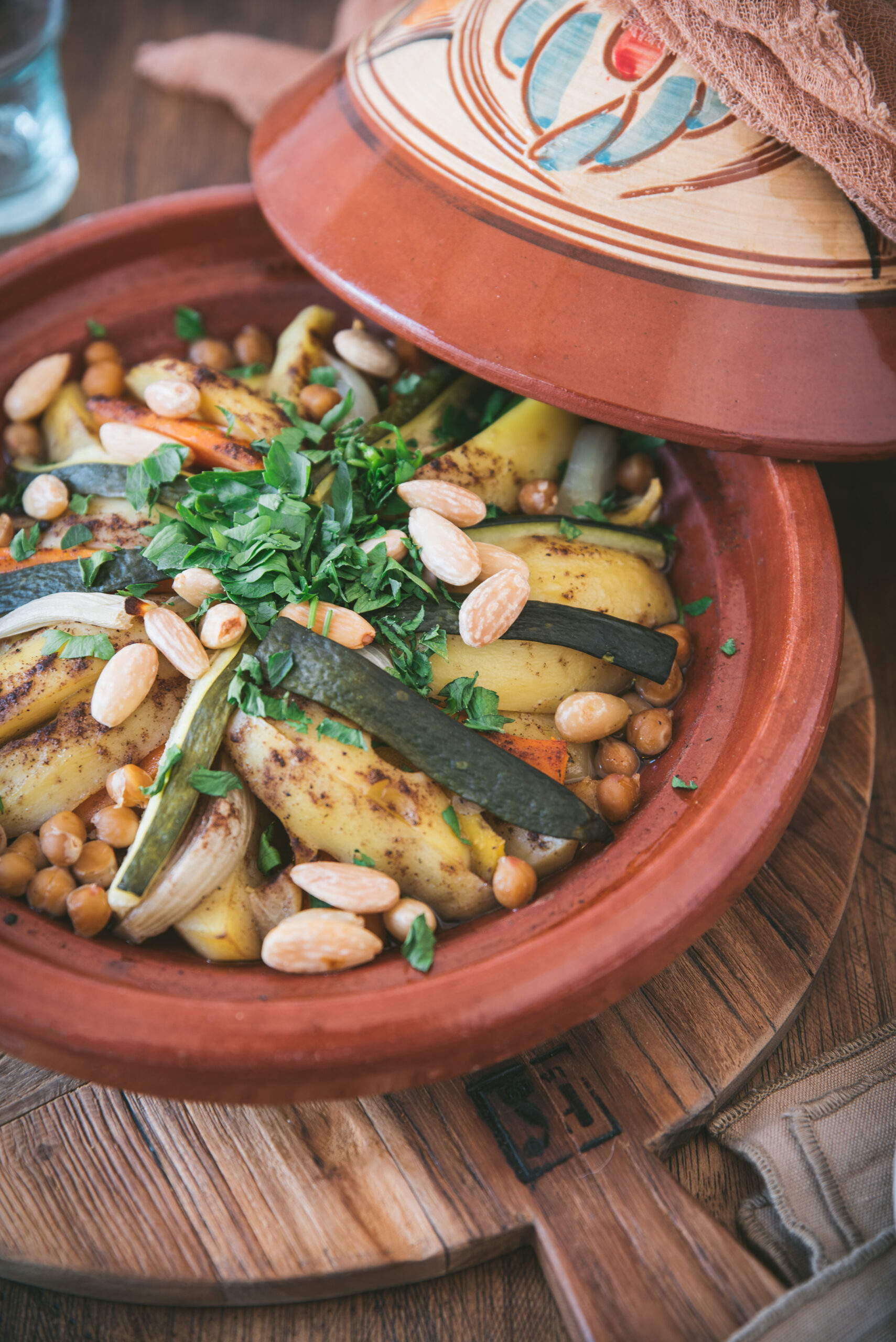 What ingredients do you need to make this delicious vegetable tagine recipe?
potatoes
carrots (orange and yellow)
zucchini
onion
garlic
vegetable stock cube
water
Raz el Hanout
chickpeas
whole almonds
salt and freshly ground pepper
butter and olive oil
chopped fresh coriander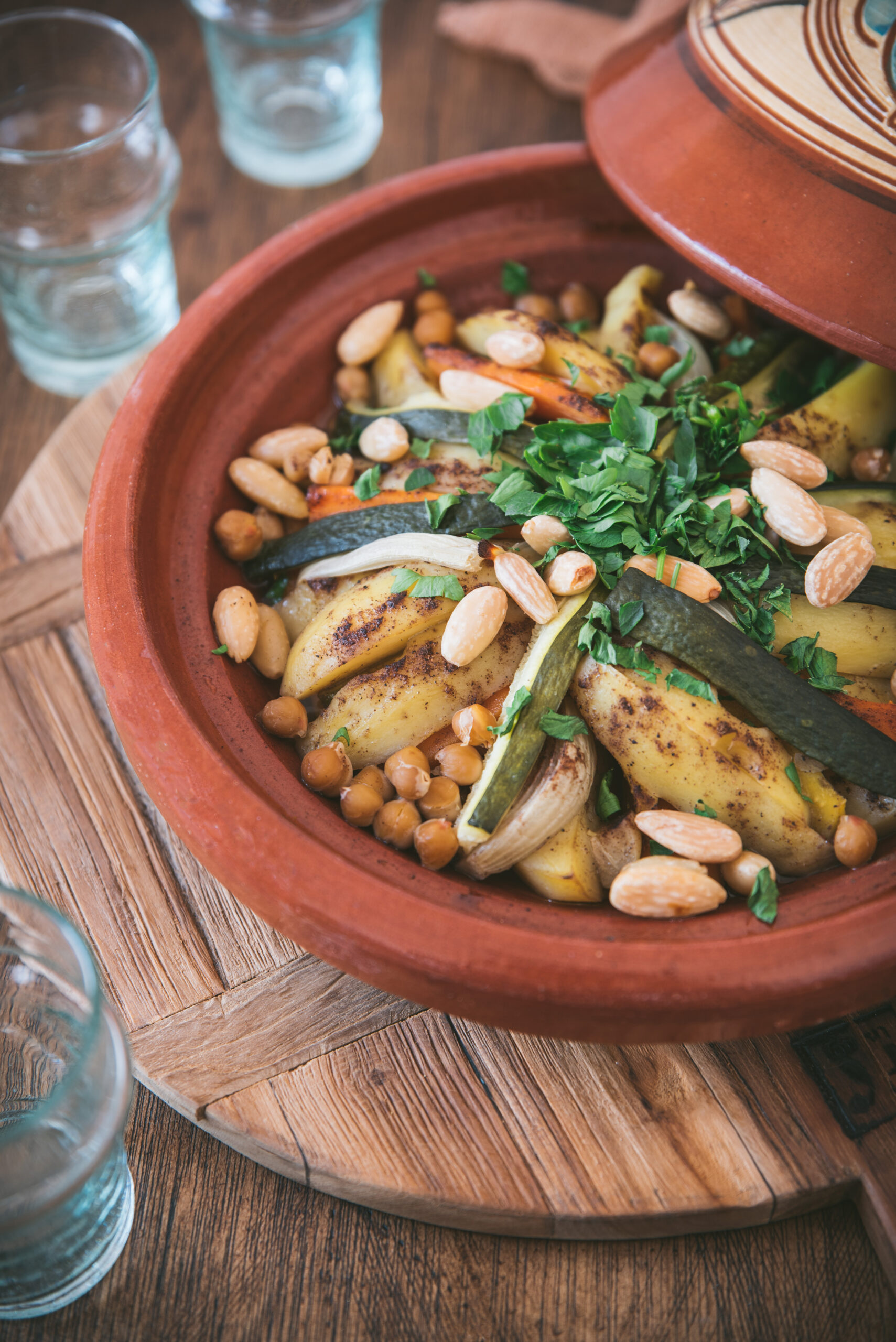 Here are also some recipe ideas that will allow you to complete your dish with appetizers or desserts that will make your taste buds travel.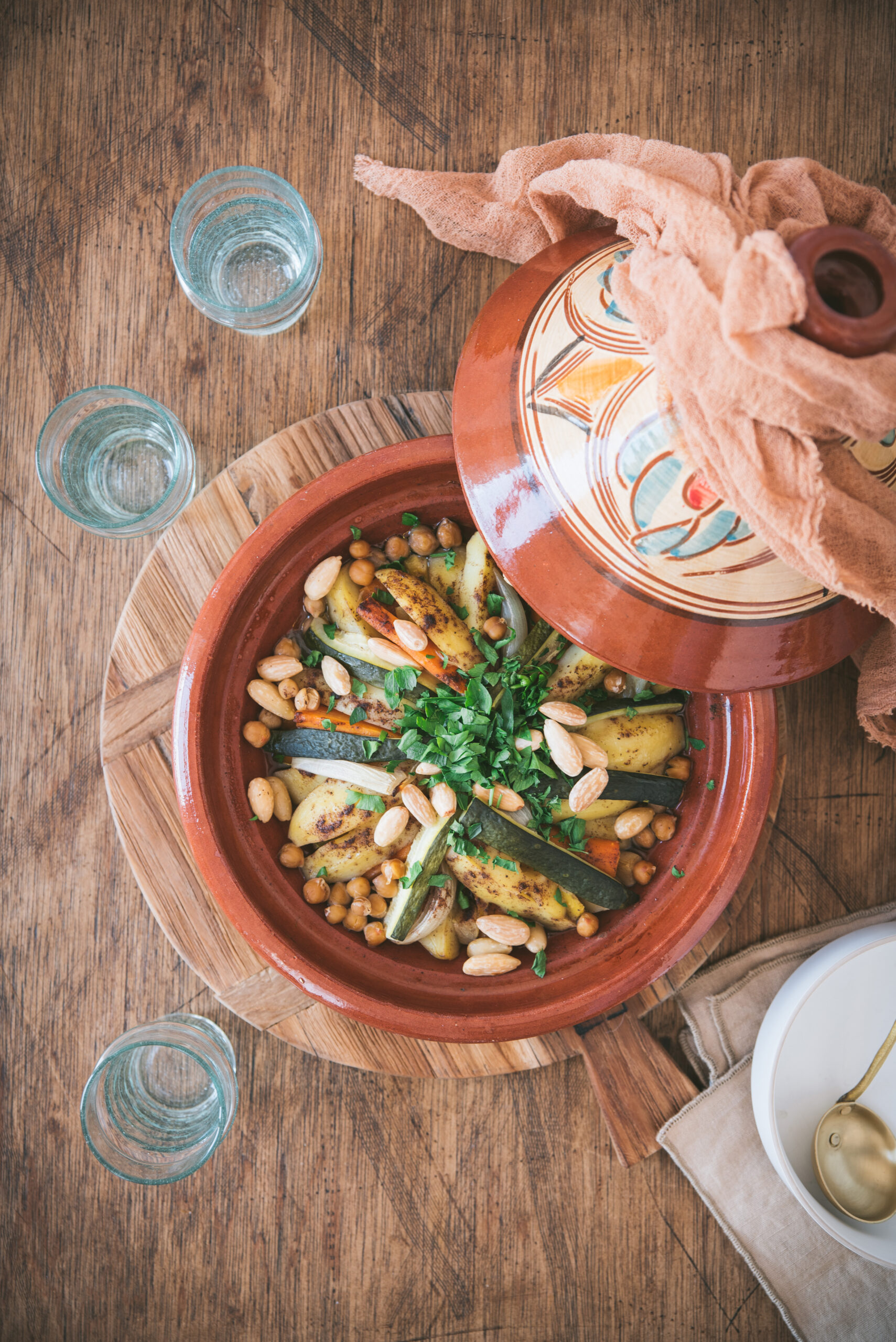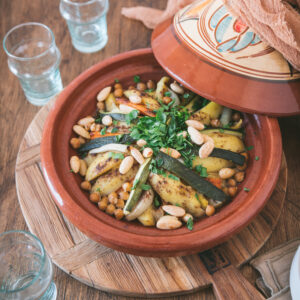 Vegetarian Tagine Recipe with Vegetables
Ingredients
6

potatoes

6

carrots

(orange and yellow)

1

small zucchini

1

onion

1

tablespoon

butter

1

garlic clove

1/2

vegetable stock cube

20

cl

water

1

tablespoon

Raz el Hanout

2

handfuls of chickpeas

(in a jar)

1

handful of whole almonds

salt and pepper

olive oil

fresh coriander

chopped
Instructions
Peel and chop onions.

Melt butter in a skillet over medium heat, add onions and cook over low heat, covered, for 10 minutes. Stir occasionally.

Onions should be translucent. Remove and set aside in a bowl.

Place them in your tagine dish in the sun, except for the zucchini.

Add the peeled garlic and cut into small pieces.

Place the golden onion on top of the other vegetables.

Pour the stock cube diluted in water. Drizzle with a good amount of olive oil and sprinkle with Raz el Hanout. Season with salt and pepper.

Bake in a cold oven and heat to 180°C.

Bake for 35 minutes, then remove from oven, add zucchini sticks, chickpeas and almonds. Cover again and bake for an additional 15 minutes.

If you wish, you can let it brown for 5 minutes without the lid before serving.

Serve hot with chopped cilantro and semolina seeds, if desired.
If you ever make my Vegetarian tagine recipe and you like it, don't hesitate to tag me on Instagram @tangerinezest so I can see the result and share it myself…
Finally, just to let you know I am French and I translate my recipes, be indulgent if you see syntax errors and do not hesitate to leave me a comment so I can correct it. I hope you will like my recipes and enjoy your visit to my food blog!