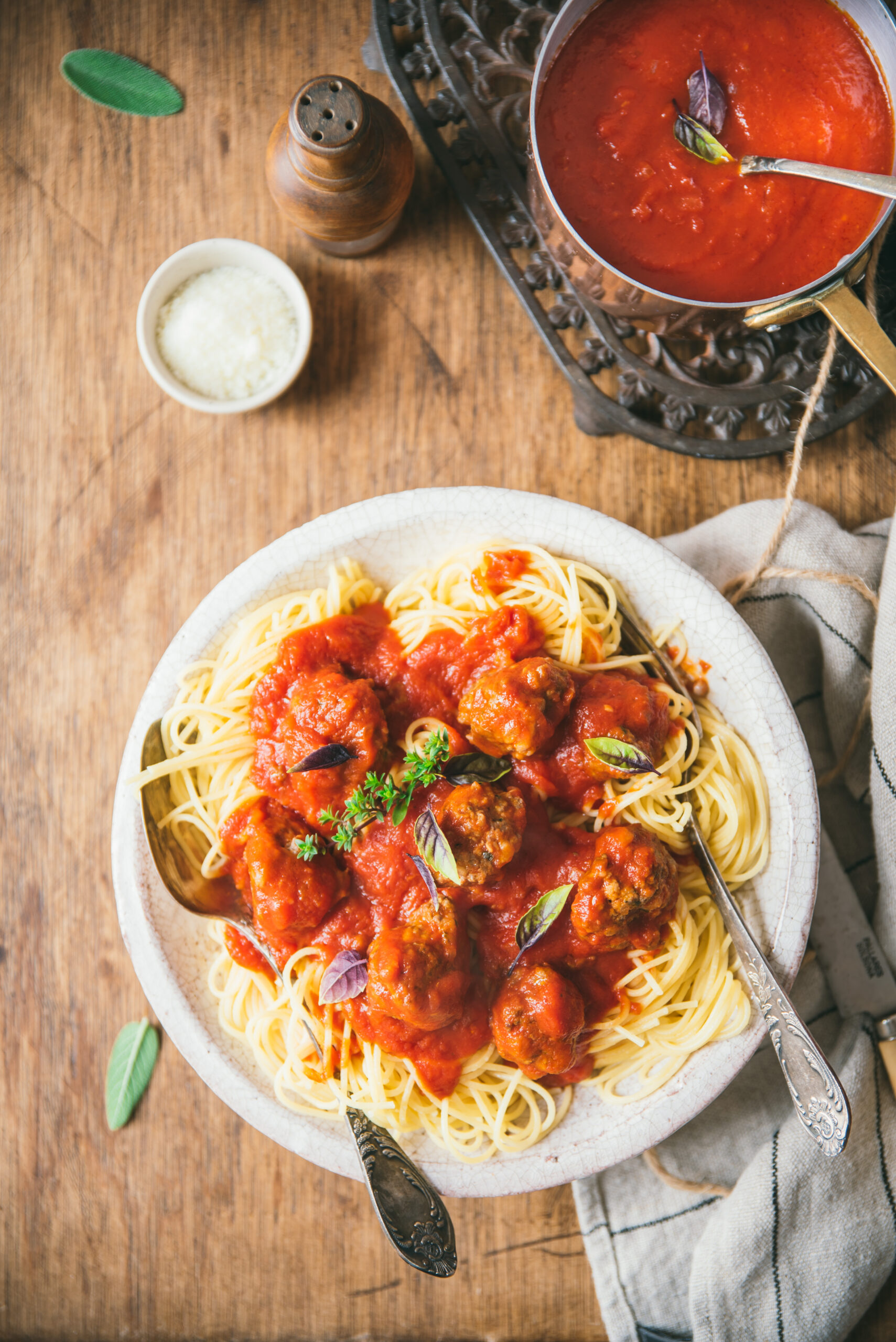 I made this Spaghetti and meatballs in tomato sauce recipe a bit by chance. I had bought ground beef to make lasagna and stuffing for stuffed tomatoes and as I had a little of each left, I decided to make this dish and it was a real nice surprise, with pasta a little like Lady and the Tramp! Children like us 2, we are delighted!
You will see that this sauce is very easy to make and it flavors the kitchen which seriously gives the mouth water, the result is super pleasant for the nose, the eyes and the mouth but it is also very funny to reproduce the famous scene Lady and the Tramp… 😉
I think I'm even going to do it again this weekend so much we loved this recipe!
Spaghetti and meatballs in tomato sauce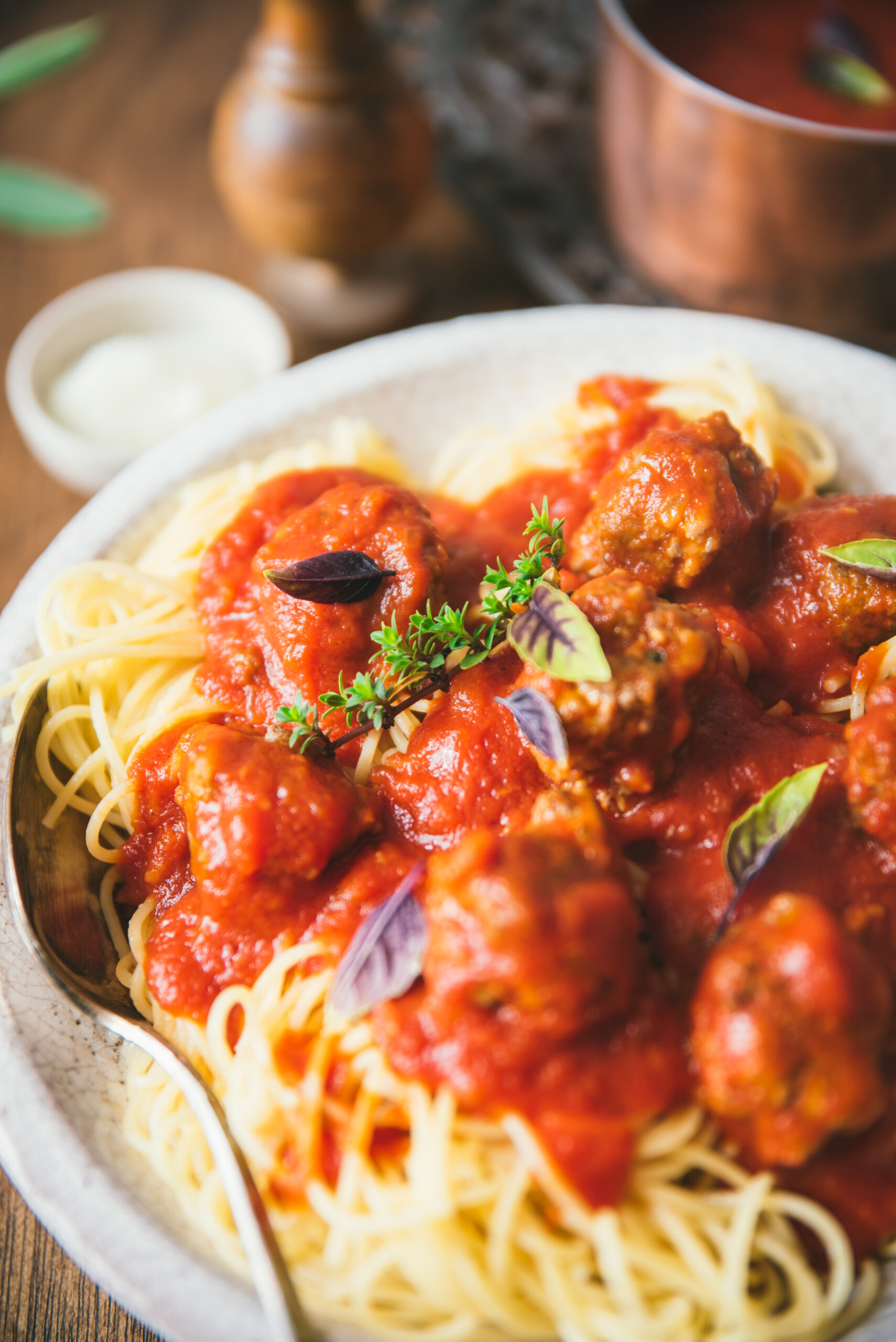 What ingredients do you need to make this spaghetti recipe?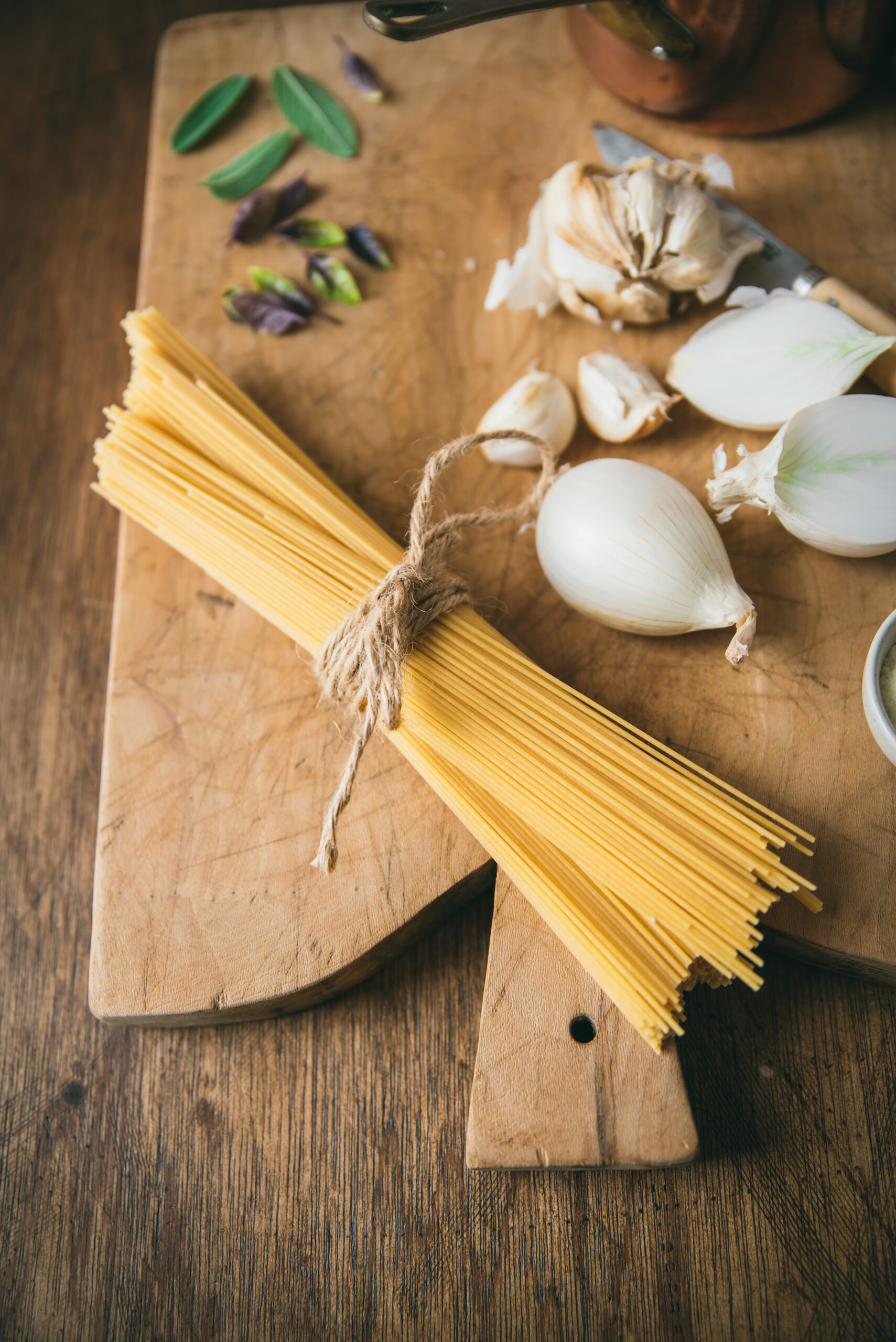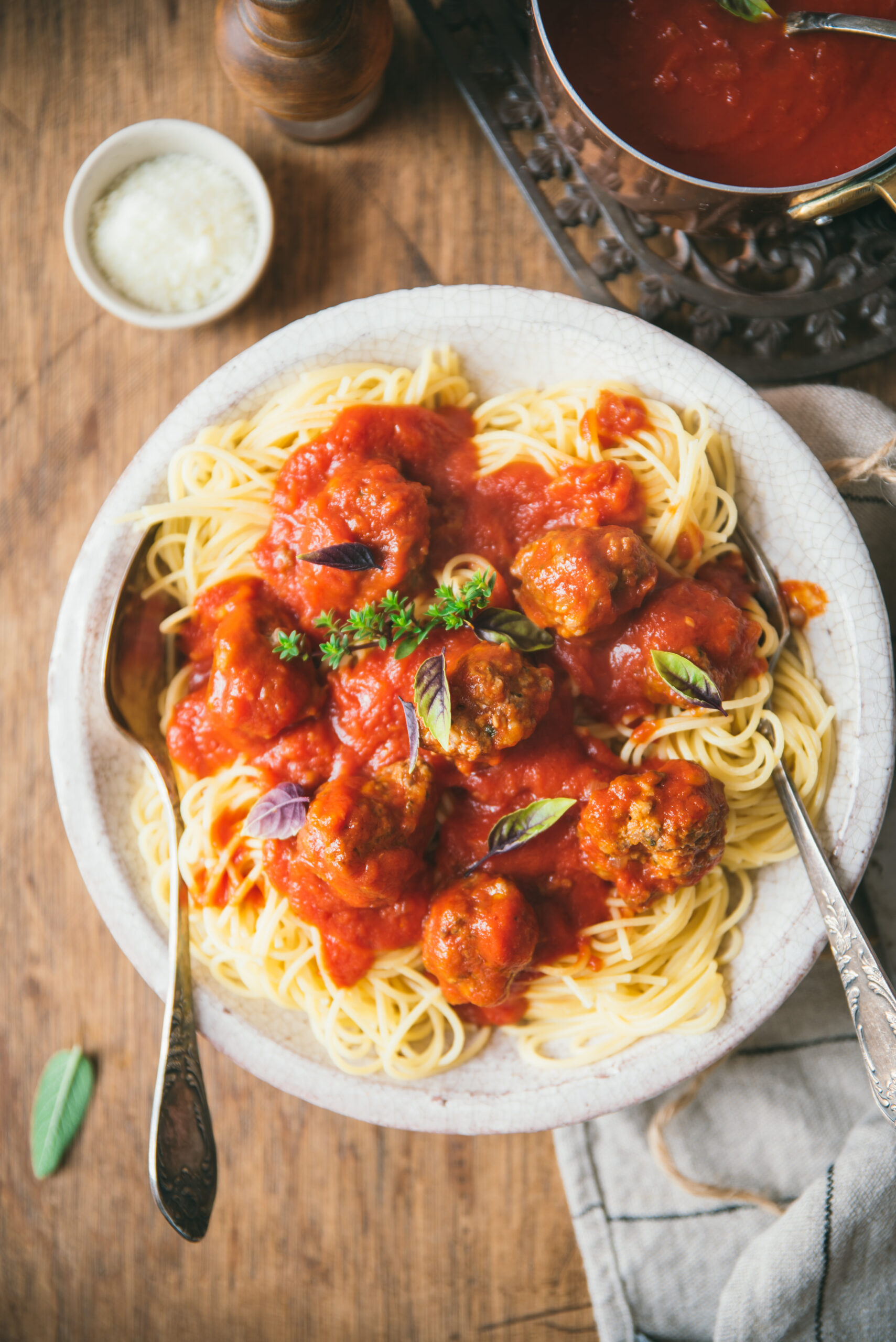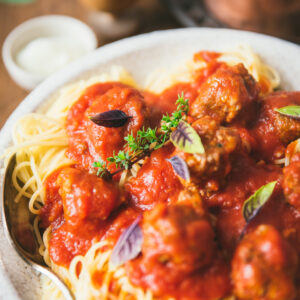 Spaghetti and meatballs in tomato sauce
Ingredients
400

g

spaghetti

200

g

ground beef

100

g

stuffing or gravy

2

onions

3

garlic cloves

5

cl

dry red or white wine

800

g

crushed tomatoes

thyme

2

sage leaves

10

basil

olive oil

salt and ground pepper

flour
Instructions
Start by mixing the 2 meats of beef and stuffing. Form small balls by turning them between your hands, then lightly flour them. Place on a plate.

In a frying pan, pour a good drizzle of olive oil and sauté the finely chopped onions and pressed garlic. Add the sage leaves.

When the onions are golden, push them to the side of the pan and brown the meatballs on each side.

Once browned, place them back on the plate and set aside.

Deglaze with the wine, stir and add the crushed tomatoes and thyme.

Add salt and pepper and fry gently for about 20 minutes, stirring occasionally.

Cook the spaghetti in boiling water.

When the pasta is finished cooking, place the meatballs in the tomato sauce and stir gently.

Drain the spaghetti and serve the plates with tomato sauce with meatballs.

Add some pecorino or parmesan cheese and a few basil leaves.

Enjoy, it's a marvel!
If you make my recipe and you like it, don't hesitate to tag me on Instagram or on Facebook so that I can see the result and share it myself…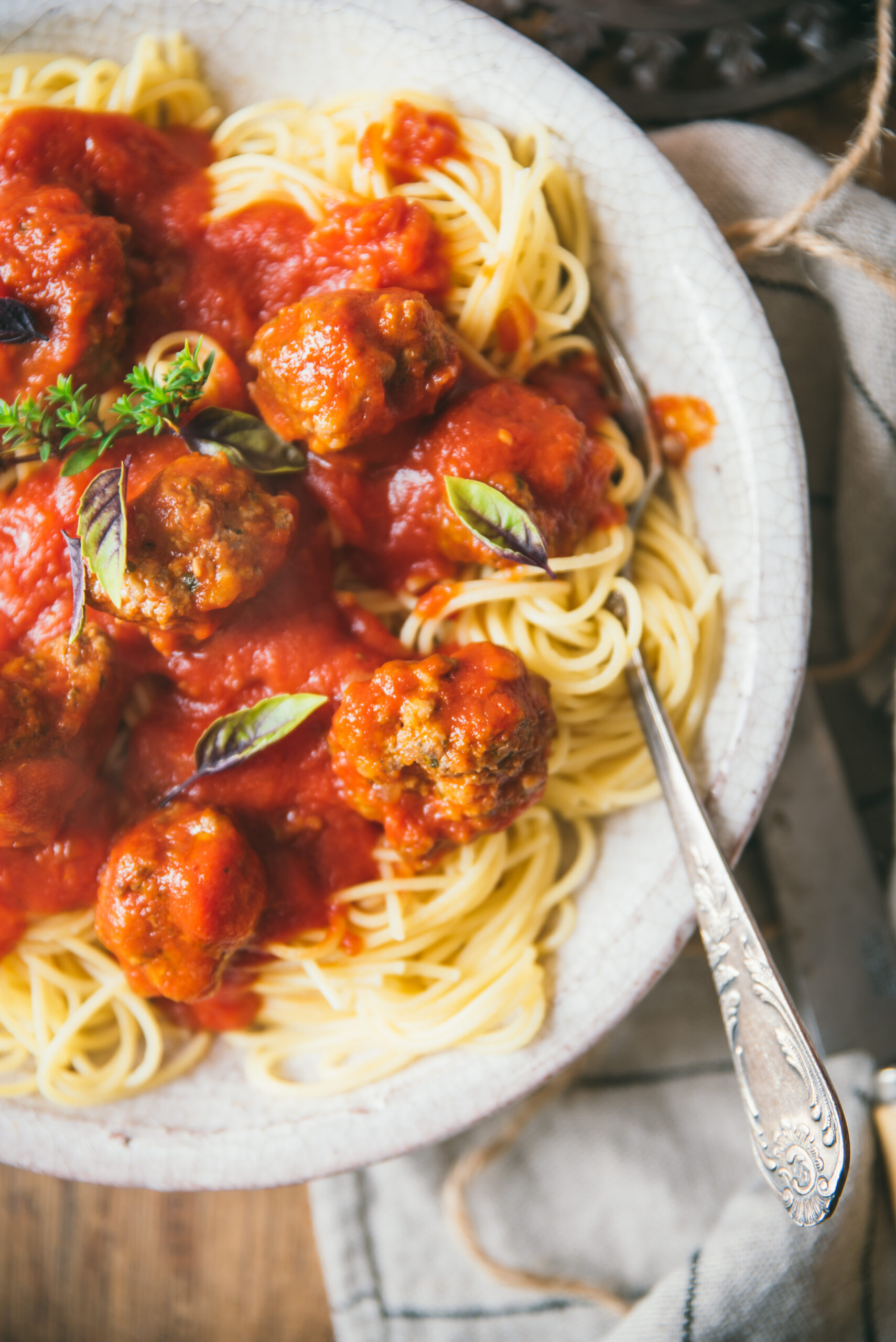 If you like these kinds of recipes, here are some pasta ideas that I really like and that you should like as much as I do: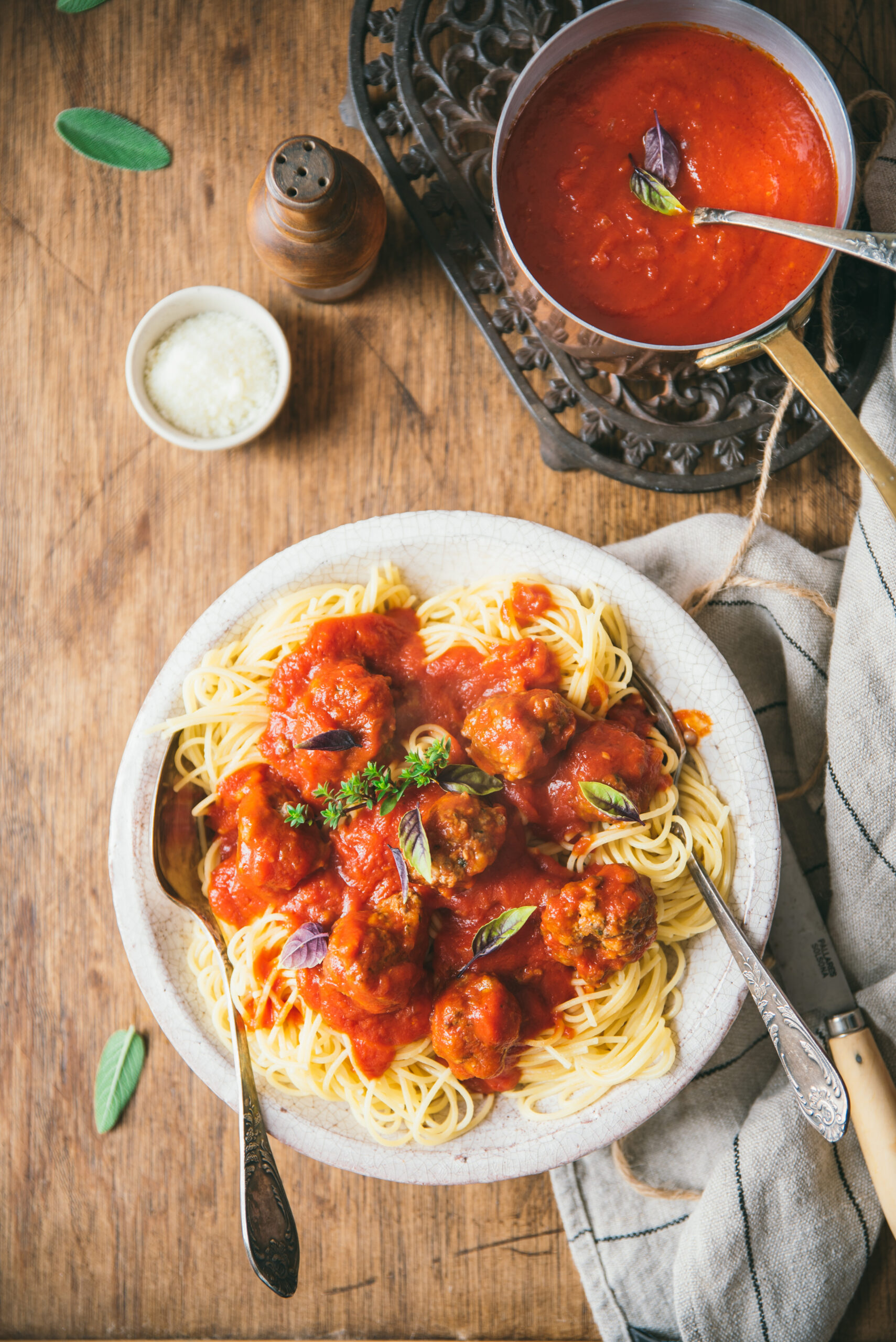 Just to let you know I am French and I translate my recipes, be indulgent if you see syntax errors and do not hesitate to leave me a comment so I can correct it. I hope you will like my recipes and enjoy your visit to my food blog!