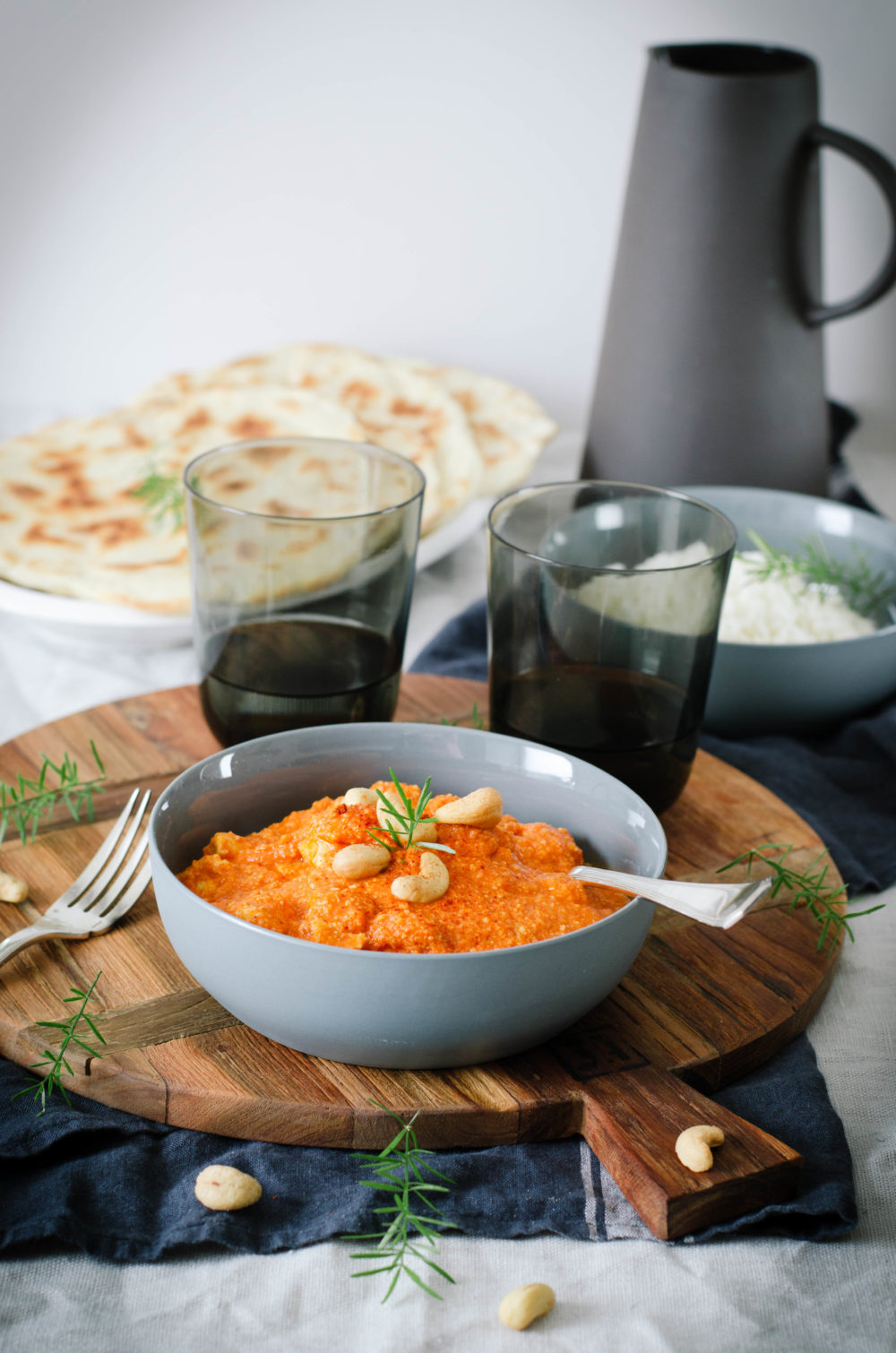 I love trying world cuisines but I have to admit that I have never ventured too far into Indian cuisine. I have already tested many Italian, Asian, Lebanese and African recipes, but this Indian Butter Chicken recipe must be one of my first Indian recipes.
In Grenoble (where I live), as in Valence (where I work), I have my favorite Indian restaurants and there is one that makes butter chicken that I particularly like.
As I also wanted to try homemade cheese naans (one of my next recipes, be patient…), I thought it was an opportunity to test my own Indian butter chicken recipe.
So, to be honest, my version is not the same as my restaurant's but it is delicious and we all enjoyed it, even the kids, and it was still a big surprise.
Indian Butter Chicken Recipe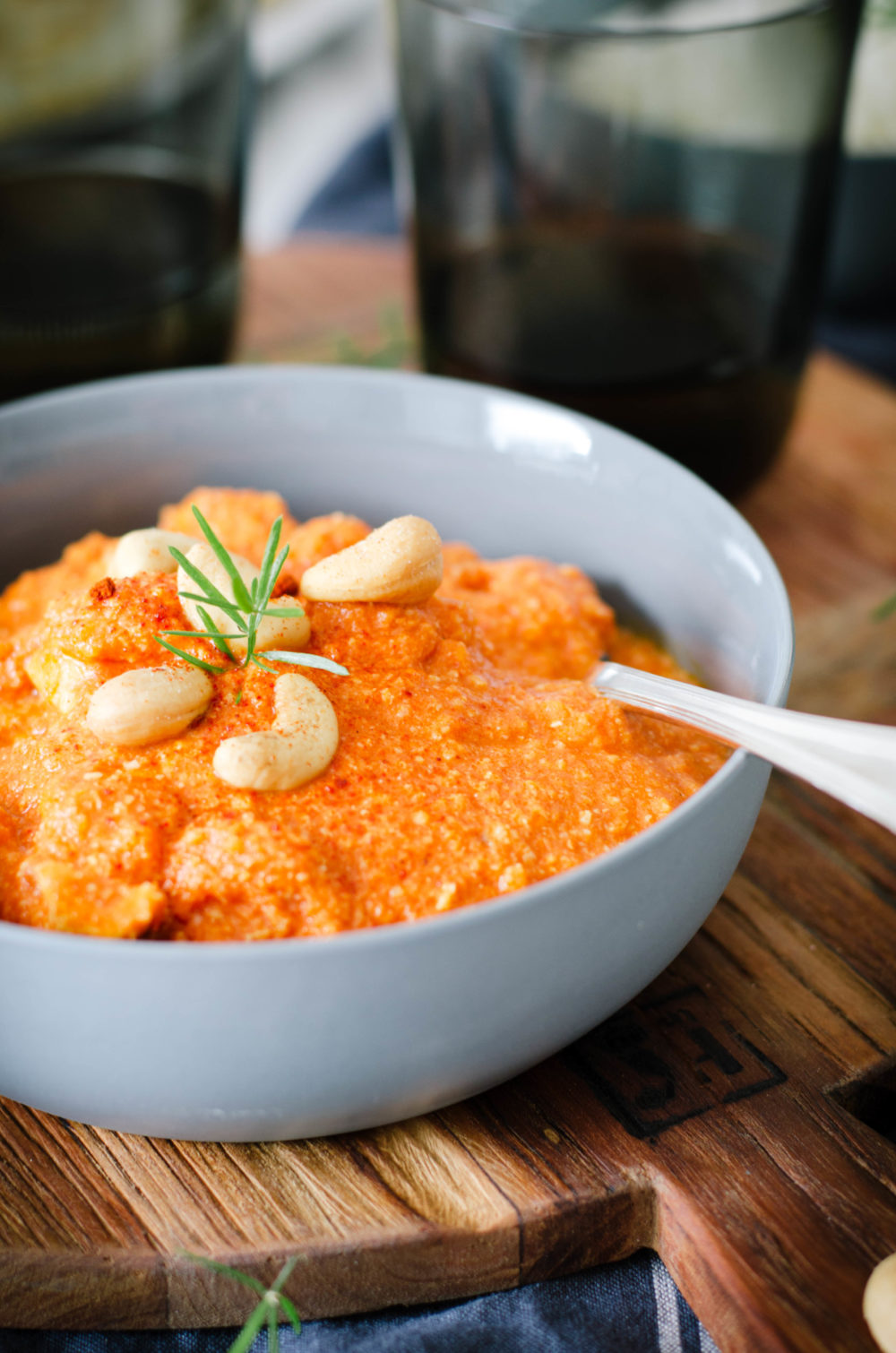 What is butter chicken?
This Indian recipe combines 2 dishes, tandoori chicken and a traditional tomato sauce. The result is a delicious recipe full of flavors. Just thinking about it still makes me salivate…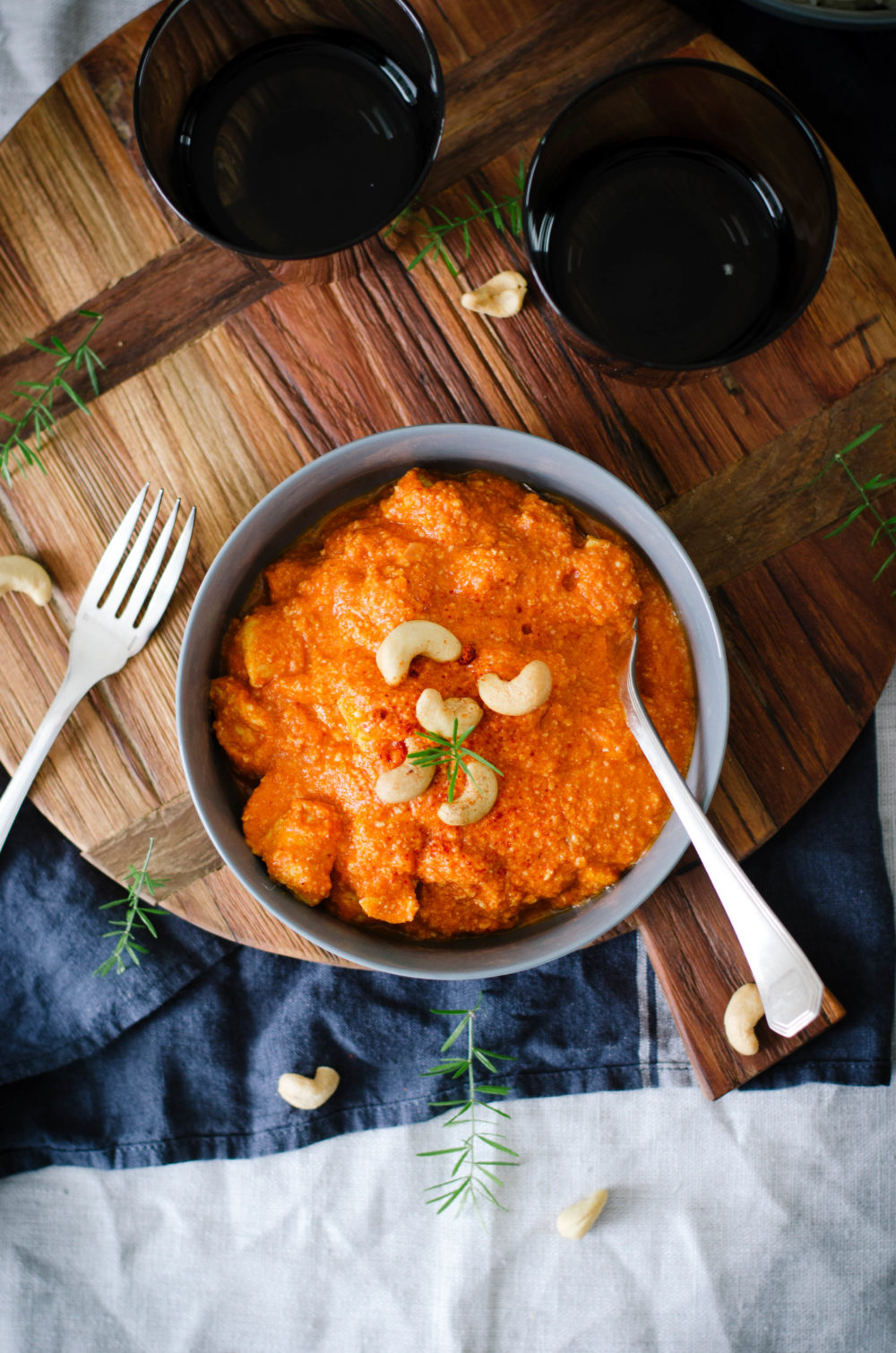 What are the ingredients you will need to make this delicious Indian Butter Chicken recipe?
Greek yogurt
Garlic
lemon
tandoori masala
garam masala
oil
salt
tomatoes
onion
cardamom
cashew nuts
paprika
brown sugar
cream
butter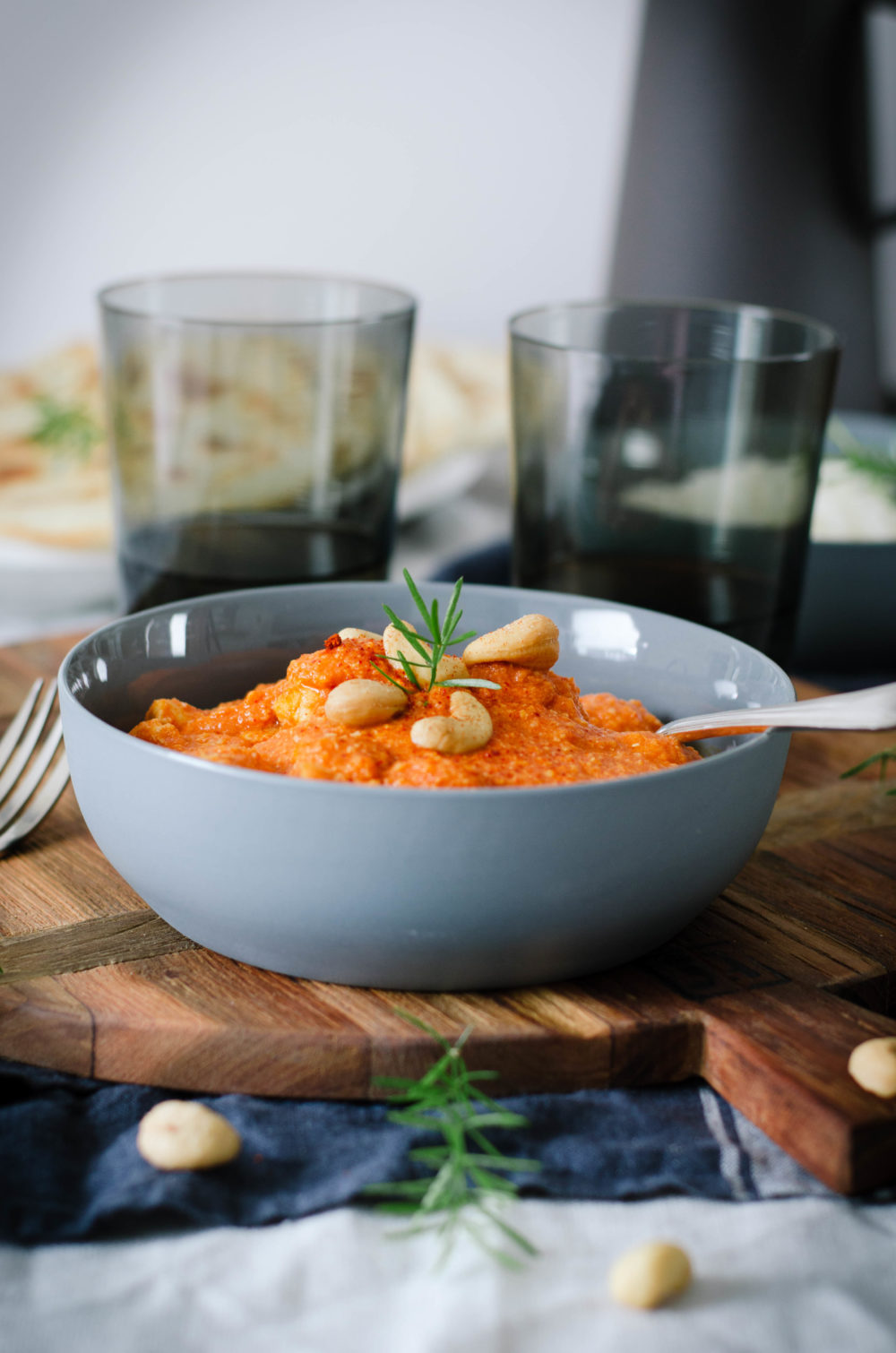 What are the recipe ideas to accompany your butter chicken and create a good and beautiful Indian menu:
Indian rice is very simple to prepare and it is a delicious, lightly flavored accompaniment.
Cheese naans are Indian breads filled with cheese (Vache Qui Rit), but if you wish, you can make them plain or with garlic.
Cucumber Raita as a starter, it is a salad made with cucumber, yoghurt and cumin.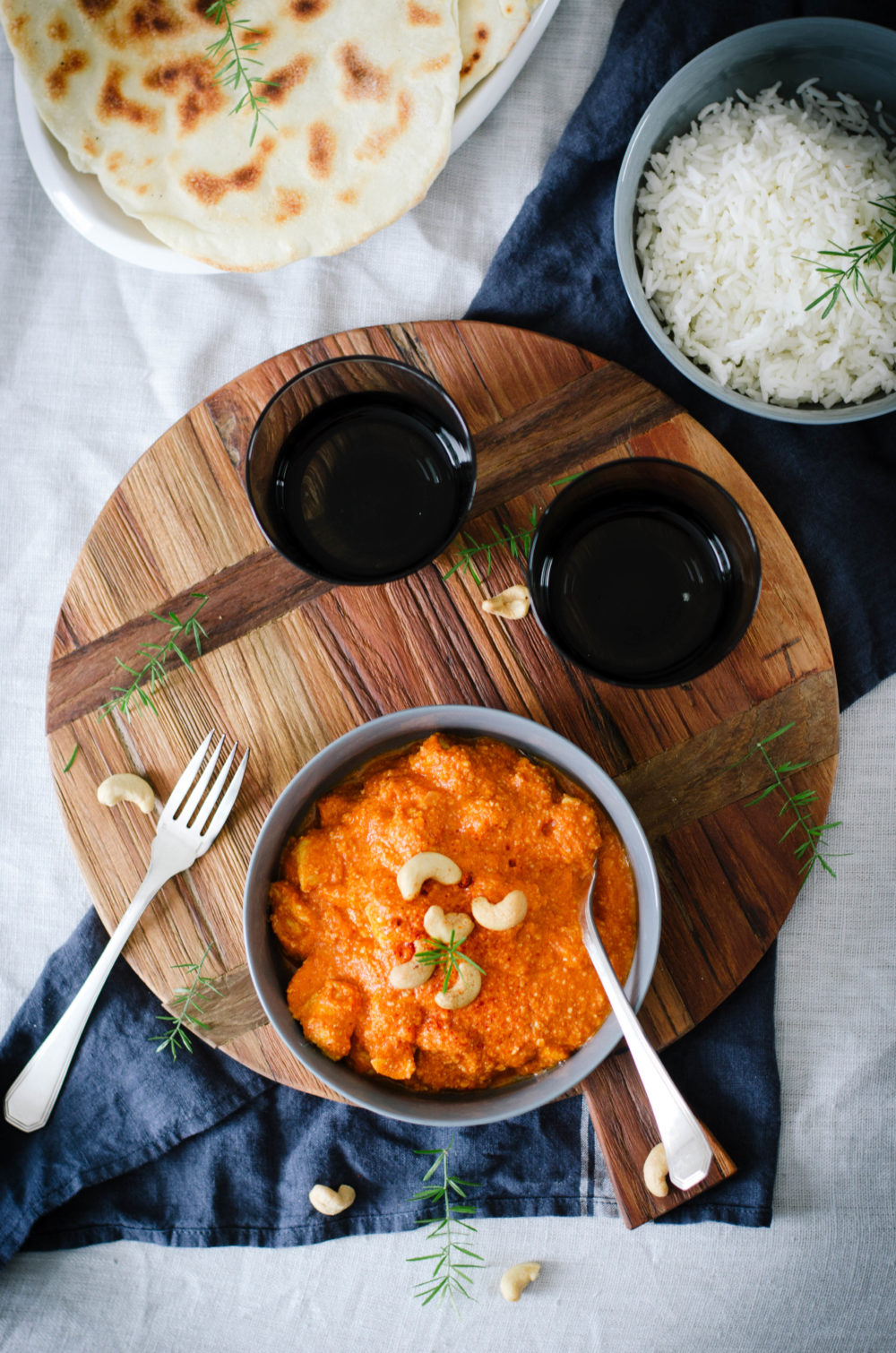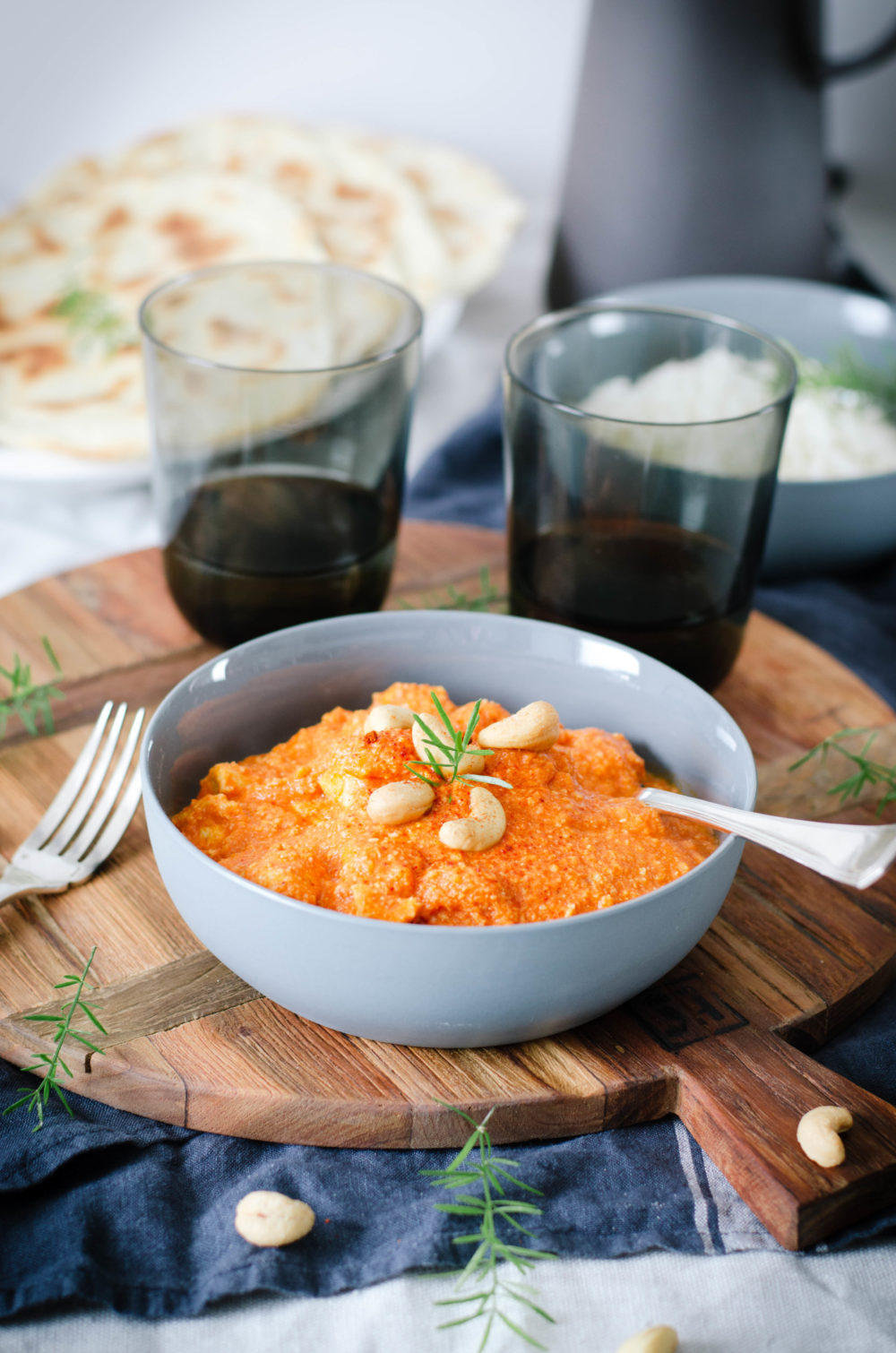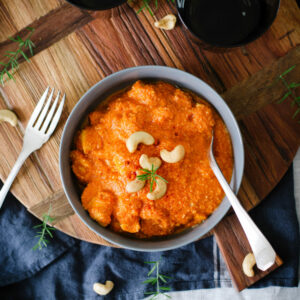 Indian Butter Chicken Recipe
Ingredients
FOR THE CHICKEN MARINADE
400

g

chicken breast

3

tablespoons

Greek yogurt

2

crushed garlic clove

1/2

teaspoon

powdered ginger

1/2

lemon juice

1

teaspoon

tandoori masala

1

teaspoon

garam masala

2

teaspoons

of oil

Salt
FOR THE SAUCE
400

g

peeled tomatoes in can

1

chopped onion

2

crushed garlic cloves

1/2

teaspoon

powdered ginger

2

crushed cardamom seeds

1

large handful of cashew nuts

1

teaspoon

powdered coriander

1

teaspoon

paprika

1

teaspoon

tomato paste

1

tablespoon

brown sugar

15

cl

crème fraîche

2

tablespoons

chopped coriander leaves

50

g

butter
Instructions
Cut chicken into small pieces and mix with all the marinade ingredients. Cover and leave to marinate for 3 hours in the fridge.

Meanwhile, in a pot, sauté the minced onion and garlic in a mixture of butter and oil.

When they begin to be translucent, add all the other sauce ingredients except the cream, butter and fresh coriander. Cook covered for about 15 minutes over low heat.

Then mix the sauce so that it is smooth and creamy. Return to low heat and add the cream and butter, simmer for a further 10 minutes.

To cook the chicken, you can brown it in a hot pan with a little butter until it is golden brown on all sides.

Then add the chicken to the sauce. Mix well, cook for a few more minutes.

Serve sprinkled with chopped fresh coriander leaves.
If you ever make my homemade Indian recipe and you like it, don't hesitate to tag me on Instagram @tangerinezest so I can see the result and share it myself…
Finally, just to let you know I am French and I translate my recipes, be indulgent if you see syntax errors and do not hesitate to leave me a comment so I can correct it. I hope you will like my recipes and enjoy your visit to my food blog!