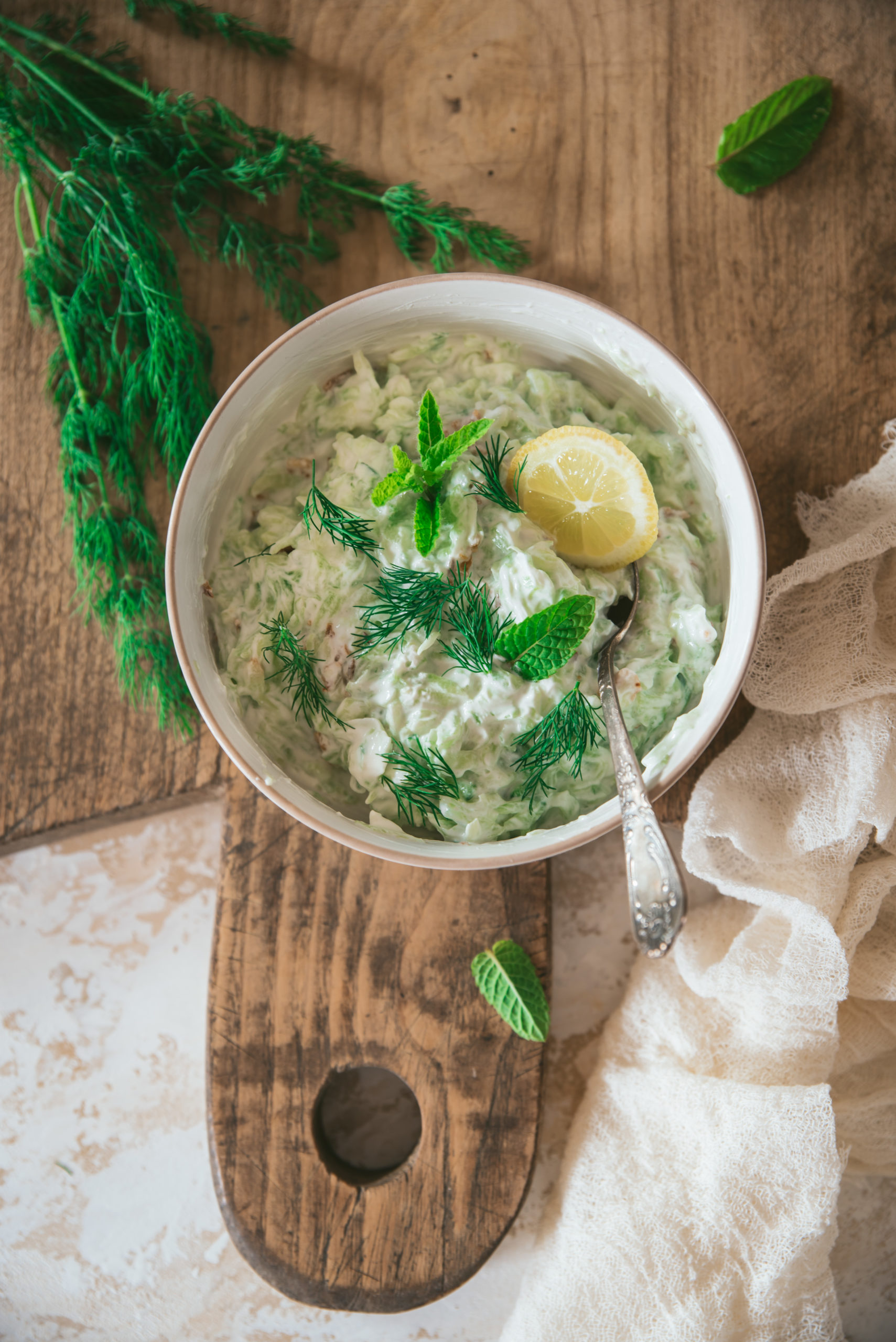 Have you ever made Homemade Cucumber Tzatziki Recipe ?
What I love about this season is that cooking suddenly becomes so much easier to do because all you have to do is assemble raw ingredients.
You just add a few spices or fresh herbs from the garden, a slice of bread, a drizzle of olive oil and you've got a great meal that's full of flavor and quick to prepare.
That's what this homemade Cucumber Tzatziki recipe is all about, no cooking but fresh and easy to prepare ingredients!
Homemade Cucumber Tzatziki Recipe
What is tzatziki?
I guess you know about Tzatziki, right?
It's a Greek recipe made with cucumber and yogurt. You can often find it in supermarkets, but I can tell you that homemade, it's nothing like it and it's so easy, fast and healthy that you shouldn't miss it!
It's a pure delight, full of freshness to be enjoyed cold, all summer long, especially on hot days when you don't want to cook your meal.
It is a starter full of flavors that brings a lot of freshness to our plates. We make a lot of it at home and we serve it either on toast as an appetizer, or with other mezzes (not always Greek, but Lebanese too…) with pita bread, for example. 😉
I also like to serve tzatziki in pita sandwiches with meatballs, kefta and chopped fresh herbs (mint and flat parsley…).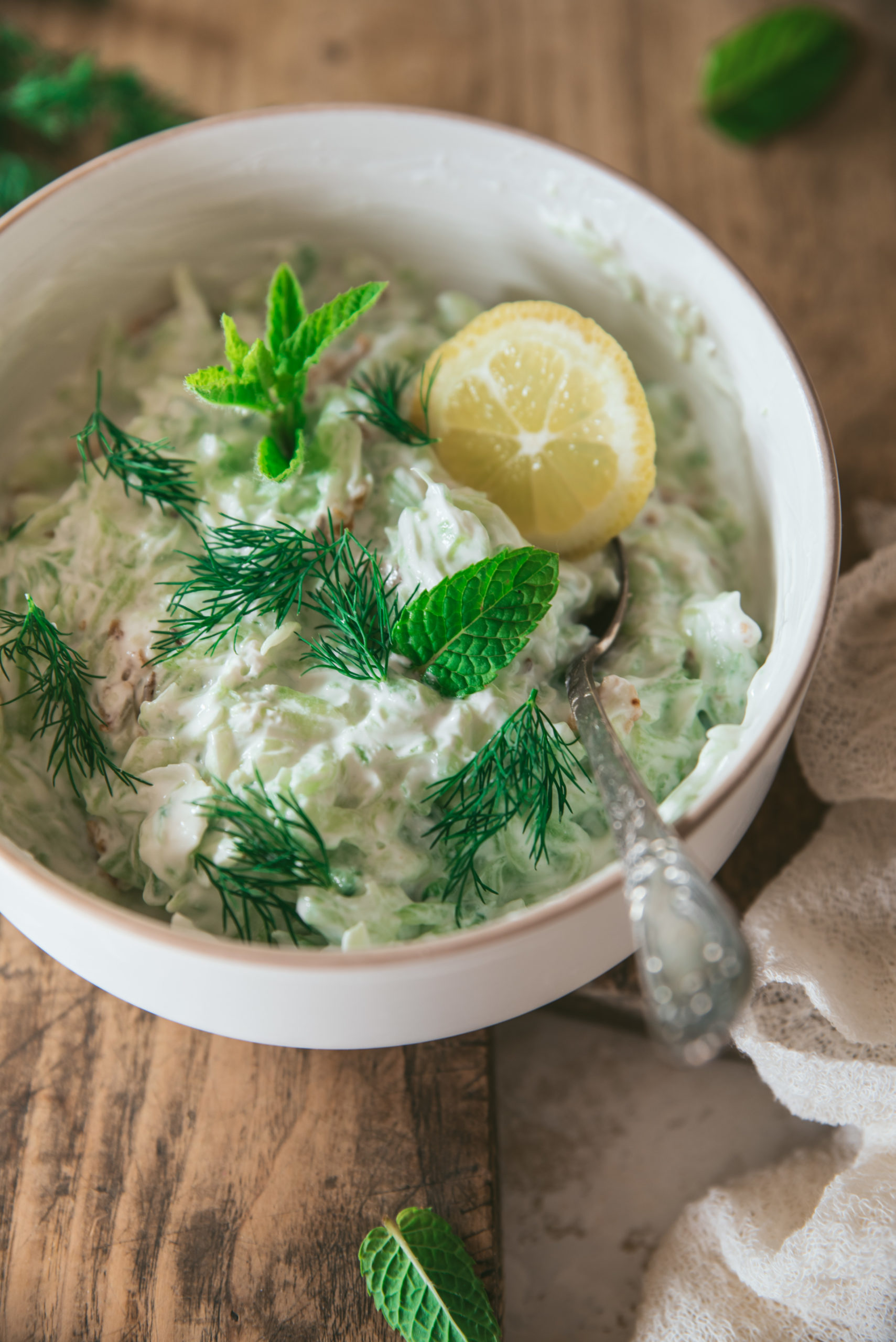 What ingredients do you need to make my tzatziki recipe at home?
Greek yogurt
garlic (in this case fresh garlic)
lemon juice
olive oil
salt and pepper
How to make homemade tzatziki?
Start by preparing the cucumber by grating it with a cheese grater. I use the larger holes so that the pieces are larger and give more texture.
Drain the cucumber by placing it in a clean tea towel and drain it over the sink. Squeez the twist the towel. This is the step that will allow the tzatziki to be creamy.
If there is too much water left, the sauce will not form and the water from the cucumber will separate from the yogurt.
The final step is quite simple as it involves mixing all the other ingredients.
So, as you can see, it's very simple, but I explain everything in detail below in the recipe!
You can also use the cucumber water to make a cool drink by adding fresh still or sparkling water, slices of lemon and some mint leaves. You will obtain an excellent detox water or a Gin Tonic, the recipe of which I will give you soon…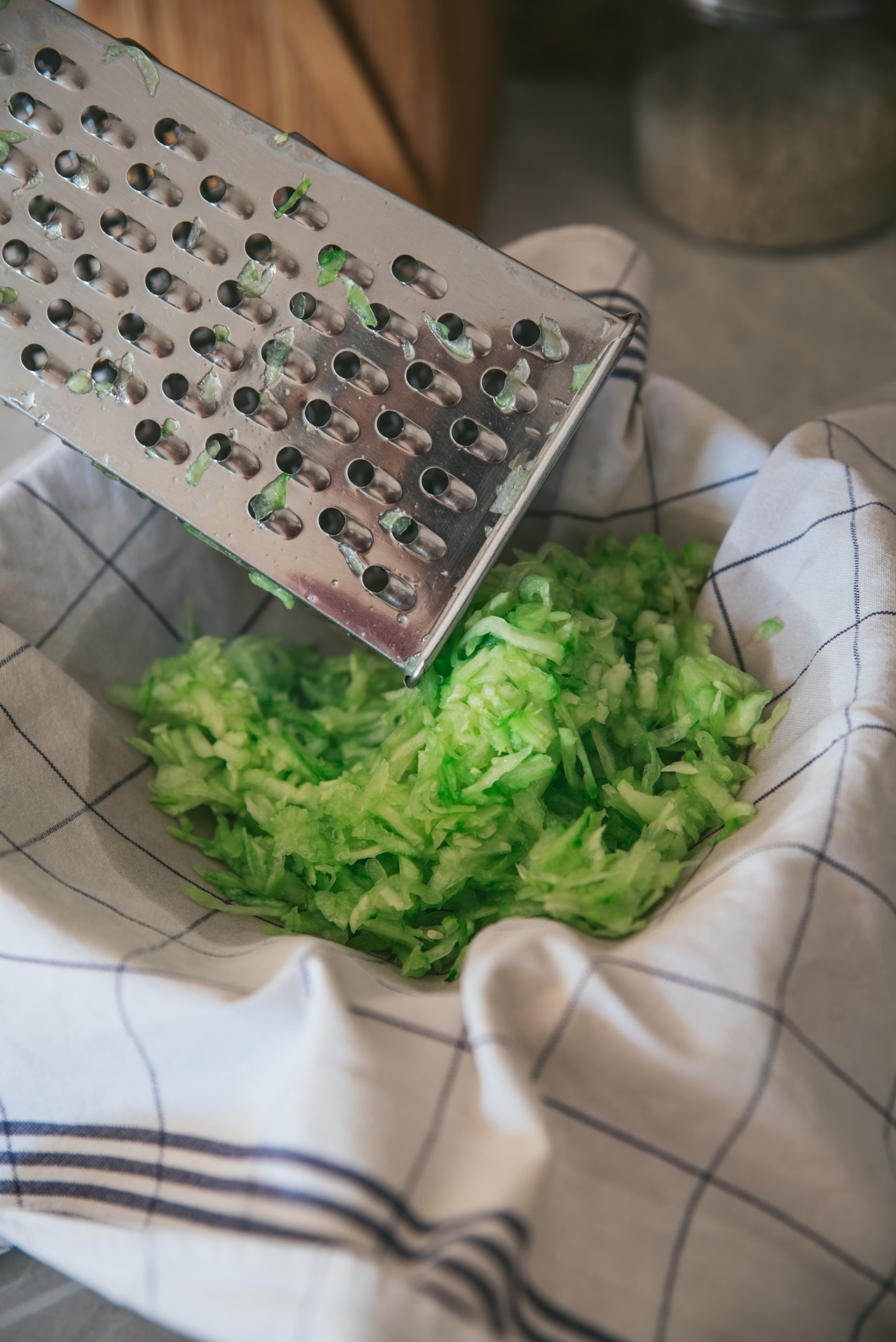 How to use this tzatziki recipe?
Once you've made this recipe, you can enjoy it in many ways: in dips with vegetable sticks, or with crackers, on toast, with meat, in sandwiches with keftas, in a mezze platter or on a raw vegetable appetizer tray….
And if you like this kind of fresh recipe with cucumber, you should try an Indian dish called Raita.
It is a recipe I shared on the blog a long time ago but it is still a classic at home, the base is a bit similar but we add some spices like cumin.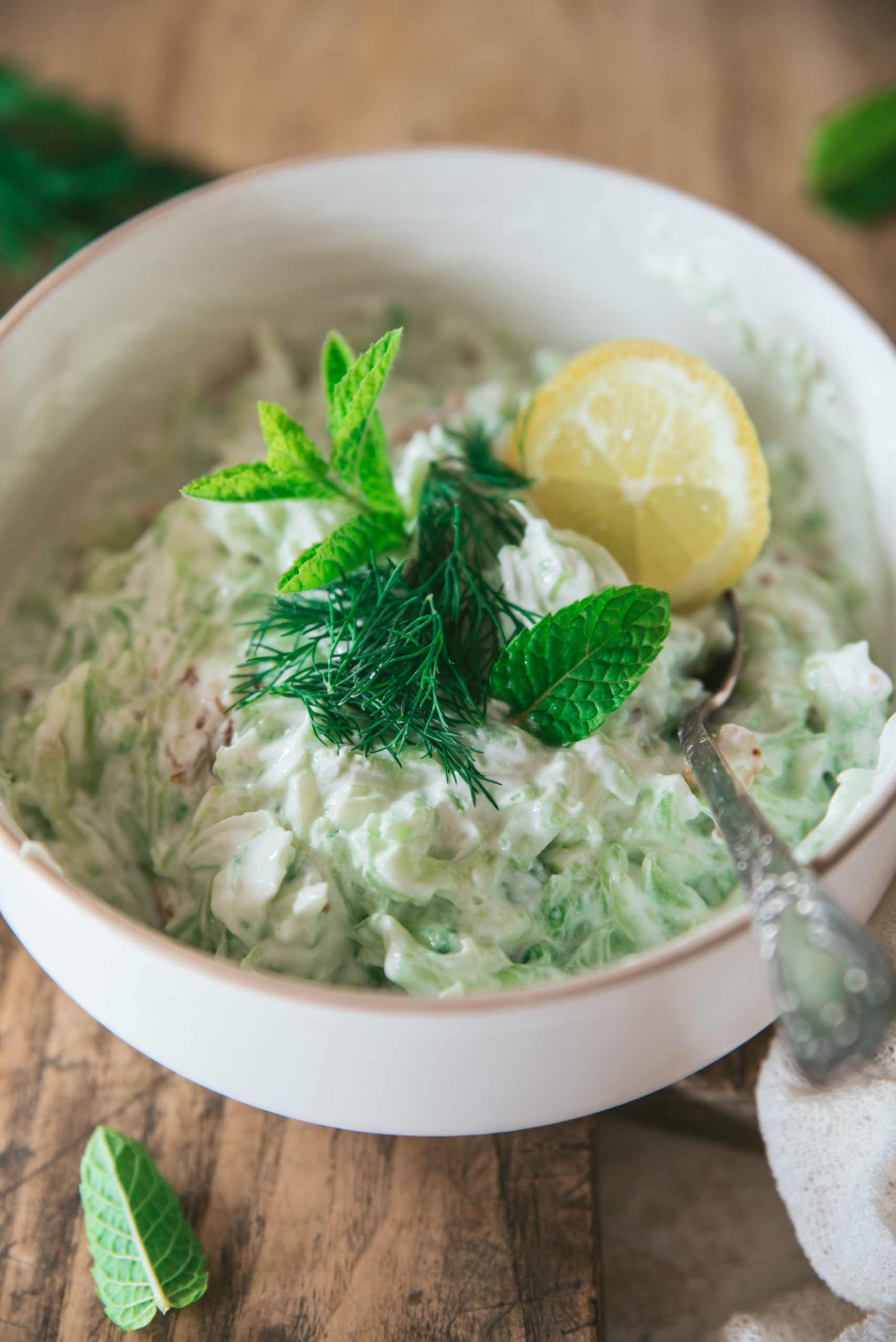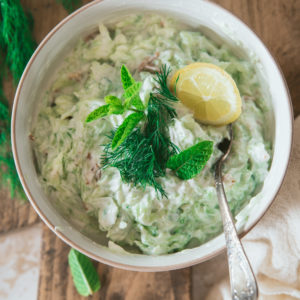 Homemade Cucumber Tzatziki Recipe
Ingredients
1

cucumber

250

g

Greek yogurt

1

teaspoon

organic lemon juice

1

teaspoon

olive oil

1

garlic clove

1

tablespoon

fresh mint and dill chopped to taste

Salt and pepper
Instructions
Wash and peel the cucumber. Remove the central seeds and grate it into a cloth. Squeeze the cloth and twist it to get the juice out of the cucumber.

You can use the juice for another recipe if you wish.

In a bowl, mix the Greek yogurt, olive oil, lemon juice, salt, chopped dill and/or mint and pressed garlic.

Then add the grated cucumber.

Mix so that the cucumber is well soaked in the yogurt.

Cover the bowl and place in the refrigerator for at least 1 hour before serving to allow the flavours to develop.

Serve with slices of toast, it will be a treat.
If you ever make my homemade cucumber tzatziki recipe and you like it, don't hesitate to tag me on Instagram @tangerinezest so I can see the result and share it myself…
Just to let you know I am French and I translate my recipes, be indulgent if you see syntax errors and do not hesitate to leave me a comment so I can correct it. I hope you will like my recipes and enjoy your visit to my food blog!