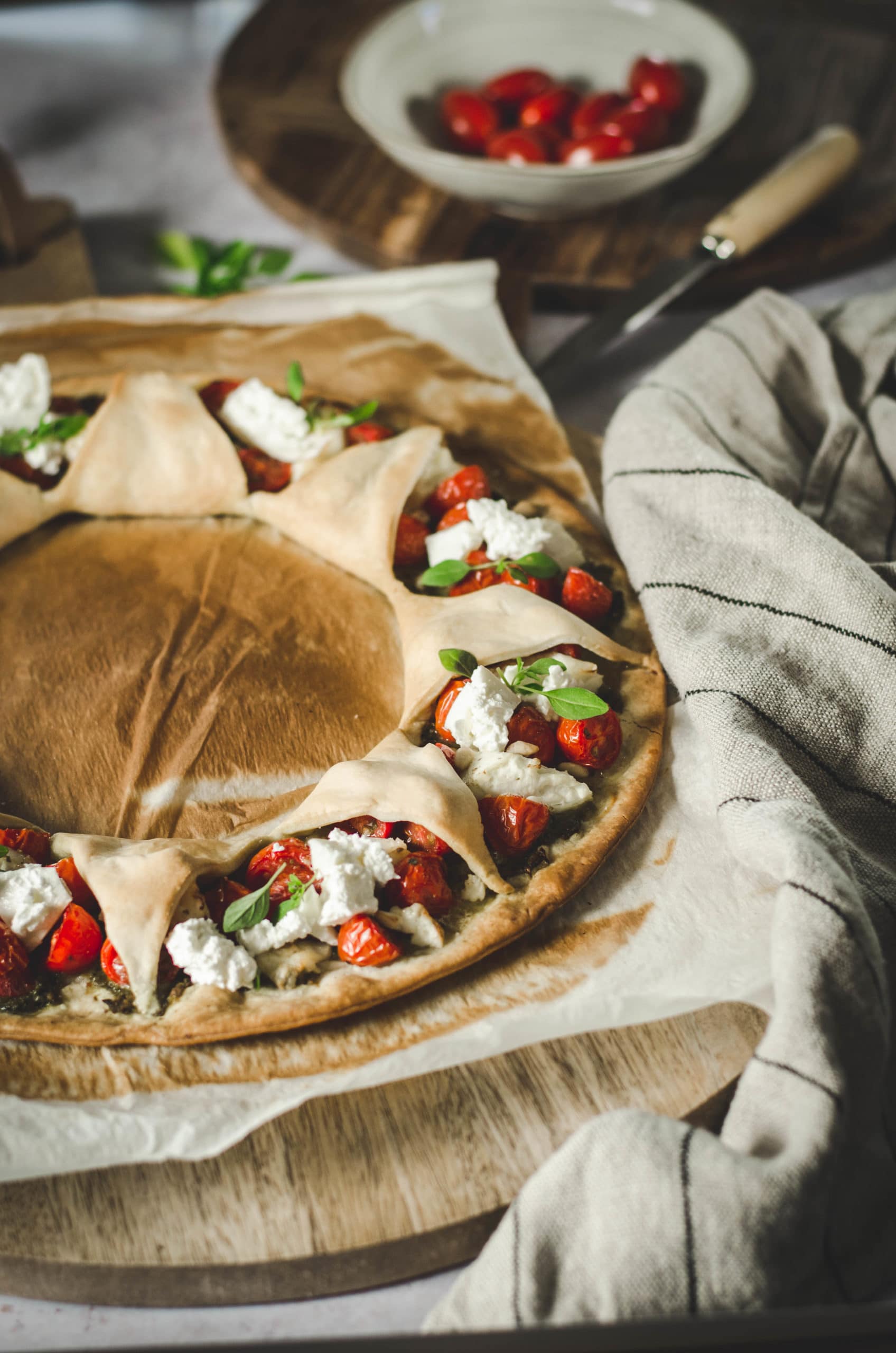 Have you ever made a crown tart?
Personally, this isn't my 1st version, as I've already made a sweet version in the form of a galette des rois. Today, I've made a tomato and burrata tart with pesto.
I have to tell you, it's a real delight! I like this shape of tart because it's pretty and easy to serve.
In terms of ingredients, it's not at all complicated, since you only need 4: shortcrust pastry, cherry tomatoes, a nice burrata and pesto (5 if you add pine nuts).
In our house, everyone loved this crown tart, young and old alike! It made a visual impact, just as I'd hoped it would.
What's more, its crown shape makes it very easy to grip, as the pastry is held in place by the little pointed flaps, making it very pleasant to eat.
I know I've already told you a few times this year about other recipes, but this tart really is one of my favorites, and I think the flavors come together so well!
I invite you to try it, and don't hesitate to give me your impressions in the comments!
Tomato and Burrata Tart with Pesto Recipe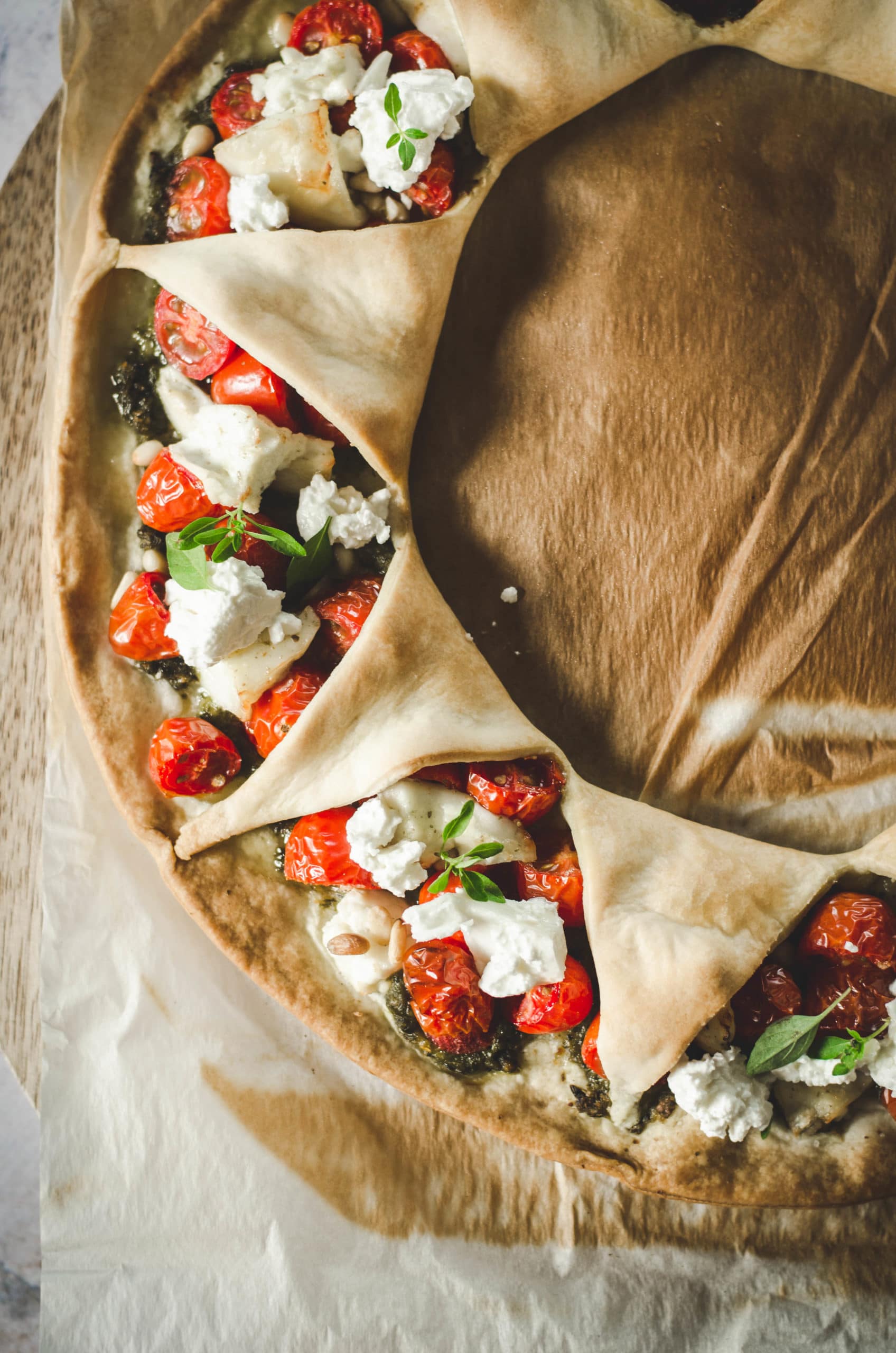 What ingredients do you need to make this delicious Savory Tomato and Burrata Tart recipe?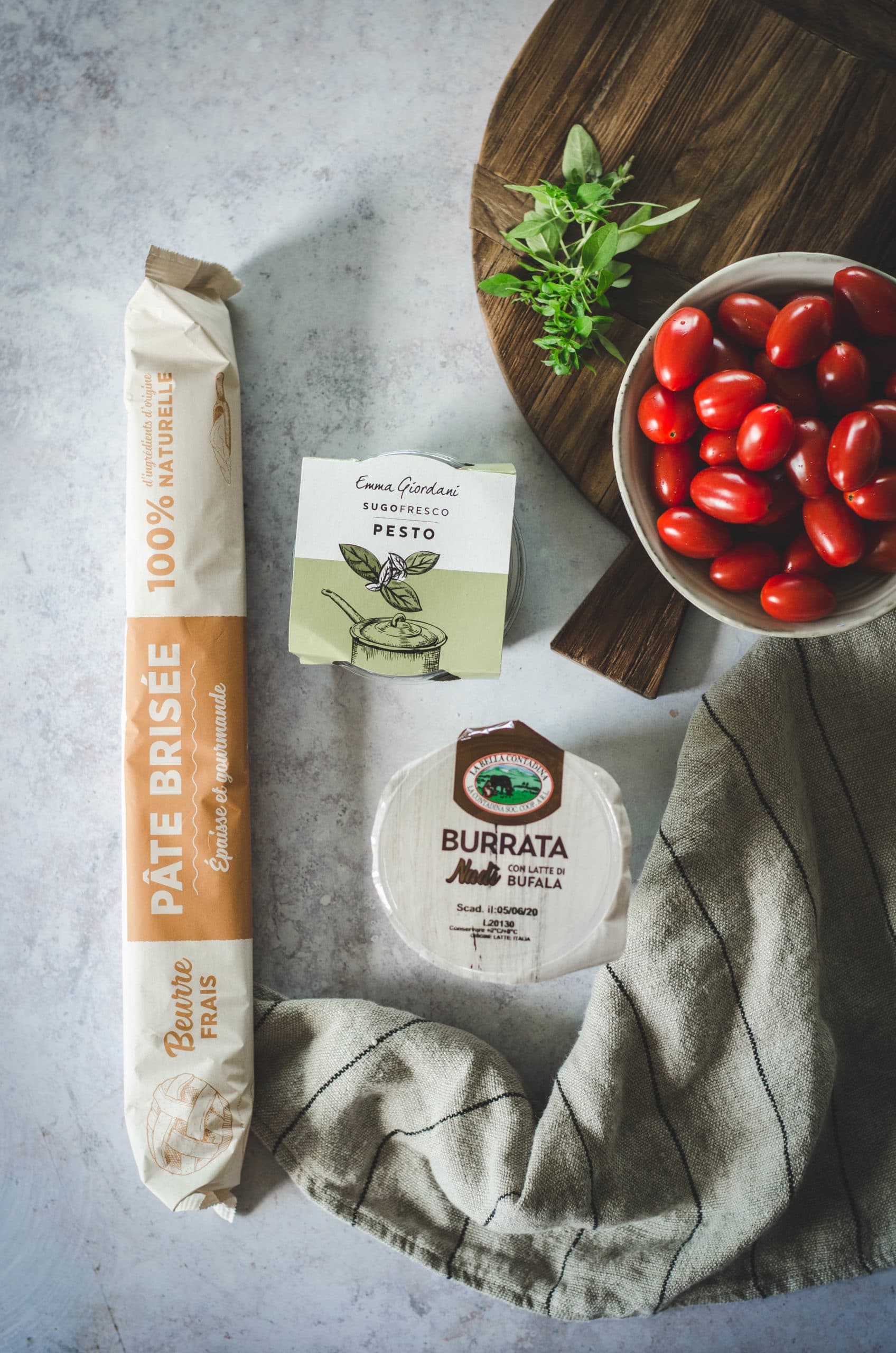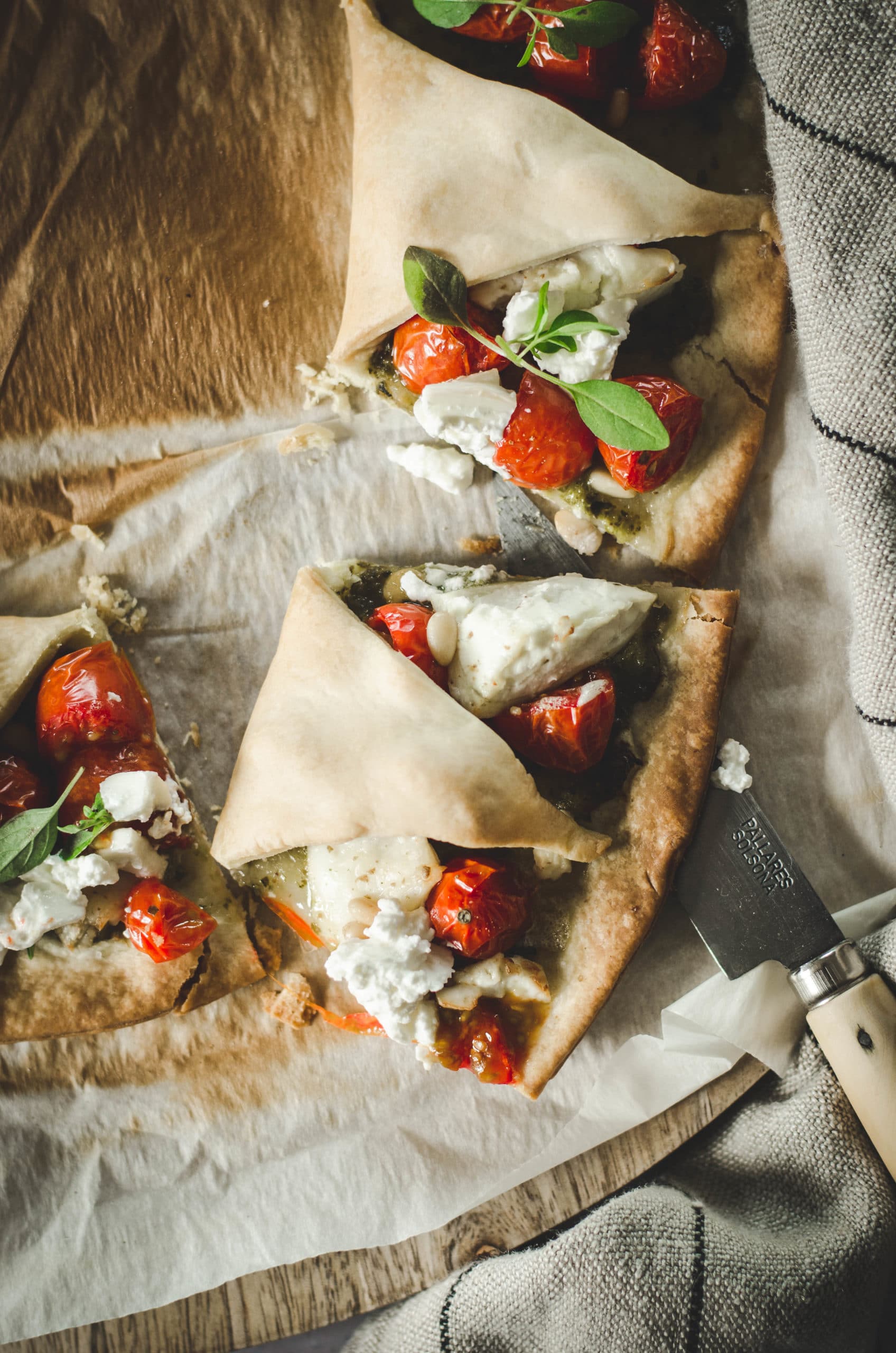 Do you like burrata? Here are some of my favorite recipes: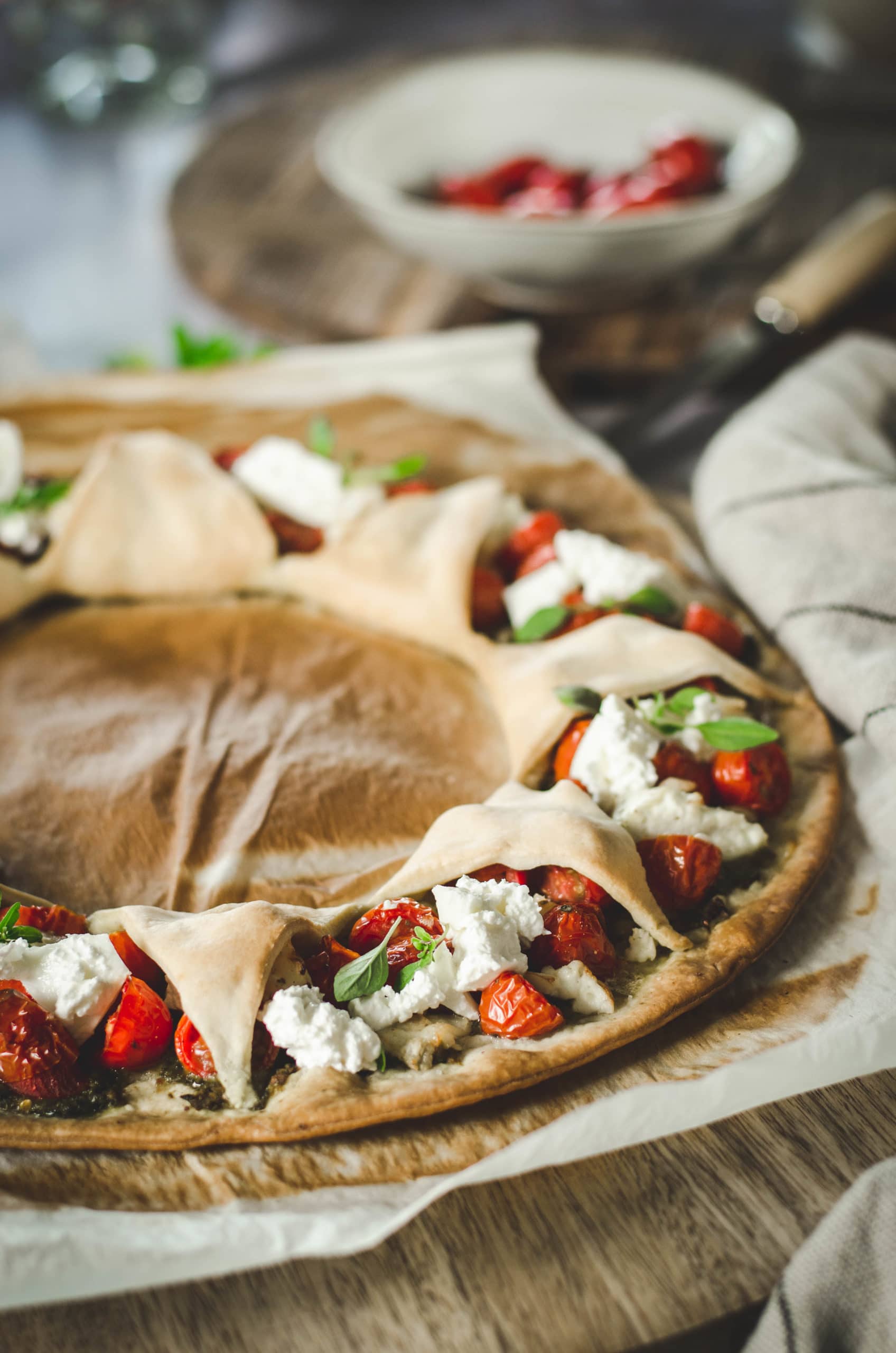 How to make a crown? tart step by step in photos: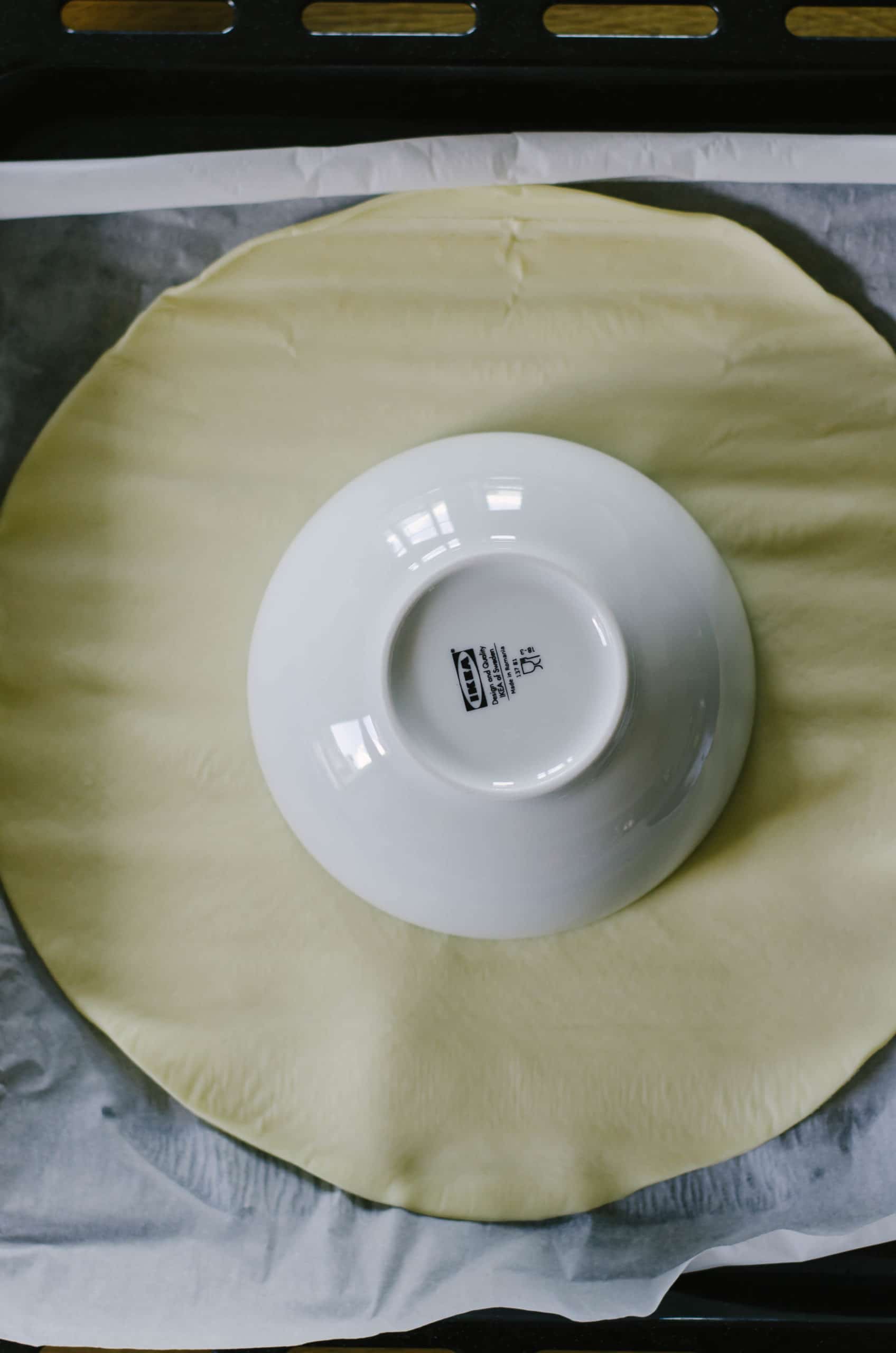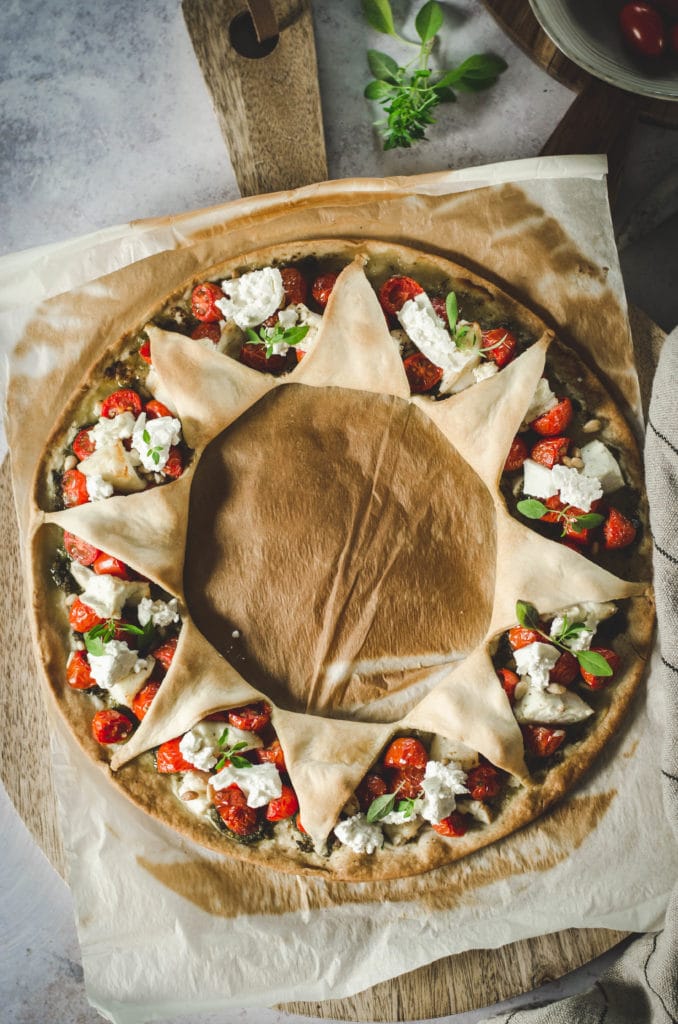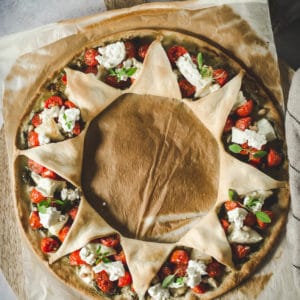 Tomato and Burrata Tart
Ingredients
1

pie crust

200

g

cherry tomatoes

Pesto

1

burrata

Pine nuts

(optional)
Instructions
Preheat your oven to 180°C.

Spread your shortcrust pastry on a baking sheet and leave the baking paper on.

Place an inverted bowl in the center of the dough.

Press lightly to leave a circle design on the dough.

Remove the bowl and make 8 cuts in the circle starting from the center, so as to form 8 triangles.

Spread the pesto all around, leaving the center free and a 1 centimeter strip around the edge.

Place the cherry tomatoes on the pesto as well as the chopped half of burrata and the pine nuts. Keep some burrata to add on top after cooking, it's delicious.

Fold the triangles of dough over the filling.

Bake for 20 to 30 minutes and enjoy hot or warm with some burrata on top.
If you ever make my Homemade Tomato and Burrata Tart recipe and you like it, don't hesitate to tag me on Instagram @tangerinezest so I can see the result and share it myself…
Finally, just to let you know I am French and I translate my recipes, be indulgent if you see syntax errors and do not hesitate to leave me a comment so I can correct it. I hope you will like my recipes and enjoy your visit to my food blog!