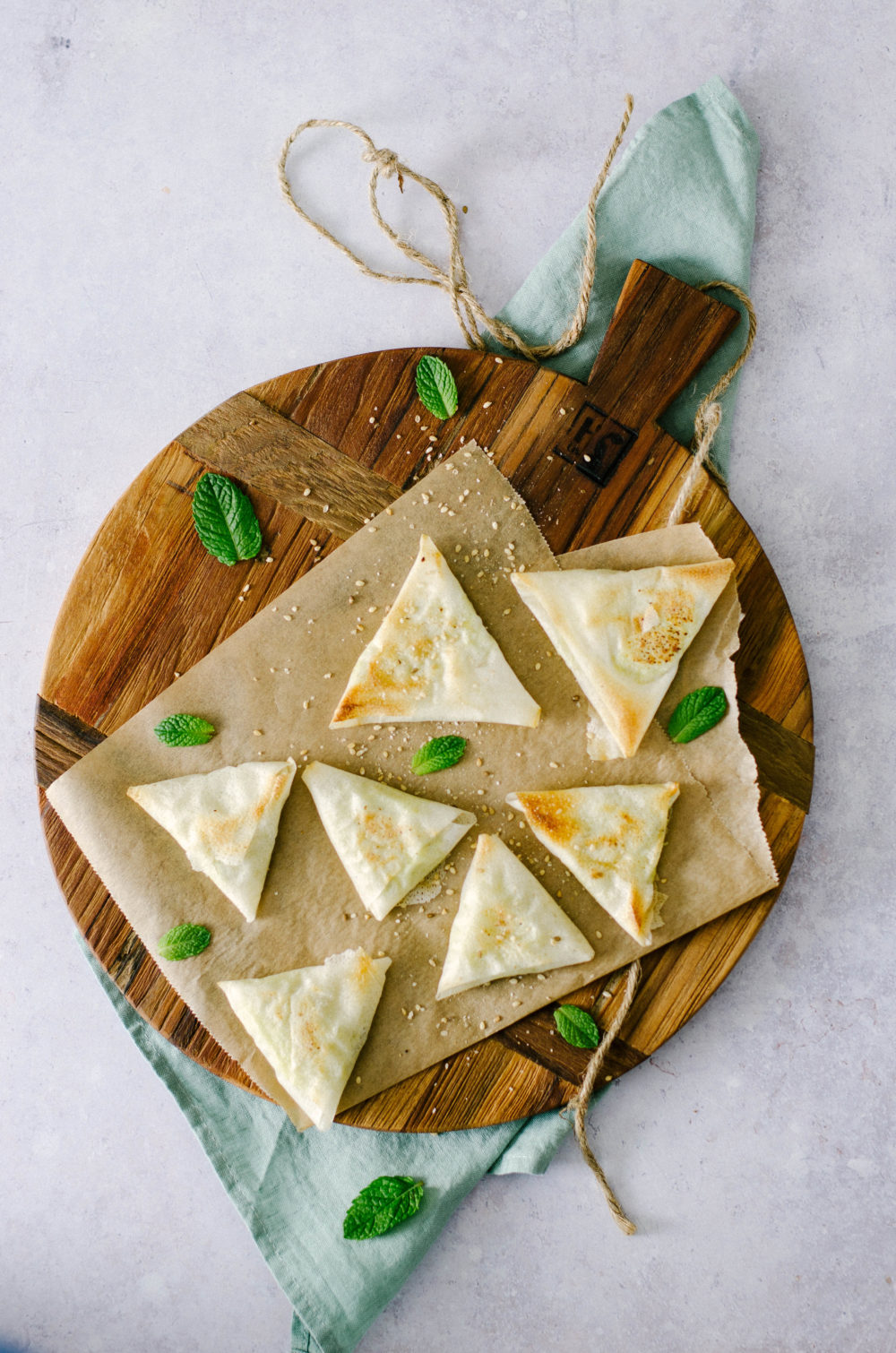 The sunny days are coming and this season, I love preparing large mixed salads but what I also like are the small bites that can be enjoyed as a starter or as an aperitif like with my Chicken and Cream Cheese Samosa recipe.
I know I've never shared one with you before, but I love making samoussas because I find them super easy to prepare and you can really vary the flavors inside.
You can fill them with beef, chicken, shrimp, vegetables, spices, herbs and more. There are no limits. There are no limits. The sky's the limit, and a little imagination goes a long way!
By the way, if you'd like me to test other versions for you, feel free to leave me a little comment at the bottom of the article and I'll make them for you…
When I was little, my mother used to make this for us with leftovers from a previous meal. She'd mix it all together, add a few extras, slip it all into a sheet of brick pastry and that was it, we had a new meal in front of us!
For those wondering how to use the brick pastry sheets to fold the samoussas into a triangle, I've included a little drawing-tutorial at the bottom of the recipe.
Chicken and Cream Cheese Samosa Recipe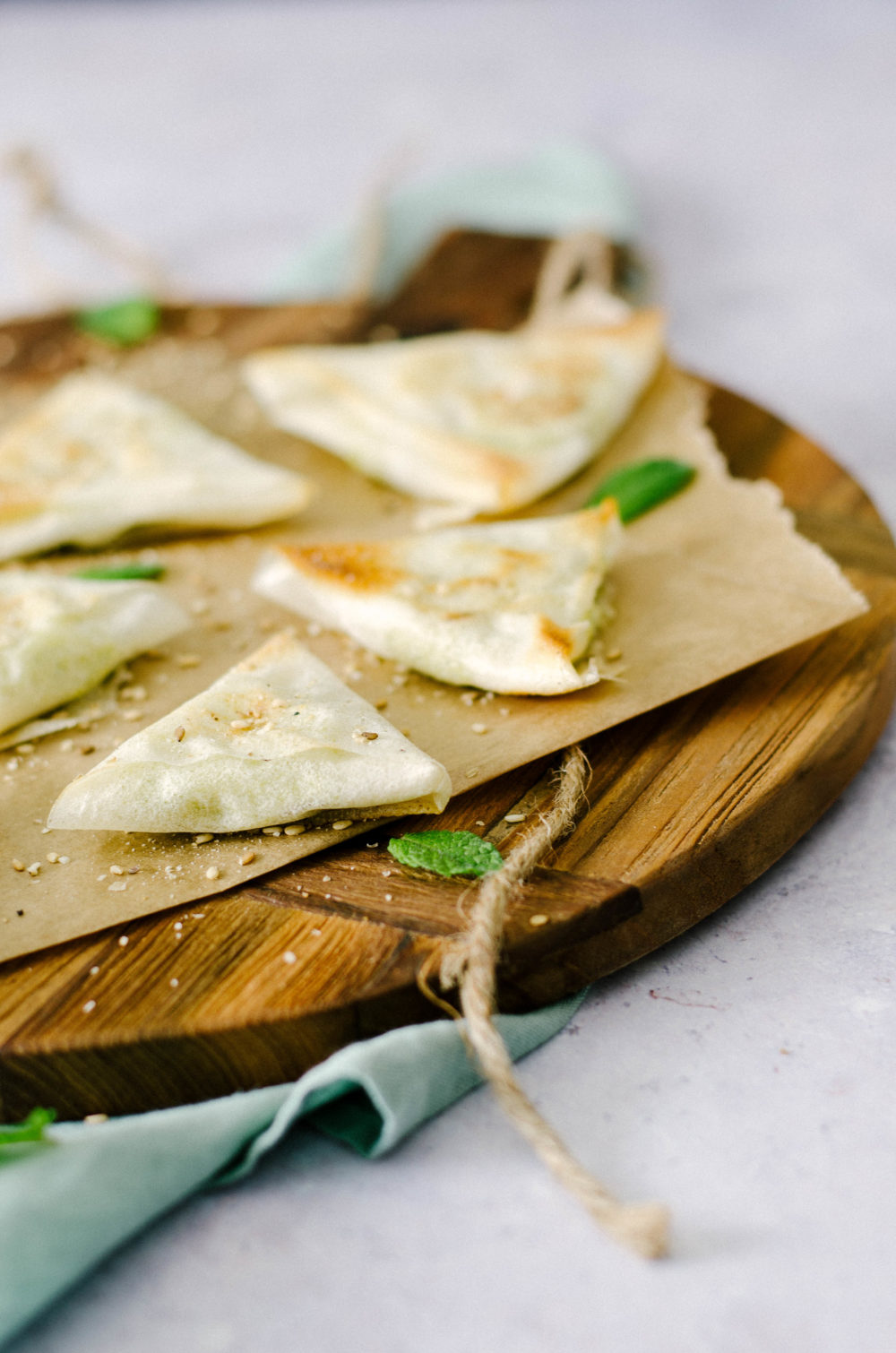 Nothing to do with the chicken samoussa recipe… but I'm in love with my new wooden presentation board. Don't you love it?
I ordered a rectangular one too, and I have a feeling you'll be seeing a lot of them in my next recipe photos… 😉
I must have a dozen cutting boards at home, I'm crazy about them. There are the ones I use for cutting, the ones I use to present my recipes and the ones I use to decorate my kitchen. You know what to give me to make me happy 🙂 .
I'll leave you with my photos and my delicious recipe for chicken, cheese, herb and turmeric samoussa….
WHAT INGREDIENTS WILL YOU NEED TO PREPARE THIS DELICIOUS CHICKEN AND CHEESE SAMOUSSA RECIPE?
brick sheets
chicken cutlets
fresh goat cheese
a few mint leaves and other herbs like chives, basil, etc.
pressed garlic
chopped onion
turmeric
salt and pepper
cooked vegetables like broccoli, Swiss chard, etc. (optional)
olive oil
If you like this recipe, I'm sure you'll also love a vegetarian version that I really like. I'll let you discover my: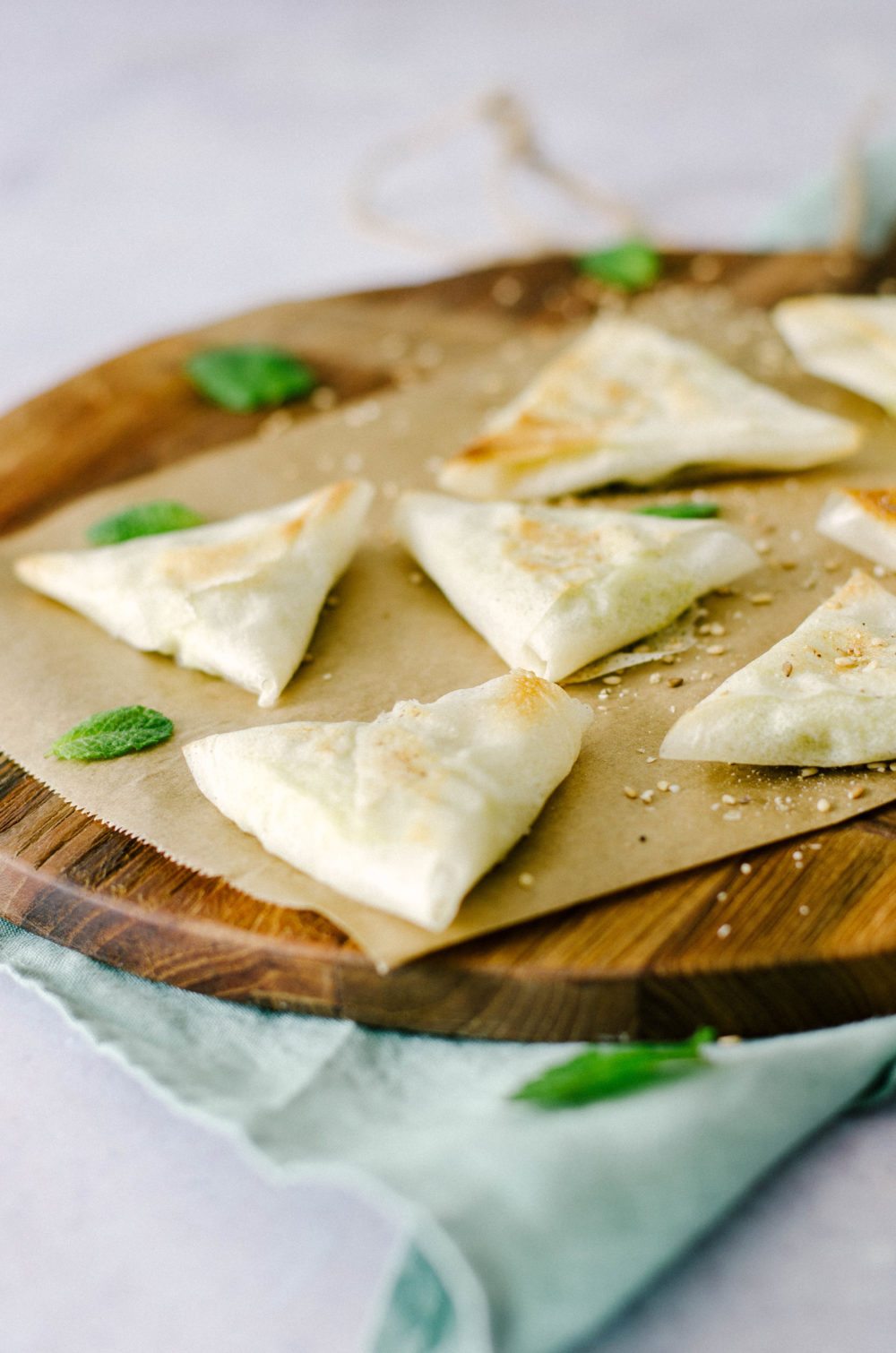 MY TIPS FOR SUCCEEDING WITH THIS EASY HOMEMADE SAMOSSAS RECIPE:
Read the recipe instructions below carefully before you begin.
Prepare all ingredients (correct quantities and weighed) before starting.
This will allow you to check that you have everything at home and add more if necessary, to understand the recipe well and generally to go faster in making the recipe, and to have more fun cooking! 😉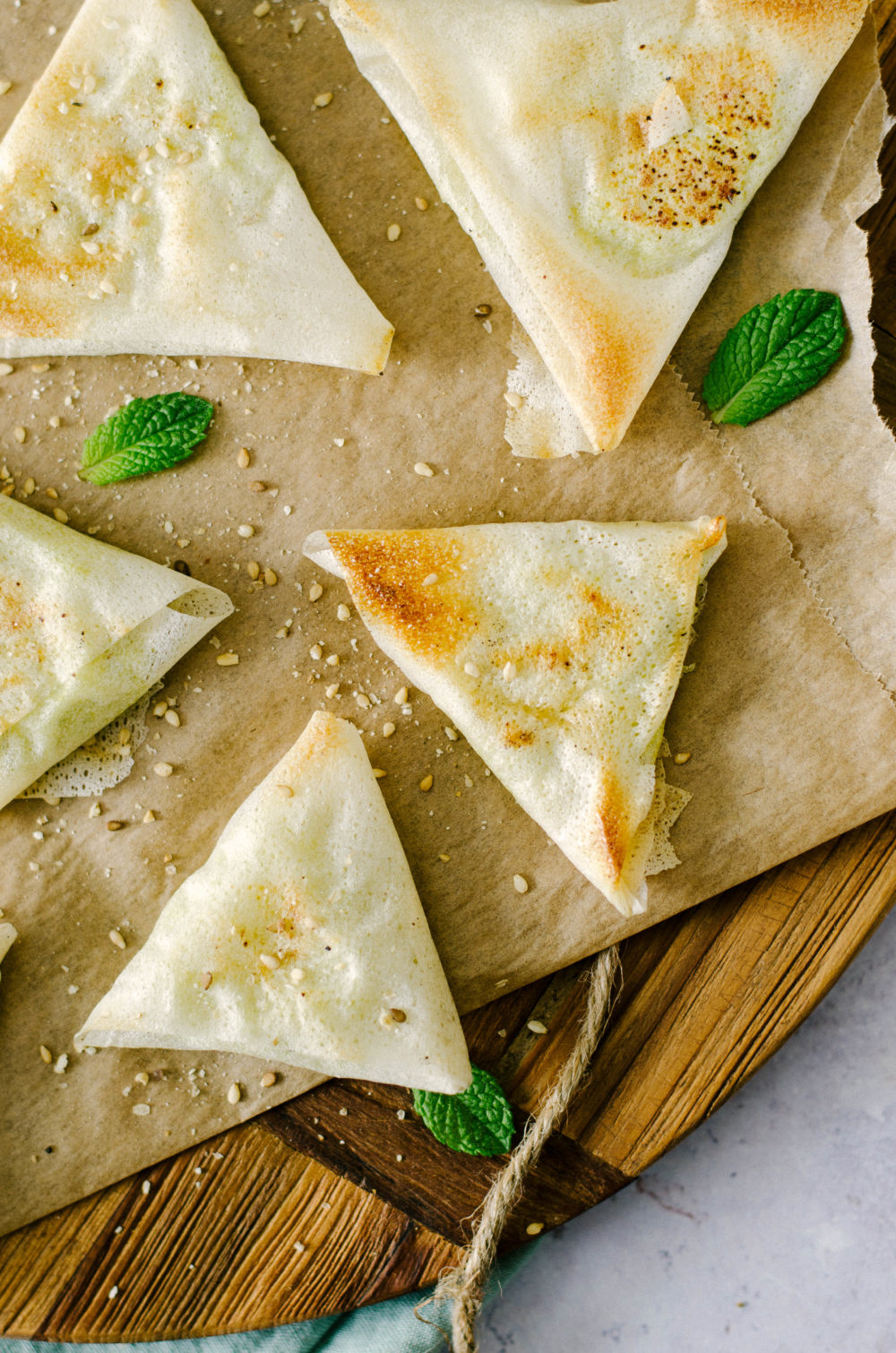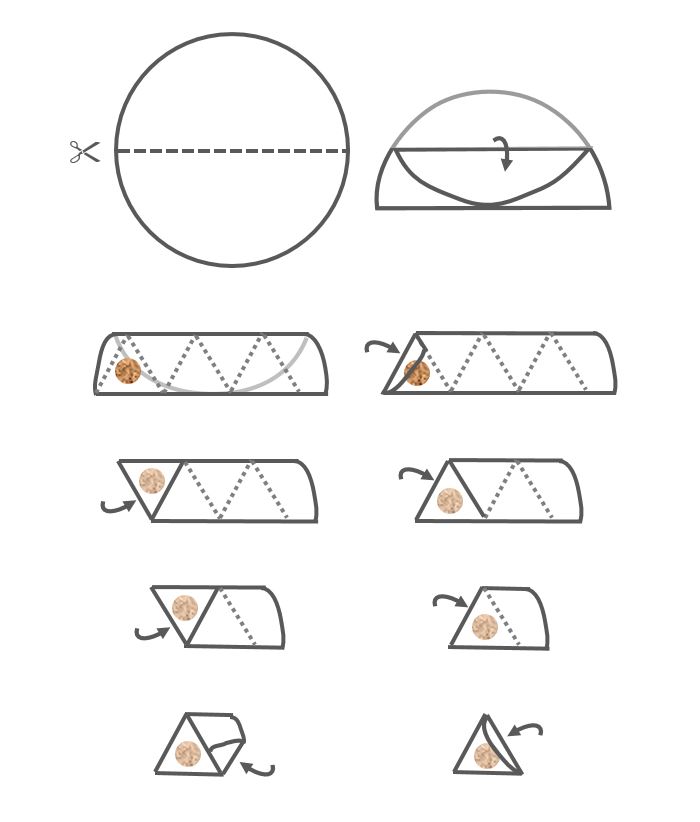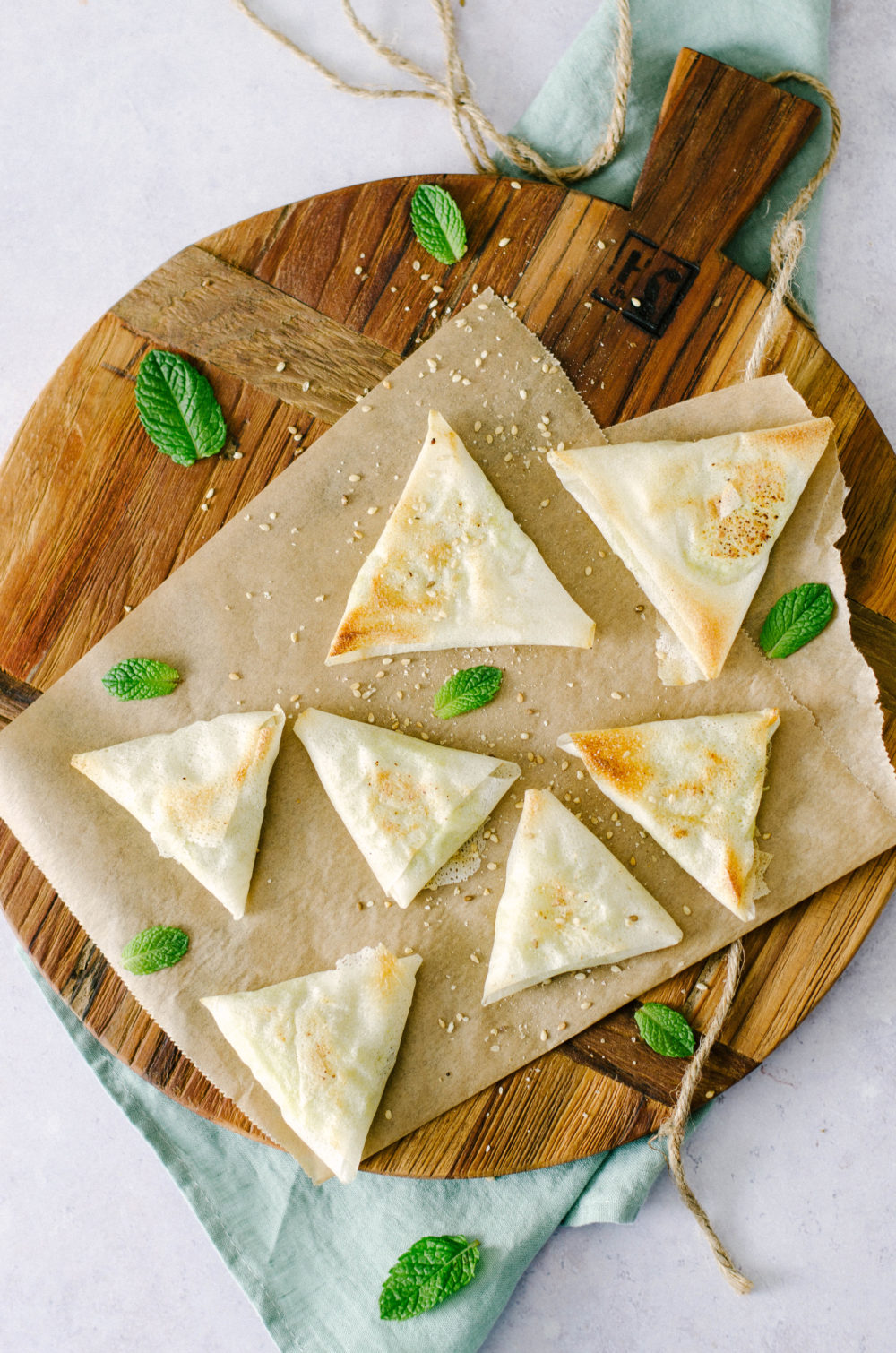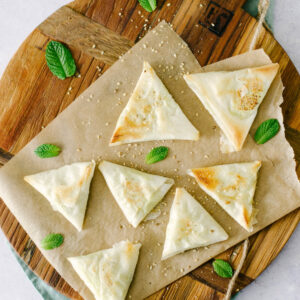 Chicken and Cream Cheese Samosa Recipe
Ingredients
10

brick sheets

300

g

chicken cutlets

80

g

fresh goat's cheese

A few mint leaves and other herbs such as chives, basil, etc.

1

pressed garlic clove

1

chopped onion

1/2

teaspoon

turmeric

Salt and pepper

Cooked vegetables such as broccoli, chard ribs, etc.

(optional)

Olive oil
Instructions
In a skillet, brown the chicken cut into pieces, the minced onion and the pressed garlic with a drizzle of olive oil and the turmeric.

Place all the ingredients in a blender and chop everything more or less coarsely according to your taste.

Cut the brick sheets in 2 in the middle. Fold each piece in 2 to form a strip.

Place a small spoonful of the mixture in one corner then fold the pastry sheet diagonally to form a triangle. Repeat the operation until the stuffing is finished.

In a pan, heat a little oil and place the samosas. Brown each side over medium heat for about 5 minutes, taking care not to burn.
If you ever make my homemade chicken and cream cheese samosa recipe and you like it, don't hesitate to tag me on Instagram @tangerinezest so I can see the result and share it myself…
Finally, just to let you know I am French and I translate my recipes, be indulgent if you see syntax errors and do not hesitate to leave me a comment so I can correct it. I hope you will like my recipes and enjoy your visit to my food blog!