I've been wanting to try a Green Pea and Mint Soup recipe for a long time, but for that I had to wait for the pea season to return, and yes because fresh peas remain essential. best !
And since today is the first day of summer, how can we resist? The season for soups and veloutés is not yet here but, in an iced version, it is absolutely the right time!
So, after mixing everything together, let it cool and refrigerate until ready to serve. If the velouté has thickened a little while cooling (which is entirely possible), you can always add one or two ice cubes when serving…
In any case, for those who want to have a beautiful effect whether as a starter or in aperitif glasses, without wasting too much time in the kitchen, this is the perfect recipe because it is simple, quick and tasty.
Finally, if you feel like it, you can always try a hot version of this minted pea soup, it is also very very good (yes, I tried it anyway…) and then if you If you wish, you can still make it with frozen peas, but it still doesn't have the same taste…
Pea and Mint Soup Recipe
WHAT INGREDIENTS do YOU NEED TO MAKE THIS COLD green pea SOUP RECIPE?
fresh or frozen green peas
fresh onion
olive oil
some water
mint leaves
cream
Espelette pepper
salt and pepper
WHAT OTHER RECIPE IDEAS TO MAKE YOU SHOULD LOVE AS MUCH AS THIS ONE?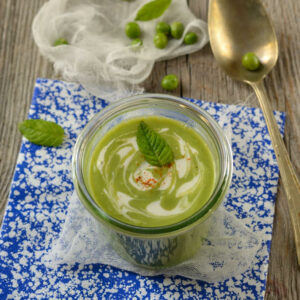 Pea and Mint Soup Recipe
Ingredients
300

g

fresh or frozen peas

1

small fresh onion

1

teaspoon

olive oil

40

cl

water

5

mint leaves

2

tablespoons

cream

1

pinch

Espelette pepper

Salt and pepper
Instructions
Shell the peas if you are using fresh ones. Roughly chop the onion and put it with the peas in a saucepan, add the olive oil and salted water.

When the water is simmering, cook over medium heat for 10 minutes.

Add the mint leaves, pepper, then mix everything finely.

Add the cream and a pinch of pepper.

You can serve hot or cold as you wish, for us it was iced so we could prepare it in advance… and it's delicious!
If you ever make my homemade Pea and Mint Soup recipe and you like it, don't hesitate to tag me on Instagram @tangerinezest so I can see the result and share it myself…
Finally, just to let you know I am French and I translate my recipes, be indulgent if you see syntax errors and do not hesitate to leave me a comment so I can correct it. I hope you will like my recipes and enjoy your visit to my food blog!