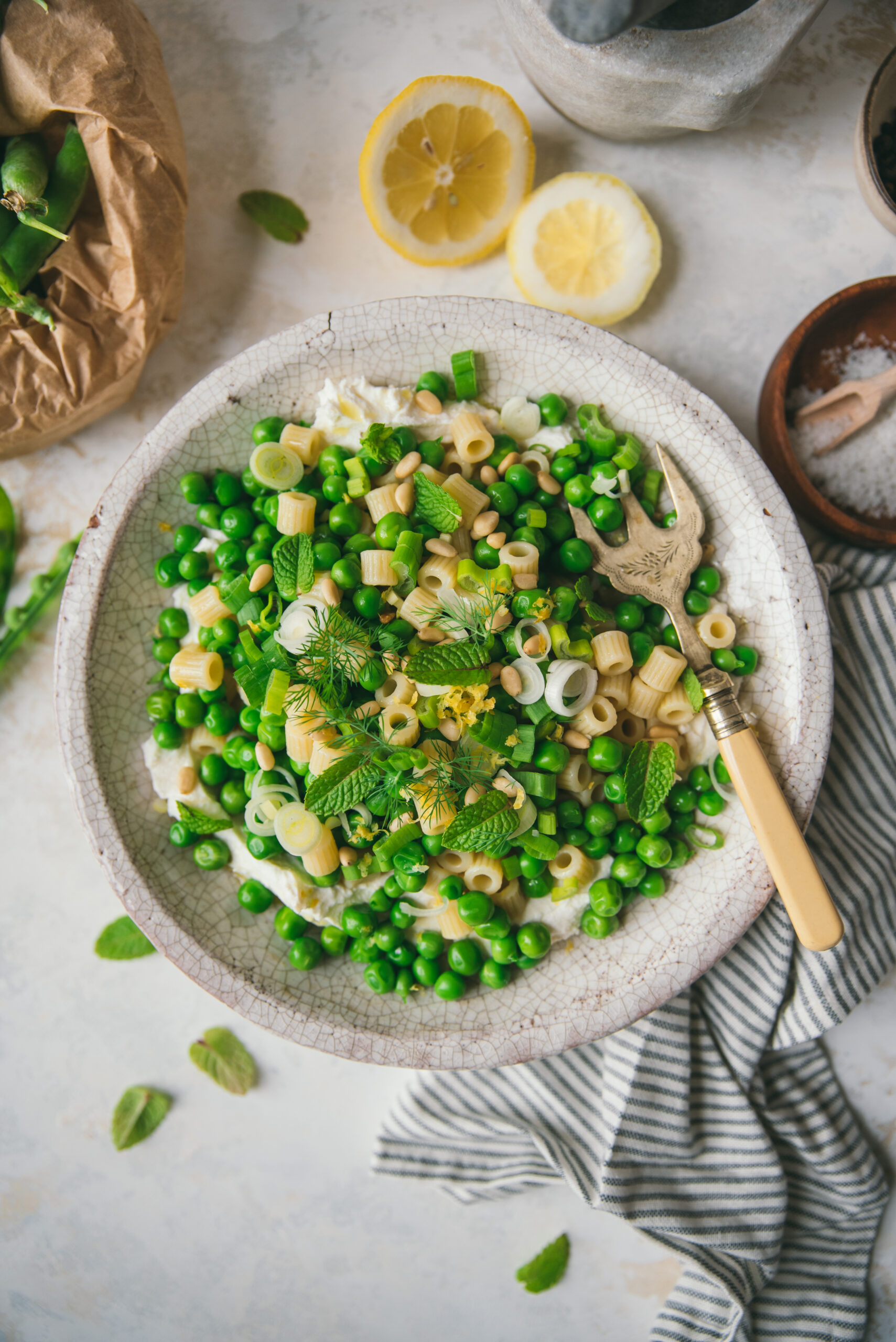 Pea season is starting, and you've got to make the most of it, because it doesn't last long. And I can tell you that this Pasta with whipped Ricotta and Green Peas recipe does them justice!
For me, the arrival of strawberries and peas really marks the arrival of fine weather, and even if the sun is slow in coming this year, I'm delighted to be able to offer you a few more recipes based on spring and early summer vegetables and fruit.
By the way, have you ever tried making whipped ricotta? 🙂 It's wonderful! The texture is really creamy and it goes perfectly with peas and a little lemon zest. To try it is to adopt it!
I love this recipe for its colors, flavors and textures, all of which come together so well!
Pasta with whipped Ricotta and Green Peas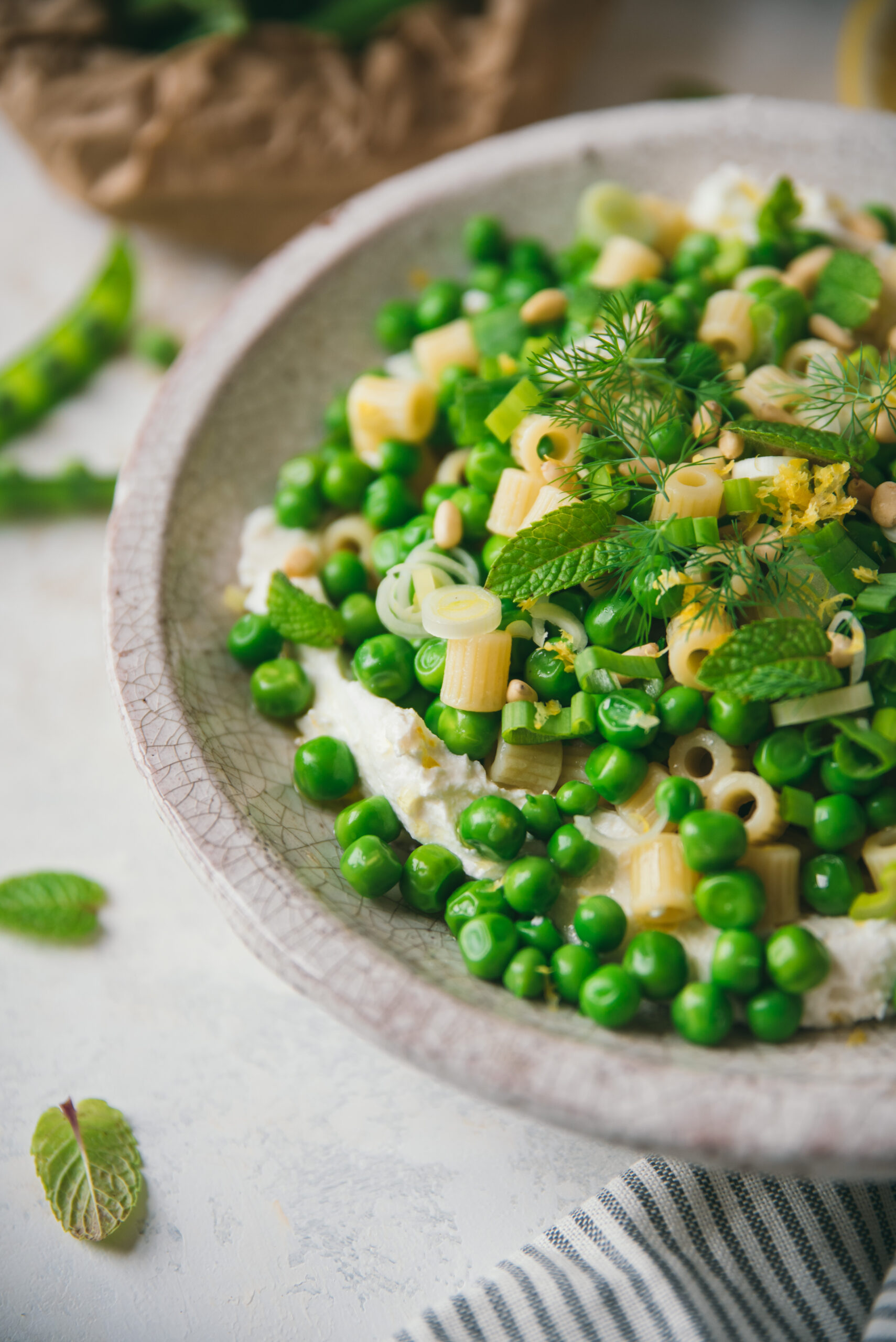 What ingredients do you need to make this pea and ricotta pasta recipe?
fresh green peas
Greek yogurt
organic lemon
pasta: here I've used Tubetti Rugatti | Nº 72 from Rummo, but you can use any pasta you like
fresh mint leaves
fresh dill
sea salt flakes and pepper. For this recipe, I used Timut pepper with a hint of grapefruit, which I thought was just perfect
olive oil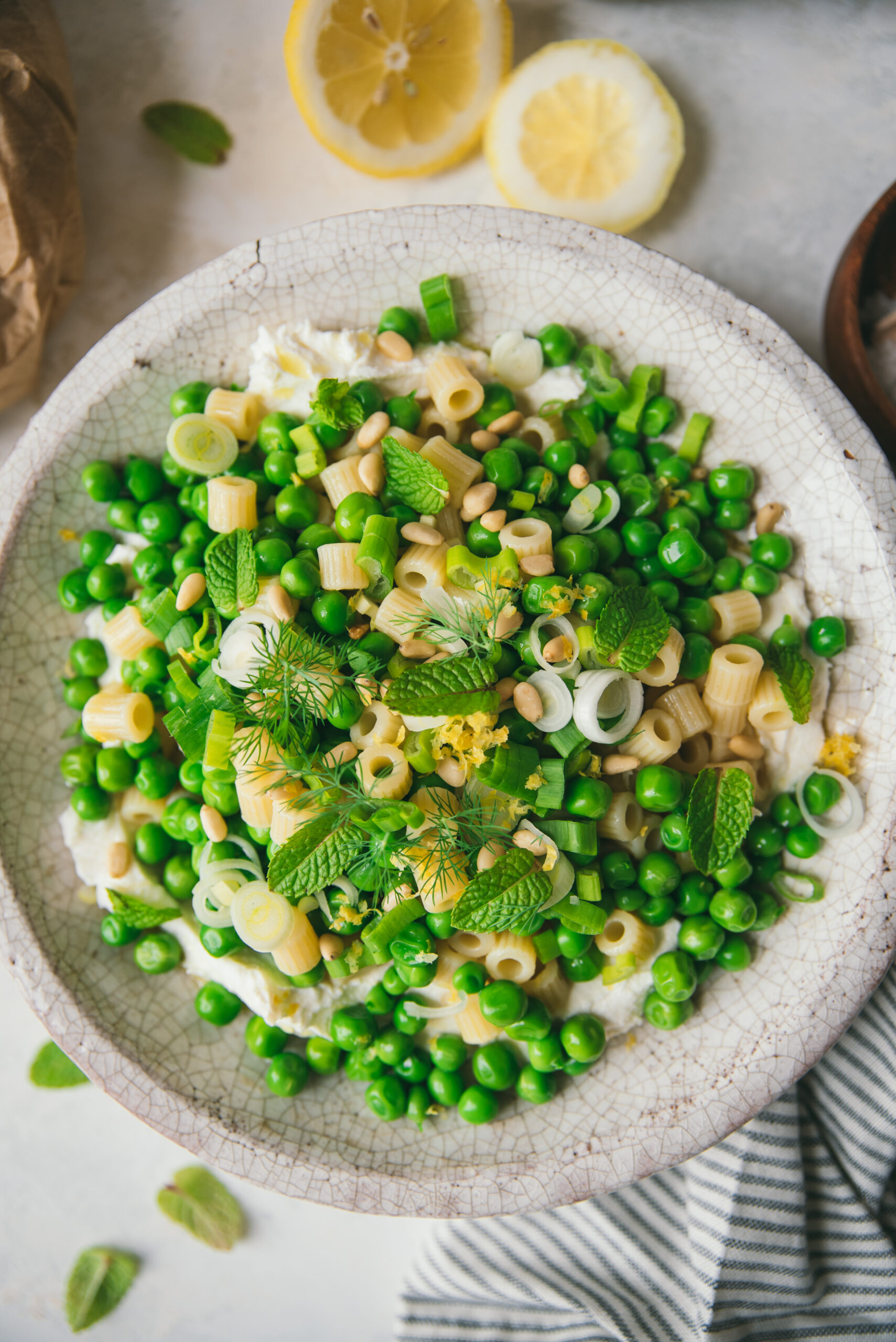 How to cook fresh green peas?
How to boil fresh green peas?
There's nothing like freshly shelled peas, is there? To cook them, plunge them into boiling salted water for 5 to 10 minutes, depending on whether you like them firm or melting. To preserve their pretty green color, drain them carefully after cooking and plunge them into a bowl of iced water.
How to steam fresh green peas?
Place shelled peas in the steamer basket of your pressure cooker. Pour water into the bottom of the pressure cooker and close tightly. Cook for 5 to 8 minutes from the time you turn the valve.
If you're using frozen peas, you can use the same cooking methods.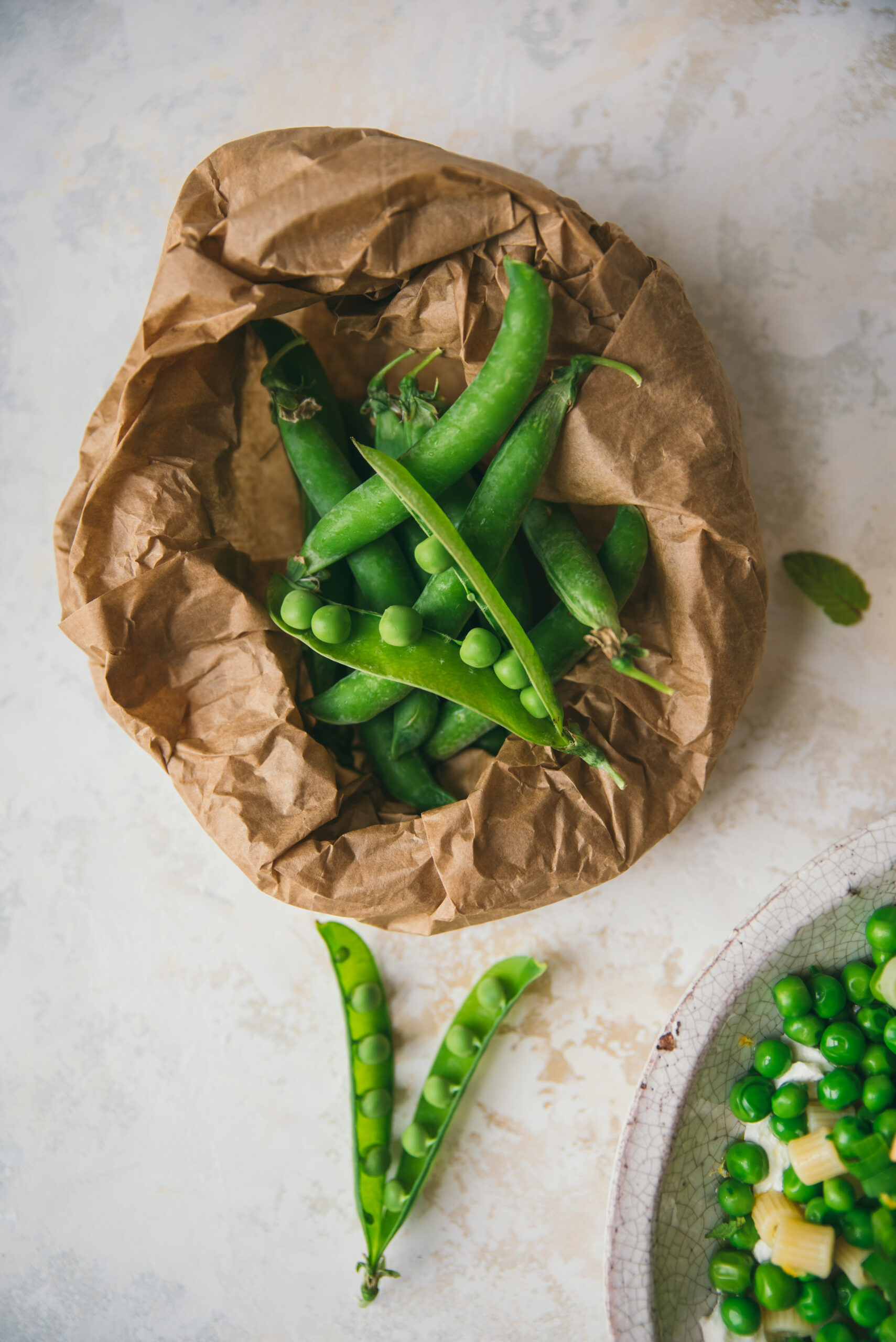 What other salad recipes can you make?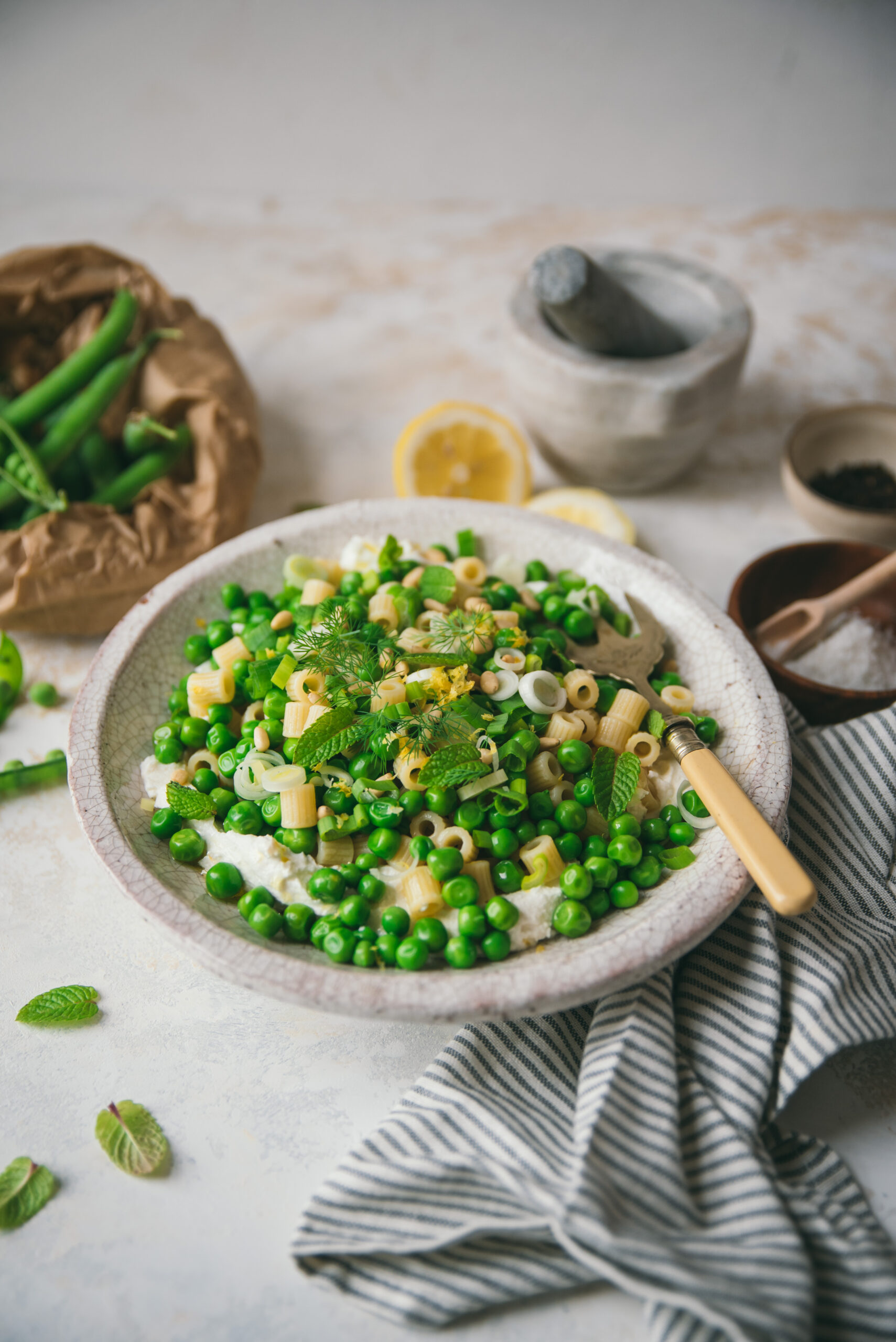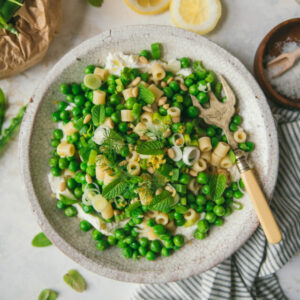 Pasta with whipped Ricotta and green peas
Ingredients
200

g

pasta

400

g

shelled green peas

250

g

ricotta cheese

100

g

Greek yogurt

1

organic lemon

for zest

1

spring onion

2

tablespoons

olive oil

few fresh mint leaves

few sprigs of fresh dill

2

handfuls toasted pine nuts

salt flakes and Timut pepper
Instructions
Cook your pasta in plenty of salted water, according to the time indicated on the packet.

Once cooked, drain. Rinse with cold or lukewarm water, then drizzle with olive oil and toss.

Cook the peas in simmering water for a few minutes. Personally, I like them still crunchy.

Rinse in cold water to preserve their beautiful green color.

In a bowl, beat the ricotta with the fromage blanc using an electric mixer. Add lemon zest and a dash of lemon juice. Season with salt and pepper.

Serve on a platter.

Add the ricotta pasta and peas to the ricotta.

On top, add lemon zest, dill sprigs, mint leaves, thinly sliced fresh onion and toasted pine nuts.
If you ever make my Pasta with whipped Ricotta and green peas recipe and like it, feel free to tag me on Instagram or Facebook so I can see the result and share it back…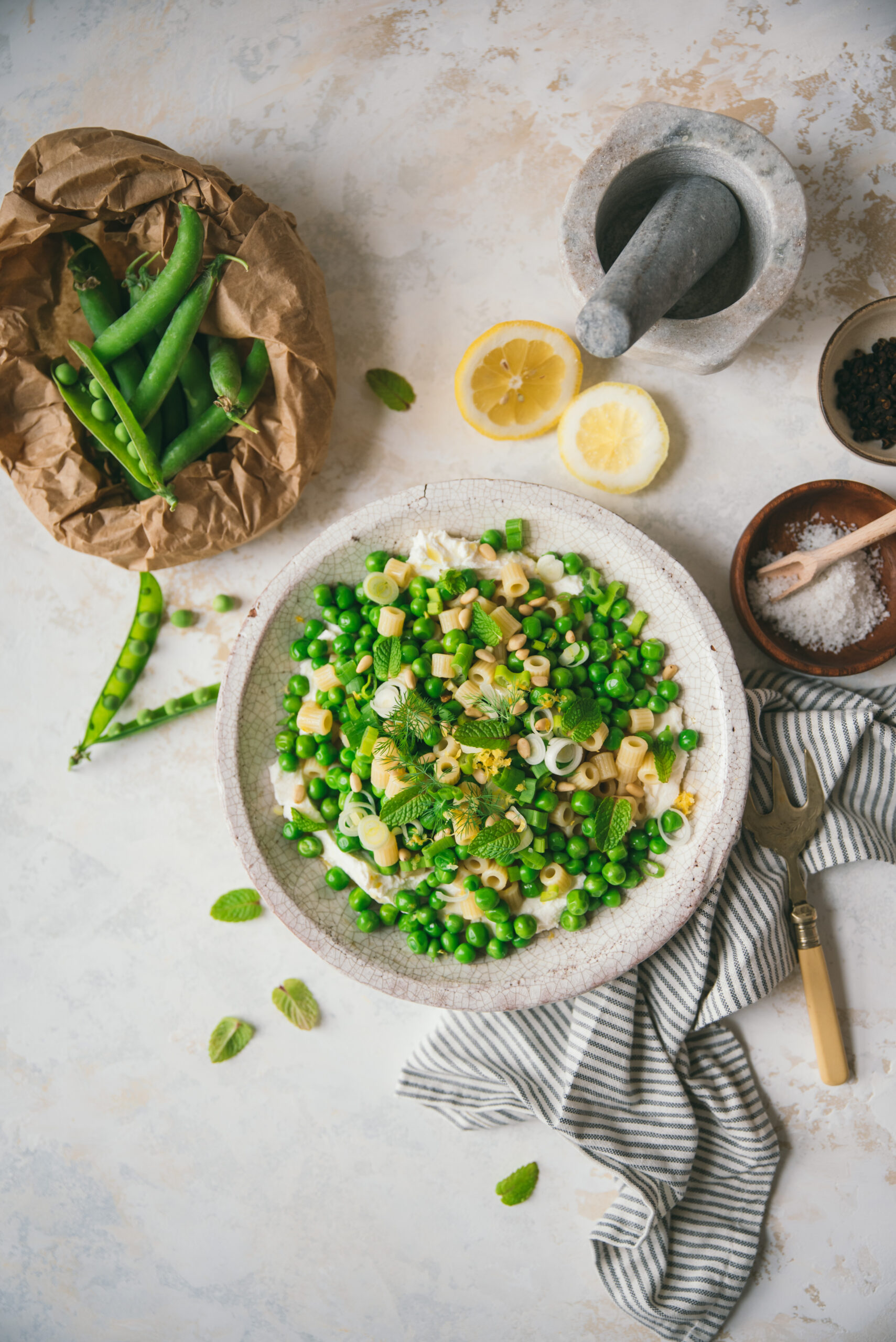 Just to let you know I am French and I translate my recipes, be indulgent if you see syntax errors and do not hesitate to leave me a comment so I can correct it. I hope you will like my recipes and enjoy your visit to my food blog!