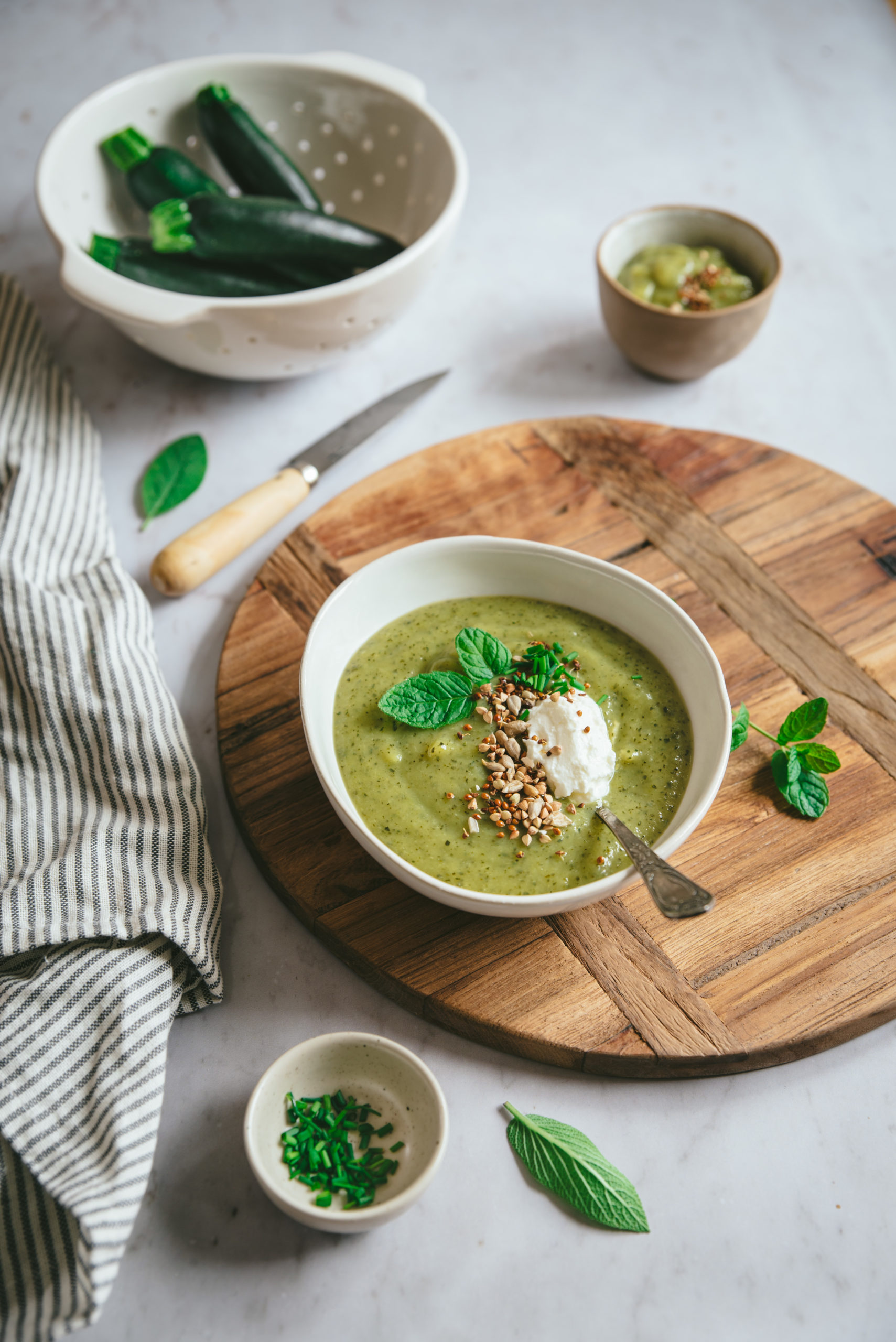 Have you ever made a creamy zucchini soup with fresh cheese and mint? This is a really delicious and easy to make recipe that can be eaten hot or cold. When it's really hot, I even like to eat it iced straight from the fridge.
This soup also freezes well and you can enjoy it in the evening when you get home from work with some cheese toast, and all year long.
To serve, you can add a small spoonful of fresh cheese, some chopped herbs, seeds or sprouts.
I leave you with my recipe that you can make throughout the summer and into early fall…
Creamy zucchini soup with fresh cheese and mint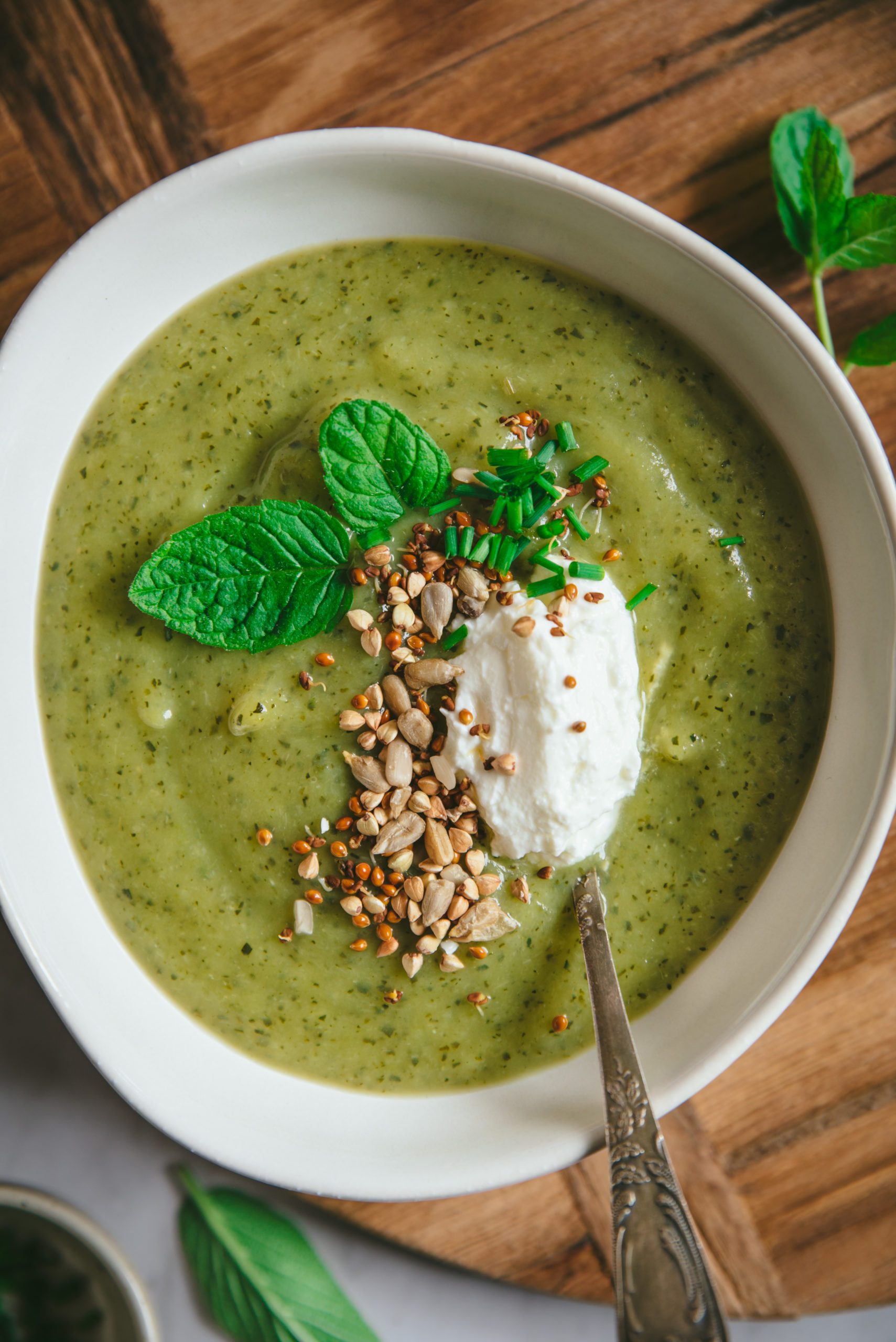 WHAT INGREDIENTS WILL YOU NEED TO MAKE THIS DELICIOUS ZUCCHINI SOUP RECIPE?
zucchini
a potato
fresh cheese
chives and fresh mint
vegetable stock cube
garlic
onion
olive oil
black pepper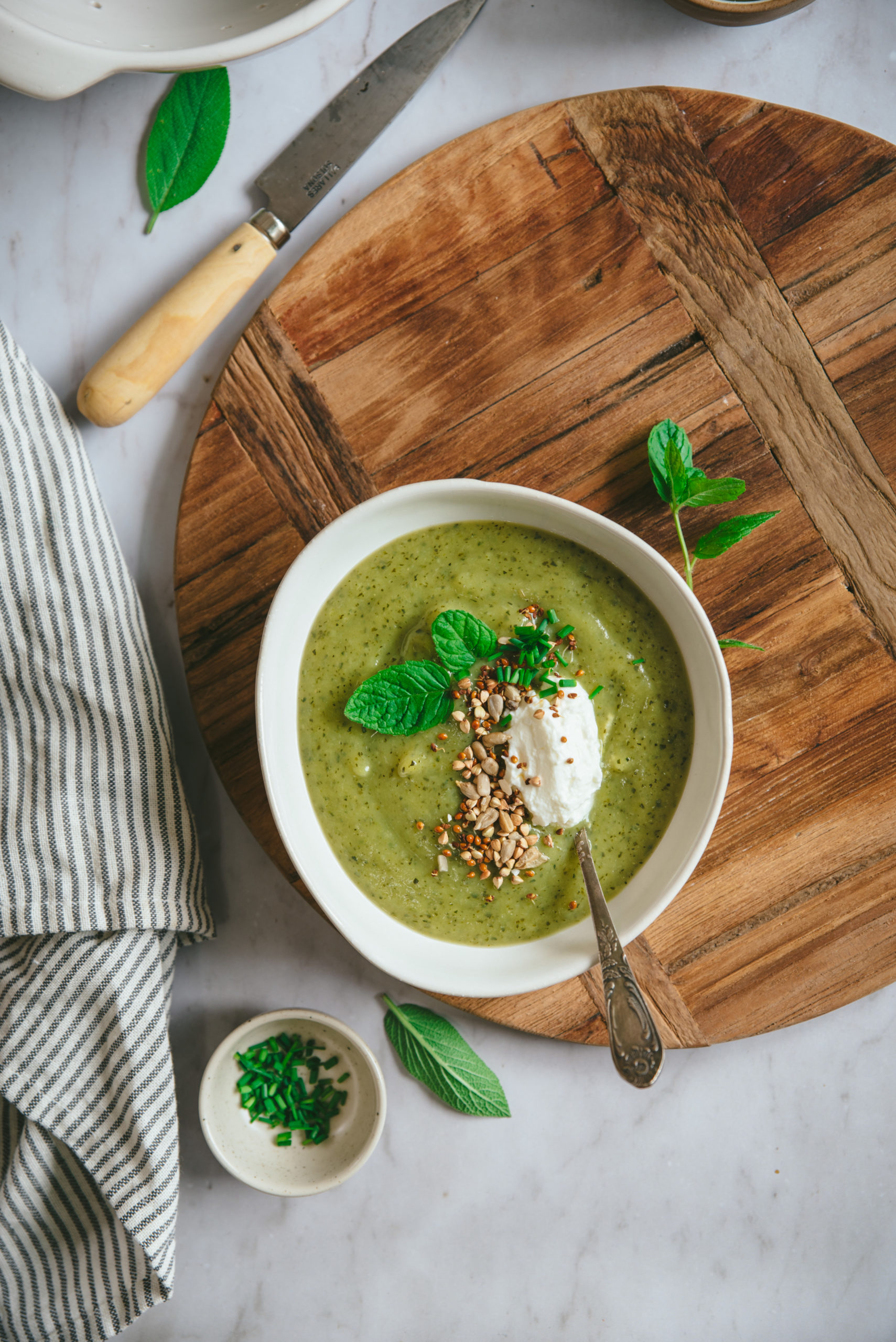 If you enjoy recipes made with zucchini, here are some ideas that should please you as much as it does me: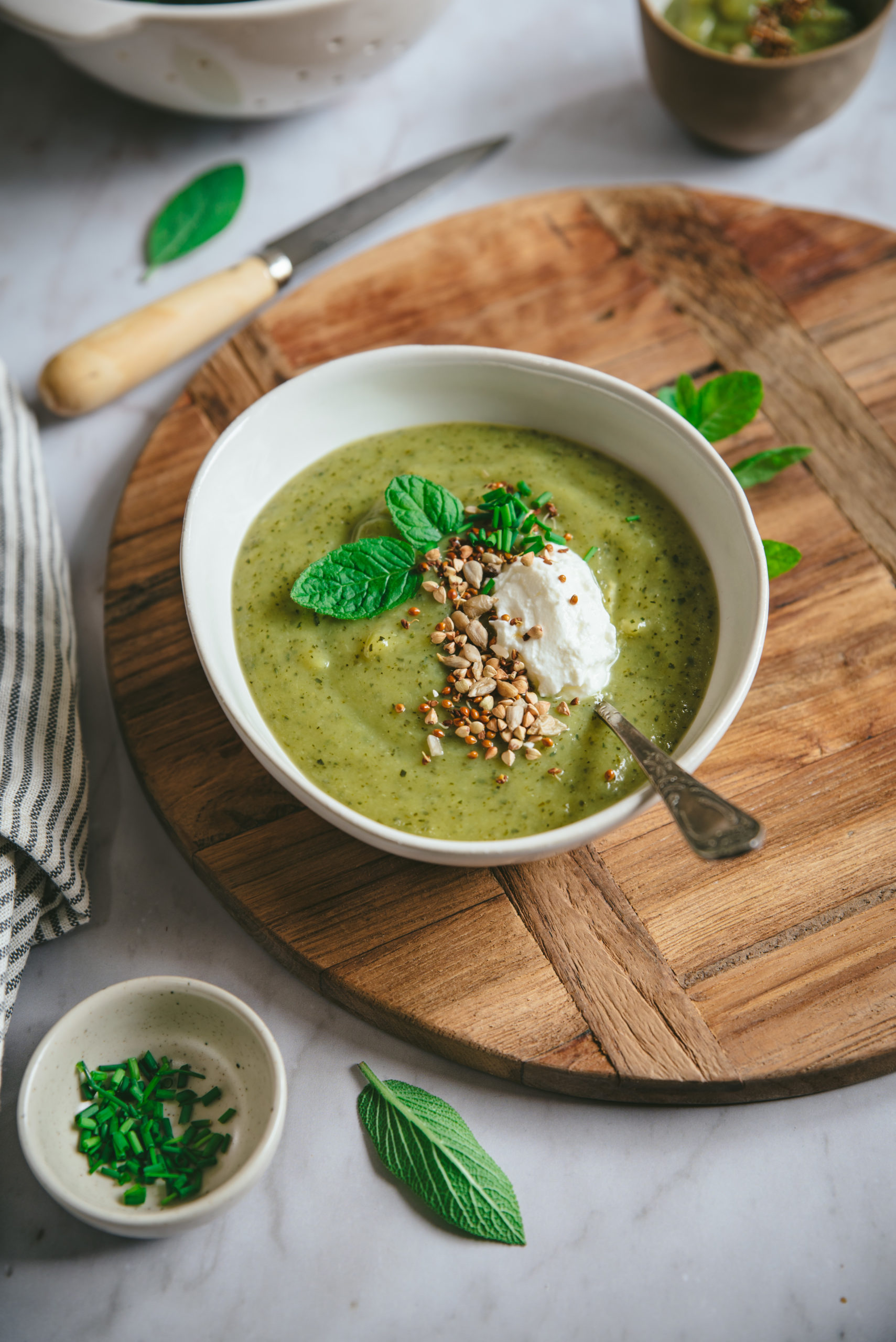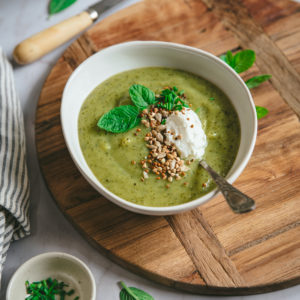 Creamy zucchini soup with fresh cheese and mint
Ingredients
6

zucchini

1

potato

2

tablepoons

fresh cheese

few sprigs of chopped chives and fresh mint

1

vegetable stock cube

2

garlic cloves

1

small onion

olive oil

black pepper

1/2

l

water
Instructions
In a Dutch oven, sauté the peeled garlic and onion in small pieces for 2 minutes.

Pour in 1/2 liter of water, the vegetable broth and the zucchini cut into strips.

Add the peeled and chopped potato.

Cook for 20 minutes over medium heat.

At the end of cooking, mix well and add the fresh cheese. Mix well.

Serve in bowls and give 2 turns of pepper per bowl then add the chopped chives and mint.
Notes
If you wish, you can also mix some mint leaves with the soup, it will bring freshness to your soup.
You can also put a little fresh cheese in the bowls with a small spoon, to make it look pretty.
If you ever make my recipe, and you like it, feel free to tag me on Instagram or Facebook so I can see the result and share it back…
I'll give you a little tip. At home, I like creamy soups but my man prefers more liquid soups. So, I always remove a little bit of water before blending, this allows me to adjust the texture more or less liquid according to the taste of each.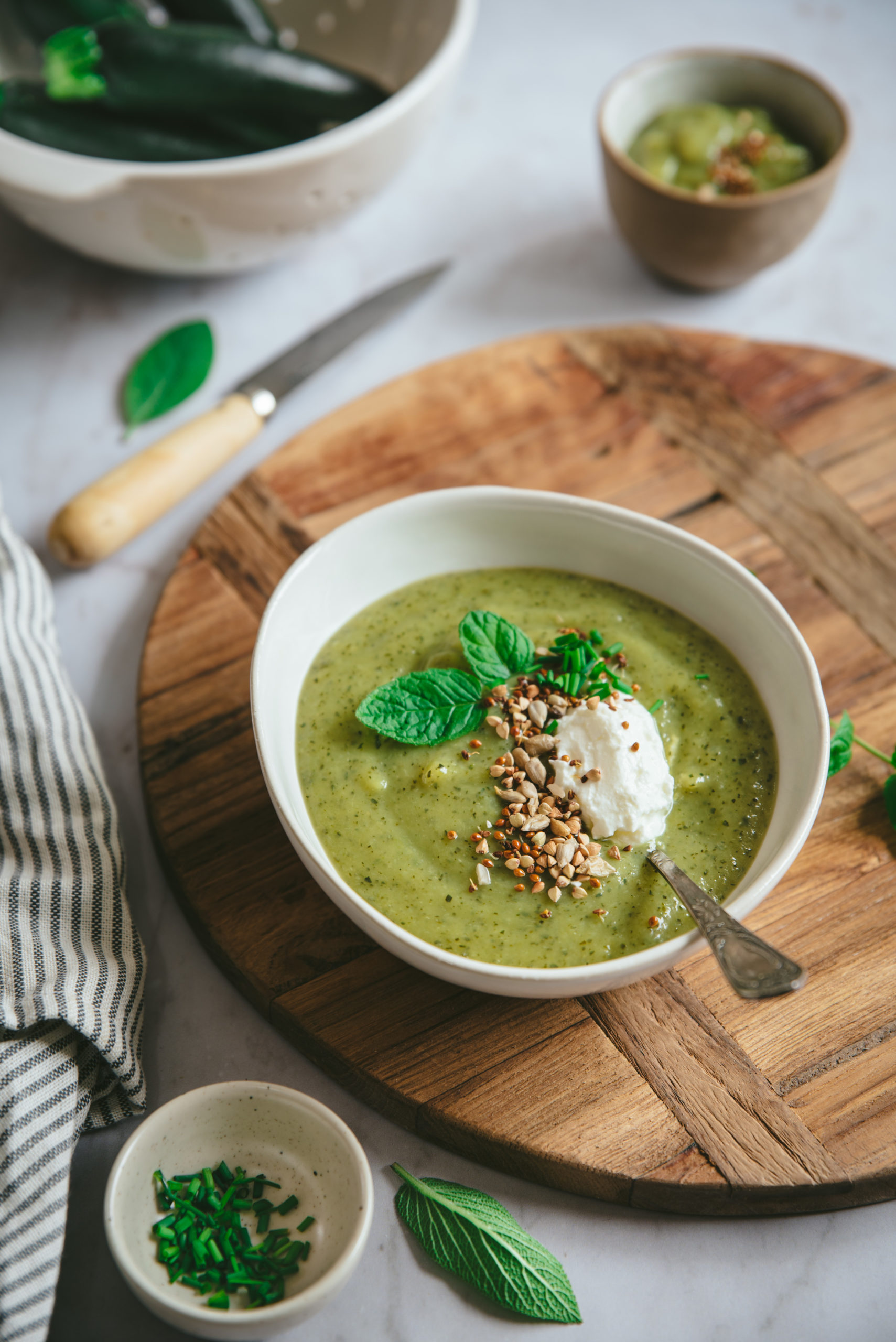 Just to let you know I am French and I translate my recipes, be indulgent if you see syntax errors and do not hesitate to leave me a comment so I can correct it. I hope you will like my recipes and enjoy your visit to my food blog!